Dasmond Koh: "Aloysius Pang's Voice Was There Throughout The Tribute"
The host, who sealed his final Top 10 Most Popular Male Artiste win at the 2019 Star Awards, tells us how the late star was very much present tonight.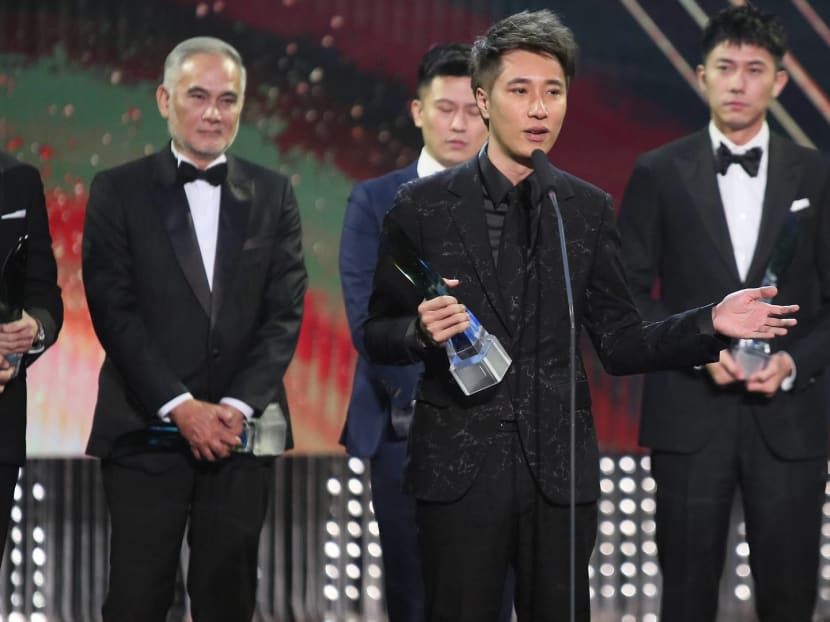 With tonight's win, Dasmond Koh no longer has to worry about making the Top 10 Most Popular Artiste List next year. The host and NoonTalk Media boss will be inducted in the All-Time Favourite Artiste club (affectionately known as 'ascending the altar') next year, joining fellow inductees like Zoe Tay, Fann Wong and Kym Ng. Indeed, 2019 has been a rollercoaster year so far for Dasmond, who in January had to go through the heartbreak of losing his protégé Aloysius Pang.

During the tribute to Aloysius, which was performed by NoonTalk artistes Xu Bin, Timothee Yap, Zong Zijie and Gavin Teo, Dasmond was seen tearing up as images of Aloy flashed on the giant screen on stage. Dasmond would later dedicate his Top 10 win to Aloysius in a touching speech, which he ended with a bow of gratitude to everyone who had mourned the tragic passing of the actor.
Here, 8days.sg speaks to Das right after his big win.
8 DAYS: Congrats on winning your final Top 10 award. Were you expecting to win tonight?
DASMOND KOH: Thanks. I did hope that I would get in. And a number of artistes have been trying to rally votes for me so I was hoping it would happen too. And it did and it's something I'm really very thankful for.
You dedicated your speech to Aloysius; was it something you had planned to do?
I had this thought in my mind… the reason being… When it all happened three months ago, I didn't have a channel to say whatever I felt or to deliver the message I wanted directly. It was all through the media. So I thought that this could be a platform where I could say thank you on his behalf, as well, for me to express gratitude to all the people whom I have never seen before or even know who they are, but they were there with him during the last few days.


Aloysius' two brothers were in the audience too.
Yeah, they were very happy to grace the event 'cos they knew there was a little tribute to Aloysius.

Were you involved with the planning of the tribute?
The voice that you hear in the song is Aloysius'. He had recorded the song but it was not released. And we gave the recording to the production team so the boys could sing along with Aloy.
Oh, we didn't know that Aloy's voice was in it.
Yes, his voice was there throughout the tribute. [The boys] each have one part and then they sing along with Aloysius. And at the beginning, the first person to sing solo is Aloysius.



You broke down during the tribute. How are you feeling now?
Actually after the tribute, my feelings were fluctuating…. And then the Top 10 win came… and… it was all very surreal.



You and your NoonTalk male artistes were all dressed in outfits made from the same fabric. Is there a special reason for this?
The black is because of Aloysius. But every year we go with a theme, like last year's was blue. It's a We Are Family type of thing (laughs).
So who came up with the different designs?
I'm the main culprit… with the help of the designer Amos Marcus (laughs).

Photos: Alvin Teo, Mark Lee, Willie Yeo, Chee Yan, Wilson Pang, Lee Lay Na