Sedap Wagyu Burgers From $6 By Ex-Three Buns Head Chef At Muslim-Friendly Hawker Stall In Jln Besar
Salai M'an serves good-value wagyu burgers with brioche buns, but the wood-smoked meats are less impressive.
Tucked away in a quiet corner of gritty Berseh Food Centre in Jalan Besar is a stall that emanates the pleasant scent of applewood smoke and charred meats from a rustic smoker. It cuts quite the contrast from the zi char stall across the aisle. Salai M'an (Salai means "smoke" in Malay; Man is a nod to the owner Sulaiman's name) is a Muslim-owned stall serving rather gourmet, labour-intensive smoked meats and also burgers. The grub is cheerfully prepped by the stall's chill and friendly owner, Sulaiman Kausar, who opened this joint a month ago.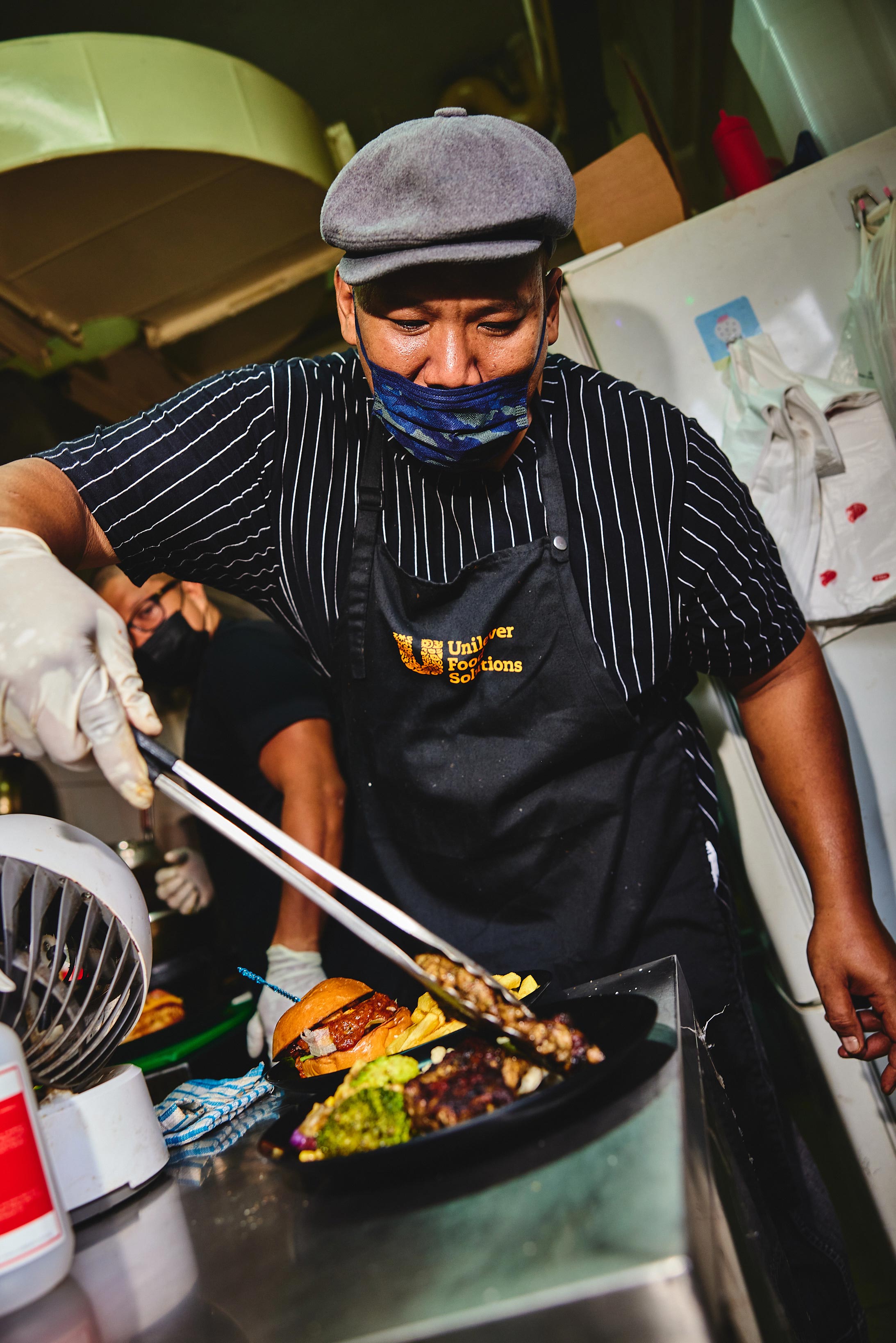 Hawker used to be head chef at Three Buns burger restaurant
Sulaiman is no stranger to the grill – the F&B veteran, who's been in the industry for 12 years, used to be head chef at the Quayside branch of Three Buns, a hip burger joint (sister brand to Potato Head in Bali) known for its upmarket, innovative burgers. He joined the kitchen as a sous chef, and then rose to head chef, spending three years there in total. Before that, he was sous chef at Lime House, a Caribbean restaurant and bar on Keong Saik Road. Striking out on his own, which he says he's been planning even during his days at Three Buns, means he's bringing some of what he learned from his restaurant days into the hawker setting. "I wanted to offer really top-notch Muslim-friendly burgers with good ingredients," he says. "I really love burgers. It's comfort food. Even my mother loves burgers," he adds with a laugh.
Amidst a billow of smoke from his small charcoal smoker, which sits in a corner of his tiny workspace, the bubbly 42-year-old tells us that business was good in his first week of operation, then went quiet because of Ramadan. He's nonplussed though, and expects business will pick up after Ramadan. "It got a good reception," he says of his opening week, where most of his clientele were Malay-Muslim, excited to chow down on his offerings of straight-from-the-grill cuts of meat and burgers.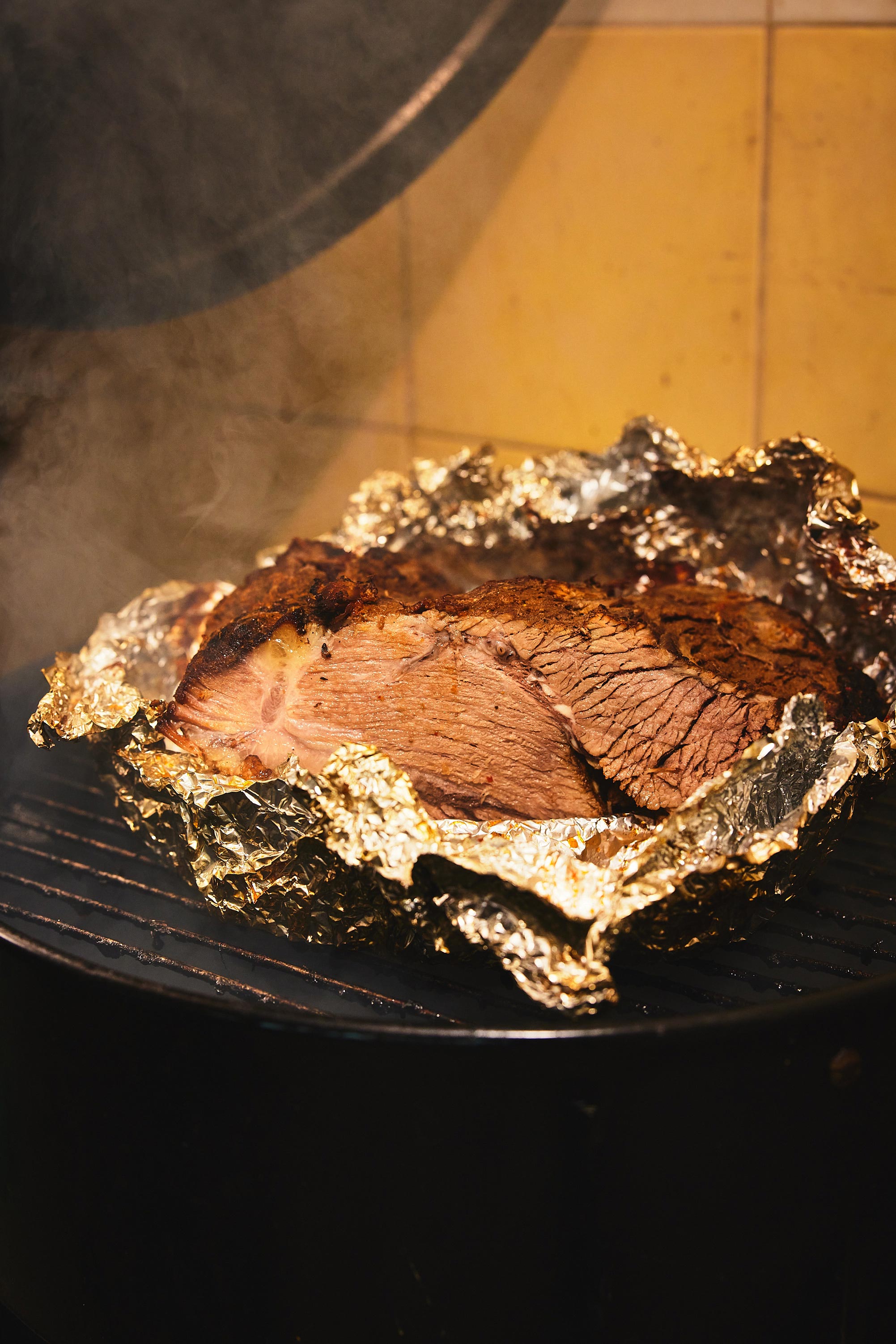 Being a hawker tough but rewarding
He speaks fondly of his days in the professional kitchen, particularly Lime House with its big combi ovens which the chefs used to smoke meats. Compared to that, his current digs are miniscule. "But I wanted to strike out on my own," he explains. "It's got its pros and cons. I need to put in more hours and love now compared to being employed [by others]. The best thing is, I can do and create what I love without going through all the [various] channels. But it's hard work," he admits.
The hawker setting also allows him to translate his restaurant know-how into friendlier prices. "When one of my chef friends saw my menu and prices, he asked me if I was crazy," he says with a laugh, adding that tapping on his old supplier network from his restaurant days allows him to get fairly premium ingredients at good prices.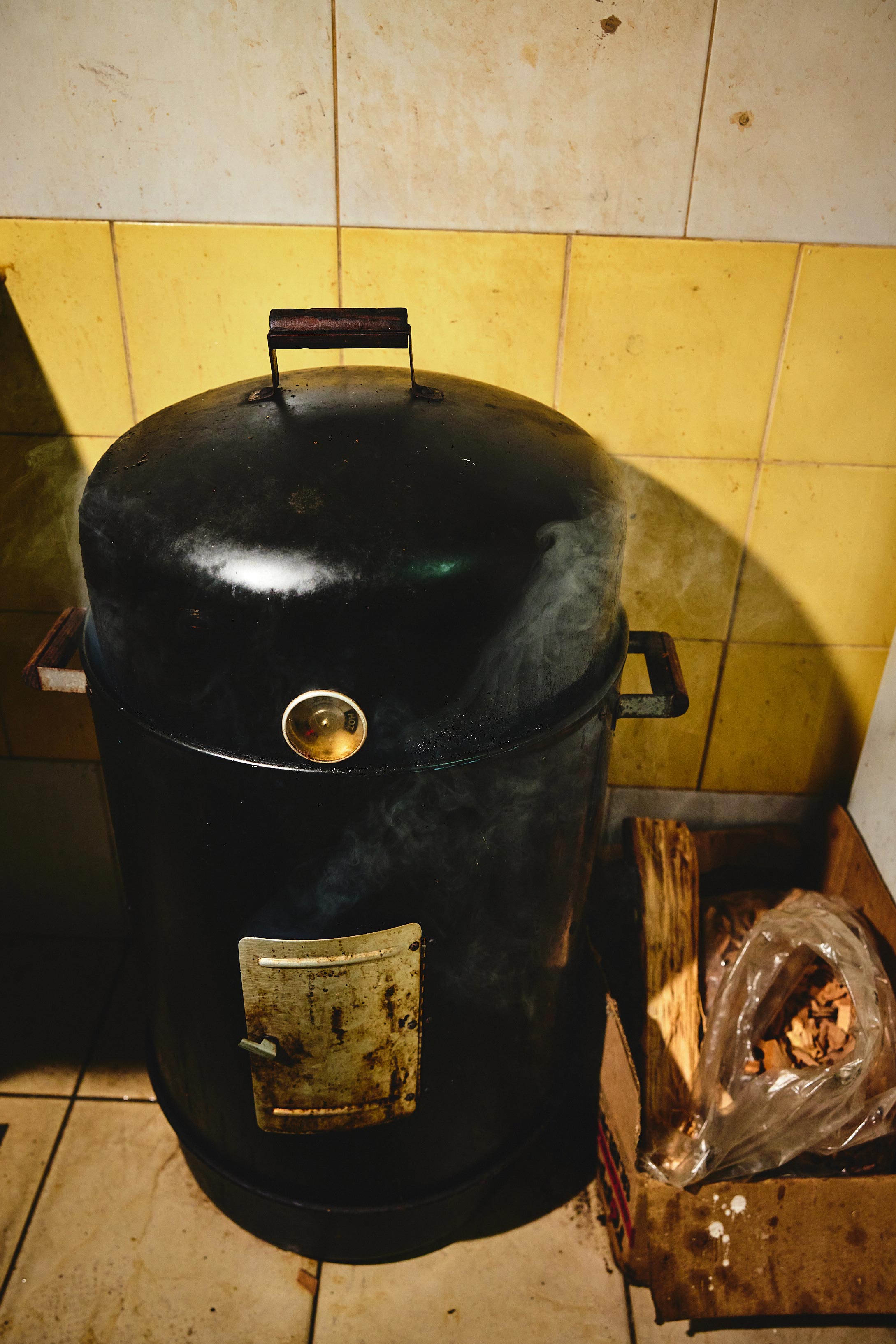 The meats are finished in a humble charcoal smoker
The set-up here is simple and spare – a modest plancha grill (a long flat griddle used to cook food quickly), a small charcoal and wood-fired smoker, and a small fridge – out of which he turns out a pretty decent menu that includes several burgers, grilled lamb chops, jerk chicken, smoked beef brisket, steak, as well as relish-topped hot dogs. We thought at first that this was going to be an American-style barbecue joint, where large cuts of meat are cooked for several hours in a smoker until tender and deeply perfumed with smoke. But because of space constraints, this is understandably a humbler affair – various cuts of meat (aside from the burger patties) are first cooked sous-vide for several hours, then Sulaiman smokes them with charcoal, hickory and applewood chips at low heat for a spell to impart some smokiness. He finishes each order on the grill just before serving for extra char.
Sulaiman, who prepares everything himself, says he's always loved the flavour of smoked meats, and he learned how to work a smoker back in his Lime House days where they had a more luxurious commercial set-up. Despite the space limitations at his hawker stall, he says he tries to keep the food as top-notch as possible: mostly everything is made to order, and he taps on his old restaurant contacts to source for higher-end Australian beef and lamb.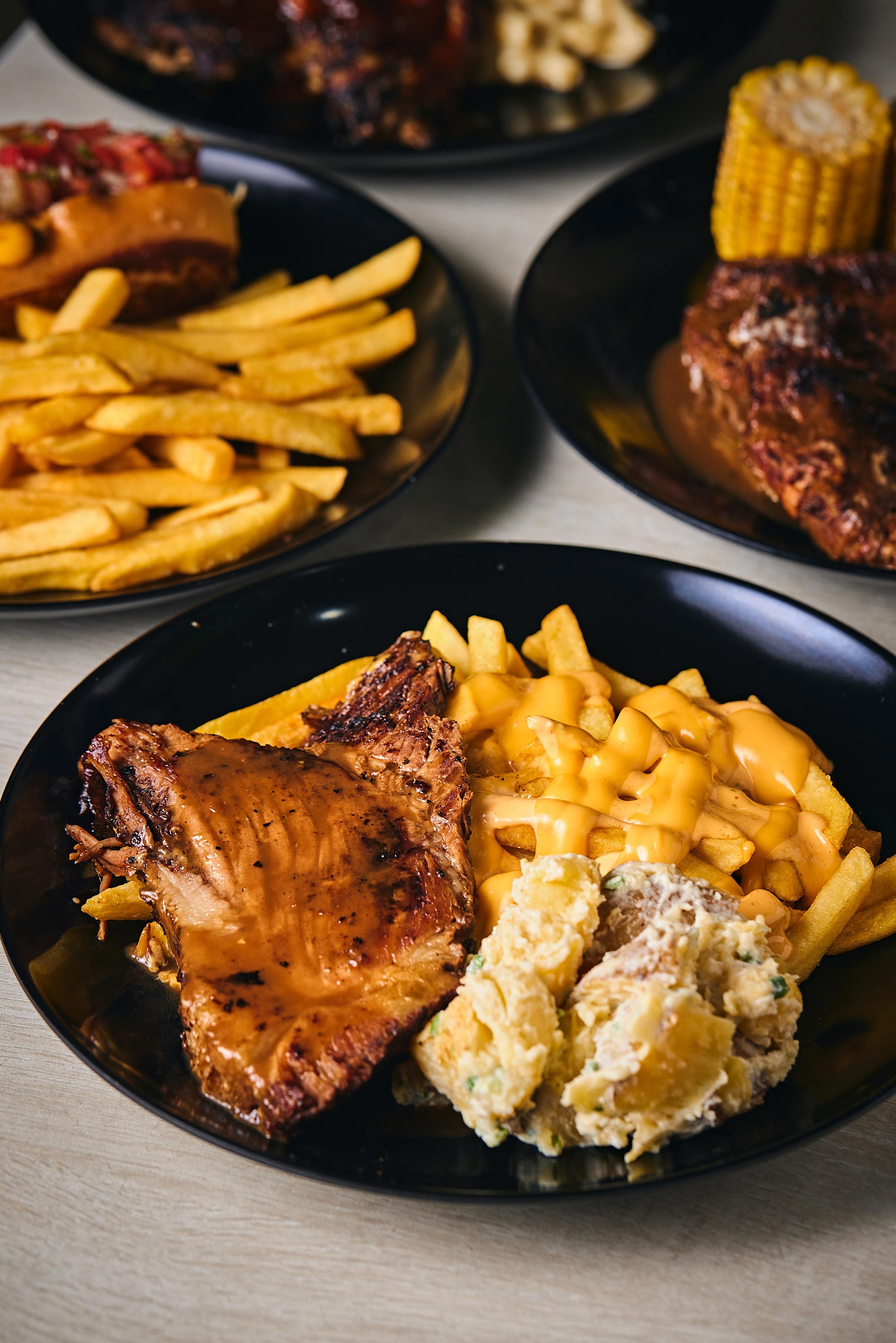 The Salai Brisket, $11.90 for 150g
This thin slab of brisket is mostly juicy with a couple of dry spots. It isn't pull-apart tender, but has a bit of a bite, pleasant fattiness in parts and rich meaty flavour. We were hoping for a much deeper smoky kiss – the smokiness in this is pretty mild, and most of what's there is masked by the pleasant, if straightforward brown sauce the brisket comes doused in. Each cut of meat comes with your choice of two sides, and we enjoy the simple butter rice and zippy potato salad that this is paired with.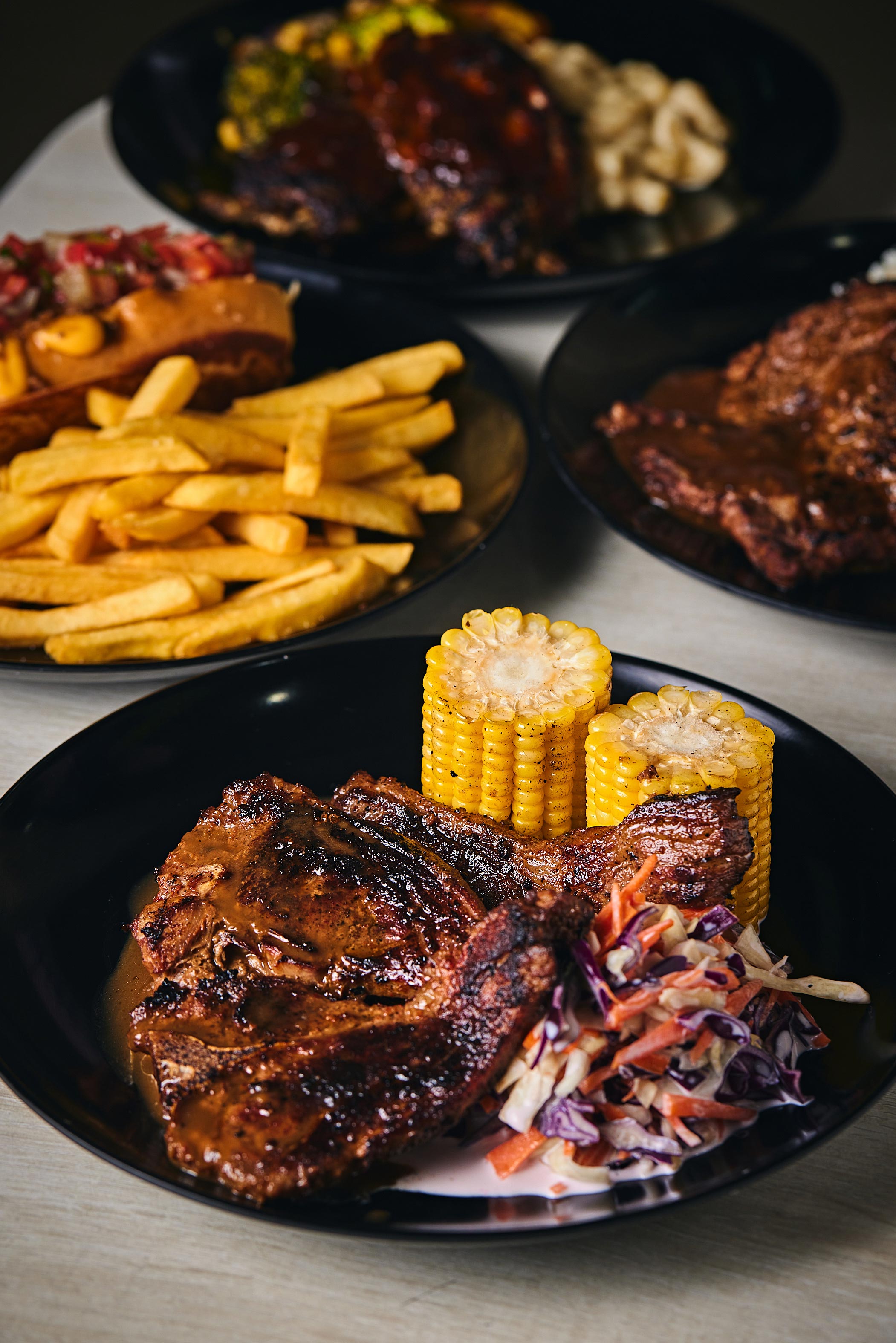 The Salai Lamb Chop, $12.90 for 150g
We far prefer these lamb chops, which are overall a lot more tender. They've also got a better smoky char on them, with some crunchy bits from being finished on the grill. These come served with slightly undercooked buttered corn on the cob, and a decent crunchy coleslaw.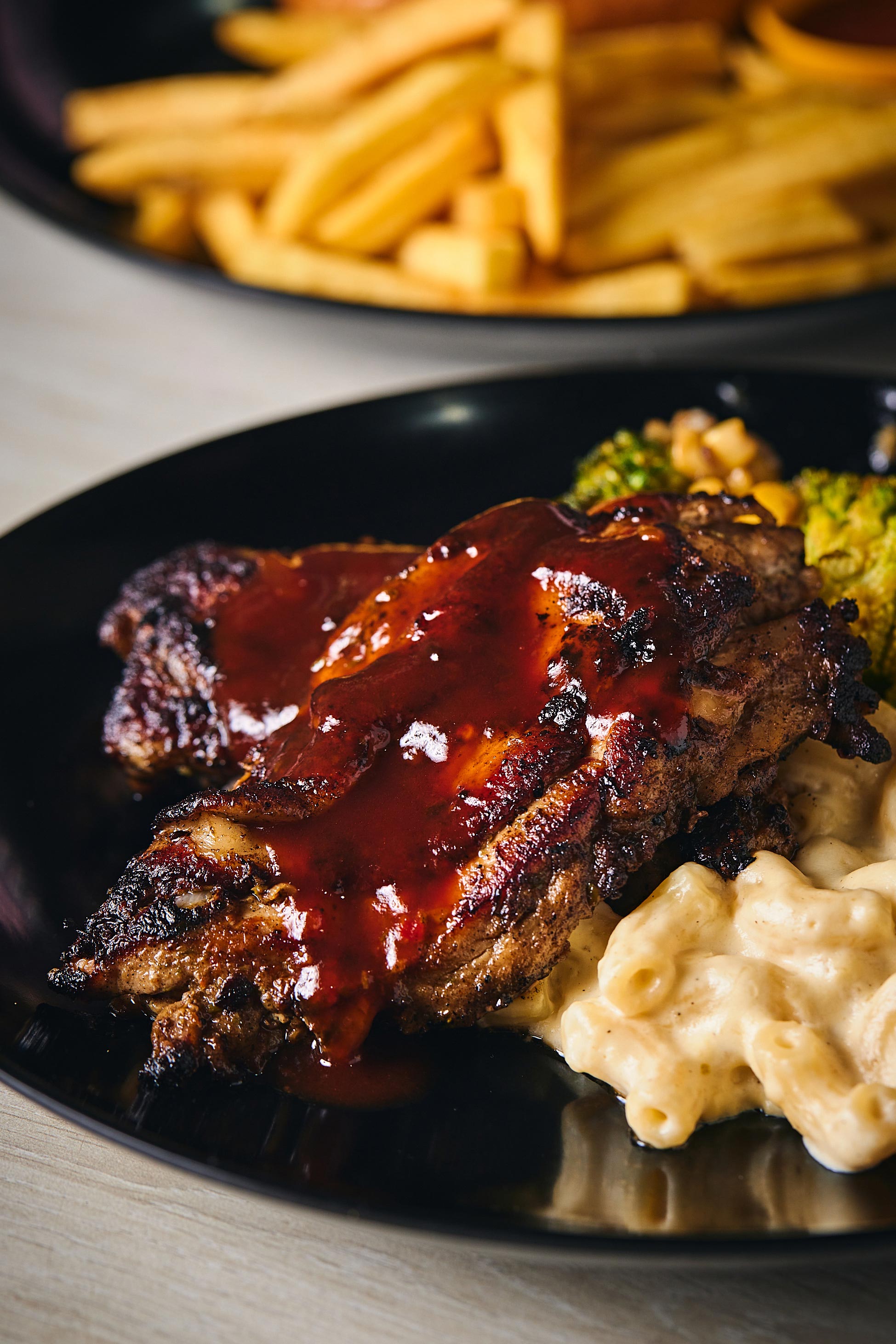 The Salai Jerk Chix, $8.90 for 220g
This dish is inspired by the chef's time at Lime House. Smoked and grilled chicken thighs that have been marinated in a Jamaican spice blend that includes allspice, ginger, cinnamon and hot chillies (traditionally fiery Scotch Bonnets but Sulaiman uses chili padi instead). It's not as fiery as we expected, but it's still really tasty. The chicken is super juicy, well-seasoned, and has a great char and slightly crispy skin from the grill. Sulaiman serves this with a rather too-sweet macaroni and cheese.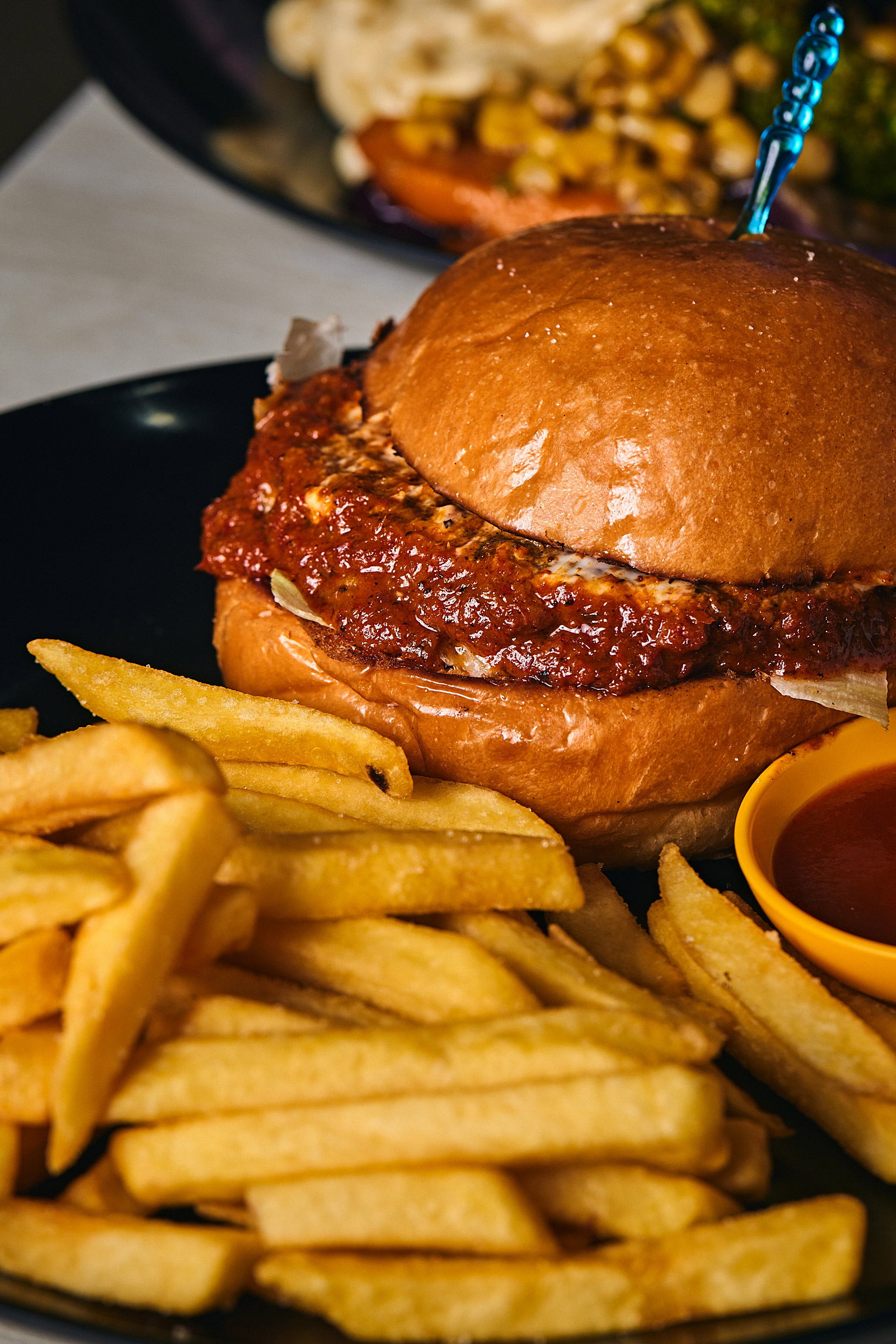 The Rendang Kampong Burger, $7 (8 DAYS PICK!)
While we're not blown away by the smoked and grilled meats, the burgers (ten types on offer, from $6) really shine here. All the beef burgers are grilled Australian wagyu patties, which Sulaiman sources for a good price from a local importer. Although he candidly admits it's not top-grade wagyu, we find them succulent and richly-flavoured for the price. The patties are nestled between pillowy brioche buns from a local bakery. This number features a very punchy rendang sauce made with a rempah of chilli, lemongrass, turmeric and kerisik (grated coconut that's roasted and ground into a paste). It's delicious: the sauce is super spicy and aromatic, and the patty is wonderfully succulent and beefy. Together with the fluffy, buttery buns, this makes for a really comforting burger for the price.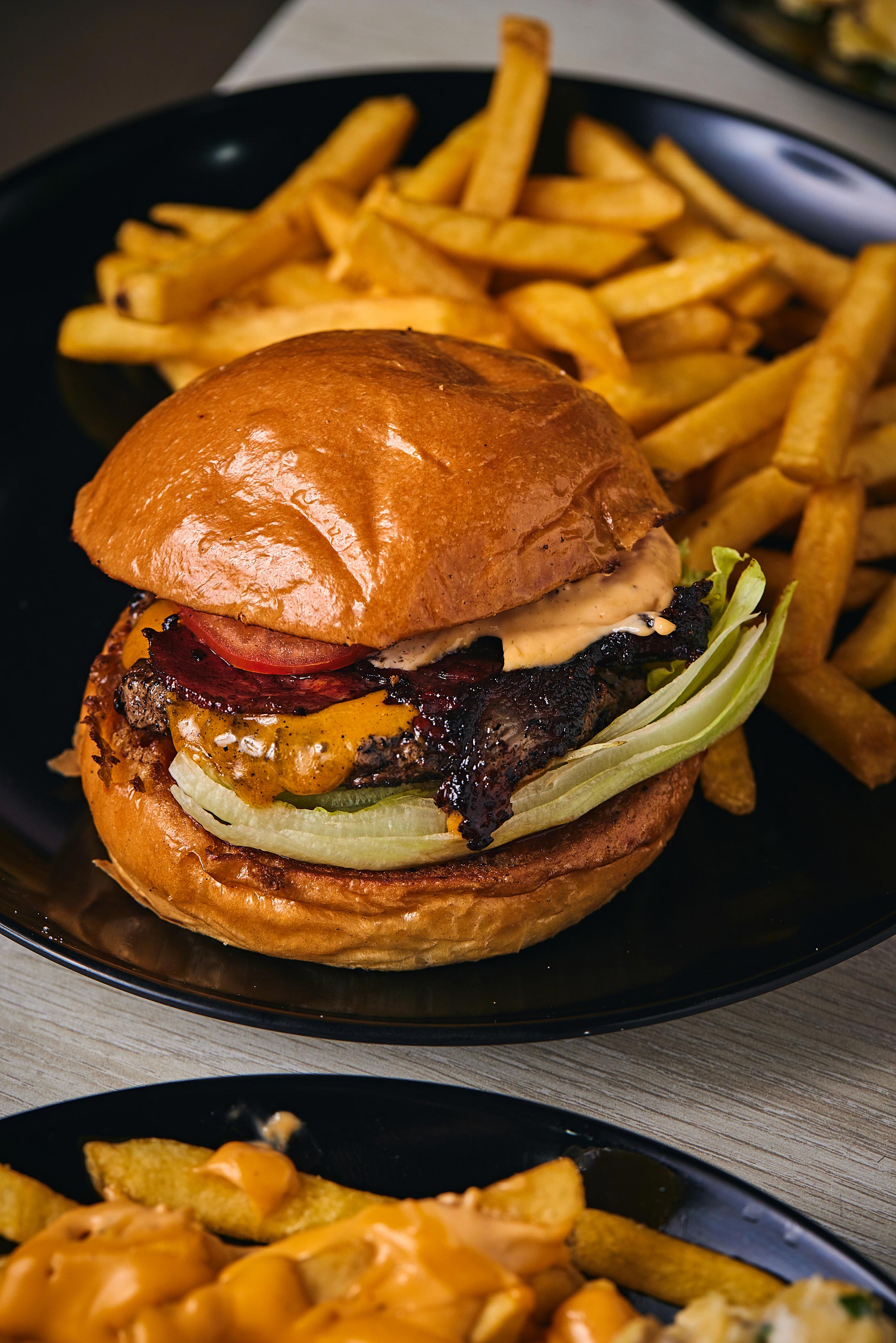 The BLT Special Burger, $6.90 (8 DAYS PICK!)
This features a wagyu patty topped with crispy strips of beef bacon, doused in sweet barbecue sauce, spicy mayo, cheddar, plus crunchy lettuce and tender tomatoes. It's a solid burger with a classic flavour profile, and the wagyu patty boasts lots of textural contrasts and yummy comforting flavours. With its interplay of beef, barbecue sauce and spicy mayo, it's a little bit like an upmarket Ramly burger.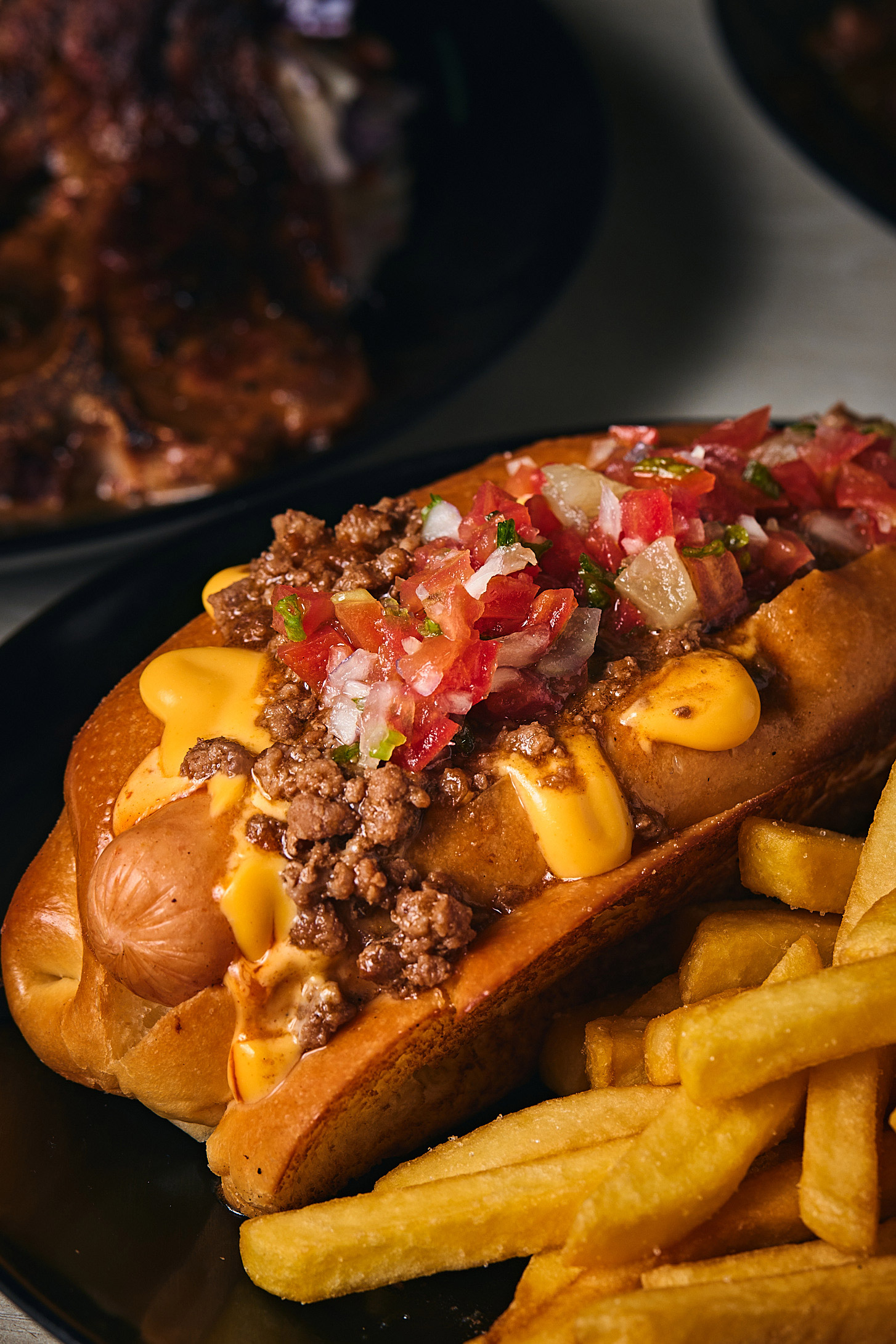 The Chilli Dog, $7.90
A meaty beef sausage sandwiched in a butter-grilled brioche hotdog bun and topped with lots of punchy and aromatic beef chili con carne, garnished with sharp diced onion, and lashings of spicy mayo and cheese sauce. It's spicy, hearty, and a glorious mess to eat
Bottom line
Salai M'An offers a value-for-money upgrade of the usual Western offerings at a hawker centre, with just under restaurant-quality grub at good prices. We came here excited by the offer of smoked meats, but found them a little wanting in texture and smokiness. Instead, we were impressed by the hearty, well-prepped burgers and hotdogs with fun, robust flavours — unsurprisingly, given Sulaiman's former head chef chops at Three Buns restaurant.
Apart from the ones we had, the other burgers also feature his smoked meats sliced up and sandwiched between brioche buns – which might be a more satisfying, cheaper way to chow down on the laboriously-prepared cuts.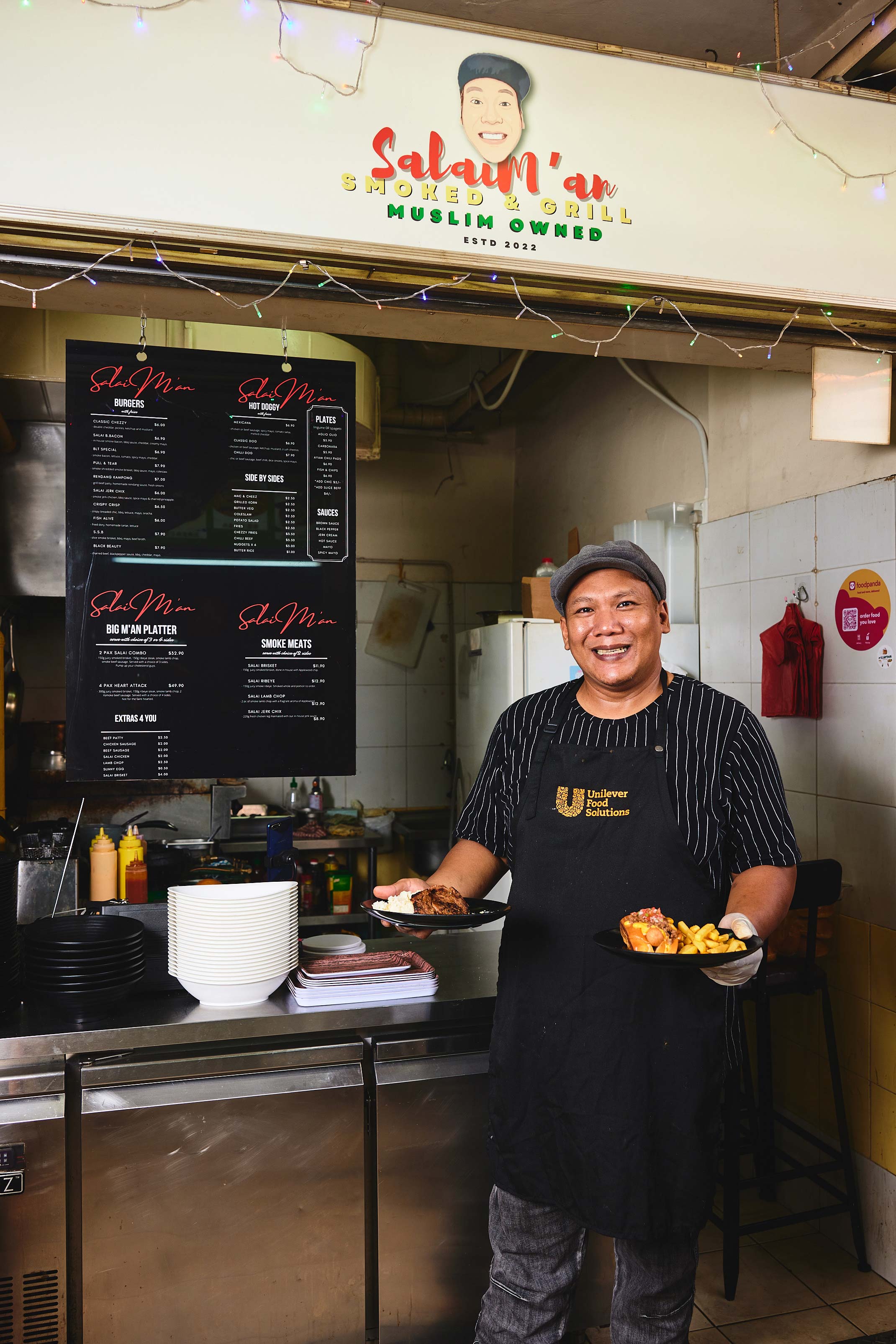 The details
Salai M'An is at #01-18 Berseh Food Centre, 166 Jln Besar, S208877. Open Tue-Sun 4pm-10pm (during Ramadan); noon-10pm (after Ramadan). Closed Mon. https://www.facebook.com/Salai-Man-107074001924482
Photos: Alvin Teo