128 Circle Actor Duan Weiming Explains His Westworld Season 3 Premiere Appearance
'Ah Cai' has a scene with Jeffrey Wright on the Emmy-winning sci-fi series.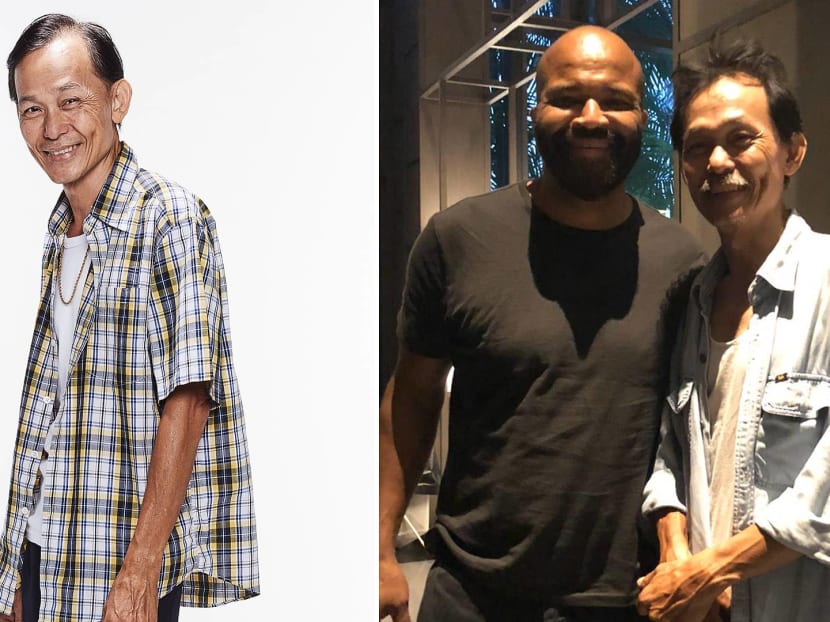 Warning: This story contain minor spoilers for Westworld's Season 3 premiere episode, 'Parce Domine'. So approach with caution.
Unless you've been hiding under a rock (without Wi-Fi connection), you may have heard that the third season of Westworld, HBO's Emmy-garlanded, sprawling and mind-bending sci-fi series, was partly filmed in Singapore.
Not only will viewers catch glimpses of recognisable landmarks (start a drinking game!) but also familiar faces. One such actor who pops up on the show is Duan Weiming, whom you may remember, depending on how old you are, either as coffee stall assistant Ah Cai on Neighbours or kopi stall owner Larry on 128 Circle.
On the season premiere, the freelance actor — and full-time butler to a Chinese businessman — plays a fisherman who encounters Jeffrey Wright's on-the-run robot Bernard Lowe. Weiming's part maybe small, but the scene is significant.
Without stepping into scared spoiler territory, the scene — where the fisherman speaks Mandarin, and Bernard English (Wright reportedly had Mandarin lines but those were apparently nixed) — confirms the whereabouts of the eponymous theme park.
Here, Weiming (or Joe), who admits that he knew little about Westworld before filming, shares with 8days.sg, in an e-mail interview in Chinese, his experiences working on the series. On a show about human-like robots running amok, has he ever wondered if his character is real or synthetic? "You'll have to watch all the way to the end to find out," Weiming, 59, replies, cryptically.
8 DAYS:
Fly Entertainment called you in to audition to play the boatman. Is there something you'd done that they thought you were ideal for the role?
DUAN WEIMING: My belief is that, they thought I fitted the character's profile — I have the right appearance and the skin tone. Plus, they probably knew that I was once a professional actor and I should be able to handle the role. [The production team behind Westworld] was very specific with their demands — they know what they want.
Did you meet the directors? What did your audition entail?
I never met them. A production assistant asked me to do a video recording of myself for the directors to look at later. Once the recording was done, I was out of there.
You played a boatman but we hear you get sea-sick easily. Did you get through the shoot without puking?
It's true I have sea-sickness. I get car sick, too — as a passenger, not when I'm driving. If I'm being driven around too long by someone who isn't a good driver, there's a likelihood that he'll be cleaning up my vomit (laughs). On the day of the shoot, the Gods were really kind to us; from beginning to end, I was feeling good. Nothing happened! I think I should burn joss sticks to thank the Gods. It was a miracle, wasn't it?
How long was the shoot?
We spent a day at Pulau Ubin. The shoot was smooth. God knew we were working that day; He didn't make life too difficult for us. It rained a bit but the sky cleared up soon after.
Come as you are: On the day of filming, Weiming turned up dressed as a boatman — wearing his own jeans, a denim shirt, and a tattered fisherman hat that's been in his possession for more than 10 years — not knowing that the costume department had already prepared the wardrobe for him. According to a Shin Min Daily News report, the producers were so impressed with Weiming's outfit that they used it for the shoot. When filming wrapped, the production team even offered to buy it from him. The hat is still with Weiming. Spoiler alert: the hat didn't make it to the final cut. The hat couldn't be reached for comment.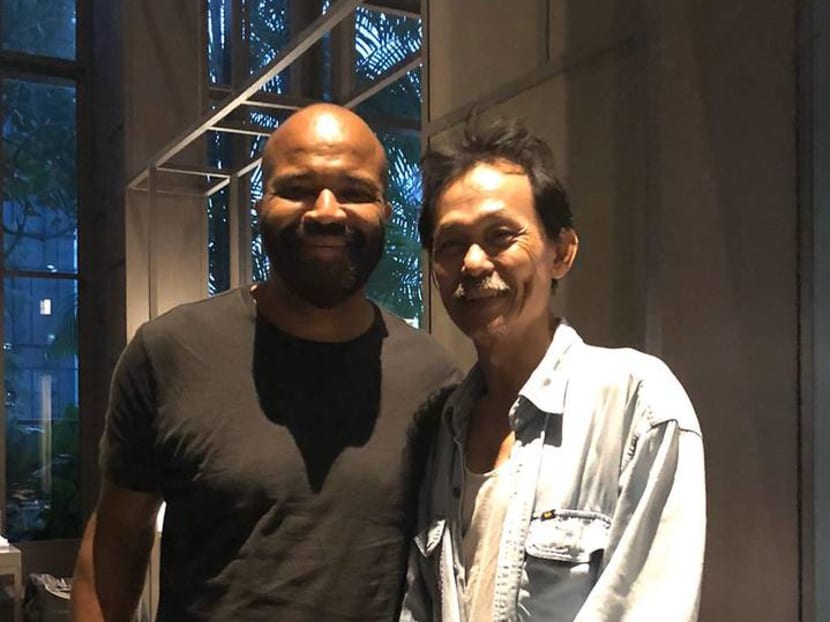 What did you guys talk about between takes?
Not during filming — we were focused on the task at hand because every second counts! But we did after we were done for the day. During the hour's drive back, instead of resting, he chatted with me. We got along swimmingly, like friends. He asked if I'm a professional actor. I said no; I worked as a butler. I told him it was tough to make a living as a full-time actor here. He said, "Really?" We talked about food, local customs, my butler job, which he was very curious about. I also asked him what he did on his day off. He would wear his hat and go explore Singapore on his own.
Honestly speaking, I don't know how to answer that question. One, [Westworld] is a big production, they have different standards, different capabilities. Two, their film crew have very clear and specific job scopes; they don't overstep one another's boundaries. Simply put, it's a different country, different culture, different system — everything is different (laughs).
Did you tell your boss about your American TV debut? What do you think he would say?
My boss can't be bothered with such trivial matters, so as long as my acting gigs don't get in the way of my day-job. I haven't let him down. Perhaps when I star in an internationally acclaimed movie, and win an award, then he would ask me, "Joe, are you still interested in working for me?" (laughs). I have an active imagination!
Westworld 3 airs Mon, HBO (Singtel, TV Ch & StarHub Ch 601), 9pm, same day as the US; it's also on HBO Go. Download the HBO Go app at App Store or Play Store and get a 7-day free trial or access HBO Go via StarHub, SingTel and meWATCH. 128 Circle is streaming on meWATCH.
Photos: HBO Asia, Duan Weiming