How's Jia Jia & Her Panda Cub Doing? Updates On Gender Reveal, Naming The Cub & How You Can See The Cub & Its "Super Mum"
The panda cub was born on Aug 14 to much fanfare, and has only been seen by a small team of vets and caretakers until now.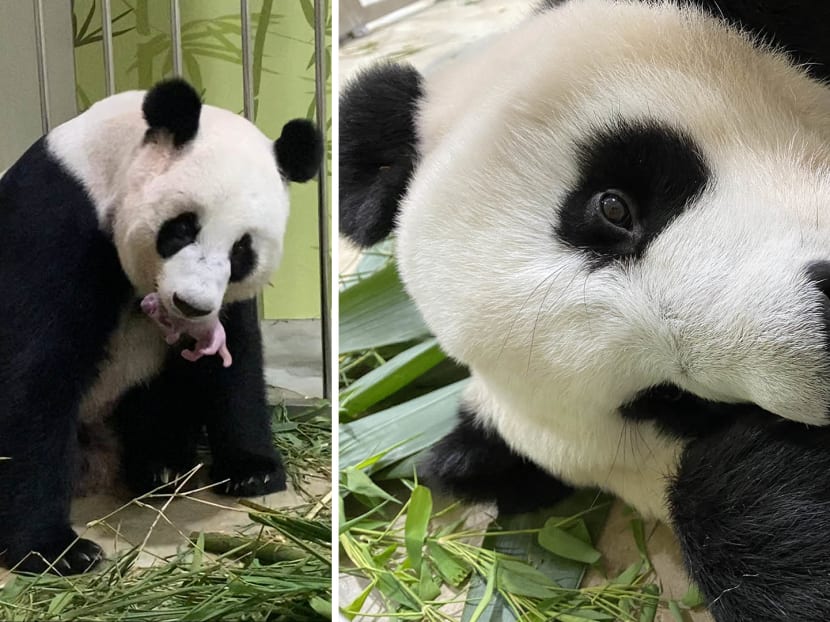 Kai Kai and Jia Jia became parents to a panda cub on Aug 14 — and to much fanfare too. Almost two weeks on, how's Jia Jia and her cub doing? The short answer: they're both doing great and you'll be able to see them soon, Wildlife Reserves Singapore (WRS) updated the media today (Aug 26).

"Jia Jia has turned out to be a super mum from the beginning… She's very protective and attentive and does all the right things in taking care of the baby," said Dr Cheng Wen-Haur, WRS deputy CEO and chief life sciences officer.

"We've made the decision to leave the cub with the mother [in the maternity den] as far as possible, which means we've not been able to examine the baby."

As such, the gender is still unknown as the cub is still in the care of Jia Jia.

Jia Jia and cub on 19 August 2021

But soon, you'll be able to catch glimpses of mother and cub, the Wildlife Reserves of Singapore (WRS) announced at a virtual media briefing today. WRS also gave updates on the gender reveal of the cub, naming the cub and other exciting updates.
How to catch a glimpse of Jia Jia and her cub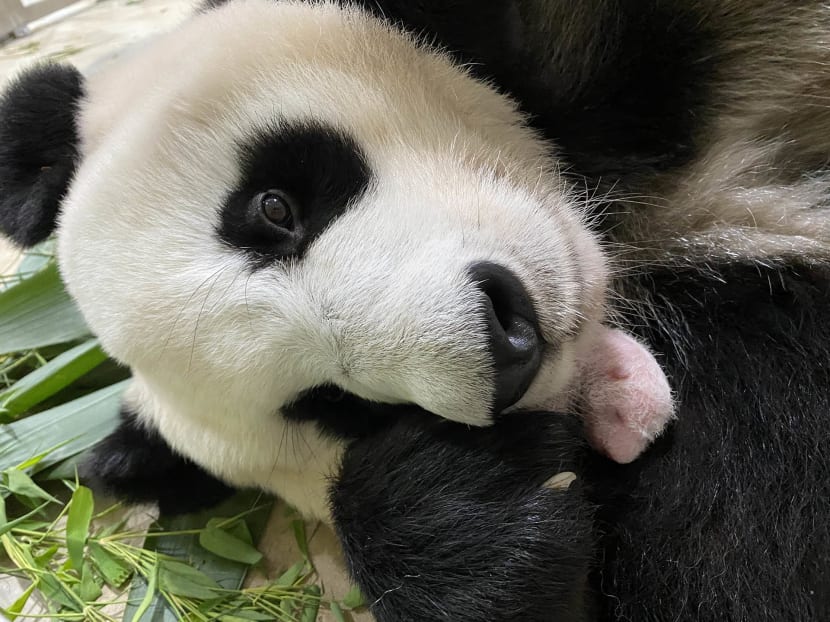 In the meantime, there are still two ways for the public to catch a glimpse of Jia Jia and the cub. From today (Aug 26), there will be a panda cam at the Giant Panda Forest at River Safari, where visitors can observe Jia Jia and perhaps even get a peek at the cute cub on this live cam.

Or you can tune in to daily video updates on WRS's YouTube channel — look for 'Panda Sneak Peek'. This is not a live cam, but hour-long videos released daily to update folks on the cub's progress and show totes adorbs moments between mum and baby.
Although the gender of the panda cub remains a mystery, Dr Cheng reckons that they'll be able to take the cub out in the next four to six weeks and find out its gender.

And that leads us to the next question: What will the panda cub be called?

The naming of the furry bundle of joy will happen before its 100th day, and the naming process will involve the community as well, he said. Singapore will be naming the cub, but there will be checks with WRS' China counterparts to ensure that there is no repetition of names with other living giant pandas around the world.

How have mother and cub been doing?

Jia Jia's 10-day-old panda cub
Both have been doing well, with the cub's markings, such as dark colouration around the hind legs, back, eyes and ears, starting to become more prominent. Jia Jia's cub weighs an estimated 380 grams, based on data from Chinese experts on the general weight growth of cubs at this juncture.
Trisha Tay, an animal care officer at the Zoology department in WRS, shared that Jia Jia has not been eating much, which is normal for new panda mums. "This happens in the wild and the China panda bases. The mothers are very focused on taking care of the cubs," Trisha said. "What we do is we supplement her with a glucose and electrolyte solution." Jia Jia is also given fresh bamboo leaves several times a day, lest she feels like eating again.

The panda care team has also observed how Jia Jia nurses and cares for her cub.
"Since she's doing most of the caring of the cub, what we do is we care for her to make her feel safe and comfortable during this whole time. Myself and another colleague rotate and do 24-hour shifts. We observe and record important behaviors that we see, whether she's nursing the cub, if she's helping the cub to defecate, how much fluid she's taking, and her response to food," Trisha elaborated.

In fact, she noted that Jia Jia has an efficient routine down pat, in order to rest for one-and-a-half to two hours in between.

"It's really good to see her get proper rest. In the early days we saw she's quite tired, and would sigh when she had to get up to tend to the cub, Trisha revealed. We can see the cub doing well, even though at this time we can't take the cub out to examine it thoroughly, we can see it's growing well – its belly is pretty fat actually. It's being fed well and is defecating well."

What's Kai Kai been up to?

Kai Kai at River Safari

In the wild, panda cubs are cared for by their mothers. So Dad has been holding the fort at the Panda Forest exhibit, alongside the red pandas. "Kai is pretty unaware he is a father; he's more interested in his food as usual," Trisha quipped.
Watch daily updates of Jia Jia and her panda cub here.
Photos: Wildlife Reserves Singapore