It's A Boy! Public Can Now Help Name Jia Jia's Panda Cub — Send In Your Submissions By Sep 19
Now that its gender has been revealed, it's time to name the cub. No, Little Panda will probably not work.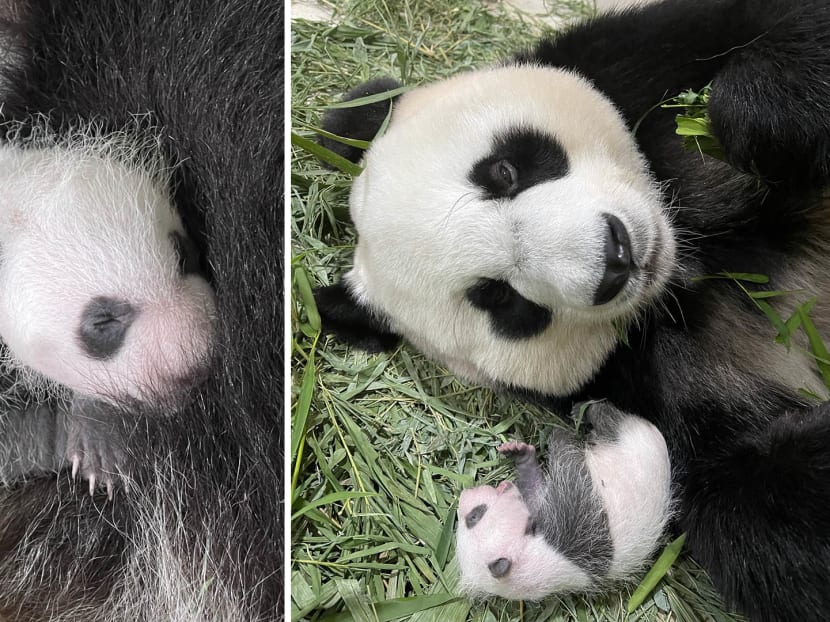 After close to one month, we finally know the gender of Kai Kai and Jia Jia's giant panda cub. Yes, it's a boy! The Wildlife Reserves Singapore (WRS) panda care team announced today (Sep 10), almost one month after the momentous birth of the panda cub on Aug 14.
The panda cub's gender has remained a mystery thus far as Jia Jia has been its primary caregiver in the maternal den. As such no medical interventions have been necessary and a full vet examination has yet to be done on the baby boy. However, the WRS team was able to determine its gender through close observation and visual assessments, and have confirmed it with experts from the China Conservation and Research Centre for Giant Panda (CCRCGP).

The giant panda cub at 23 days old with mama panda Jia Jia.
Daddy dearest Kai Kai got involved in the festivities too -- he unveiled the baby's gender at a gender reveal party at his exhibit in the River Safari, as part of his 14th birthday celebrations. Kai Kai was given an enrichment gift which he tugged on and released blue confetti -- and carrots for him to munch on (it's his birthday, after all).
Now that the gender of the cute cub is known, it's time to name the little munchkin, and members of the public will be able to chip in. Go online and submit your suggestions for a name for the baby panda boy by 11.59pm on Sep 19. Shortlisted names will be released for public voting and the panda cub will take the name with the most number of votes. Time to get bear-y creative.

Here are a few naming tips for you, courtesy of WRS. Names should be catchy and easy to remember, while reflecting characters with positive attributes. They should also have relevance to Singapore heritage and culture, as well as significance to the friendship between Singapore and China. So, no, Little Panda probably isn't going to work.

More info here.
Photos: Wildlife Reserves Singapore