Meet The Guy Behind The Gorgeous Castles In Maleficent: Mistress Of Evil
Award-winning production designer Patrick Tatopoulos makes his Disney debut — after 30 years in the business.
Fans of sci-fi and fantasy films should be familiar with the name Patrick Tatopoulos.
The renowned Greek French production and creature designer is a frequent collaborator of directors Alex Proyas, Len Wiseman and Roland Emmerich, and has worked on vampires, werewolves, giant lizards, aliens, and superheroes. (Fun fact: Emmerich named Matthew Broderick's scientist character in Godzilla after him.)
But there was one sandbox he never got to dip his toes into: a Disney movie. And that was why he jumped at the chance at working on Maleficent: Mistress of Evil, where Angelina Jolie reprises her role of the eponymous fairy, this time taking on a power hungry Queen Ingrith, played by Michelle Pfeiffer.
"It's different from anything I've done before," says Tatopoulos, 61, who studied at the Art Decoratif De Paris, the Art Applique's De Paris, and the Beaux Art De Paris. "I've done tons of science-fiction and superhero films with characters like Batman and Superman and the like, but I've never designed a fairy tale."
And it was fairy tales that inspired him to be a designer. "Coming off Superman v Batman: Dawn of Justice and Justice League, it's fantastic for me to express myself in this world that is so different," he says. Here, the LA-based Tatopoulos tells 8days.sg over the phone about the challenges of creating a fairy tale universe.
It's about time: After 30 years in the business, Patrick Tatopoulos got to work on his first Disney movie, 'Maleficent: Mistress of Evil'. I love the Disney cartoons, Tatopoulos tells 8 DAYS. It's good to be part of the family.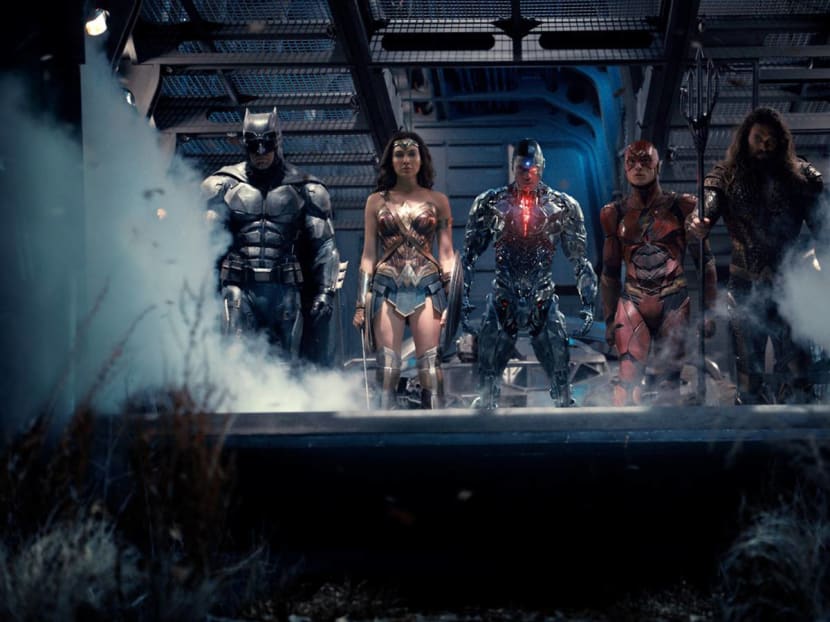 1. It's his first Disney production!
In a career spanning three decades, Tatopoulos has worked with the likes of Roland Emmerich (Independence Day), Alex Proyas (Dark City), and Zack Synder (Justice League,) and Len Wiseman (Underworld) but he has never worked on a Disney project.
"There's a bunch of us production designers out there," he Tatopoulos tells us. "And there are people with existing relationships with Disney for years and years, so it's very hard to get [on their radar]."
All that changed when Norwegian director Joachim Ronning rang him up for Maleficent: Mistress of Evil. "I was lucky enough to meet him," he adds. "He remembered that I could sketch and draw which was appealing to him. Not because he wanted to provide input… it was more about feeling that we could have a dialogue together very easily, sketching and talking together."
2. Just because it's a sequel doesn't make his job any easier!
"The first thing for me was to make sure I revisited the first film and tried to learn the language and aesthetic that was already in place," says Tatopoulos.
"What was great about this film is that I could closely follow the design of the first movie [by Dylan Cole and Gary Freeman] but I also had the opportunity to design new things. The Moors were something we'd seen in the first film, so there was already an aesthetic for that, but the world outside the Moors is a very different one. There is a new castle and a new town, and the world of the dark fey is a new world, and this landscape, these environments, were a very big part of the script."
All in all, there are four worlds in Maleficent: Mistress of Evil: the fairy world of the Moors with Aurora's castle; the town of Ulstead; Queen Ingrith's castle; and the world of the dark fey. The style he came up with is medieval with a slight Gothic, revival aesthetic, like something you'd see at the turn of the century.
Indoor garden: Elle Fanning as Aurora on the Moors set, which was built on a Pinewood soundstage and featured two rivers with waterfalls, live exotic plants and real flowers.

3. Size matters!
"I'm a bit old school so I like to build practical sets," says Tatopoulos who built the sets at Pinewood Studios outside London, using six soundstages and the studio's colossal backlot.
For Queen Ingrith's castle, "Joachim wanted it to be something out of this planet that's really, really big — the biggest castle you have ever seen." It was so big that it took up five soundstages. (In the real world, the castle would've been "a couple of Eiffel Towers" in height.)
Inside, the dining room was just as massive: a hall with a 30m high vaulted ceiling, a 19m long dining table, and an 8m high throne. "Everything had to be on a bigger scale to match the castle. You can't just have a normal table or a normal throne or a normal banner. In a castle this big, it's all got to be somehow representative of the scale of the overall castle Queen Ingrith wants you to feel little because that makes her feel bigger and better about herself."
4. He would love to write a book about his Hollywood adventures!
"I have been approached by companies that want to publish my works," says Tatopoulos who has only one feature as a director, 2009's Underworld: Rise of the Lycans (that's the one with Michael Sheen making whoopee with Rhona Mitra — a hilariously bonkers moment).
If he were to write a memoir, it would not just about his experiences but also how digital technology has revolutionised his craft.
"When I came to Hollywood, there was no Photoshop. The process was done on paper, using pencils and markers. We would print things. We would draw again. When we worked on Independence Day, we had to build models and composited them into a plate shot. With all the digital tools we have today, designers like us have to be in tune in the world of visual effects as well. The job of a visual effects supervisor and a production designer are getting more and more the same."

Maleficent: Mistress of Evil (PG) is now in cinemas.
Photos: Disney; TPG News/Click Photos