Best Halloween Parties & Events To Go To In Singapore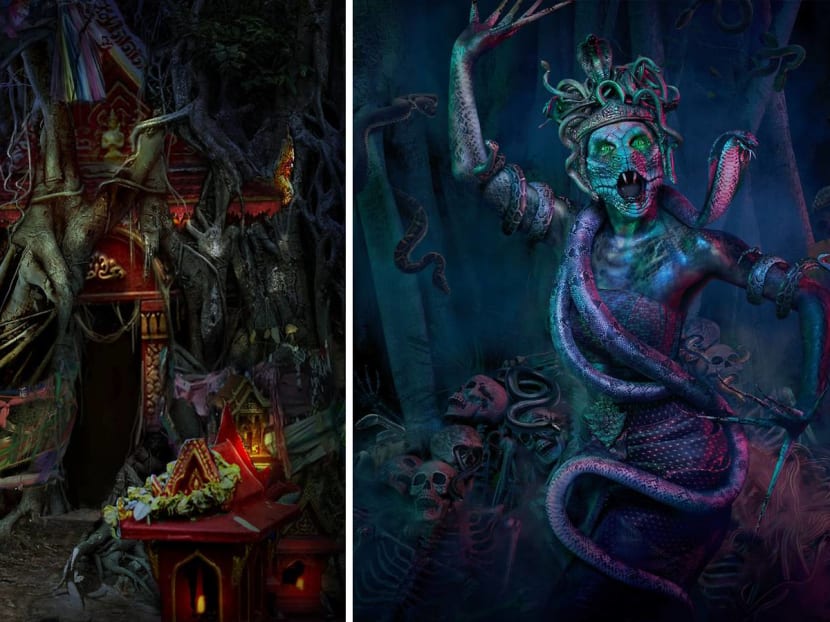 USS is upping the ante for Halloween Horror Nights with a haunted house specially created by the renowned Thai filmmakers behind cinematic scare-fests like Shutter and 4bia. This is USS' first-ever regional collaboration in the nine-year history of HHN. Curse of the Naga will transport visitors from bustling Bangkok to a lost village in the jungle, cursed by the spell of a snake spirit called Naga, a fusion of a Thai traditional dancer and a mysterious serpentine spirit.
Halloween Horror Nights 9 will feature five haunted houses, two scare zones and two live shows in total. Joining Naga and chalet spirits in this edition are clowns, dolls and tortured prisoners in a dingy, cramped prison. Basically, everything that's a nightmare come true for a horror fan. Read our full review of HHN9 here.
Halloween Horror Nights 9 is on for select nights from Sep 27 to Oct 31 at Resorts World Sentosa. Tix are $70 for peak nights and $60 for non-peak nights. Early bird tickets are priced at $65 (peak) and $55 (non-peak), and is available until Sep 1. More info at https://www.halloweenhorrornights.com.sg/.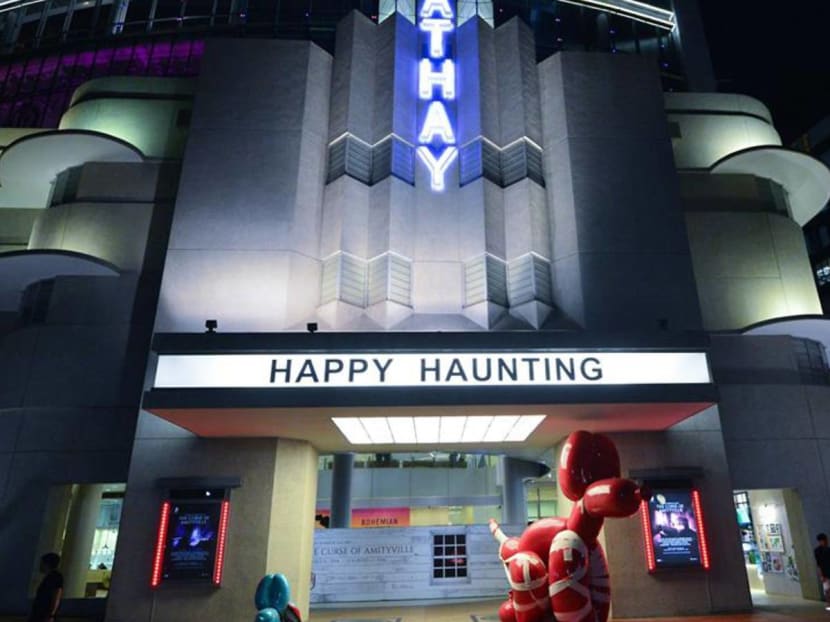 If you're a fan of Halloween, Asian horror flicks and eerie urban legends, we have some good news for you. Talk a walk through the haunted houses parked at The Cathay on Oct 16-20 and Oct 23-27 at Cineleisure. You'll come face to face with iconic villains from horror classics such as The Ring, Shutter and Dark Water, as well as urban legends like Chinese vampires and Pontianaks. To enter the haunted house, just spend a minimum of $5 same-day receipt from Cathay Malls or a ticket stub from Cathay Cineplexes. Otherwise, a $10 entry fee applies.
Oct 16-20 at The Cathay, External Atrium; Oct 23-27 at Cineleisure, Level 4. Various timings. More info at http://thecathay.com.sg/event/horrorhaunt.
Photo: The Cathay
Zouk's pulling out all the stops at its Halloween shindig this year. The mega club will be transformed into Fright Safari, a safari-turned-wasteland that's been abandoned since the 1960s, no thanks to a mysterious radiation leak. Revellers will find themselves in a decrepit underground lab and safari full of disused cage enclosures, shackles, or bump into sinister park rangers and mysterious creatures lurking in corners you least expect.
Oct 25, 10pm-4am, Zouk, 3C River Valley Road, Clarke Quay, #01-05 to #02-06, The Cannery, S179022. Tickets from $35. More info at http://zoukclub.com/.
Photo: Zouk Singapore/Facebook
If hiding from a Texas Chainsaw style killer and a monster sounds like fun to you, head to Bar Rouge's bloody Halloween party. The Rouge Grossery Store is probably where Jack the Ripper goes to stock up on daily necessities, from the 'cold room' where the Rogue Ripper and Abominable Monster will be stalking their prey through the night to the dancefloor where, er, fresh produce may be found. Macabre, we know. Guests dressed to the theme will receive complimentary entry and when 1am comes around, the best dressed guest will leave the 'cold room' with prizes such as a bottle of Grey Goose and a one-night stay at Swissotel The Stamford. Rogue Grossery Store will also be featuring Bar Rouge's resident DJs Kenneth Francis, Styluxtakut, Rattle and Fadile.
Oct 25-26, 10pm-6am, Bar Rouge, Level 71, 2 Stamford Rd, S178882. Cover charge from $25; free entry for guests dressed to theme. More info at http://barrougeclubs.com/sg/
Photo: Bar Rouge Singapore/Facebook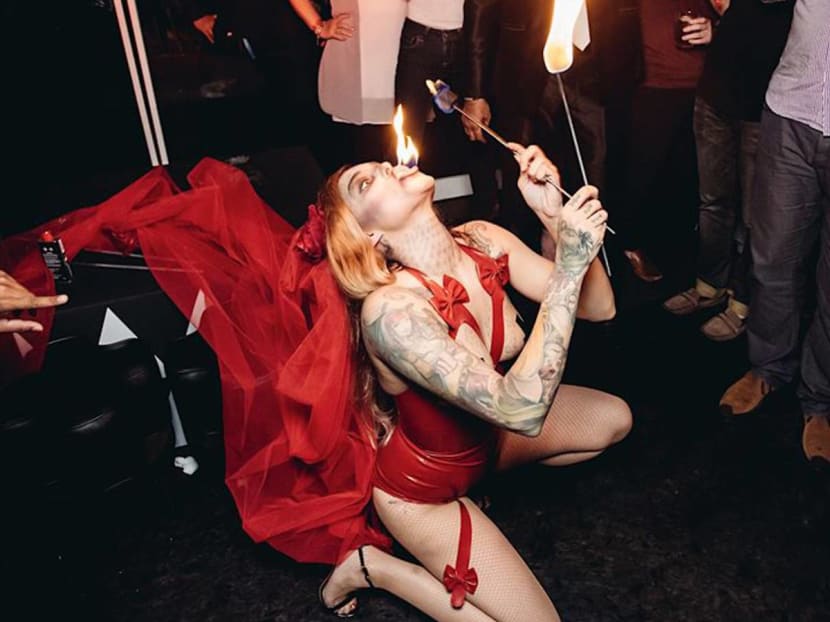 Time to dress up in your freakiest, most fantastical Halloween costumes for this shindig of theatrical oddities. Dirty Circus, back for its fifth year, will see London's award-winning Cirque Le Soir and its troupe of firebreathers, exotic dancers and contortionists taking over the Halloween party at Ce La Vi. Spinning for the night are DJs Andrew Tang and MinGs, who will be pumping the party up with progressive house and dance remixes. By the way, guests who arrive in costume before 12 midnight enjoy complimentary entry, so you know what to do.
Oct 26, 10pm-late, Ce La Vi, Marina Bay Sands SkyPark, 1 Bayfront Avenue Hotel, Tower 3, Level 57, S018971. Tickets from $28 (pre-sale). More info at https://ticketing.igo.events/e/532/dirty-circus-feat-cirque-le-soir?ref=media
Photo: CÉ LA VI Singapore/Facebook
Halloween parties can be groovy too, okay? Dress up for 80s-inspired club Nineteen80's two-day Funhouse Weekender —best-dressed guests in their funkiest get-ups for the night will be rewarded. Providing thrills and spills on the decks over the two nights are DJs Ollie'Dea, Andrew Chow, and Fadille. There is a cover charge of $18 after 10pm, inclusive of one standard house pour drink on Saturday and complimentary entry on Sunday.
Oct 26-27, 9pm-late, Nineteen80, 21 Tanjong Pagar Road, #01-05 S088446. Cover charge from $18. Contact +65 9183 6073 or email insertcoin [at] nineteen80.sg () for table reservations.
Photo: NINETEEN80/Facebook
If you're looking for a bloody good time, Pinball Wizard is throwing a Dracula-themed soiree for its first-ever Halloween. Not only is there complimentary entry, don your best costume and you could also disappear into the night with a prize. DJs Bobos and Nicolette are on deck duty, so get moving on the dancefloor or flaunt your moves in a different way — via the pinball machines that are around the club.
Oct 26, 9pm-Late, Pinball Wizard, Sim Lim Square #B1-29, 1 Rochor Canal Rd, S188504. Complimentary entry all night long. Contact +65 8189 1971 or email launchball [at] pinballwizard.sg () for table reservations.​​​​​​​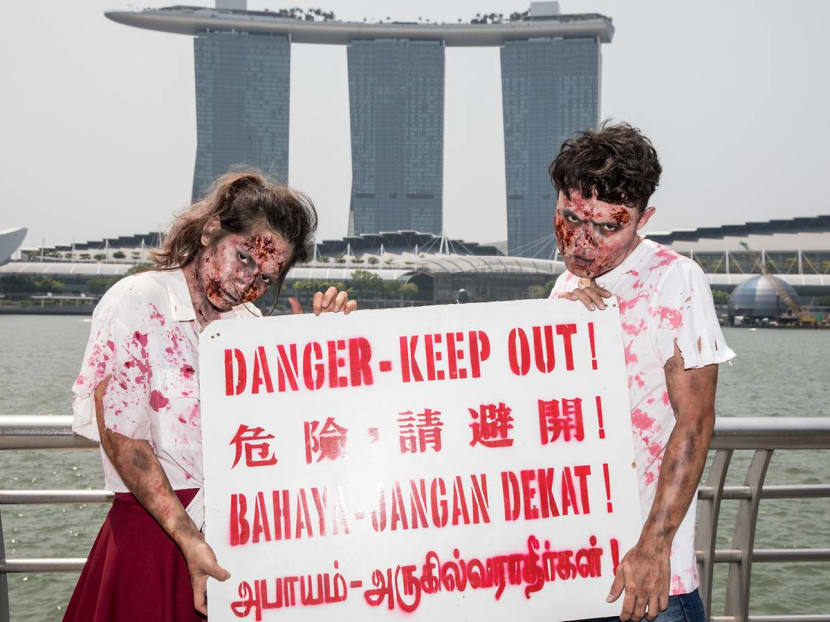 This must be what Left 4 Dead and World War Z would look like in real life. Zombies are set to invade this year's Zedtown, a zombie survival game where hopeful survivors (yes, you), armed with Nerf guns, battle it out against the undead in a series of missions. The live-action role-playing game has seen success in America and Australia (over 1,300 players battled it out in Sydney in their last game Down Under). It'll land here at the National Stadium, where a simulated State of Emergency is happening in dystopian Singapore. And to really get you in the mood for Zedtown, each ticket comes with zombie make-up, though more expensive packages give you more game privileges and merch.
Oct 26, 12pm-4pm & 6pm-10pm, National Stadium, 1 Stadium Dr, S397629. Tickets from $40. More info at https://sg.zedtown.com/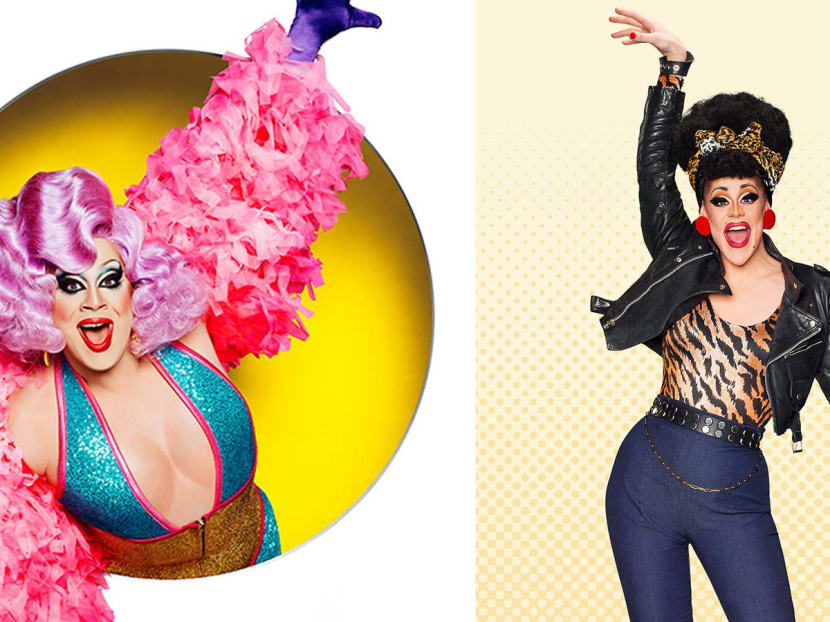 This Halloween just got more fabulous with RuPaul's Drag Race stars Nina West (left), Season 11's Miss Congeniality, and RPDR All-Star Thorgy Thor (right) strutting to our shores for the inaugural Halloween-themed drag extravaganza. Expect nothing less than complete mayhem, shocking performances, the fiercest wigs and fab costumes from two drag queens who are among New York Magazine's list of top 100 most powerful drag queens in America.
Oct 29, 8pm-9.15pm, Shine Auditorium, 100 Beach Road, #03-01 Shaw Tower, S189702. Tickets from $88. More info at http://www.la-comedylive.com/
Halloween falls on a Thursday this year, but come on, no one's about to go all out partying on a random school night. Smoke & Mirrors has the perfect balance of eerie-sistible fun that won't tip you over the edge, so you can still head for meetings the next day feeling human. Booze and Boos is the rooftop bar's take on a Halloween shindig, where special cocktails created by head bartender Jorge A Conde will be available ($18++ each) on Oct 31 and Nov 1. The first 50 guests to arrive on Oct 31 will receive a special surprise. And if you come dressed to impress the Halloween powers that be, you could stand a chance to win a 2D1N weekend stay at Grand Park City Hall (worth $500), a $200 cocktail experience at Smoke & Mirrors or a bottle of Black Tears Cuban spiced rum.
Oct 31, 7pm til late, Smoke & Mirrors, #06-01, National Gallery Singapore, 1 St. Andrew's Road, S 178957. More info at https://www.facebook.com/events/2988301974577218/.