Free Entry For Singapore Residents To teamLab's New Immersive Exhibition
If you love the dazzling Future World exhibition at ArtScience Museum, you'll love this new digital exhibition at Gardens by the Bay (GBTB) even more. #Futuretogether at GBTB is an immersive exhibition of seven digital art installations, and is the brainchild of art collective, teamLab. They're the maestros who brought you the Insta-worthy sparkly backdrops and installlations at ArtScience Museum. What's even better? There's free entry for Singapore residents once #Futuretogether at Gardens by the Bay officially opens on Jan 16, 2020.

#futuretogether was put together to mark the close of the Singapore bicentennial year, and all exhibits encompass three themes — Aspirations, Connectivity and Possibilities — which probably explains the contemplative nature of the pieces (and their titles).

At the moment, two outdoor exhibits have been soft launched and are free for all to appreciate. Indoor exhibits will launch officially in Jan 16 and will be free for Singapore residents to enjoy. But in the meantime, we've got a sneak peek of what to expect next month when it is officially unveiled to the public.
One of the two installations that are ready for your viewing pleasure is this one at the Dragonfly Lake — you've probably already 'grammed this if you're on your way to Christmas Wonderland via The Meadow at GBTB. Like all the installations at #futuretogether, these have abstract, thought-provoking monikers that wouldn't be out of place in a haiku. This one's called 'Autonomous Resonating Life on the Water and Resonating Trees' (yes, it's a mouthful). But these aren't just cute, illuminated floating ovoids — the lights fade, shine brighter, and change colour as they move.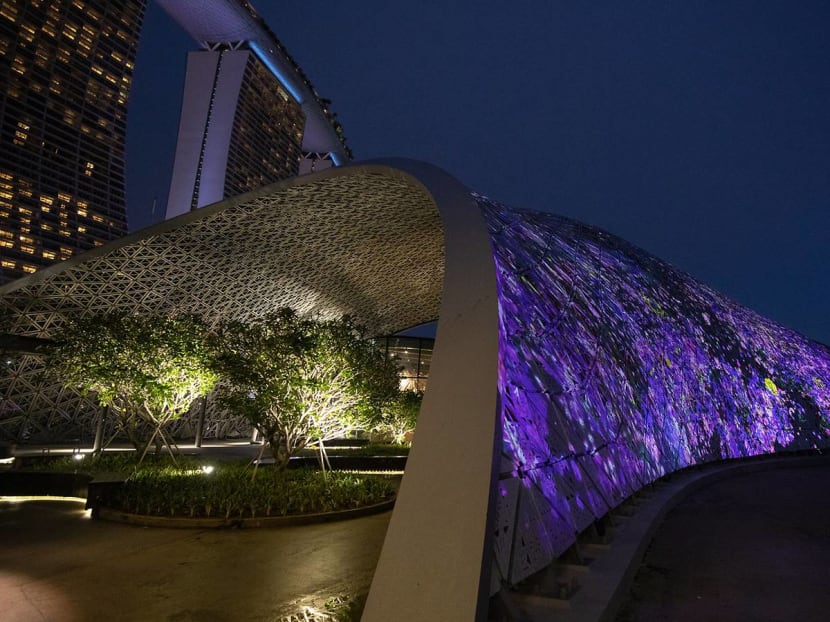 Also currently ready for the 'gram is this mega tunnel of shimmering splendour that boasts digital projections of flowers blooming and scattering across GBTB's lattice structure according to human movement. It's artistic name, however, is a more refined one, 'Flowers and People — Giant Lattice Mass, a Whole Year per Hour'.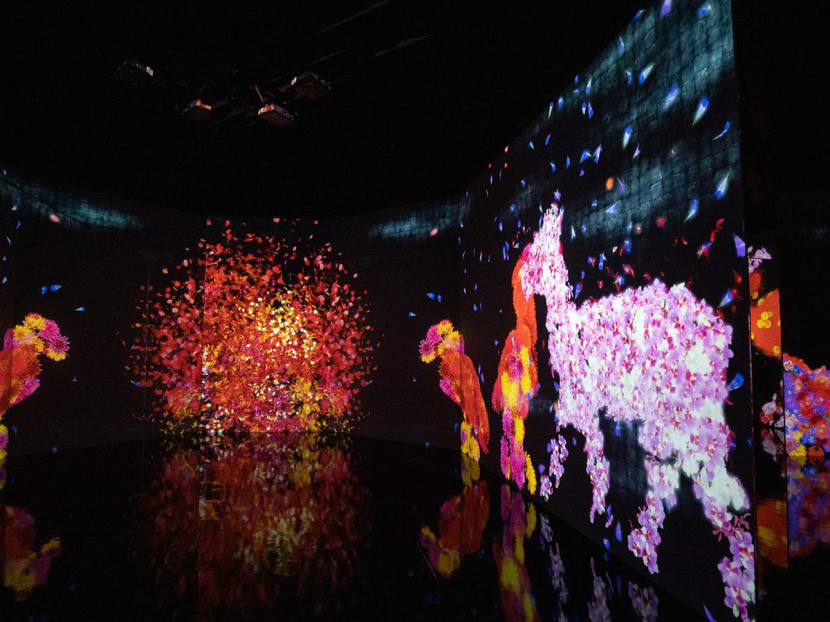 Indoor exhibits will only launch Jan 16, but here's a glimpse of what to expect ahead of the official launch. Among them is an interactive installation. 'Animals of Flowers, Symbiotic Lives', sees digital projections of animals unique to our region (hello smooth-coated otters, Sambar deer and Malayan Sun bears!) with blooms growing on them react according to human touch. As visitors touch the projections, petals scatter beautifully. Touch them too much and they'll die and fade away. Insert sad face emoji.
Catch #futuretogether outdoor exhibits from Dec 15 to Jan 15, 2020 at 7pm-12am at Bayfront Plaza at Gardens by the Bay. Admission is free.

#futuretogether officially runs from Jan 16 to Mar 15, 2020, 9am-9pm (indoor exhibits) and 7pm-12am (outdoor exhibits). At Bayfront Plaza at Gardens by the Bay. Admission is free for Singapore residents (additional charges apply for certain exhibits) and $10 for standard tickets. Advanced tickets to the exhibits can be booked at www.gardensbythebay.com.sg.

Photos: teamLab