This Grab Robot Runner Will Soon Collect Your Orders From Several Eateries For Quicker Deliveries
But it'll still be a human who delivers it to your doorstep.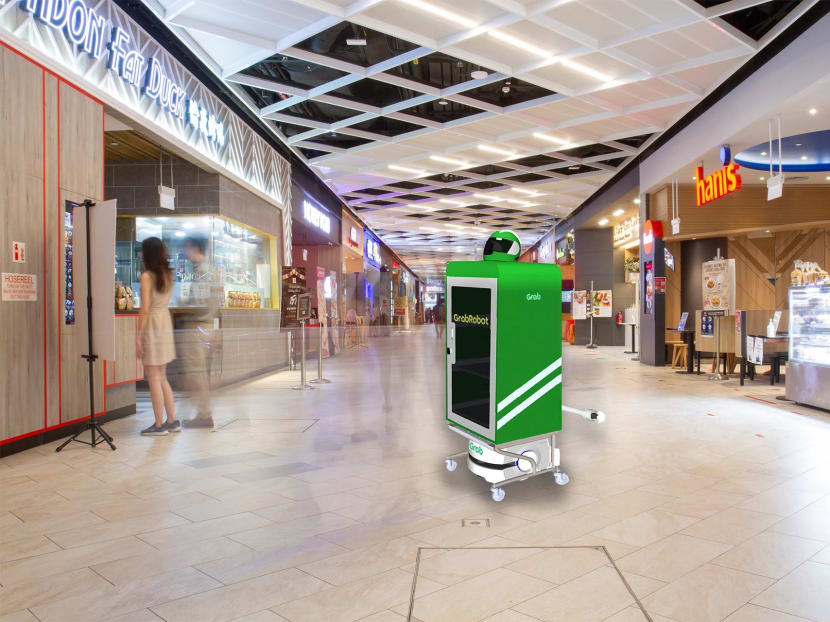 Meet Grab's latest, er, employee: a robot runner that could help speed up deliveries.

Grab will be piloting a robot runner service to consolidate mix-and-match orders, where customers can order food from several restaurants — usually within a single location like a mall or a hawker centre — and just pay one delivery fee.

The trial will kick off at Paya Lebar Quarter (PLQ) Mall on the second week of June.

With this new service, the robot will collect orders from the various F&B outlets and merchants before handing it off to Grab delivery riders — that is, the actual humans — at a collection point. The humans then deliver the order to your doorstep.

It will serve up to 35 GrabFood and GrabMart merchants at basement two of the mall. It's estimated that the robot runner can ferry over 250 orders daily.

The food cart on the robot runner comes with a combination lock, and the code is given only to merchants and Grab staff manning the collection point to prevent anyone else from tampering with the food.

While it's not clear at what speed the robot runners, er, run, Grab says that it's estimated that it could shave five to 15 minutes off the time it'd take Grab delivery partners to navigate their way through the mall to pick up orders from various places. It not only reduces overall delivery time, but may also potentially allow Grab riders to fulfil more orders per day, says the company.

According to the press release, the Grab robot runner will "learn about its surroundings through artificial intelligence (AI) and optimise for maximum efficiency". It's fitted with safety sensors to detect obstacles and has an automated voice message to alert people of its presence, so don't worry, your soup isn't going to spill. A Grab runner will guide the robot at the start of the programme to help it learn its ideal route.

The pilot service will run for a month before Grab reviews the robot runner's performance and viability before expanding the programme to other locations.
Photo: Grab