We Met The Try Guys And These Are The Life Lessons We Learnt From Them
You get fried chicken, you get fried chicken, everybody gets fried chicken!
Went to The Try Guys' show in Singapore; got fried chicken tenders tossed at us. Now that's a sentence we never thought we'd say.

If you haven't heard of The Try Guys, or think that they're a boyband, then you haven't been YouTubing right. The YouTube stars — Ned Fulmer, Eugene Lee Yang, Keith Habersberger and Zach Kornfeld — first shot to fame in 2014 when they were working at Buzzfeed, churning out videos of them trying out anything and everything.

And by anything and everything, we mean anything and everything. The Try Guys have gotten their bones cracked, worn corsets for 72 hours, baked without recipes, undergone simulated labour pains, and then some. They've since left Buzzfeed to set up their own YouTube channel, and one and a half years on, their star has risen even more. They've amassed over 6mil YouTube subscribers, written a New York Times bestseller, started a weekly podcast and now, are on their global 'Legends of the Internet' tour.

They made a stop in Singapore over the weekend for their first and only show in Asia at The Star Theatre. 8Days.sg got up close with the quartet at a press conference the day before, when the guys hopped straight off the plane for a little tete-a-tete with the media, sans Zach who was away for a "little retreat" with his girlfriend.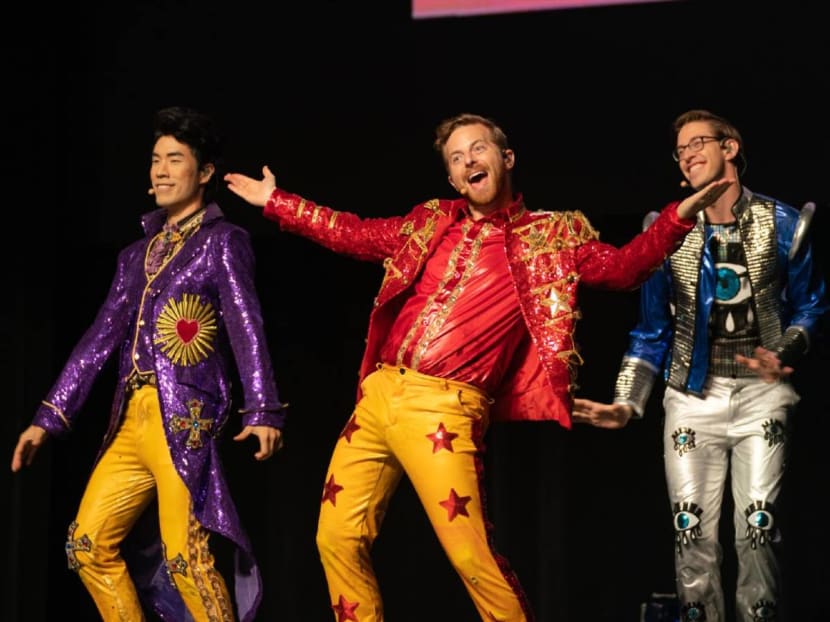 Being together for over five years is no bed of roses. Just ask any boyband. While The Try Guys may not have any major arguments so far, they admit during our five-minute chat that they do fight over small things.

"We'd sometimes argue over a [video] thumbnail. And the title! Like, why would you change the title after it's been up for three hours!" Ned mused.
"Not sometimes, always!" Eugene interjected.

"It may be such an unnecessary thing to be upset about but that goes to show we all care so much!" Keith added.

"I know you want something juicy, but honestly we don't have anything! We're not really juicy people," Ned quipped. "And that's another misconception people have about us. People think artistes and YouTubers are dramatic, but we're genuinely best friends!"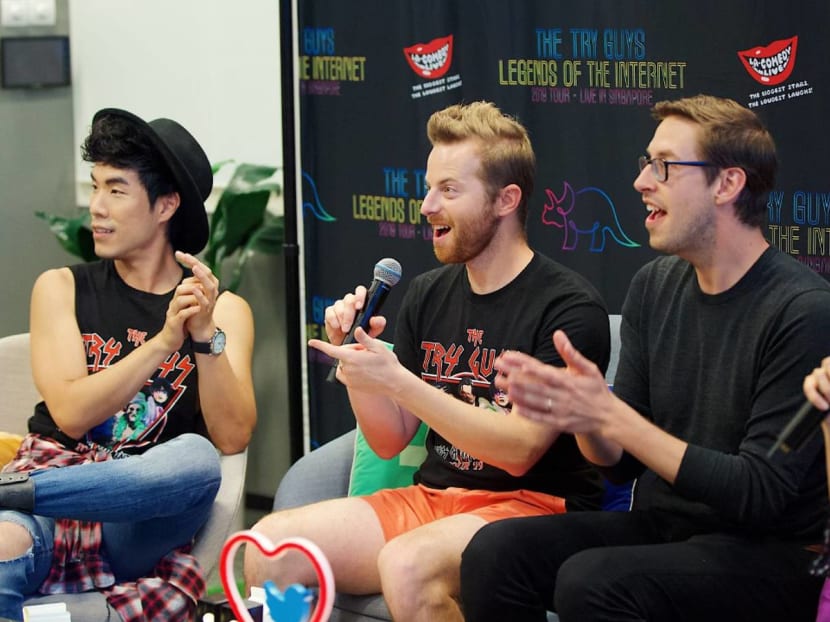 So what does this bunch of guys who have a band-like moniker but aren't a band do at a live show? We found out the next day at their no-holds-barred gig, where 2,000 of mostly millennials who were weaned on a diet of YouTube (and some chaperoning parents) thronged the Star Theatre for their two-and-a-half-hour show.

The Try Guys did everything from various musical performances, to showing off butt tattoos and embarrassing dads on stage. In fact they were so entertaining, we couldn't help but sing and dance along too. #SorryNotSorry

The boys knew exactly what their Tryceratops (that's what their fans are called) wanted. They hammed it up for the screaming crowd with their hilarious antics (think dirty jokes and sub-par lap dancing) and playfully injected cheeky banter onstage. Never mind that there were tweens in the audience.
In other words, this was like no other gig we've attended. These are the 10 things we learnt from legends of the internet.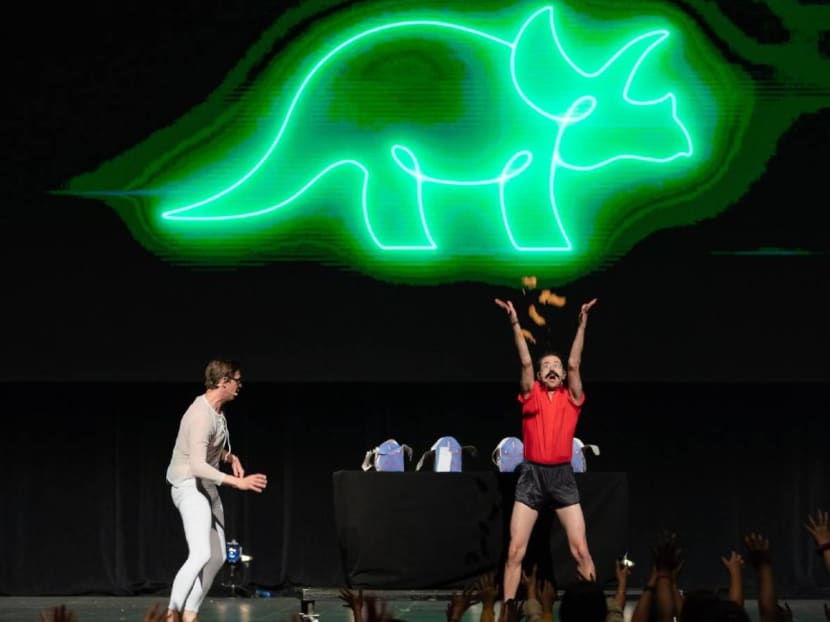 So much so that the 32-year-old decided to spread the love by tossing fried chicken tenders to the audience. Free fried chicken hurled our way at a show? Now that's a first. He kicked off the gig with his segment, Legend of Food, where he confessed that it was his first time in Asia and that he can't wait to have all the chicken rice and laksa in the world.

In fact, he's so obsessed with food that...

He performed a diss segment dedicated to Tim, titled 'Hey b****, let me buy you a pizza', based on his interaction with The Office star almost 10 years ago. In 2010, Keith, then a budding comedian, decided to invite actor Tim Meadows out for pizza when he discovered that the funnyman was also living in Chicago. Keith repeatedly reached out to Tim on Facebook, leaving a post on his wall every fortnight for Two. Whole. Years. Even though he was constantly rejected and eventually blocked, Keith was satisfied to have even gotten in contact with Tim. Well, sorta.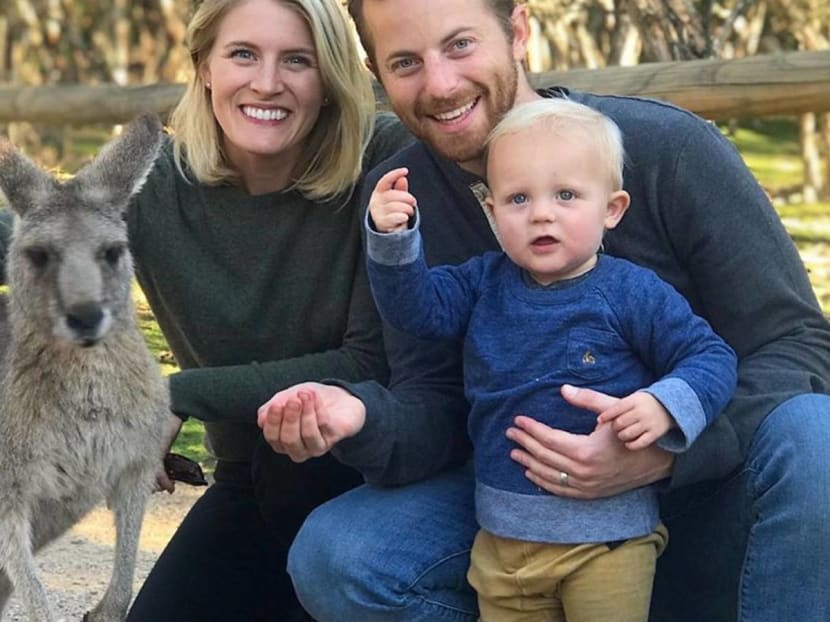 If you've watched any of The Try Guys' videos, you'd know that the 32-year-old Ned is head over heels in love with his wife Ariel, who was present during the performance. Seven years of marriage and a son later, Ned's love for his family continues to grow. In his touching speech, Ned gushed: "You are the love of my life, I love you. Every day is wonderful 'cos I get to spend it with you." Aww. Guys, watch and learn.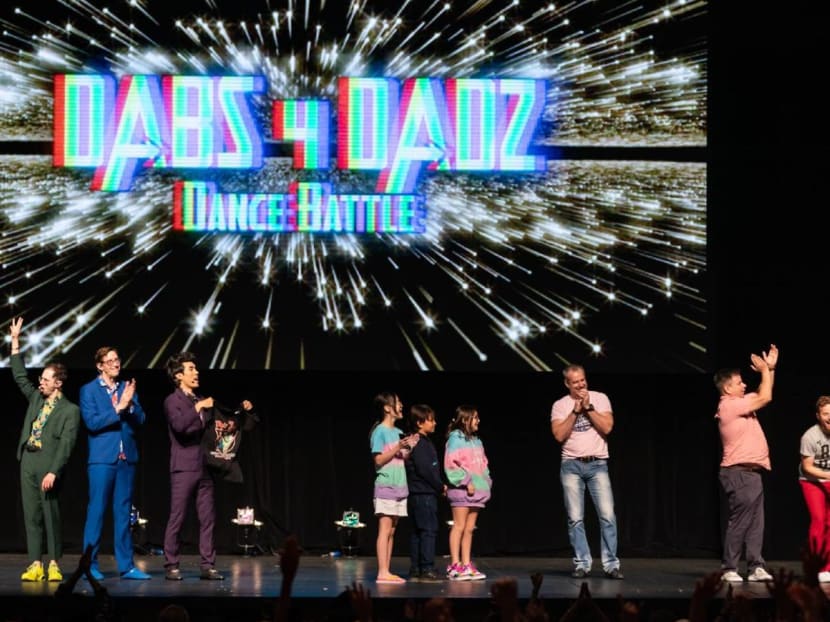 Things took a crazy turn during the performance when Ned got the dads in the audience to show how much they love their kids by participating in a dance battle to win exclusive merch. We never thought we'd see middle-aged fathers dabbing, doing the whip and flossing on stage. Yaaas daddy!

At the beginning of the show, security held up huge placards, warning fans that recording was not permitted. However, the boys shut them all down when they declared: "I don't care! Whoever said you guys can't take photos?" Cue delighted fans whipping out phones immediately.

Despite being the Legend of Fun, 29-year-old Zach revealed that he's had some trying times in his life. He had a close brush with death when he got into a car accident when he was in fourth grade, was diagnosed with clinical depression when he was eight, and had OCD in high school. Now, he's battling an autoimmune disease and has been living in pain for most of his life. But you'll be glad to know that he "isn't gonna let any of that bullsh** get in the way of fun".

How many stars as popular as them actually have the guts to run into their fans without security by their side? Only The Try Guys. Not only did they chiong into the audience a couple of times, they also invited all their fans to go on stage to dance and take selfies with them. Needless to say, almost half the theatre rushed up.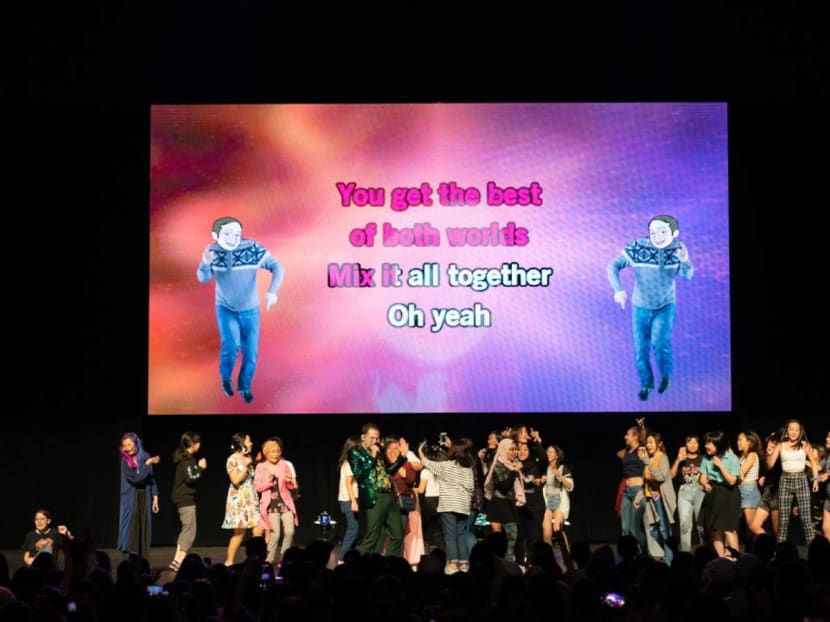 "My name is Eugene, and I am gay," Eugene declared, kicking off his segment, Legend of Gay. Ever since Eugene's coming out video went viral, the 33-year-old Korean has been standing loud and proud about his sexual orientation. Of course, Eugene isn't Eugene without sass and drag. The way he strutted on stage with his striking purple outfit and fabulously lip synced and danced to Lady Gaga's 'Born This Way', we almost felt like we were at a RuPaul's drag concert instead.

The segment "F***, Marry, Kill" saw two teenage fans gushing over how much they wanted to, well, make babies with Eugene. To keep the performance family-friendly, the girls were hilariously given "a lap dance from a comfortable distance" after they had picked Eugene out of Zach and Keith.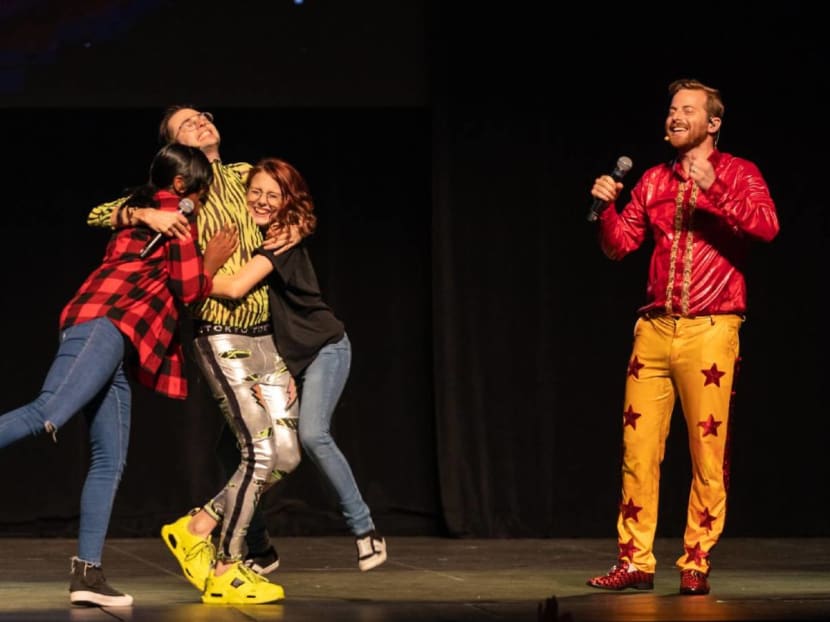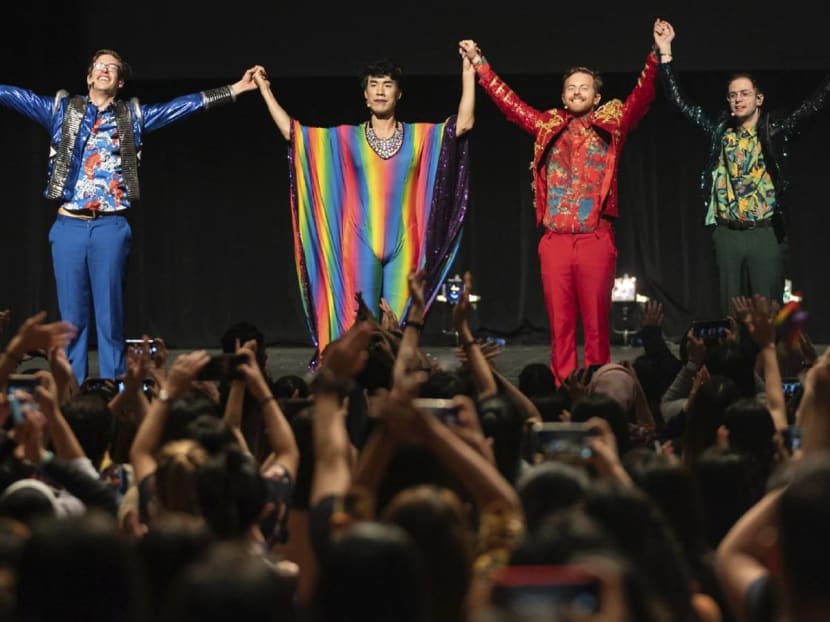 Ain't no technical problems gonna stop The Try Guys. There were audio and projector glitches towards the end of their show, but they decided to just go ahead and sing the acapella version of their closing number. Even after the crew managed to get the sound working again, the guys demanded to cut the music altogether and put up a stellar performance which had everyone on their feet by the end of it. A round of applause, please.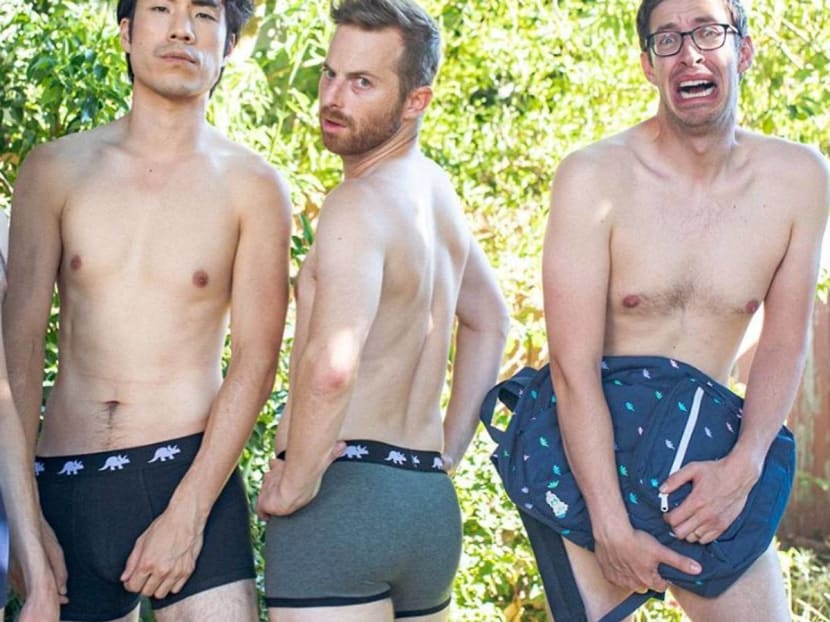 Photo credits: LA Comedy Live and The Try Guys' Instagram