You Can Now Earn Up To $3,800 As A Covid-19 Test Swabber
What does it take to join the swab team?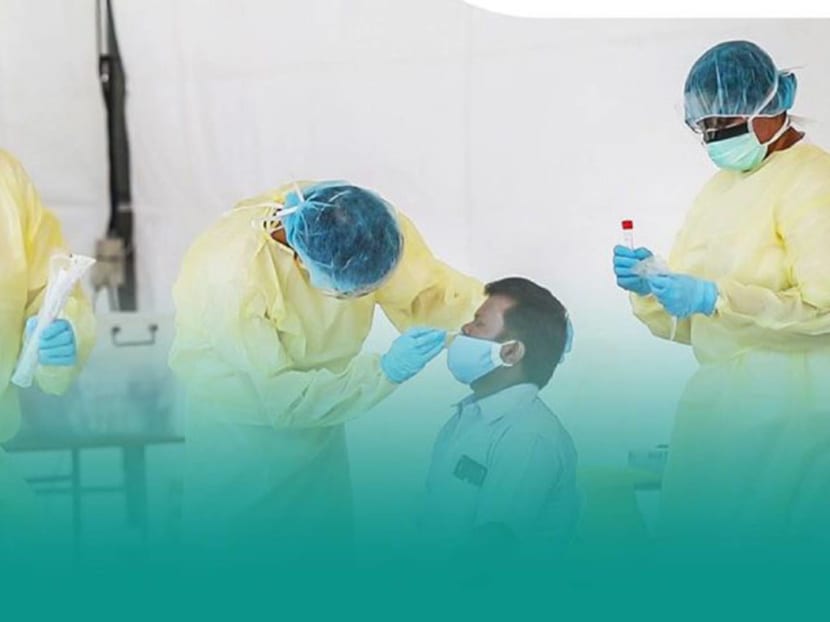 Singapore is ramping up the number of Covid-19 tests done per day, so it comes as no surprise that the search is on to hire more people to carry out these tests. And according to an online job application form, Covid-19 test swabbers can earn up to $3,800 per month.

About 224,000 swabs have been carried out as of May 10, according to the Ministry of Health. The aim is to scale up the number of tests to 40,000 a day, Minister for National Development Lawrence Wong had revealed earlier in the week, with nursing homes, frontline medical workers and migrant workers among the top priorities for testing on a regular basis.
There are job vacancies for Swab Assistants and Swabbers, according to a job posting by the Employment and Employability Institute (e2i), an organisation under the National Trades Union Congress (NTUC).

Individuals will be hired as a Swab Assistant earning $3,400 per month before they can become a Swabber, garnering a salary of $3,800 per month. Successful applicants may be deployed to Community Recovery Facilities, Government Quarantine Facilities and/or nursing homes, among others, and will work on a six-day rotation week for a period of six months, with an option to extend for three more months.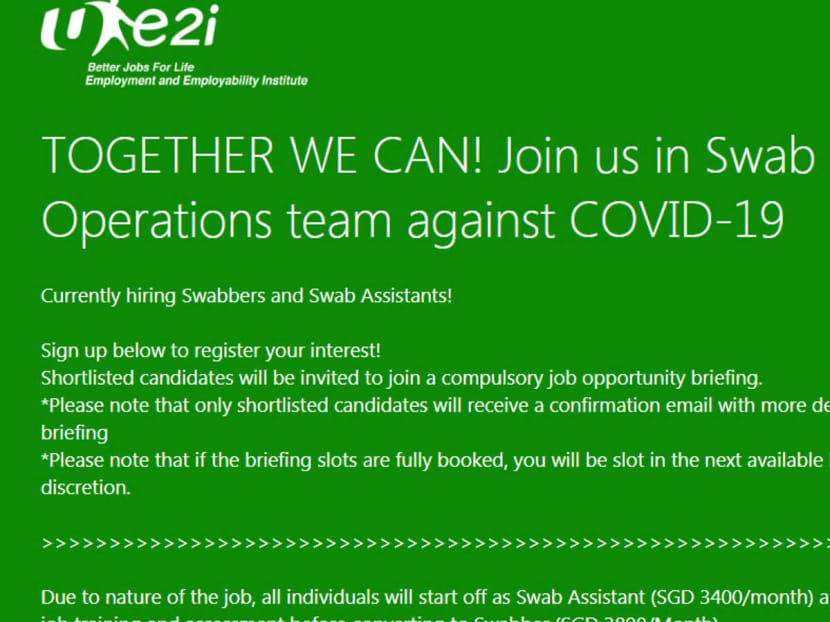 Swab assistants will be required to:
• Ensure that the right client turns up at stated appointment slot for on-site registration by checking name and ID number against namelist provided by the camp
• To fill in registration and laboratory forms completely
• Disinfect tables and chairs after each client during triage and registration. Prepare tissue papers for clients if needed
• Coordinate with ushers to approach individual client with swab kits (with correct client names) at designated areas
• Inform client on swab process, potential discomfort and next steps after swabs
• Prepare and seal specimen bag/s for swabber to deposit specimen container after each swab
• Triaging of clients
Meanwhile, this is the job description for Swabbers:
*Actual Swab Day Involvement*
• Check with verified clients for any respiratory symptoms/contraindications based on checklist provided
• Coordinate with medical doctors to swab and attend to isolated clients who declared positive for respiratory symptoms/contraindications.
• Double check correct client name labels on swab kits and ensure 1 meter spacing at all times
• Perform Nasopharyngeal swab procedure to collect specimens for lab testing. Attach patient sticker with lab number onto specimen container after each swab.
• Follow necessary procedures and secure the swab in the UTM on lab provided rack.
• Check in on client's well being at all times before and after swab.
More info at https://e2i.com.sg/. Interested parties can apply at https://bit.ly/2y8fw8i.
Photos: Employment and Employability Institute website screenshots