Shiok $4.70 Lu Rou Fan & Oyster Mee Sua At Whampoa Hawker Stall, Chew Chor Meng Is A Fan
The recipes used at NiuNiu Tea & DuDu Rice come from the hawker's Taiwanese family and his Chinese-Korean wife.
As Singapore shifts out of Covid-19 pandemic mode, some local home-based businesses are upgrading their operations to dine-in eateries. One such biz is three-week-old NiuNiu Tea & DuDu Rice at Whampoa Drive Food Centre, run by a hawker with Taiwanese heritage and his Chinese-Korean wife.
Its kitschy neon décor and wooden odeng (Korean fish cake soup) boilers stand out from its hawker neighbours, which includes the likes of popular Balestier Road Hoover Rojak and Qinde Egg Tarts & Pastries. The stall's menu reflects its owners' diverse backgrounds, with well-loved Taiwanese nosh like lu rou fan (braised pork rice) and oyster mee sua alongside Korean grub like cheesy tteokbokki (rice cakes) and kimchi.
No part of this story or photos can be reproduced without permission from 8days.sg.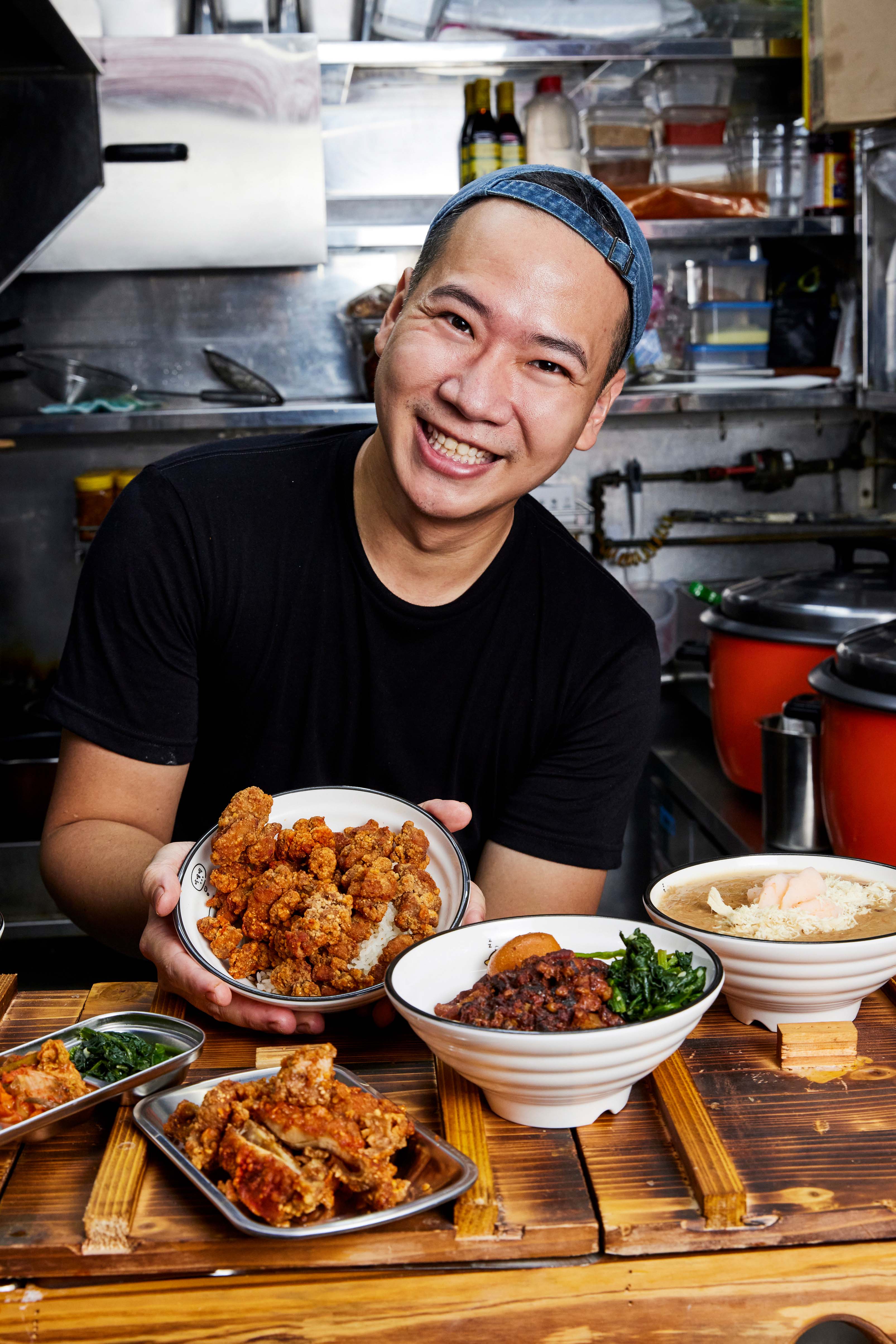 Hawkers with diverse heritages
The stall is owned by Ryan Tan, 36, a Singaporean whose parents hailed from Kinmen, Taiwan. He has help from his Chinese-Korean wife, Cici Liu, 34, who was born in Chengdu but is now Singaporean.
As for why their shop is named the tongue-twisting NiuNiu Tea & DuDu Rice, Ryan explains that it's a play on his two young daughters' nicknames and a reference to the Taiwanese milk tea and rice bowls they sell. The Taiwanese and Korean recipes he uses at the stall are all from both sides of his and his wife's families.
The couple met while working as service staff at Pan Pacific Singapore hotel. After getting hitched, they both decided to leave the hotel line in 2014 to focus on family. Ryan, who has a diploma in hotel management from SHATEC, says: "I decided to look for a job in F&B to keep doing something service-related, but with better prospects and more free time."
Over the next six years, he worked at Korean fried chicken restaurant Kko Kko Na Ra as a service consultant, then Jiak Modern Tzechar as a restaurant manager, while Cici became a full-time homemaker and supplemented their household income by being a private yoga instructor and tuition teacher.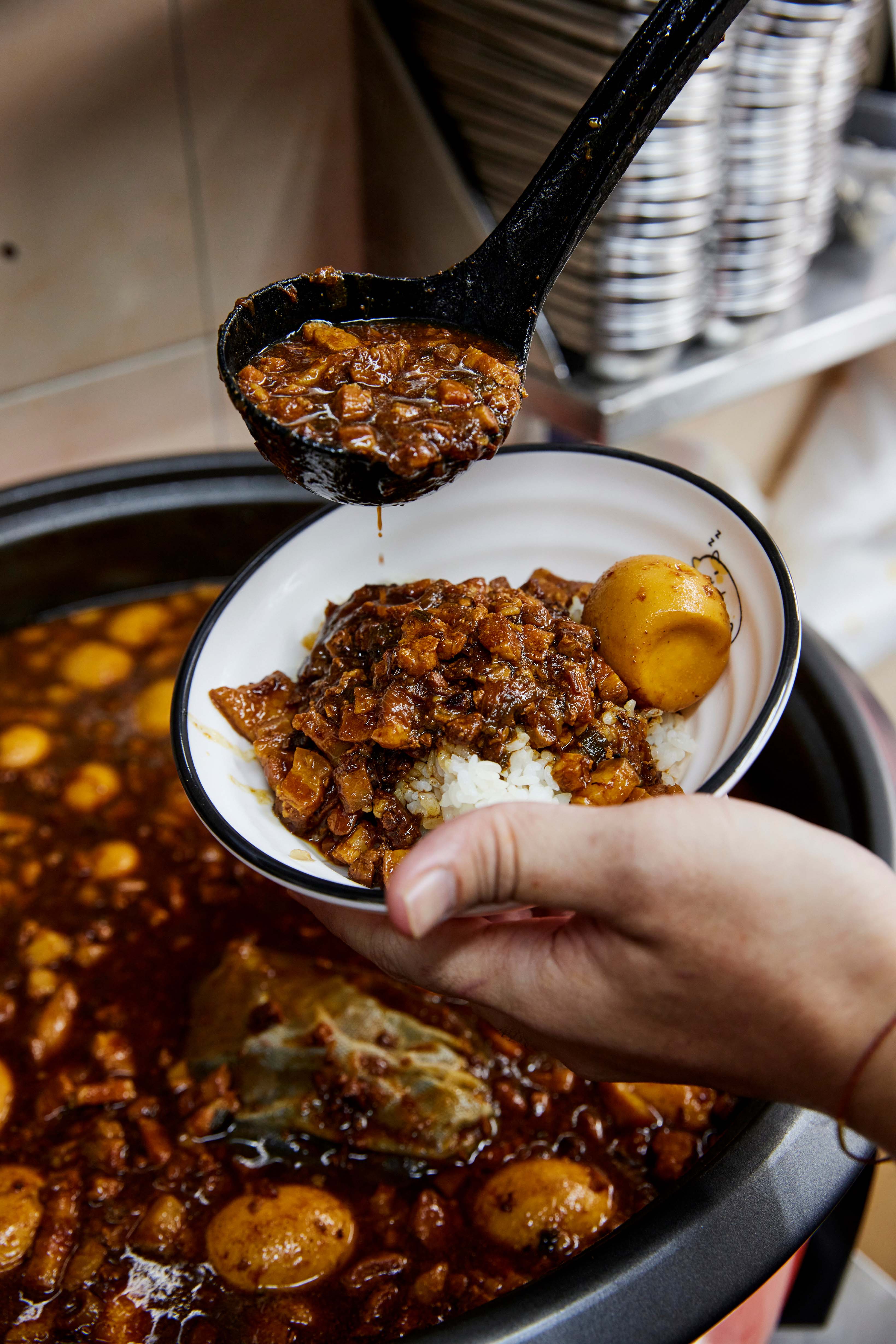 Chew Chor Meng & Thomas Ong are their customers
Ryan and Cici started NiuNiu Tea & DuDu Rice as a home-based biz out of their four-room HDB flat in 2021. Ryan explains: "There were a lot of home-based businesses then, and I saw the potential for a Taiwanese fusion concept as people here really like Taiwanese food."

He was also motivated to become a business owner as he found the opportunities more lucrative. "With two kids, I told myself there was no way I could keep knocking on my boss' door to ask for a pay raise," he shares. "There's much better potential to grow my income running my own venture, if it goes well."
That said, he is realistic about the industry's drawbacks: "But of course, there are fears that come with running your own business too. The biggest issue is health – when you get sick as a hawker, you don't get paid."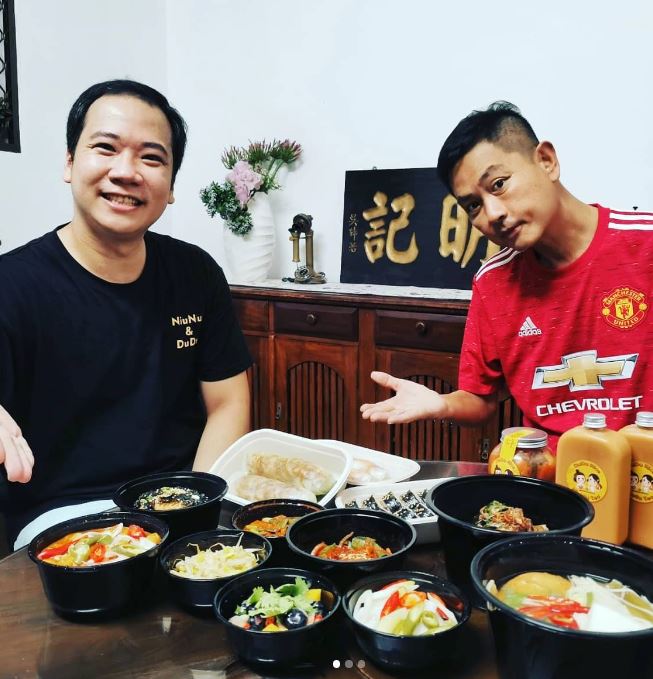 Ryan was heartened about his home-based business' viability after receiving "an encouraging reception", including support from celeb foodies like Chew Chor Meng ("a good friend" that the hawker first met during his restaurant manager days and who ordered odeng, milk tea and oyster mee sua for his 118 co-star Sheila Sim) and Thomas Ong, both of whom became repeat customers.
Ryan was heartened about his home-based business' viability after receiving "an encouraging reception", including support from celeb foodies like ("a good friend" that the hawker first met during his restaurant manager days) and, both of whom became repeat customers.
Worked at mod-Asian restaurant to refine recipes
While bidding for a hawker stall at Whampoa Makan Place – which he chose due to its popularity and proximity to his home – Ryan found work last October as a manager at mod-Asian restaurant Avenue 87, where he became fast friends with chefs Glen Tay (fourth from right) and Alex Phan (far right).

Though he was working in a service role, Ryan says: "I told them upfront that I was there to learn, and they were very gracious in helping me research and work on my recipes with me before service." He worked there for almost a year, until he opened his hawker stall on Aug 1. Having sank $22,000 into setting up his stall, Ryan now manages it solo with occasional help from his wife and Alex's father.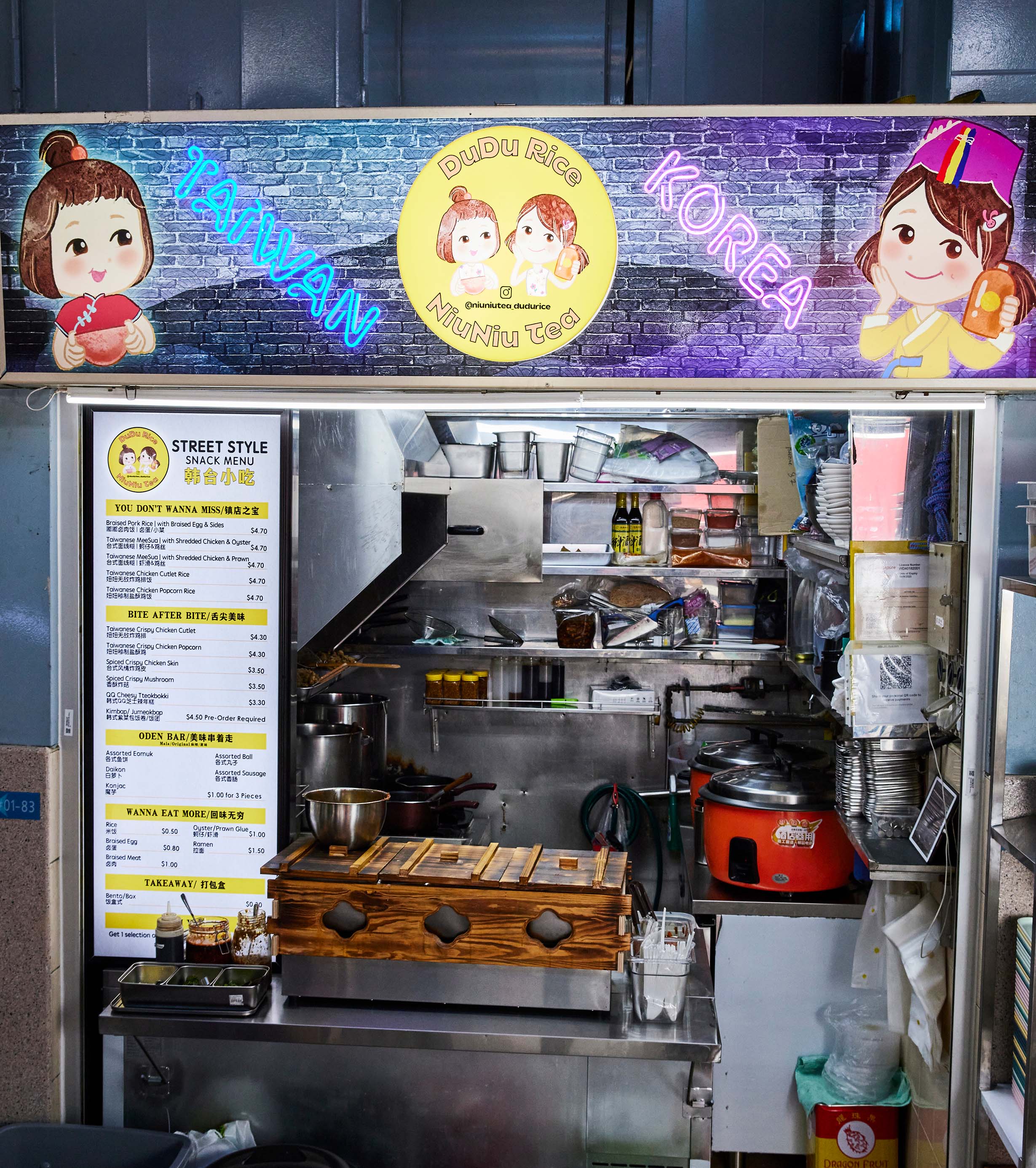 Good business here
Even though the stall is pretty new, we noticed a constant stream of customers during our visit – drawn perhaps by the brightly-lit storefront and its relatively unique offerings. "There's only one other Korean stall in the whole hawker centre, and it sells barbecued meat bentos," he tells us. Eventually, the towkay hopes to open a "Taiwanese-Korean cafe snack bar", though he says that depends on the success of his first venture.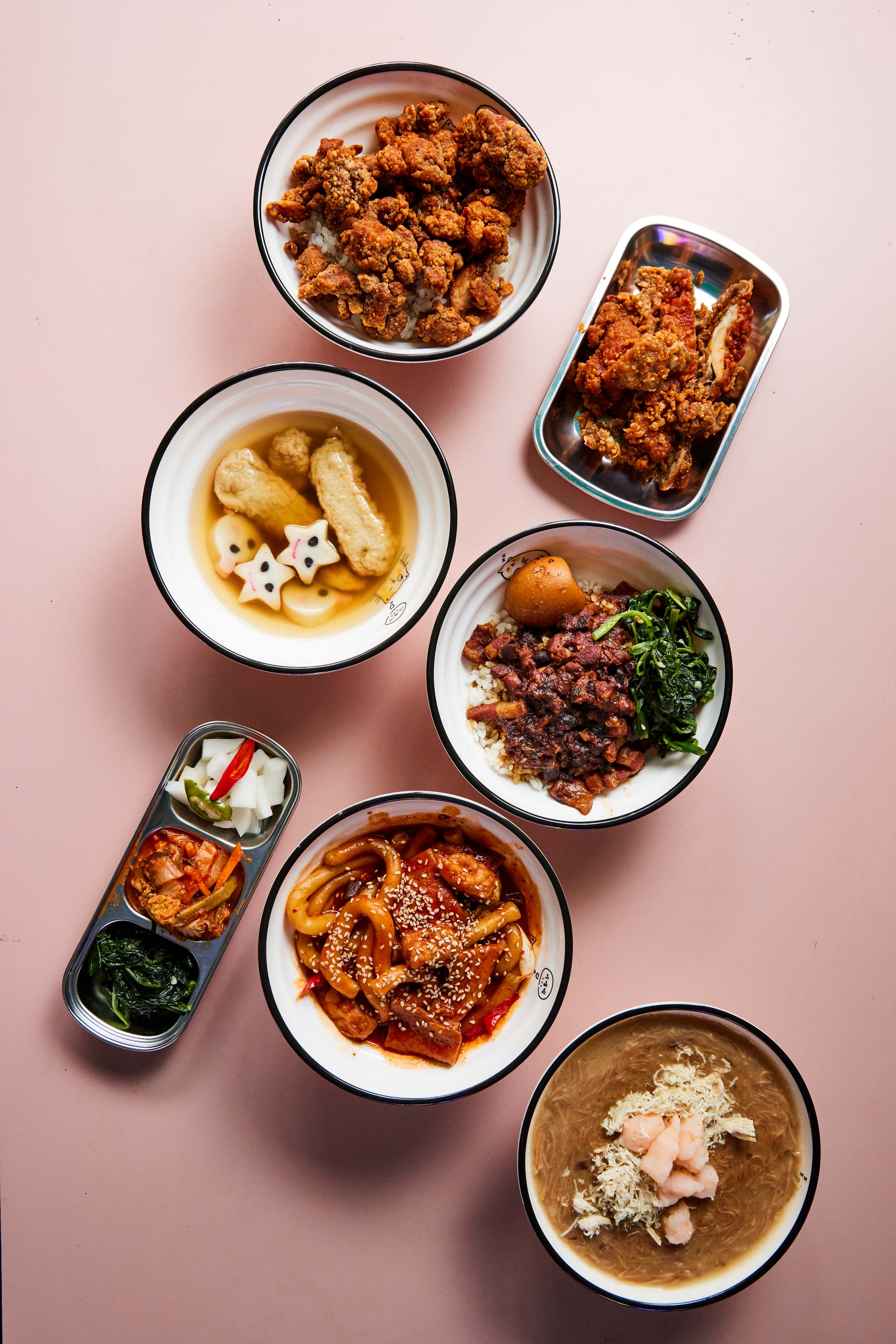 The menu
Ryan's hawker menu is kept small to make it easier for him to manage the stall alone. There are Taiwanese mainstays along with Korean street snacks and banchan from $4.70 for a main. Other items like milk tea and kimbap (Korean-style sushi rolls, except that the rice is unseasoned) are still available via their home-based business, which is still active as the food is prepped by Cici (order via WhatsApp).
Braised Pork Rice, $4.70 (8 DAYS Pick!)
Ryan reveals that the key to NiuNiu Tea & DuDu Rice's tasty braised pork lies in his aromatic base of minced red shallots, spring onions and garlic sautéed on low heat "until all the moisture has evaporated and it becomes super fragrant."
The resulting braise – draped generously over chewy Taiwanese pearl rice grains – packs an assertive aromatic punch; moreish stuff indeed, as the bits of fatty-lean pork belly remain impressively tender. We do think it could be a little saltier though.
And since the stall's all about Taiwanese-Korean fusion, the bowl is paired with sigeumchi-namul (marinated spinach), heady with the scent of Korean sesame oil and garlic. A yummy foil to the decadent lu rou, even if the cross-cultural pairing is a little unorthodox.
The banchan
Every order of a main comes with complimentary Korean banchan. Aside from marinated spinach, there's homemade cabbage and radish kimchi. While the radish is nicely tart with a pleasantly spicy kick, we find the cabbage kimchi much sourer than average.
Ryan explains that his wife's kimchi recipe is more sour as it's fermented at room temperature to speed up the fermentation and shorten his prep time. Instead of adding sugar to balance out the tartness, Ryan substitutes healthier apples and pears for a bit of sweetness.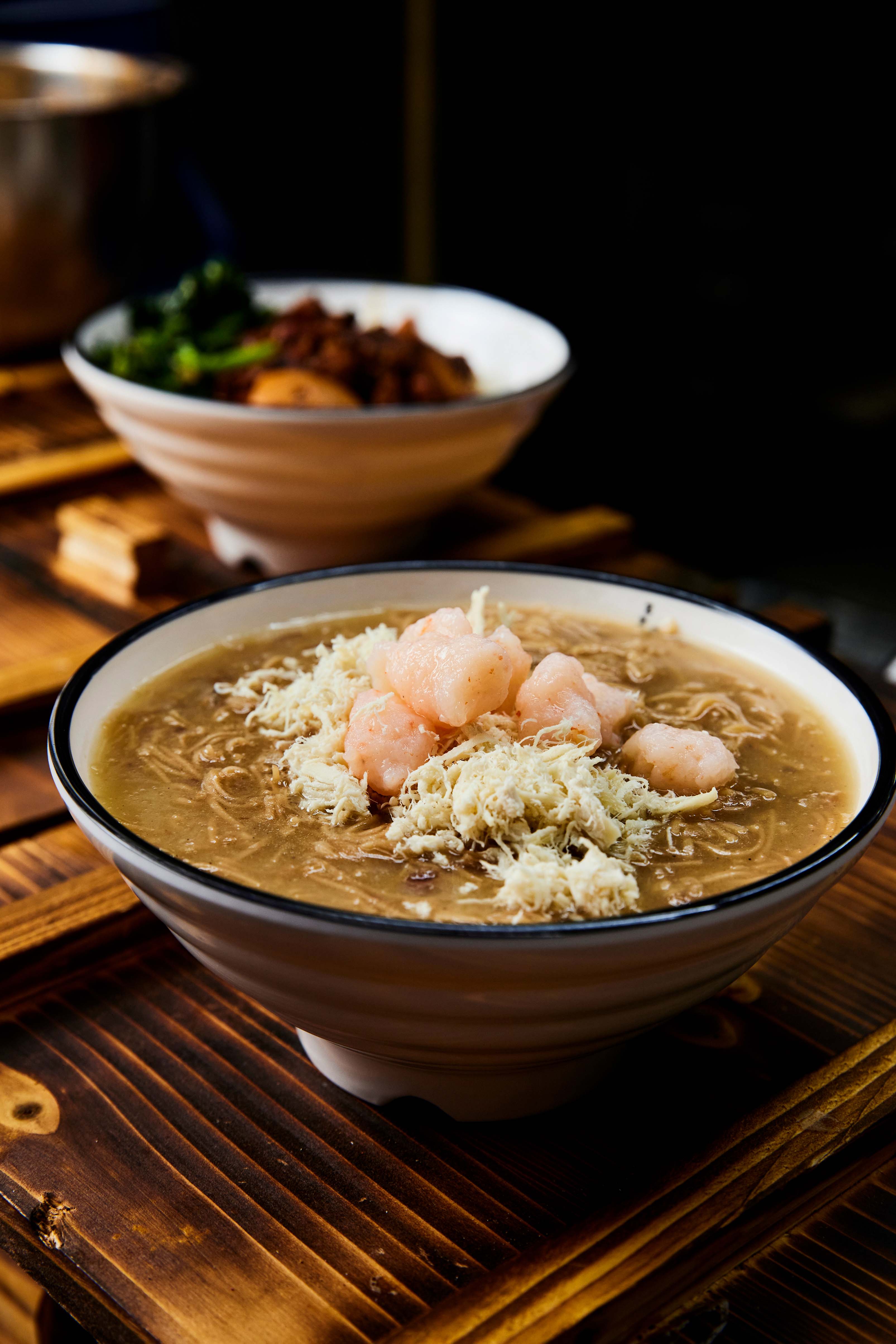 Taiwanese Mee Sua with Shredded Chicken and Oyster, $4.70 (8 DAYS Pick!)
Silky strands of mee sua swimming in a rich garlicky broth, accompanied by shredded chicken breast and a choice between plump, briny oysters or homemade prawn paste balls (top up $1 to have both). We'd go for the oysters, as the prawn paste is unfortunately bland and gummy. Nevertheless, a savoury and enjoyable bowl – there's black vinegar and minced raw garlic at the stall counter if you'd like to enjoy the mee sua like the Taiwanese do.
Taiwanese Chicken Popcorn Rice, $4.70
The popcorn chicken here is fried to order, with a crunchy coat over succulent breast meat. However, we find the seasoning – which includes five-spice powder and ground Cambodian pepper – overly peppery. It comes with Taiwanese pearl rice drenched in some of the same braised sauce as the lu rou fan.
Taiwanese Crispy Chicken Cutlet, $4.30
The cutlet version swaps out popcorn chicken breast for juicier chicken thigh, though it's not as crispy. We prefer this moister version, even if it suffers from the same one-note pepperiness.
QQ Cheesy Tteokbokki, $3.30
The springy tteokbokki here is served with a mozzarella-spiked gochujang sauce (we couldn't taste any cheesiness though) and a sprinkling of sesame seeds. Sweet, slightly nutty from the sesame seeds and quite addictive despite being on the spicier side. Note that this bowl doesn't come with Korean fishcakes, a typical addition to tteokbokki. You can only get fishcakes in the odeng stew (see below).
Odeng, $1 for three pcs
Kelp, ginger and scallions anchor the flavoursome odeng guk (fish cake soup, also known as eomuk guk) scooped straight out of a charming wooden boiler at the front of Ryan's stall. Ingredients include variations of Korean fishcake – some tubular or shaped like a ball, and others cutesy and done up like a pig or star. "My kids' favourite," gushes Ryan. A comforting bowl for cool weather. As he's still fine-tuning his stall's operations, Ryan will only offer odeng from this Thursday (Aug 25) onwards.
Bottom line
NiuNiu Tea & DuDu Rice relies heavily on its Taiwanese dishes for now, with limited K-nosh offered save for banchan and snacks. Its standout items are its umami oyster mee sua and tasty braised pork rice bowl. The juicy Taiwanese crispy chicken cutlet is worth ordering too. Our only gripe is that some dishes are little under-seasoned – but that's something easily rectified.
The details
NiuNiu Tea & DuDu Rice is at #01-82, Whampoa Makan Place, Blk 90 Whampoa Dr, S320090. Tel: 9087-9402. Open daily except Sat 12pm–9.30pm. More info via Facebook.
Photos: Aik Chen, NiuNiu Tea & DuDu Rice
No part of this story or photos can be reproduced without permission from 8days.sg.