Singaporean Ex-Pop Star Stella Huang, 41, Reportedly Met British Boyfriend On Online App After Divorce From Taiwanese Businessman Husband
The former singer has been back in Singapore for the past two years.
Fan of Chinese pop in the '90s will definitely know former singer Stella Huang, 41, who was one of Singapore's biggest pop exports.

At just 19, she ventured into the Taiwanese showbiz scene where she had an extremely successful career.
Stella tied the knot with Taiwanese entrepreneur Armstrong Yeh in 2011, and welcomed their son, Ashton, a year after.
In 2018, she moved from Taiwan to Vancouver with her husband and son.  According to reports, the couple lived separately for a few years prior to their divorce in 2020.
According to Taiwan's Mirror Media, Stella is now dating an Englishman named Jon, whom she met through an online app.
Jon is said to be seven years her senior, works in the pharmaceutical field, and is father to a pair of twins from a previous marriage. He is also said to have no idea that she was a star when they first met.
Stella's new beau has made a couple of appearances on her Instagram , and she once posted a pic of him with a heart emoticon and the British flag emoticon.
It was reported that both Stella and Jon have met each other's respective families and that Stella's family traveled to England with Jon to watch a football match.

They also celebrated Mother's Day together, and it could be taken as an indication that Jon is well-loved by Stella's family and friends.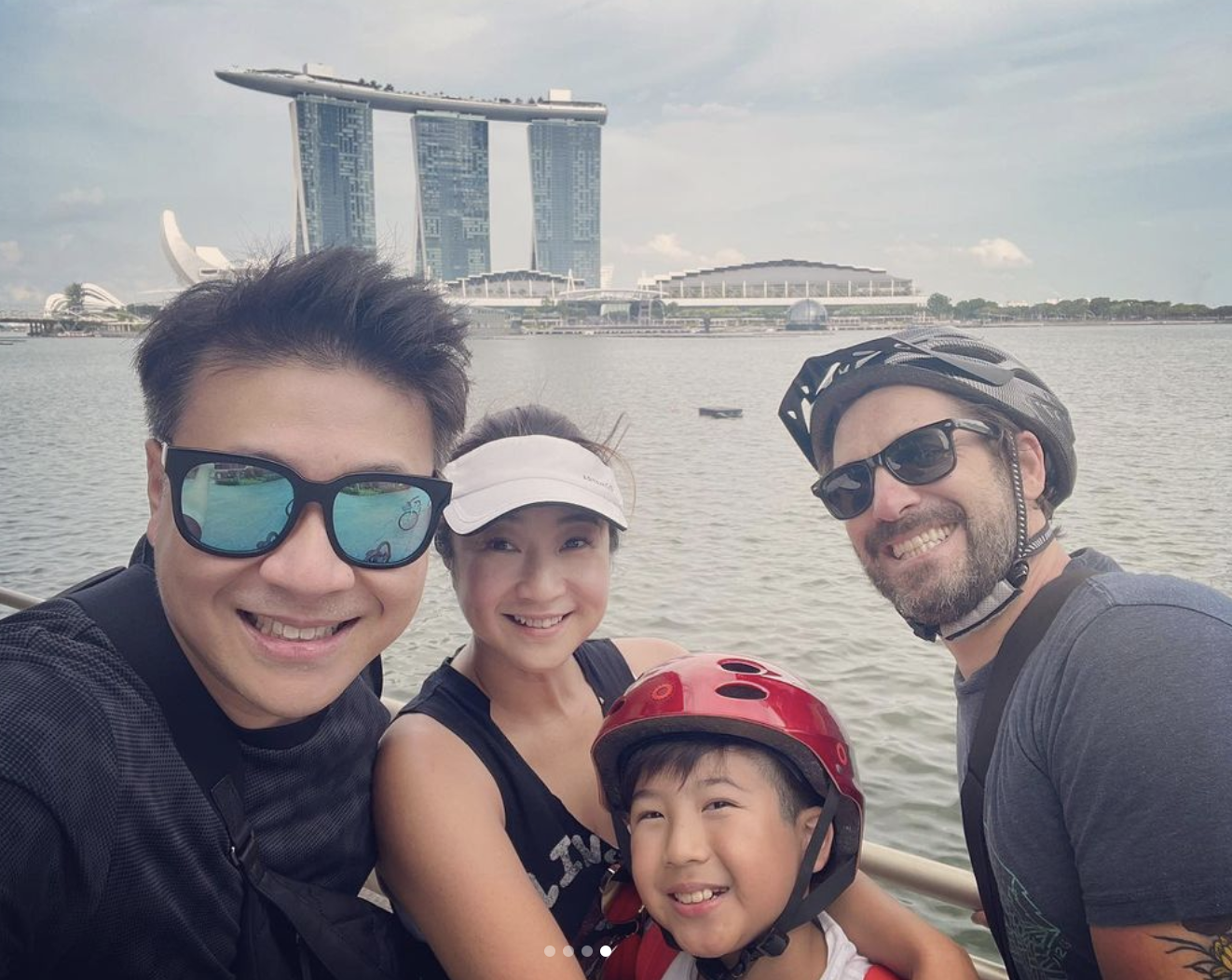 Stella with her beau (extreme right) and 10-year-old son, Ashton
After her divorce in 2020, Stella moved back to Singapore with her son. At that time, she wrote on social media: "[Returning from Canada] to Singapore, [I] received many private messages filled with warmth and positive wishes."

She also added that she felt the immense love from all her friends who sent her messages welcoming her home.
Stella's divorce with Armstrong was an amicable one, and they are said to still be in contact with each other.
They also seem to be doing well for themselves when it comes to new relationships and Armstrong reportedly has a stable girlfriend now.
However, on Father's Day this year, Armstrong took to social media to write: "My birthday happens to fall on Father's Day. This year, the two that I love the most are not with me, so I don't plan on having a big celebration."
Photos: Chinapress, Stella Huang/ Instagram