Sisters sell yummy chocolate shio pan & sourdough 'mantou' with curry at Holland Dr hawker stall
Butter Town's mantou-inspired sourdough rolls are hilariously called "mandough".
From croissants to tarts, the younger generation of hawker bakeries are increasingly creative with their offerings these days. Joining the list is Butter Town at the newly refurbished Holland Drive Food Centre. The three-week-old stall offers shio pan (a crescent-shaped roll with a salted crispy crust and chewy butter-soaked centre popular in Japanese bakeries) in flavours like maple bacon and dark chocolate, plus sourdough 'mantou' with curry and some cakes. Sisters Serene Tan (left in pic), 31, and Danielle Tan (right), 27, are the new kids on the block. 
No part of this story or photos can be reproduced without permission from 8days.sg.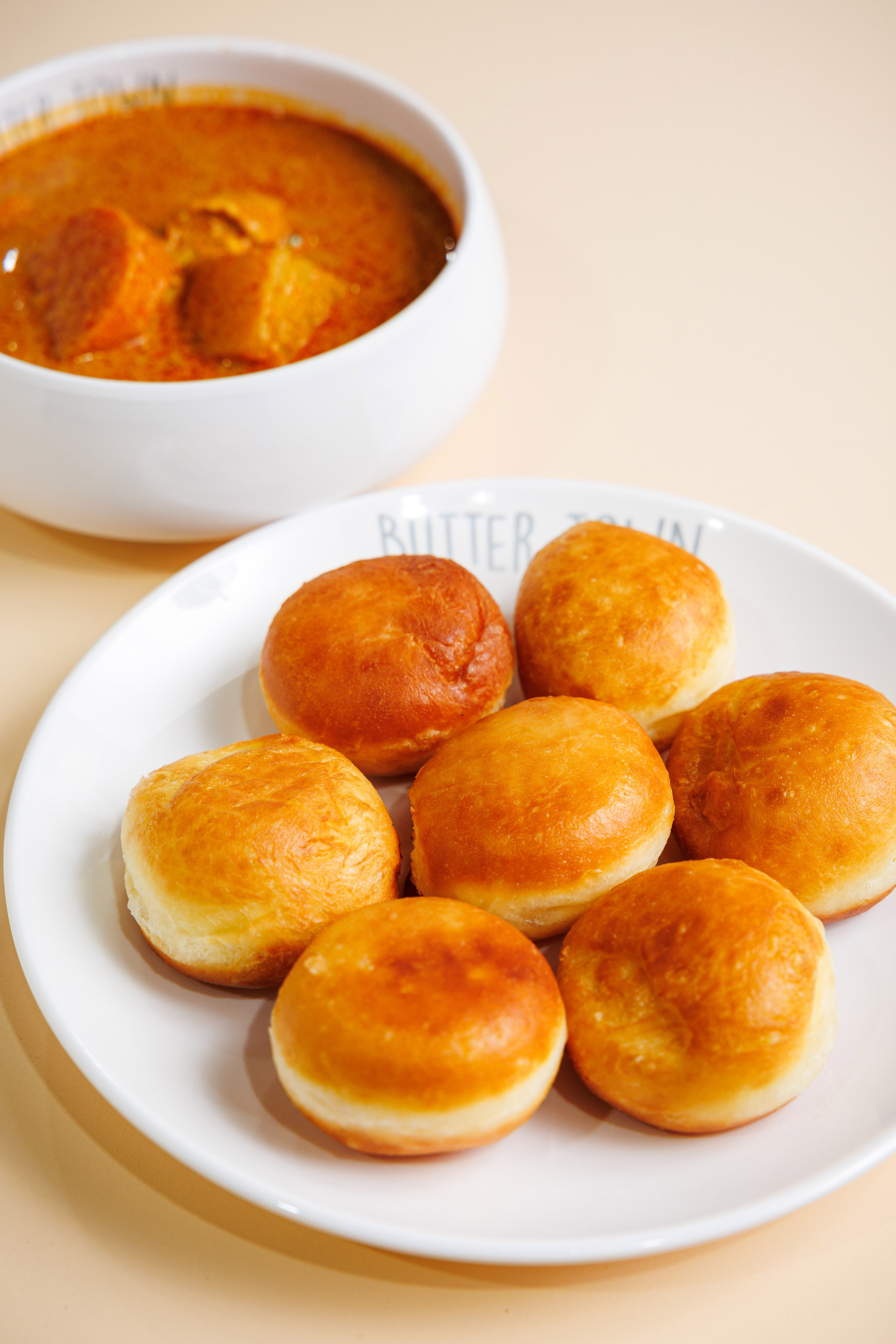 Why sell shio pan, sourdough mantou and curry? 
Why the eclectic mix of items? The sisters explain that "there weren't a lot of places that sell good shio pan in Singapore". And as shio pan lovers, they wanted to create different varieties of quality shio pan.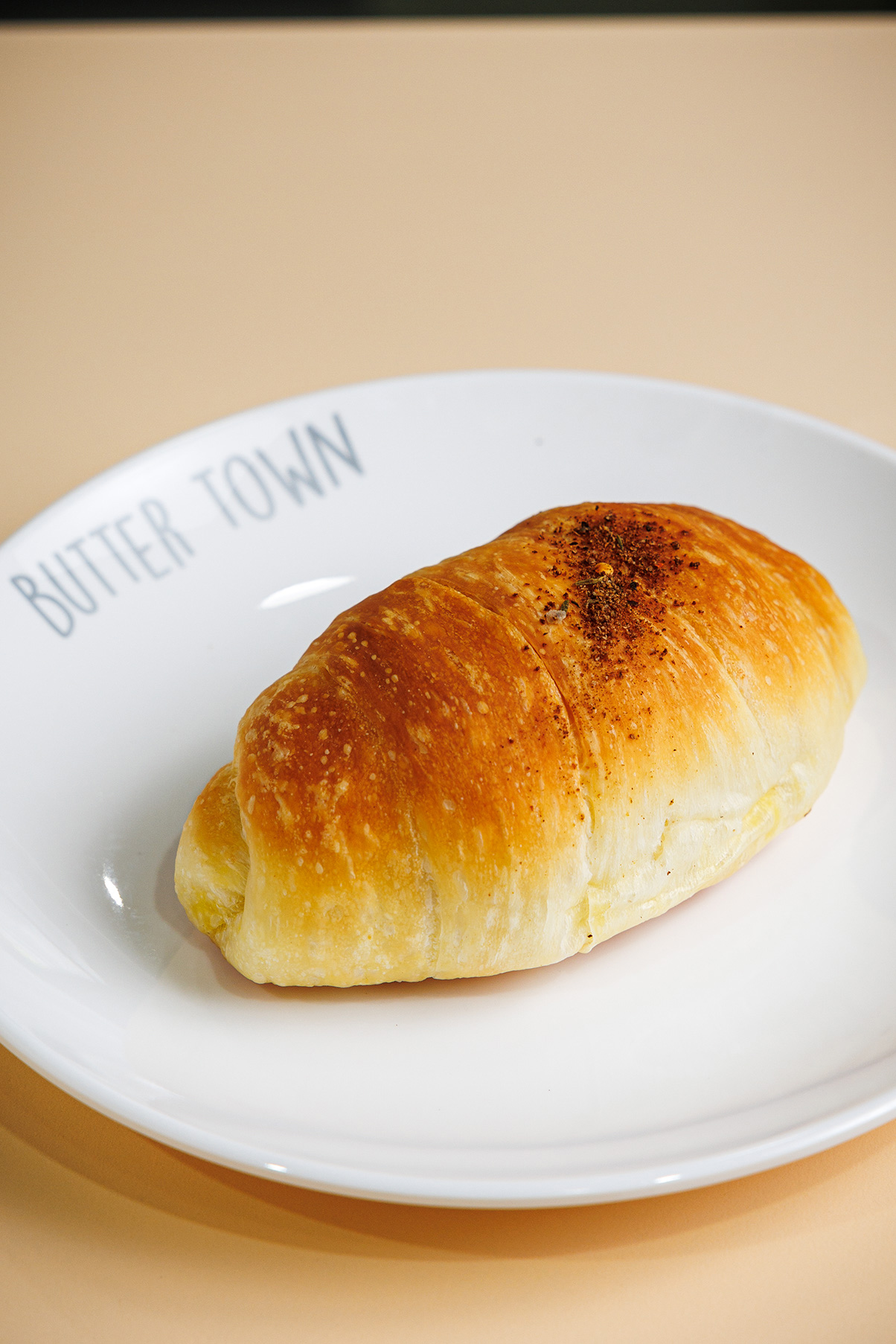 "Our shio pan is a little different from others," Serene says. "Shio pans usually have a hard crust and are chewier. After months of R&D in the kitchen, I daresay ours are softer and fluffier."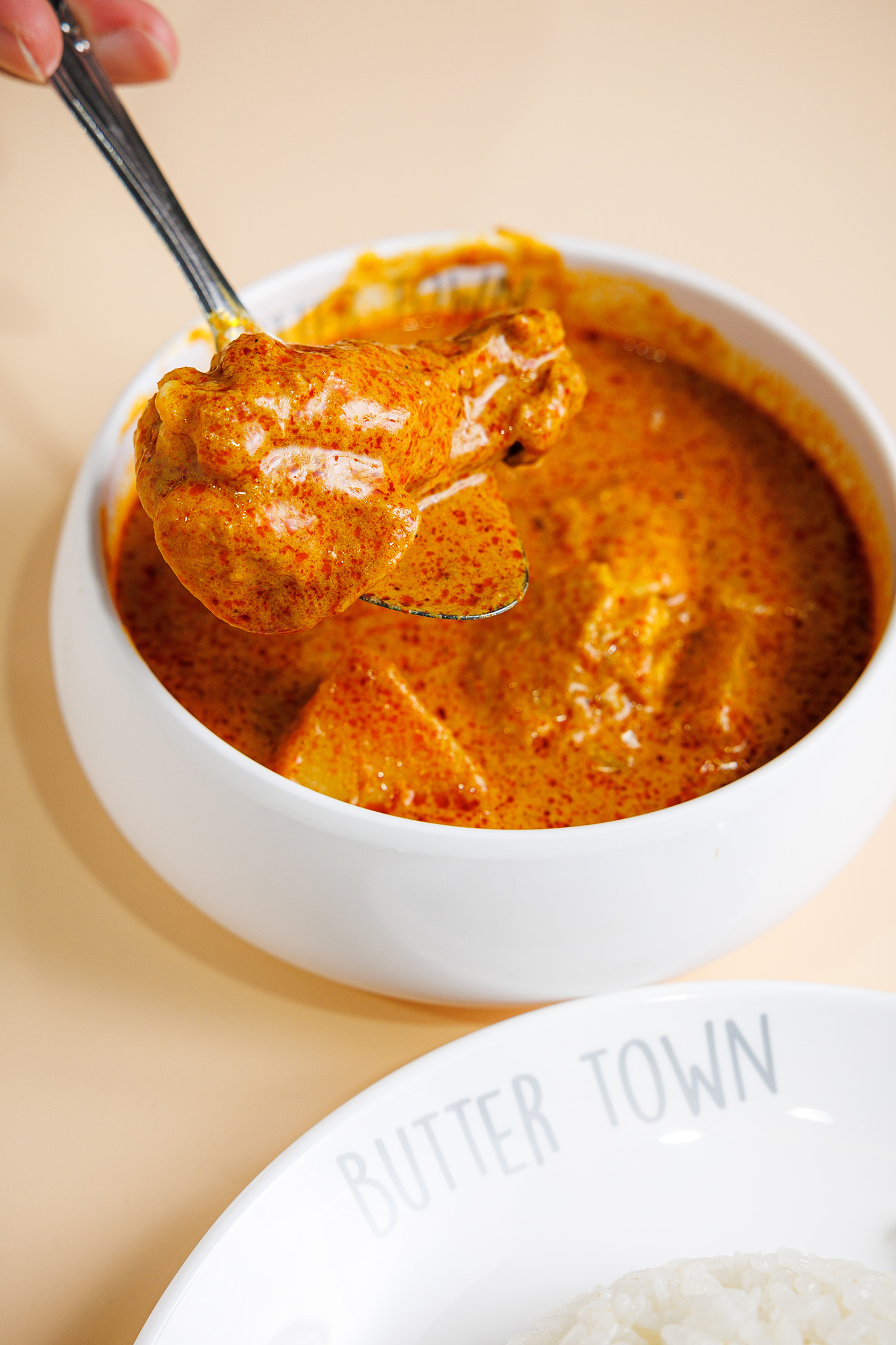 "The nonya curry is a dish my father-in-law taught me how to make," Danielle says. "We have fried mandoughs (their hilarious moniker for the sourdough version of mantous) to pair with it." Danielle reveals that the fried mandough was an unintentional discovery; she had toyed with the idea of making sourdough mantou for fun but was surprised when her creations were actually palatable.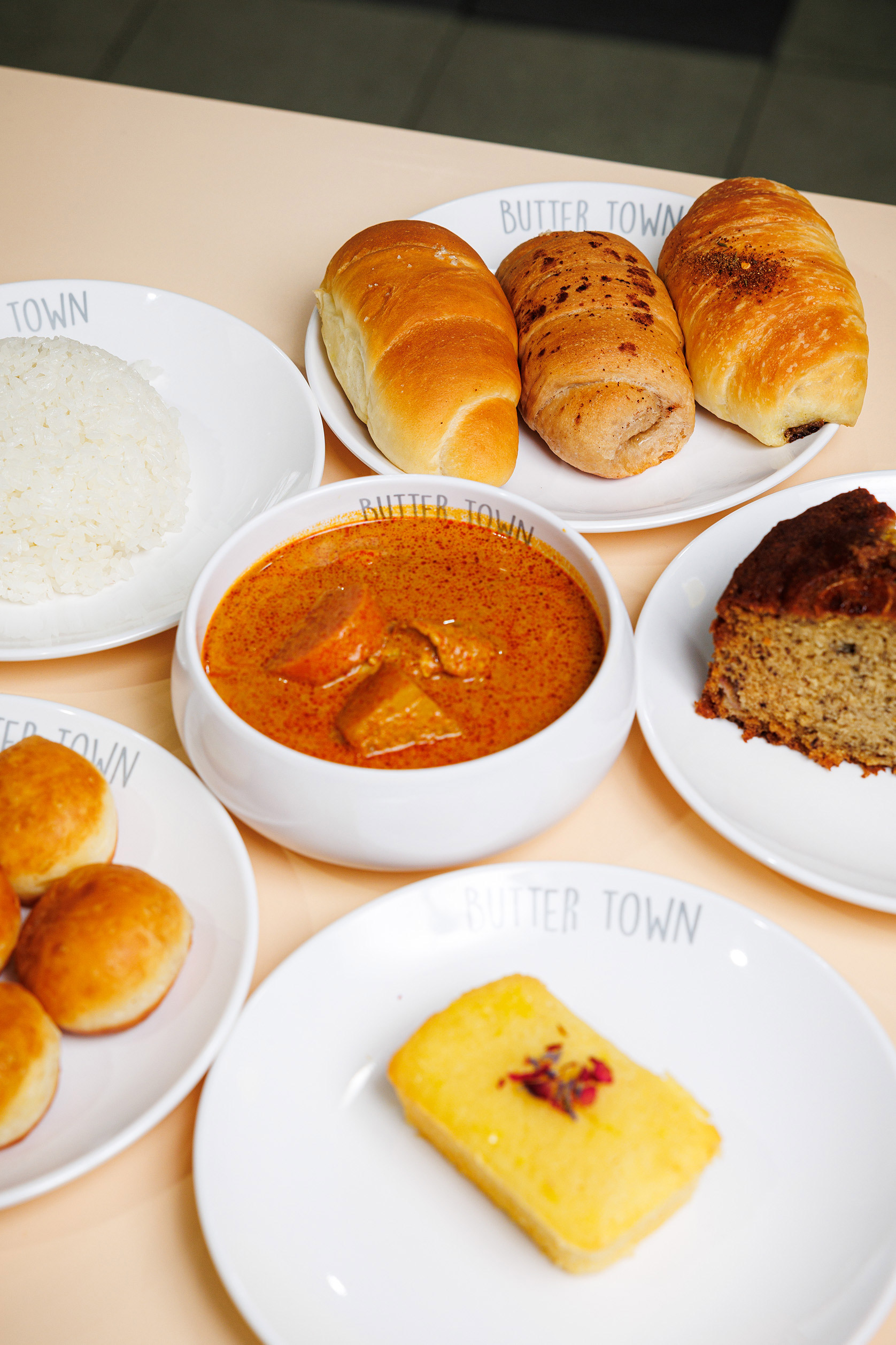 Danielle, who used to work in a marketing role at a fast food company before setting up a home-based cake biz, is head baker here.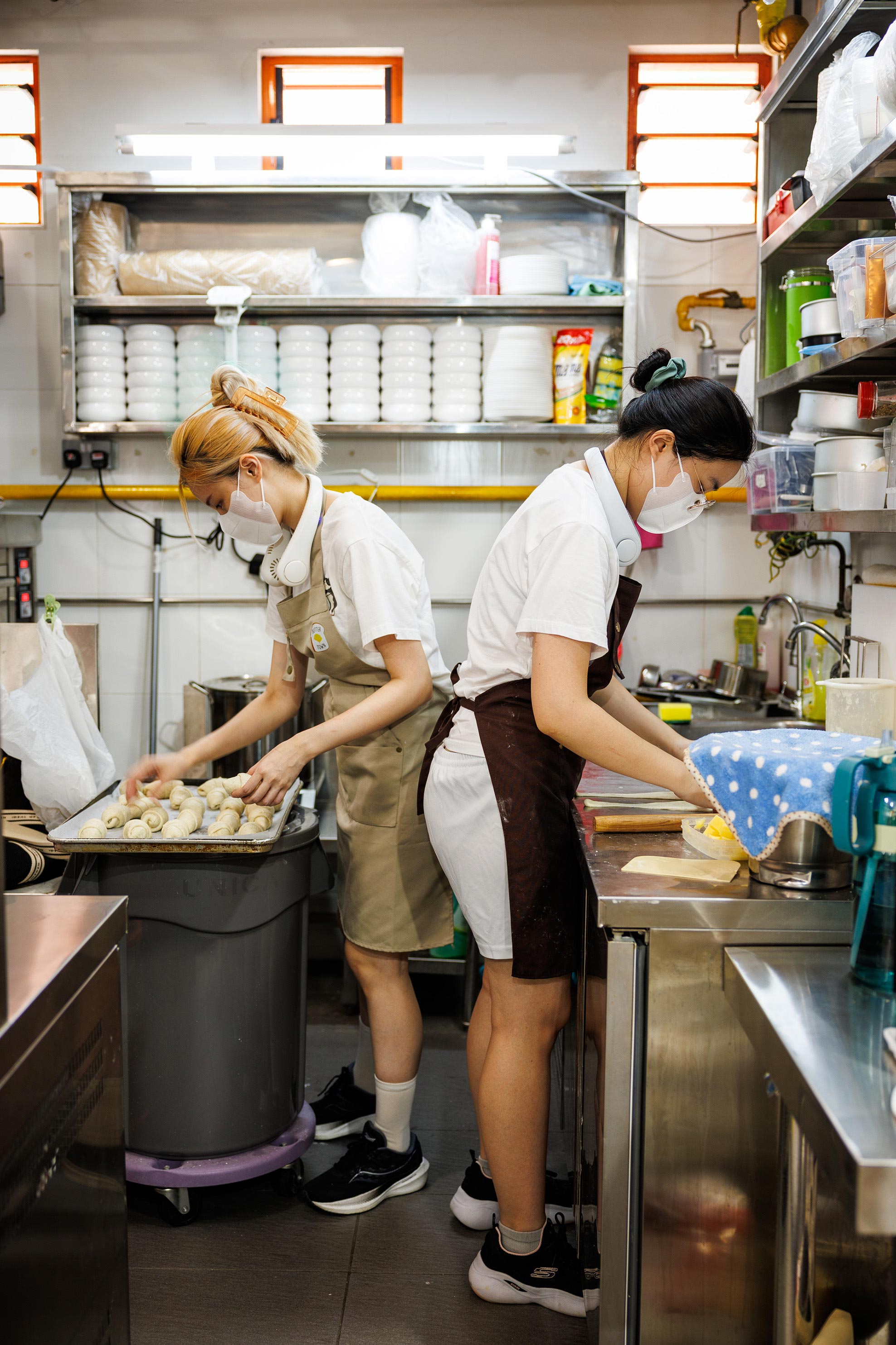 Her love for baking began as a kid, when she helped her hotel pastry chef aunt occasionally in the kitchen. Danielle later worked part-time as a baking assistant or cake decorator during her undergraduate years. "I always knew I wanted to open a bakery, but I didn't know when," she says. She took on a marketing job after graduation. "After I left the job, I started running a home-based baking business from July 2022."
It wasn't until a random dinner conversation that the topic of setting up a brick-and-mortar outlet surfaced, and older sis Serene, who was working in public relations and marketing back then, suggested they both set up shop in a hawker centre as the startup costs were less than a cafe's.
The sisters applied for the National Environment Agency's incubation stall programme, which offers aspiring hawkers opportunities to take up incubation stalls at subsidised rent. 
Starts work at 5am 
"We have newfound respect for hawkers," Danielle muses. She says their neighbouring hawkers who have been "generous with giving advice" begin their day as early as 3am. "I'm ashamed we start work so late at 5am," Serene laughs. Butter Town only opens for biz from 11am as there's plenty of prep work involved.
The menu 
From garlic, mushrooms to chocolate and maple bacon, Butter Town offers up four rotating flavours of shio pan daily. All are baked on-site. 
The sisters also make sourdough bakes using sourdough starter fed with apple slices, including the mandough, lemon sourdough pound cake and banana sourdough cake. 
Their homemade curry chicken comes with a bowl of pearl rice or seven mini mandoughs.
Shio Pan, $1.90 
The rustic-looking shio pan here is smaller than those from chain bakeries like Four Leaves, but they are nice and plump.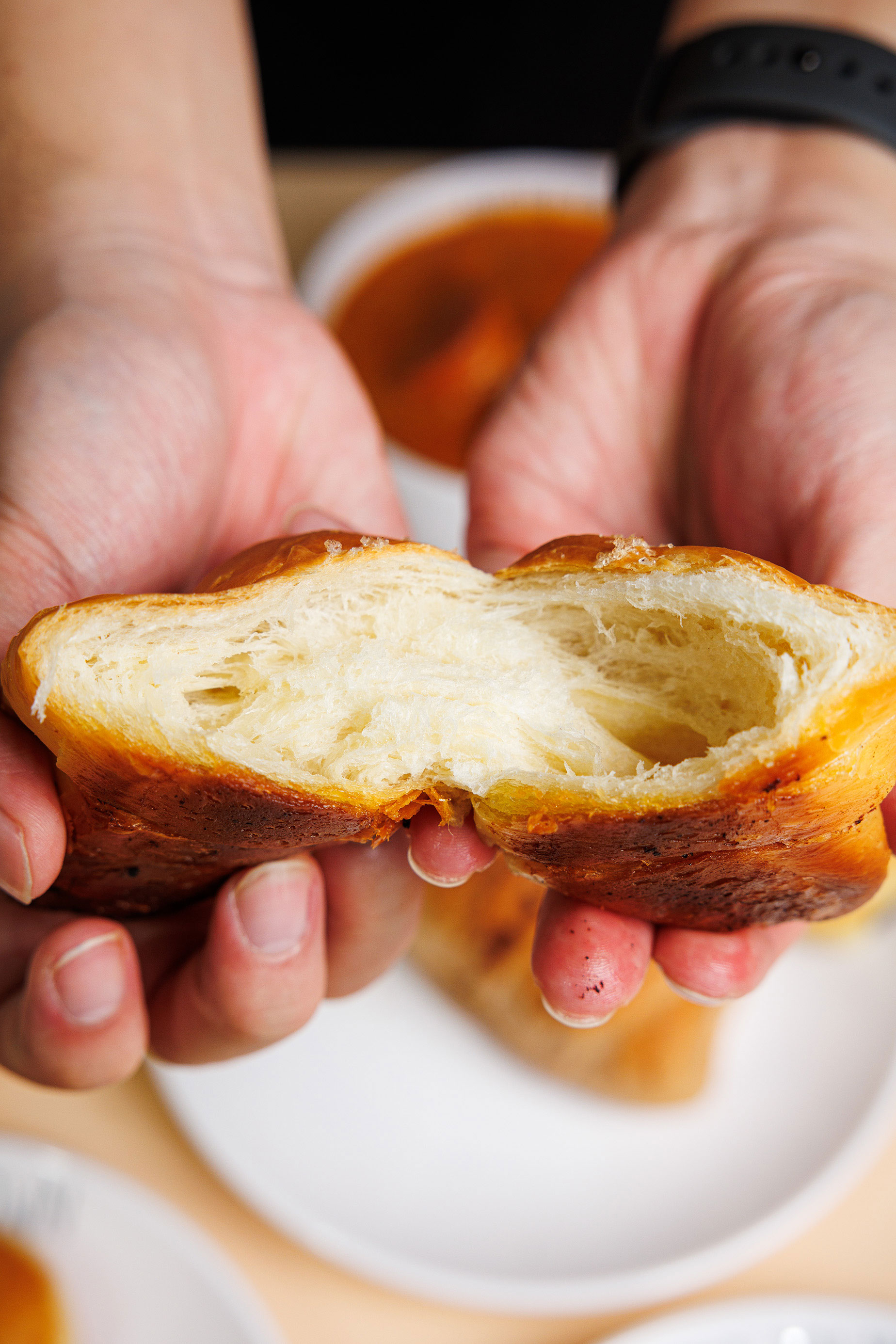 The OG plain shio pan has the quintessential sea salt flakes on its golden, crunchy exterior, which gives way to a fluffy interior. It's satisfyingly rich with French butter and lightly salted, like a breadier croissant. Tasty.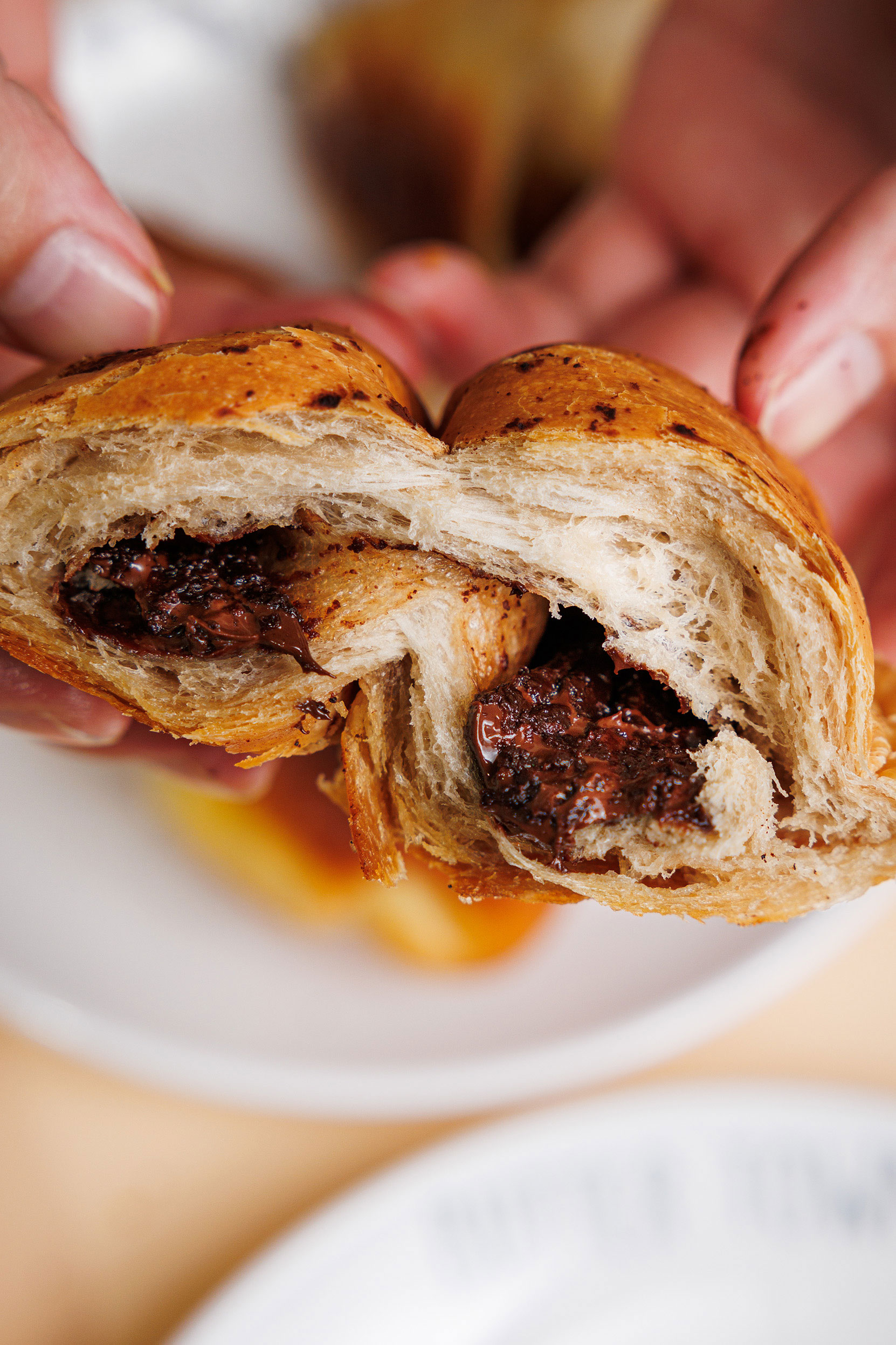 Au Chocolat Shio Pan, $2.40 (8 DAYS Pick!)
Burrowed within these doughy depths is 44% Belgian chocolate, a perfect combination of bittersweetness and saltiness. However, this bun was better the first time we had it when its oozy chocolate filling was smooth and not a tad lumpy like during this photo shoot. Still our favourite shio pan here.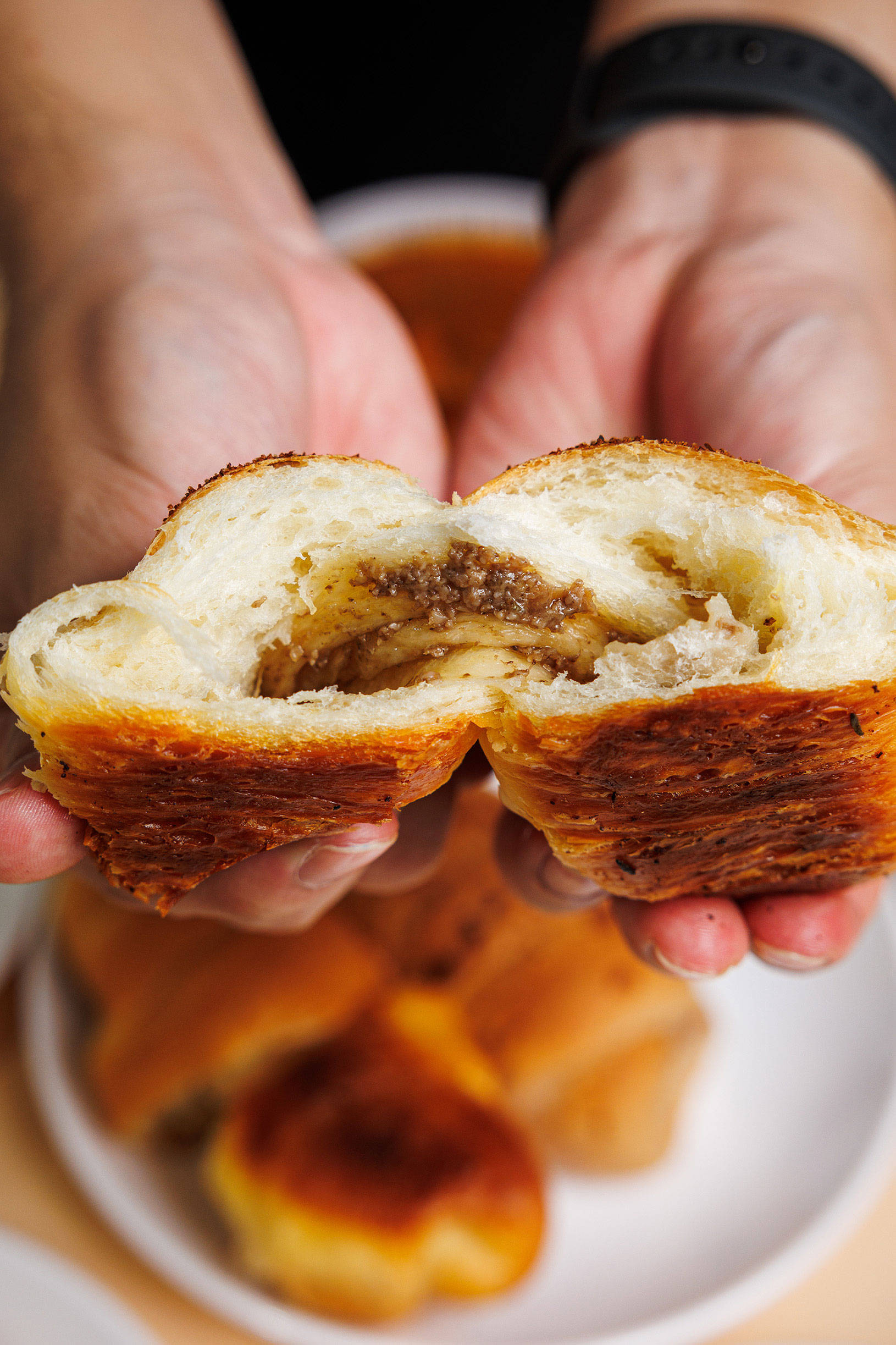 Mushroom Shio Pan, $2.40 
An umami-packed number. Diced shiitake mushrooms and onions are sautéed in butter before being rolled into the dough and shoved into the oven. The result? A buttery shio pan with a delightful blend of earthy richness from the mushrooms and juicy sweetness from the caramelised onions.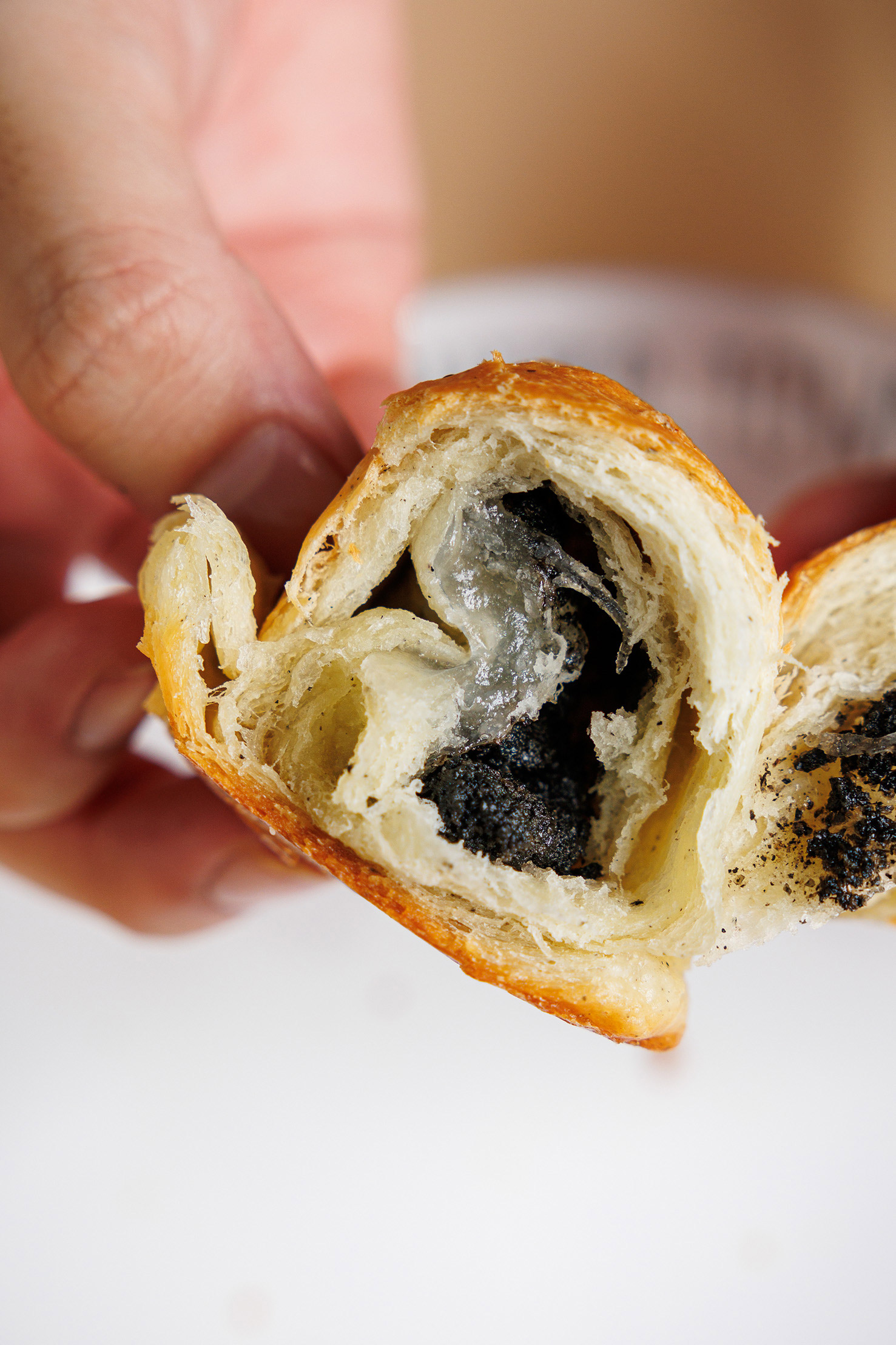 Black Sesame Mochi Shio Pan, $2.60 
Though this offering stuffed with black sesame paste and gelatinous strands of mochi sounds good on paper, we find the contrast in textures — specifically the grainy sesame paste and chewy mochi with the bread — overwhelming. The house-made sesame filling also tastes more mild rather than earthy and nutty.
Curry Set with Mandough, $7.50 (8 DAYS Pick!)
Nonya curry with two tender mini chicken drumsticks, a wing, alongside chunks of potato and carrots, and a side of seven mini deep-fried mandoughs. The reasonably thick, lemak curry is cooked with homemade rempah consisting of around 25 spices. It has a fiery kick that left us perspiring.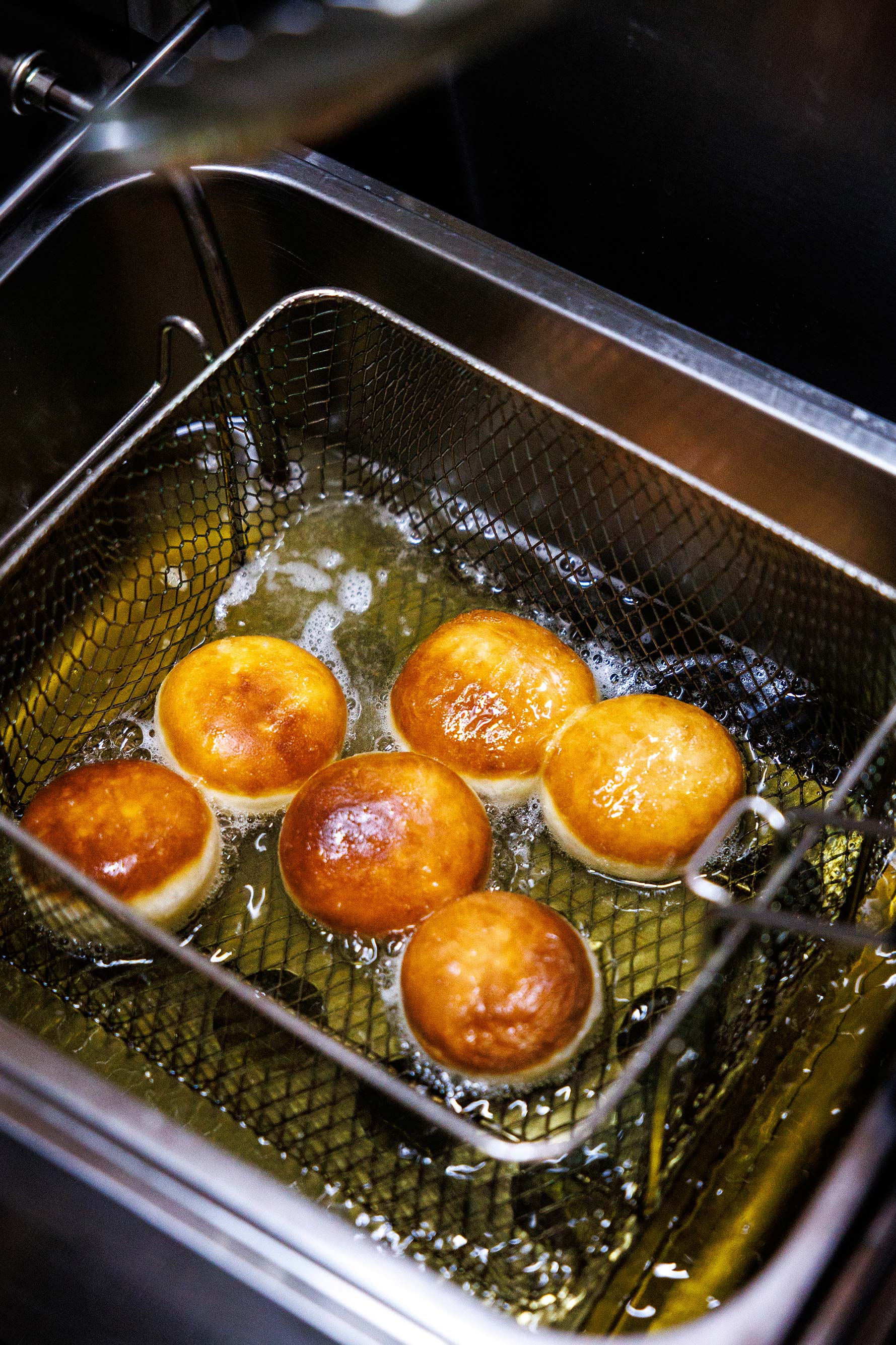 As for the 'mantou'? Well these are just tiny versions of your standard sourdough loaves that have been deep-fried. Though, in all honesty, they look like the bag of miniature doughnut balls from neighbourhood bakeries. Each orb is covered in a crackly crust with a dense, chewy, tangy interior. Quite good, if a little greasy. We adore how easy it is to dip an orb in the homely curry and pop it into our mouth. The mandoughs absorb the gravy surprisingly well and its piquant zing kinda complements the spice.
Banana Sourdough Cake, $4 per slice (8 DAYS Pick!)
A sourdough rendition of a traditional banana cake. It's quite dense, moist and crumbly. Like a banana bread with more bite. Moreover, the sourdough starter added a nice depth of flavour.
Lemon Sourdough Pound Cake, $3.50
This pale, petite petite pound cake is dense and chewy. Here, the sourdough's tartness blends perfectly with the cake's refreshing citrus flavour. Not bad, but quite pricey for the portion.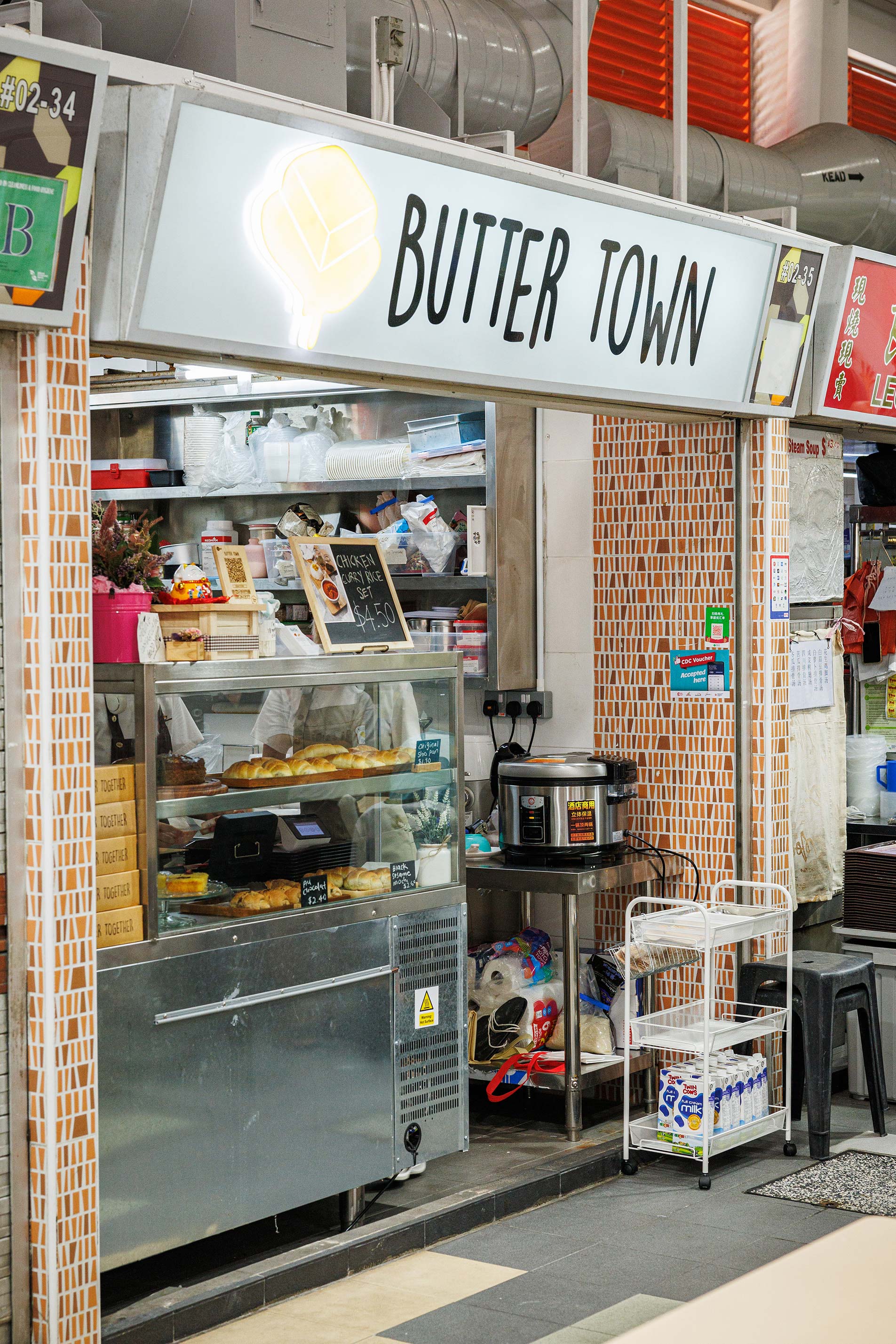 Bottom line
We like the fact that Butter Town offers a unique variety of shio pan that most other bakeries don't — the chocolate one is a must-try. Also worth ordering is the aromatic curry chicken with fried "mandoughs". The cute fried sourdough bread orbs are fun to eat and its characteristic tanginess pairs well with the spicy curry. 
Butter Town is at 44 Holland Dr, #02-35, Holland Drive Market & Food Centre. S270004. Open daily except Mon & Sun, 11am-2.30pm. 
Photos: Alvin Teo
No part of this story or photos can be reproduced without permission from 8days.sg.
8days.sg is now on #tiktok! Follow us on www.tiktok.com/@8dayseat.