This Site Lists Over 200 Home & Décor Stores In S'pore & Has 3D Virtual Tours Of Actual Shops To Make Home Reno Shopping Easier
Helpful when you have so little time and so many shops to go to for home reno shopping.
When it comes to shopping for your new home, the to-buy list is seemingly never-ending, from the obvious purchases like furniture and appliances, to items such as lights and bathroom sinks.
If you're not taking a chance and buying from Taobao, you'll probably be shopping a fair bit in Singapore. But with so many items to purchase, you'll likely find yourself zipping from Sungei Kadut to Changi — and everywhere in between — just to look for, say, the perfect sofa.
That could potentially change with the launch of online platform BuiltShops, which consolidates over 200 home and living retail stores in Singapore. We're talking not just furniture, curtains, and carpets, but also smart home systems, vinyl flooring and even bathroom fittings.
The newly-launched virtual platform doesn't merely give you a list of shops and their contact details, there are also 3D virtual tours of the stores, so you can get a better idea of which one to visit and which to skip.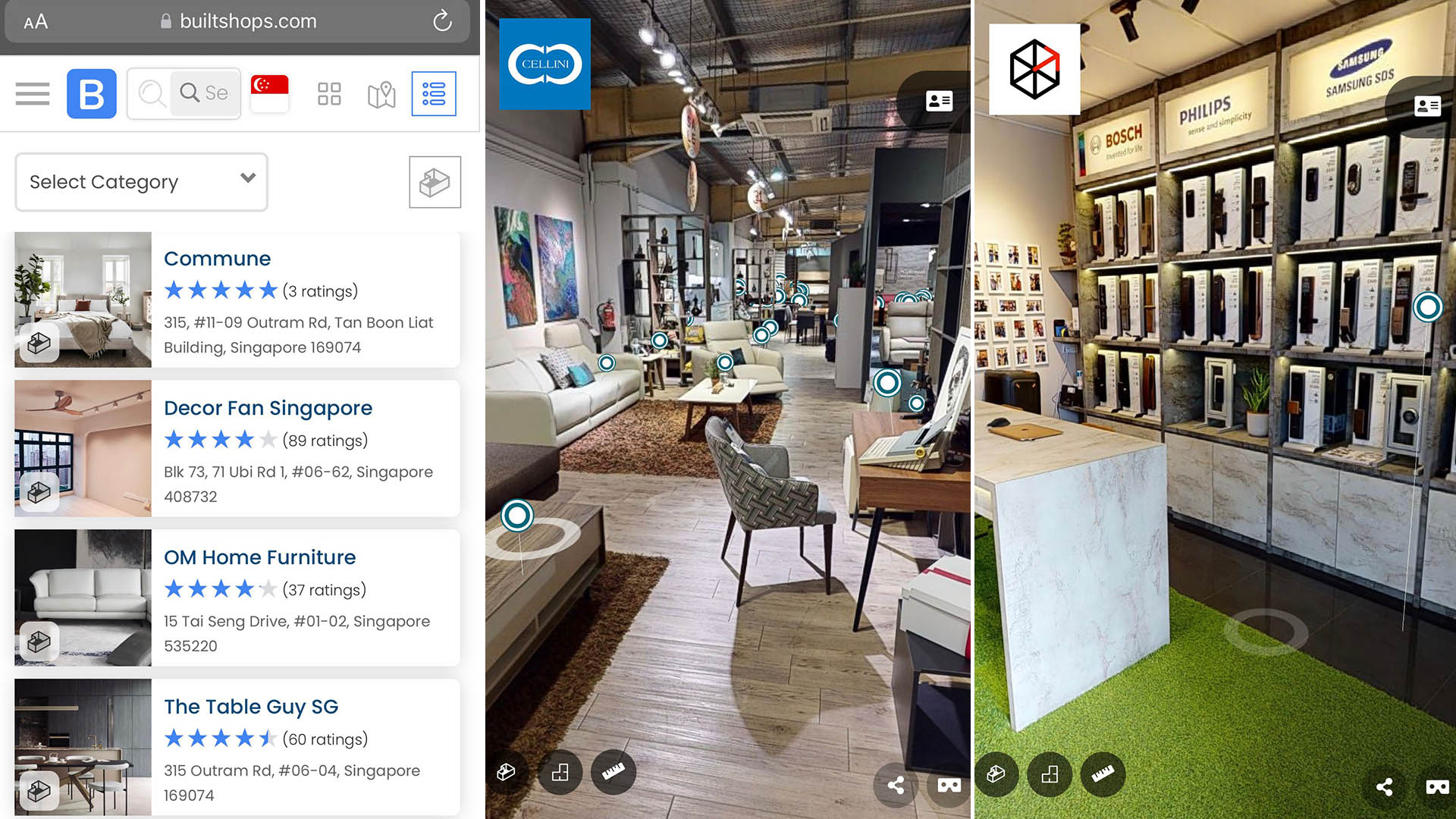 Builtshops directory and virtual showrooms lets you virtually browse for furniture at Cellini (middle) or check out digital locks and doors at Zansan (right).
At the moment, about 50 out of over 200 shops have 3D virtual tours on the site. The directory is also constantly expanding, with the addition of about five per week, BuiltShops tells 8Days.sg.
Sure, it's useful to have all the vital info like addresses and opening hours of the stores all on one comprehensive website instead of having to Google them individually.
But the most useful tool on BuiltShops is undoubtedly the 3D virtual tours that allow you to digitally walk through the space to browse the items as if you were in the store, just so you can suss things out before physically schlepping there for a look.
While BuiltShops does not state prices on its site, most items do come with a tab that gives you more information on the piece or takes you to the shop's own website with pricing and purchasing information.
There's also a handy measurement tool on the virtual tour that lets you measure any item that catches your eye.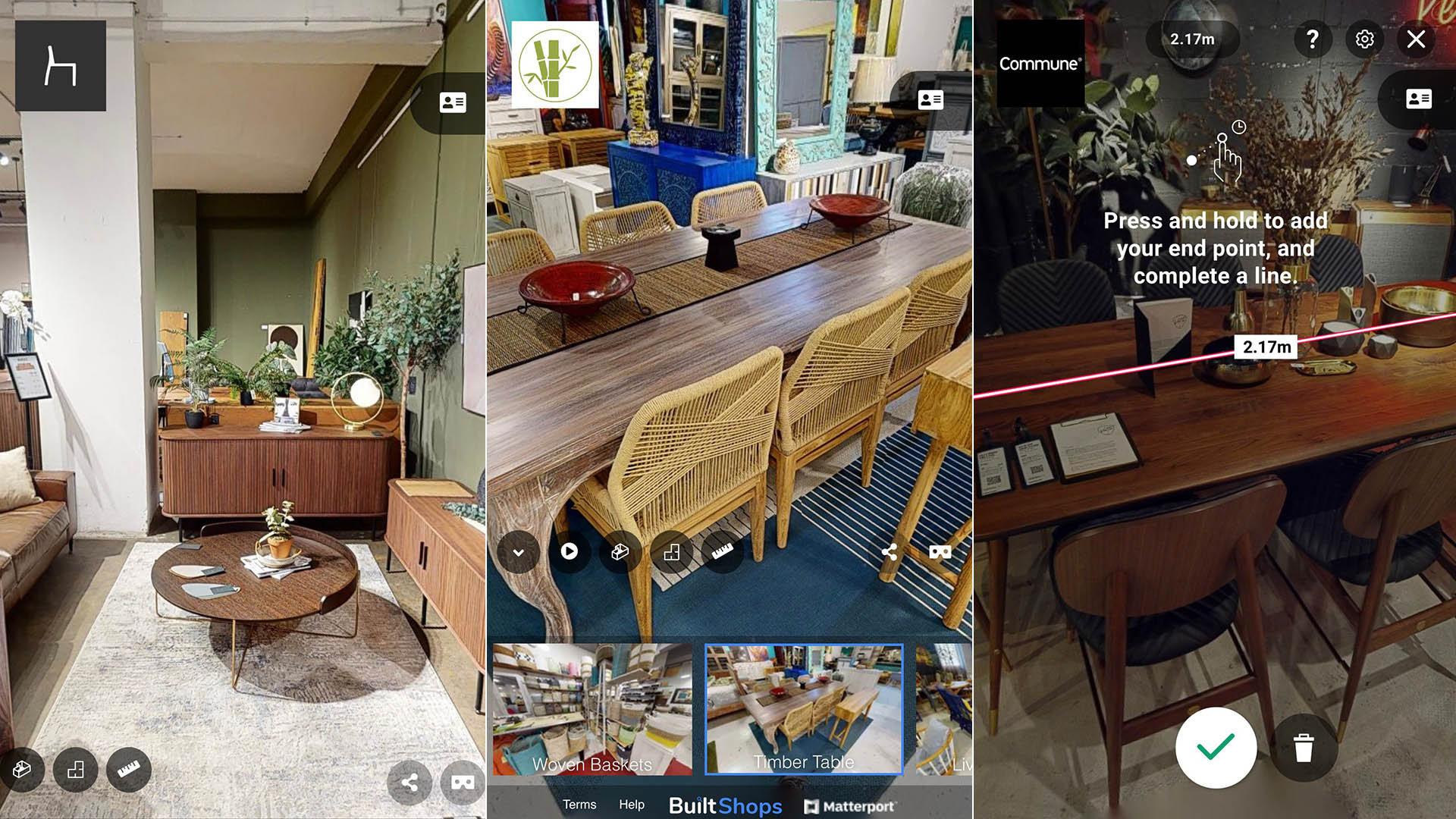 Virtual 3D tours of (from left) Soul and Tables, Origin Asia and Commune.
Measurements are largely accurate — a dining table from Commune measured 217cm on the virtual walkthrough, compared to the actual 220cm listed on Commune's website.
It takes a gutsy (or a really time-strapped) home owner to buy based on just a virtual store visit, so we'd still advise taking a trip down to the store to have a look and feel of the item before purchasing. 
What we found handy about the virtual tours is that they help narrow down which stores you'd actually find something suited to your style and that you'd actually need to visit, making home reno shopping more efficient.
Virtual tours are also updated only upon the business owners' requests, according to BuiltShops, so it may still be worthwhile going to the store to have a look at the latest items once you've decided which shops have pieces that could fit in your new home.