Son sets up hawker stall for mum to sell polish 'sernik' cheesecake and HK desserts
"It's good that my son set up this stall for me, otherwise I may get dementia from sitting around at home," said Liew Pick Choo, 73, who makes everything from scratch herself.
Throngs of dessert lovers have been descending upon Golden Mile Food Centre lately, eager to get their hands on baked goods from
Cat In The Hat
, a new stall serving cafe-style pastries at hawker prices.
Rather overlooked is an obscure dessert stall called
Mama Cakes
, tucked away at the basement level of the hawker centre. Unlike Cat In The Hat, its name is not as catchy. The shop display is sparse and no-frills, and its signboard is slightly confusing — although it specialises in Western-style cakes, the signage advertises "Authentic Hong Kong Dessert" as it also offers a small selection of
tong shui
.
Stall run by mother-and-son
The hawkers running this stall are not from Hong Kong, though the tong shui recipes they use are from family friends who are Hong Kong-based chefs. Mama Cakes was opened by 40-something IT analyst Desmond Chia, who set up the business in 2013 so that his KL-born mum Liew Pick Choo, 73, could have something to do with her free time. In 2017, they moved their home-based operations to a hawker stall at Golden Mile Food Centre.
Whenever he has time off his day job, Desmond helps his mum at their stall. "She wanted this stall, so I set it up for her. I said this is your second home," he told
8days.sg
. Pick Choo added: "I was feeling bored at home and wanted to make something nice for people to eat. I just 'play play' lah (
laughs
). It's good that my son set up this stall for me, otherwise I may get dementia from sitting around at home."
But Pick Choo admits that she has had her share of work-related arguments with her son when they run their stall together. "He would say things like 'never mind lah, just do it', but I'm very particular," she laughed.
Polish cheesecake
Mother-and-son initially sold a Polish-style cheesecake called sernik from home, which is a classic treat in Poland. While the popular American cheesecake is dense and rich, sernik is light and has variations like no-bake.

The recipe came from a Polish man who is a friend of Desmond's brother. "It is his family recipe that is almost 100 years old," Desmond told 8days.sg. While the original recipe has a bread dough base, Pick Choo adjusted it to be less labour-intensive so that she can cope with the workload as a solo hawker.

His mother's version is oven-baked, with a crushed lemon wafer base instead of the usual shortcrust or graham cracker base. "Lemon wafers are more fragrant," she noted. The cheesecake is topped with a chunky blueberry compote (the Polish also make sernik with a base like shortcrust, decorating the cheesecake with other toppings such as chocolate ganache, meringue, nuts or crumble).

Customers can order the eight-inch Polish cheesecake whole ($50, yields 10 slices), or buy it by the slice, which comes plain with no blueberry topping ($5.20 each). Do note that the sernik is only available on weekends for walk-ins (preorder in advance if you want it on other days, as Pick Choo can only make a limited number of cheesecakes by herself).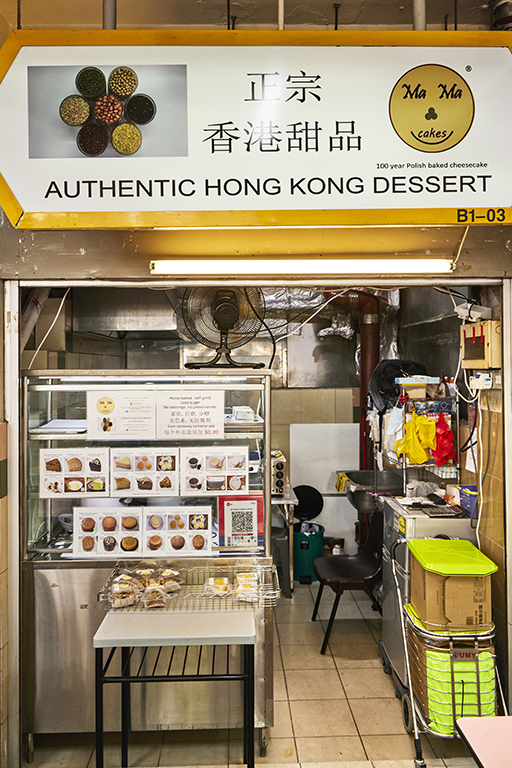 It took her almost a year to perfect her
sernik
, burning about 20 cheesecakes in the process. She has Polish customers ordering her cheesecake for their birthdays or other special occasions, but she highlights that the dessert is ultimately a product of her own experimentation and not a strictly conventional
sernik
like what you'd find in Poland.
Desmond stressed: "We are not Polish people, so we don't want to offend anyone by saying that we are selling [authentic]
sernik
." Due to supply constraints, Mama Cakes' cheesecake is not made with the traditional twaróg, a well-known Polish cow's milk cheese that is characterised by its firm, curd-like texture and slightly tart flavour. The recipe that Pick Choo got from her son's friend replaced twaróg with another kind of "similar" cheese, which Desmond has declined to reveal.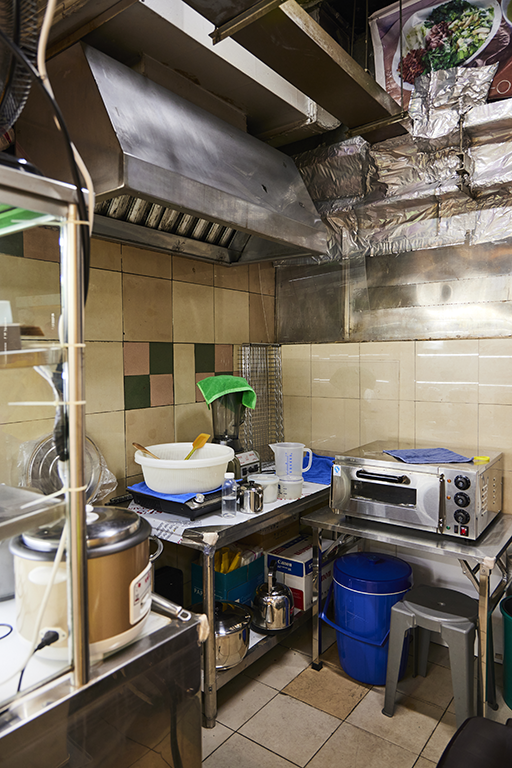 As the
sernik
is extremely sensitive to temperature, Pick Choo's oven can only bake one cake at a time. The baking is done in her home, where she has a large German-made oven that couldn't fit in her stall. "We tried to bake a few cakes at the same time, but there were always cakes that didn't turn out right," said Desmond, who noted that his mum has "very high standards".
Unlike a New York-style cheesecake, which takes around one and a half hours to bake,
sernik
's baking time is a whopping three hours. "And you have to adjust the oven temperature seven to eight times throughout the baking process to prevent the cheesecake from burning," said Desmond.
The menu
Other than Polish Cheesecake, Pick Choo also offers nine other types of cakes. They are sold in slices or whole in an eight-inch size, such as Longan Walnut Rum Cake ($37), Pandan Coconut Cake ($25), Cavendish Banana Walnut Cake ($35), Black Sesame Walnut Cake ($32) and an interesting Salted Egg Wintermelon Cake ($37). Prices for a slice range from $3.50 to $5.20.

Unless you preorder a whole cake, what you get when you drop by the stall depends on what Pick Choo makes that day. Her daily menu is random, as she bakes about three cakes a day to sell by the slice. "I just see what ingredients are available that day, like whether my bananas are ripened enough," she explained.

Other than cakes, she also makes Cookie Egg Tarts ($3 for two) and Musang King Durian Tarts ($5 for two). And five types of tong shui including Gingko Red Bean Paste ($3), Black Sesame Paste ($3), Almond Paste ($3.50) and Gingko Beancurd Skin Barley ($3). Other than the randomised daily menu, what we also find frustrating about this stall is that the tong shui has a minimum order of five bowls.
Polish Cheesecake, $50 whole (8 Days Pick!)
This Polish cheesecake slice is packaged in a plastic box, which comes with a label that earnestly reminds customers to eat the cake in "small bites". The reason being, you can savour the flavour better than shovelling the cake in your gob.

We have not tried an original Polish-made sernik, so we cannot ascertain how authentic this is. But as far as cheesecakes go, this one is pretty good. We usually avoid New York cheesecakes for being too jelak, but we can easily finish a slice of Polish cheesecake.

The one that Mama Cakes offers is not as creamy and rich, with a delicate crumbly texture and cheesy flavour with a fragrant lemony tang (which we suspect is to make up for the sourishness of twaróg). The more we ate it, the more appetising it became, and we found ourselves working through the whole slice in no time.

It goes very well with a strong cup of coffee. Which, coincidentally, you can get from gourmet coffee stall Kopi More in the same hawker centre. "A lot of customers got coffee from Kopi More, then came here for our cakes," said Desmond.
Longan Walnut Rum Cake, $37 whole (8 Days Pick!) 
The Longan Walnut Rum Cake here is also very good, loose-crumbed and studded with crunchy, juicy bits of dried longan and chopped walnuts. There is a good boozy hit from the rum. We would buy this sophisticated number for a house party.
Cavendish Banana Walnut Cake, $35 whole
One of the newest additions to Pick Choo's menu is this banana walnut cake. It's fab when we toast it so it's warm and the banana chunks turn slightly caramelly. A good teatime snack with a cup of coffee.
Cookie Egg Tart, $3 for two 
Compared to the cakes, the egg tart here is not as tasty. We find its cookie crust underbaked, and the egg custard sunken-looking. That said, the custard is very smooth, silky and rich, which could account for its sinking (to achieve a velvety texture, the egg and milk mixture typically has to be liquidy, which would create a steam bubble during baking that causes the custard to collapse and sink).
What is interesting is that Pick Choo, a KL native, was inspired by the soft, bouncy texture of min jiang kueh sold by a famous pancake hawker along Jalan Petaling when she was refining her egg tart recipe (read more about this fascinating hawker
here
).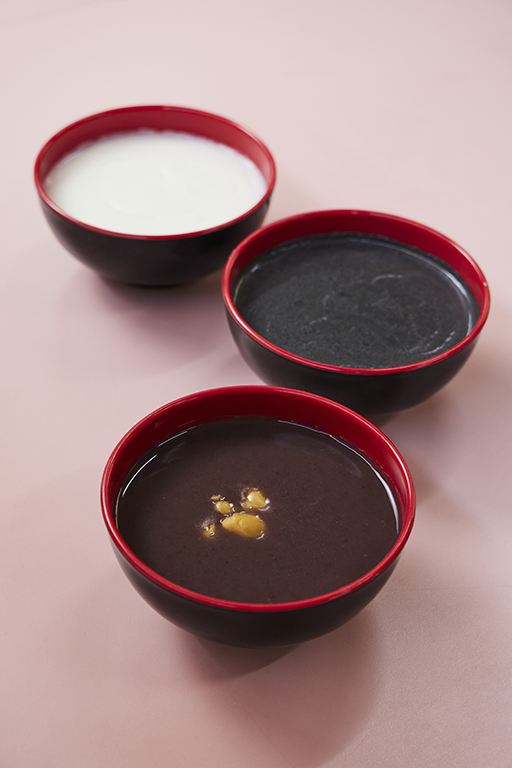 Gingko Red Bean Paste, $3
The tong shui recipes here came from Desmond's aunt, who migrated to Hong Kong and befriended a few local chefs there. We are particularly fond of Pick Choo's gingko red bean paste, which she painstakingly grates to create a smooth paste that is not too sweet, but somehow flavourful and comforting.

It is a pity that Mama Cakes' branding is not as attention-grabbing as its counterparts; we can foresee this underrated stall truly taking off if it has a consistent menu, attractive cake display and cohesive signboard. That said, we recommend being patient with the kind, placid Pick Choo, who is a relatively new hawker with the Zen-like temperament of a Japanese artisan. We like that the desserts here go easy on the sugar, but are still toothsome enough for us to reach for a second helping.
Mama Cakes - Authentic Hong Kong Dessert is at #B1-03 Golden Mile Food Centre, 505 Beach Rd, S199583. Open daily, Mon-Fri 9am-4.30pm, Sat & Sun 9am-7pm.
Photos:
Aik Chen