Springy Vietnamese-Style 'Chee Cheong Fun' By Hanoi-Born Hawker In Yishun
An Ngon Vietnamese Rice Roll serves rather authentic steamed-to-order banh cuon, rice rolls with minced pork and wood ear mushrooms eaten with a fish sauce dip.
Tucked away in a quiet coffeeshop in Yishun is An Ngon Vietnamese Rice Roll. The three-month-old hawker stall specialises in banh cuon – essentially the Vietnamese version of chee cheong fun – steamed to order by Hanoi-born Phan Thi To Uyen, 32, and her Singaporean husband, Patrick Chay, 51. A plate of the savoury rice rolls – studded with minced pork and wood ear mushrooms, and paired with a funky fish sauce and vinegar dip – starts from $3.50.
No part of this story or photos can be reproduced without permission from 8days.sg.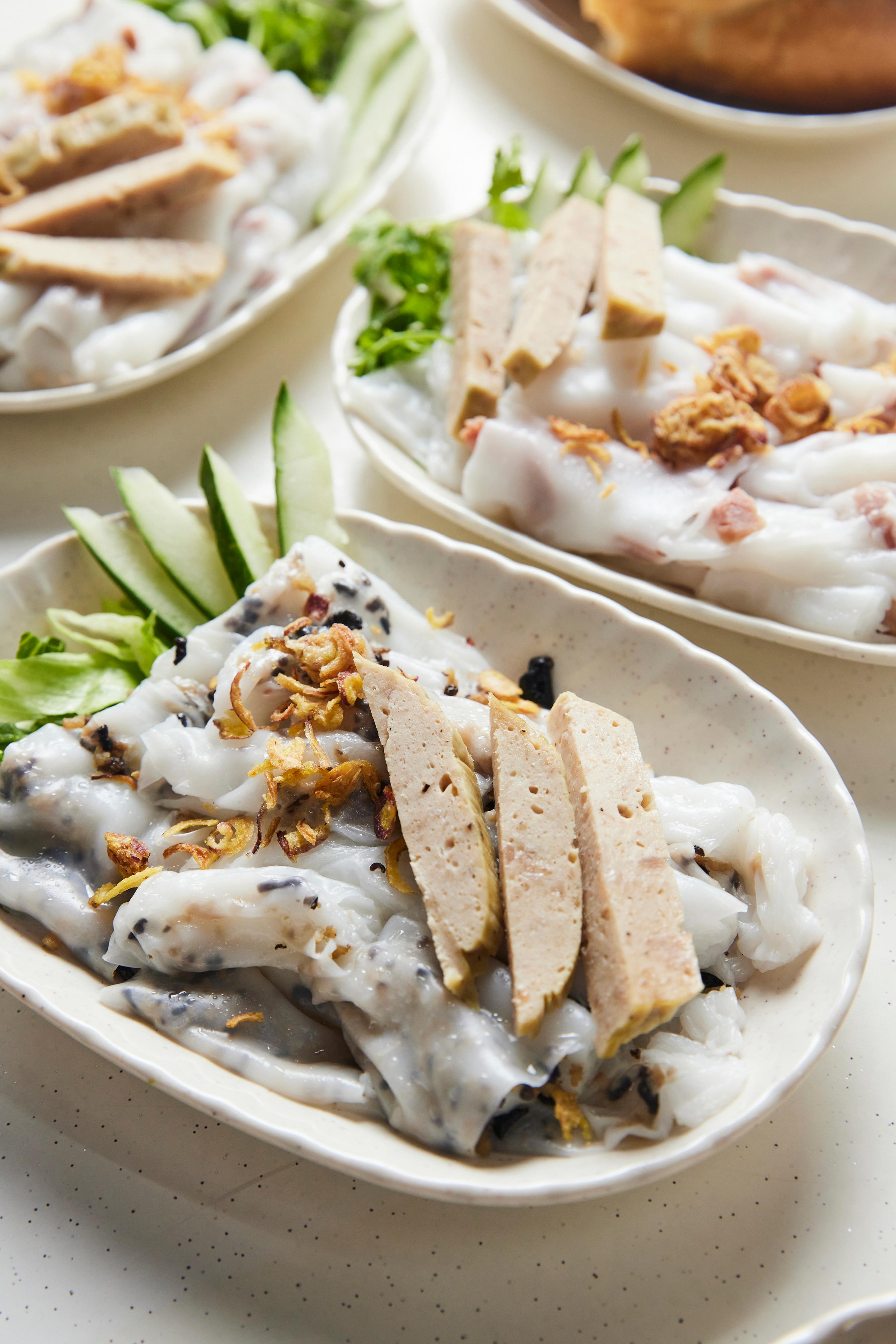 Popular breakfast staple throughout Vietnam
"Beef pho and banh mi are the most famous Vietnamese dishes in Singapore. You can find them everywhere. But you can hardly find banh cuon ("rolled cakes" in Vietnamese) even though it is very popular with Vietnamese people. We eat it almost every morning – it's like our economy bee hoon," chirps Phan with a laugh. "I wanted to share my culture with locals [by opening this stall]. Plus, it is something that I really missed during the pandemic."
An Ngon (a Vietnamese phrase that's the rough equivalent of "bon appetit") is the bubbly Singaporean PR's first F&B venture, though she has some experience with cooking. Since relocating here about six years ago, she has worked as a stall assistant at various hawker joints selling chwee kueh, dough fritters and zi char food.
Her jolly husband, on the other hand, is an F&B noob. He worked as a delivery driver for "around two decades" before giving it up to become a private-hire driver in 2018. Although there were "decent earnings" back then, he left that job to join his wife's biz. "As a husband, I want to be around to help my wife with her business if I can," he says. "But to be honest, I was also beginning to look for a way out of [being a private-hire driver] as well – business is still very teruk (Malay for bad) now. It's nothing like before Covid, even after people returned to the office."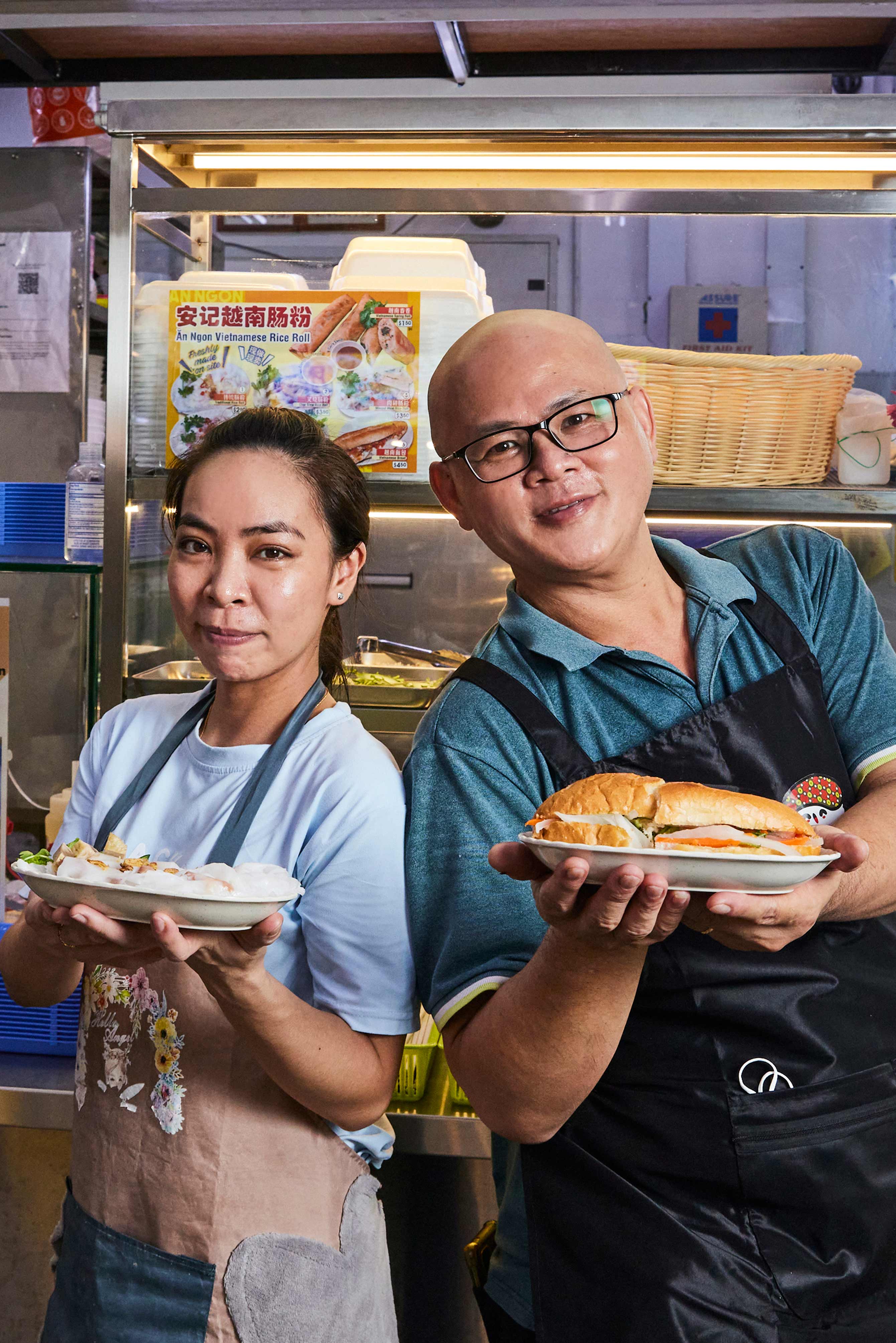 Three-week cooking crash course
Subsequently, Phan returned to her hometown of Ha Long for three weeks to learn how to make banh cuon from a Vietnamese hawker. "I have to thank my mother-in-law for helping us find the hawker. She's the kind of lady who knows everyone in the market – very resourceful (laughs)," jokes Patrick.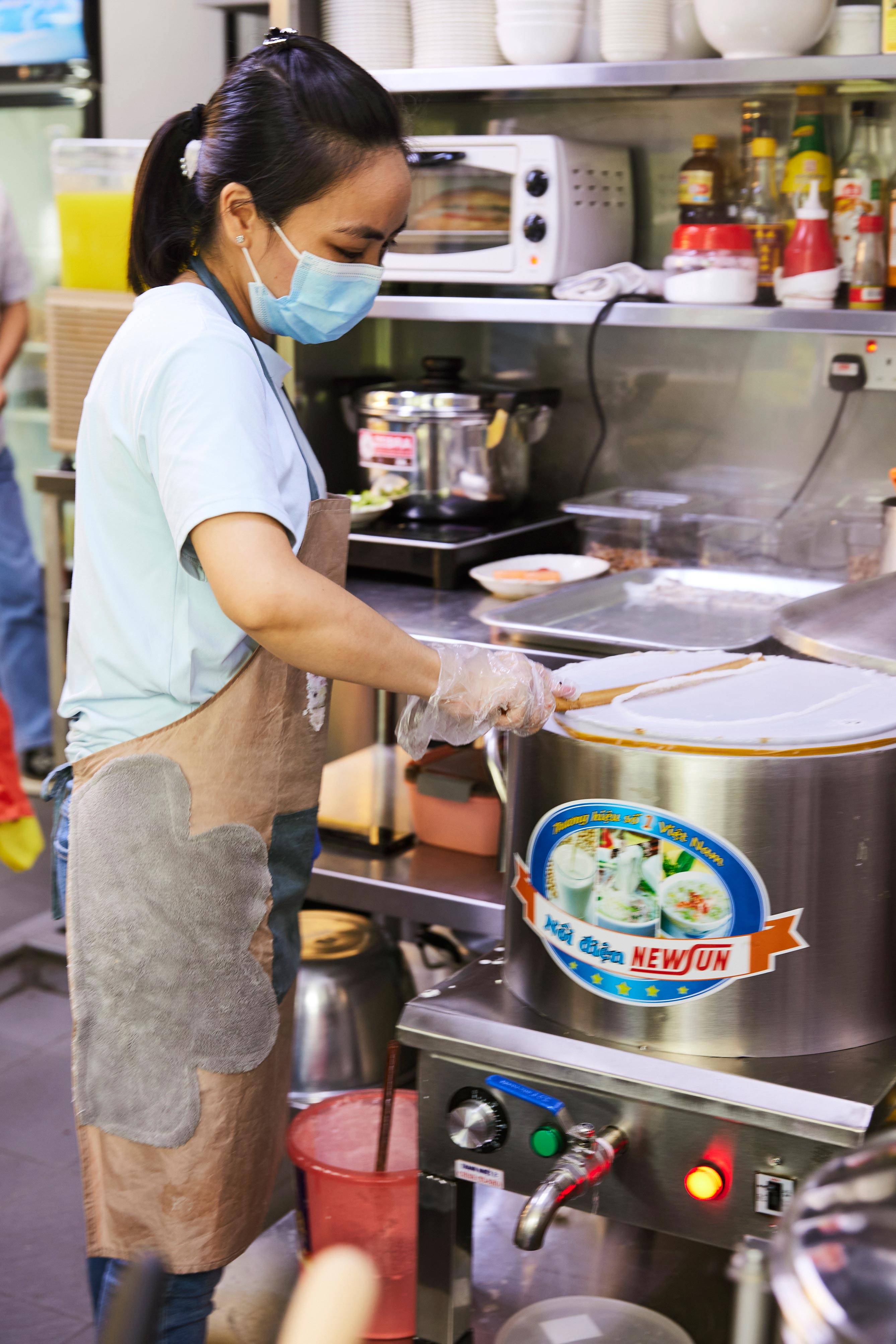 The trickiest part of the cooking process, Phan shares, is knowing how much house-milled rice (they use a machine) batter to ladle over the muslin cloth-lined steamer. "[The rice sheet] cannot be too thick or it won't taste good, but it cannot be so thin that you can't take it off the steamer without ripping a hole in it," she says as she deftly peels a glistening rice sheet off the steamer with a wooden stick.
Thereafter, she adds the fillings to the banh cuon before rolling it up and slicing it into bite-sized chunks.
Quiet coffeeshop
The couple, who don't have any children, invested $10,000 into setting up their stall at a coffeeshop in Yishun. "We preferred to start at a place with lower rent so that there wouldn't be so much pressure on us while we're still learning how to optimise [our workflow as hawkers]," explains Patrick.
However, the kopitiam, tucked away between HDB blocks and hidden from the main road, is "practically deserted" after lunch hours. "We get a lot of Vietnamese customers visiting from all around the island – but the problem is they can't find our stall. They will call me and I have to tell them how to get here step-by-step," adds Phan.
The couple sell around 20 to 30 portions of rice rolls a day. To help make ends meet, they've also started selling ban mian – using a recipe from Patrick's hawker pal – and you tiao to shore up revenue. "Our [banh cuon] wasn't moving during lunchtime, so we had to sell something else," he explains, adding that he "didn't mind" the extra work cooking more dishes, or the chance that customers might get confused by their varied menu.
Adds the former private-hire driver, "[Business] is slow, but we're okay with taking our time for now. Eventually, we'll see about moving to a more crowded place when we're more used to being hawkers."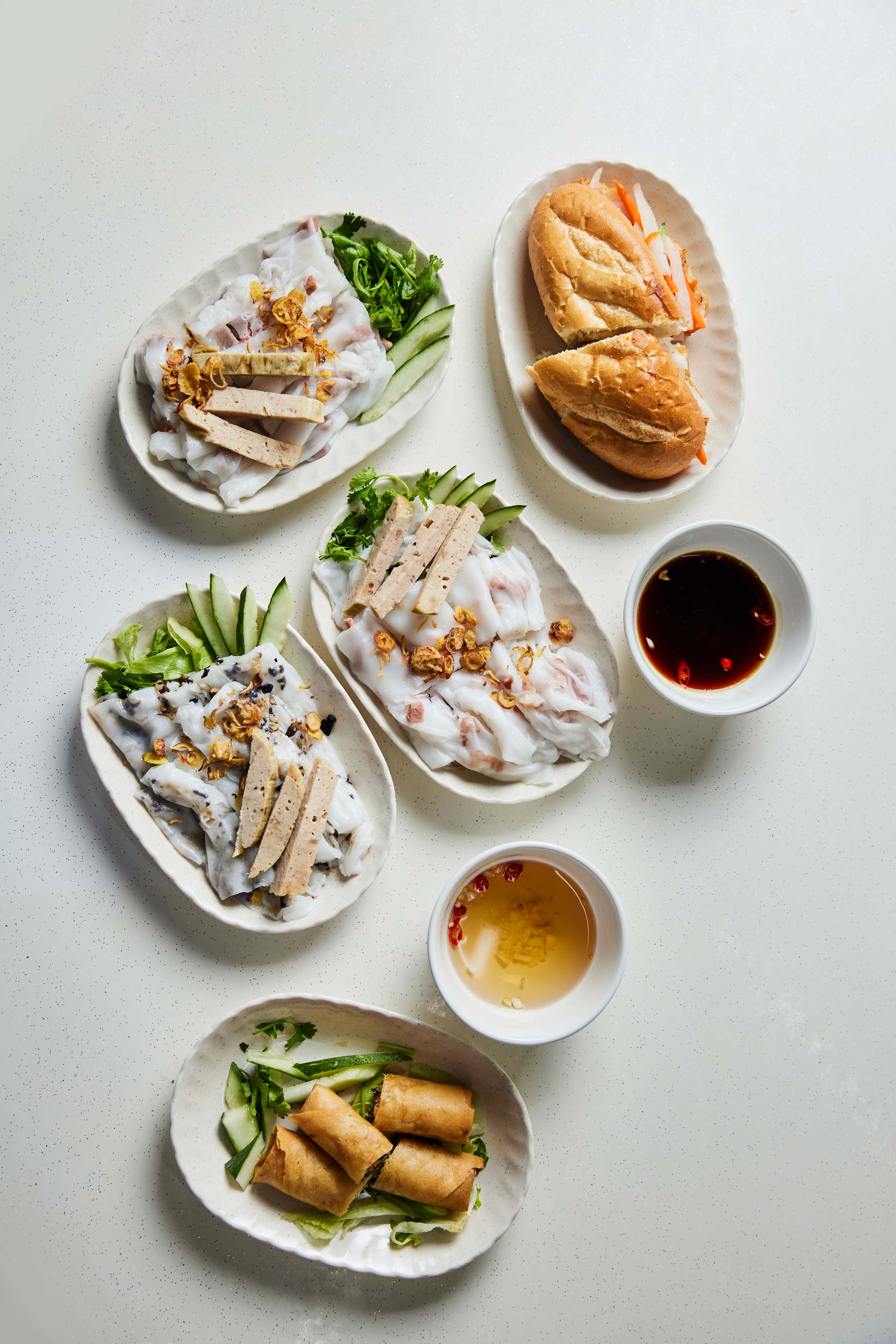 The menu
Banh cuon loaded with traditional minced pork and wood ear mushrooms, alongside other fillings like housemade char siew and smoked duck are on offer. There is also banh mi ($4.50) packed with homemade chicken liver pate and cha lua (Vietnamese ham). All this on top of ban mian and you tiao. 
Minced Meat Rice Roll, $3.50 (8 DAYS Pick!)
How does An Ngon's version compare to those we've tried in Hanoi's Old Quarter? Pretty authentic, if a little thicker; moreover, some of the freshly steamed sheets here were marred by small rips. Nonetheless, An Ngon's banh cuon is overall smooth with a nice QQ bite – a textural delight, contrasted with its salty minced pork and crunchy wood ear mushroom filling. Its mouthfeel is somewhere between the thinner Hong Kong-style and heavier Singapore-style chee cheong fun.
Accompanying the rolls are fried shallots, veggies like cucumbers and shredded lettuce on the side, as well as a few batons of housemade cha lua. Phan makes the ham herself by packing blitzed pork collar seasoned with fish sauce into banana leaves, before steaming the entire bundle and slicing it to order. The bouncy meat adds some heft to the dish.
Unlike most rice rolls in Singapore (whether the savoury HK version or sweet local version), the dish isn't served with sauce doused over it. Instead, the unseasoned rolls are dipped into a bowl of fish sauce, vinegar, chilli padi and raw garlic on the side. The sweet and lightly spicy medley here packs just a mild funk from the fish sauce, which Patrick says he pared down to suit Singaporean tastes. Pleasant, but we'd prefer a more assertive fish sauce punch.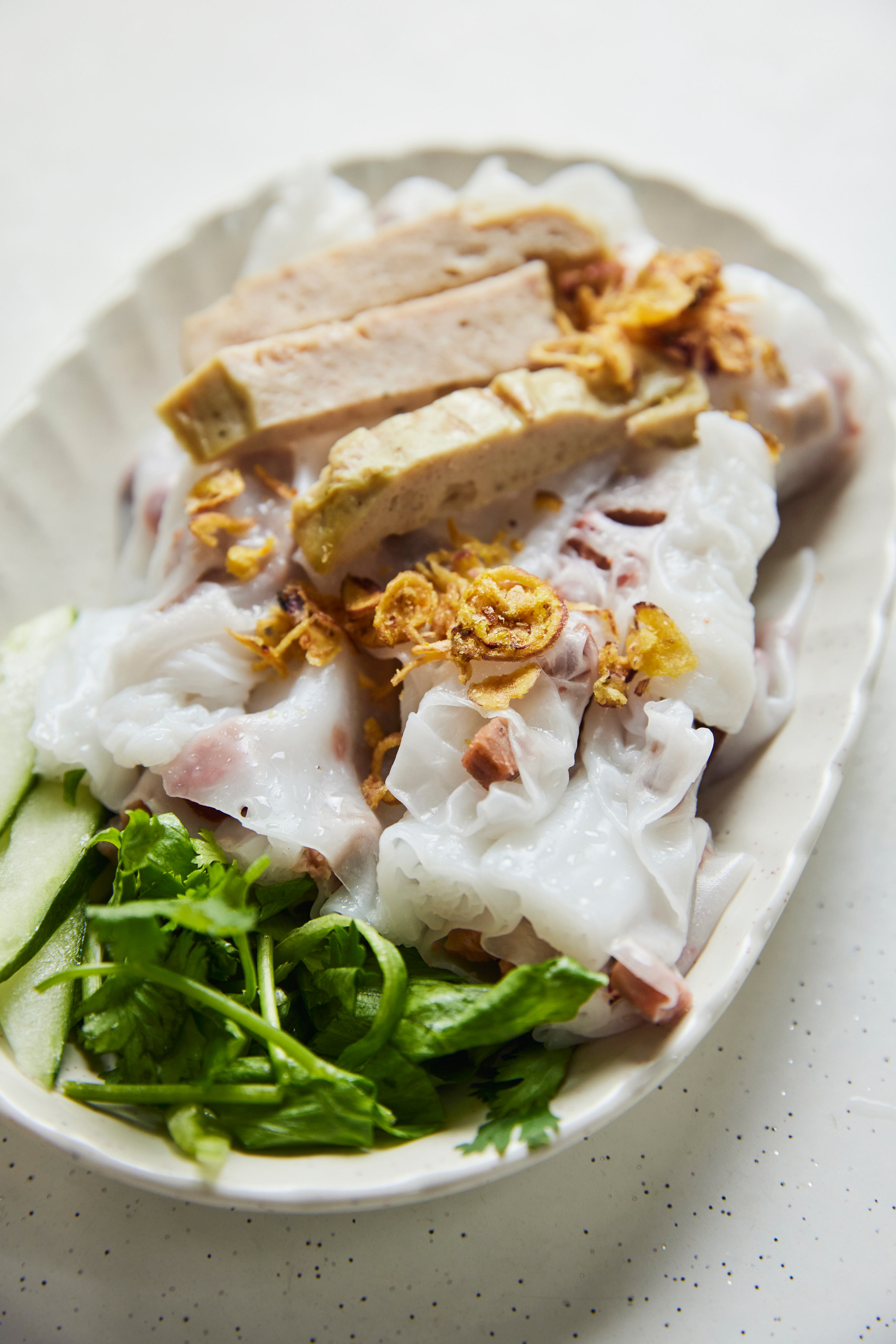 Char Siew Rice Roll, $3.50
This version studded with reddish house-roasted char siew bits is enjoyable too. The pork is nicely tender and moist – a good pairing with the glistening rice rolls.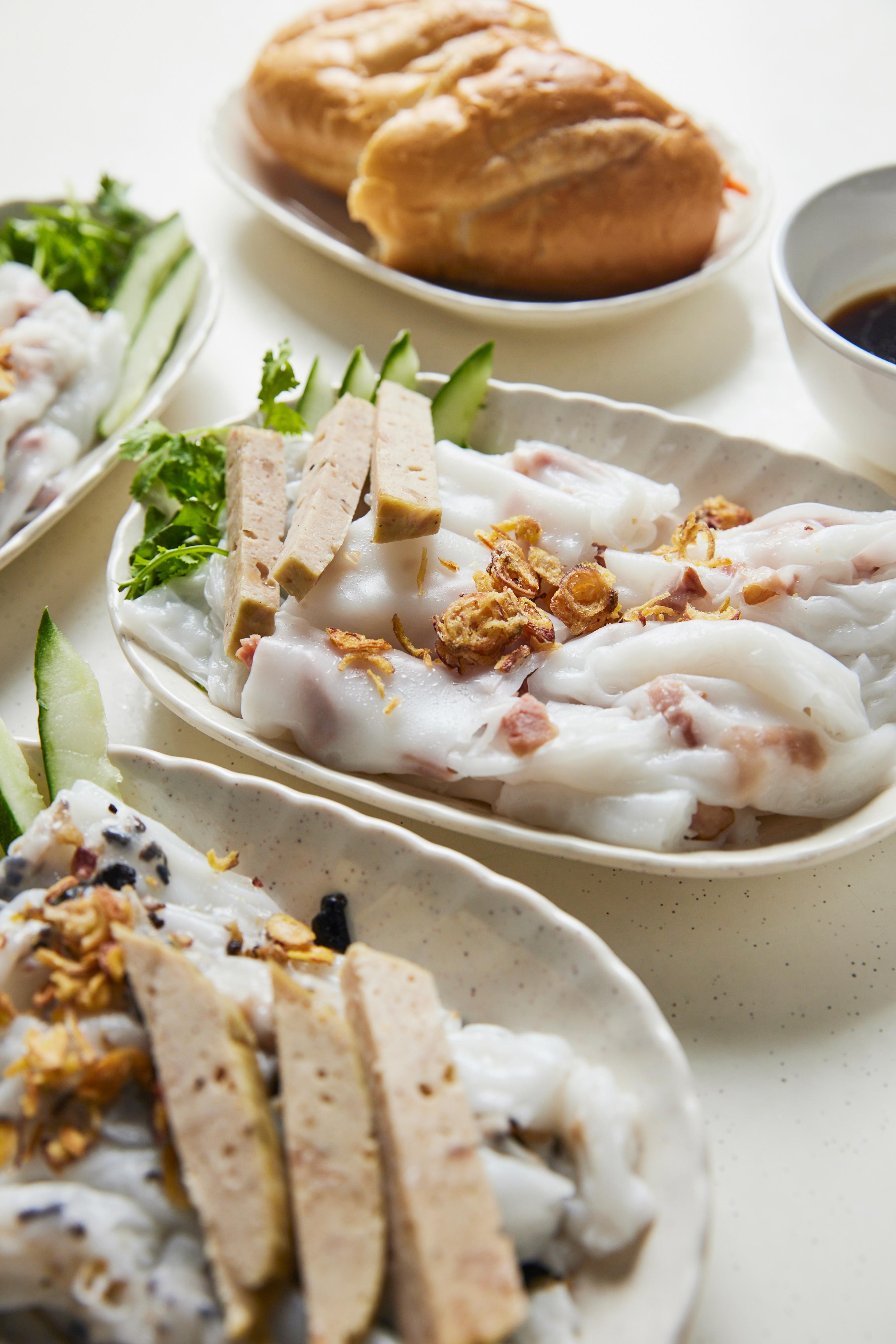 Smoked Duck Rice Roll, $3.50
We find the morsels of smoked duck leaner and drier compared to the other proteins we tried. Skip this.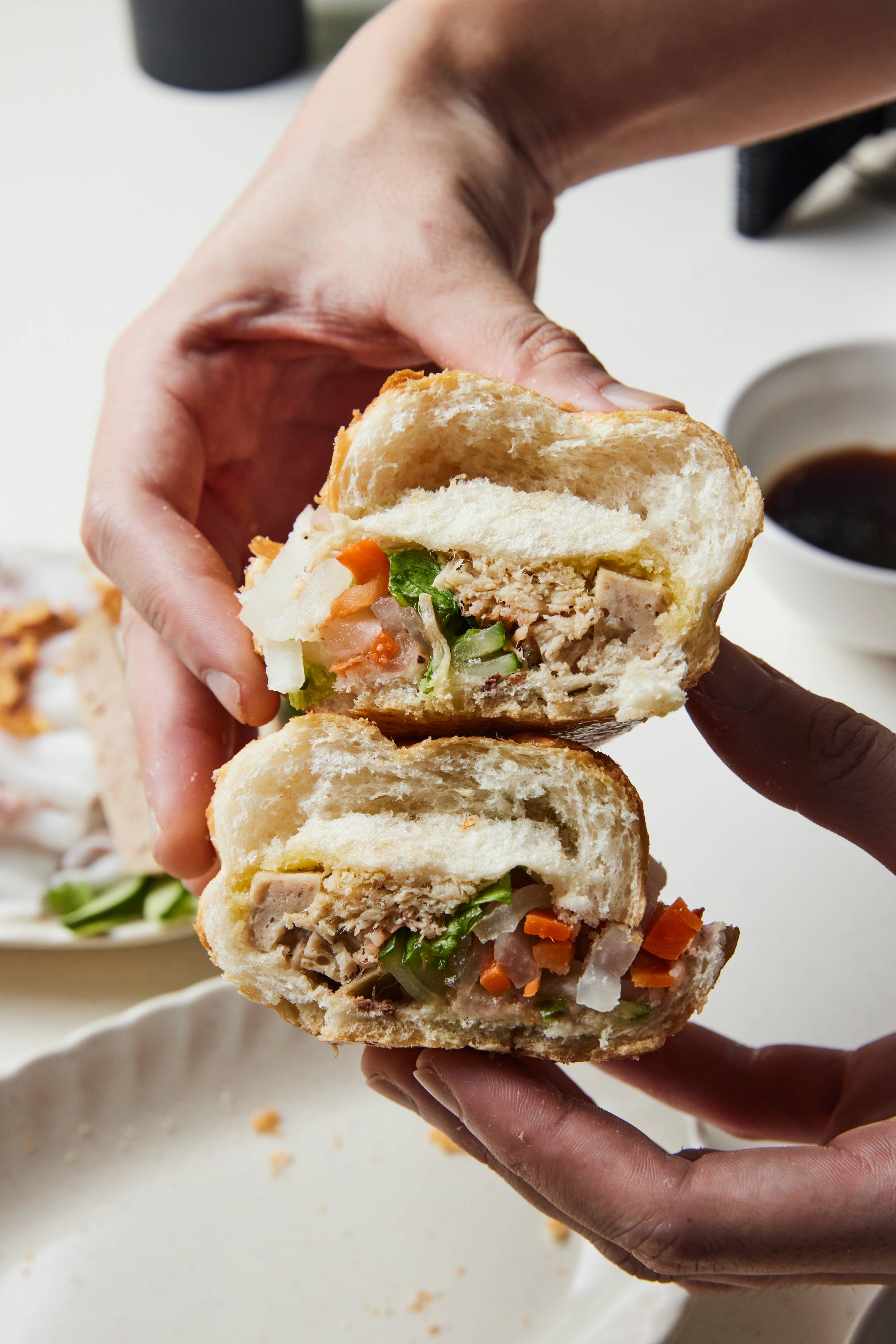 Vietnamese Bread, $4.50
An airy supplier-bought baguette is given a generous smear of margarine and housemade chicken liver pate, before being layered with cha lua, pork floss, lots of cucumbers, pickled carrots and onions. A splash of sweet tomato sauce and chilli sauce complete the sarnie. This banh mi is moreish and satisfying, boasting a pleasant creaminess from the chicken pate cut by tangy pickled veg. The sweet-salty floss adds a nice flavour and texture, too.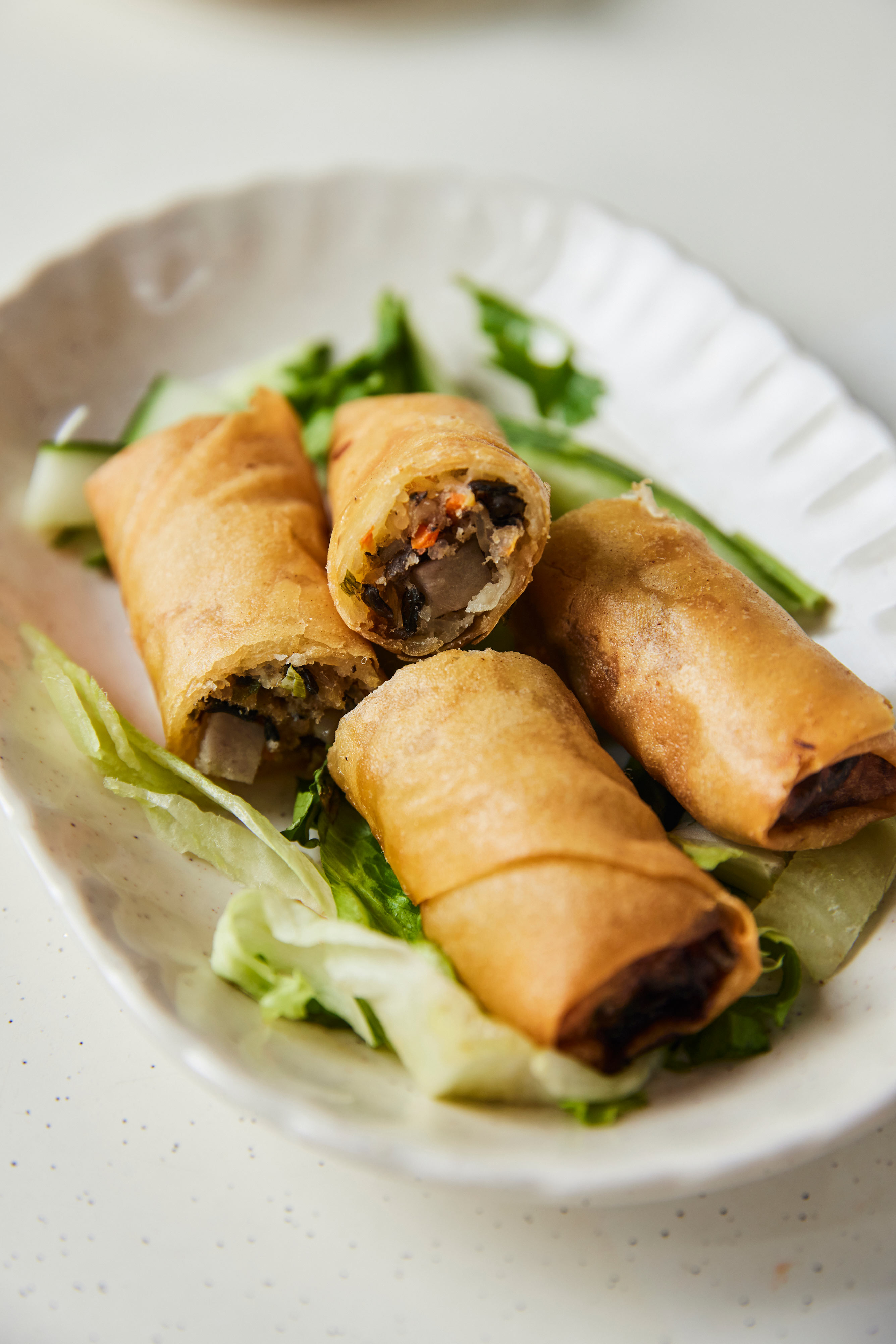 Vietnamese Spring Roll, $1.50
Another offering is Phan's deep-fried spring roll, which was still quite good despite being pre-fried and popped into a toaster oven to crisp up upon order. We dig the interplay of textures between satisfyingly crunchy spring roll skin, minced pork, wood ear mushroom and cubes of yam. It's even better dunked into the accompanying fish sauce dip.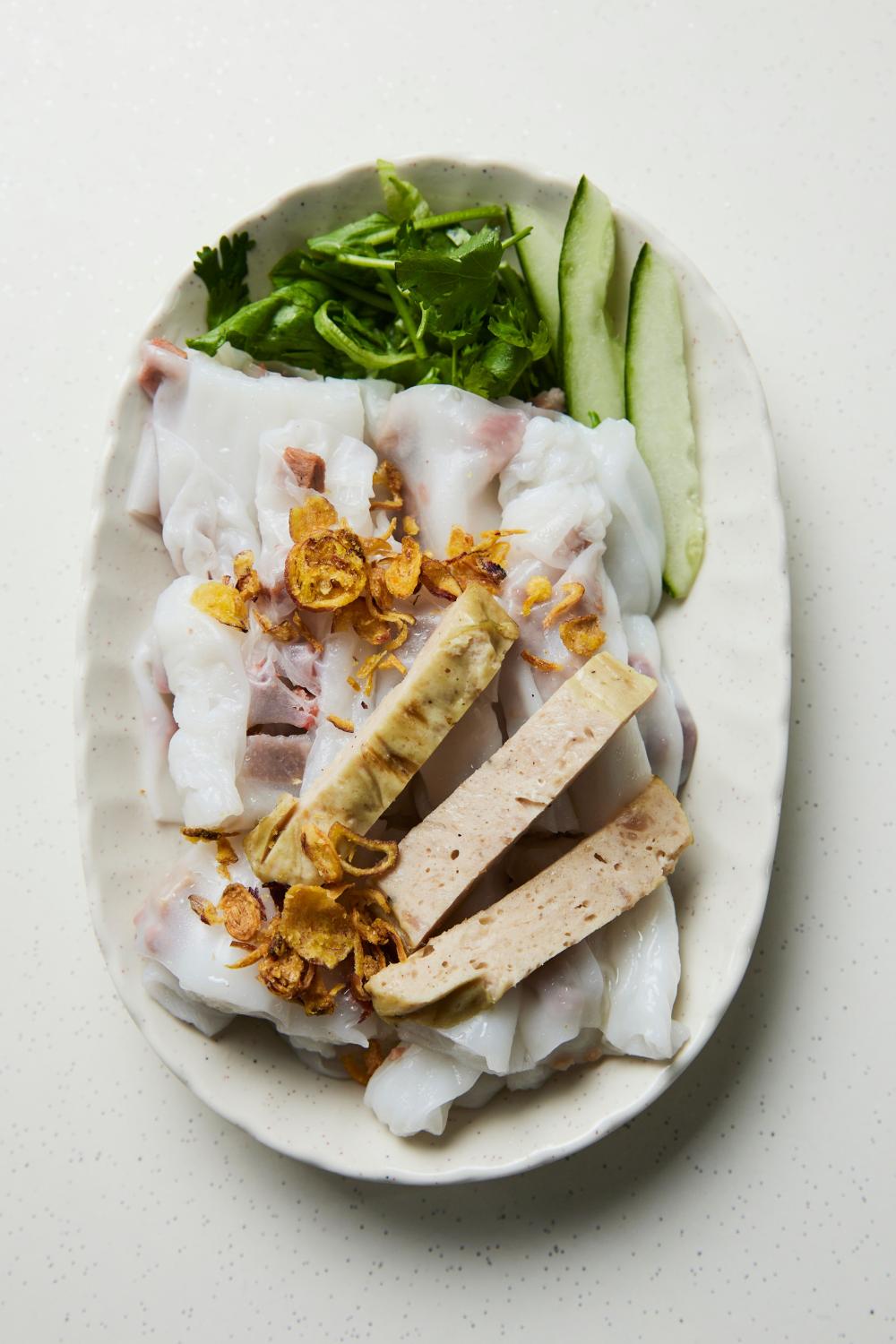 Bottom line
If you haven't had
banh cuon
before,
the rustic rolls at An Ngon Vietnamese Rice Roll are a decently yummy introduction to the Vietnamese breakfast staple. Also worth ordering: the homely chicken liver pate-laden banh mi. Prices are affordable too — if you're willing to make the trip to Yishun.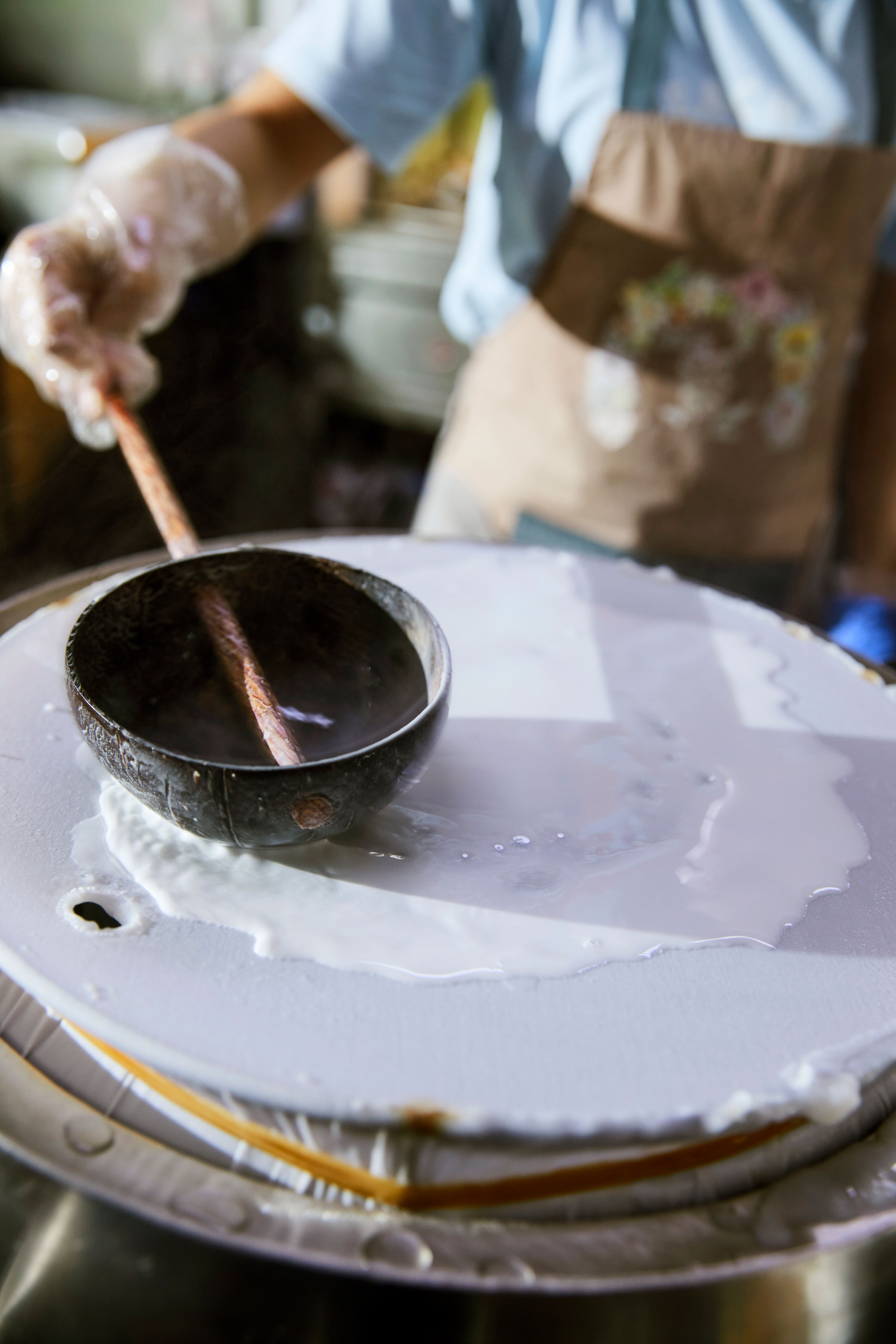 The details
An Ngon Vietnamese Rice Roll is at #01-141, 343 Yishun Ave 11, S760343. Tel: 9021-7158. Open daily except Tue, 6am – 2pm. More info via Facebook.
Photos: Aik Chen, An Ngon Vietnamese Rice Roll
8days is now on #tiktok! Follow us on www.tiktok.com/@8dayseat
No part of this story or photos can be reproduced without permission from 8days.sg.