SQ Cabin Crew Couple Behind Crepe Cake Biz Two Bake Boys Quit Jobs To Open Cafe In Bugis
The married couple tell us why they quit their Singapore Airlines jobs despite their initial hesitation to run the biz full-time.
Thai-style crepe cake bakery Two Bake Boys has finally opened a cafe. Since its humble beginning as a home-based biz in July 2020, the bakery has been enjoying steady growth – first, a central kitchen and takeout shop was launched at CT Hub 2, and two weeks ago, their 20-seater was unveiled in Rest Bugis Hotel along Jalan Kubor. 8days.sg checks out the new dine-in spot.
All photos cannot be reproduced without permission from 8days.sg
Resigned from SQ to run growing biz
Husband-and-wife owners, Kitty R, 37, and Philip Yap, 38, left their cabin crew jobs at Singapore Airlines two months ago to focus on their fast-expanding biz. Thai-born Kitty began selling crepe cakes from her family condo to cope with a pay cut when the pandemic halted flights in July 2020. They have two sons aged five and six that the biz is named after.
We were surprised to learn of their resignations, as the couple previously cited their inexperience as F&B owners as well as a desire to return to flying eventually as reasons for keeping their day jobs.
Kitty explains the change of heart: "I didn't want to quit at first because I had wanted to go back to flying. I'm quite old already, I'm 37 this year, but if I go back [to Singapore Airlines] and never get the green colour (SQ attendants wear different coloured sarong kebaya that indicates their seniority – green is for leading stewardesses, while Kitty was in a regular blue uniform), I can only fly for another 10 years as it's on a contract basis. So I think [the plan to return to flying] was not [working] for me anymore. It's also better for my boys. I get to be with them every day now." Her hubby Philip quit around the same time to focus on running the crepe cake biz.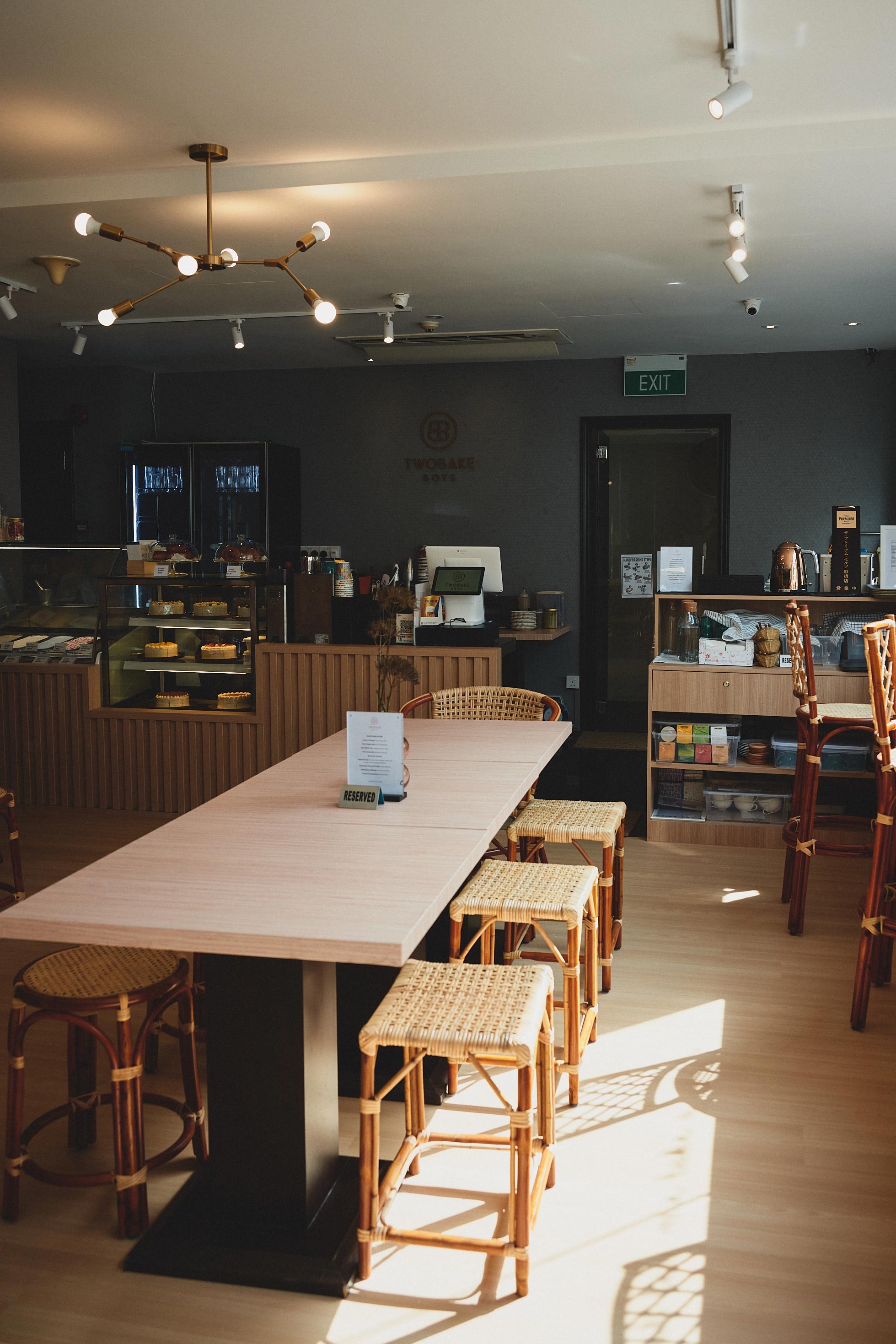 Taking the plunge
When we spoke at their then-new central kitchen last May, Philip shared that they were not thinking of further expansion yet. Sitting in their new Bugis cafe now, he revisits the shift in plans. "I started thinking, if we want to quit SQ, we need to have another place – something to challenge ourselves. We wanted a space for customers to sit down and have a chat."
They were also buoyed by an overall increase in orders late last year – production increased from 20 to 35 cakes a day, compared to last May – and a steady spike in walk-in customers at the Lavender takeaway shop. "At first we were worried as there was a 20 percent drop in online sales around October, when more people started going back to the office. There was a change in consumer behaviour – people didn't want to stay at home anymore, they wanted to go out more. A month or two later, we had a 20 to 30 percent increase in walk-ins [at the CT Hub 2 outlet, which is close to several offices]. That's when we realised there's potential in opening a cafe."
Kitty shares that they have invested around $50k (the amount is lower than most setup costs for cafes as they signed a shorter-term lease) to open the new cafe – most of the sum comes from their profits. The Bugis cafe will serve as the new (and only) pick-up location for all online orders and deliveries, while the Lavender outlet runs as a central kitchen. Walk-in purchases may be available at Lavender, subject to availability.
Working long hours alongside each other has been a new, at times challenging, experience for the couple, though Kitty appears to take it in stride. "When we disagree, I just go for a walk on my own," she says, laughing. "Philip is more business-minded and I'm more creative, so we have different perspectives. After I cool down, it's a good thing to see both sides when we work things out."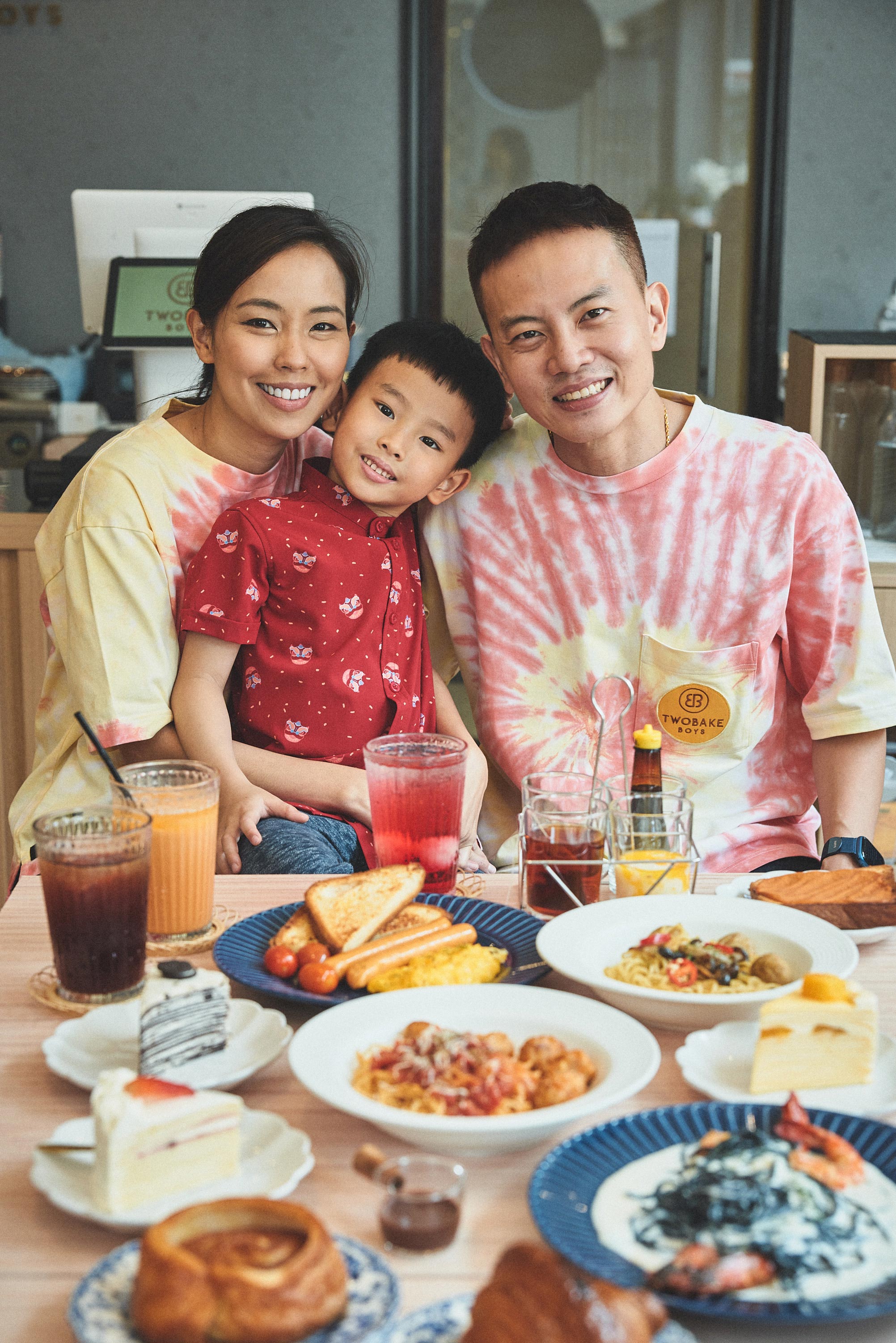 Hello, bake boy!
Their older son, Carter, six, was in the cafe during our visit (the younger Coby was unwell and stayed home), visibly excited about the new space. "He loves the gelato counter, that's the first place he heads to whenever he's here. We've also been 'training' him to greet customers here. He's pretty excited to help out," says Philip.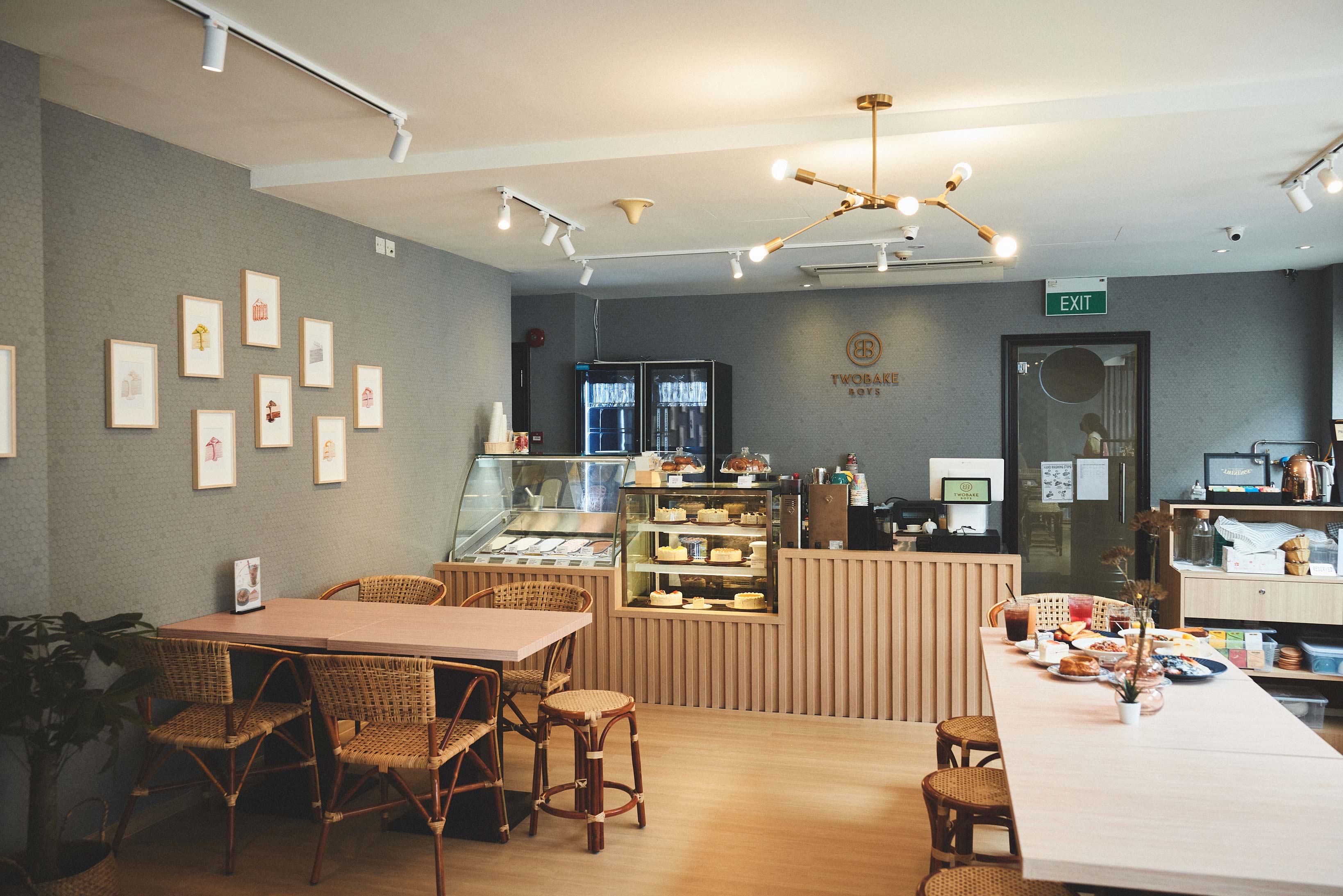 A warm, family-friendly space
The 20-seater is located on the ground floor of Rest Bugis Hotel, next to its reception desk. It sports a simple decor with light wooden flooring, rattan chairs and potted plant accents that exude a homely, somewhat nostalgic vibe. Filled with natural light, the vibe is cosy and comfortable. Philip says they specially picked larger tables so customers, particularly families, can enjoy lingering over their meals. "We started as a family business, so we want to provide a comfortable place for other families too."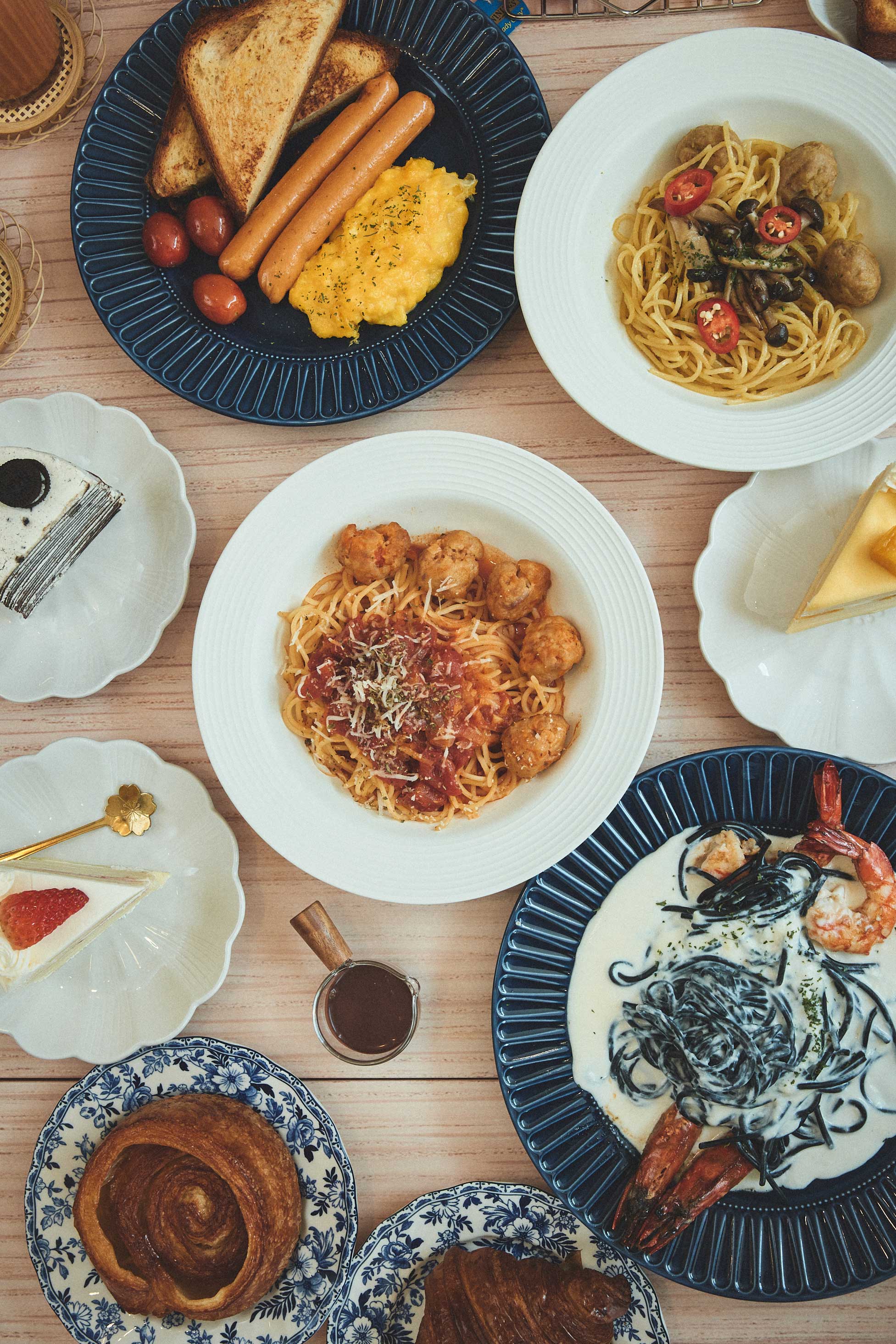 The menu
There's a large selection of crepe cakes – 18 flavours in total – including the classic Thai tea and new additions like mango and strawberry. Prices have increased (again) since our last feature – from $45 to $48 for the classic flavours (due to the rising price of eggs, we're told) and $56 to $62 for the most expensive vanilla rainbow crepe cake. Individual slices range from $7.40 to $9.
The cafe also serves a small all-day menu of simple eats like breakfast sets and pastas prepped by a hired cook, as well as fresh pastries from The Bakehaus (the couple are friends with the baker). There's no GST or service charge added to the bill for now.
Mango Crepe Cake, $9 a slice; $58 whole (8 DAYS Pick!)
While the crepes are not as thin and porous as elegant French-style mille cakes (like those from Lady M), they are tender and pliable enough to provide the requisite layered mouthfeel to the dessert. Kitty calls this a "deconstructed mango sticky pudding", but we found that the taste doesn't live up to its description – there's no glutinous rice element, and the coconut milk flavour is only present in the sauce that's served separately. Nevertheless, we quite enjoyed the strong mango flavour that's enhanced by the tropical fruit chunks in the filling. A refreshing, slightly tangy dessert.
Vanilla Strawberry Crepe Cake, $8 a slice; $56 whole
For a fruit-flavoured cake, the strawberry notes do not come through as distinctly as the mango version. A pity, as we enjoyed the rich vanilla flavour of the whipping cream, which would have been nicely complemented by a bolder berry taste.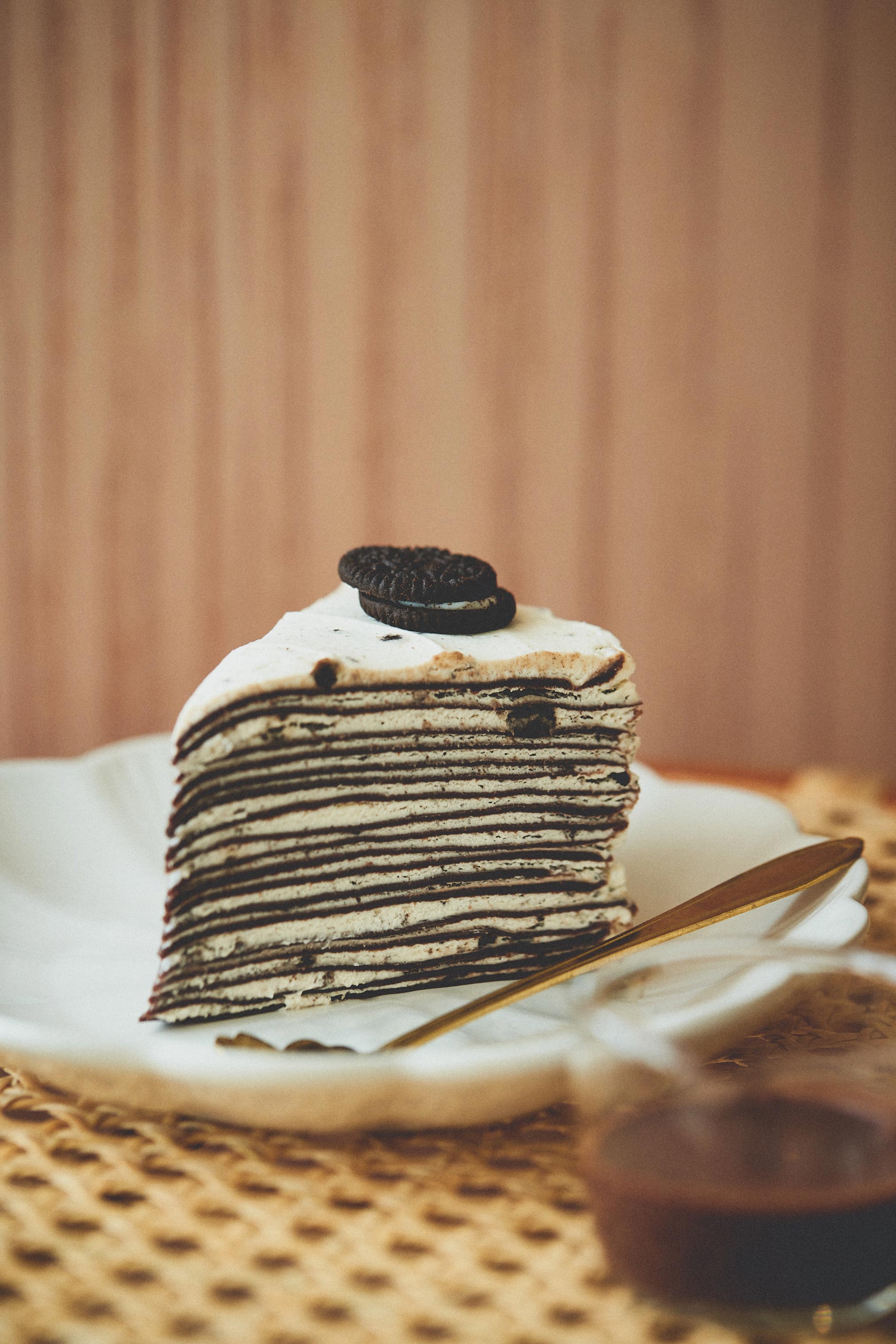 Cookies & Cream Crepe Cake, $8 a slice; $56 whole
The crepe layers, infused with cocoa powder, have a deep chocolate flavour that overpowers the Oreo-spiked cream filling – in fact, this new item is pretty indistinguishable from the popular Chocolate Crepe Cake on the menu, especially when eaten with the accompanying chocolate sauce.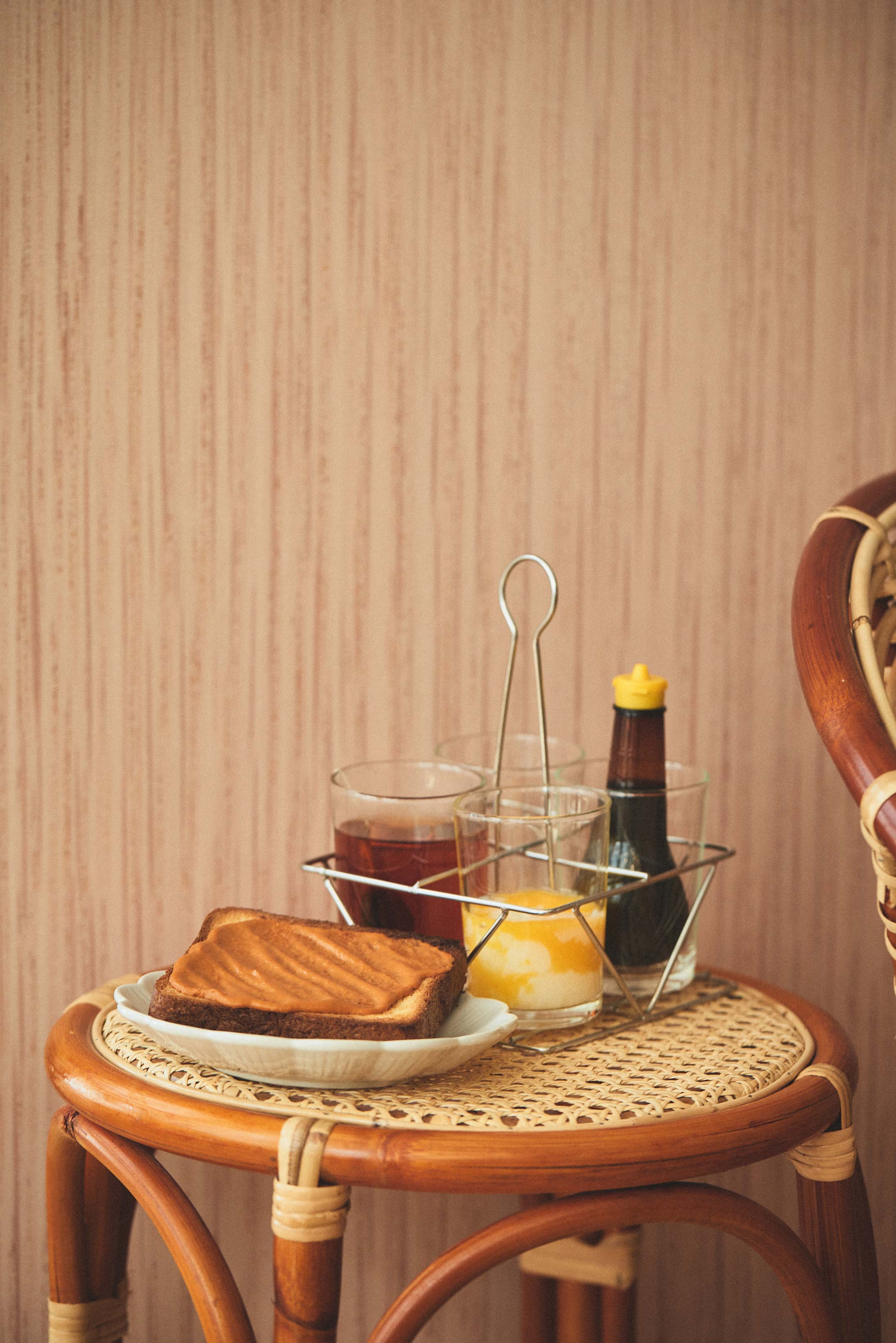 Thai Style Breakfast, $8 (8 DAYS Pick!)
We like the not-too-sweet, house-made Thai milk tea kaya, which has a lovely roasted aroma from the cha yen (Thai milk tea) – the spread pairs well with the thick, fluffy brioche toast. Soft-boiled eggs and hot tea (or coffee) round off the simple but comforting breakfast set served in a quaint metal stand.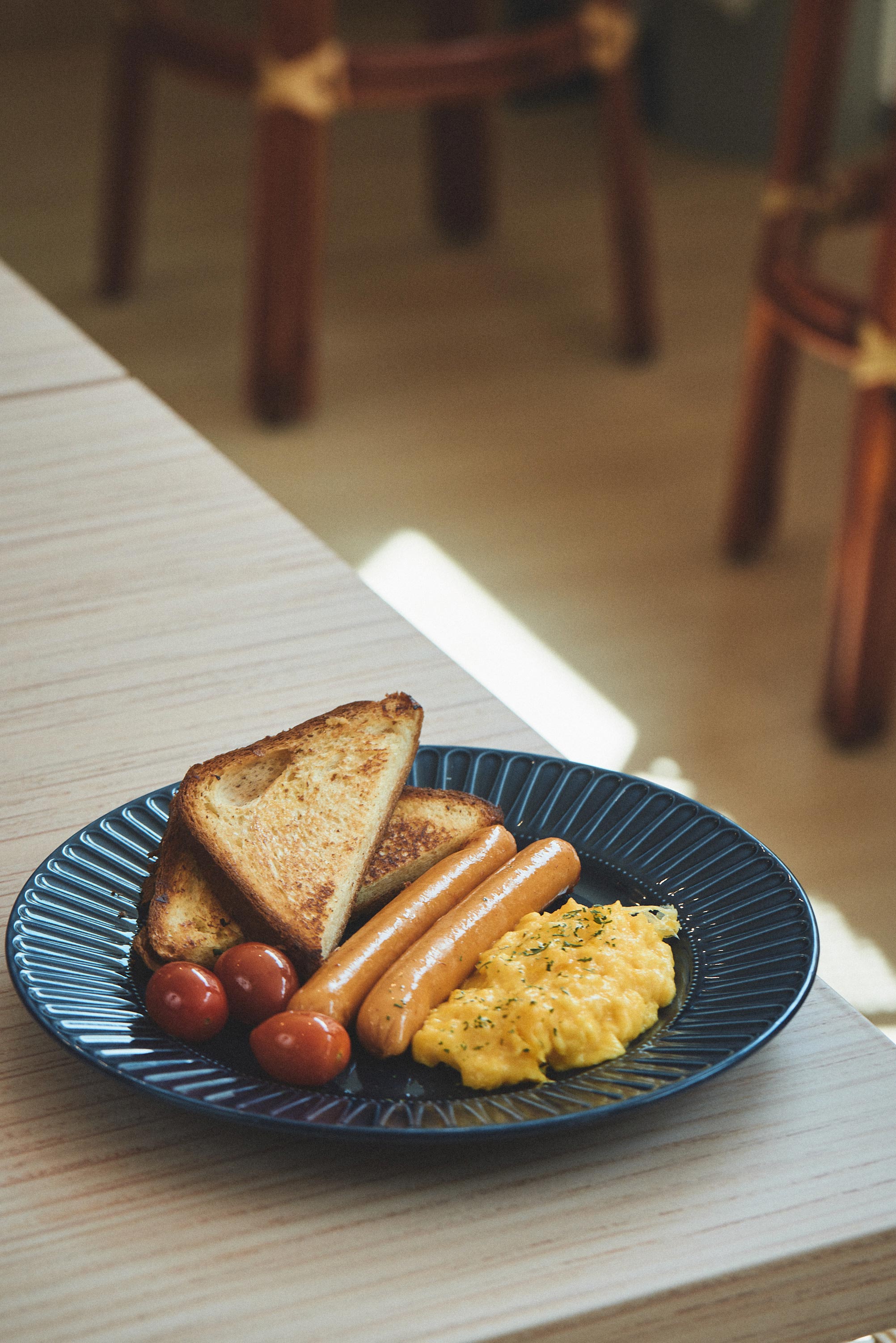 Business Class Breakfast, $18
A cheeky homage to their previous jobs, this combo of creamy scrambled eggs, no-frills chicken sausages and tomatoes served with plain toast is nothing to shout about and rather overpriced for what you get. Go for the Thai-style breakfast above instead, which offers more value for money.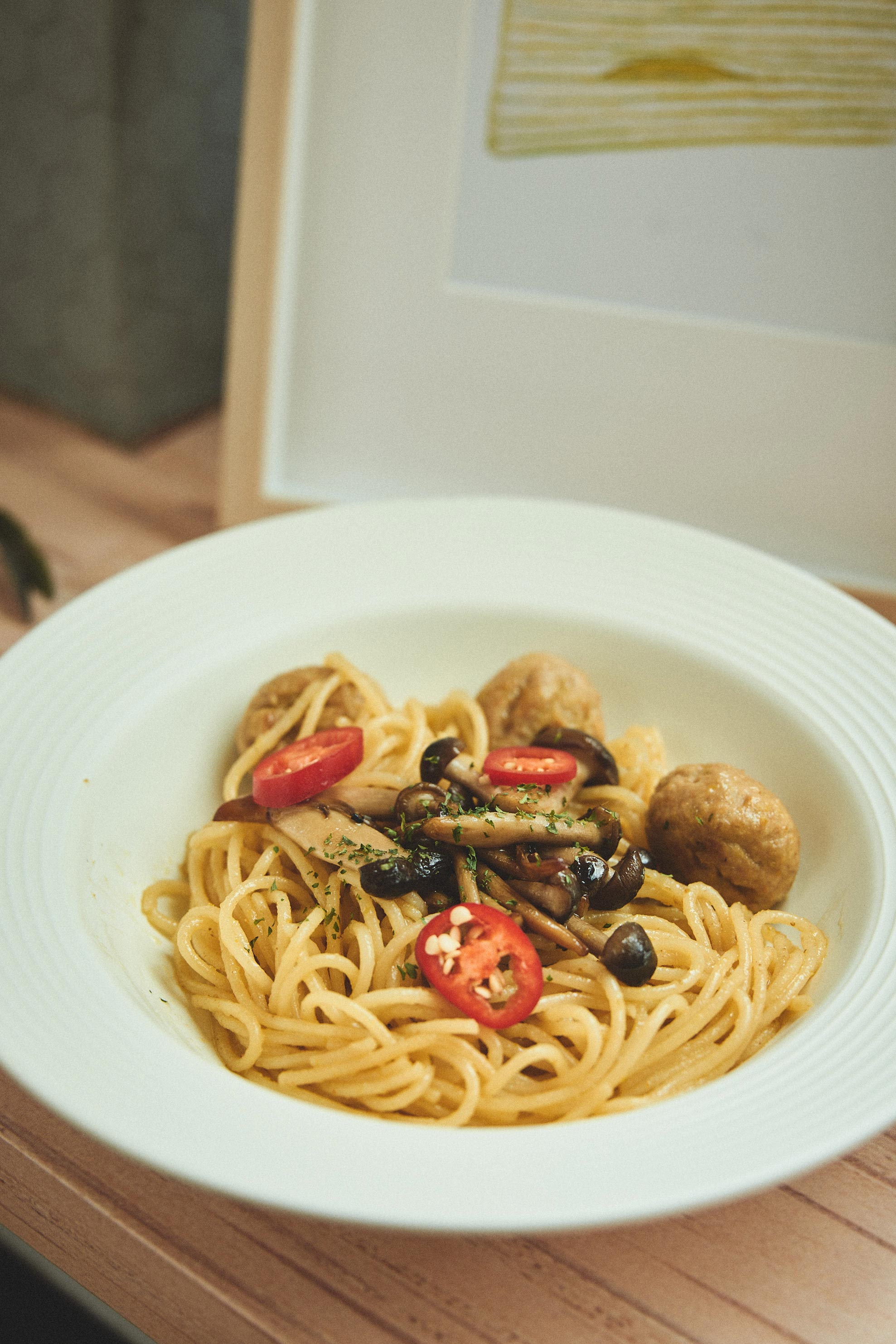 Truffle Green Curry Spaghetti, $16
Al dente strands held together by a basil-heavy green curry and truffle oil sauce. The vegetarian dish is bulked up by plant-based meatballs and shimeji – we think it could be even tastier with more heat, as the sliced red chilli here hardly added any to the pasta.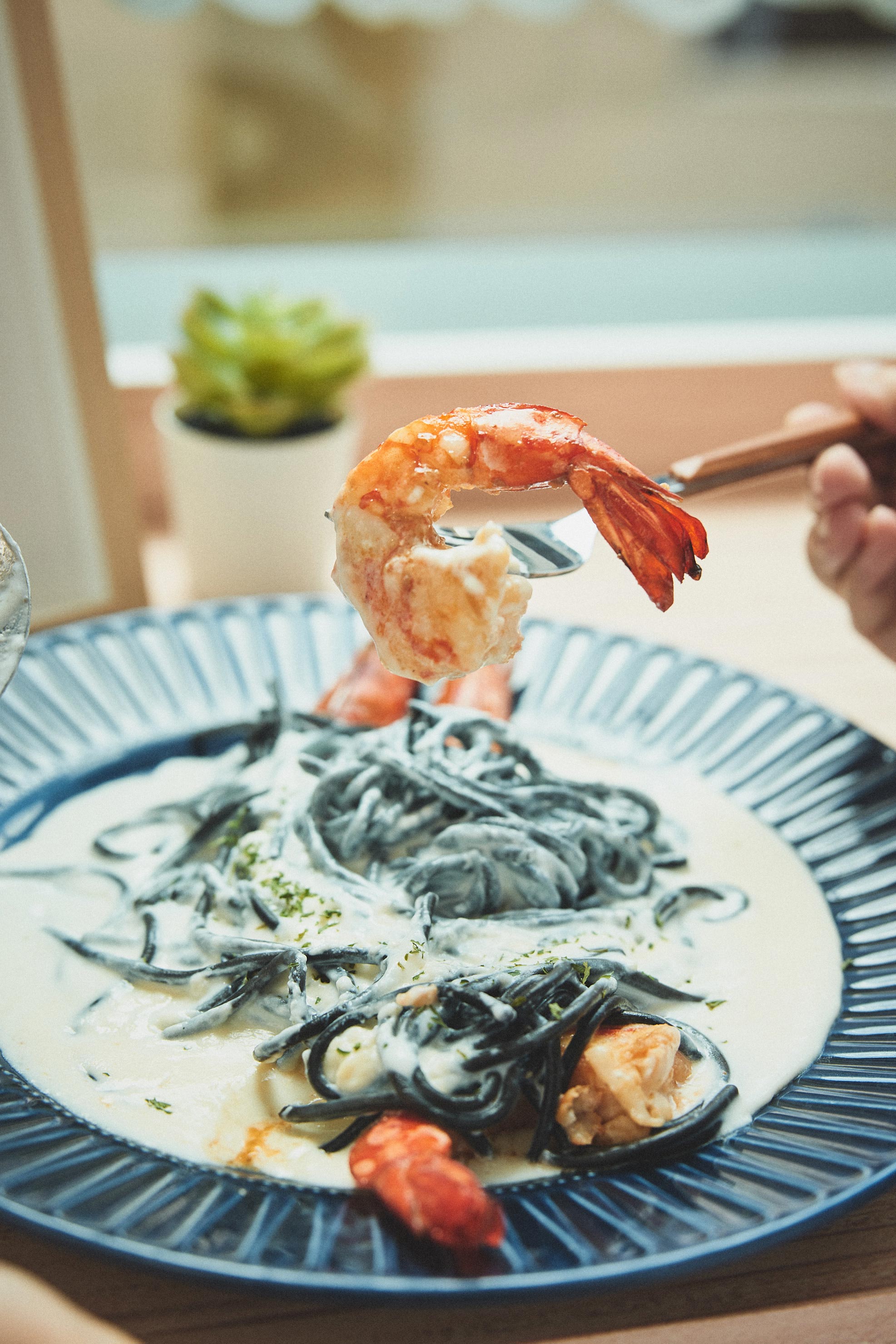 TBB Tiger Prawn Squid Ink Cream Sauce, $18
The squid ink pasta itself is rather yummy, but the accompanying cream sauce was unfortunately too bland to elevate the dish. At $18, we'd also expect more ingredients apart from two (albeit perfectly grilled) prawns.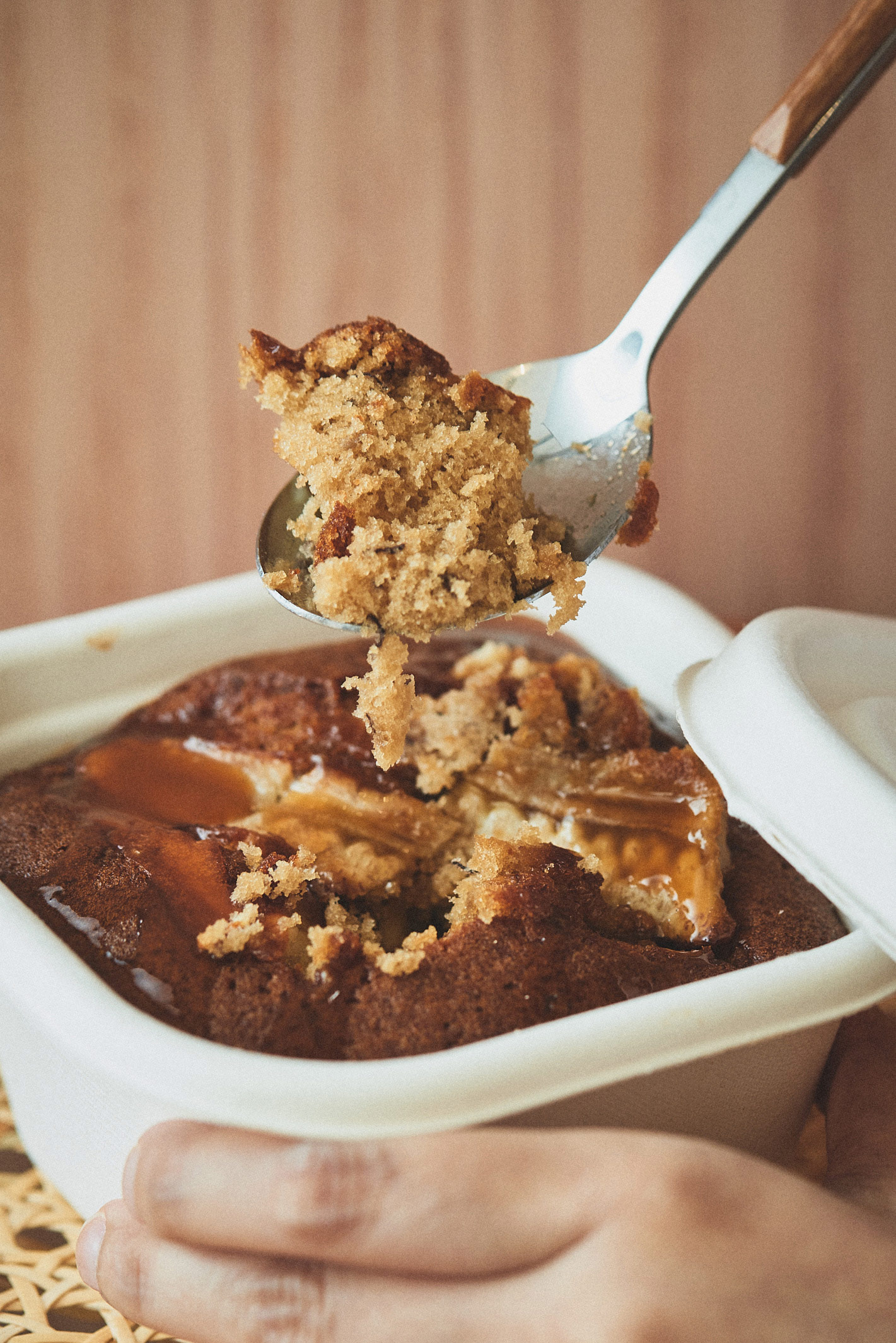 Salted Caramel Banana Cream Cheese Bread, $9 (8 DAYS Pick!)
A yummy banana bread with a tender crumb and slightly crispy crust, decadently drizzled with salted caramel sauce. We like that the loaf is strewn with cream cheese and chunky banana, which add extra flavour and texture to the dessert.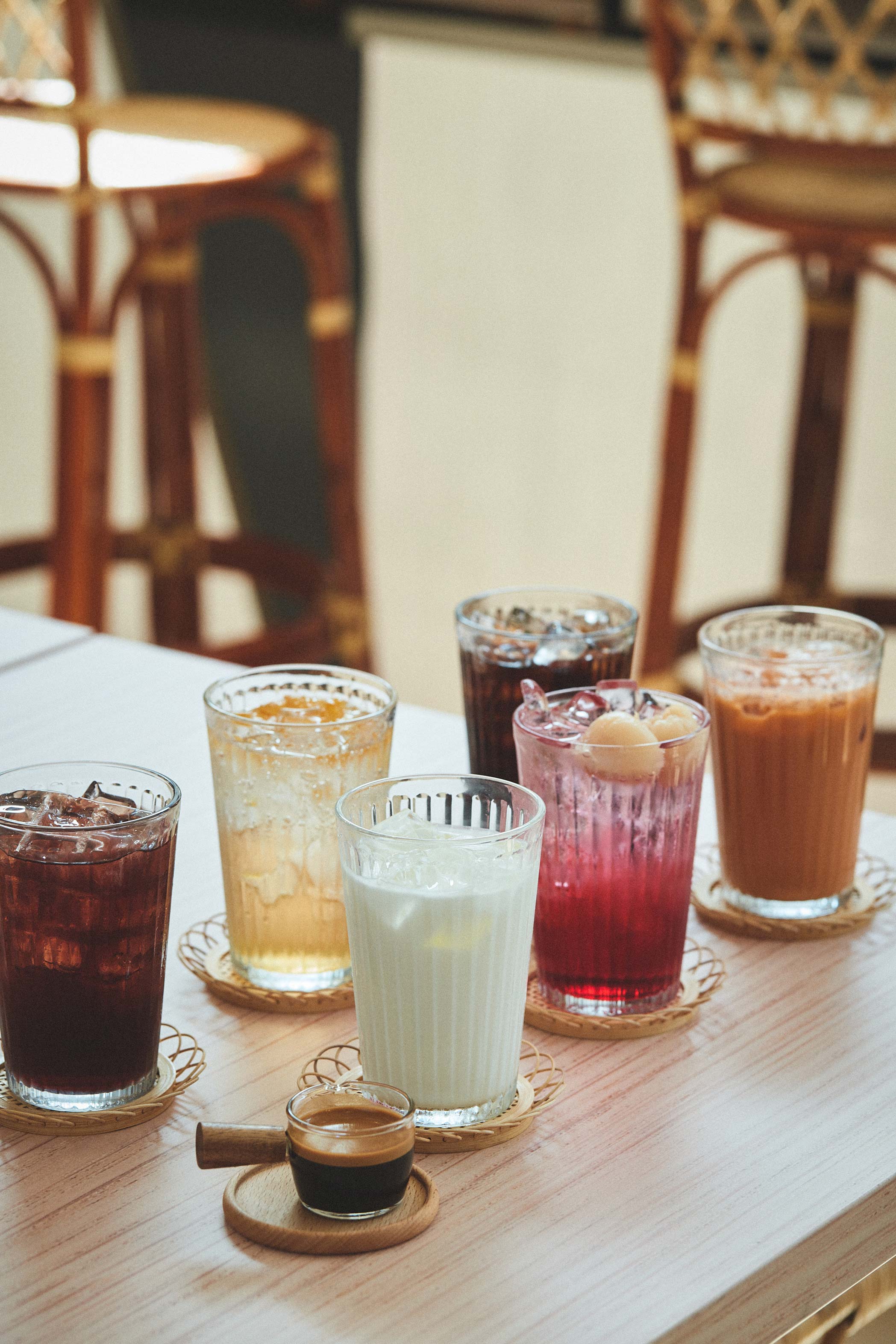 Drinks, from $4
There's a good selection of beverages including a rich, creamy Thai Milk Tea ($4). We enjoyed the Homemade Bael Fruit Tea ($4), a Thai beverage with a slightly herbal aroma that reminds us of chin chow (grass jelly).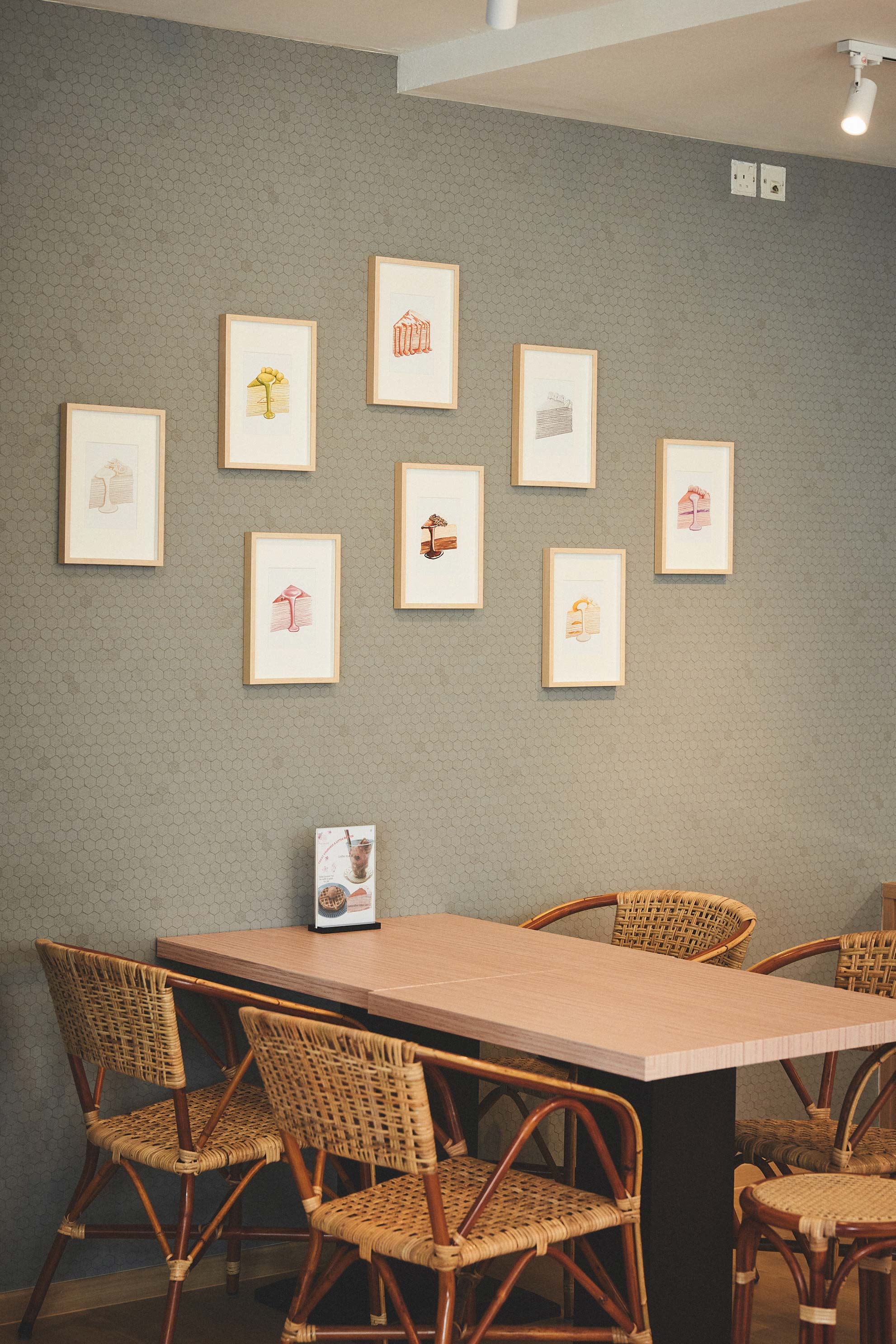 Bottom line
A rather wobbly menu with more misses than hits – we recommend sticking to the classic crepe cakes for now. We look forward to improvements to the savoury dishes as the rookie team gains more experience running a full-fledged dine-in cafe. Meanwhile, the service is impeccably warm and welcoming thanks to the ex-cabin crew couple, and we think their spacious outlet will be popular among young families thanks to the kid-friendly menu.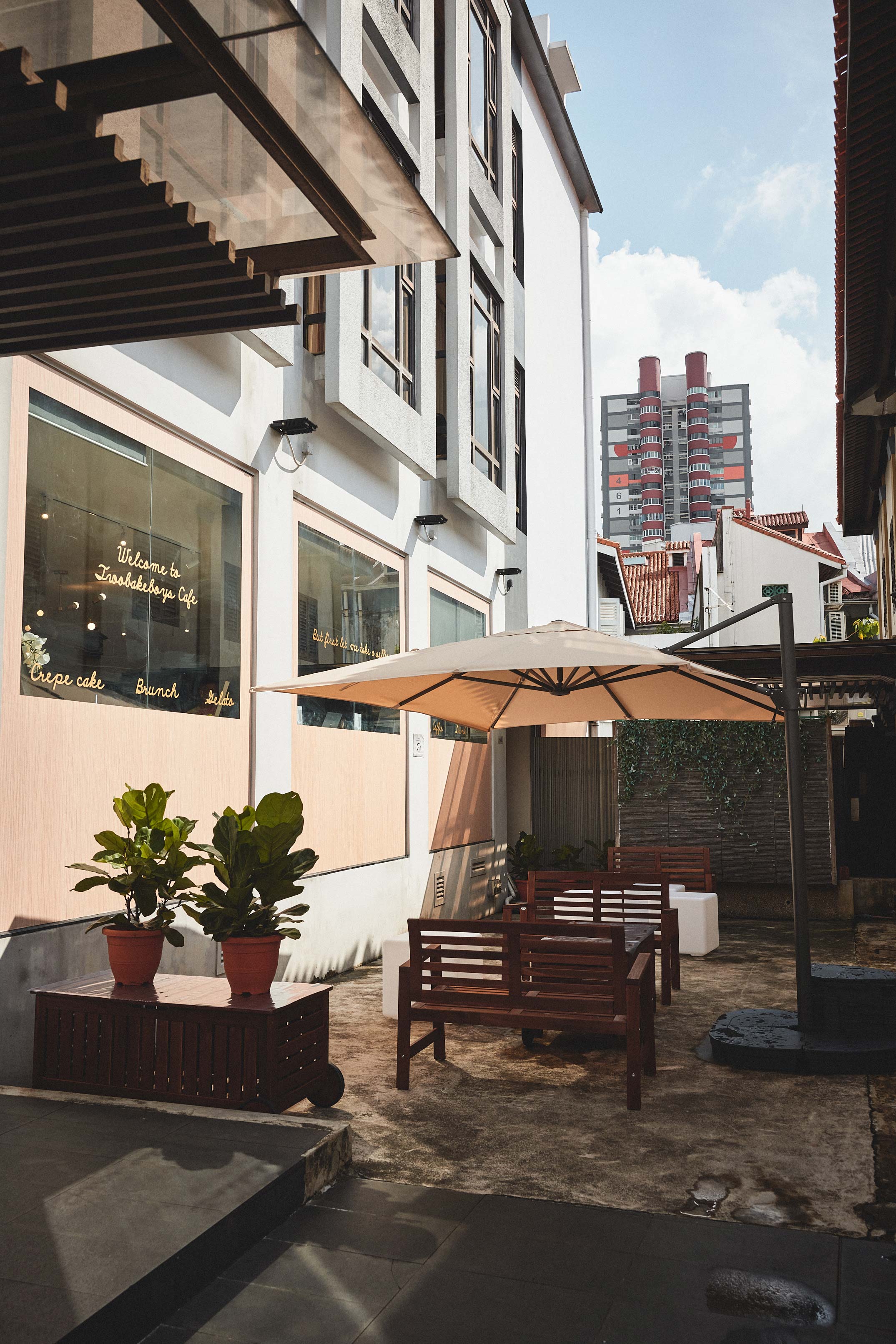 The details
Two Bake Boys Cafe is at Rest Bugis Hotel, 8 Jln Kubor, S199207. Open daily 10am - 5pm. Pre-order the cakes at www.twobakeboys.com.
Photos: Alvin Teo
All photos cannot be reproduced without permission from 8days.sg