Taiwanese Actress Cheryl Yang Wore A Dress That Resembled Famous Taiwan Lighthouse To The Golden Bell Awards
Now that's a fashion landmark.
Taiwanese actress Cheryl Yang (杨谨华), 44, was up for the Best Leading Actress award for her performance in the drama Light the Night at the recent 57th Golden Bell Awards. 
Though she went home empty-handed, she still became the talk of the town.
When Cheryl and her Light the Night co-star Ruby Lin took the stage to present an award, all eyes were on Cheryl — or rather, her black and white vertical striped evening gown.
While Cheryl looked smashing in the dress, many also noticed that it bore heavy resemblance to Taiwan's Fangyuan Lighthouse.

A quick search of the landmark would show that they indeed look very similar.
Cheryl and her co-star Ruby Lin
One netizen also posted a side-by-side comparison pic of Cheryl and the lighthouse (see below).

"I found her styling very familiar when she was presenting the award, turns out she has taken to wearing the lighthouse on her body," said one netizen, while other netizens have suggested she become the spokesperson for the landmark.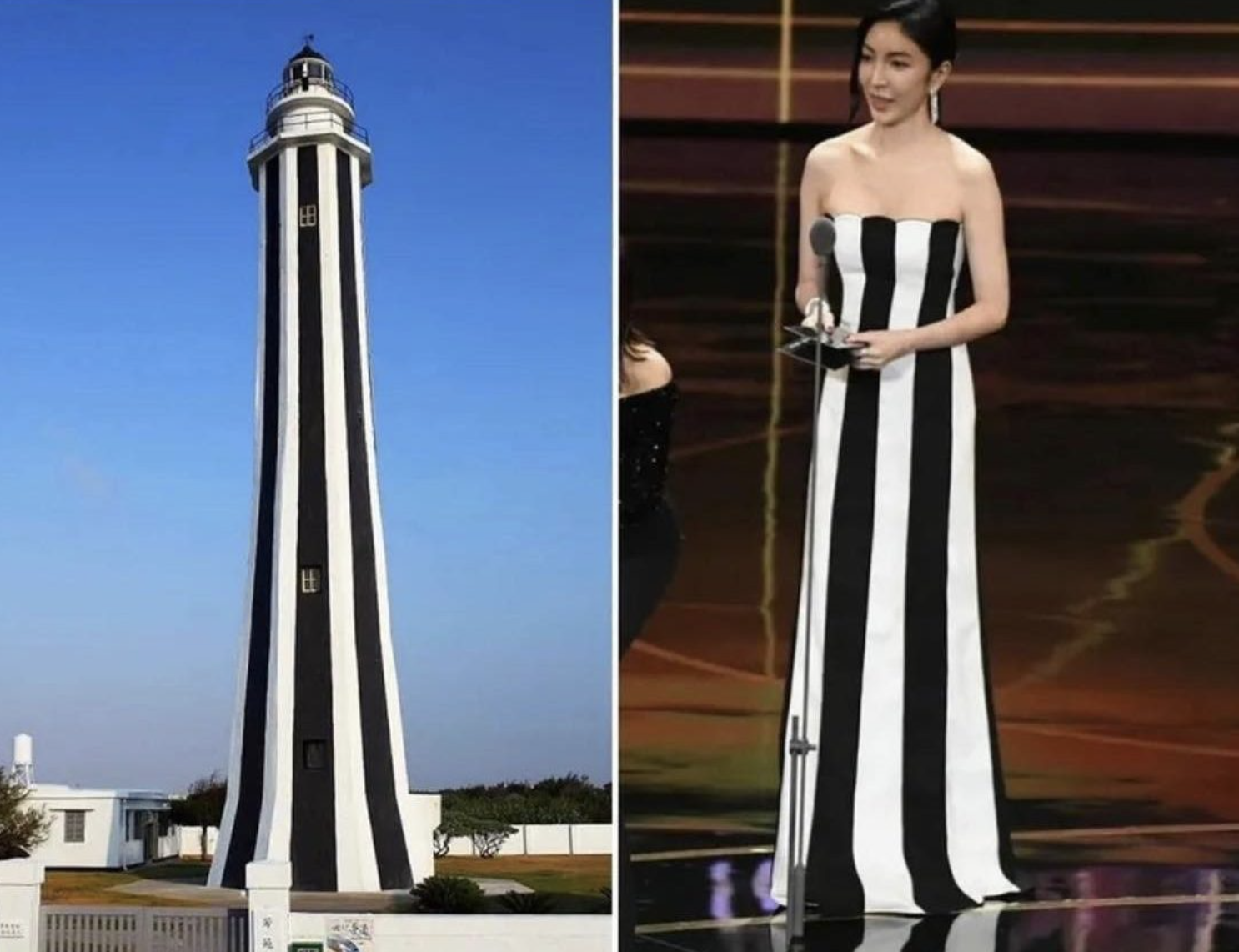 Really quite similar
Cheryl has since responded to all that online chatter, saying: "This gown is vintage and elegant, I knew that I [had to pick it] the moment I tried it on, and I guess you could call it love at first sight. Although I did not win an award, at least I still have the Fangyuan Lighthouse, [I] welcome everybody to take a picture of it," joked the actress. She also added the hashtags #netizenshavesharpeyes and #localbeauties to her post.
Netizens than took to her post to praise her for her humorous response, saying that she's "more stunning than the lighthouse", and calling her "the most beautiful lighthouse".

Wait, is the last one supposed to be a compliment? 
Here's the "lighthouse dress" in all its glory
Photos: Cheryl Yang/ Facebook, Sinchew News