Taiwanese Actress Sandrine Pinna Had An Allergic Reaction So Bad, It Made Her Face Resemble "A Pig's Head"
She also likened herself to The Hunchback of Notre Dame.
On Oct 16, Taiwanese-French actress Sandrine Pinna (张榕容), 35, took to Instagram to share that she woke up that morning to find that her face had become "a pig's head".
What happened?
Would you be able to recognise Sandrine like this?
According to Sandrine, her eyes had started to itch and her face felt puffy the previous day but she didn't think too much of it.

It was only the next morning that things took a turn for the worse, so much so, that she thought she also looked like Billy the Puppet from horror movie Saw.
Sandrine assumed she had conjunctivitis but when she saw a doctor, he told her that she was having an allergic reaction.
By afternoon, her face had swelled up to the point where her lips couldn't be seen when she smiled.
The doctor then gave her an injection and some steroids, and the swelling started to subside an hour later.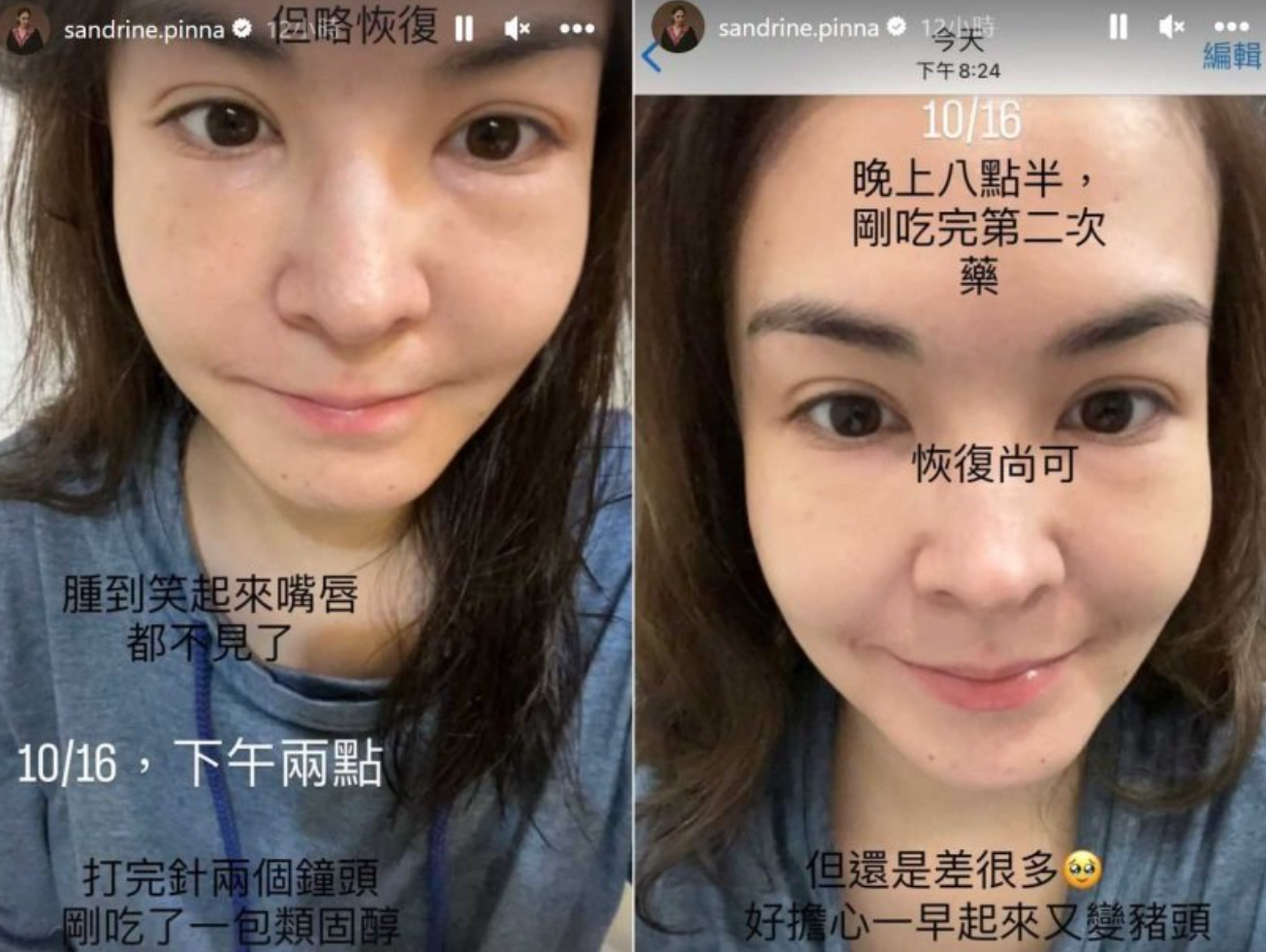 Looks like she's recovering well!
Thankfully, Sandrine was able to see the funny in the situation and she went on to quip: "Turns out The Hunchback of Notre Dame was having an allergic reaction too, that's why his eyes were droopy." 
Though she's able to joke about her condition now, the actress said she felt  "so ugly" at one point that she didn't want to reply to anyone's concerns. She also had to push back her work schedule.
Now that she's recovering, Sandrine, who suspects that she must have eaten something she was allergic to, reminded her fans that "autumn food is too delicious, but everyone has to be mindful of their health okay!"
Photos: chinapress