Tan Kheng Hua Is Happy To Be 60, Wants Her "Senior Citizen Discounts"
"I am 60, more wrinkly, age-spotty and creaky than ever but also more vital, happy, alive and energetic!" wrote the actress.
Tan Kheng Hua's recent Instagram post on turning 60 is honestly the most inspiring post we've seen on Instagram recently.

Of course, by now, we're no longer strangers to the actress' heartfelt Instagram captions.
Just earlier this year, this particular post by Kheng Hua, dedicated to her actress daughter, Shi An, 24, went viral, with many netizens commending Kheng Hua for her stellar parenting style.
And now, on the actress' 60th birthday, she's made yet another banger of a post.
Kheng Hua shared her thoughts on turning the big six-oh, musing that the milestone is something that she doesn't view with trepidation.
The actress shared that she just touched down in Singapore on the day of her birthday itself, and only reached home at 5:30 in the morning.
"It's 5.30am, I'm jet-lagged at my kitchen island, munching on Blueberry Morning cereal dry. I'm a little teary. Could be jet-lag. More likely, it's because it's my birthday and I am 60 and…I am…happy," she wrote.
Continuing on, Kheng Hua wrote that she was struck by the realisation that she was finally home.
"I am 60 and so much has changed and yet, so much hasn't! Whew! I am 60 and I feel like I've done so much and yet there's still SO much I want to do, can do and quite possibly will do! (sic)" she continued.
Kheng Hua and Shi-An on the set of Kheng Hua's last project in Canada.
And though she may be "more wrinkly, age-spotty and creaky than ever". Kheng Hua added that she's "also more vital, happy, alive and energetic".
I am 60 and I sit and own the good, the bad and the ugly in me," Kheng Hua wrote, adding: "I am 60 and I still have goals. I want to be that fit and funky grandma. I want good work. I want my senior citizen discounts."
"I am 60 and have more freedom and choices than ever before. Haven't always made the right decisions. Just have to keep trying," she continued.
The actress added: "I never feel like "I've made it" and don't believe in the concept. I just want to always be making it as I go along, making it work as best as I can."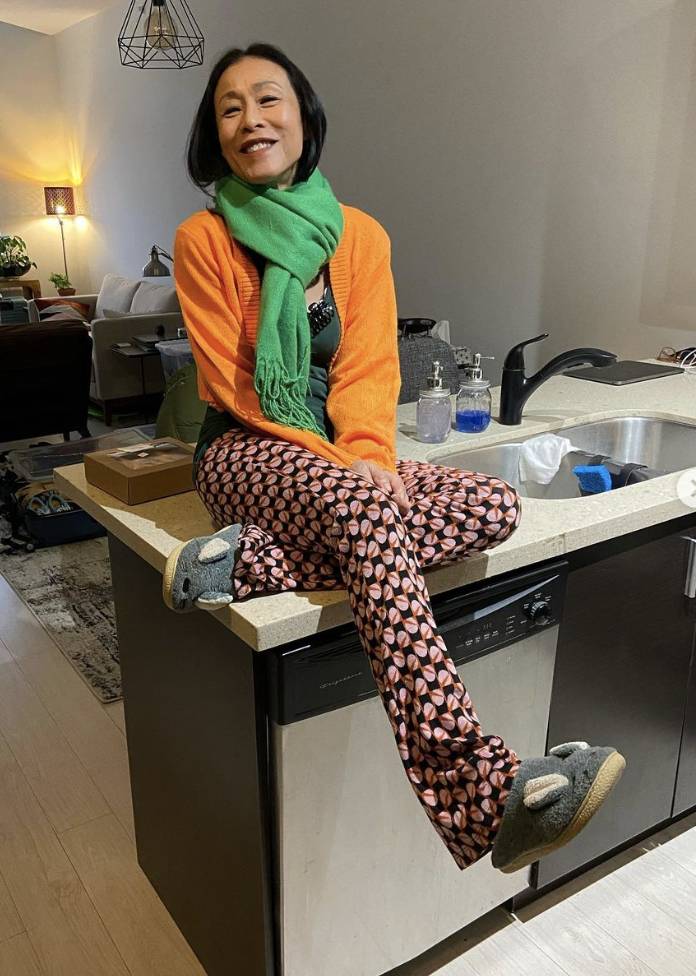 Happy birthday, Kheng Hua!
Kheng Hua finished off her post by comparing her life to a puzzle, adding that for 20-23, she's given herself the hashtag, "#60inonepiece".
"Some pieces fit like a glove. Some are lost never to be found. Good riddance. Some were recently found under a carpet and put into place. I am 60 and all my life I've been trying to put the puzzle together. The final picture is always changing and I think, that's just the way it is. I am 60 and sing it with me - Don't stop me now. Don't stop me now. Cos I'm having a good time and I don't want to stop at all," she wrote.
Kheng Hua's post resonated with many netizens and celebs alike.
"Such a happy and inspiring post. Happiest birthday Kheng! 60 never looked so awesome," Jade Seah wrote.
Photos: Tan Kheng Hua/Instagram