Tasty, Authentic $6 Hawker Pho Cooked By Vietnamese Chefs From "Well-Known Pho Chain"
341 Beach Road Pho is run by two Ho Chi Minh City-born chefs, one of whom used to work at a five-star hotel in Vietnam.
A Vietnamese pho hawker joint has opened at Beach Road just three weeks ago, and it's run by two Ho Chi Minh City-born chefs, Nguyen Thi My Chau, 42, and Au Van Tieng, 32. Named after its old-school coffeeshop's address, 341 Beach Road Pho serves up familiar Vietnamese dishes like pork chop with rice, spring rolls, and its namesake Saigon-style pho with beef or chicken.
No part of this story or photos can be reproduced without permission from
8days.sg
.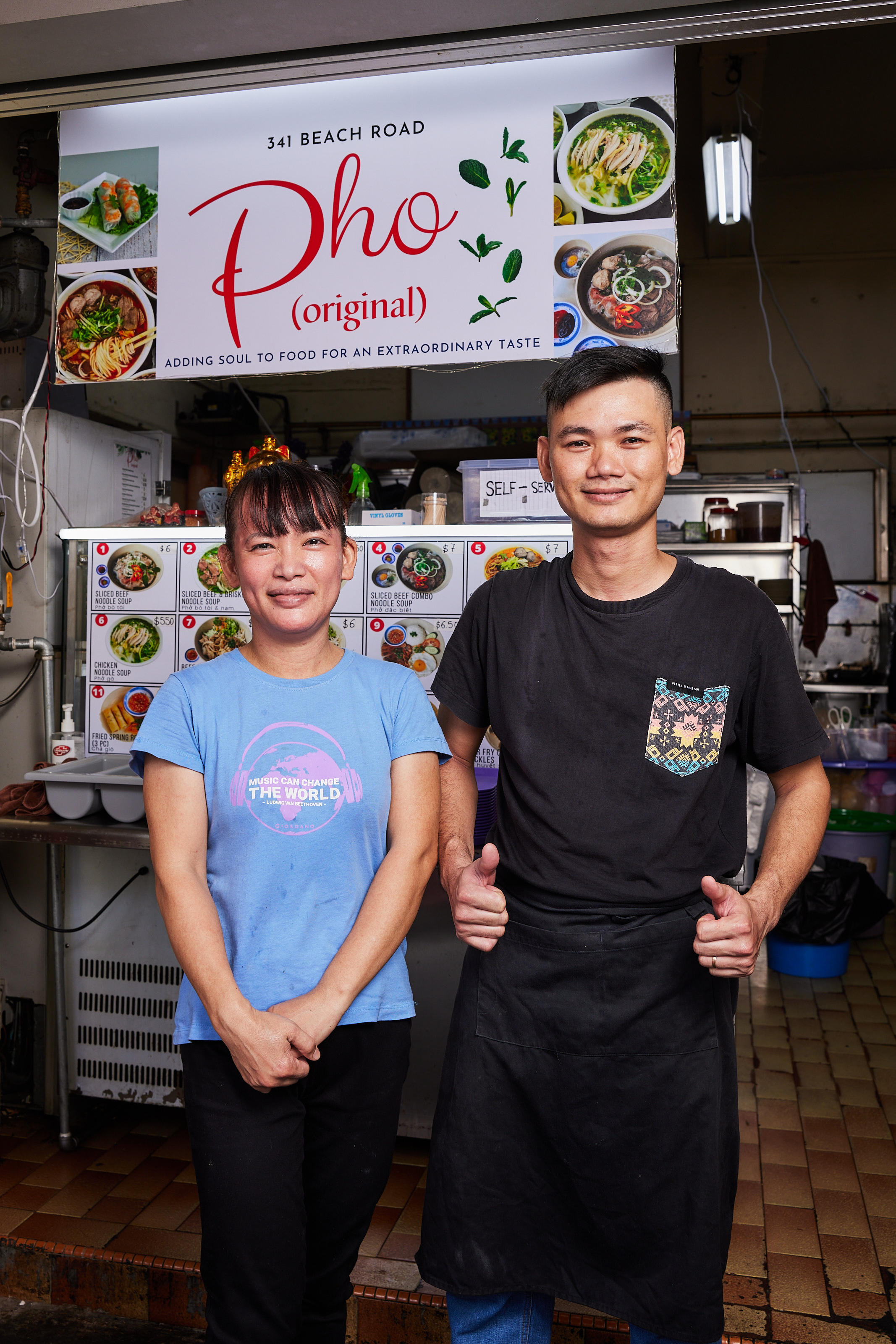 Colleagues at well-known pho chain
The two hawkers have two decades of culinary experience between them. Despite his younger age, Au is the senior in the kitchen. He has been cooking for around 12 years and was previously a chef at the five-star Hotel Nikko Saigon specialising in cooking upscale Vietnamese food.
He moved to Singapore in 2017 to work at a "well-known pho chain" (which he declines to name). He later got promoted to head chef, running several restaurant outlets where he got to know his future business partner Nguyen, who was then working as a cook.

"She helped me get settled down in Singapore. I could feel that she was a very good person," Au shares of his decision to set up a stall with her. Nguyen echoes his sentiments, saying that she trusts him as he is "hardworking with a very good attitude and is a good cook."
Hawker dreams
After Au got his PR citizenship earlier this year, he and Nguyen started planning their joint business. The affable Au explains: "My dream was to open my own stall. You always feel tired working for others, but the effort you put into your own business and the skills you have is what brings you success."

Initially, he had "some fears" about leaving a stable salaried job as he has a family to support (his Singaporean wife is a homemaker). "I'm very lucky to have my wife who takes care of our baby. I can use all my brain power for my work and focus on making money," he laughs.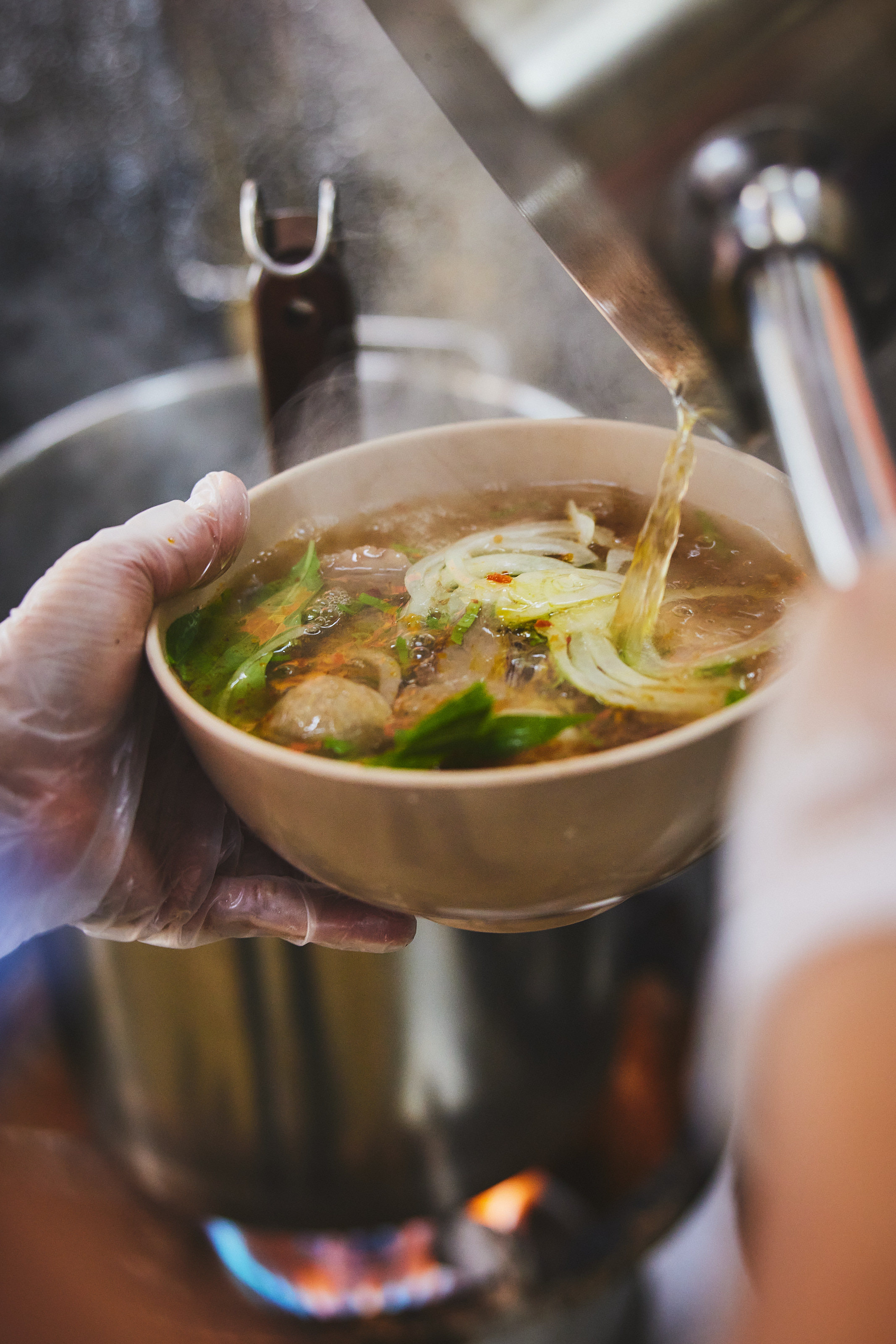 Location, location, location
He and Nguyen invested $20,000 into setting up their stall, and now see brisk business from the Bugis office crowd. "This area is known for having a lot of Vietnamese food," he adds, listing off nearby eateries like Mrs Pho's Bussorah Street outlet and Pho Co Hai, also at Beach Road.
The hawkers move around 100 bowls of pho a day, along with "a good number" of other items like pork chop rice and stir-fried hum (blood cockles). Au says he has high hopes for his stall. "Once we have run it longer and business is stable, I'd like to open my own restaurant," he says. But he reckons that he will still run it personally: "I don't want to open many outlets – you have to hire workers and hope that they'll do it seriously, and no one can ever do it as seriously as yourself as it's your own business."
The menu
The Ho Chi Minh City-style pho here has a darker, hoisin sauce-spiked broth that's more robust compared to the cleaner pho broth popular in Hanoi up north. These hawkers' master stock is made from beef bones simmered for "at least 12 hours". Au declares: "Anything less, and the flavour from the bones won't be extracted."
He fortifies the stock with spices like cinnamon and star anise for their beef pho, which costs $6 to $7 depending on the cut of beef you choose. The same broth is imbued with pineapple and lemongrass for the Bun Bo Hue (Spicy Beef Noodle Soup, $7), a feistier version of pho. Other Vietnamese delights include bun thit bo xao (stir-fried beef with rice vermicelli) and goi cuon (spring rolls made with rice paper).
Sliced Beef Pho, from $6
Our bowl of pho bo comes with thin, silky rice noodles, bean sprouts and sliced onions served in a piping hot broth topped with lean slices of rare beef round. The soup is yummy and stands up well to other joints we've tried like the nearby Mrs Pho – distinctly flavourful and beefy, although we'd prefer a broth less heavy on the star anise, as we find the herby notes here pretty overwhelming.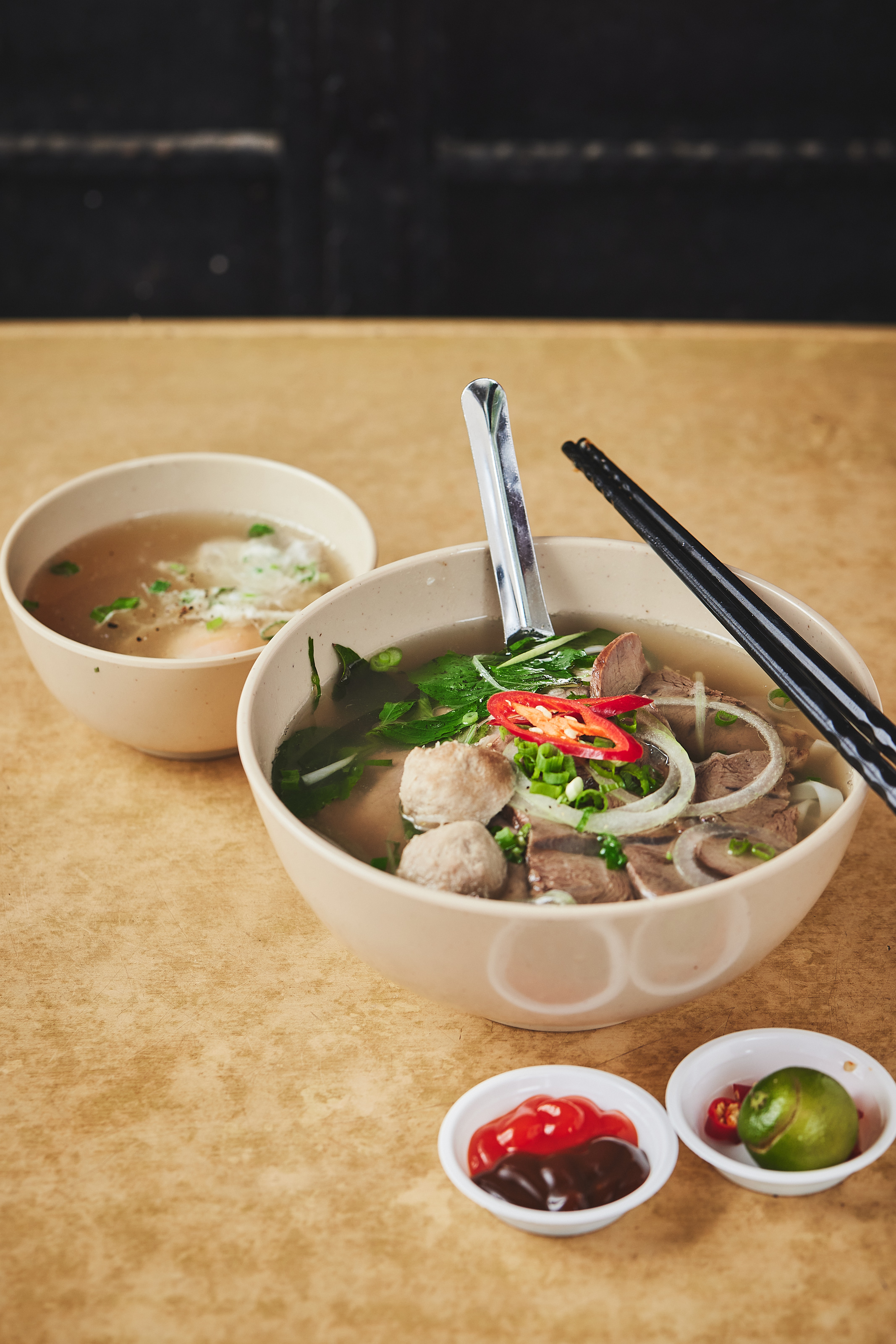 We find the beef a little tough too – we much prefer the succulent brisket (slow-cooked for "around six hours" till tender) that comes with the all-in Sliced Beef Combo ($7), which also includes a couple of springy beef balls and a soft-boiled egg (slurp it whole or mix it into your noodles). Shoot for the $7 version we say. It's tastier and you get more ingredients for just an extra dollar.
Spicy Beef Noodle Soup, $7 (8 DAYS Pick!)
This spicy-sweet broth in this bowl packs meaty oomph, tempered by the addition of sweet pineapples and earthy lemongrass. Each mouthful is chased with a hefty lick of spicy heat thanks to Au's fragrant house-made chilli oil. Served with sliced beef round, meatballs and brisket on top of vermicelli, we find this dish satisfying and moreish.
Beef Stir Fry with Vermicelli, $6 (8 DAYS Pick!)
Think of this dish as kinda like a rice noodle salad: Thin slices of beef, drizzled with fish and oyster sauces, are stir-fried with onions and layered over a bed of dry vermicelli, pickled carrots, chopped lettuce and some Thai basil. Crushed peanuts are sprinkled all over for extra texture.
The noodle dish isn't as commonly found in Singapore compared to pho bo, so this is our virgin bun thit bo xao experience. The reasonably tender beef is heavily seasoned and rather salty on its own, but just nice when taken with a mouthful of everything else. Drizzle some of the lime, chilli and fish sauce dressing it's served with, and be rewarded with a punchy, crunchy bowl.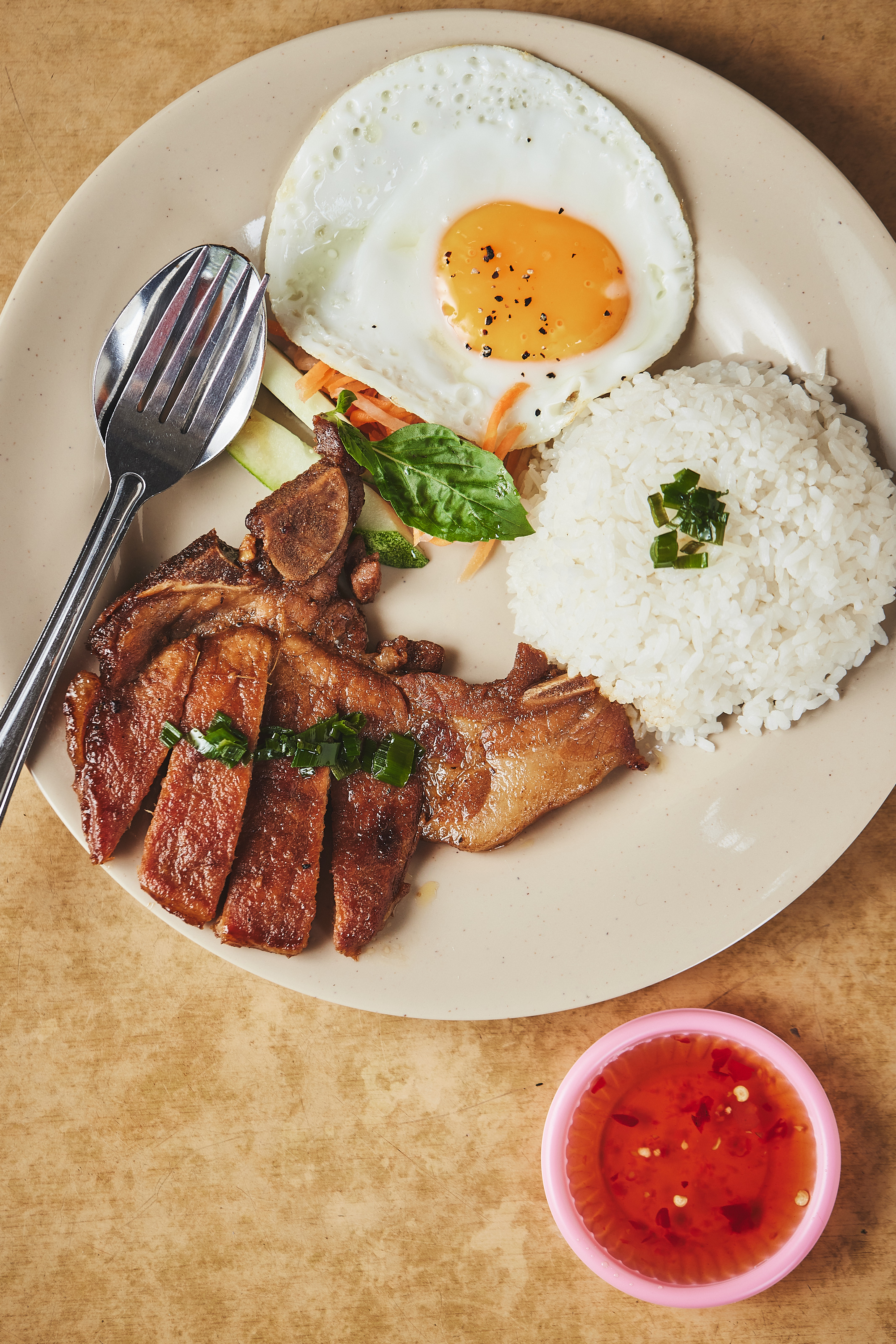 Grilled Pork Chop Rice, $6.50
Unfortunately, we can't say the same for the middling grilled pork chop over rice, as the chop is tough enough that we have trouble piercing it with our fork. Too bad, since we find the lemongrass and fish sauce marinade pretty toothsome; the runny-yolked fried egg is also on point.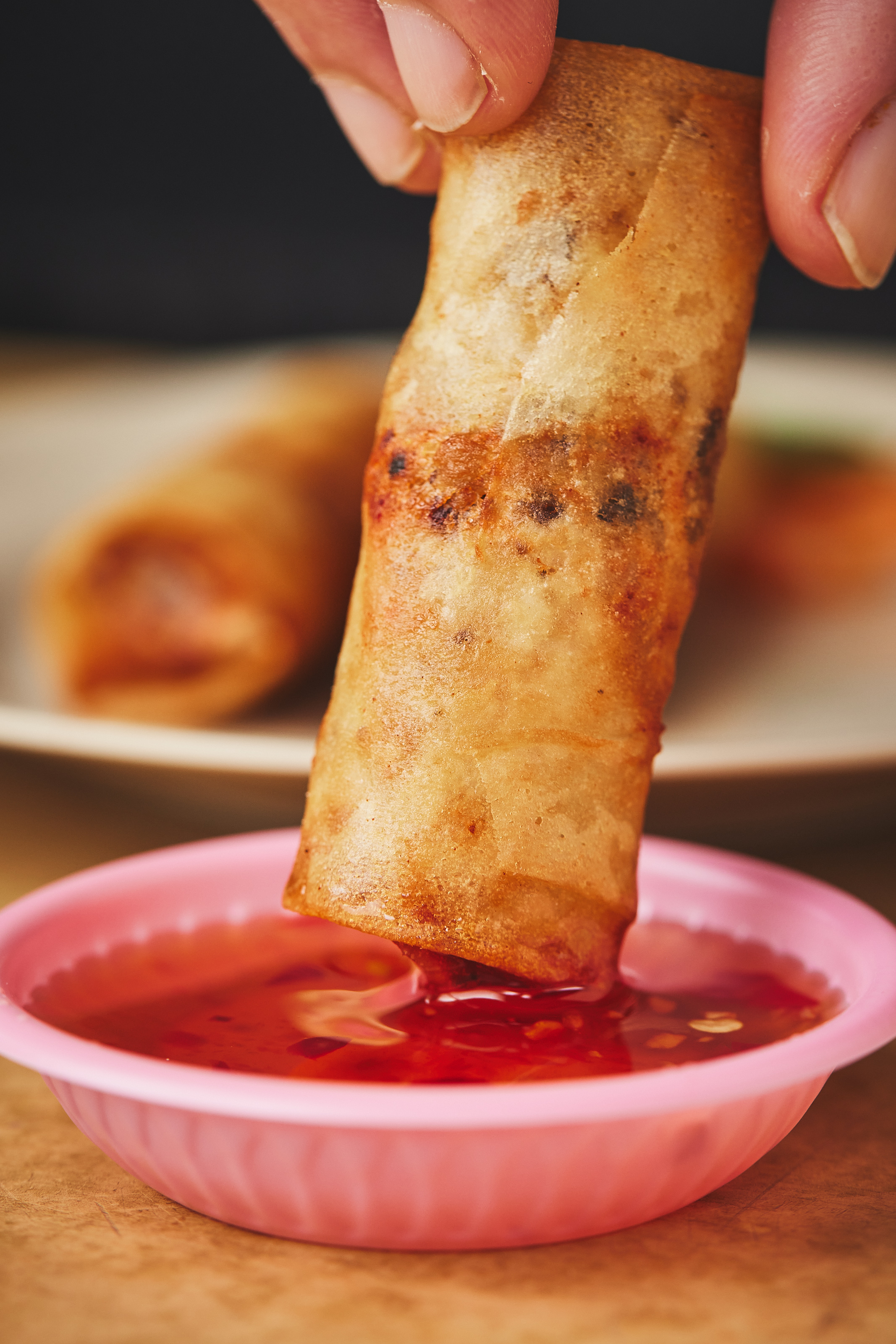 Fried Spring Rolls, $3 for three pcs
Minced shrimp, pork and wood ear mushrooms are stuffed into egg roll wrappers and deep-fried. No-frills but oh-so-addictive, especially when we douse it liberally with the accompanying chilli dip.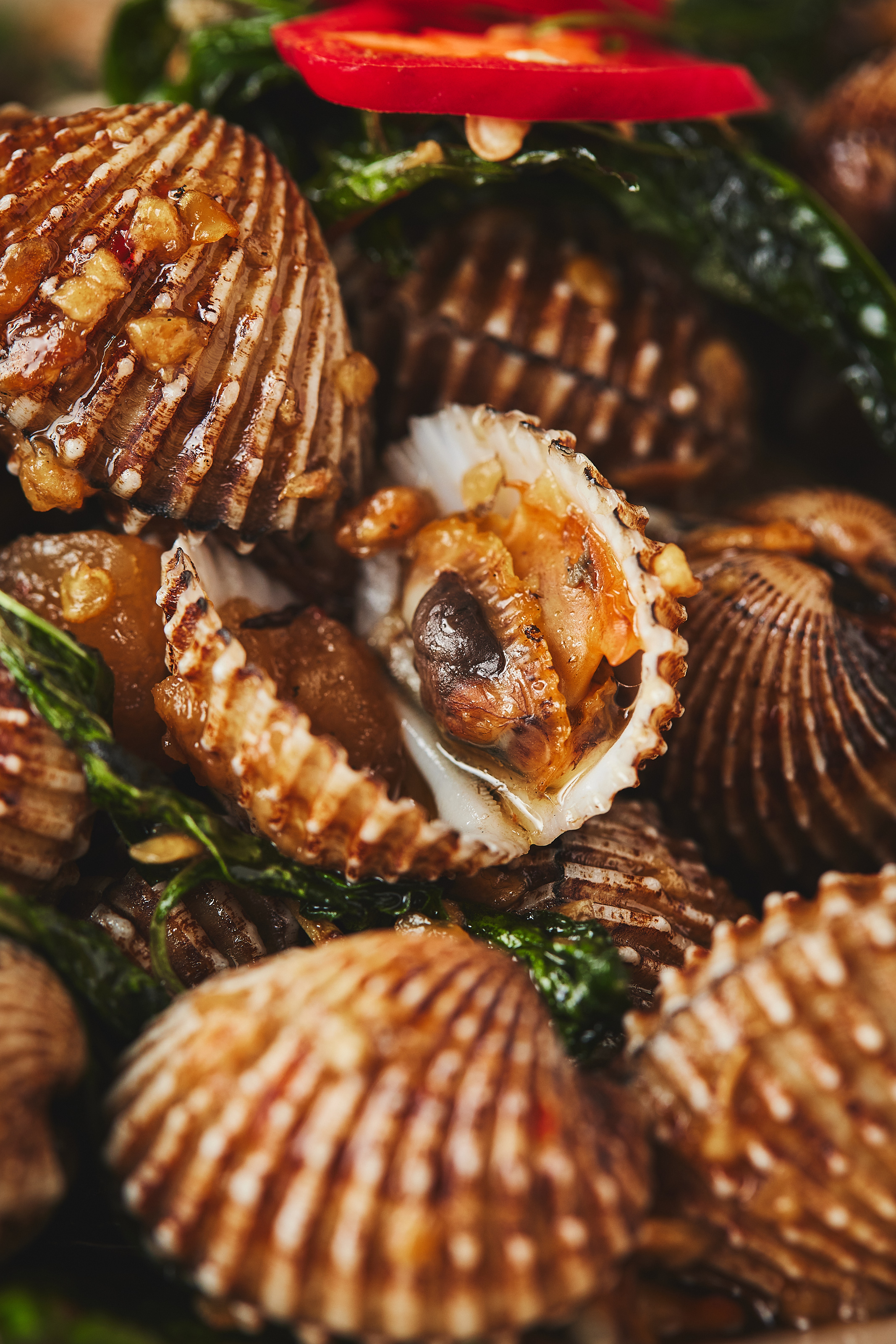 Stir Fry Chilli Garlic Cockles, $7
Plump blood cockles stir-fried with garlic, chopped chillies and lard – rather similar to the version served at fellow Vietnamese eatery Mrs Pho that we heard was good (unfortunately, it was sold out during our last visit.)
Nevertheless, the bivalves at 341 Beach Road Pho are very much worth your attention. We pop open the shells to dig out the juicy cockles which are respectably garlicky (we couldn't taste any lard fragrance though). It's plenty spicy enough as is, but there's an optional salty lime-and-chilli dip that left our throat burning. Most of the cockles we tried are cooked through though a couple are on the bloodier side, so ask for it to be cooked longer if you don't fancy too-raw hums.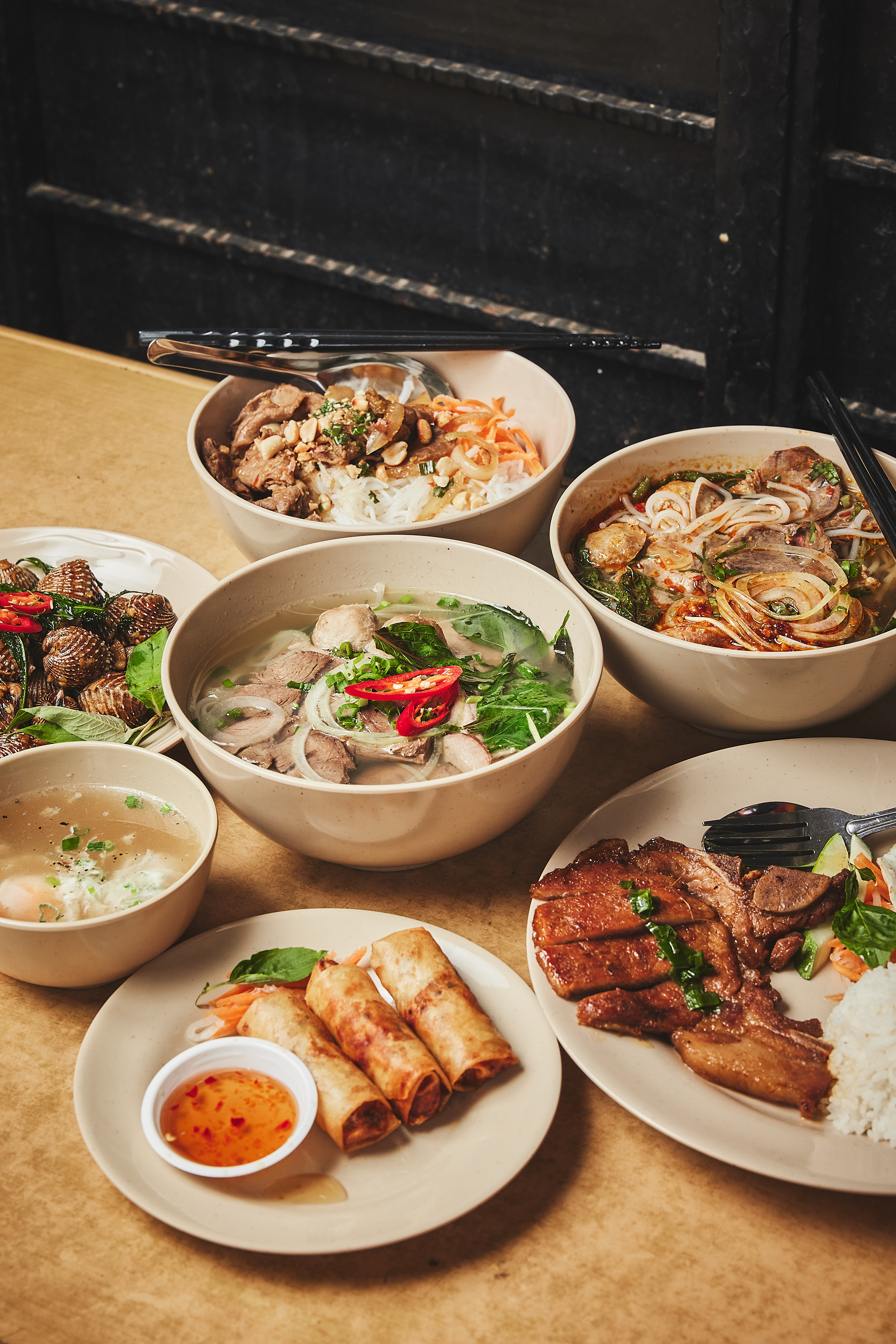 Bottom line
341 Beach Road Pho is run by a couple of friendly Vietnam-born chefs with professional culinary cred, which shows in the dishes we have tried. Our top picks: The well-balanced spicy beef pho, and the yummy beef and vermicelli stir-fry. The spring rolls and stir-fried cockles make for great beer grub too.
The details
341 Beach Road Pho is at #01-06, Luk Lu Eating House, 341 Beach Rd, S199567. Open daily 10.30am – 8.30pm (closed on alternate weekends). More info via Facebook.
Photos: Alvin Teo
No part of this story or photos can be reproduced without permission from 8days.sg.