Tasty Chilli Crab Sauce 'Flying Noodles', Even Yummier Hor Fun At Hawker Stall In Pasir Ris
Hearty, wallet-friendly zi char dishes from Flying Dragon Noodles, a new hawker stall helmed by the former head chef of a seafood restaurant.
Insta-friendly grub isn't confined to the realm of cafes or restaurants anymore. Nowadays, you can get it at hawker centres too. Newly-opened stall Flying Dragon Noodles is one example – it gets its name for its theatrical signature dish – gravity-defying 'flying' noodles, seemingly held aloft by a pair of floating chopsticks.
The stall opened on May 1 on the breezy second level of Pasir Ris Central Hawker Centre, home to a number of other hipster hawker joints including Nyonya Pok Pok Kay next door. It's helmed by Penang-born James Tan (pictured above), 42, in partnership with his pal from Alor Setar, 33-year-old Aaron Tan (pictured below). Both men are now Singapore permanent residents.
James spent a decade at now-defunct Pioneer Seafood Restaurant in Jurong West as head chef before setting up Flying Dragon Noodles, which also sells zi char staples like hor fun and the ever-popular egg fried rice with pork chop apart from its dramatic-looking signature dish.
All photos cannot be reproduced without permission from 8days.sg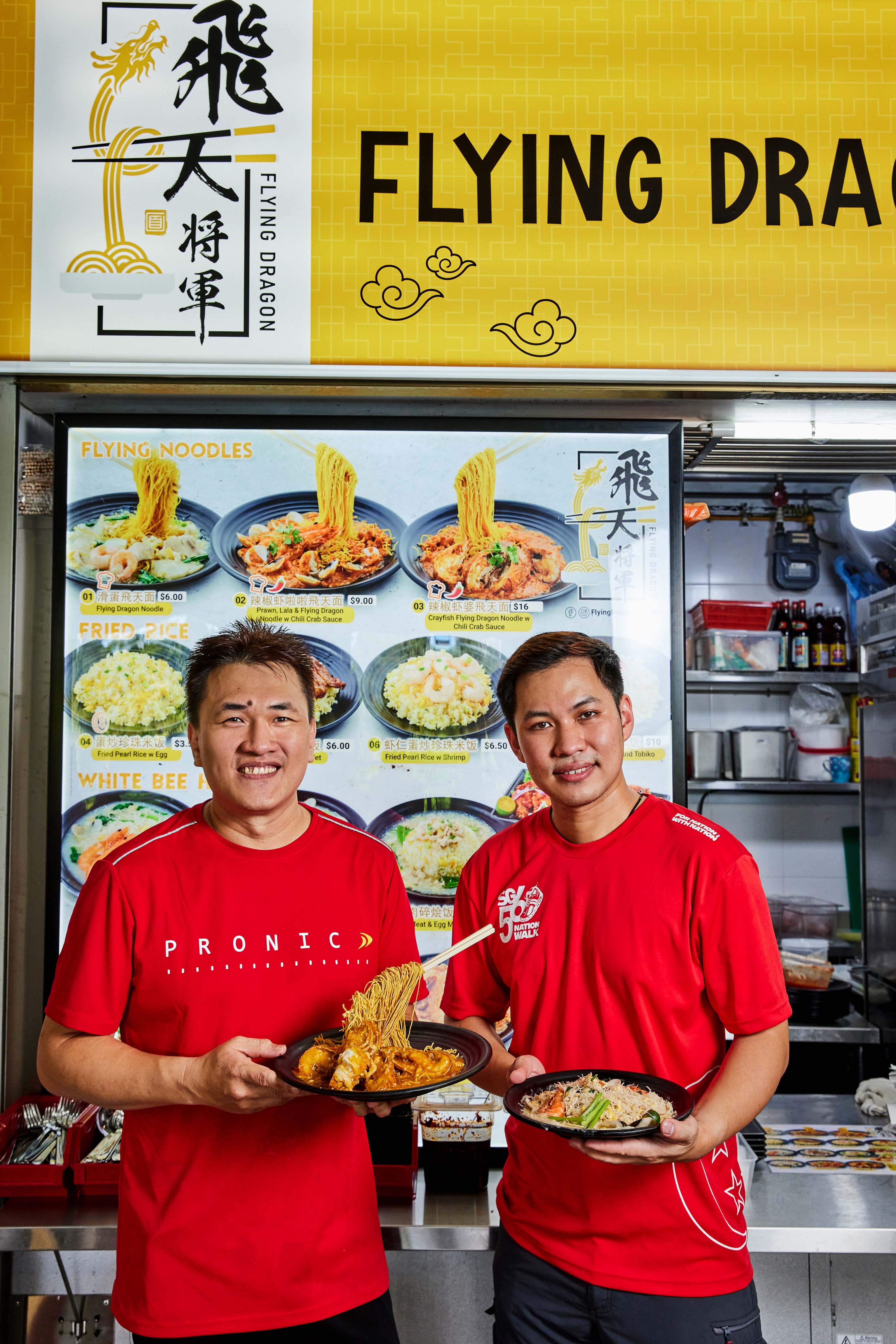 Former restaurant chef worked as char kway teow hawker in his teens
Before coming to Singapore in 2000 to work as a chef, James shares that he opened a char kway teow stall back in Penang at the tender age of 17. "Everyone in my family is a hawker. So it was always at the back of my mind to open my own hawker business – if not, it feels like one day I'll regret not doing what I want to do," the towkay shares.
When Pioneer Seafood Restaurant closed in 2014, he joined RM Food Manufacturing, a brand under Select Group (the folks behind Hawkers' Street in Ion Orchard and a slew of other concepts) as an R&D chef, but eventually quit early this year to start his own hawker stall.
He roped in Aaron, whom he'd met during his days at Select Group, and they pooled together $25k to open Flying Dragon Noodles. The latter kept his day job as a service technician as he doesn't have any F&B experience ("he doesn't trust me to fry an egg," Aaron chuckles), popping by to help out with orders during the busier dinner rush and on weekends.
No magic needed to make flying noodles
The hawkers decided to focus on flying noodles, given that the dish is relatively hard to find in Singapore save for a handful of more upmarket versions at restaurants like Tian Tian Fisherman's Pier Seafood Restaurant in Clarke Quay and Chef Foong Restaurant, which has two outlets in Kallang and Bukit Merah. According to Aaron, "[they] couldn't find any hawker stalls selling it at all." 
To create the illusion, springy egg noodles (the kind you'd find at wonton mee stalls) are held over a sieve by a pair of wooden chopsticks and doused in hot oil, making the now-rigid deep-fried strands look like they're floating mid-air. This is quite unlike the viral flying noodles popularised by Hana Restaurant in Forum The Shopping Mall a few years ago, which uses a concealed stick to prop up the somen or soba (still available now).
Unfortunately, the deep-frying process takes a fair amount of time, which means James only prepares a limited quantity of around 50 plates for lunch and another 50 for dinner daily. 
Around 200 to 300 plates sold daily
Most of their sales come from their other zi char staples – James shares that they move around 200 plates of grub in total daily, rising to 300 on weekends, a sizable number considering their stall is just three weeks old. "There were some people who shot videos [of our flying noodles and posted them on social media] which helped a lot," he explains.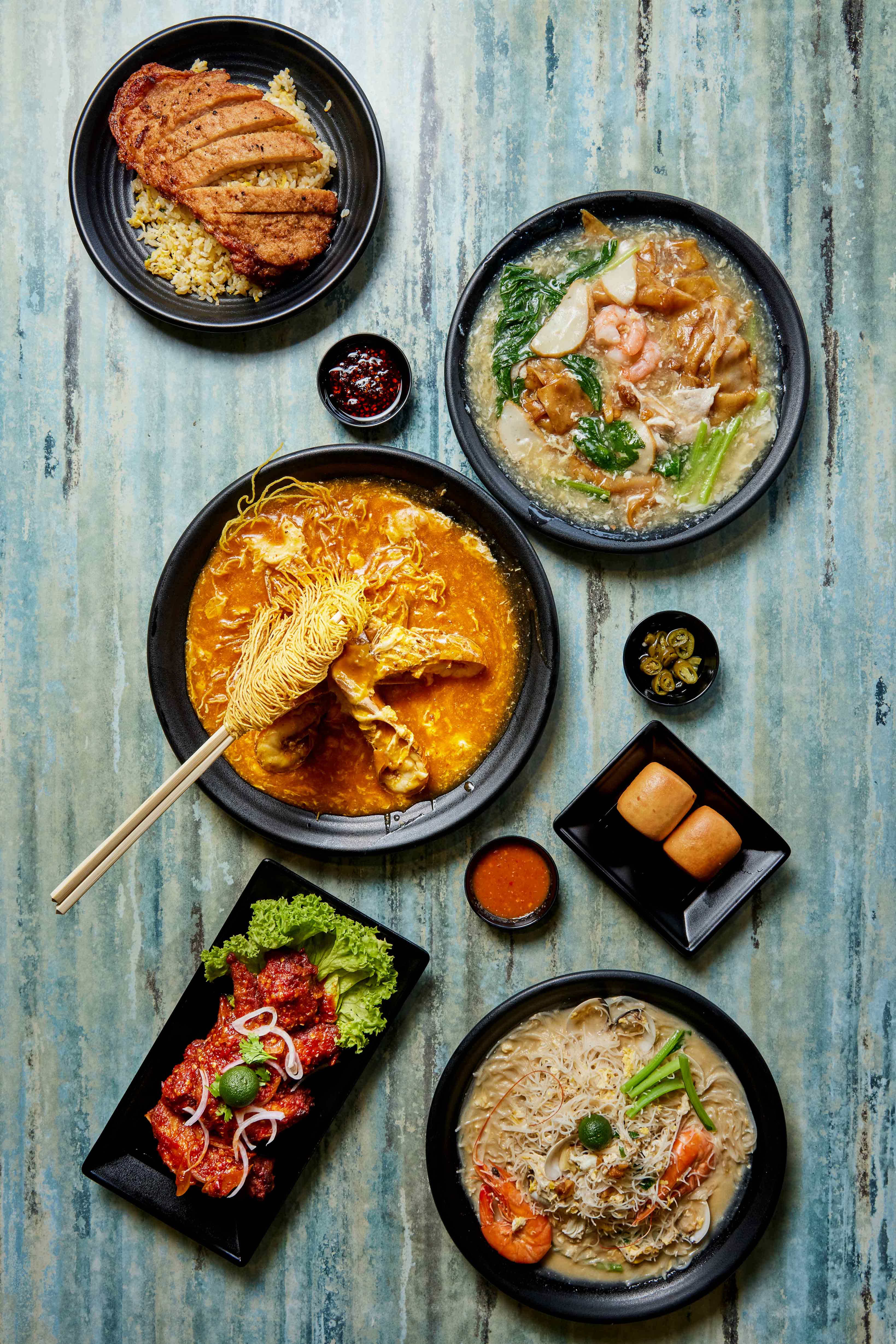 The menu
The carb-focused zi char dishes here come in only one size (enough for one person, we reckon), ranging from $3.50 to $16. There's egg fried rice (from an affordable $3.50 instead of the usual $4 at other stalls), white bee hoon, hor fun and flying noodles. The cheapest plate of flying noodles comes with standard hor fun gravy and toppings ($6), though you can get the fancier chilli crab sauce-drenched version with prawns and lala ($9) or crayfish ($16). Flying Dragon Noodles also serves spicy fried chicken wings and handmade ngoh hiang meatballs (unfortunately sold out during our visit) for sharing
Crayfish Flying Dragon Noodle with Chilli Crab Sauce,

$16

(8 DAYS Pick!)
These flying noodles aren't just great for the 'gram, but fare well taste-wise too. We enjoy the interplay of textures between crunchy fried egg noodles suspended in the air and the noodle base softening as it luxuriates in the sauce. Photographers will be pleased to know that our 'floating' mee only collapsed after about 20 minutes.
Despite the 'chilli crab sauce' branding – there isn't a shred of crab in it, though it is the same tomato-rich, savoury sauce you'd usually find in the dish, paired with crayfish instead. The stall's version is tangy, mild and silky smooth, with plenty of runny scrambled egg whites mixed into the sauce. The accompanying three halves of frozen crayfish also yield a good amount of sweet, springy flesh.
Note that you also get two pieces of deep-fried mantou with every chilli crab sauce-laden dish (whether you get the flying noodle or hor fun version) for sopping up any leftover gravy – shiok.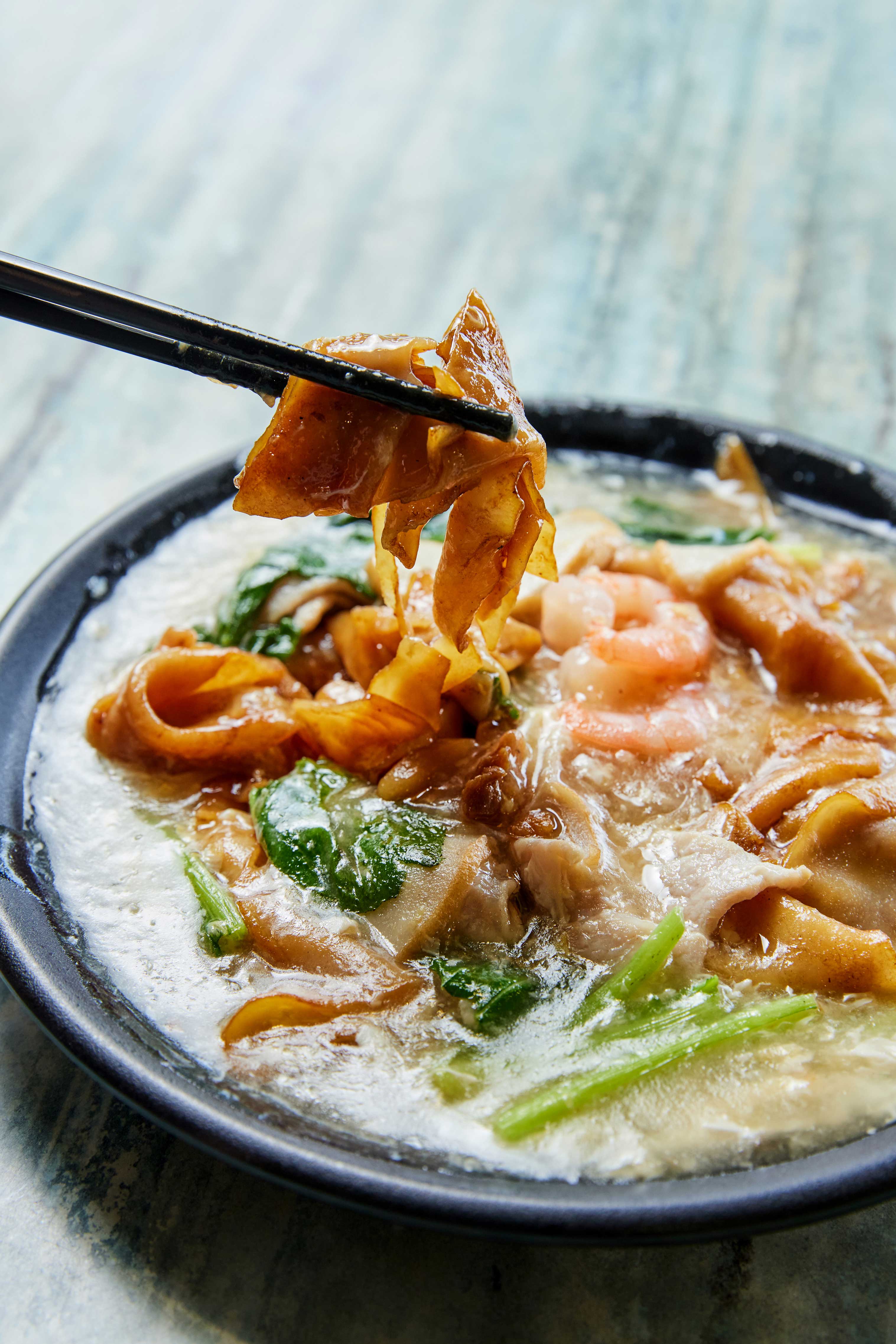 Egg Hor Fun, $5 (8 DAYS Pick!)
A competent take on the standard zi char dish – every mouthful of slippery flat rice noodles is packed with plenty of wok hei, with a fair amount of prawn, lean pork and veggies. Yummy, carby stuff that we'll happily order again.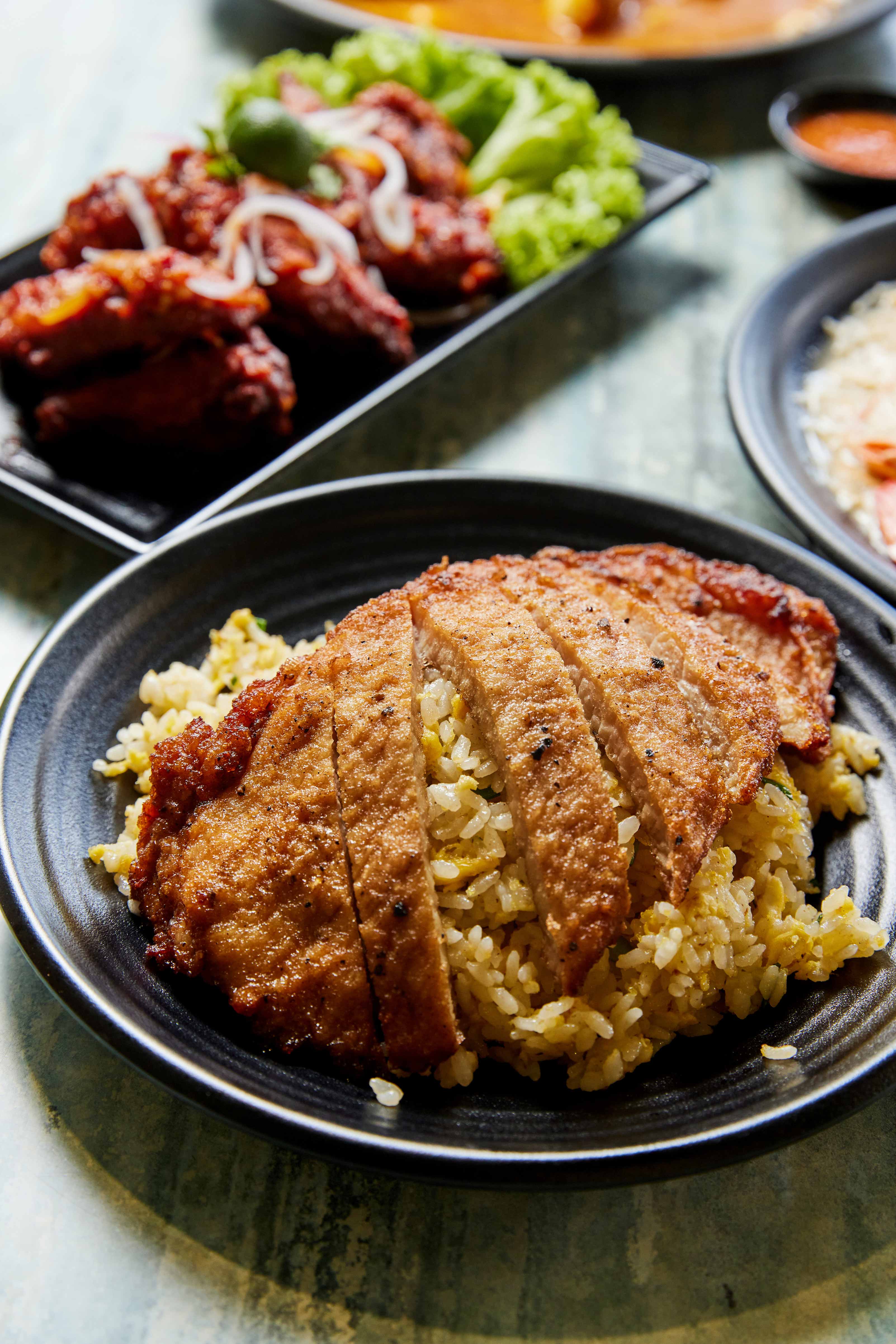 Fried Pearl Rice with Pork Cutlet, $6
James reasons that the Yangzhou fried rice typical of most zi char joints has gone "out of style" compared to the trendier Din Tai Fung-esque egg fried rice, starring chewy Taiwanese pearl rice swathed in eggy curds and spring onions.
Flying Dragon Noodles' version is decent – the grains are nicely disparate with a fair hint of smoky flavour – though the mild, five spice-marinated pork chop is disappointingly dry. There's a spicy-savoury chilli crisp condiment on the side to perk things up a little. We say stick to the noodle dishes here.
Prawn Lala White Bee Hoon, $6
Not our favourite seafood white bee hoon. What hits the mark: bee hoon, brimming with the requisite wok hei, topped with springy prawns and fresh lala clams. What doesn't: the not-so-savoury pork bone broth cooked for at least "seven hours" that the ingredients are cooked in, which lacks the umami oomph needed to anchor the simple dish. The accompanying lime and fiery sambal belacan are very much needed for flavour.
Spicy Commando Wing, $5.90
Chicken wings – marinated in masala and chilli powder then deep-fried to a dark-brown sheen – are tossed in the wok with a piquant chilli sauce and scattered with julienned onions. The wings pack a terrific crunch (though we didn't detect any masala spices, just the chilli) – great for snacking, even if the spiciness gets a bit too much after a while. 
Bottom line
While we were initially sceptical about the flying noodle gimmick, we admit that we enjoyed the fun and flavourful chilli crab sauce version. However, the simpler, cheaper wok hei-kissed hor fun here is even better. Aside from a couple of misses (like the bland white bee hoon), the stall serves crowd-pleasing one-dish zi char meals that should satisfy both the kids and adults.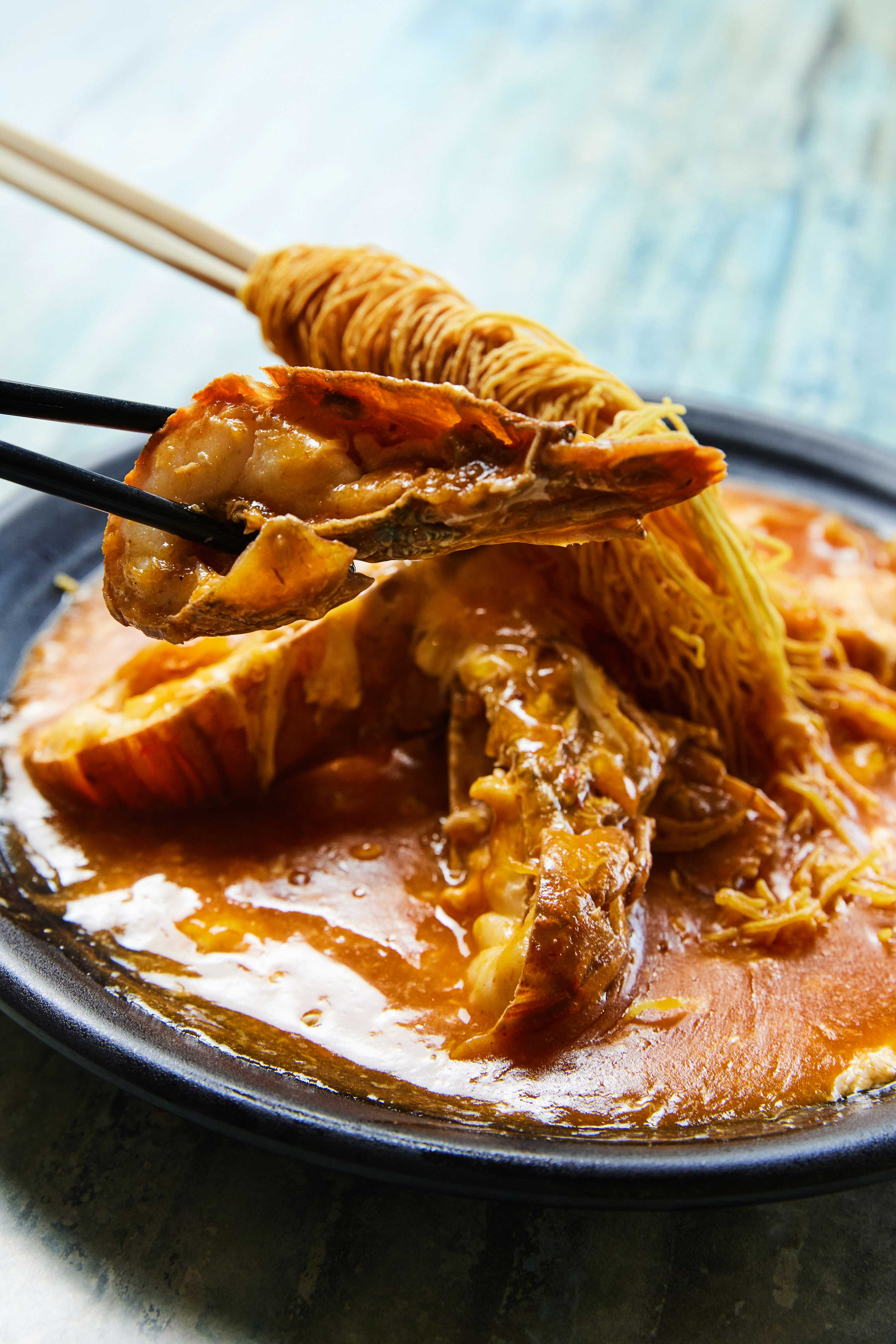 The details
Flying Dragon Noodles is at #02-22 Pasir Ris Central Hawker Centre, 110 Pasir Ris Central, S519641. Open daily except Thur 11am – 2.30pm; 5pm – 9pm. More info via Facebook and Instagram.
Photos: Aik Chen
All photos cannot be reproduced without permission from 8days.sg