Tasty Hakka Abacus Seeds, Healthy Thunder Tea Rice By Mother & Son Team
The pandemic and a battle with cancer caused the matriarch to close her organic food restaurant last year. Her Hakka dishes are now offered via a cloud kitchen in Tampines.
If mum's idea of a good Mother's Day brunch is wholesome thunder tea rice, abacus seeds and mushroom chee cheong fun instead of pancakes and bacon, read on. 
Thunder Palace offers hearty, nutrient-dense Hakka cuisine. The recipes are courtesy of Wong Thai Thai, 72, and her son, Seow Yu Chang, 46. The brand operates out of a cloud kitchen in Tampines. Before starting Thunder Palace, both mother and son were seasoned restaurateurs: the Hakka matriarch founded Ci Yan Organic Health Food Restaurant on Smith Street in 1996, while Yu Chang started his own vegetarian-friendly outfit Art of Dao two decades later in Ang Mo Kio.
All photos cannot be reproduced without permission from 8days.sg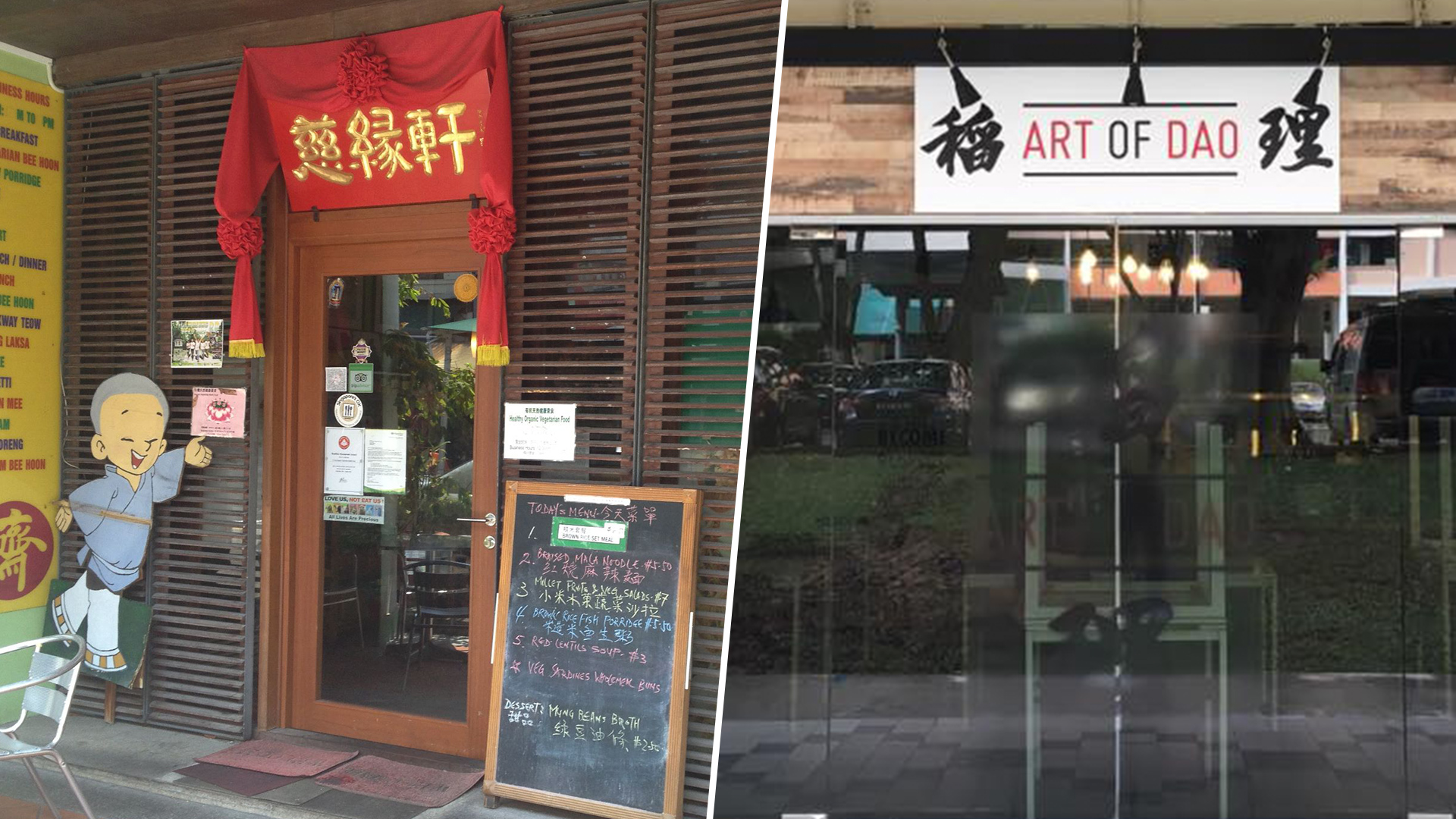 Restaurants closed due to pandemic and mum's illness
Unfortunately, both restaurants have since folded. Mum's restaurant Ci Yan (left) shuttered in 2021 amid the pandemic, while Art of Dao closed in 2019 due to manpower issues.
Another reason for Ci Yan Organic Health Food Restaurant's closure: the lady boss was stricken with laryngeal (voice box) cancer last year. It's not her first brush with a major illness – she was diagnosed with leukaemia back in 1993, but recovered after a three-year battle.
While the treatment and operation for her laryngeal cancer were successful, Thai Thai also suffered a stroke while in hospital – so she's now resting at home and undergoing physiotherapy.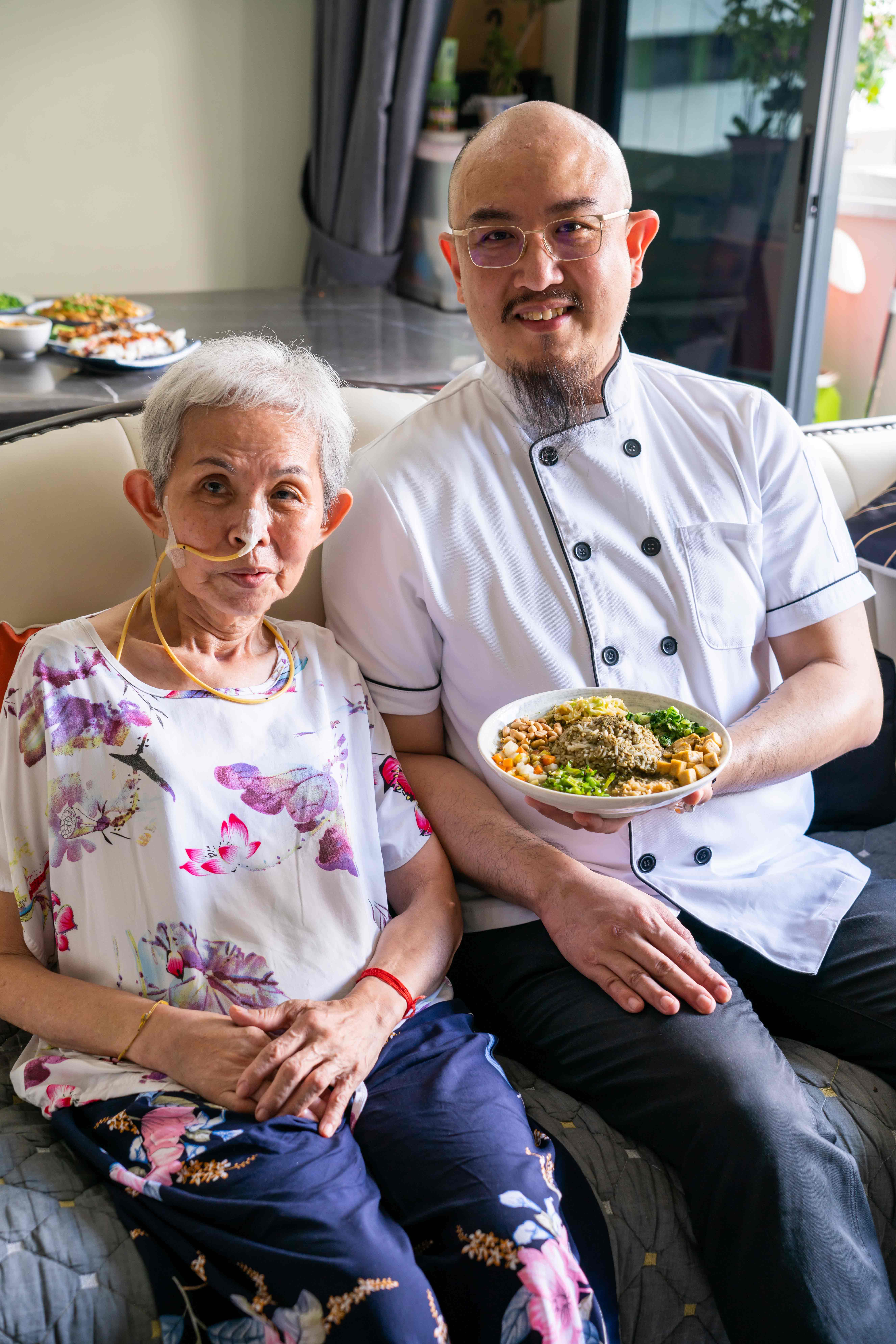 Consultants for Thunder Palace
Now, mother and son are consultants for Thunder Palace, a new brand managed by food development and consultancy firm Astute 7 (which the latter is also a partner in).  
For them, Thunder Palace was "created to bring to loyal customers once again the famous, traditional dishes from Ci Yan, and to realise [Thai Thai's] passion for her traditional food and authentic flavours", says the press release.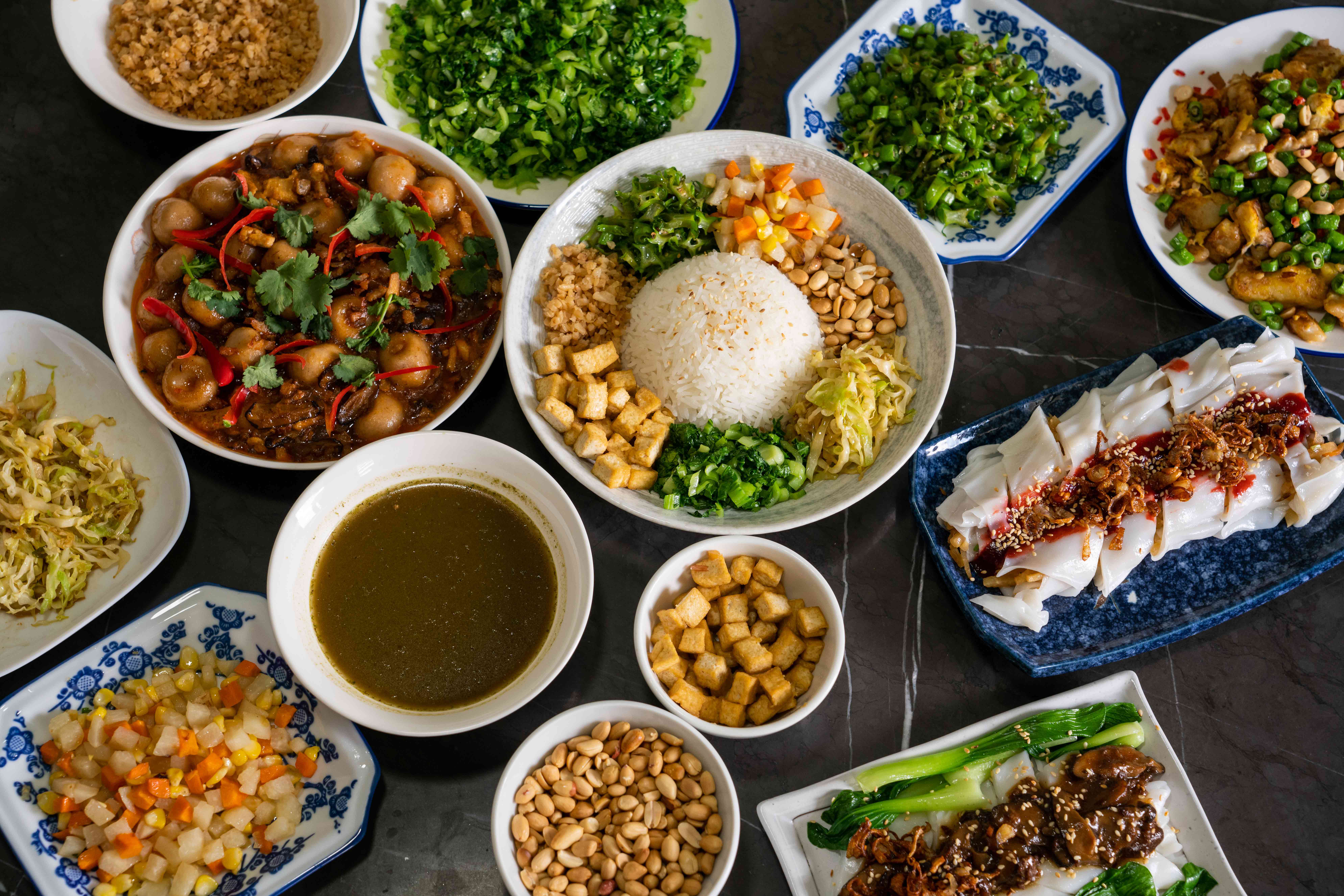 The menu
The signature Thunder Tea Rice (think Hakka veggie grain bowl with a tea and herb sauce) is served vegan by default. But it can be gussied up with anchovies and dried shrimp if you wish. It also comes with your choice of white or brown rice.
Another Hakka fave on the menu: Handmade Yam Abacus Seeds. More carbs to consider: Handmade Fried Carrot Cake and Chee Cheong Fun with mushrooms or white turnip.
Bundle deals are also available – the Thunder 10-Pax Feast ($109.90) comes with thunder tea rice, chee cheong fun with mushrooms and carrot cake. Both self-pickup and islandwide delivery ($5 to $15, depending on location) are available. Here's what we tried.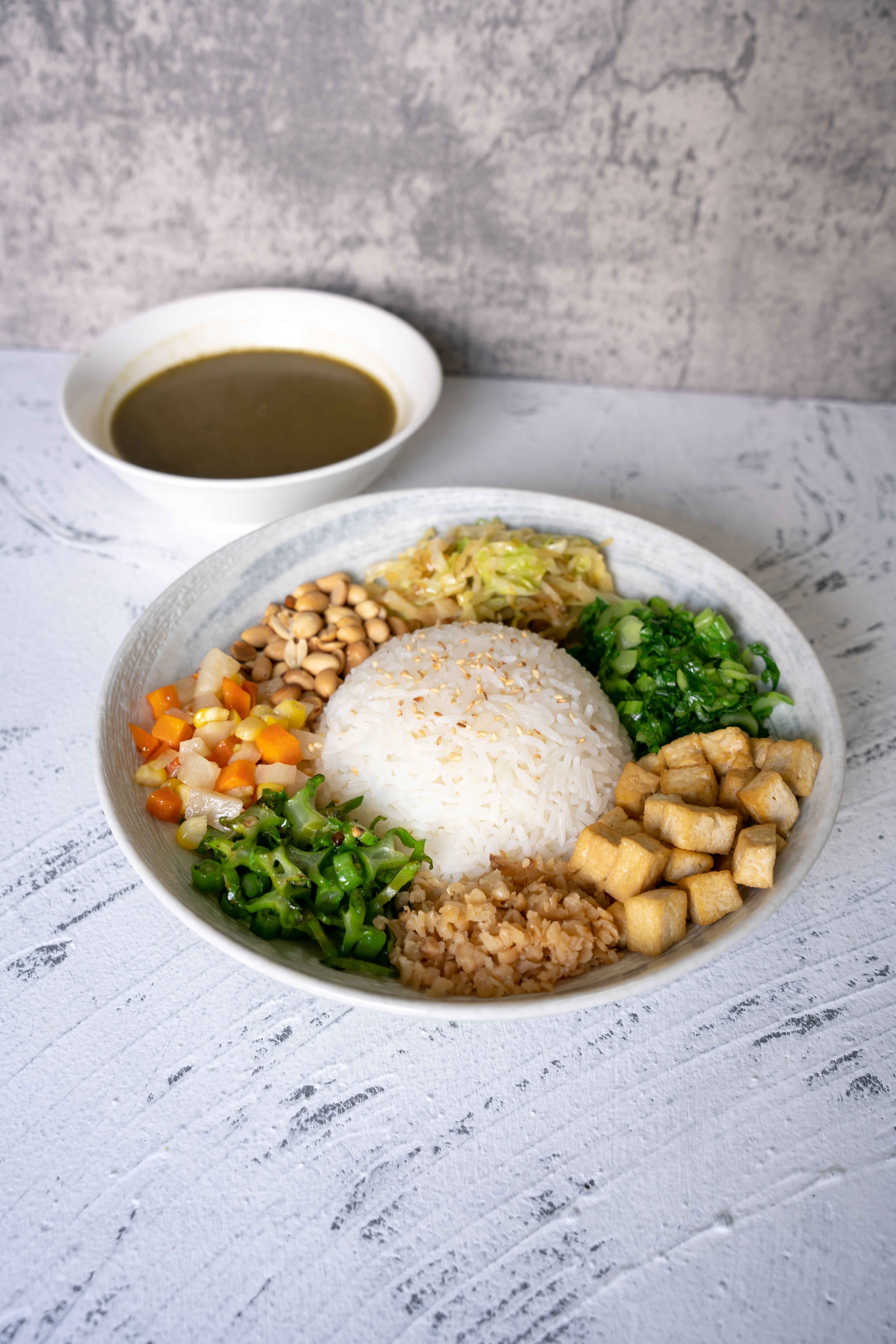 Thunder Tea Rice, $8.90 per pax
We sampled this with nutty, chewy brown rice. It's pretty tasty on its own with the myriad of healthful toppings like neatly chopped wing beans, long beans, kai lan, mustard greens and choy sum. Chai poh (preserved radish) and fried ikan bilis add salt and crunch. However, the accompanying tea sauce with the usual ground ingredients like mugwort, basil, mint, jasmine tea and nuts was too bitter and tannic for us.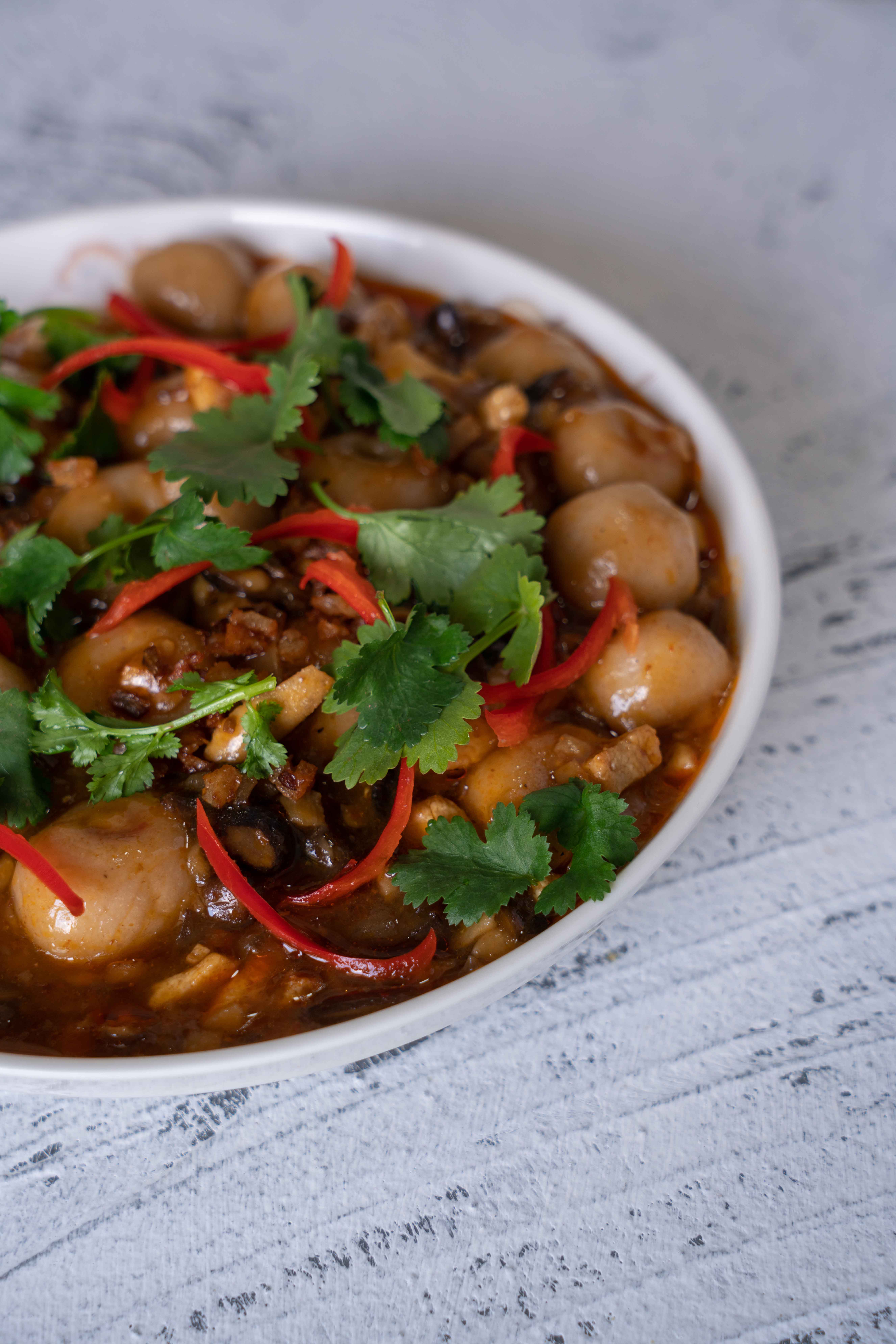 Handmade Yam Abacus Seeds, $25 for 500g

; feeds four pax

(order 2 days in advance)
This Hakka classic outshines the thunder tea rice here. The laborious dish features mashed yam mixed with glutinous rice flour and shaped into little orbs resembling abacus seeds, then stir-fried with tofu strips, dried shrimp, minced pork and mushrooms. They're exceptionally springy, with a QQ mouthfeel somewhat reminiscent of tang yuan. Very moreish, slicked with a flavourful sauce. Yummier and less stodgy than other versions we've had before.
Chee Cheong Fun with Mushrooms, $5.90 for two pcs
Skip the regular CCF with its cloying sweet sauce for this superior mushroom sauce-topped one. The rolls are fairly silky and a good vehicle for that umami sauce with juicy shiitake shrooms, mock ham and tau cheo in every mouthful. 
The details
Order from Thunder Palace via Grabfood or WhatsApp 8775-1289. Self-pickup at #02-01-A-E, Select Cloud Kitchen, 9 Tampines St 32, S529287 or delivery islandwide ($5 - $15 depending on location) from 11am - 8pm daily. More info via Facebook and Instagram.
Photos: Thunder Palace, Art of Dao, Ci Yan Organic Health Food Restaurant
All photos cannot be reproduced without permission from 8days.sg