Taxi Driver Who Grew "Sick & Tired Of Driving" Opens Tonkotsu Ramen Hawker Stall
The self-taught cook behind Umai at Circuit Road sells comforting garlic tonkotsu ramen for $8.90.
Most of the stalls at sleepy Circuit Road Blk 79/79A Hawker Centre serve affordably priced local fare to cater to the predominantly older customers living in the area. So we were surprised when we learned that tonkotsu ramen stall Umai ("good" in Japanese) opened at the old-school hawker centre on July 4. It stands out among its neighbours with a menu displayed on a television screen, beneath a modern signboard flanked by red Japanese lanterns. Moreover, a bowl of ramen here costs $8.90, a far cry from the $4.50 ban mian from the stall beside it.
Towkay and first-time hawker Mattias Mak, 54, tells 8days.sg that Umai is his way of fulfilling his dream of opening his own F&B business while overcoming the ennui that crept up after "more than twenty years" as a taxi and private-hire driver.
He shares: "I was sick and tired of driving. It felt like I was just going around in circles and getting nowhere. I wake up, drive all day, go home – that's it. I wanted to do something other than just drive [for the rest of my life]."
No part of this story or photos can be reproduced without permission from 8days.sg.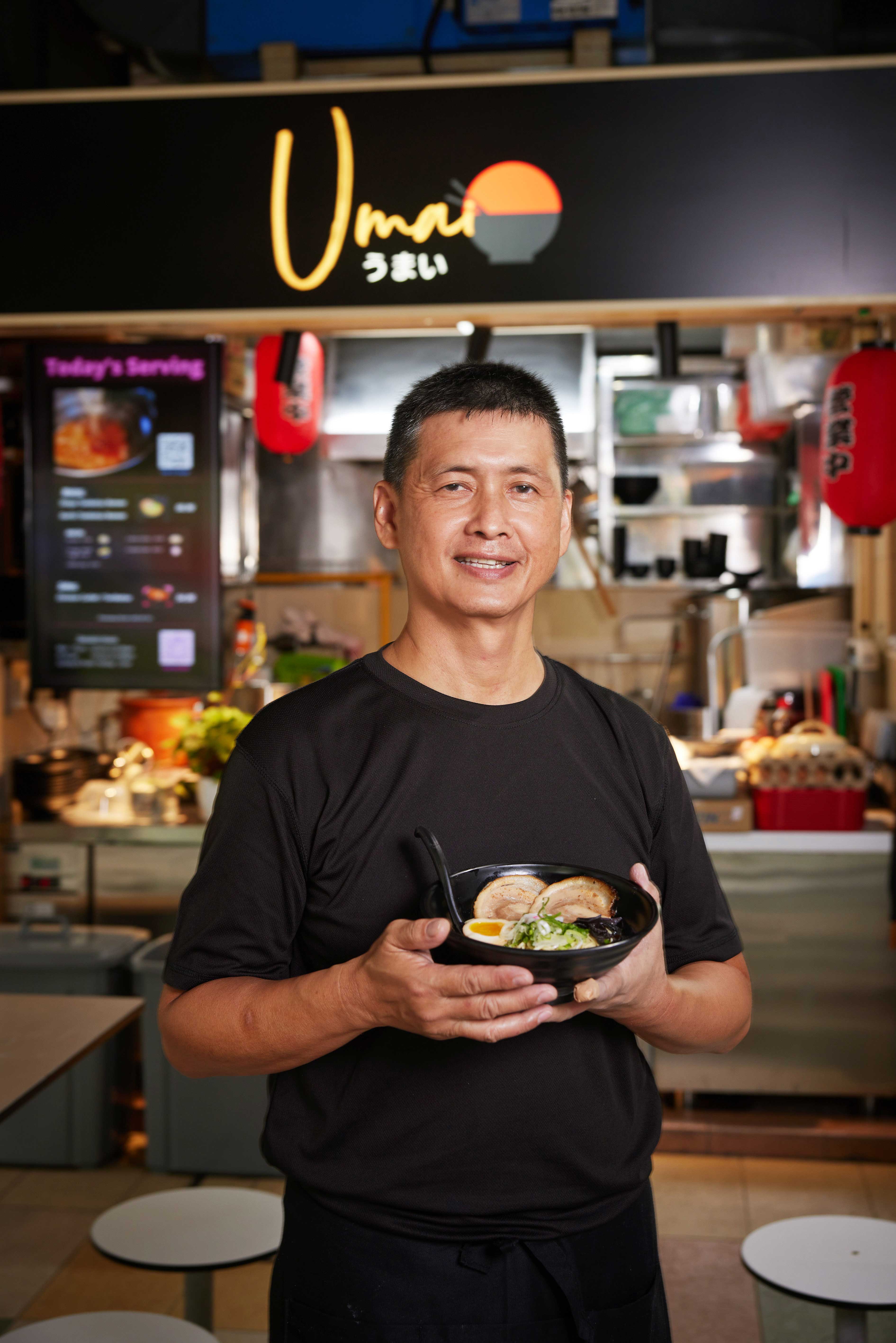 Tired of monotonous driving job
But why ditch his "pretty comfortable job ferrying customers around in air-conditioned comfort" for the gruelling life of a hawker? Especially since Mattias doesn't have any prior experience in the food industry? He explains: "F&B, particularly being a hawker, is a business with one of the lowest start-up costs. I've always enjoyed cooking for my family in my free time, so why not give it a shot while I still can?"
He's lucky to have the support of his camera-shy wife who was present during our photo shoot. "I know that opening this stall has been on his bucket list for the longest time. It'll do him a lot of good – I'll do what I can to support him," she asserts, declining to be named for the article.
She kept her day job as a safety professional so the family of three (they have a teenage son) has a financial safety net. After work, she helps her hubby with accounting and other backend tasks.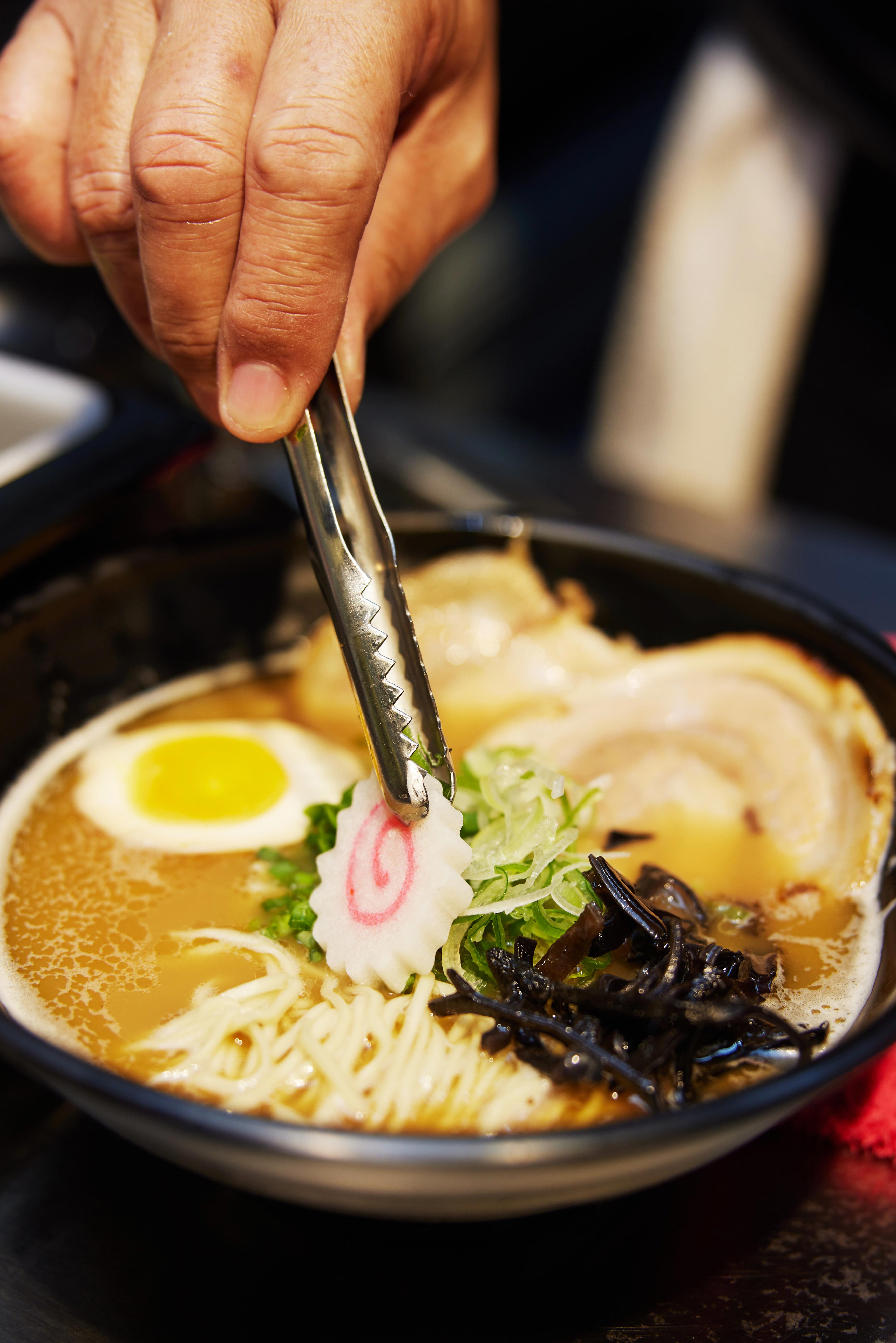 Why tonkotsu ramen?
Mattias decided to sell Japanese tonkotsu (pork bone soup) ramen because "it's quite popular [with most Singaporeans], but isn't very common in hawker centres. I thought it'd be interesting to do something other than the usual local food like char kway teow."
He adds, "Ever since I visited Hokkaido with my family about five years ago, I've enjoyed eating ramen. I also tried cooking it at home before. I've tasted the ramen offered by other hawker stalls, and I thought I could improve on it." Pretty ambitious for a home cook, who candidly admits that his recipe (which doesn't follow any particular Japanese region's style of ramen) is a result of "online research, watching YouTube tutorials and experimentation".
Rival ramen hawker stalls he has visited include Kumamoto Ramen in a Serangoon North kopitiam and Ramen King, the latter a small hawker chain opened by a former chef from Hokkaido Ramen Santouka restaurant. He remarks: "Their chashu is so thin, you can see through it. I understand they're trying to keep costs down, but [when you slice it] like that, it's not shiok!" he insists.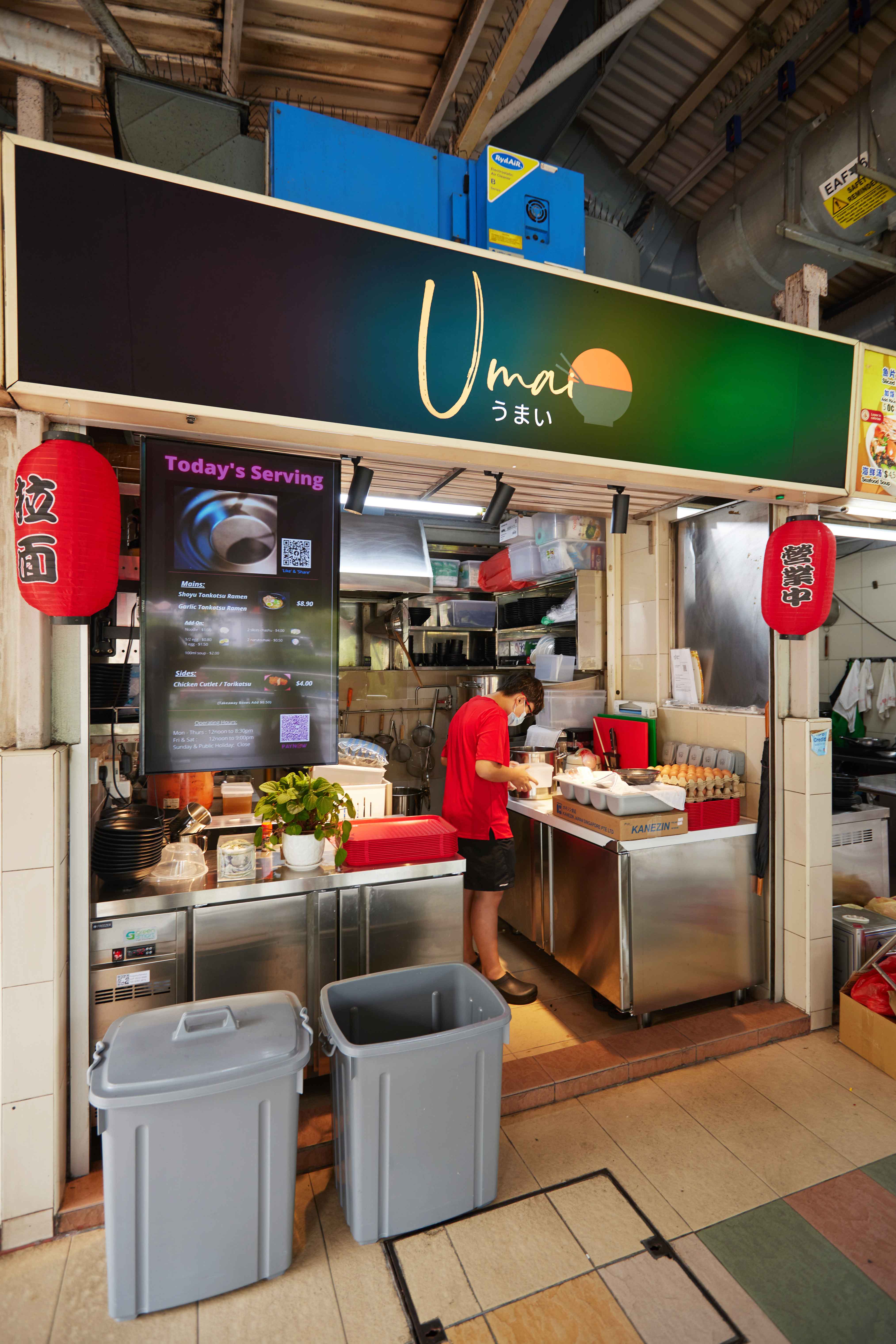 Chose quiet old hawker centre for good reason
But why choose sleepy Circuit Road Blk 79/79A Hawker Centre to set up shop, instead of, say, the buzzier Pasir Ris Central Hawker Centre that's closer to where he lives? "As a hawker, the main expense is rental. I looked at Pasir Ris – some people there bid $4K to $5K [when tendering for a stall]. It doesn't make sense for me at this stage," explains Mattias. "I tendered a stall here for $1,800 a month. It's a lot less pressure on me (laughs)." There's also less competition here, as he says "there isn't any other Japanese food in this hawker centre." 
For now, he sells up to 50 bowls a day (he says he needs to reach 100 daily to turn in a decent profit). "I've been open for three weeks and I already feel the difference [physically], 'cos now I move around a lot instead of sitting down all day driving. I've even slimmed down – now I can fit into some of my old clothes [that I couldn't wear previously]," he declares with a laugh. "So don't waste your money on a slimming centre, just become a hawker," he jokes.
Turning serious, he acknowledges that his business is still young, and there's no telling whether he will recoup his $30K investment. "Some of my friends who tried their own hawker businesses have failed. But you can't make it if you don't try. So I have to try – if it fails, I can always go back to driving." 
And with a "number of returning customers already, mainly on the younger side", he remains optimistic – Mattias plans to expand the menu and get on delivery platforms to reach out to more people soon.
The menu
The hawker's master stock is derived from pork and chicken bones – extracting both meaty flavour and collagen from a mix of leg bones, backbone and trotter – boiled for "over 16 hours". It forms the base of two ramen offerings here – the only difference is the tare (a Japanese-style sauce added to the bottom of each bowl before soup is poured in) used.
Both bowls cost $8.90 each and are served with two thick slices of homemade chashu and half an ajitama (soy-seasoned egg); it's one of the pricier hawker ramen bowls we've tried. In contrast, Kumamoto Ramen's cheapest bowl – topped with two thinner chashu slices and a whole seasoned egg – goes for $6.80.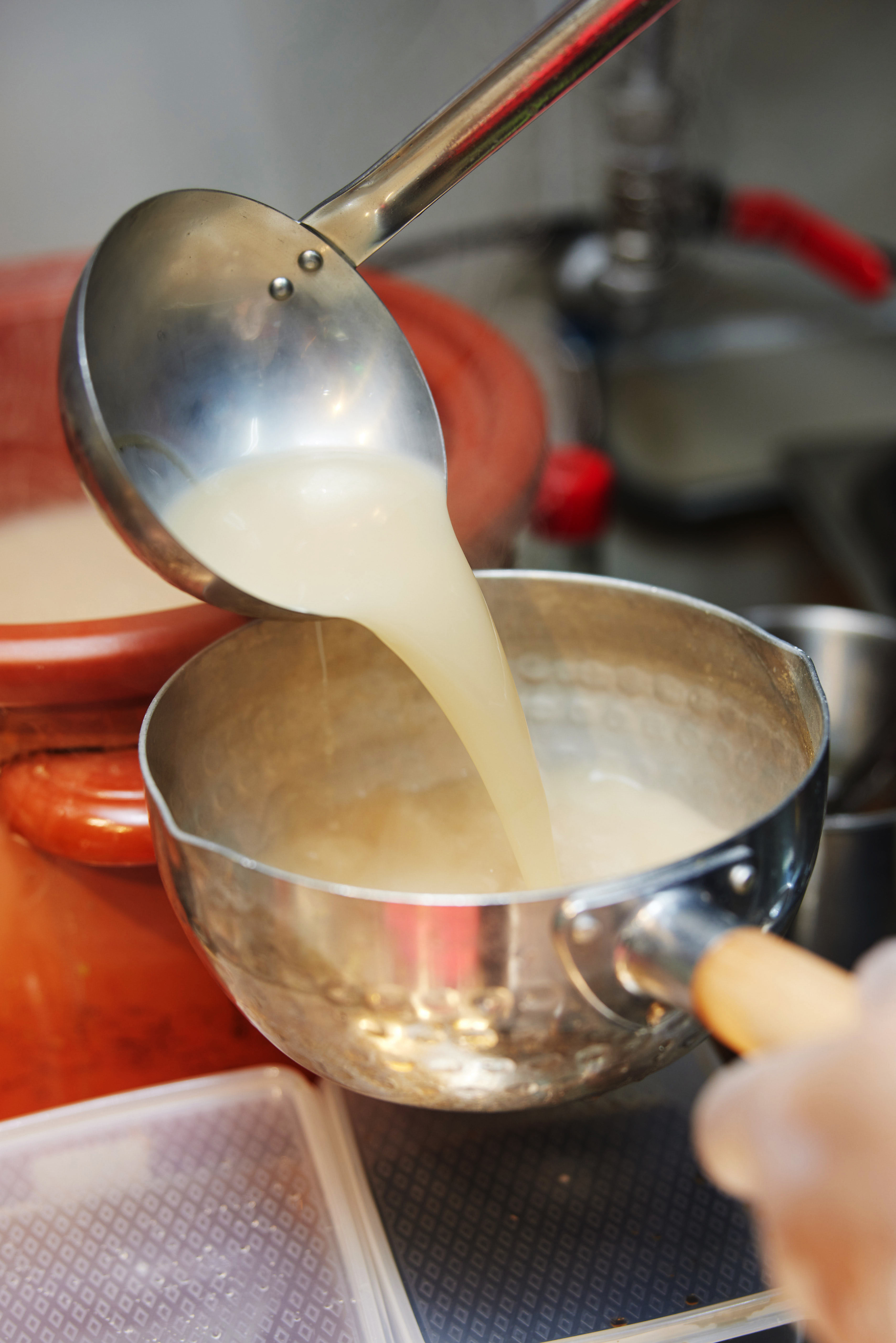 The soup
While tonkotsu soup at an authentic ramen-ya is usually rich and almost creamy from all the fat and collagen in it, Umai's soup is a lot thinner in consistency. Understandable, given that it's a humble hawker stall and not a restaurant. Just don't expect that sinful, sticky mouthfeel you get in a traditional bowl of tonkotsu ramen.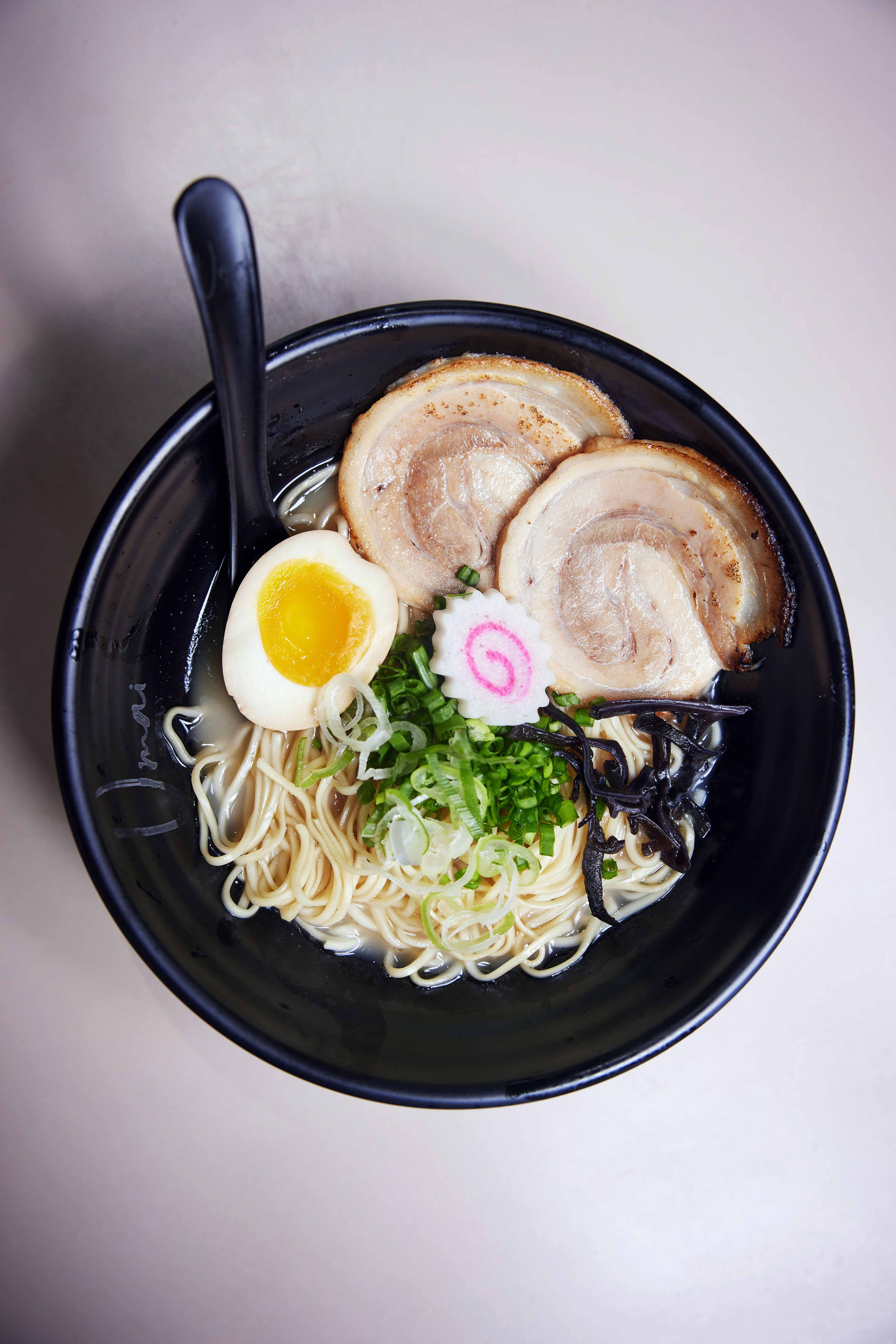 Garlic Tonkotsu Ramen, $8.90
Lighter mouthfeel aside, the soup is decent flavour-wise, with a strong, meaty savouriness. This homely-looking bowl is underscored by a tare whipped up with bonito flakes, niboshi (dried sardines) and raw garlic, yielding a pleasant – but not overwhelming – garlicky perfume with none of the pungency typically associated with the bulb's raw form.
We also enjoy Mattias' neatly rolled soy-braised pork belly chashu, which is indeed sliced thickly and more generously portioned than its hawker rivals. The well-seasoned, succulent meat is blowtorched a la minute for a hint of smoky char. The ajitama is yummy too — gooey-yolked with a tinge of brininess from an overnight soak in mirin and soy. The thin noodles that look Hakata-style became a bit too soft after sitting on the table for twenty minutes during our photo shoot. We're guessing it would've been more al dente if eaten fresh off the stove. It's paired with black fungus, pink-and-white Japanese fish cake and spring onions. Overall a pleasant, slurpable bowl — if a little pricey for the neighbourhood and somewhat modest portion of noodles (Matthias says the cost of his ingredients are high).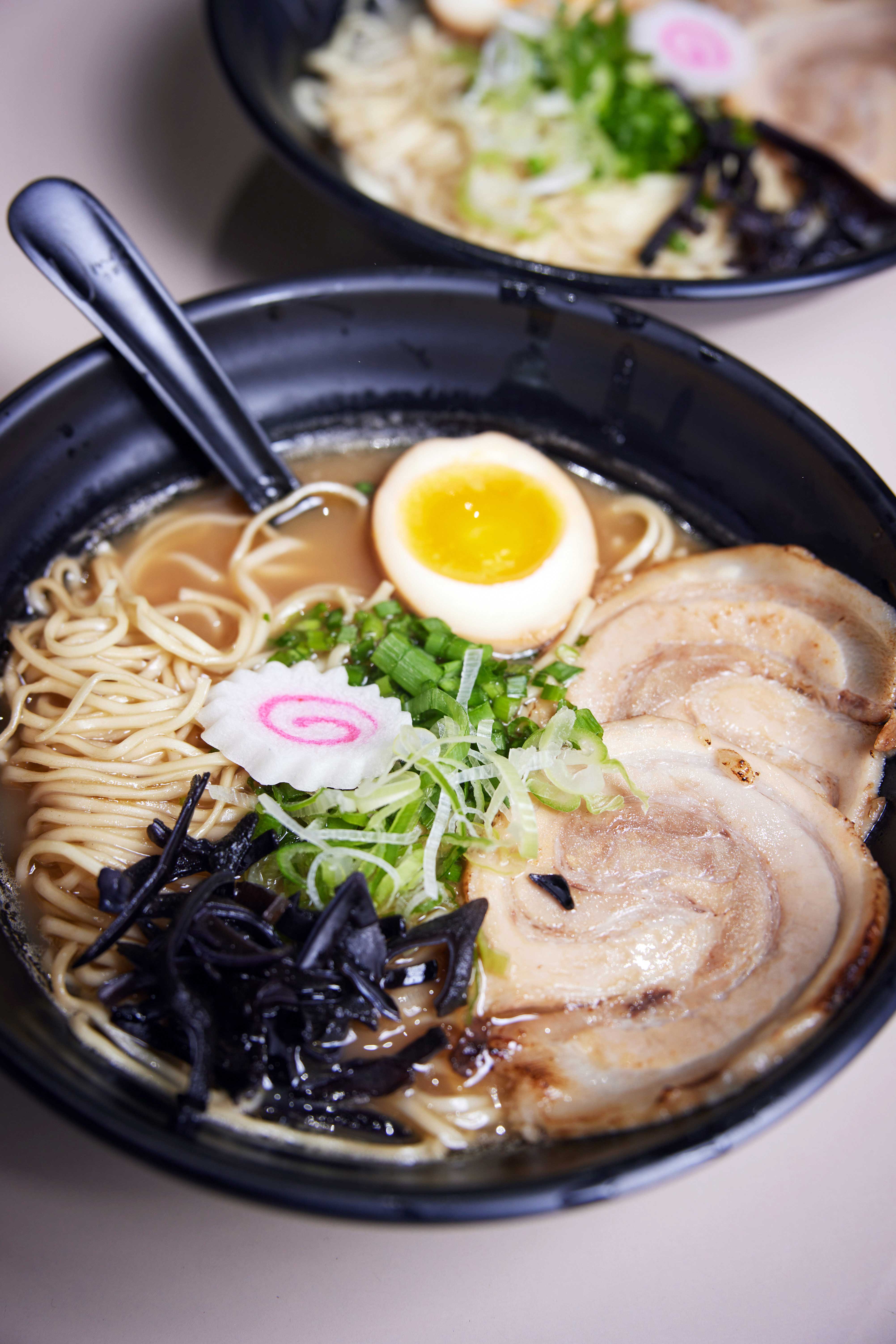 Shoyu Tonkotsu Ramen, $8.90
The shoyu version features tare made with a dashi of kelp, bonito flakes, shiitake mushrooms and three types of soy sauce. While it is quite umami, the predominant notes of salty soy sauce overshadow the tonkotsu soup's natural sweetness. Get the yummier garlic version instead.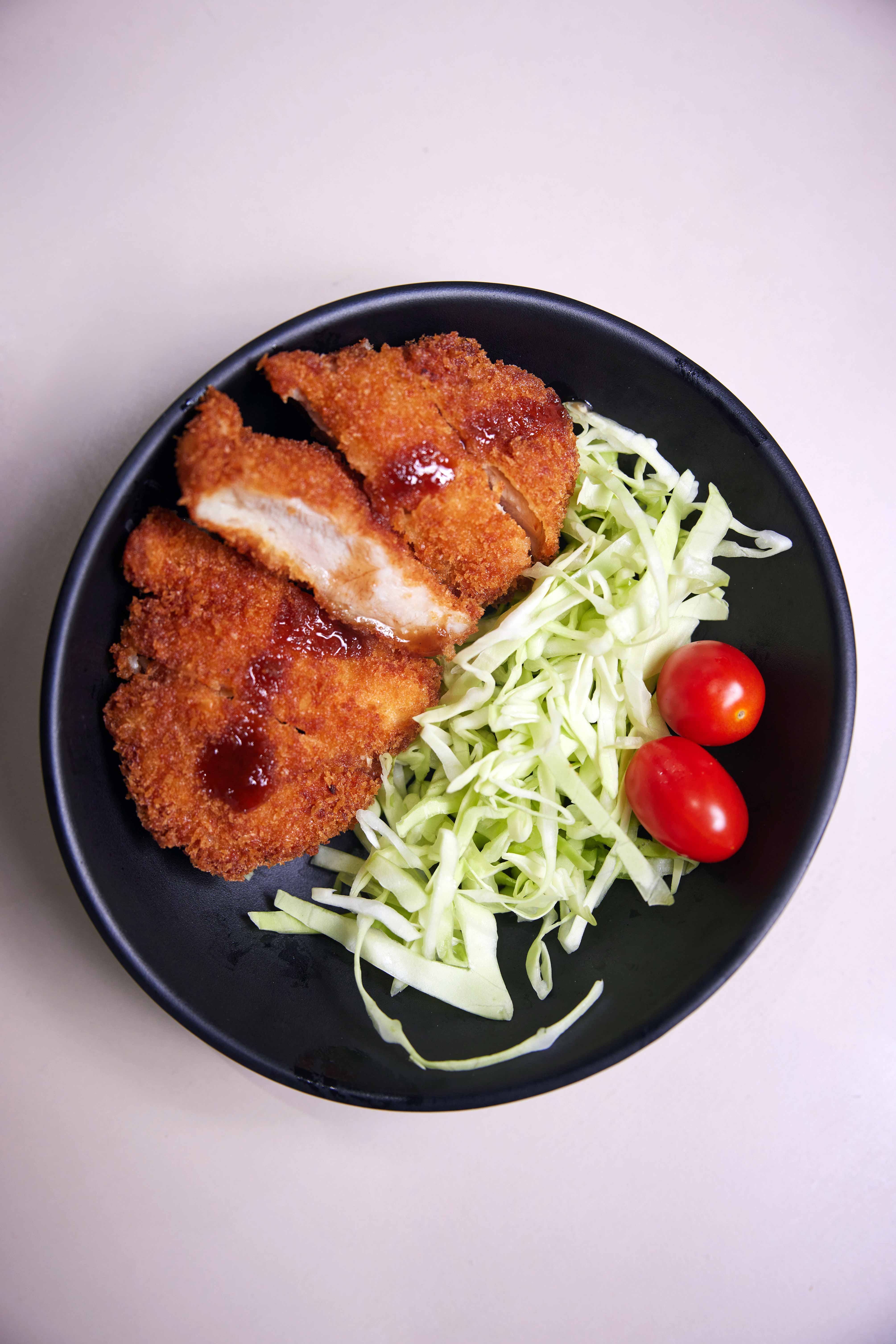 Torikatsu, $4
No-frills but tasty enough chicken katsu. Chicken thigh fillet is marinated with salt and pepper, coated in panko breadcrumbs then deep-fried and served with shredded lettuce, cherry tomatoes and a splash of tangy tonkatsu sauce. Not bad, as the chook is quite juicy with a nicely crispy coat – a side dish worth getting if you find the noodle portions here smallish.
Bottom line
Umai's ramen is decent and fairly well-executed, considering that the driver-turned-hawker is a noob. His fragrant garlic soup is pretty tasty — it only lacks the requisite rich, sticky mouthfeel found in tonkotsu broth, even those from some rival hawker stalls. We'd still eat Mattias' version for its comforting flavours — though we're not sure if the senior citizens frequenting this sleepy hawker centre would fork out almost 10 bucks for a bowl of noodles.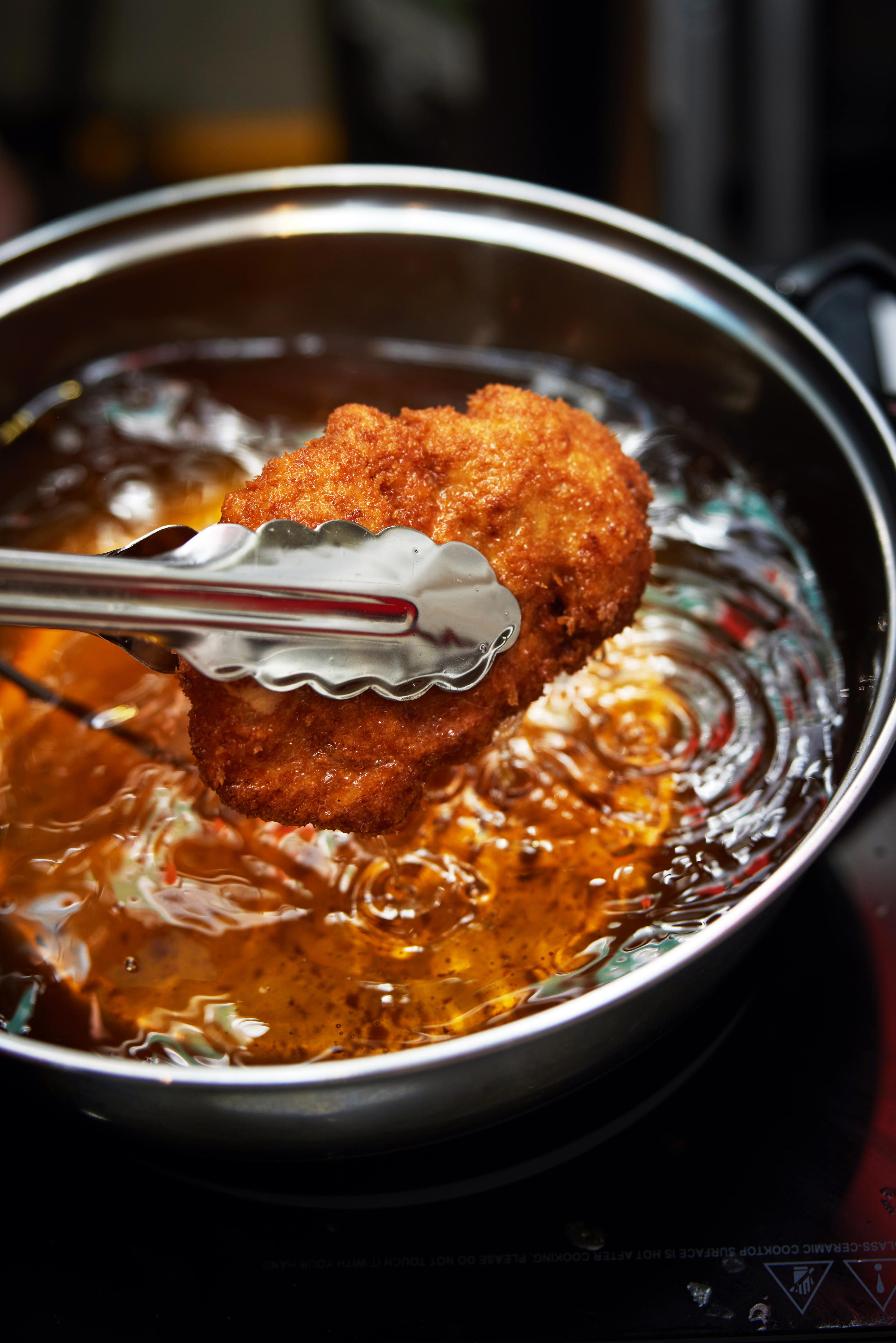 The details
Umai is at #01-02, Blk 79 Circuit Rd, S370079. Open daily except Sun noon to 8.30pm; till 9pm Fri & Sat. More info via Facebook and Instagram.
Photos: Kelvin Chia
No part of this story or photos can be reproduced without permission from 8days.sg.