Thai Ex-Club Singer & S'porean Hubby Sell Authentic Thai Pandan Pancakes At Golden Mile Complex
Baan Kanom Thai, which started as a home-based biz, has opened a dessert kiosk inside a supermarket.
Thai-born Fon C, 26, and her Singaporean husband Jaren Choong, 28, want to transport you to the streets of Bangkok. Their tiny two-week-old dessert kiosk, located in a supermarket in Golden Mile Complex, sells Thai snacks typically served by BK street vendors, such as kanom krok bai toey (pandan pancake) and kanom Tokyo (cylindrical pancake with various fillings).
Baan Kanom Thai, which translates to "house of Thai desserts", began as a home-based biz by the duo in May 2020. In addition to sweet snacks, their HBB menu included pineapple fried rice and grilled lemongrass chicken – all cooked by Fon, who learned the recipes from her mother who runs an eatery in Chumphon, a town in southern Thailand.
All photos cannot be reproduced without permission from 8days.sg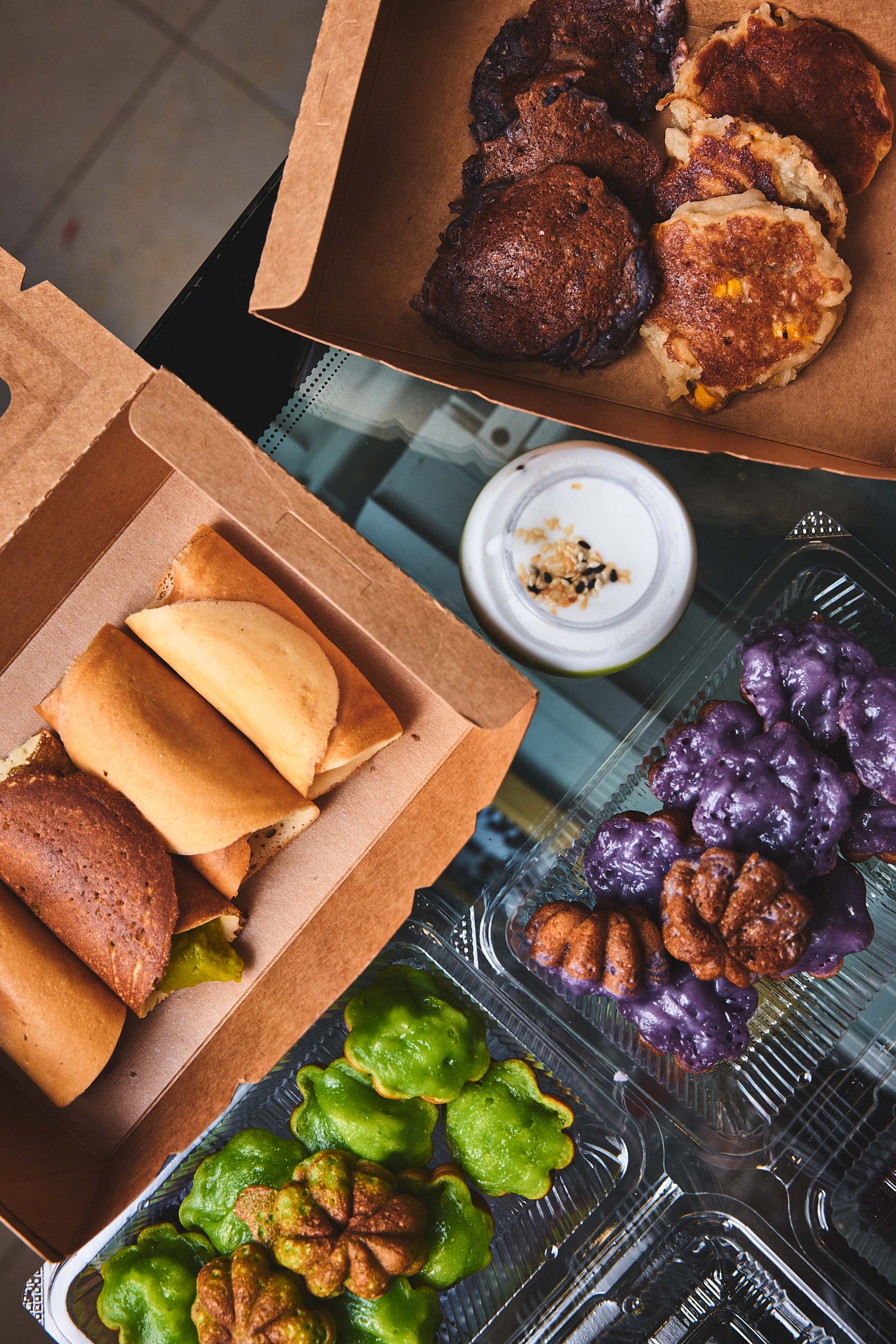 Building on success of home-based biz
The couple, who have been married for over a year, launched the food business to capitalise on Fon's culinary skills. "Fon started cooking for my family and we all thought her cooking was very good. We thought maybe we can try to sell her dishes," says Jaren. Prior to the biz, Fon worked as a singer at a club in Singapore and Jaren was studying for his business degree at Murdoch University Singapore (he graduated in January). They met through a mutual friend.
Why pandan pancakes?
When the home biz took off, the duo started to plan a physical expansion. "We wanted to open a shop but we realised the rental is quite expensive and we couldn't afford it. We decided to start a new concept – since [Thai] pandan pancakes are difficult to find in Singapore, we decided to focus on them and open a takeaway kiosk first," he says.
Jaren and Fon have spent about $15k to set up the stall – it is fully funded from their home biz profits over the past two years. They have temporarily ceased their home-based operations to concentrate on running their takeaway kiosk full-time, though they plan to resume it "once business at the kiosk stabilises". Fon developed the snack recipes based on her own R&D.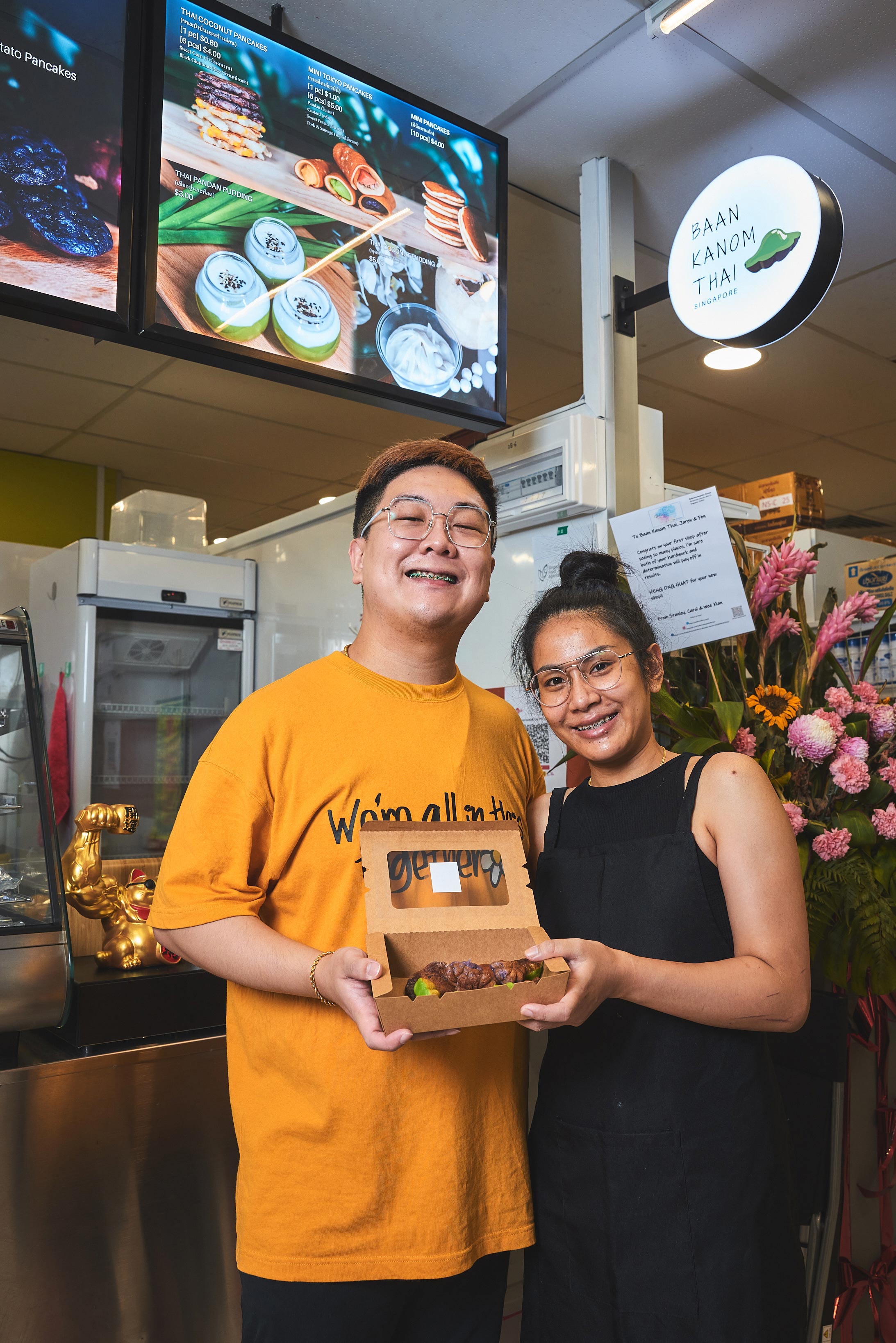 Thai snack chain the ultimate goal
Jaren tells us that his goal is to develop a "chain of kiosks". "We have concepts like I Love Taimei (a Taiwanese street snack chain) in Singapore, but you don't have a place that sells Thai snacks. It's our goal to start one."
Their biz appears to be off to a good start, as we're told the menu items are sometimes sold out as early as 6.30pm (the stall opens from noon to 8pm) since its opening on 8 March. Jaren declines to reveal the quantity of items sold, but shares that they "try to make as many as possible" daily.
We also observed a constant queue during our visit – including a customer who ordered sixty pandan pancakes at one go. It takes about twenty minutes to prepare a fresh batch of pancakes, and waiting time may be extended if the queue is long.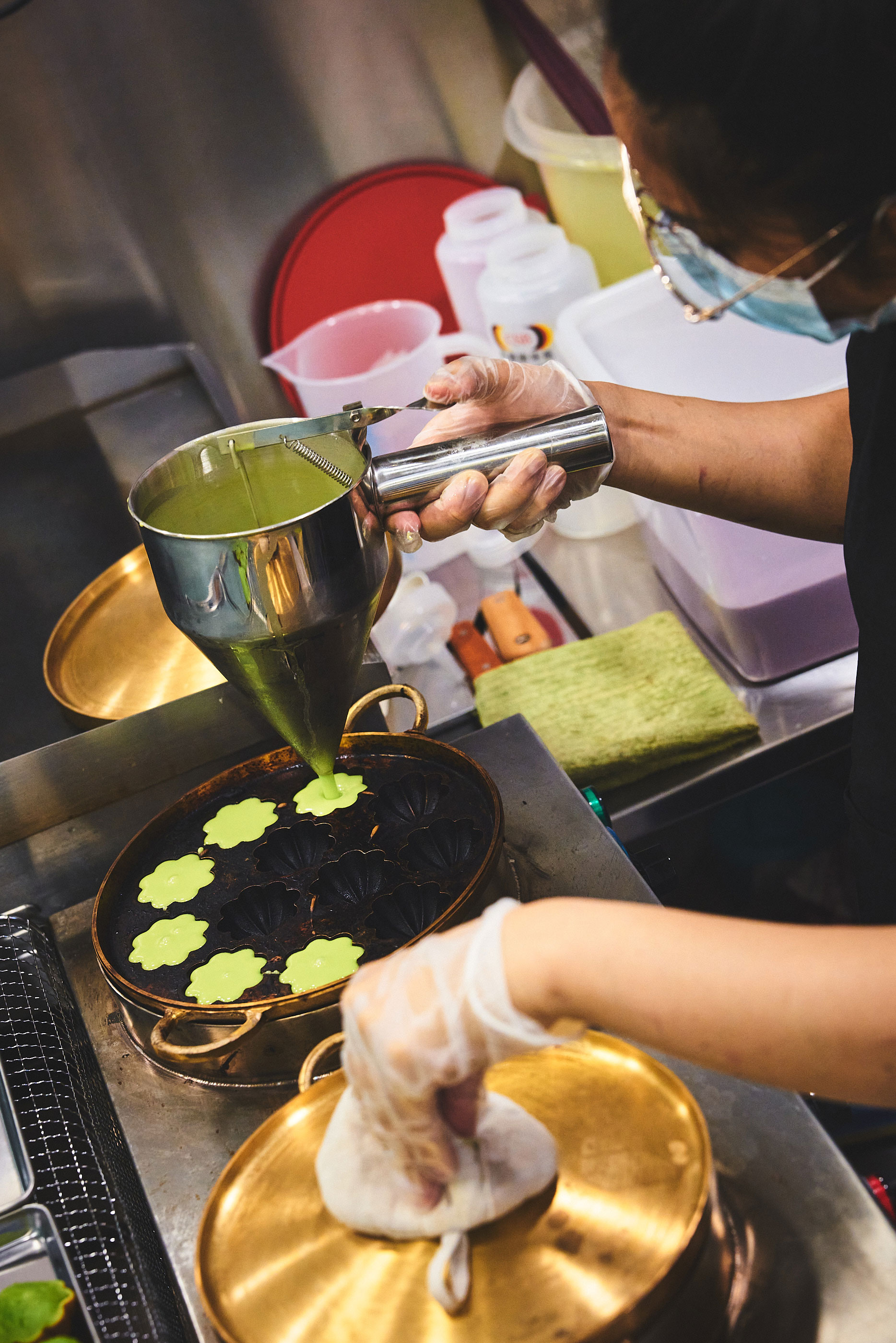 Full focus required
Fon cooks the pandan pancakes at the stall by pouring a batter made from tapioca flour and coconut milk into a takoyaki-like pan (with a floral design instead of orbs). The biggest challenge is controlling the heat level – the outside burns easily if the skillet is too hot, and if it's too cool, the pancake will not crisp up properly.
It's clearly a snack that requires constant attention and vigilance – we watched the experienced Fon throwing away several batches of burned pancakes before she got the temperature right. She tells us the ideal pancake should have a perfectly crisp outside (similar to kueh bahulu) and a chewy, moist middle.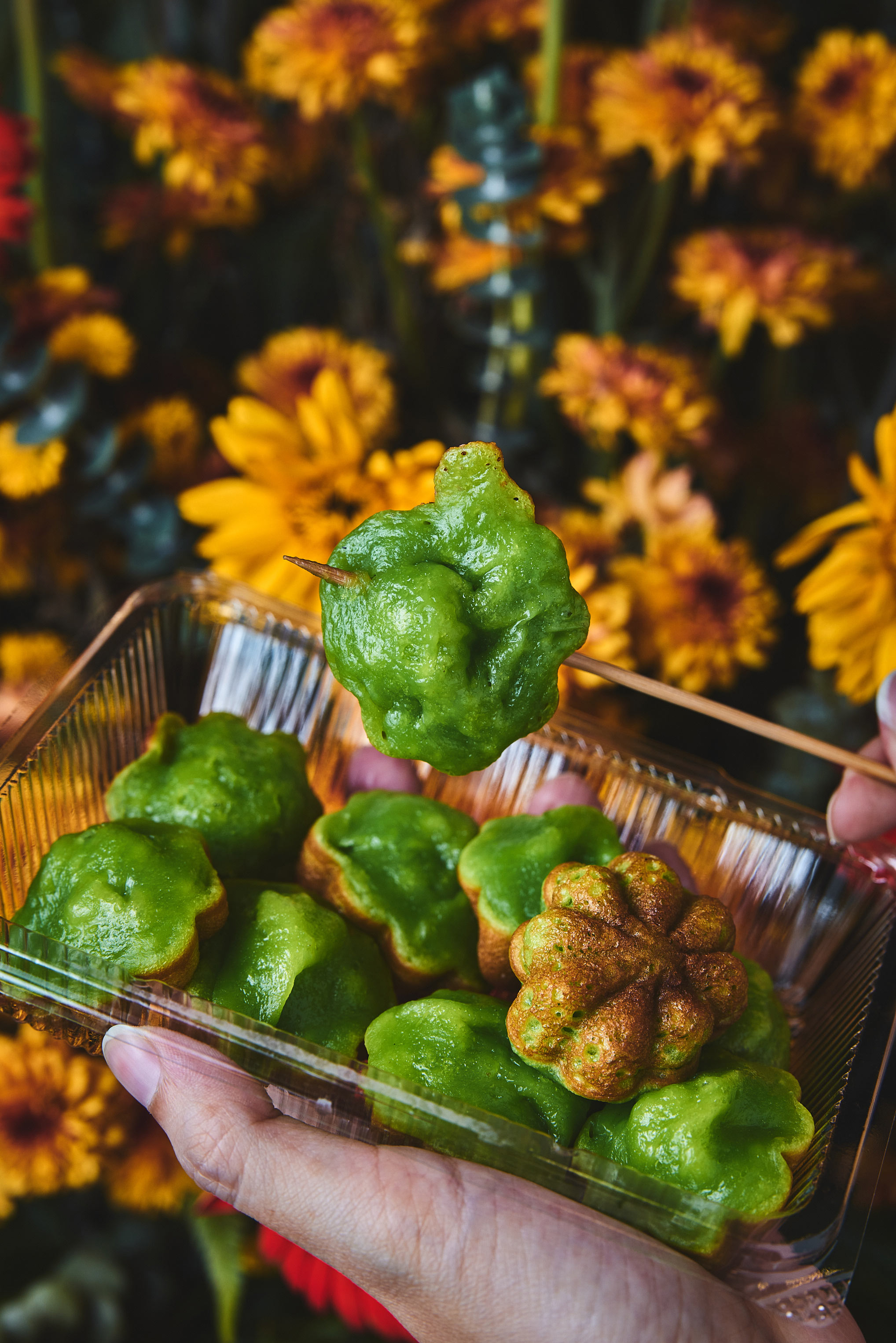 Thai Pandan Pancakes, $4 for 10 pcs; $7.50 for 20 pcs (8 DAYS Pick!)
Pillowy pancakes with a crispy outer layer and a chewy, smooth, almost glossy middle just like what we've had in Bangkok. The coconut flavours are rich, while the pandan adds a fresh floral aroma – the owners make their own extract from fresh pandan leaves. The pancakes are best enjoyed fresh off the skillet, which is almost guaranteed as Fon is constantly making a new batch to keep up with demand.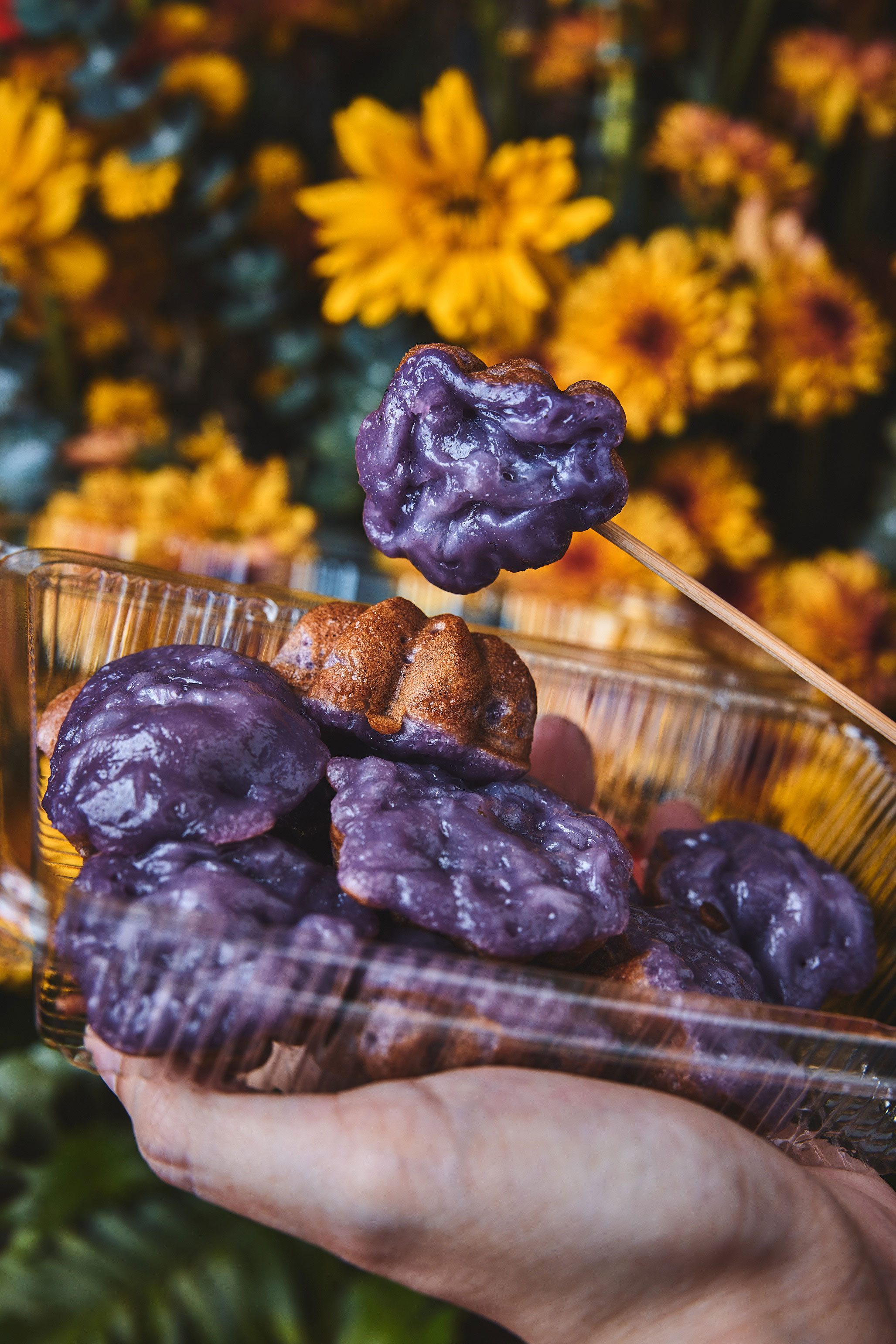 Thai Sweet Potato Pancakes, $4 for 10 pcs; $7.50 for 20 pcs
While its texture is just as excellent, we found the flavour of this purple sweet potato version to be milder-tasting than the punchier pandan pancakes. Order the classic green kanom krok bai toey instead.
Thai Coconut Pancakes (Sweet Corn or Black Glutinous Rice), $0.80 each; $4 for 6 pcs
Studded with sweet corn or black glutinous rice, these QQ mini pancakes made with tapioca batter are a textural delight. We prefer the tanned pulut hitam option, which releases a fragrant, nutty aroma with every bite. A humble, comforting snack – you can choose to get a mix of both flavours if buying a box of six.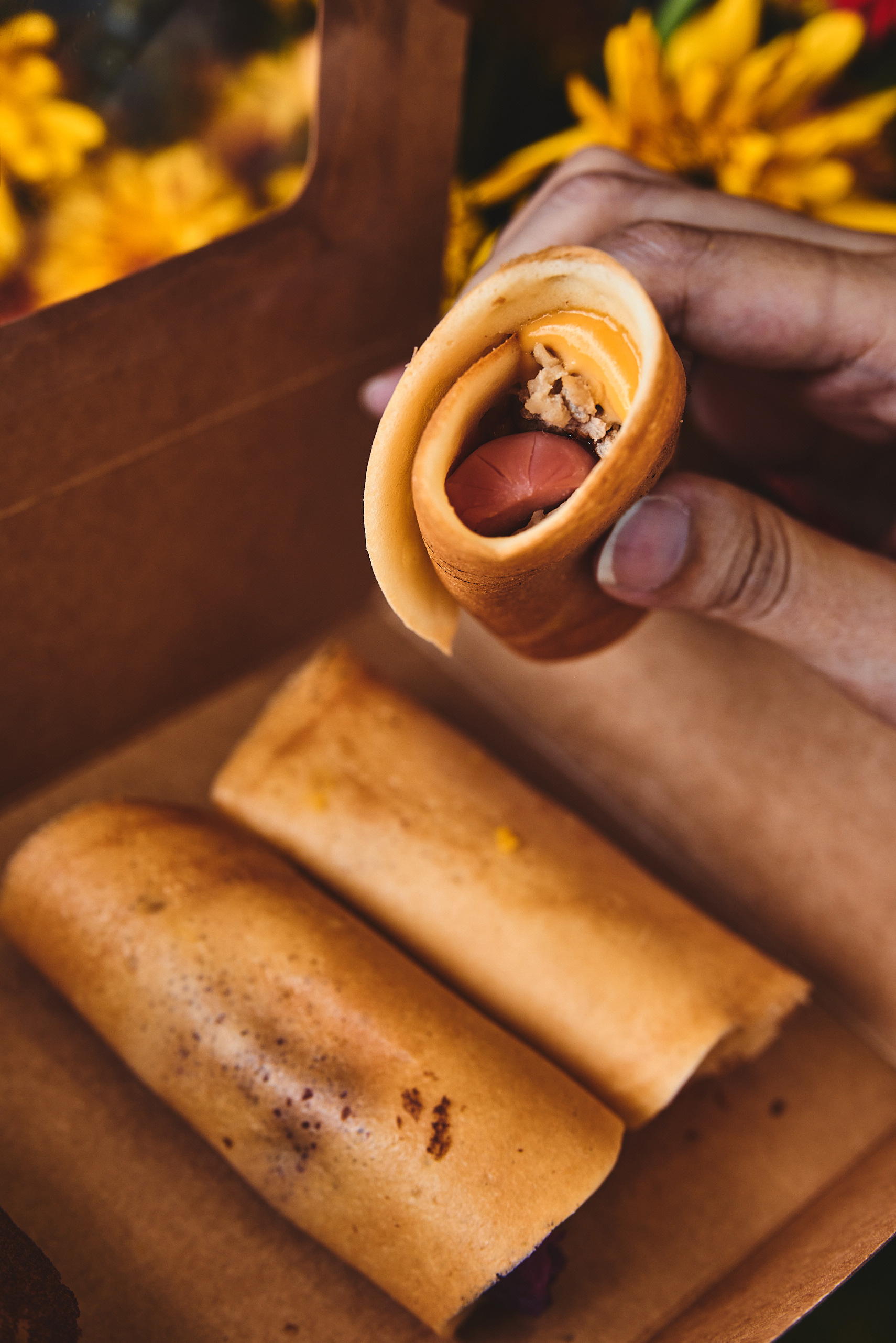 Mini Tokyo Pancakes (Pandan, Custard, Sweet Potato, Pork & Sausage), $1 each; $5 for six pcs
Despite its name, this is a classic Thai snack (some believe the pancake was first sold at the Japanese Daimaru department store in Bangkok in the '60s, hence the reference to "Tokyo") made from leavened egg batter.
The flat, slightly spongy pancake – which we found a little too dry – is rolled into a cylinder and stuffed with either a sweet or savoury filling. We liked the chicken sausage and minced pork stuffing, which is lightly drizzled with cheese and chilli sauce, best.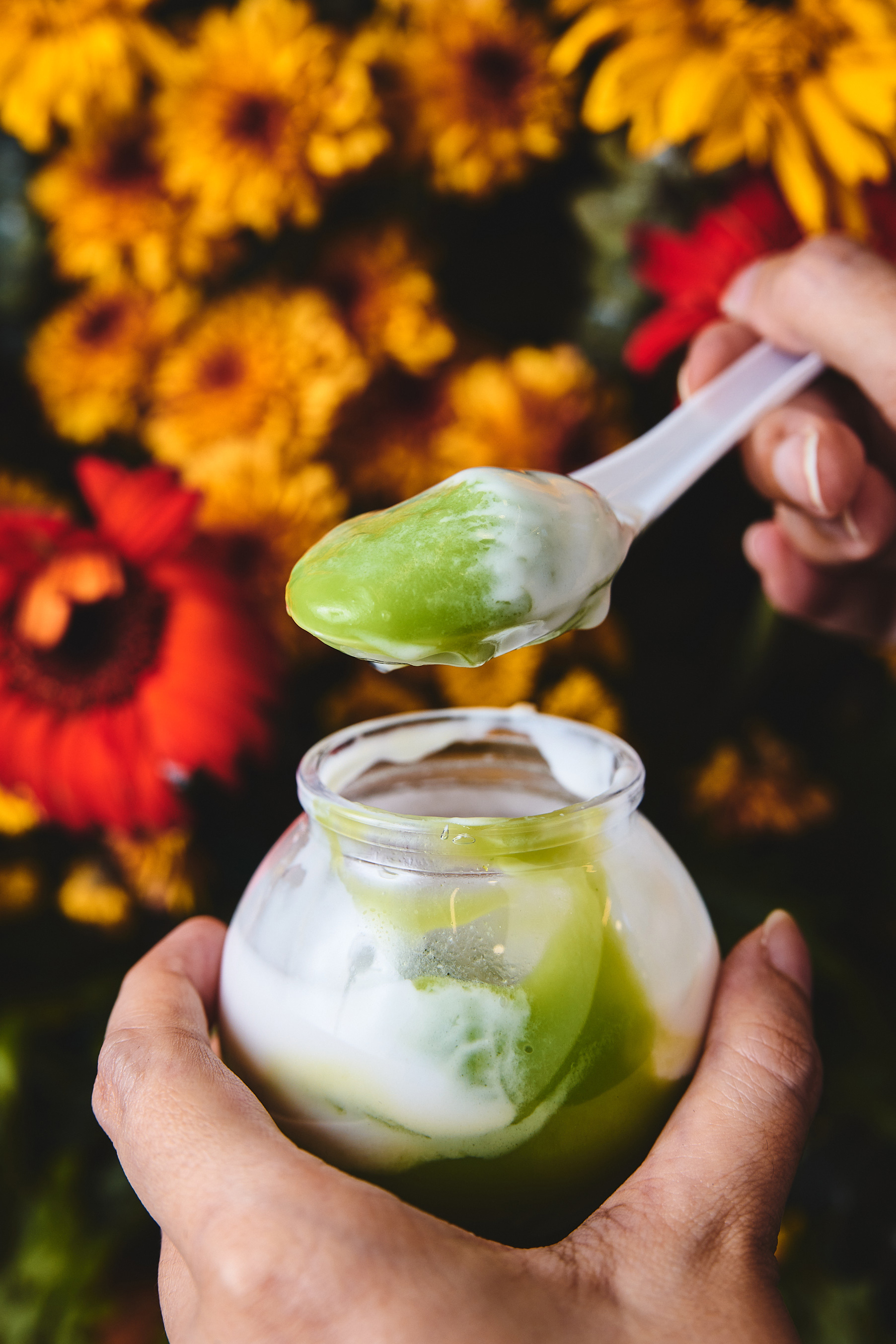 Thai Pandan Pudding, $3 (8 DAYS Pick!)
A luscious, creamy coconut and pandan custard with a hint of saltiness to balance the otherwise cloying combination. A simple but well-executed dessert thanks to the liberal use of good quality coconut milk and freshly-squeezed pandan extract.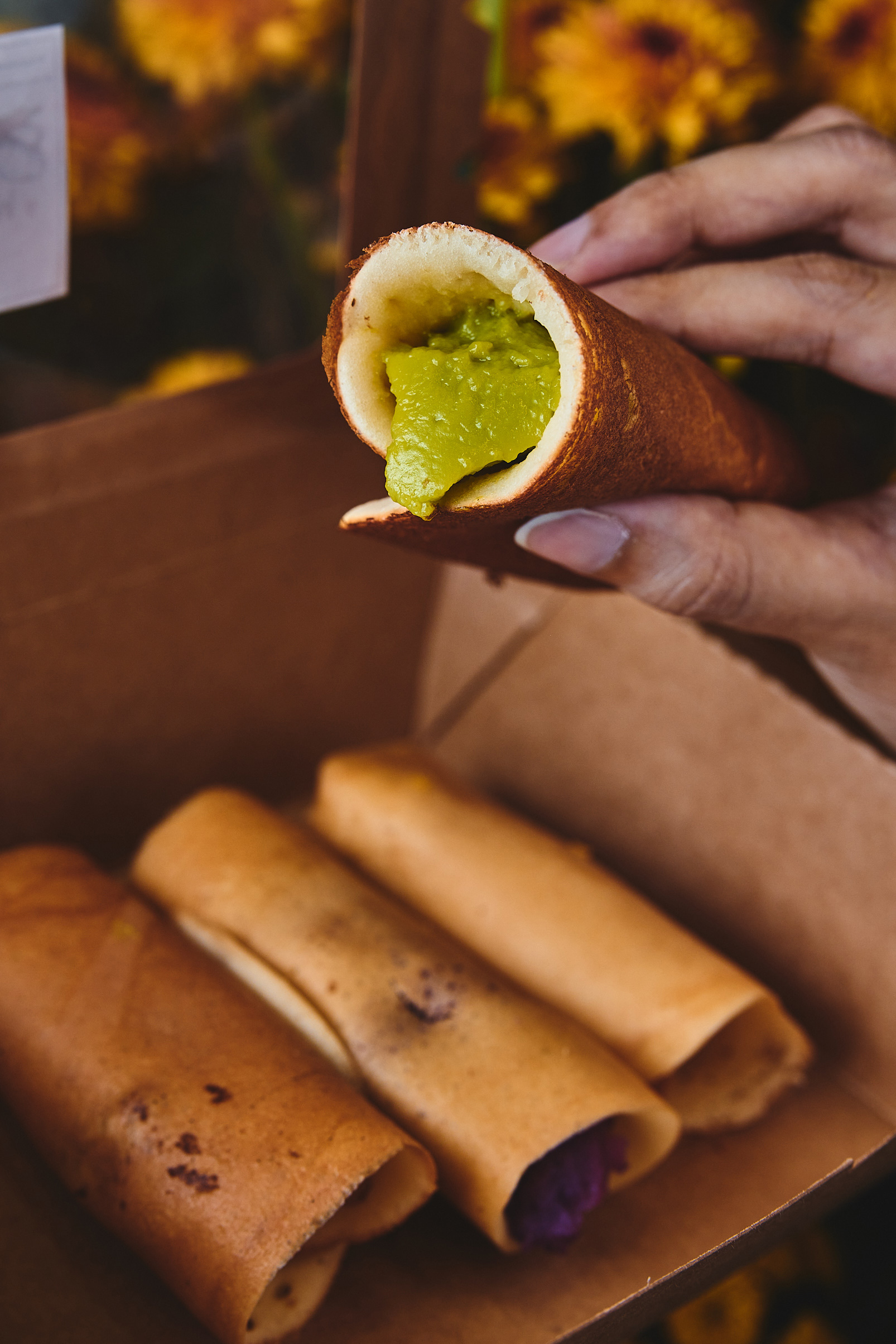 Bottom line
Tasty, bona fide Thai street snacks at affordable prices. The flower-shaped pandan pancakes are the star of the show and should be eaten on the spot while they're moist and chewy. The rich and velvety pandan pudding is also yummy, if a little bit jelak. Warning: expect some hiccups – like a rather long waiting time or a couple of items being unavailable – as the young towkays get used to running a kiosk for the first time. However, despite the stressful long queues, service from the energetic couple remains warm and friendly.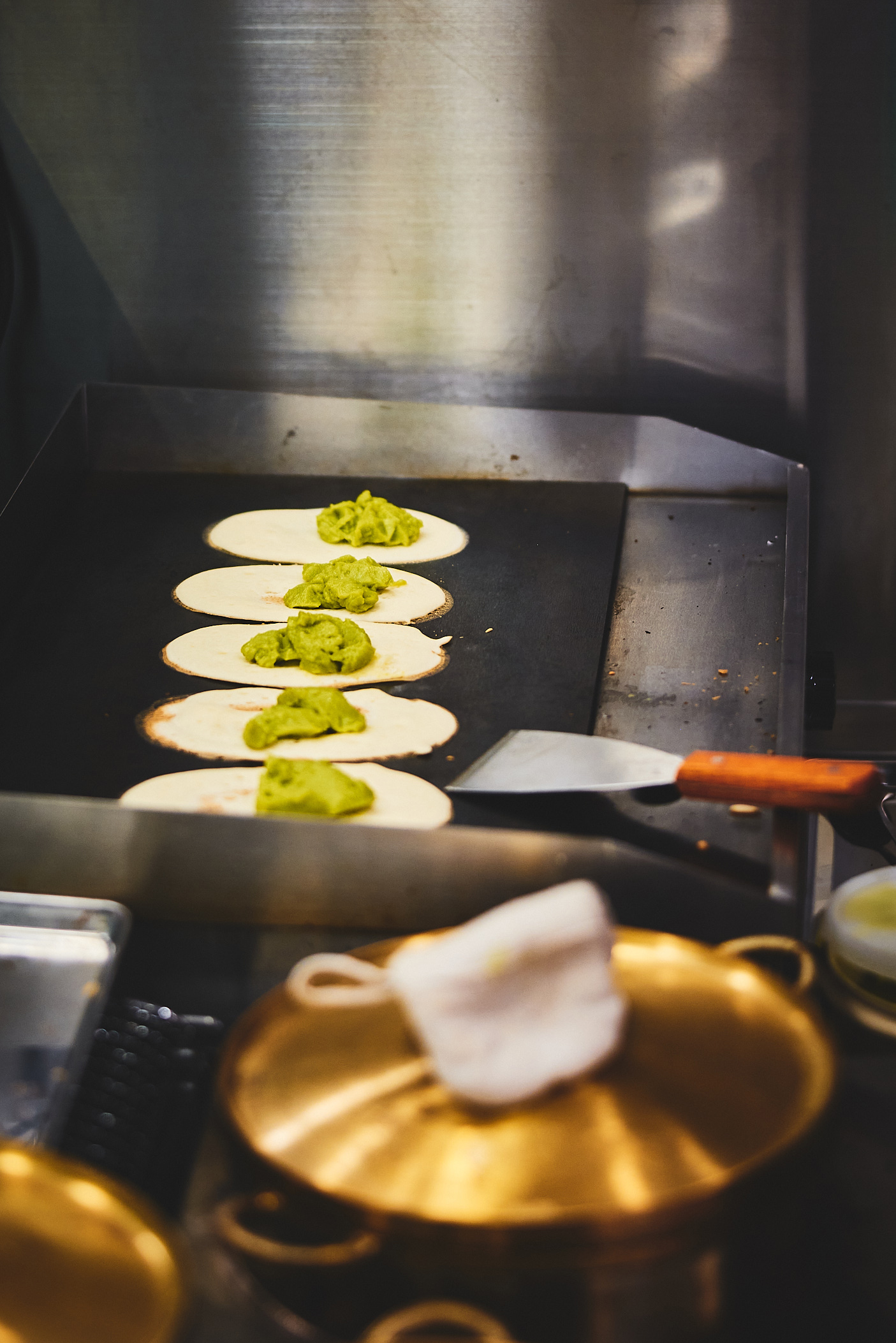 The details
Baan Kanom Thai is located within Thai Supermarket, #02-64 Golden Mile Complex, 5001 Beach Rd, S199588. Open daily except Mon, noon - 8.30pm. More info via Facebook or Instagram
Ed's note: The stall is temporarily closed due to a family emergency and reopens on 24 March.
Photos: Alvin Teo
All photos cannot be reproduced without permission from 8days.sg