Tiong Bahru Koh Brother Pig's Organ Soup's Hawker Founder Passes Away At 84
The hawker stall was awarded the Michelin Bib Gourmand nod in 2019, and has consistently long queues for its hearty pork innards soup.
Koh Brother Pig's Organ Soup
is a hawker institution at Tiong Bahru Market & Food Centre. It was started in 1955 by hawker Koh Kee Teo and his brother from a pushcart in the same neighbourhood before they opened a stall. The siblings, who have since retired, were very popular for their robust
pig's organ soup
, which is served with salted mustard greens in a clear broth.
Photo: Facebook/ 
Koh Brother Pig's Organ Soup
Hawker passed away
Kee Teo's (far left in pic) family announced on the stall's Facebook page today (Oct 12) that he had passed away aged 84.

The post read: "It is with deep sadness that we announce that Mr Koh Kee Teo, our founder, passed away at his home peacefully surrounded by his family. Mr Koh was a remarkable person; an extraordinary entrepreneur, inspiring mentor and renowned hawker. More importantly, a caring father, wonderful great grandfather, and loving husband. We will miss him and his amazing spirit."

The family also invited the public to pay their respects at Kee Teo's wake: "Please feel free to come and pay your last respects and we hope you can join us to see him off for one last time." The wake is held from Oct 11 to 15 at 49 Kim Pong Road, S160049 (beside the playground).
Photo: Facebook/ The Pig Organ Soup
Third-gen hawker opened a mod outlet at Maxwell Food Centre
But it looks like the late Mr Koh's business is in good hands, as his grandson is now running a four-month-old mod outlet also selling pig's organ soup at Maxwell Market & Food Centre.

Simply called The Pig Organ Soup, the hip stall is opened by Thomas Koh, 34, a former graphic designer who started helping his parents out in 2015. "My parents aren't young anymore and with pig's organ soup, you need even more manpower than a usual hawker stall. [The stall] was about 50 years old then – I thought it'd be such a waste to let this business close down," he told 8days.sg of his decision to become a hawker.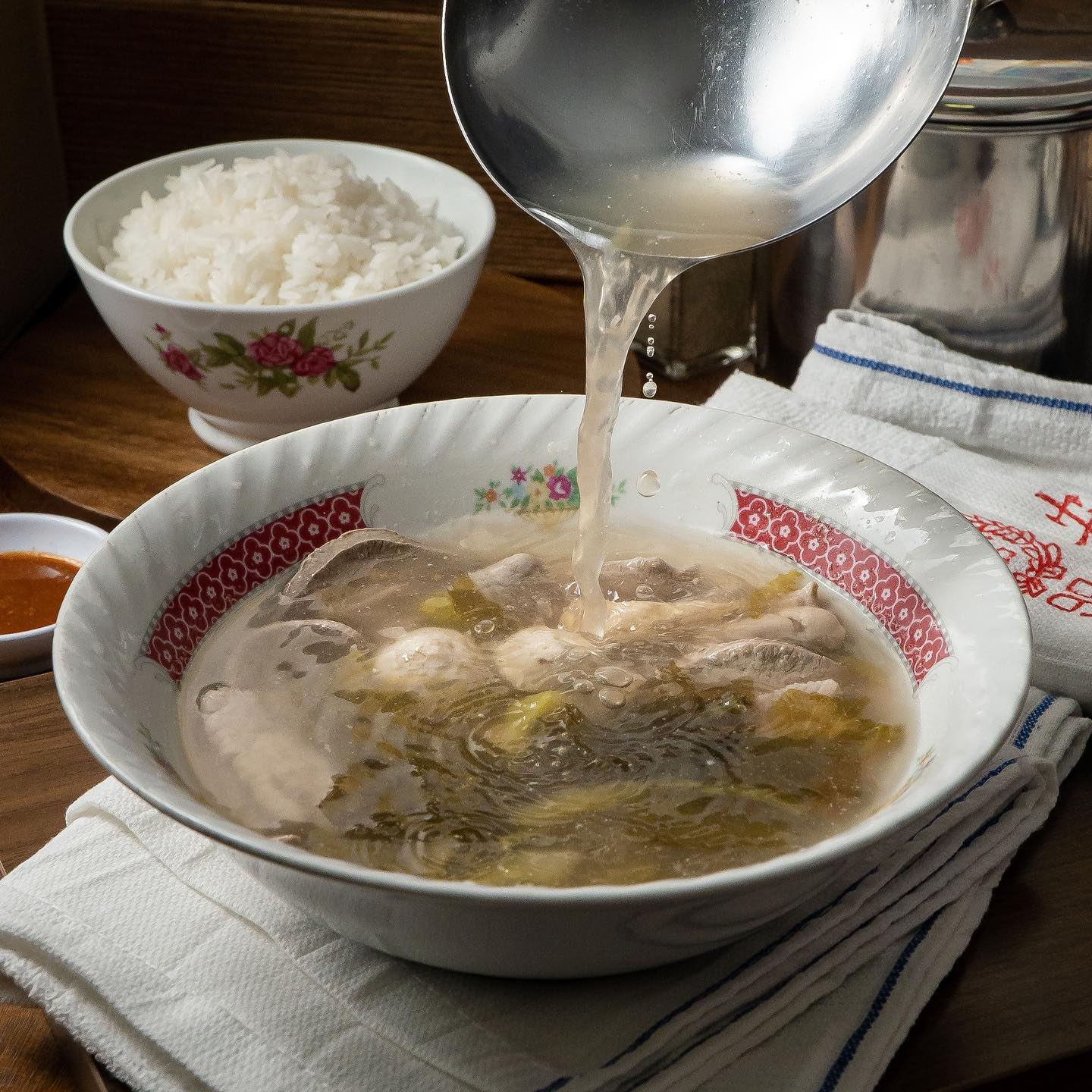 Photo: Facebook/ 
Koh Brother Pig's Organ Soup
He has been cooking daily at the Tiong Bahru stall since 2018, and later opened his own outlet at Maxwell this year. As for why he did not emblazon the Koh Brother name on his stall, he explained: "I wanted to keep the two brands separate. So that we can try modern techniques at Maxwell and break away from the traditional ways of cooking to take our pig organ soup to the next level."

The Pig Organ Soup is at #01-72 Maxwell Food Centre,1 Kadayanallur St, S069184. Tel: 8683-0863. Open daily except Sun 10.30am – 8.30pm. More info via Facebook & Instagram.

Koh Brother Pig's Organ Soup is at #02-29 Tiong Bahru Market and Food Centre, 30 Seng Poh Rd, S168898. Tel: 8113-7218. Open daily except Mon 9am – 2.30pm; 5pm – 7.45pm. More info via Facebook.