TVB actor Benjamin Yuen Says There's Nothing Wrong With Listening To His Wife As Women "Make Better Decisions Than Men"
The Hongkong star has had to deal with talk of him "marrying into money" as wife Bowie Cheung is reportedly the daughter of a billionaire tycoon.
Ever since Hongkong stars Benjamin Yuen, 40, and Bowie Cheung, 30, tied the knot in November 2020, he's had to face talk of him "marrying into money". Apparently, the Miss Hong Kong pageant alum's dad is reportedly a billionaire tycoon in the undergarments industry.
On a recent episode of a talk show, Benjamin shared that they got to know each other when they were in Africa filming a travel show, and he, er, basically asked to go steady.
He revealed, "We talked about everything under the sun… I asked her what she thought of being the woman behind me, but she didn't respond." Perhaps his reference to the famous saying "behind every successful man is a great woman" was meant to be a compliment to her (and himself as well naturally), but she didn't bite… until they went back to home ground.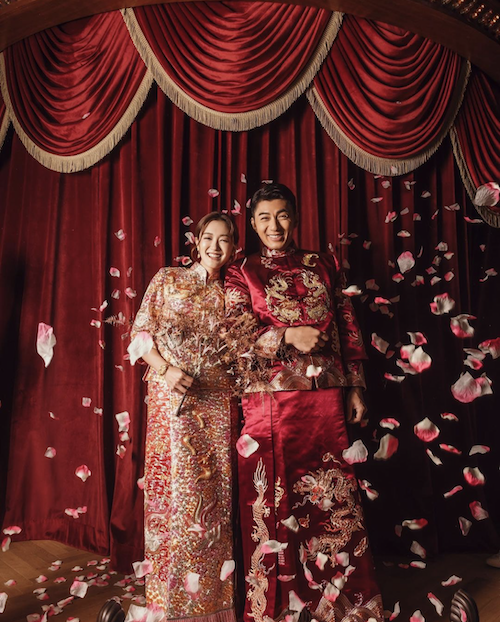 Benjamin & Bowie
They started dating after they returned to Hongkong. In the beginning, he wanted to keep their relationship a secret as he didn't want others to compare Bowie to his ex-girlfriend, Jennifer Shum, also a pageant alum.
As for the comments about him "living a comfortable life after marrying a rich man's daughter", Benjamin would only admit that he's "thankful Bowie is extremely supportive and logical…" and that he had found someone he could rely on and "be weak in front of."
He continued, "What's so difficult about being weak and listening to your wife? I'm very happy and comfortable. Actually, I feel that women make better decisions than men. Be it financial decisions or the way their minds work, they're more meticulous than men."
Photos: PBE Media