Twin Bros Quit Dim Sum Head Chef Jobs At Competing Eateries To Sell Delish Char Siew Bao At Kopitiam
The identical twins helmed the dim sum departments at Chinese restaurants Peach Garden and Fu Lin Men. Their new hawker stall in Yishun serves dim sum that's more refined than those found at typical kopitiam joints.
Twin hawkers in a coffeeshop are a rare find, but what are the odds of twin brothers who were both head dim sum chefs at different Chinese restaurants before opening a dim sum hawker stall together? Meet Chin Kwok Heng (left) and Chin Kwok Hoong (right), towkays of the aptly-named stall Twin Star Dim Sum. Though they are identical twins, it is easy to tell the affable siblings apart: "The one that's skinnier is me, and the fatter one is my brother (laughs)," says Kwok Heng, gesturing at his bespectacled bro (who's older by "just over an hour").
The six-week-old stall, tucked away in the same sweltering Yishun kopitiam that houses other hawker joints started by ex-restaurant chefs including Legend Scissors Cut Curry Rice and Fire Rice, offers dim sum handmade from scratch, alongside Cantonese congee and Hong Kong-style cheong fun.
No part of this story or photos can be reproduced without permission from 8days.sg.
Started out at dad's dim sum stall as teens
The Singaporean brothers who are both married with kids tell 8days.sg that they first started cooking dim sum at the tender age of 16, when they stopped schooling to help out at their dad's three-stall dim sum chain. "Why? Honestly, the two of us were very bad at studying (laughs)," says Kwok Hoong.
"It was good to get a first taste of cooking, but we couldn't make head nor tail of what we were doing back then. The chefs there also didn't have time to teach us properly – when our dad passed away (after about three years) and the chefs left, we closed down the stalls," he adds.
Twins later worked at Tunglok Group, Peach Garden & Fu Lin Men
But that experience was enough to spur both brothers to pursue culinary careers after completing their National Service. Over the next 20 years, the twins worked their way through the dim sum kitchens of various Chinese restaurants, including "smaller neighbourhood-style eateries and larger chains" like the TungLok Group's restaurants.  
Kwok Heng's last appointment was head dim sum chef of Peach Garden Chinese Restaurant's Thomson Plaza outlet, where he worked for three and a half years. Meanwhile, Kwok Hoong last helmed the dim sum kitchen at Fu Lin Men Chinese Restaurant's outlet in the Singapore Recreation Club for four years before leaving with his twin brother to start their hawker stall.
"We'd be working just as hard [as employees] in a restaurant, so why not give [the rewards] to ourselves instead?" muses Kwok Hoong on starting their own business. "We're both getting older, so this might be our last chance to start our own business. If it works, it works – if it doesn't, then back to reality."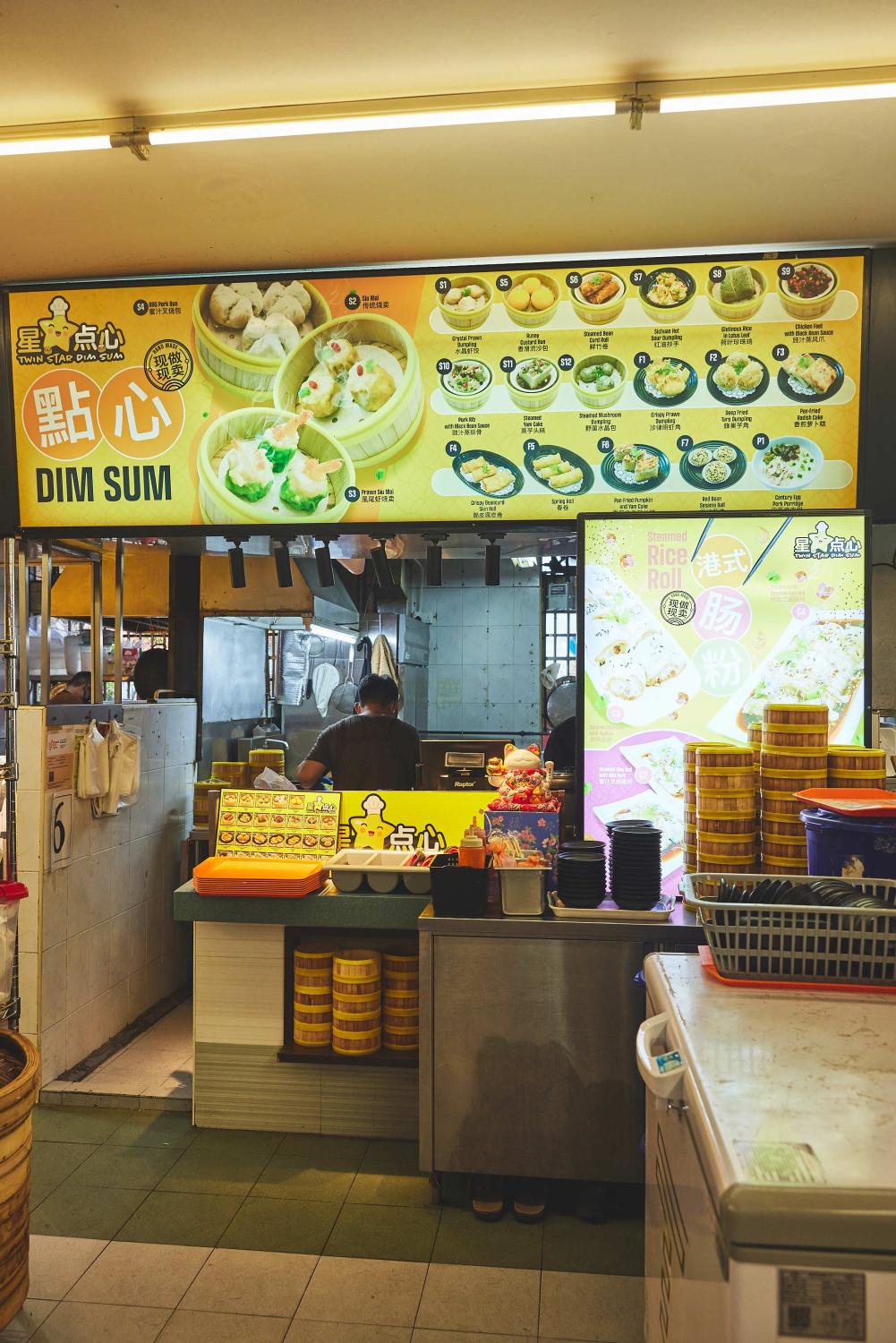 Bros butted heads "a couple of times" since starting Twin Star Dim Sum
Together with a silent partner, the twins invested about $30K into renovations and "powerful steamers plus proper equipment" to churn out better quality dim sum at their stall.
Apart from the challenge of having to source for their own ingredients, the twins also found themselves in uncharted territory – they'd never worked together professionally (teen years aside). While Kwok Heng describes himself and his bro as rather "easygoing people", he admits that they butted heads "a couple of times" since starting Twin Star Dim Sum. No, being twin brothers doesn't particularly help in making a professional working relationship easier, he adds. 
"It definitely took a while to get used to each other's working style and taste preferences," he says.  "Sometimes, you'd feel like insisting on doing things your way just because it's the way you've always done it. But after a while, I realised – sometimes there is no 'best', there is only better. So for all our dim sum dishes, we will experiment on them together and stick with what makes it better." 
They now move "about 200" plates of dim sum daily, and double that on weekends. The twins hope to eventually upgrade their hawker stall to a casual restaurant, serving a "wider array of dim sum in a comfortable environment".
The menu
There are close to 30 items on the menu, including steamed and deep-fried dim sum – many of which are produced in advance, frozen and cooked-to-order for smoother operations – alongside congee and Hong Kong-style cheong fun (unavailable during our visit as they were still in the process of finding "the right steamer").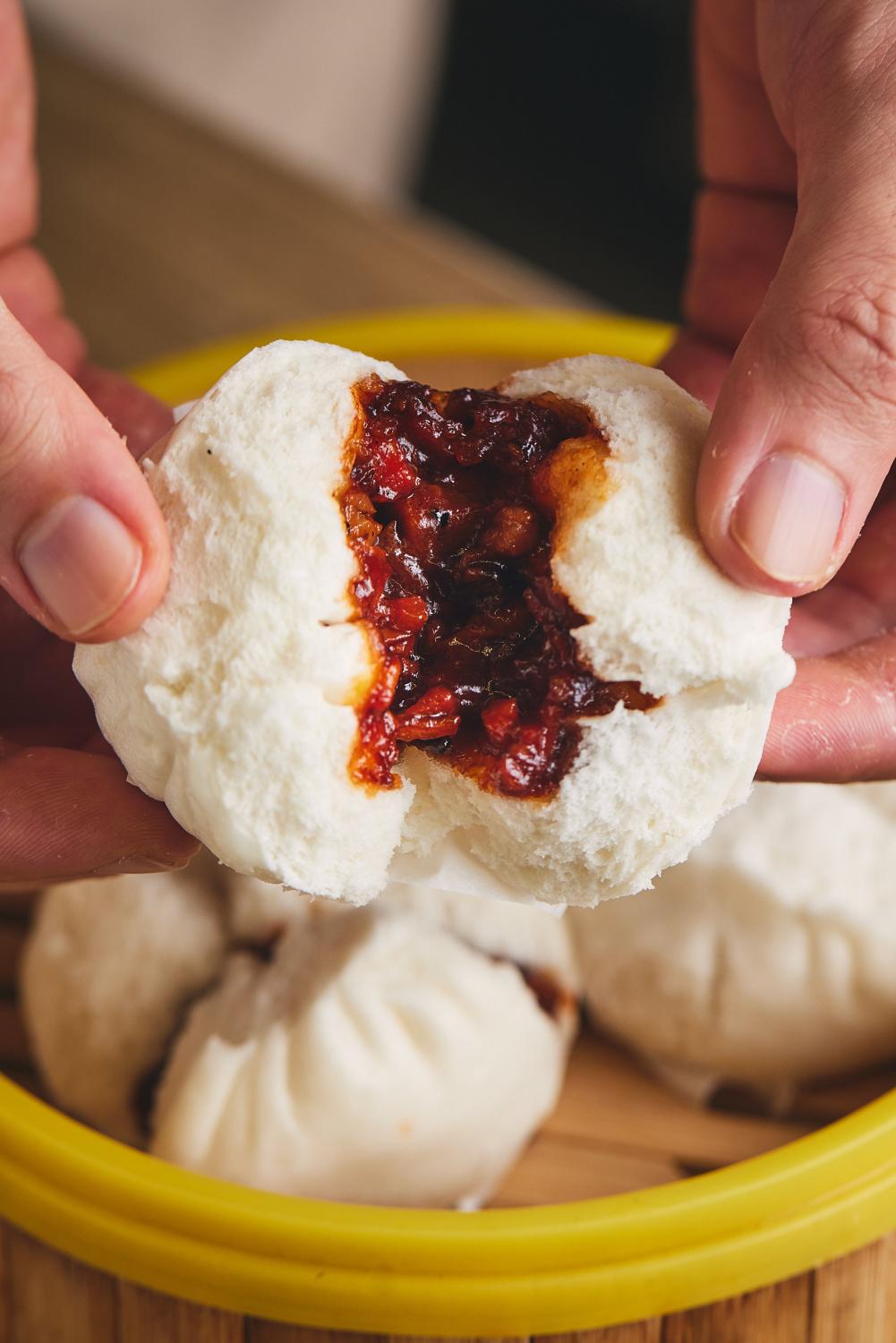 BBQ Pork Bun, $3.50 (8 DAYS Pick!)
Key to the hawkers' well-executed handmade Hong Kong-style char siew bao – more typically found in restaurants than kopitiams here – is a dough that Kwok Hoong ferments overnight with a yeast starter, resulting in a delicate, fluffy bun that 'bursts' open during steaming to reveal a moist, sultry dark red char siew filling that's pleasantly balanced between sweet and savoury. Delish. Comparable to those found in casual Chinese restaurants. 
Runny Custard Bun, $3.50 (8 DAYS Pick!)
Another bun not to be missed: their liu sha bao, featuring a molten salted egg custard core within a fairly soft yellow-hued bun.
That 'gram-worthy flow alone isn't just great for pics – the filling is lusciously smooth, just sweet enough and very moreish. We easily polish off two baos.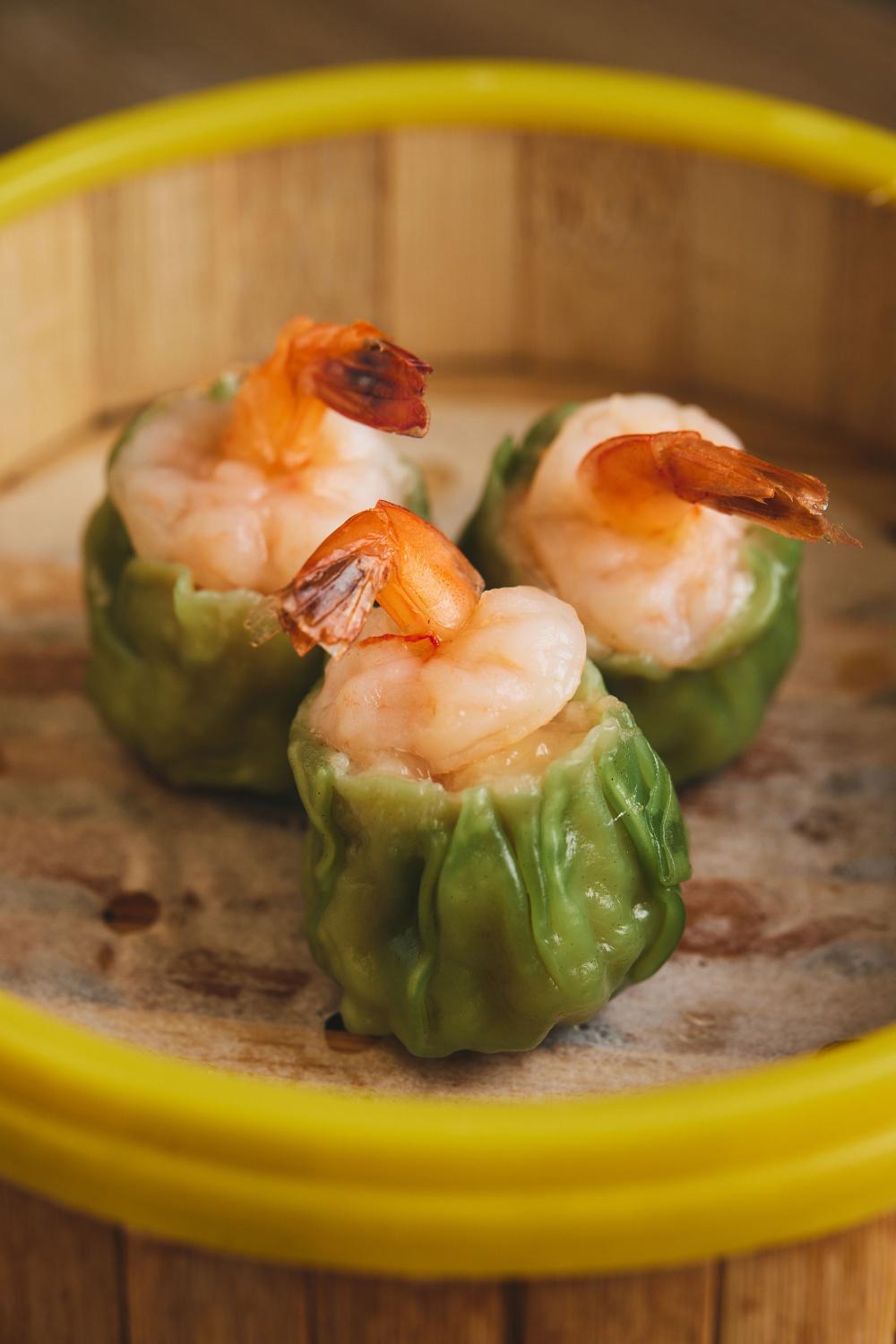 Prawn Siu Mai, $4.20
The stall's handcrafted siew mai are each stuffed with minced pork (mixed with some pork fat to keep 'em juicy) and diced mushrooms before being topped with a small springy prawn. While the dish is slightly pricier compared to other dim sum hawker stalls, we'd say it offers fair value considering its yumminess and presentation.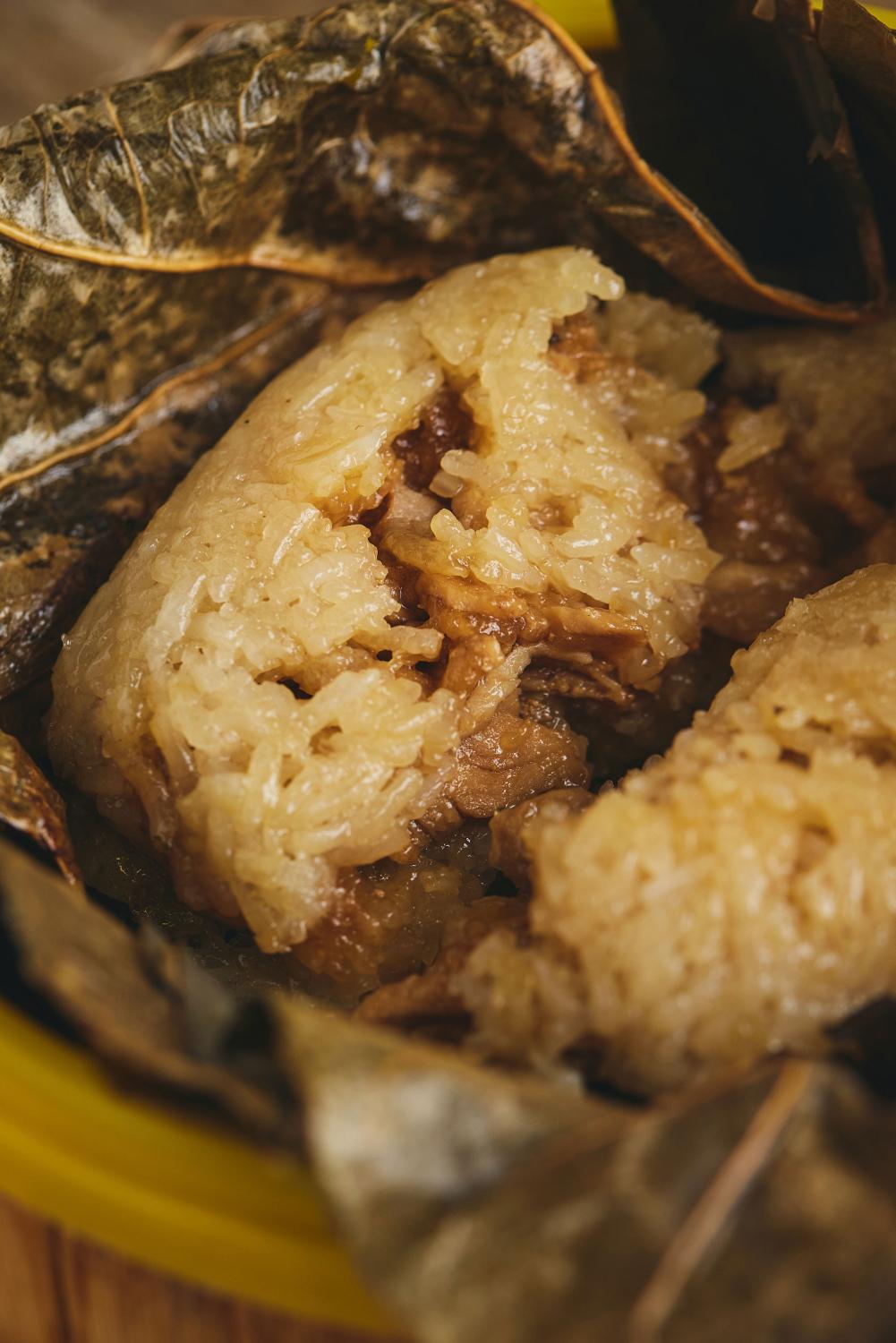 Glutinous Rice in Lotus Leaf, $3.50 (8 DAYS Pick!)
Unwrapping the steaming hot lotus leaf parcel reveals a rectangle of perfectly cooked glutinous rice with distinct, slightly chewy grains. It's well-seasoned too, with an undercurrent of umami from the accompanying dried shrimp, diced mushrooms and chicken thigh.
Deep-Fried Taro Dumpling, $3.50
A shatteringly crisp crust gives way to creamy mashed yam and a savoury filling comprising dried shrimp, diced mushrooms and chicken thigh cooked with dark soya sauce and "other seasonings". One of their best-sellers here, and we can see why.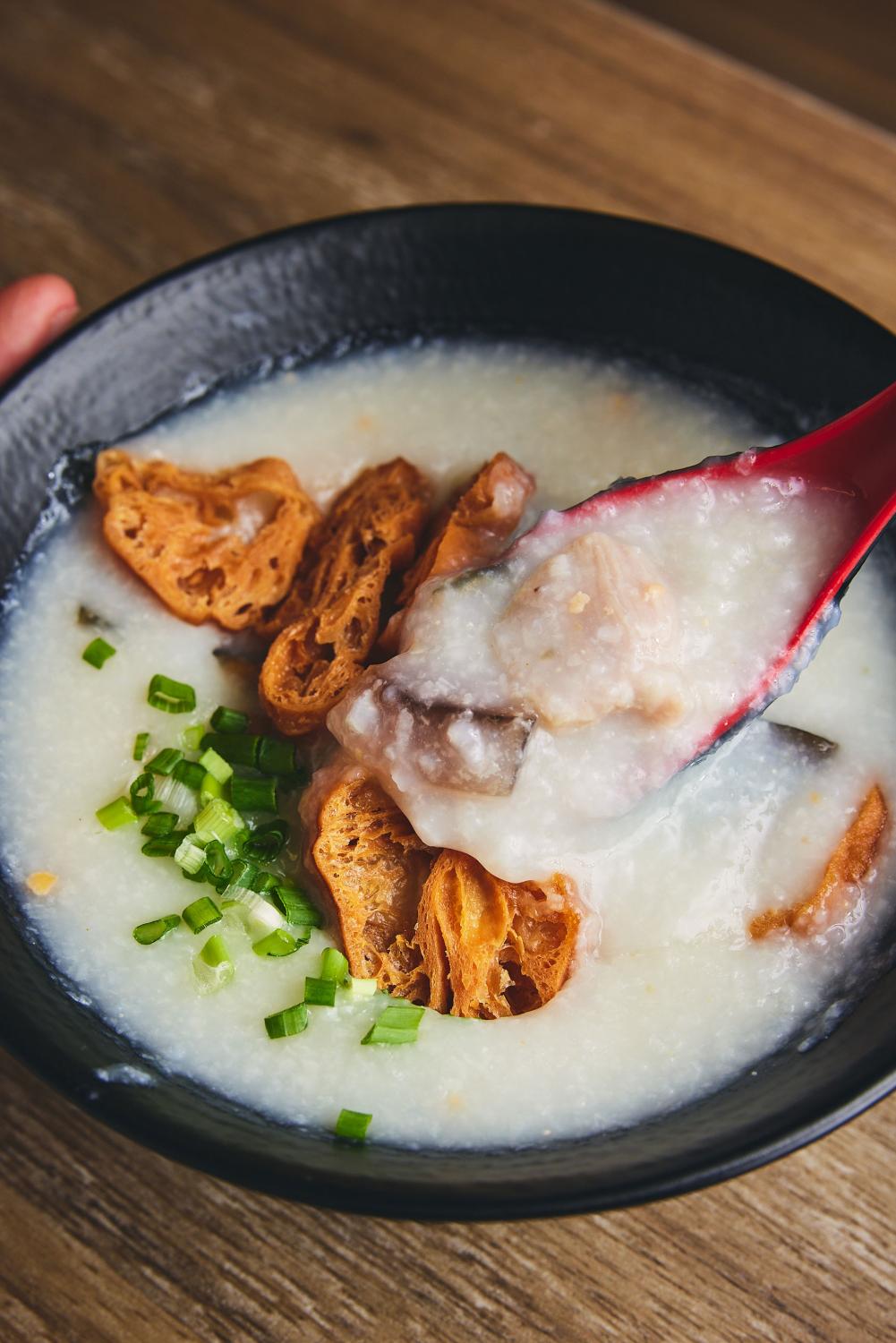 Century Egg & Pork Porridge, $3.50
The hawkers also offer a Cantonese-style jook made from a mix of Thai jasmine and glutinous rice, deliberately cooked for a shorter time so that the grains have more bite than your usual silky-smooth congee ("we adjusted our porridge based on feedback from residents here," explains Kwok Hoong).
The hearty bowl boasts plenty of lean pork slices and chunks of funky century egg, with some crunchy contrast from a garnish of deep-fried you tiao. Worth ordering, especially during this bout of chilly weather.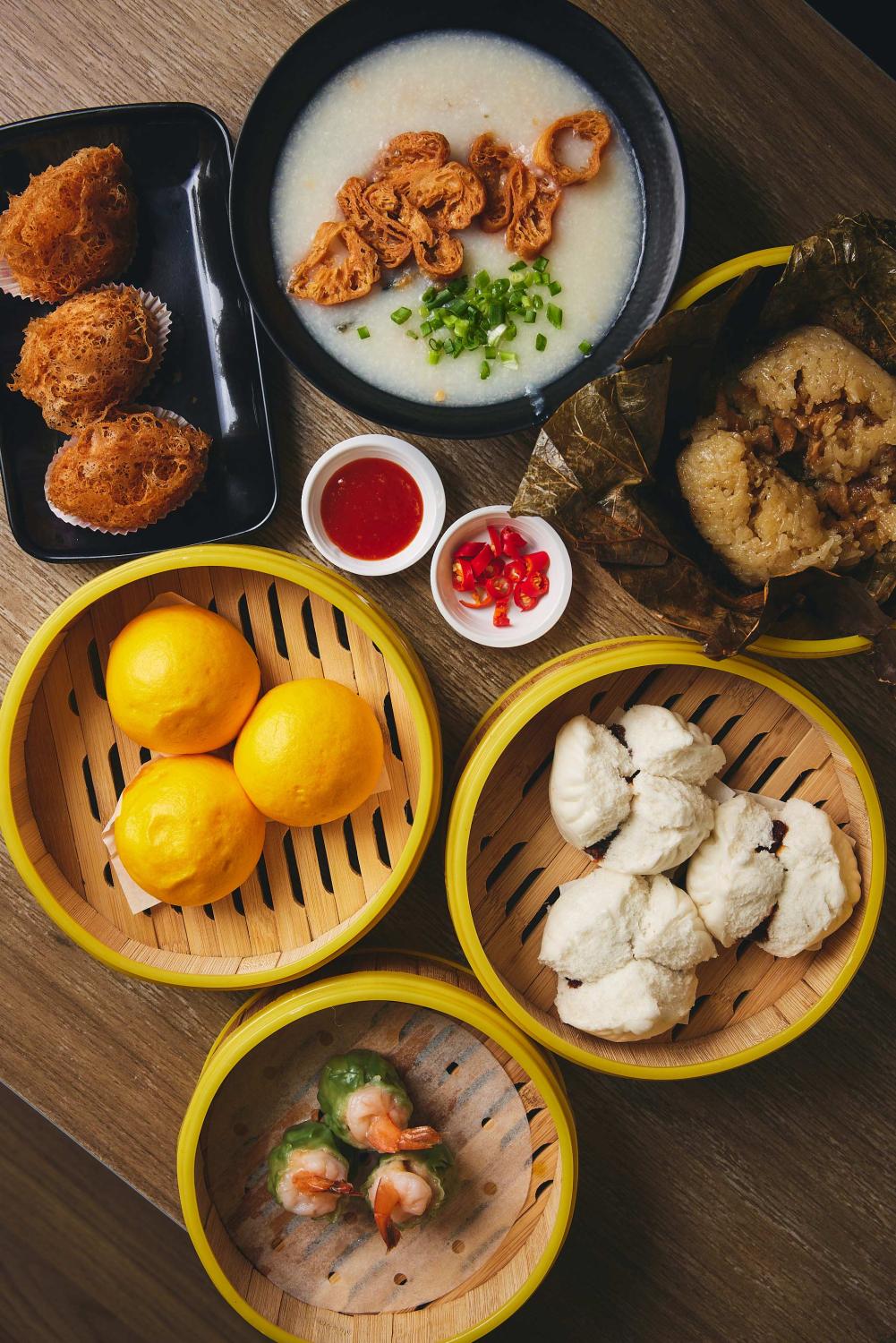 Bottom line
Twin Star Dim Sum serves rather tasty handmade dim sum that's more refined than what you'll find in a typical hawker setting, which justifies its slightly steeper prices. The steamed char siew and salted egg custard buns are especially lovely, as is the perfectly steamed glutinous rice wrapped in lotus leaves.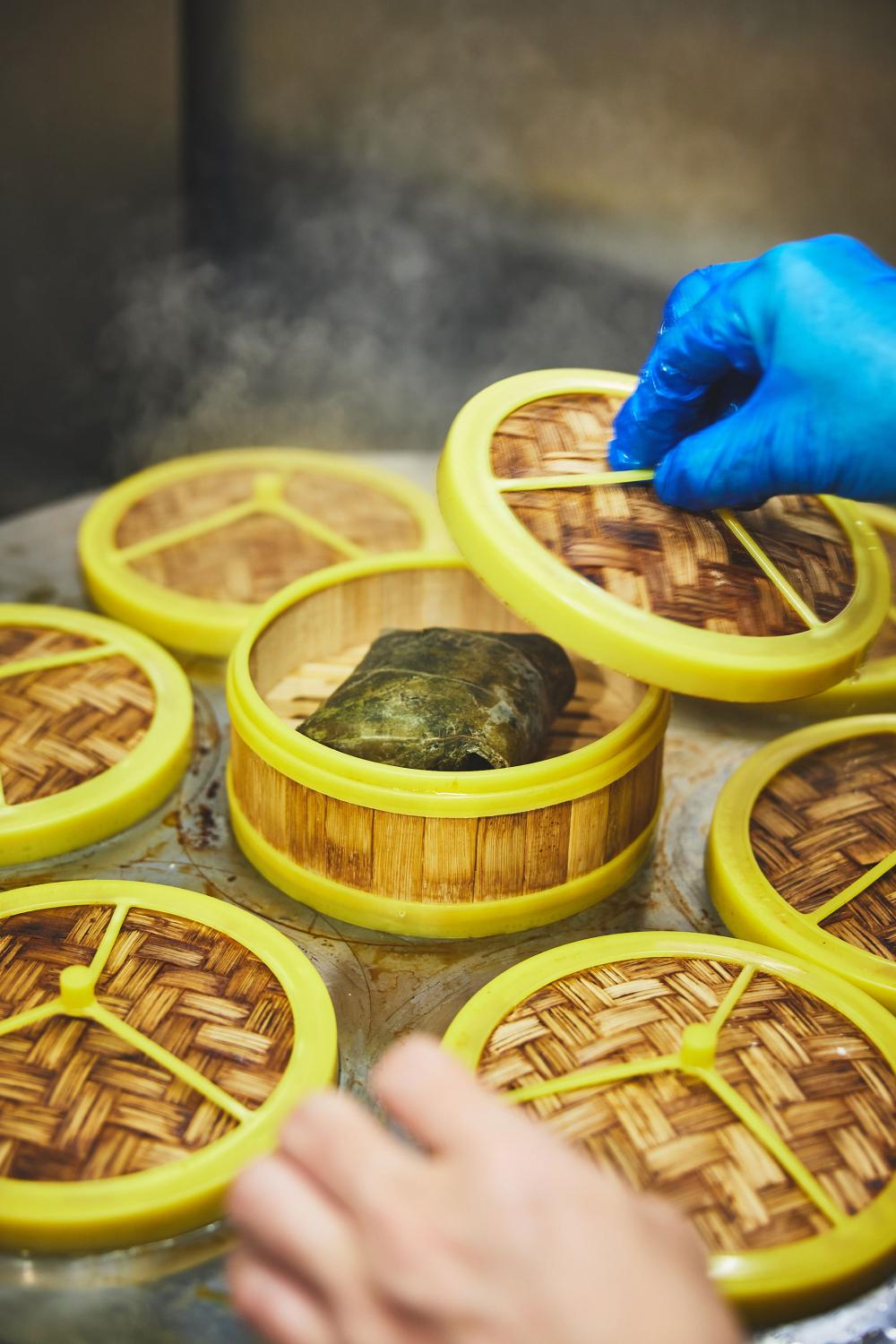 The details
Twin Star Dim Sum is at #01-380, Blk 732 Yishun Ave 5, S760732. Tel: 8838-7903. Open daily 8am – 7pm. More info via Facebook & Instagram.
Photos: Alvin Teo
 8days is now on #tiktok! Follow us on www.tiktok.com/@8dayseat
No part of this story or photos can be reproduced without permission from 8days.sg.