Vernon A Hides His Clothes In The Balcony Of His S$1.45M Condo So His Wife Won't Scold Him For Shopping
To accommodate his T-shirt collection, the Class 95 DJ, who has more clothes than his influencer wife, plans to convert his son's nursery into his walk-in wardrobe.
It's only been seven months since Vernon A and his family moved into their Yio Chu Kang condo, which he bought for S$1.45 million, and already the Class 95 DJ is hatching plans to redesign one of the rooms.
When 8days.sg dropped by the four-bedroom resale unit, which Vernon, 49, shares with his wife, influencer and marketing manager Jayne Tham, 32, and three sons, Ethan, 19, Liam, three, and Niall, two, he gave us a tour of the space and revealed the inspiration behind the decor.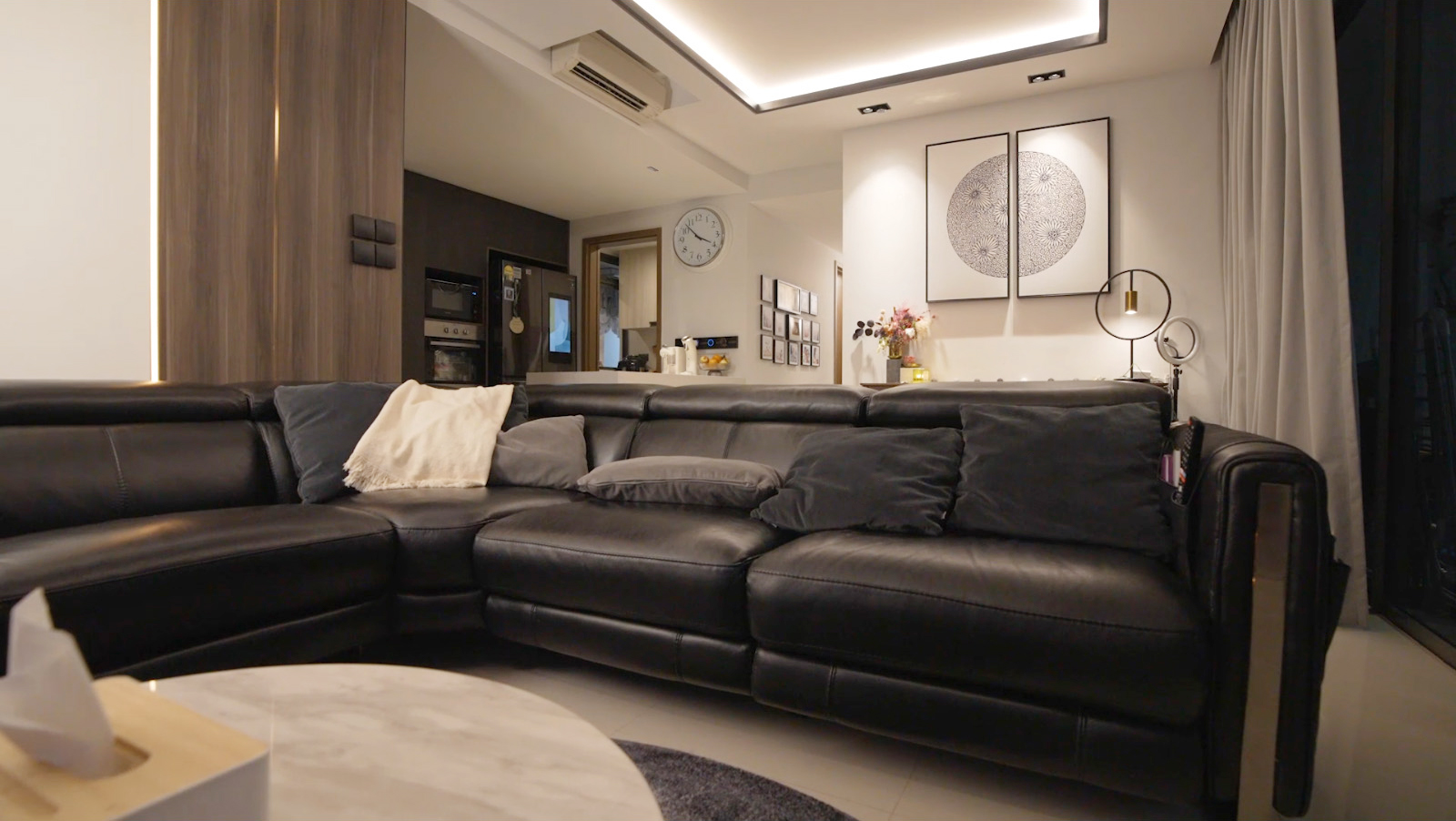 Decked with sleek wood furnishings and a muted colour palette, the 1,368 sq ft home is designed with a luxury resort vibe in mind.
"I wanted [to create a getaway] from the hustle and bustle," explains Vernon, who used to live five minutes from Orchard Road.
"When you come home, you want to feel relaxed, and that's why we chose a muted colour scheme that is nice, warm and not too jarring."
It took two-and-a-half months and around $100,000 – including furniture – to revamp the space.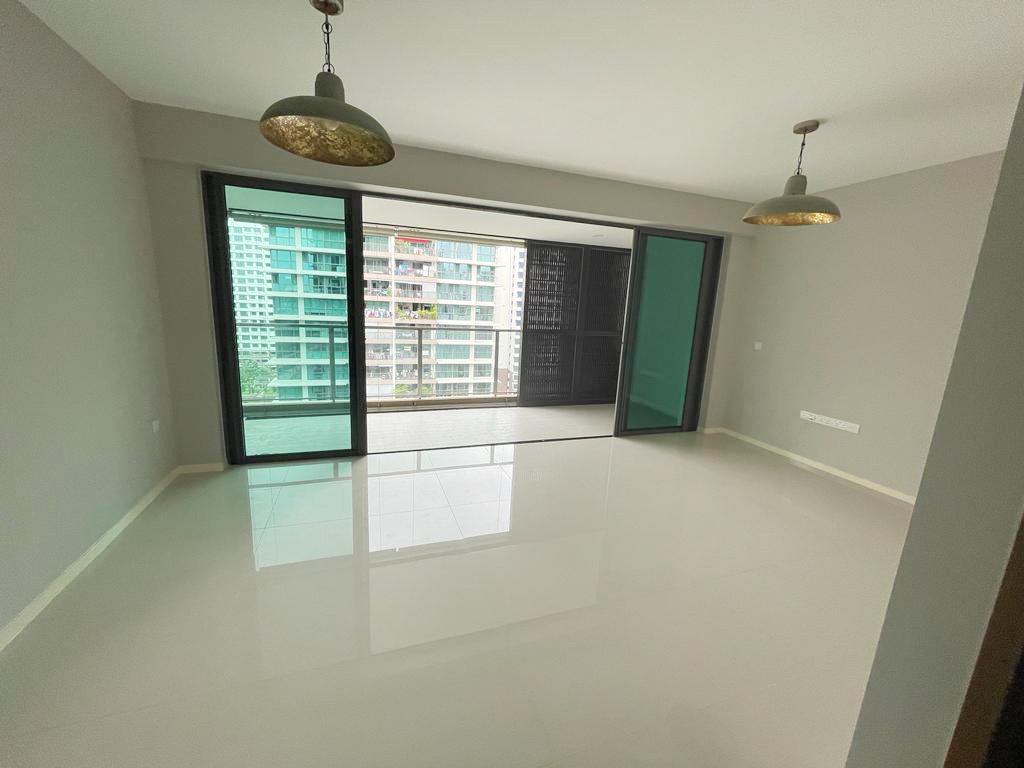 The living room pre-reno
The apartment was pretty much a "blank slate" when they bought it and minimal changes were made to it. They kept the floor tiles which were still in pretty good condition, and only hacked the toilet in the yard area to build more cabinet storage. The biggest change was to transform the guest toilet in the living area it into a hidden room.
As Vernon wanted the toilet to be a "hidden chamber", like those in Hogwarts from the Harry Potter series, the door was designed to merge completely with the black fluted wall panelling. When guests come over, Vernon tells his guests to "feel the wall to find the toilet", and he loves watching them literally touch the wall to locate it.
Before: The guest toilet used to be decked with beige tiles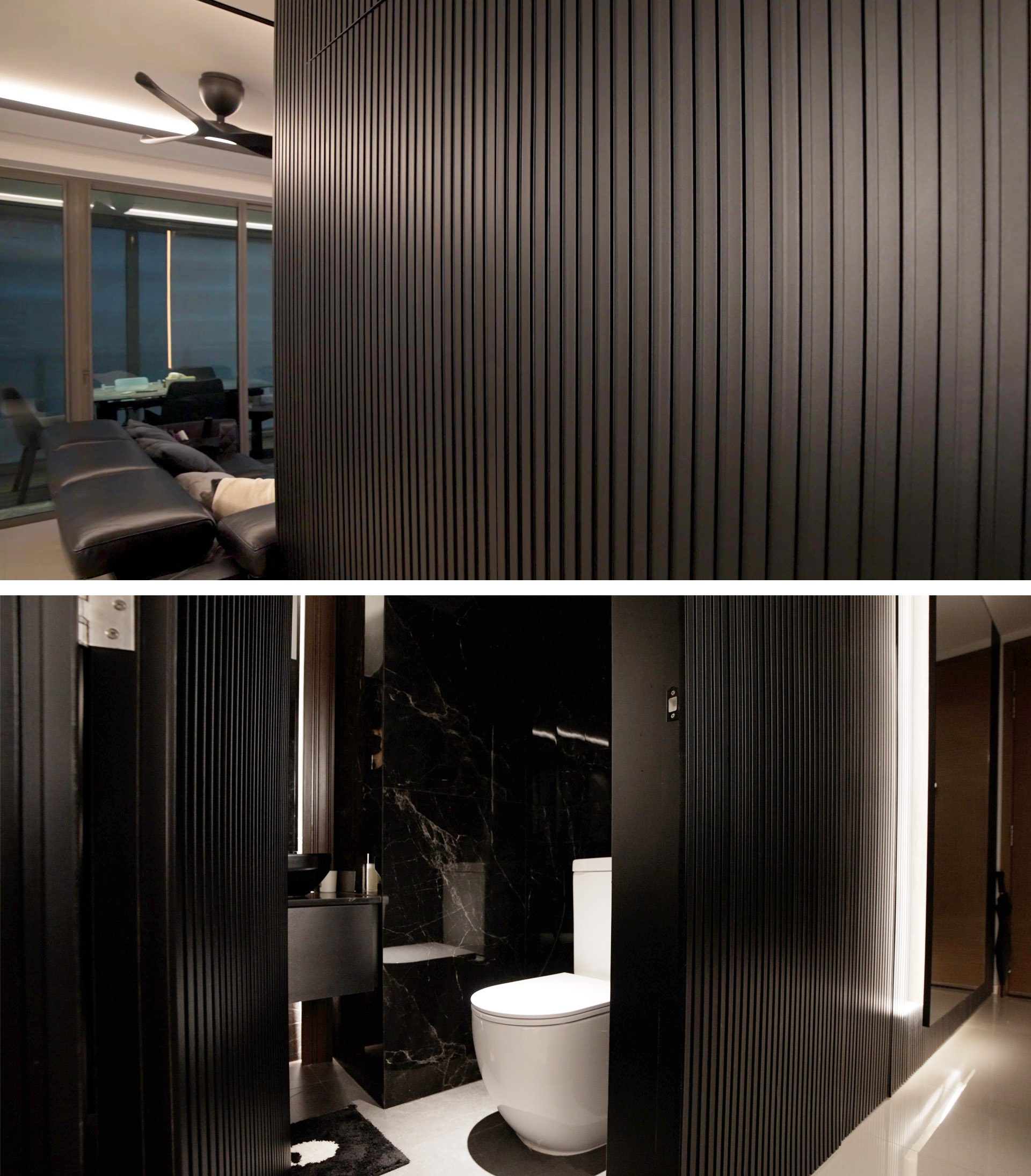 After: The elegant bathroom is hidden behind fluted wall panelling
This was also the only bathroom Vernon chose to overhaul by decking it with black tiles for a more elegant look. "Since it's a guest bathroom, we wanted it to look like that of a hotel," he says.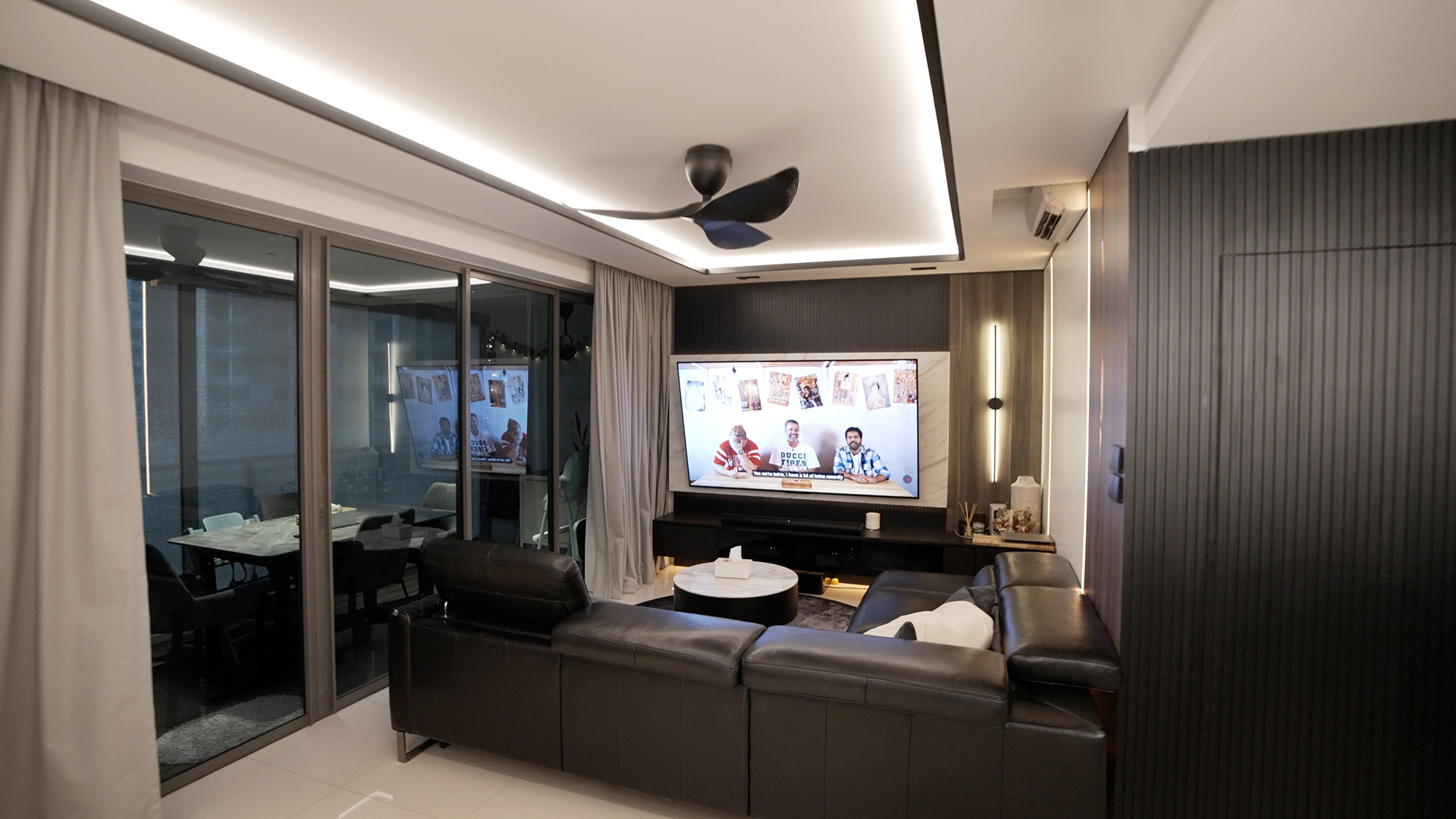 Vernon's 'home theatre' living room
When he's not working or running his F&B businesses, Vernon loves nothing more than watching TV, or playing games with his kids in the living room.
He even got himself a reclining electric sofa, so he can enjoy the "gold class" experience at home. "We have a smart lighting system called 'movie time' where all the lights are off and you're in the dark, just like a cinema," shares Vernon.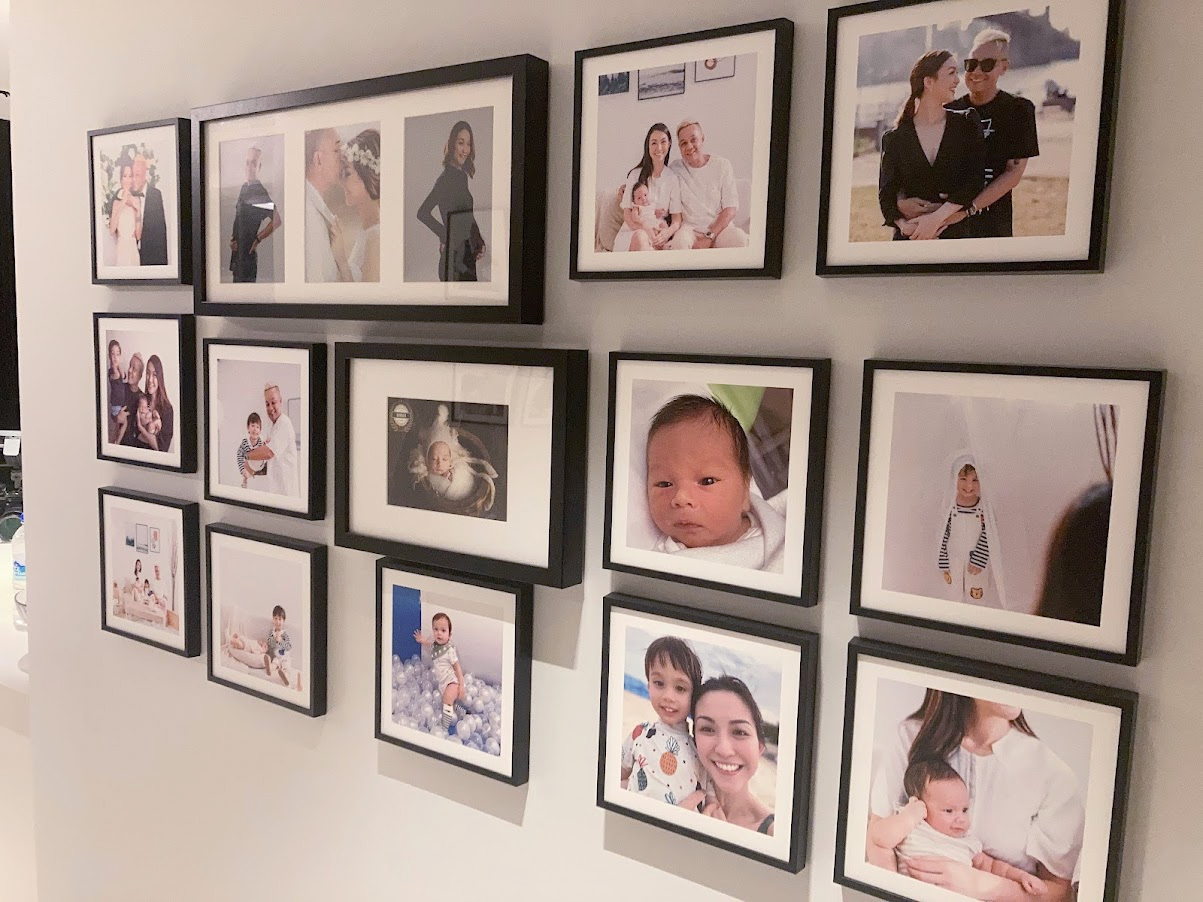 The family's gallery wall in the hallway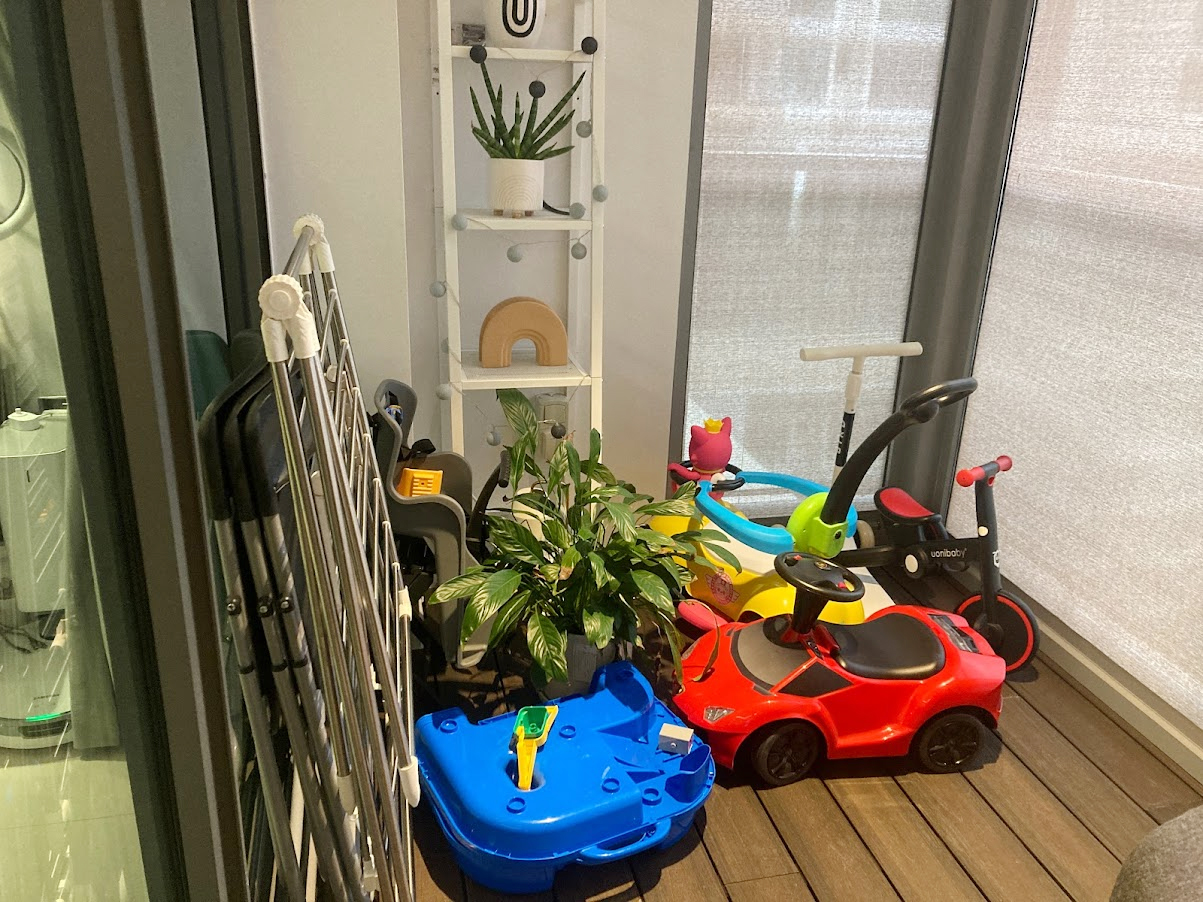 The kids' toys have taken over the house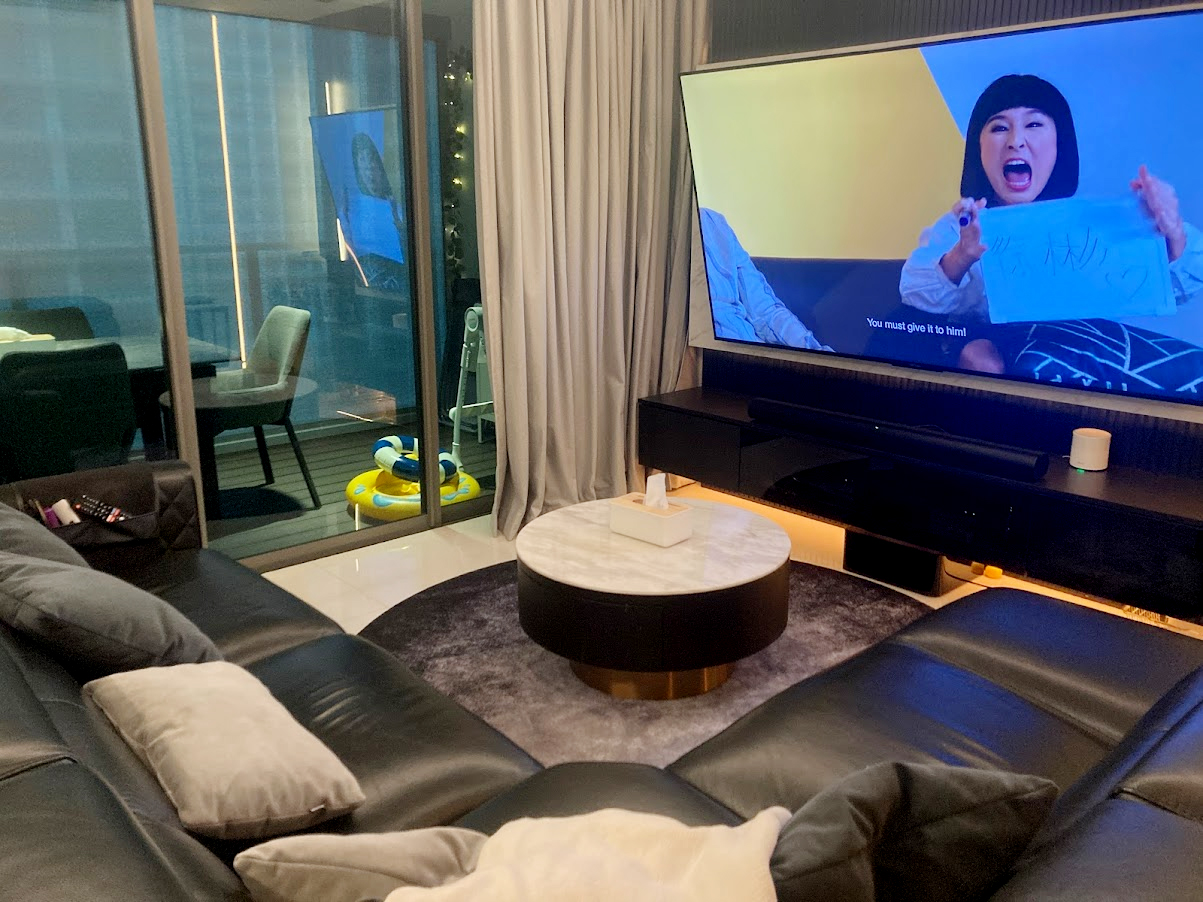 No sharp edges allowed in Vernon's home
However, like most homes with young children, it's all about the kids. "After becoming a parent, your personal touch tends to lean towards the kids. So our home is strewn with toys and stuff for them," says Vernon.
Much of the home was also designed with his young sons in mind. This includes having no sharp-cornered tables, a round coffee table, and invisible grilles on all windows.
"Kids being kids, they will still find ways to hurt themselves. But we try to make our home as childproof as possible without compromising too much on the design factor," he says.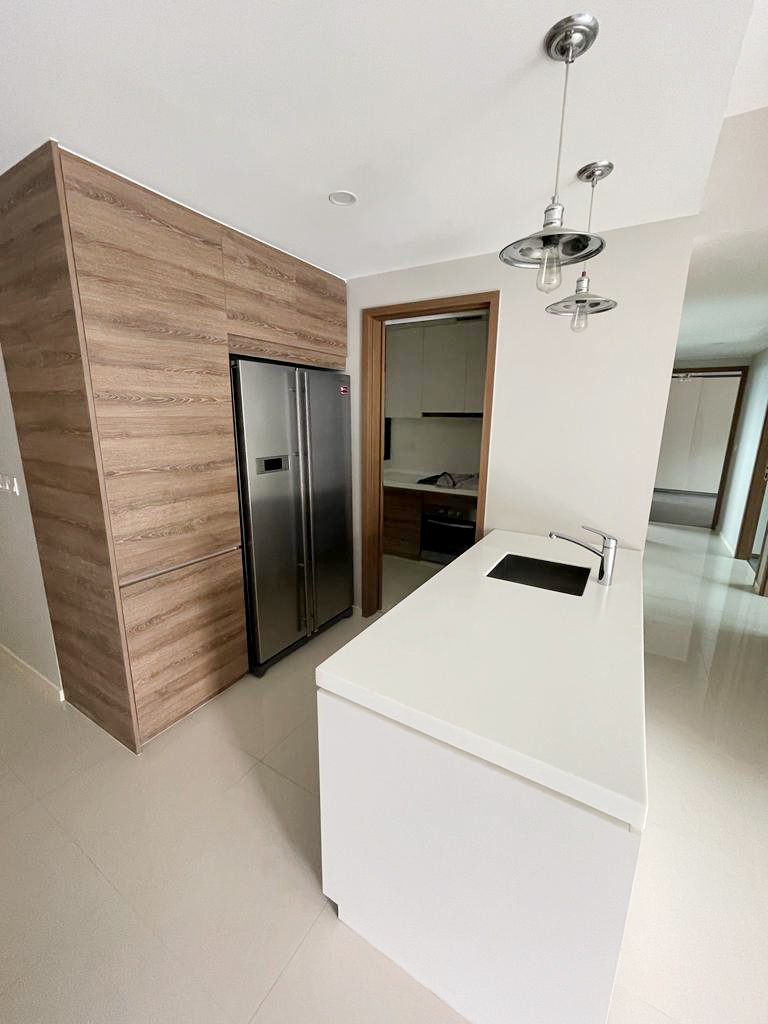 Before: The peninsula in the dry kitchen used to have a sink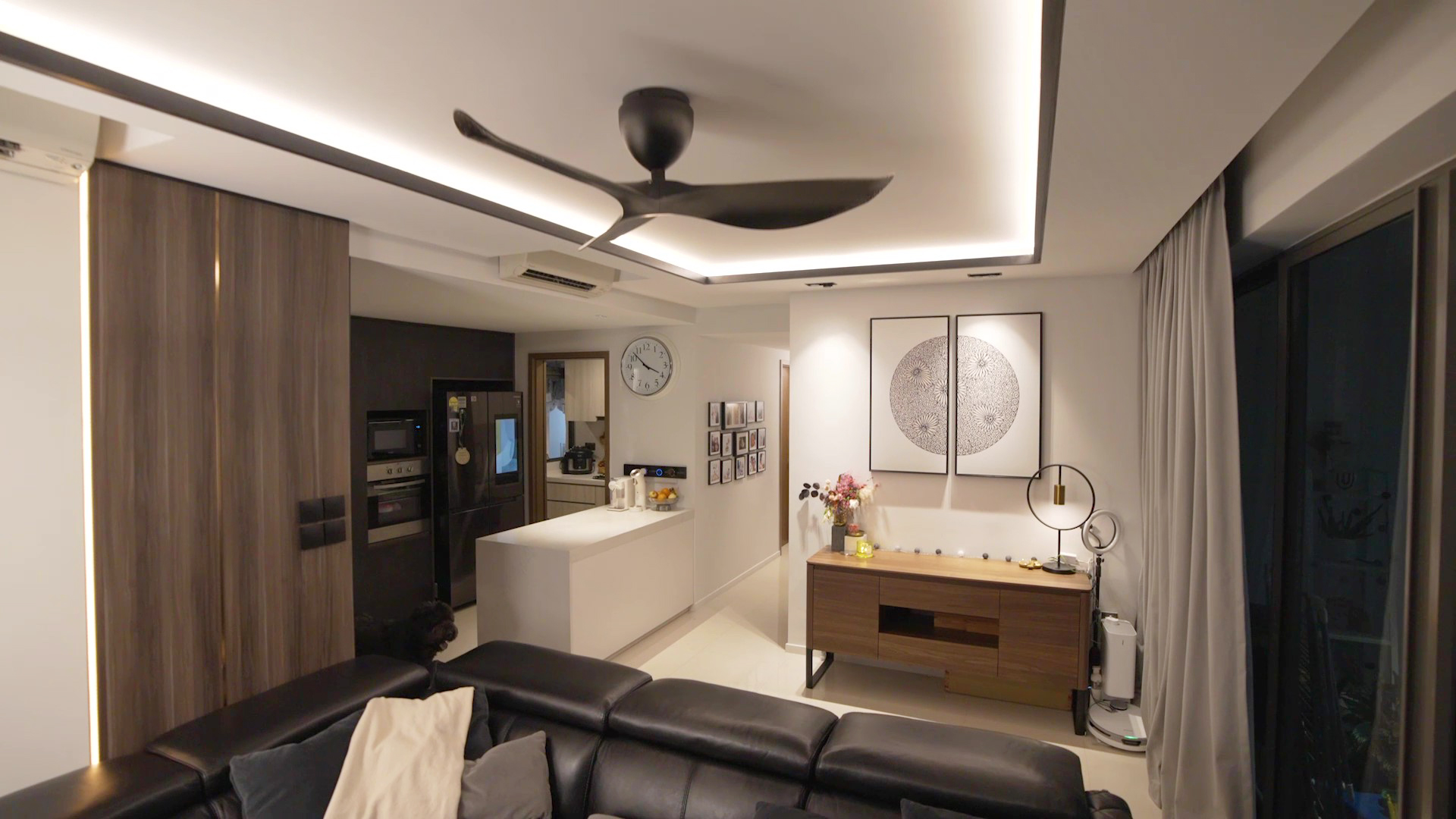 After: The peninsula serves as the family's breakfast bar
Little was done to the dry kitchen, except to remove the sink on the peninsula for more countertop space. This is also where the family has their breakfast.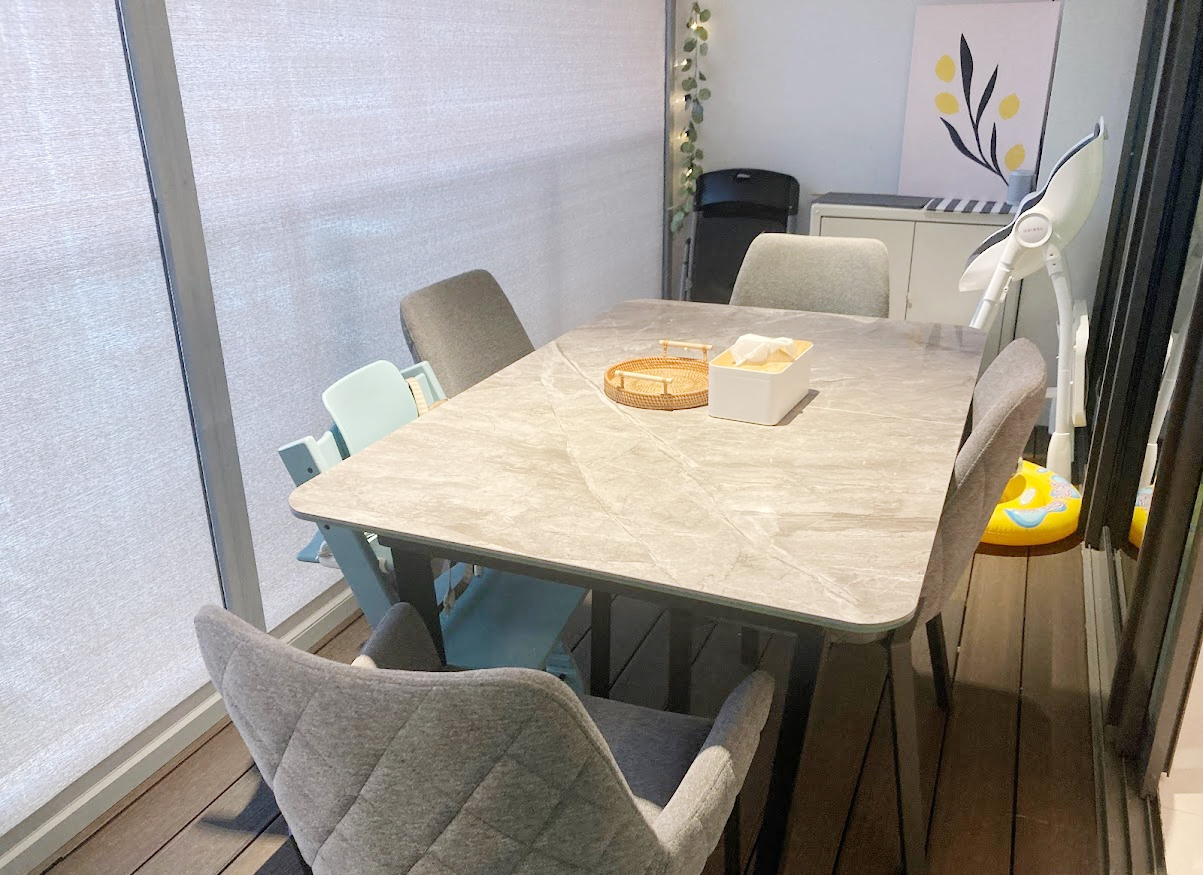 The balcony and dining area
The rest of the meals are enjoyed in the balcony, which also doubles up as their dining area.
The dining table was moved outdoors to create more space for the kids to run around inside.
Though if Vernon could have his way, he'd extend the living area into the balcony.
"We couldn't do this because of structural restrictions, but it would have been a much better use of the space," he explains.
Vernon shared that his on-air partner Justin Ang was so impressed with his new crib that the latter decided to get a place of his own.
"Justin and his wife have been living with his parents [all this while], but he was so inspired by our house that he bought his own. He's getting his keys at the end of the year, and his new house is just a straight road down from mine," Vernon says.
Vernon's mum — who currently lives with his brother in Punggol — is also loving the new place. "I suspect she's trying to wriggle her way into living here, as she recently retired and wants to spend more time with the grandkids," he quips.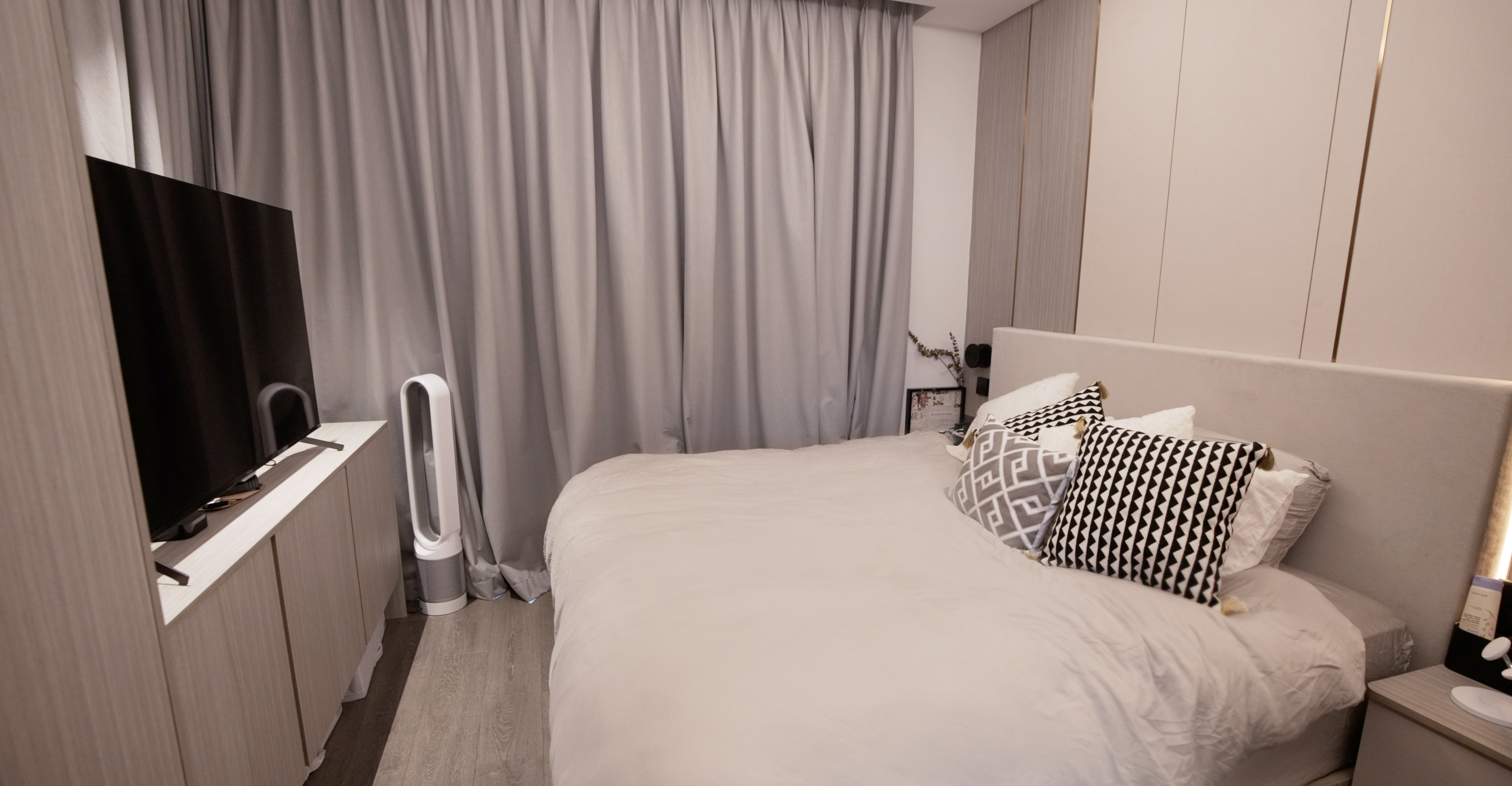 The master bedroom
As Vernon wakes up at 4am for his early morning radio shift, he has to take naps in the afternoons, so blackout curtains are essential to him getting a good rest.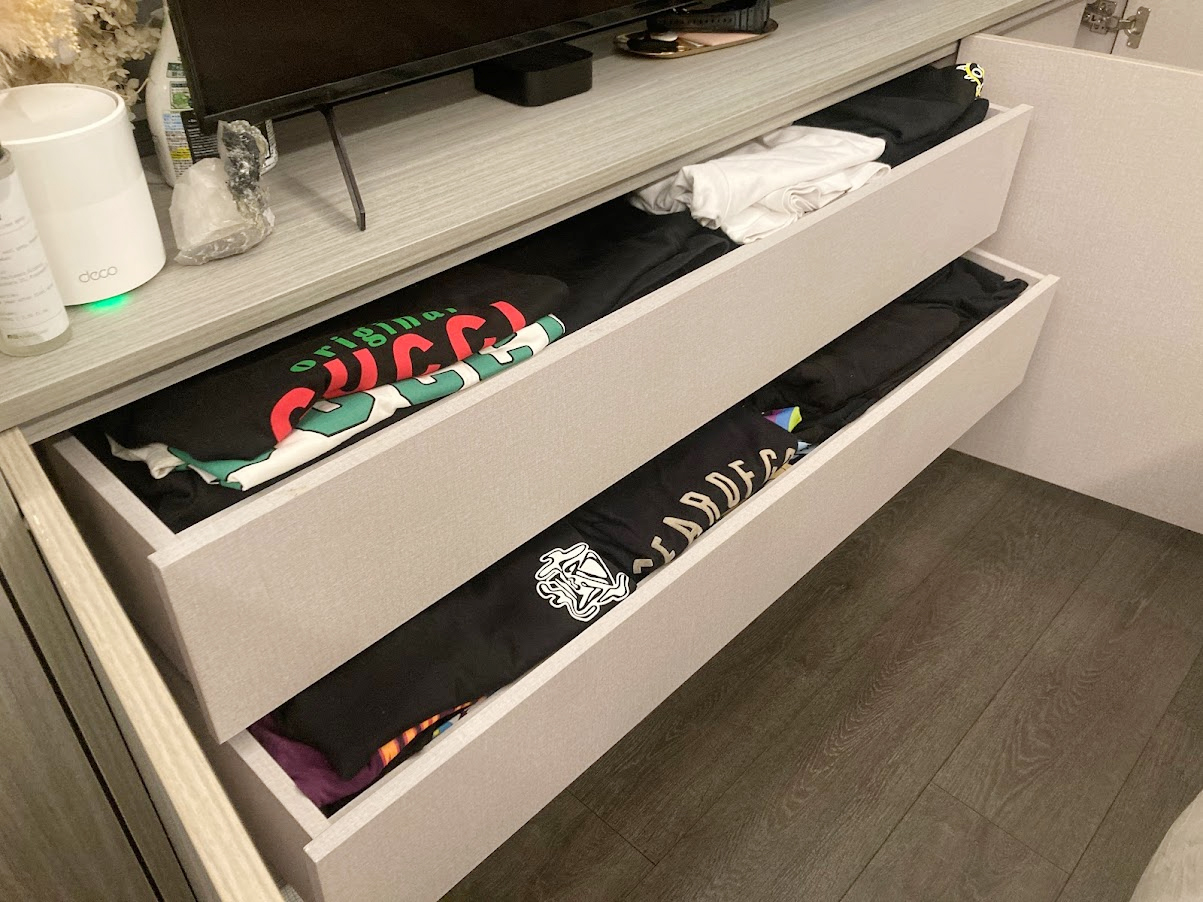 Too many clothes, too little space
Also essential to him is storage, though Vernon has clearly run out of it, judging from how he is stashing his clothes in any available space he can find.
According to the shopaholic, he would be able to afford a bigger house if he stopped buying T-shirts online on a weekly basis (that's how bad the habit is), so we're not surprised that he owns more clothes than Jayne. In fact, his ID built him an extra cabinet of drawers in the bedroom for his T-shirts, which is now filled to the brim and overflowing.
"The ones in my cabinet are just some of my shirts. They are actually all over the house. I hide them strategically, so my wife doesn't scold me for shopping so much. There are more in other cupboards, stacked up in boxes on my bedroom balcony and even in laundry baskets," he confesses.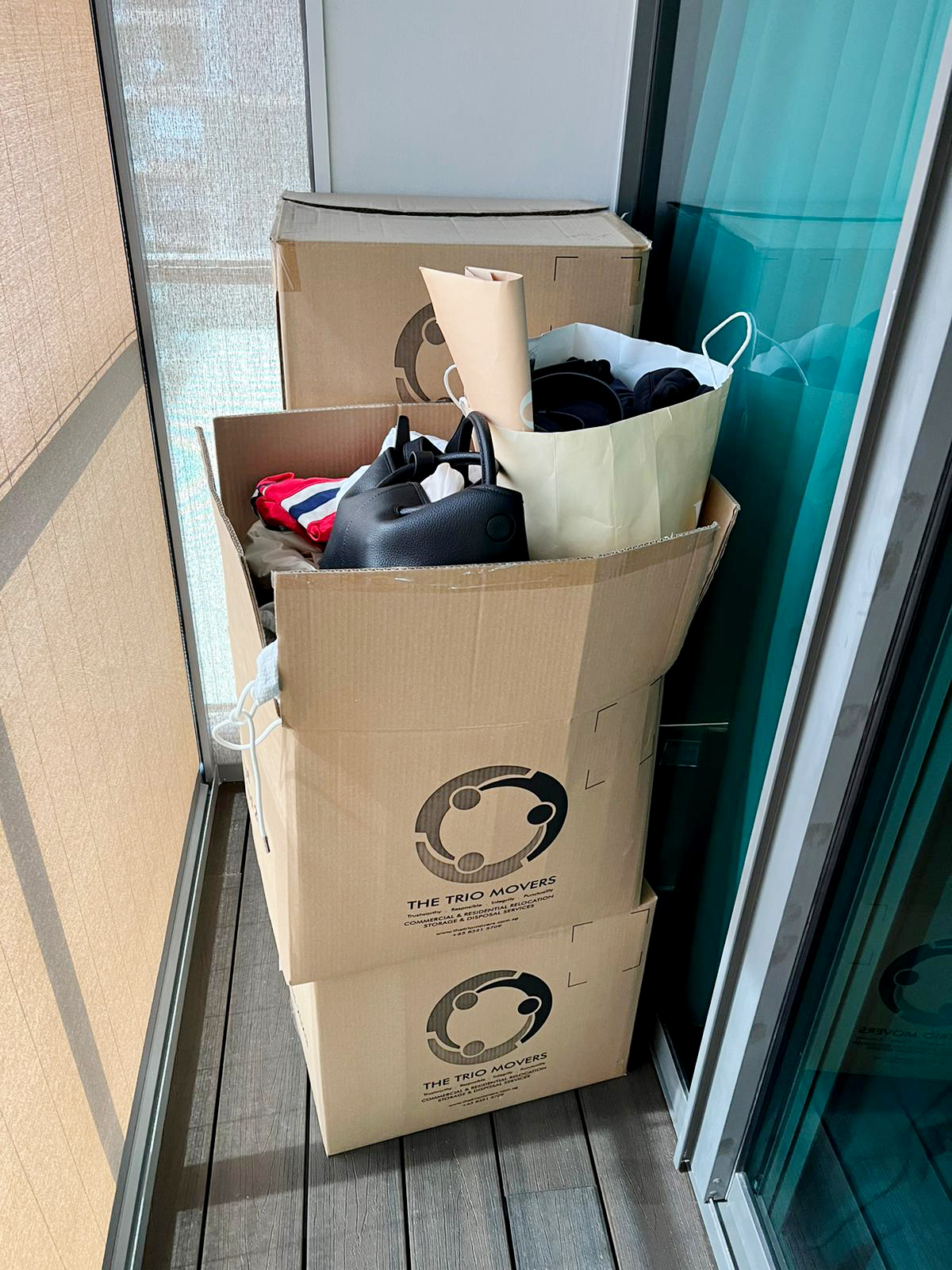 You can find his clothes all around the house, including his balcony.
Not that that's gonna stop him from acquiring more. In fact, he already has plans to turn Niall's nursery into a walk-in wardrobe to accommodate his growing collection.
As soon as Niall can keep regular sleeping hours, he'll be bunking with Liam, Vernon tells us.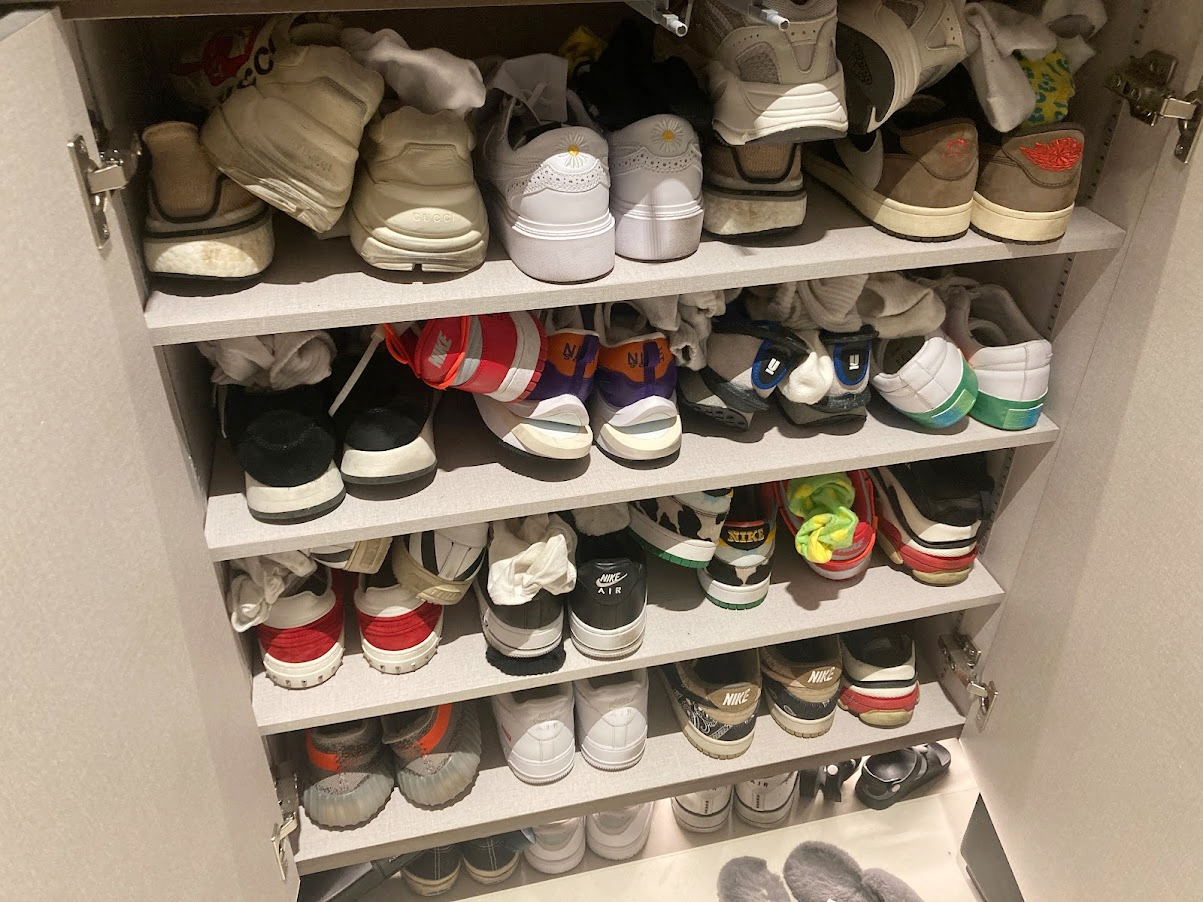 Vernon is also a huge sneakerhead
In addition to T-shirts, Vernon has a sizeable collection of shoes. These are stored in multiple shoe cabinets at the entrance to his home, as well as racks and boxes in his storeroom. "I only have two legs, but around 300 pairs of shoes," he jokes.
He insists he's not a collector though. "I don't get them to display or sell, I buy shoes I would actually wear. I wear a different pair every day," he says.
And yes — he also has more shoes than his wife.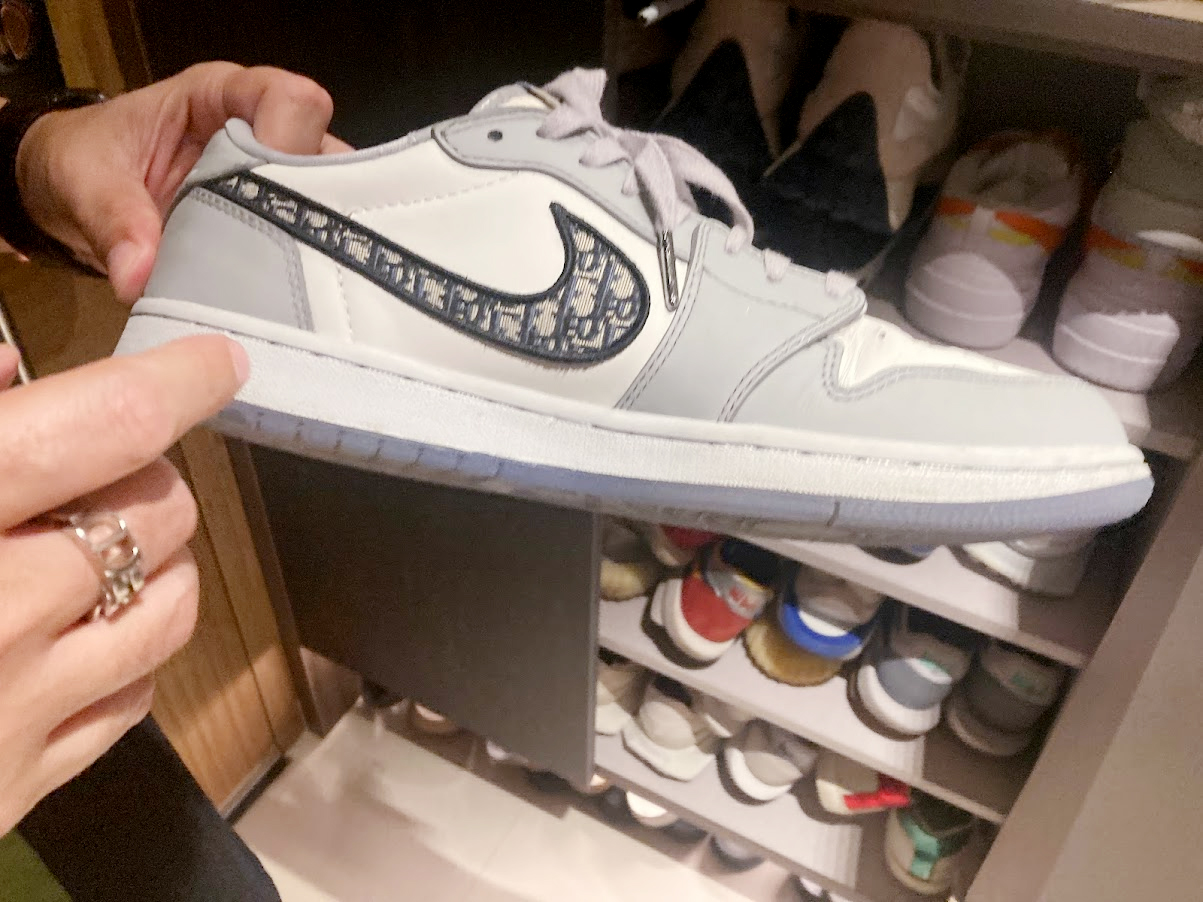 His favourite is this Dior x Nike Air Jordan 1, which cost him around $300, but is now valued at $6K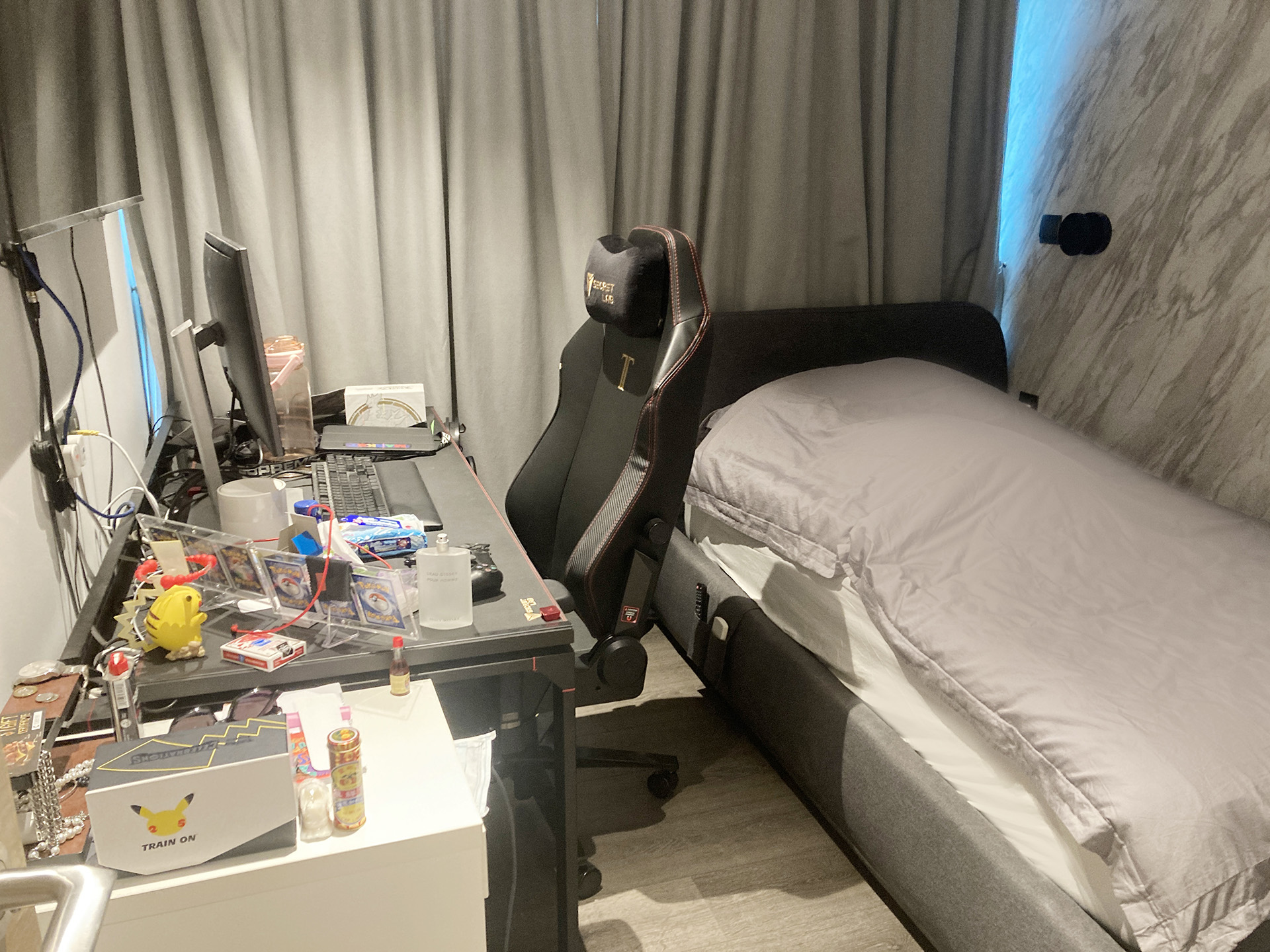 Vernon's eldest son Ethan's room is like a gamer's den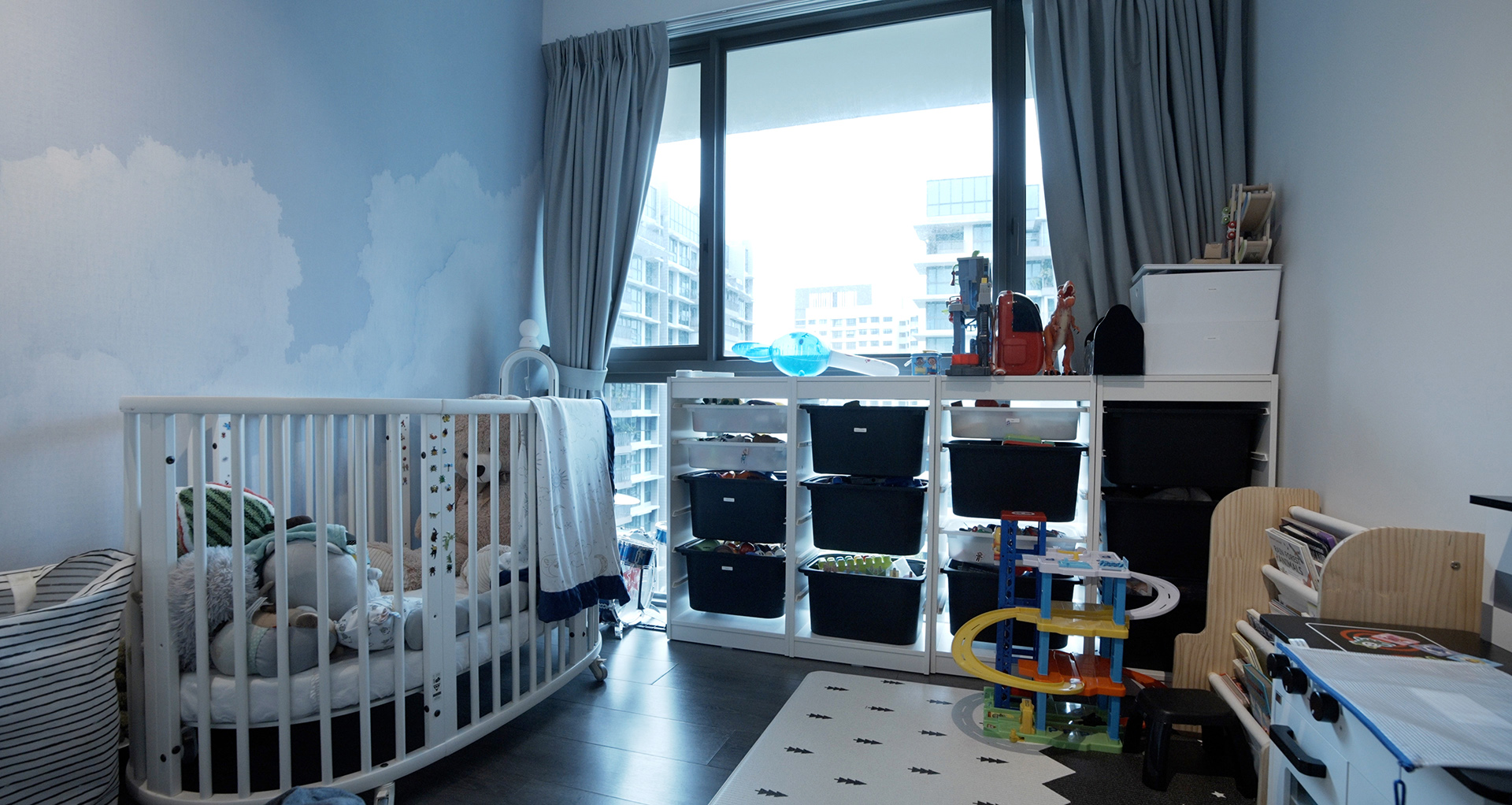 Liam's room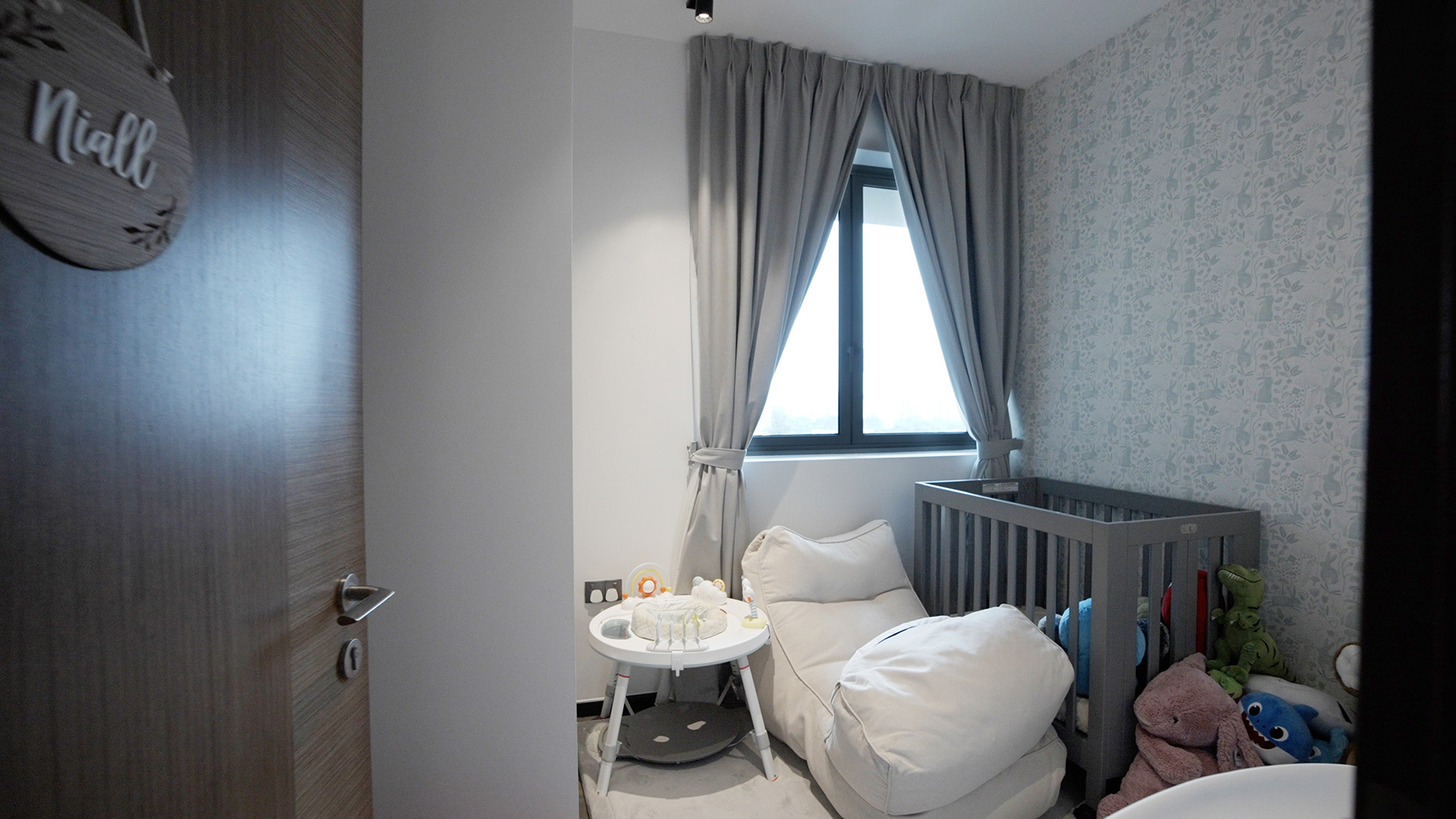 Niall's room, which is also Vernon's soon-to-be walk-in wardrobe.

Watch #JustSwipeLah for a tour of Vernon's home.