Vietnamese Housewife Becomes Appam Hawker After 'Accidental' Indian Stall Bid At Maxwell Food Centre
The hawker behind Mr Appam used to be a cook at Nam Nam restaurant and planned to sell Vietnamese grub. She ended up accidentally bidding for an Indian food stall instead.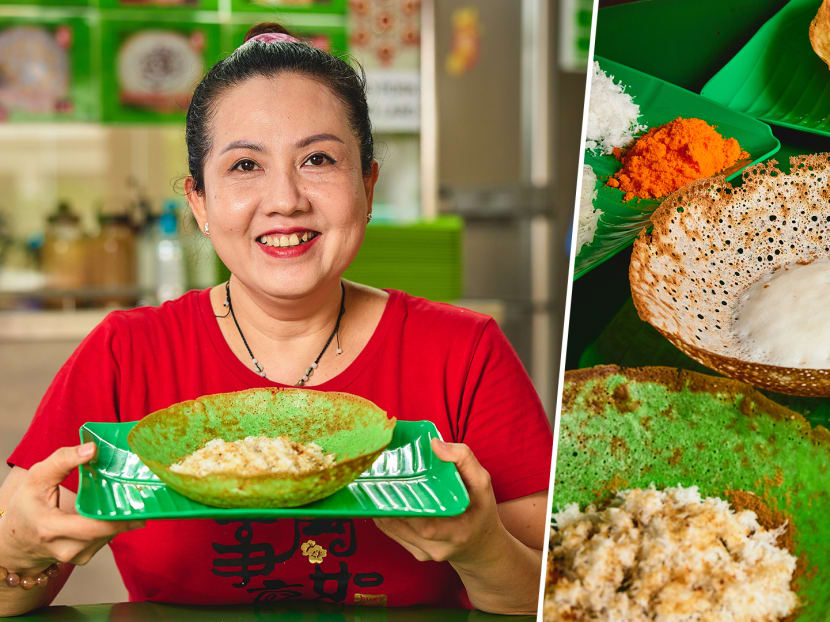 Along a row of Indian and halal food stalls at Maxwell Food Centre lies quite the unusual scene – a brightly-dressed, heavily-made up Vietnamese hawker busily making fresh appam, a traditional South Indian fermented rice pancake, for a handful of Chinese and Indian customers.
The stall is Mr Appam, opened last December by Vietnamese-born Singaporean PR Nguyen Thi Kieu Hanh, 45. In the span of four months, she went from being a homemaker who has never tried appam to a stall owner hawking the snack at the popular food haven. Kieu Hanh helms the stall alone and offers classic flavours such as 'princess appam' (with egg and cheese) as well as less common, fancier options like pandan-infused appam with grated coconut and plain appam topped with coconut ice cream.

All photos cannot be reproduced without permission from 8days.sg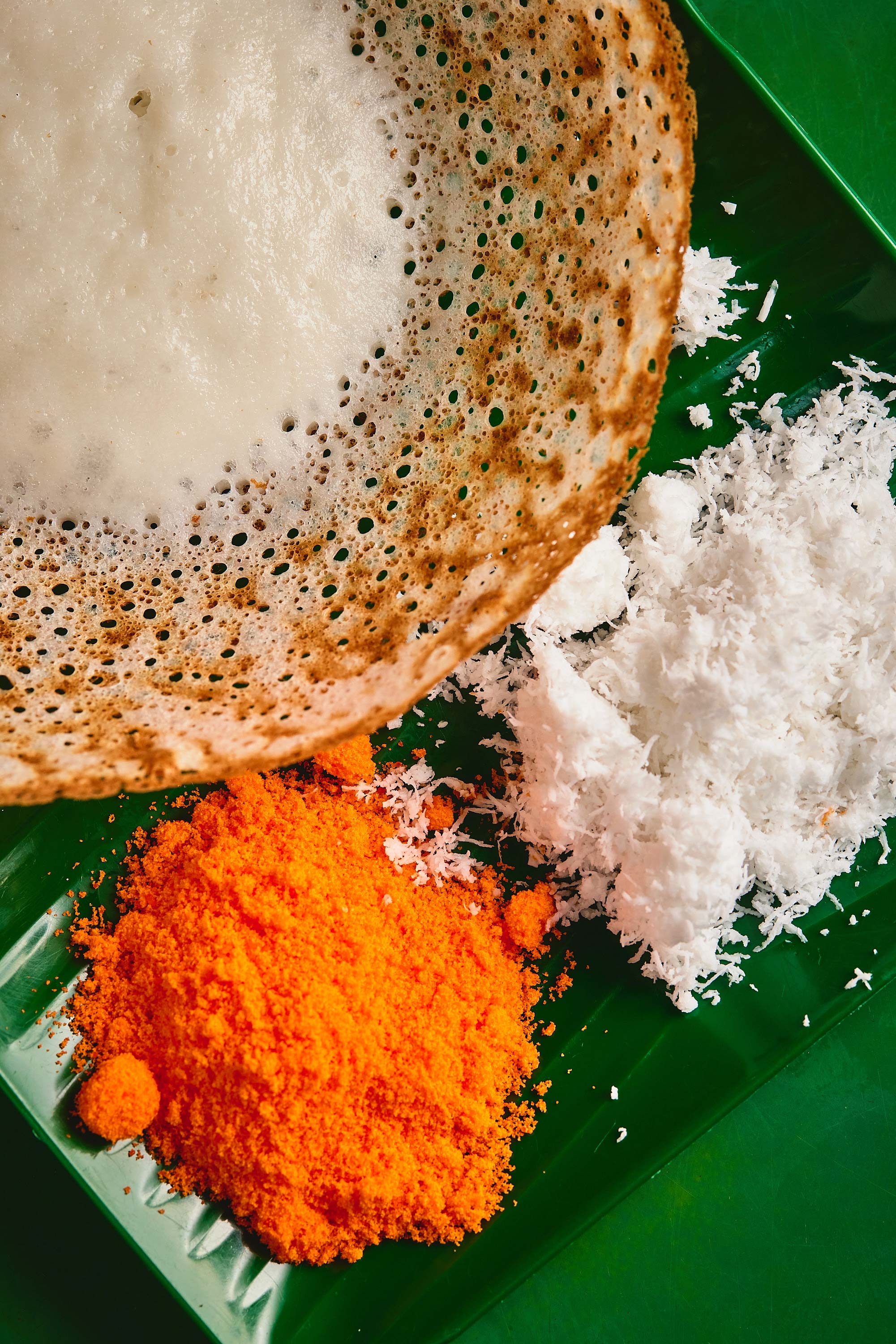 Opened stall after husband suffered a stroke
Before opening Mr Appam, Kieu Hanh was a homemaker raising two children aged 14 and 15. Her Singaporean husband suffered a stroke last year and has been unable to return to his job as a chef at a Japanese restaurant.
In order to make ends meet, Kieu Hanh – who worked as a cook at casual Vietnamese chain Nam Nam several years ago – initially planned to sell Vietnamese dishes like pho and spring rolls. Due to her unfamiliarity with the hawker stall tendering process, she ended up winning a bid for an Indian food stall at Maxwell Food Centre. Kieu Hanh was unable to change the stall type after realising the mistake, nor did she wish to forfeit the stall.
"[I realised] the stall cannot sell Vietnamese or Chinese food, only Indian food. I didn't know what to sell. My Indian friend Francis asked me to try selling appam. I thought it was a good idea as many people are already selling curry and rice dishes here [at Maxwell Food Centre]," she explains. 
Over Whatsapp, Francis Fernandez tells us his suggestion was prompted by childhood memories. "My parents are from Kerala (where the dish is popularised). I enjoyed appam with white sugar as a young boy and I thought it'd be a good idea to introduce it to more people here," he says.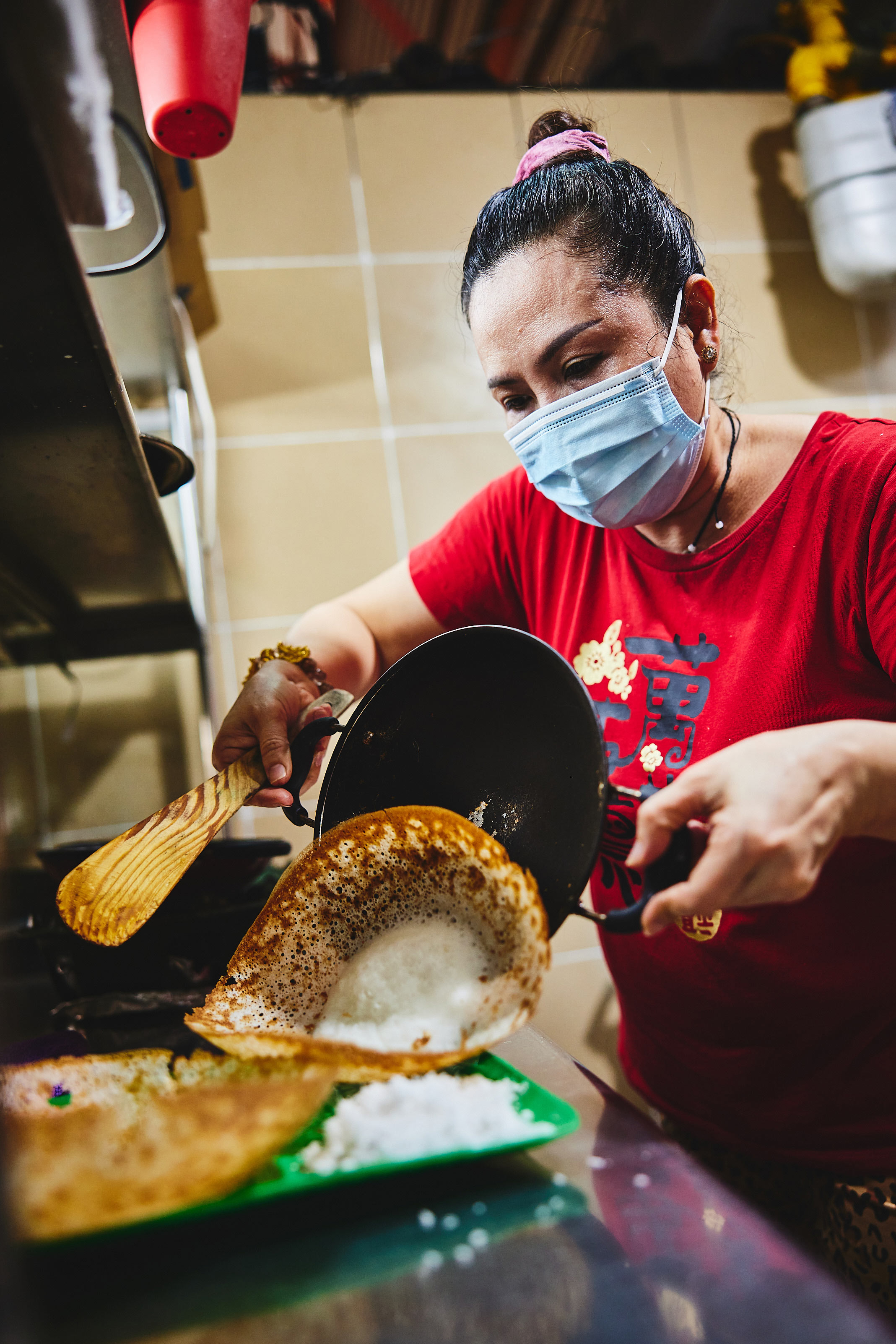 Accidental appam hawker
Made from fermented rice batter and coconut milk, appam is a pancake characterised by its lacy, crispy edges and a fluffy, spongy centre. The bowl-shaped snack is considered a staple in South India and Sri Lanka.

Kieu Hanh spent about four months learning and finalising her recipe. "I tried appam at many stalls. I watched YouTube videos. I went to my MP [Mr Janil Puthucheary, member of parliament for Pasir Ris-Punggol GRC] for help and he gave me some contacts [of chefs and cooks who may know how to make appam]," she says.

Eventually, Francis and Kieu Hanh connected with a consultant chef who was motivated to help Kieu Hanh, pro bono, after learning about her situation. We spoke to the Chinese chef, who wishes to remain anonymous, over the phone. "I told her I'm not a specialist in Indian cuisine, but with my background in F&B, I can pick up the basics from cookbooks and Internet recipes," says the chef.

The chef tested several appam recipes with Kieu Hanh at her place, and also provided budgeting advice as well as tips on where to buy appachatti (a small pan used to cook appam). "She was very enthusiastic and motivated from the start, so I felt that I had to give it my all to help her," he adds.
Inventive flavours like pandan coconut
While the average recipe calls for an eight to 12 hour fermentation, Kieu Hanh ferments her appam batter – a house-made blend of cooked and uncooked rice, coconut milk and yeast – for 24 hours. "I think it's nicer, more sour," she asserts. 
When conceptualising the menu, the hawker turned to min jiang kueh stalls that offer inventive flavours for inspiration. "I want more people to try my food, so I came up with new flavours," she explains. These include toppings like chocolate sauce, sliced banana and coconut ice cream.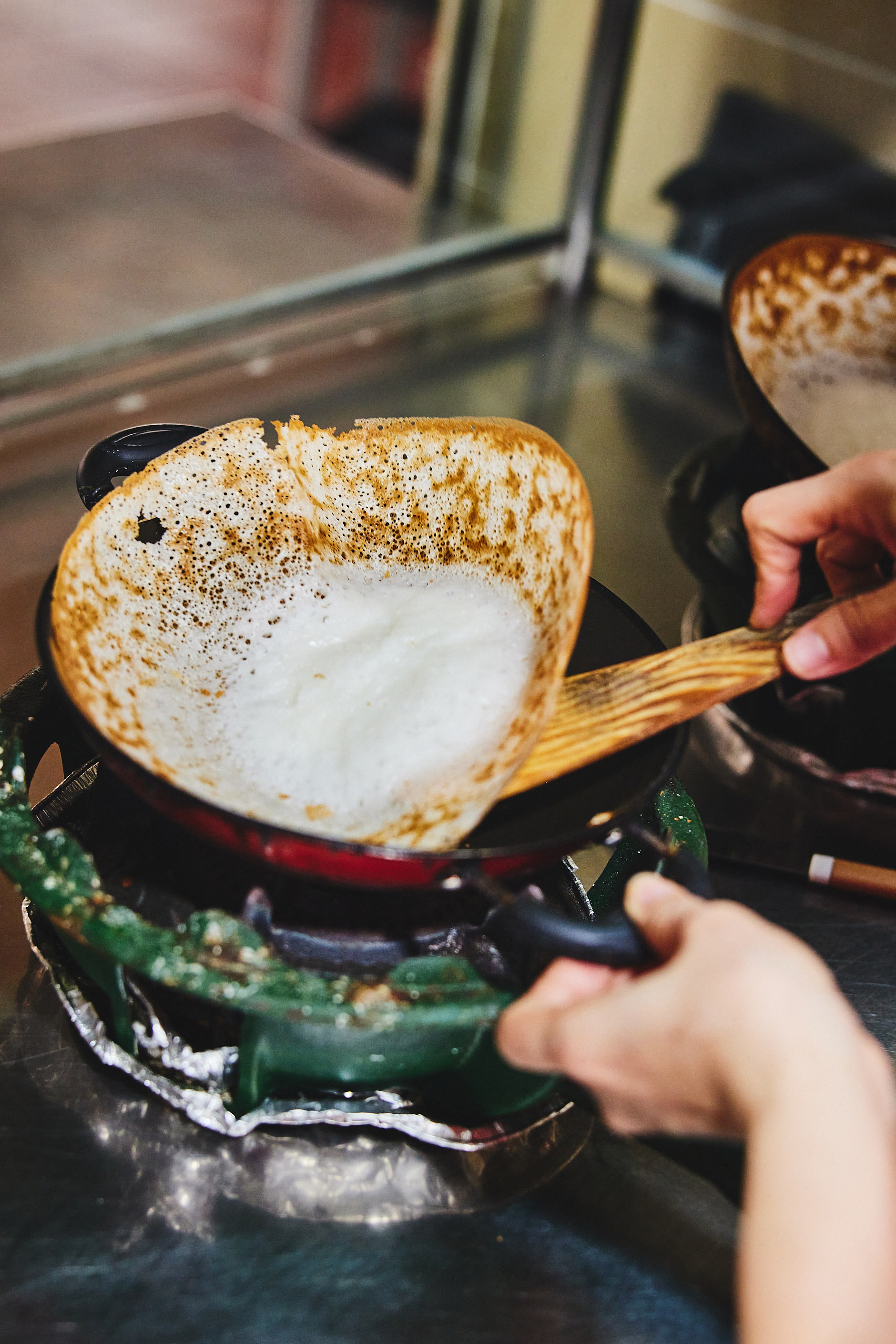 Optimistic outlook
The jovial hawker says business was slow at the start but has been gradually improving. At first, she was concerned that it'd be hard to attract customers as she is not an Indian hawker selling appam, but quickly found that people were drawn to her extensive menu and were willing to give her cooking a try.
She gets a mix of Indian and Chinese customers at her stall and says she is heartened to have received positive feedback from most of them. Her friend Francis finds her version to be authentic as well.
"Appam eat already not full, so people don't order [it] for lunch or dinner. I get more [customers during] at 3pm [during coffee breaks]," she shares. "I named the stall Mr Appam because I want to follow [the success of] Mr Bean," she quips. On busier days, such as weekends, Kieu Hanh sells about 100 appams daily.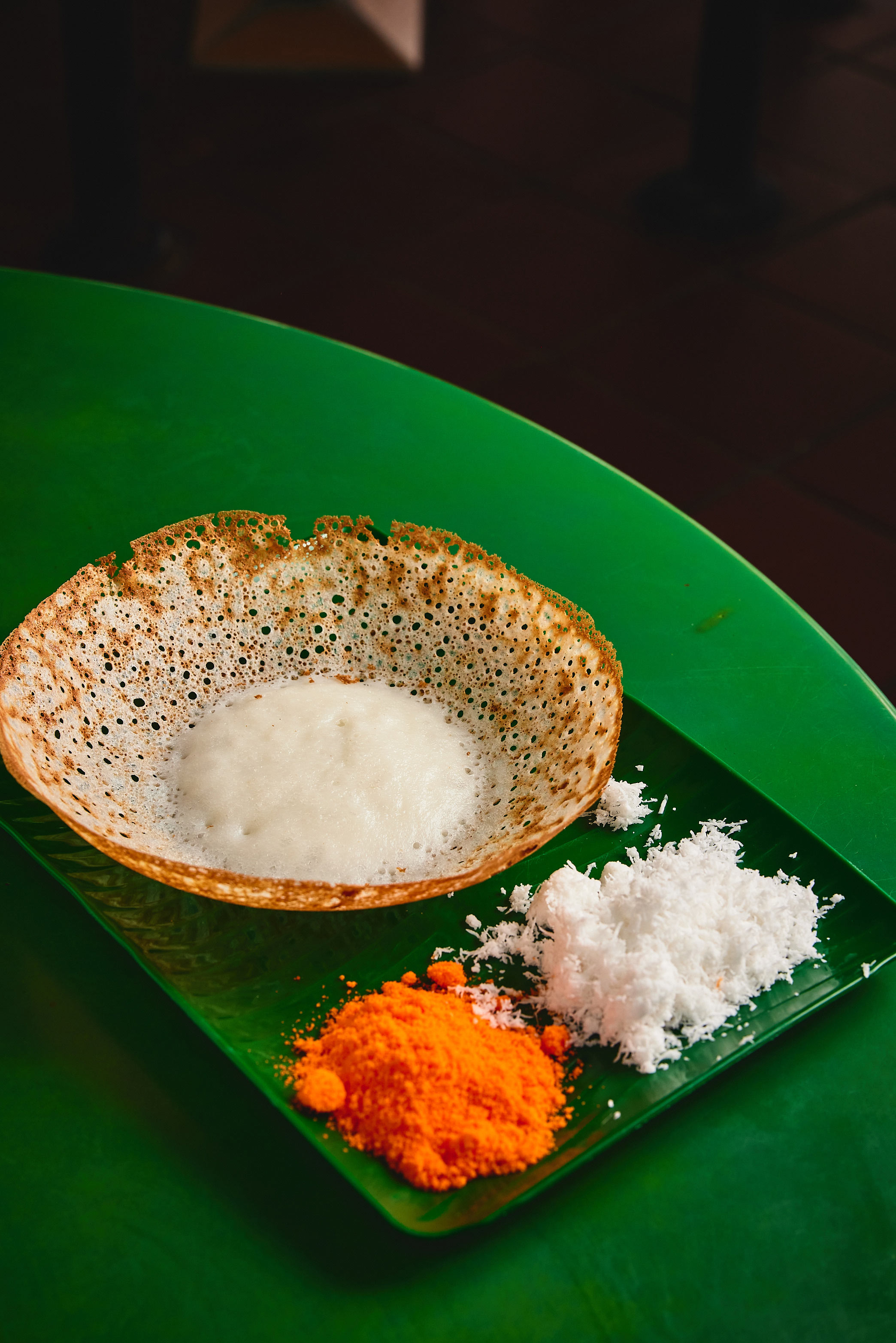 Original Appam, $3 for two pcs (8 DAYS Pick!)
This ticks all the boxes required of an appam: beautifully latticed edges, a thick spongy centre and a pleasant yeasty aroma. We enjoyed the stronger-than-usual tang in the fluffy centre, which offers a welcome balance to the sweeter, richer notes of coconut milk in the batter. Cooked to order, the edges held up surprisingly well – they remained crispy even after a 20-minute photoshoot. Paired simply with orange palm sugar and grated coconut, this is a simple, filling and tasty snack.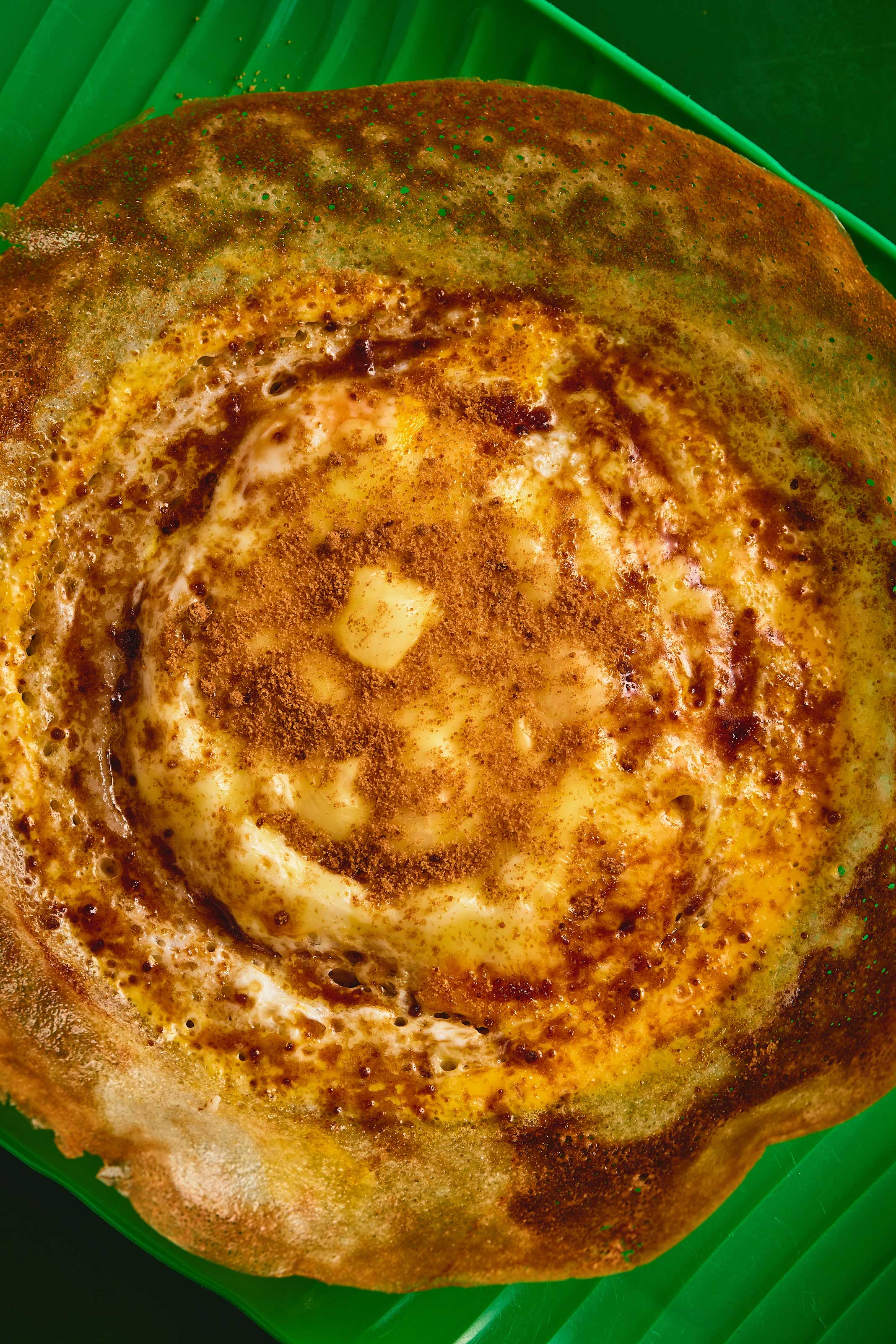 Princess Appam, $3.30 each (8 DAYS Pick!)
This comforting and hearty combination of egg and melted cheese, topped with a sprinkle of brown sugar, is perfect for breakfast. Kieu Hanh carefully smears margarine along the edges of the appam while it's cooking in the pan to give it an exceptionally shiok snap. Delish.
Peanut Appam, $2.80 each 
This tastes a little similar to min jiang kueh with peanut filling – the crunchy peanut-and-sugar topping offers a nice contrast to the pillowy centre of the appam, though we found the nuanced aroma of the pancake a little drowned out by the strong nutty flavour.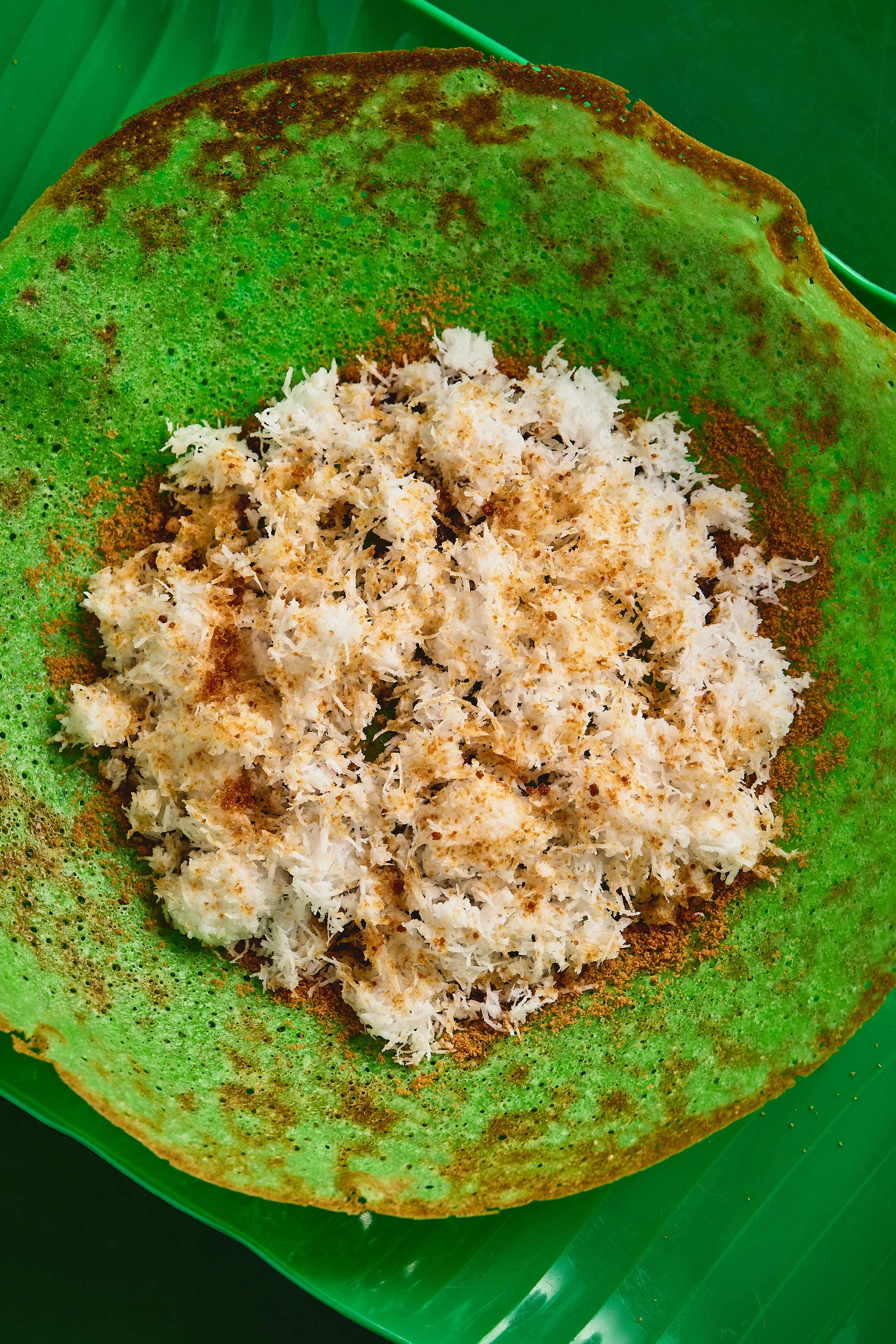 Pandan Appam, $2.80 each 
The pandan-infused batter and juicy grated coconut remind us of ondeh ondeh, sans gula melaka. A pretty, delightful teatime treat if you're craving something sweet.
Ice Cream Appam, $3.30 each
Inspired by Vietnamese coconut and banana ice cream, Kieu Hanh layers store-bought coconut ice cream, sliced banana and chopped peanuts into a flower-shaped mould that is then placed on a plain appam. An interesting, dessert-style take on appam that's worth trying.
Putu Mayam, $2.80 for two pcs
Kieu Hanh added putu mayam (steamed rice flour noodles) to her menu after noting that some appam stalls sold  this traditional snack as well. She steams the store-bought strands on a large piece of banana leaf to lend more flavour to the plain noodles. Served piping hot, the vermicelli-like snack is soft and fluffy, and pairs well with classic orange palm sugar and grated coconut.
Bottom line
Authentic, old-school appam with a more pronounced yeasty aroma that we love. We prefer the simple, comforting flavours of the plain and egg with cheese Princess Appam, though the fancier, dessert-style items like pandan and ice cream pancakes should satisfy those with a sweet tooth as well. The waiting time can be slightly long as Kieu Hanh can only prepare two pancakes at a time (all orders are made a la minute), but the fresh, yummy snacks are worth the wait. 
The details


 
Mr Appam is at #01-99 Maxwell Food Centre, 1 Kadayanallur St, S069184. Open daily except Tue, 8am - 8pm.
 
Photos: Alvin Teo
All photos cannot be reproduced without permission from 8days.sg