Vietnamese housewife who took over hubby's stall to support 3 kids after he died from cancer wins fans for her fish soup
The homemaker was forced to take over Hai Kee Seafood stall when her hawker husband passed away months after his cancer diagnosis. 8days.sg finds her yummy fish soup with thick batang slices good value for money.
8days.sg first got wind of Hai Kee Seafood and its "friendly and pretty" lady boss serving fish soup with "a lot of ingredients" which are "fresh and delicious" via the raving posts from netizens on Facebook group Hawkers United.
When we met the gentle, soft-spoken Vietnamese, who is now a Singaporean, it was clear she is one resilient lady. The mother-of-three and former housewife was thrust into the hawker world full-time when her Singaporean husband, who owned the fish soup stall at Toa Payoh Lorong 8 Market & Hawker Centre, was diagnosed with lung cancer and passed away within six months. For the last few years, Mai Thi Ngoc Yen (Ah Yen, pictured), 33, has been running the stall with the help of an assistant. However, her daughters Lee Li Xuan, 14, Li Xinn, 12, and Li Ting, 8, pop by regularly to help out.  
No part of this story or photos can be reproduced without permission from
8days.sg
.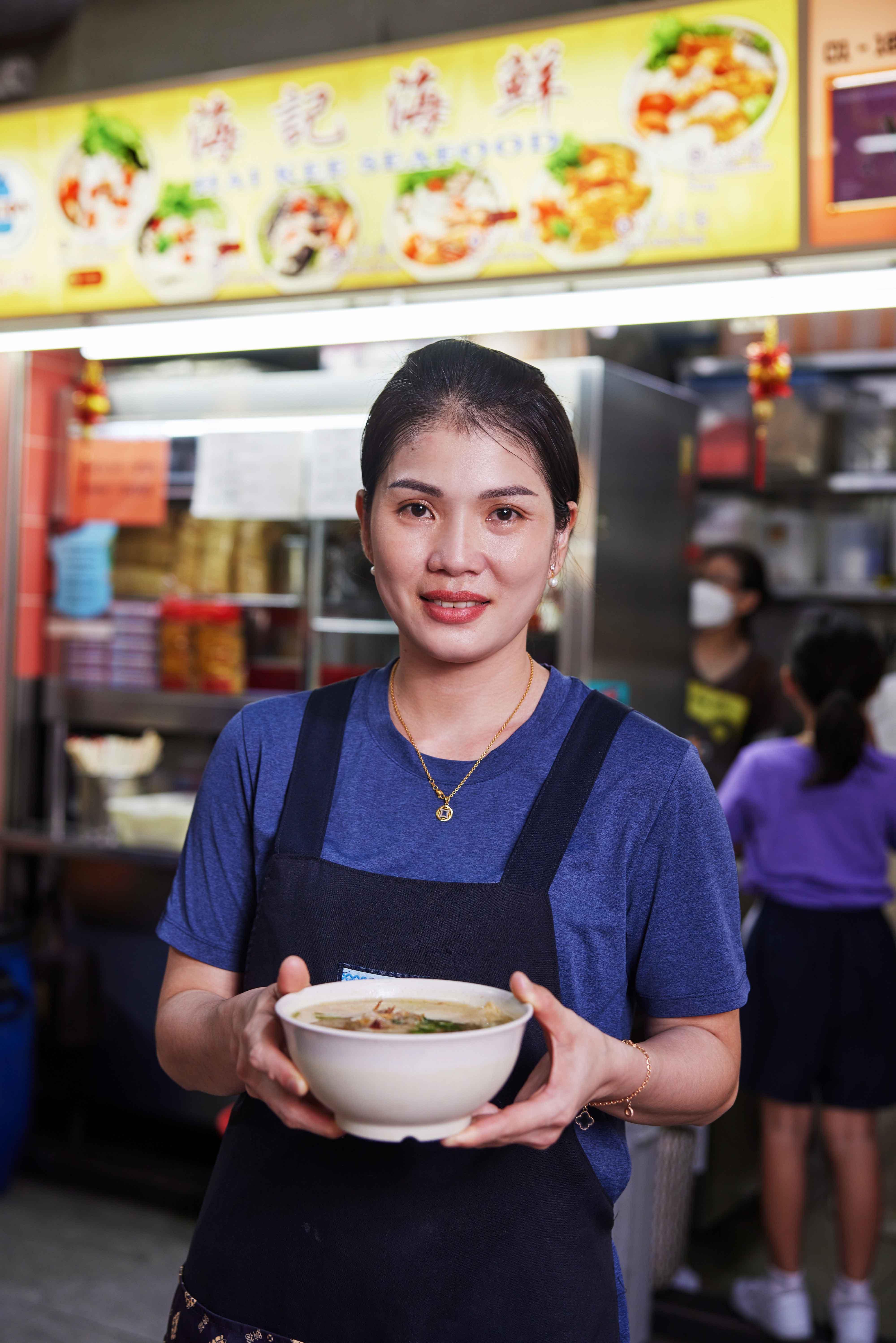 Married at 19, widowed by 29
In 2008, Ah Yen, who is from Tay Ninh province, northwest of Ho Chi Minh, visited her cousin who had immigrated to Singapore. A former hawker back home who helped her mum at their pho stall, she was looking for job opportunities here. The then-19 year-old was introduced to her Singaporean husband, a fishmonger, at a dinner with mutual friends and they fell in love. After their wedding, she became a homemaker and mum to their three daughters.
Because her husband enjoys cooking, he later switched to selling sliced fish and seafood soup in 2011. Unfortunately, in 2018 when her youngest was only three years old, her husband was diagnosed with Stage 4 lung cancer and passed on within months. "We only spent four months with him as he was in hospital for the last two months [of his life] and was in bad condition," recalls Ah Yen, tearing up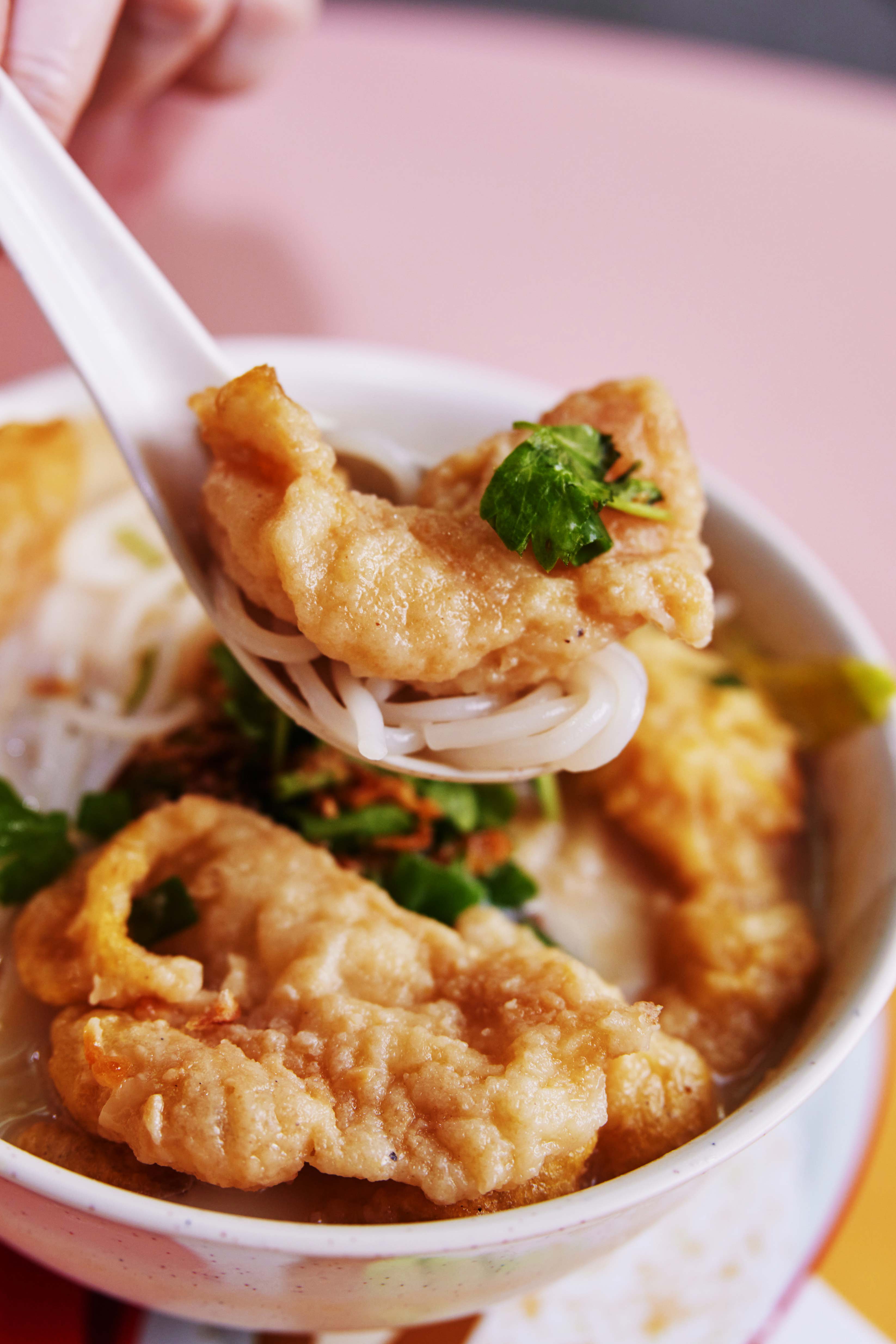 Because of her previous experience as a hawker back home in Vietnam, and the fact that she occasionally helped out at her husband's stall in the past, the transition to take over the biz was thankfully, a smooth one. She is still using her husband's original recipe in memory of him and fortunately, there were no complaints from customers. She has since garnered a lot of regulars and supporters.
During those tough years when her husband first passed on, Ah Yen's mother flew over from Vietnam to help to look after the three girls on a long-term visit pass but returned in 2021. Since then, Ah Yen has hired a helper to look after her kids and her aged father-in-law, as she works from 8am to 10pm daily.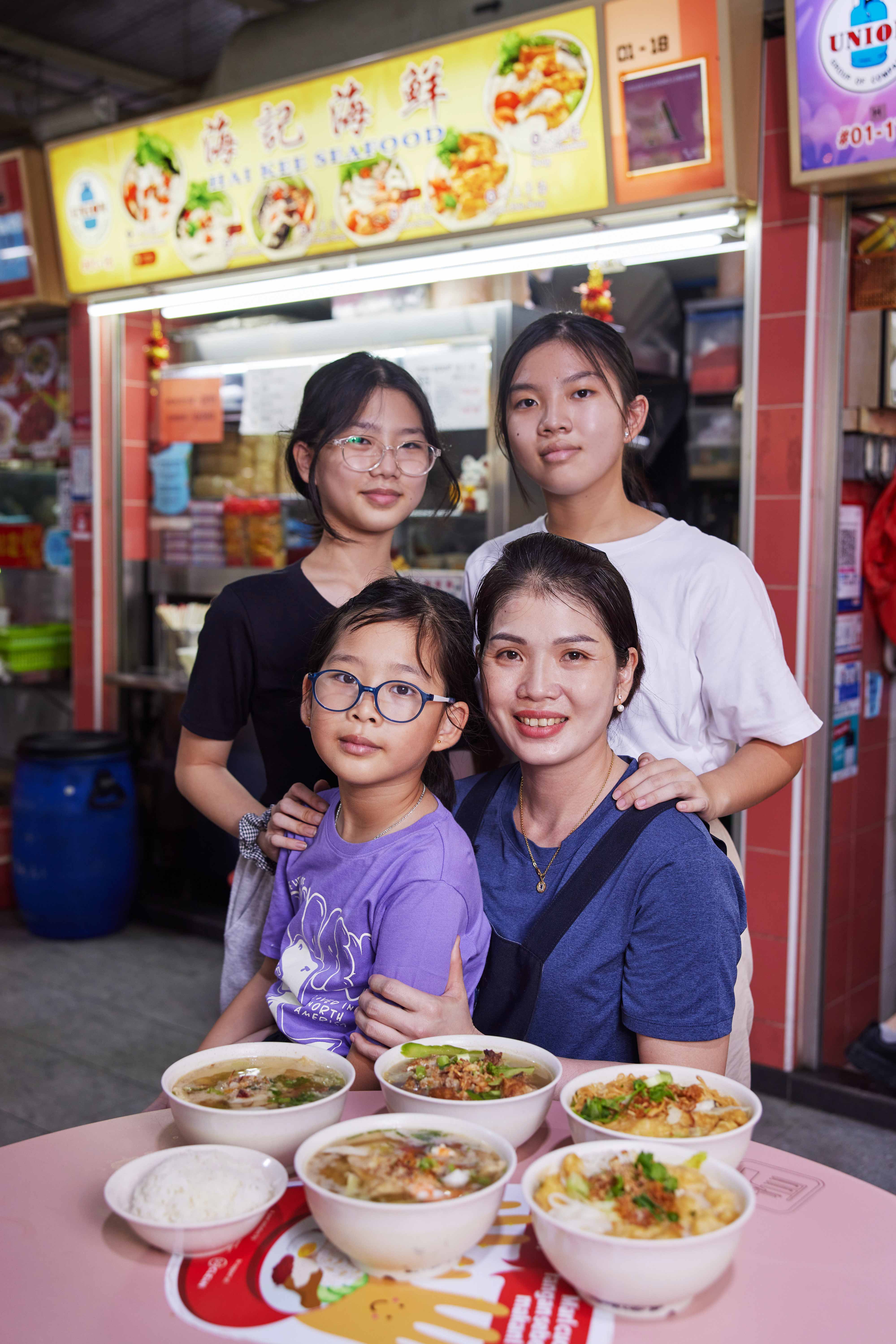 The kids are alright
Her daughters usually help out during their school holidays. "Asking the older girls to help out is to give them some exposure to life as a hawker, so that they can appreciate the hardship," explains Ah Yen. During our photoshoot, we saw Li Xuan helping to pack takeaway orders. Even the baby of the family, Li Ting, chips in by adding garnish to each bowl of soup.   
Ah Yen shares that all three girls were very close to their dad and think of him a lot, but they are coping well as they enjoy strong family support from their many relatives, who have showered them with love and attention since his passing. 
Because the price of fish has increased since her husband's days, Ah Yen also finds her profit margin thinning. Even then, she continues to serve up generous portions, a fact that her customers truly appreciate in these days where many hawkers practise shrinkflation.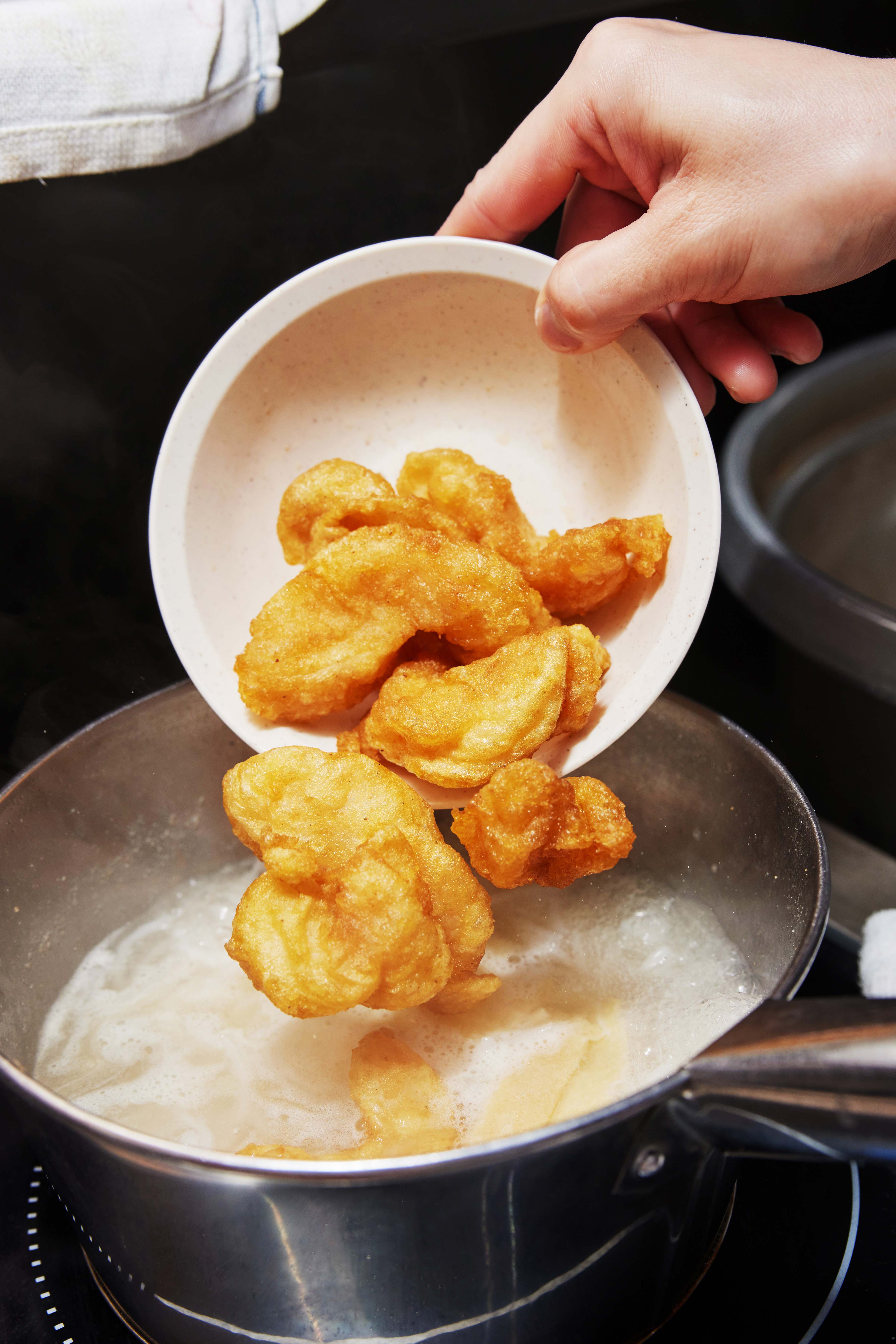 The hardest part, however, was handling the large raw fish. Ah Yen's hubby insisted on using whole batang (Spanish mackerel) that he chose directly from Jurong Fishery Port. He would process the fish himself, a tedious task that Ah Yen initially struggled with but now handles deftly. But instead of making early-morning daily visits to the port like her husband used to do, she now orders her airflown batang from Indonesia or Malaysia ("it's pricier but fresher") from her regular fishmonger at the Toa Payoh market next door. Her fresh and tasty soup has earned a loyal fanbase and she sells over 100 bowls per day.
The menu
Ah Yen offers seven types of Teochew-style soup. You can choose from boiled fish slices, fried fish, seafood and fried fish head. Pair it with rice or a variety of noodles including
sang mee
, customised with or without evaporated milk for a clean and clear, or creamy finish.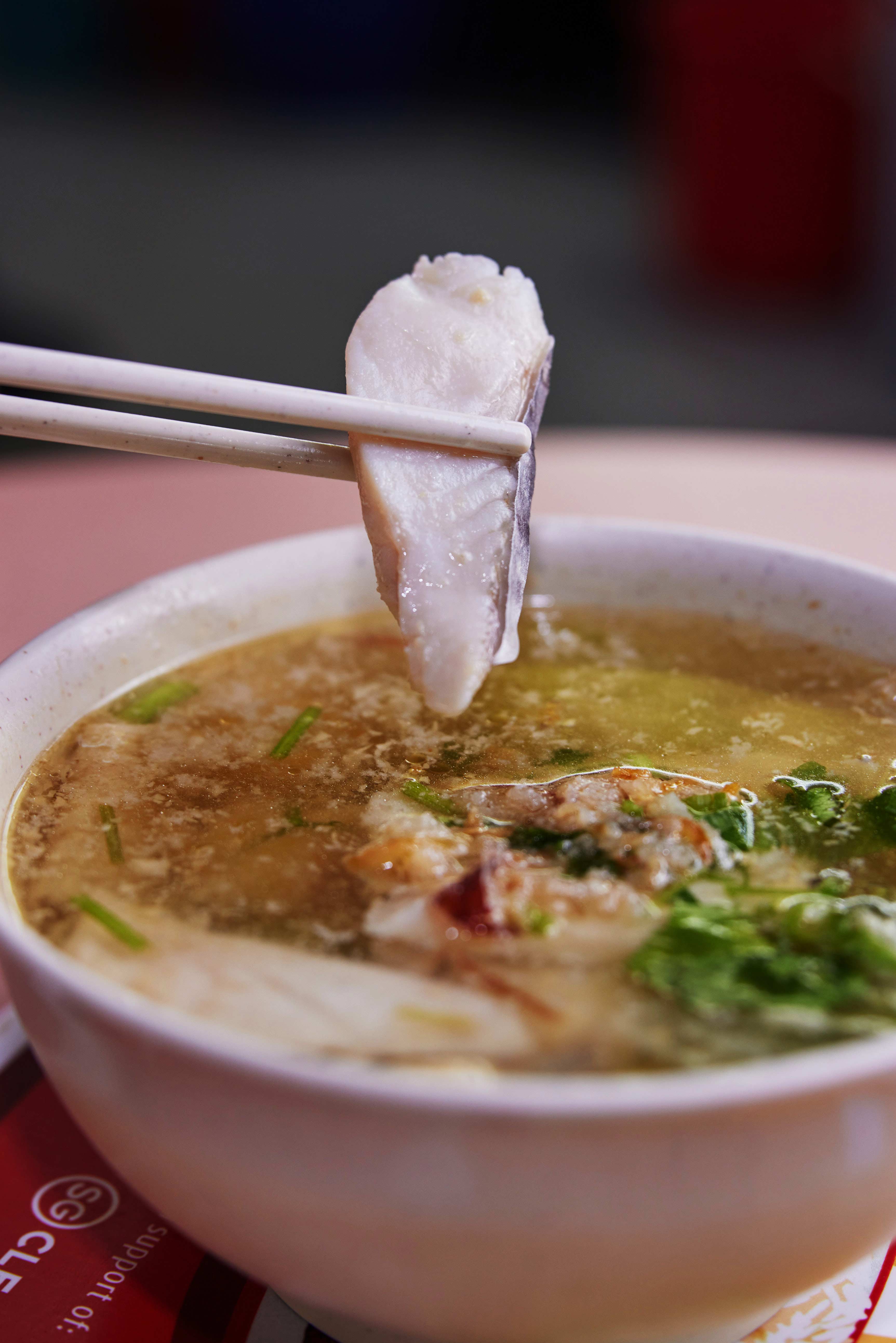 Sliced Fish Soup, from $5 (add 50 cents for rice or noodles)
We counted 11 slices of thick-cut batang in her basic sliced fish soup
for $5,
which comes brimming with tomatoes, lettuce and tau kee. Every slice of fish is fresh, meaty and clean-tasting. The light and sweet
Teochew-style
soup is topped with fried shallots, garlic bits, chinese celery and spring onion and makes a comforting lunch.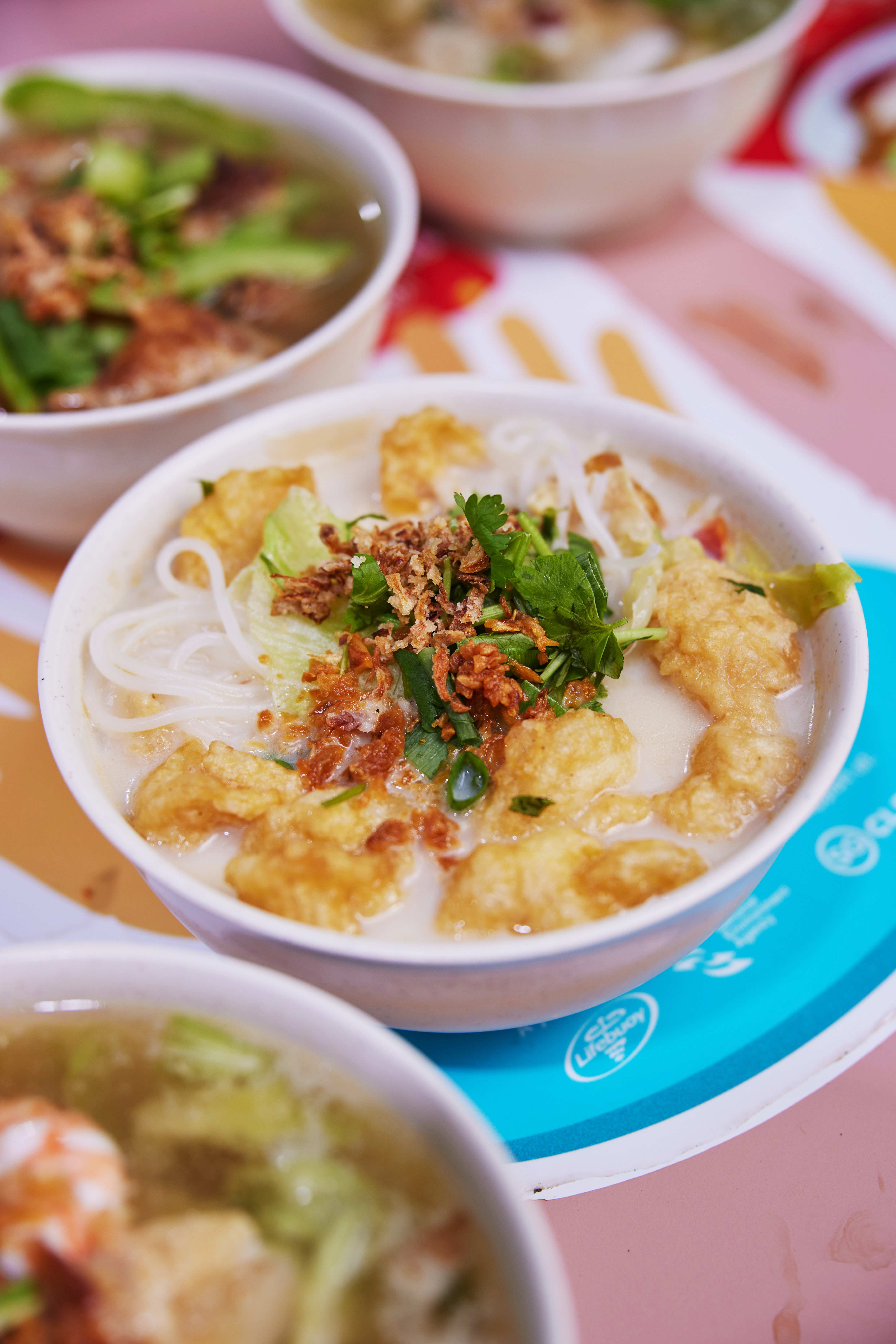 Fried Fish Soup, from $5 
If you prefer fried food, these golden nuggets won't disappoint. Again, each bowl is generously filled with thick pieces of batang, dipped and fried in a batter that isn't too thick so that you can still taste the freshness of the seafood.
Twin Combination, from $5 (8 Days Pick!)
We like having options, so when Yen's daughter Li Xinn recommended this so we could taste both sliced and fried fish, it was right up our alley. Best of both worlds, so just get this if you can't decide.
Seafood Soup, from $5  
This is usually served with two crunchy prawns, three slices of sotong and three slices of batang, but Yen ran out of sotong, so we got extra prawns instead. The sweetness of the crustaceans helped enhance the broth and added texture, but the plain fish soup is good enough for us.
Fried Fish Head Soup, $5 (8 Days Pick!)
We normally prefer fish meat and hardly ever order bony fish head soup. But Ah Yen's fish head pieces are very meaty. For the cheapest $5 bowl, you'll get five to six pieces of aromatic fried fish head chunks that soaks up the broth nicely. The addition of bitter gourd slices lifts the basic soup well and offers more complexity than the regular fish soup. We're surprised at how much we enjoyed this. Our favourite dish here.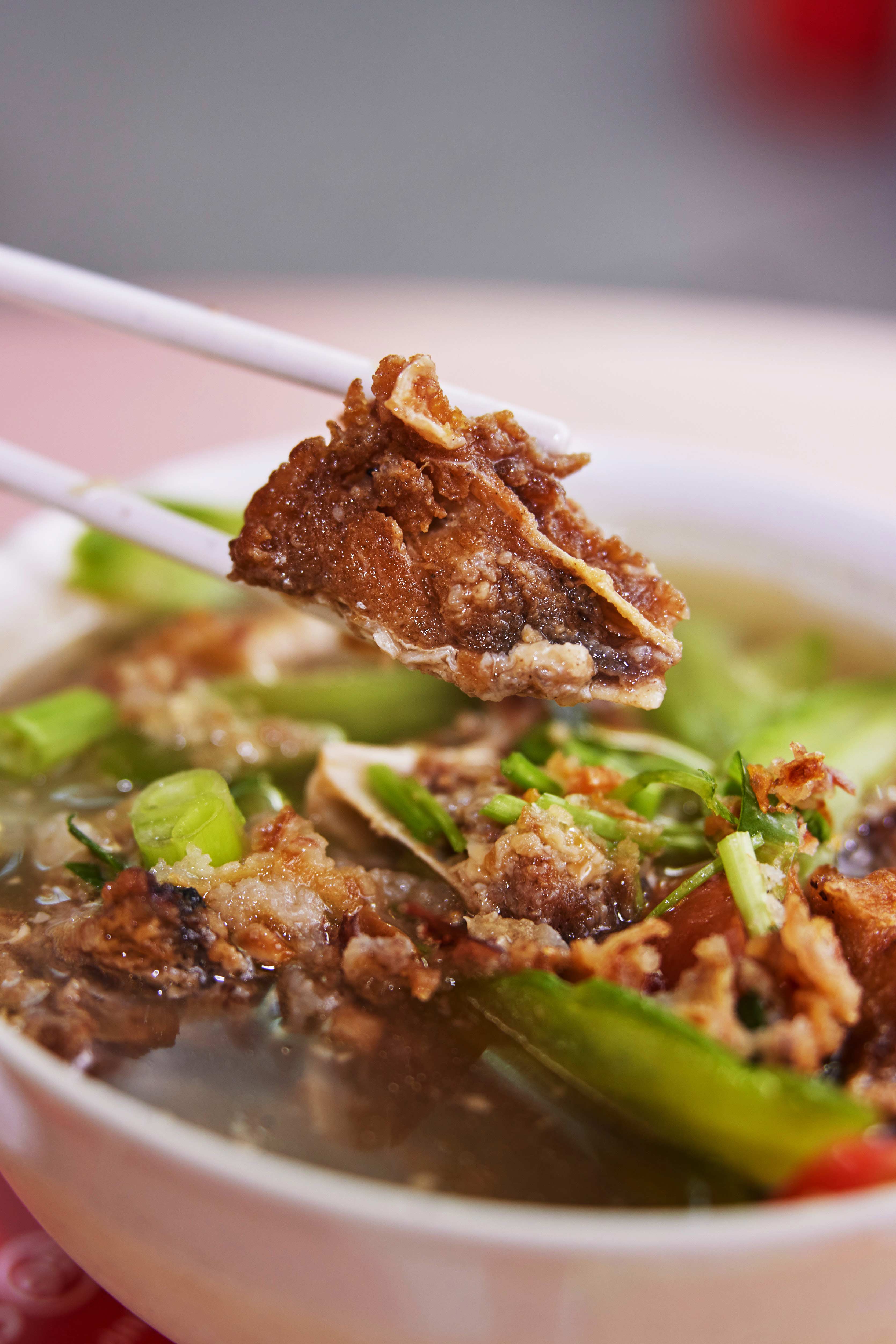 Bottom line
Simple but well-executed comfort food. The mix of super fresh ingredients, generous portions and sincere service makes Hai Kee Seafood a must-visit whenever we're in Toa Payoh. Lunch queues can get pretty long, but it's worth the wait.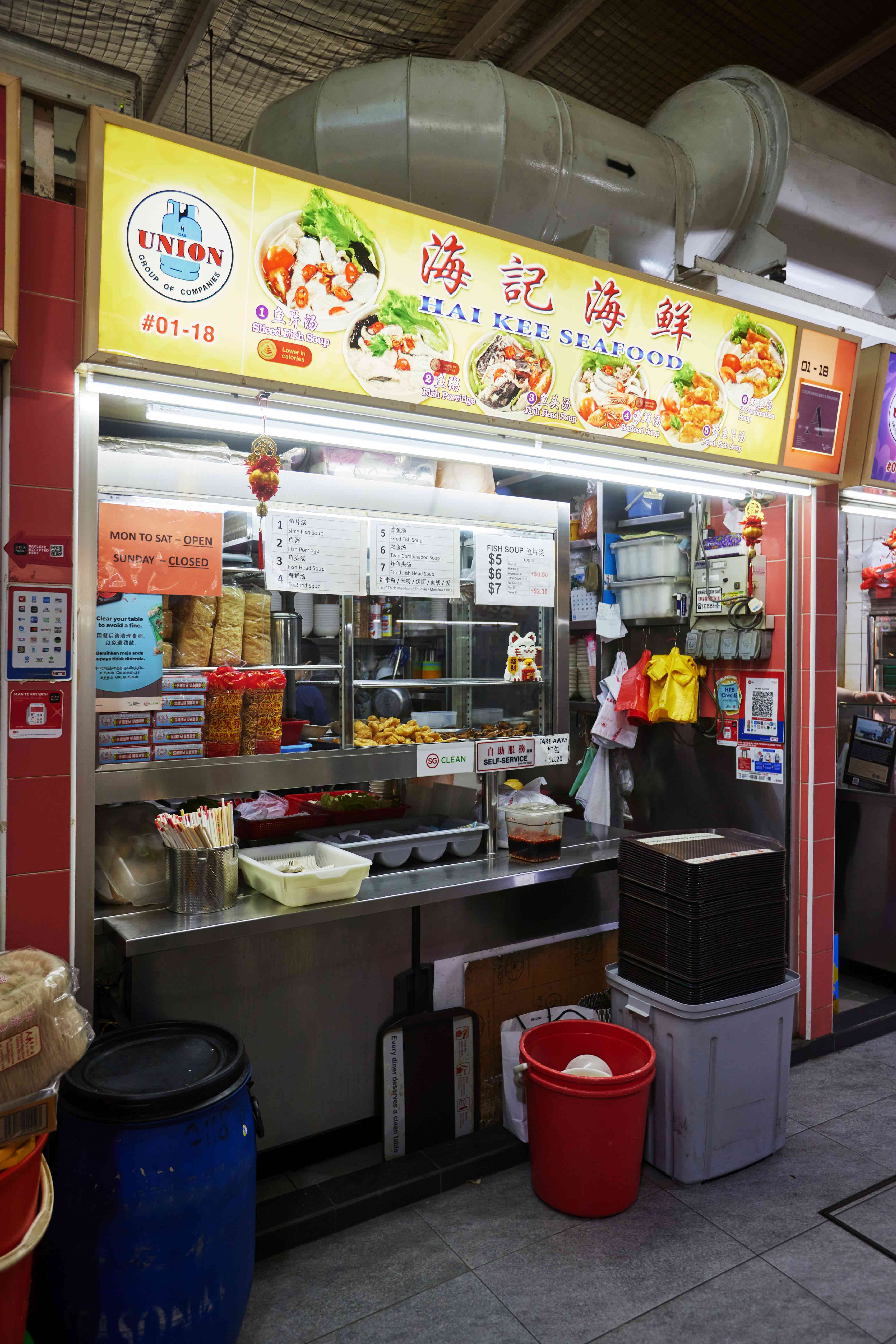 The details
Hai Kee Seafood is at Blk 210, #01-18 Toa Payoh Lor 8 Market & Hawker Centre, S310210. Open daily except Sun 11am to 8pm. More info via Facebook.
Photos: Kelvin Chia
No part of this story or photos can be reproduced without permission from 8days.sg.
8days.sg is now on #tiktok! Follow us on www.tiktok.com/@8dayseat.