Wayne Lai Gives Acting Lessons To Mediacorp Stars; Praises Hong Ling And Tyler Ten
Let 8days.sg take you through an acting masterclass by the three-time TVB Best Actor winner.
It's a Thursday afternoon, and 8days.sg is being ushered down a hallway of meeting rooms in Mediacorp. We're on our way to observe an acting class conducted by none other three-time TVB Best Actor winner Wayne Lai, 58.

Our final destination? A nondescript meeting room.
The Hong Kong actor is in town for about a week to conduct an acting workshop for the cast of upcoming blockbuster drama Road To Riches. No spoilers here, but keep your eyes peeled for September this year.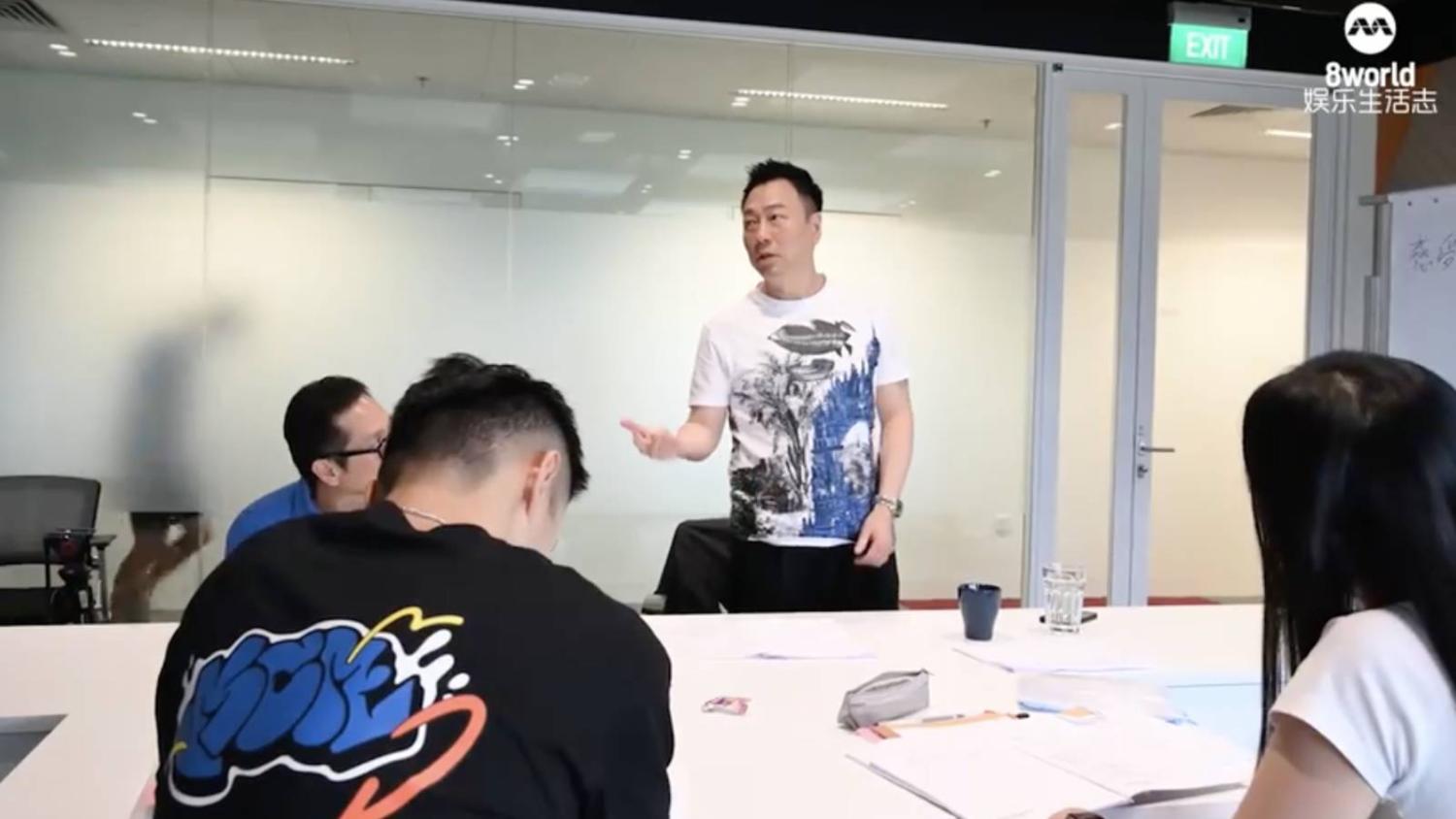 Wayne's a professional.
Along the corridor outside the meeting room, a number of the cast — we spy Pan Lingling, 52, Jeremy Chan, 41, Desmond Tan, 36, Ayden Sng, 29, and Hong Ling, 28 — mill about. Some had just finished their session with Wayne, while the rest were waiting their turn.
We file into the meeting room silently. It's quiet, with production members and artiste managers by the door. In the middle of the room, a simple white table stands, with the man of the moment, Wayne, and the drama's EP, Paul Yuen, on one side, facing He Yingying, 28, and Tyler Ten, 26.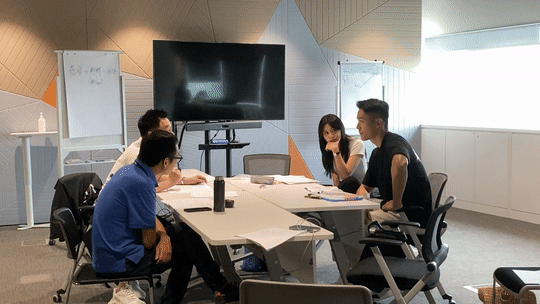 All eyes on him.
Yingying and Tyler face each other, absorbed in their lines. Wayne leans forward, a pen in one hand, and a script in the other, looking just like a teacher about to grade his students on a project.
Tyler says his line. Wayne leans further forward, and asks for more. More emotion, please. Tyler tries again.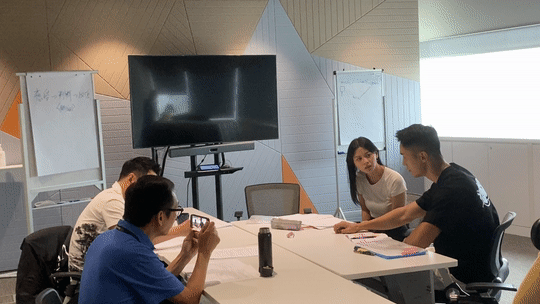 Charging up those emotions.
Wayne now has his right hand stretched out like a band conductor, as he flicks his wrist to every word. We watch with bated breath.
The scene ends. Wayne's all smiles again, giving feedback and encouraging Ying Ying and Tyler.

At one point, he says to Tyler: "You have a good build and you're handsome, use it!". The room erupts in laughter as Yingying turns to tease a bashful Tyler.
No pressure on the young actor, of course.
Desmond, Jeremy and Ayden play besties in the upcoming drama.
We stay on for a while more to catch a bit of Desmond, Jeremy and Ayden's session. The trio act out their scene as Wayne leans back, his gaze darting between the script and the actors before him.
The scene in question is lighthearted, but everyone's dead serious about perfecting it.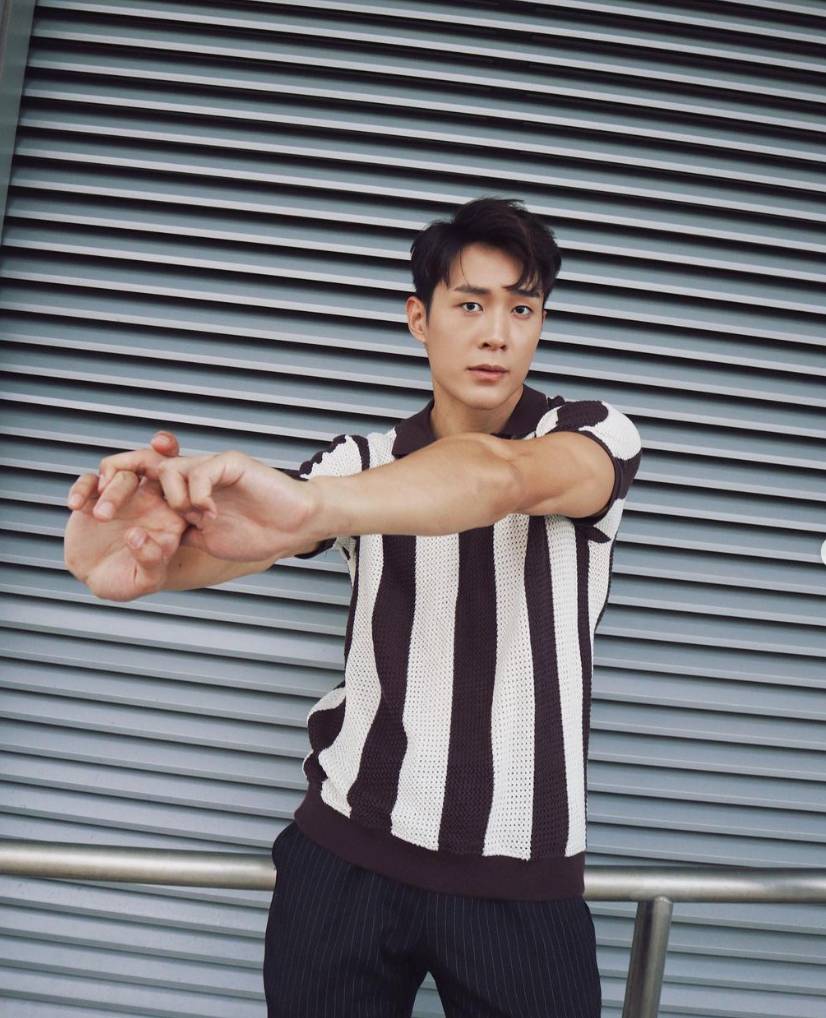 Like what you're seeing?
After the session, 8days.sg caught up with Tyler, who tells us that most of the cast has had the opportunity to have a one-on-one session with Wayne.
"For the first lesson yesterday, it was actually one-to-one, so I had time to ask him a lot of questions that I'd always been wondering [about, like] how an actor should be," Tyler shared, adding: "Just seeing him in real life is kind of mind-blowing already, and to see him being so friendly and going so in-depth in sharing his knowledge is really an eye-opener for me."
And of course we had to ask about the part where Wayne praised Tyler for being handsome and well built.
The 1.9m actor sheepishly let on: "He said it yesterday as well, he said that I have the height and the build so... I'm very happy about it, and also very shy. I kept thanking him, I didn't expect him to say that. He's very friendly in real life."
8days.sg had a quick chat with Wayne the same day, and he shared more about acting, his thoughts on the cast of Road To Riches, and his love for pepper crab.
Class is in session.
8DAYS.SG: You'll be in Singapore for about a week. Is there anything in particular that you want to do?
WAYNE LAI: Eat! I want to eat pepper crab (chuckles). I've eaten it once this trip, I hope to be able to eat again.
Is it something that you eat every time you're here?
Yes, I especially like pepper crab 'cos it's extra authentic here. They have it in Hong Kong too, but I think the taste is just a little lacking. Maybe it's 'cos of the ingredients. I like the fragrance of the pepper.
Was there anything special that you planned for these acting classes?
Earlier, when the producer sent me the script, I familiarised myself with the story and the characteristics of each role. We don't have much time, sharing too much won't help either. I told the producer that just sharing the basic theories of acting won't help, and that explaining the theories and then blocking scenes, and practising lines [would be better].
I told the producer to choose a couple of scenes that they wanted to see, so that I could tell them as a whole what they should focus on when acting, when you're reading the script, and what you should take note of, as well as the meaning behind certain lines.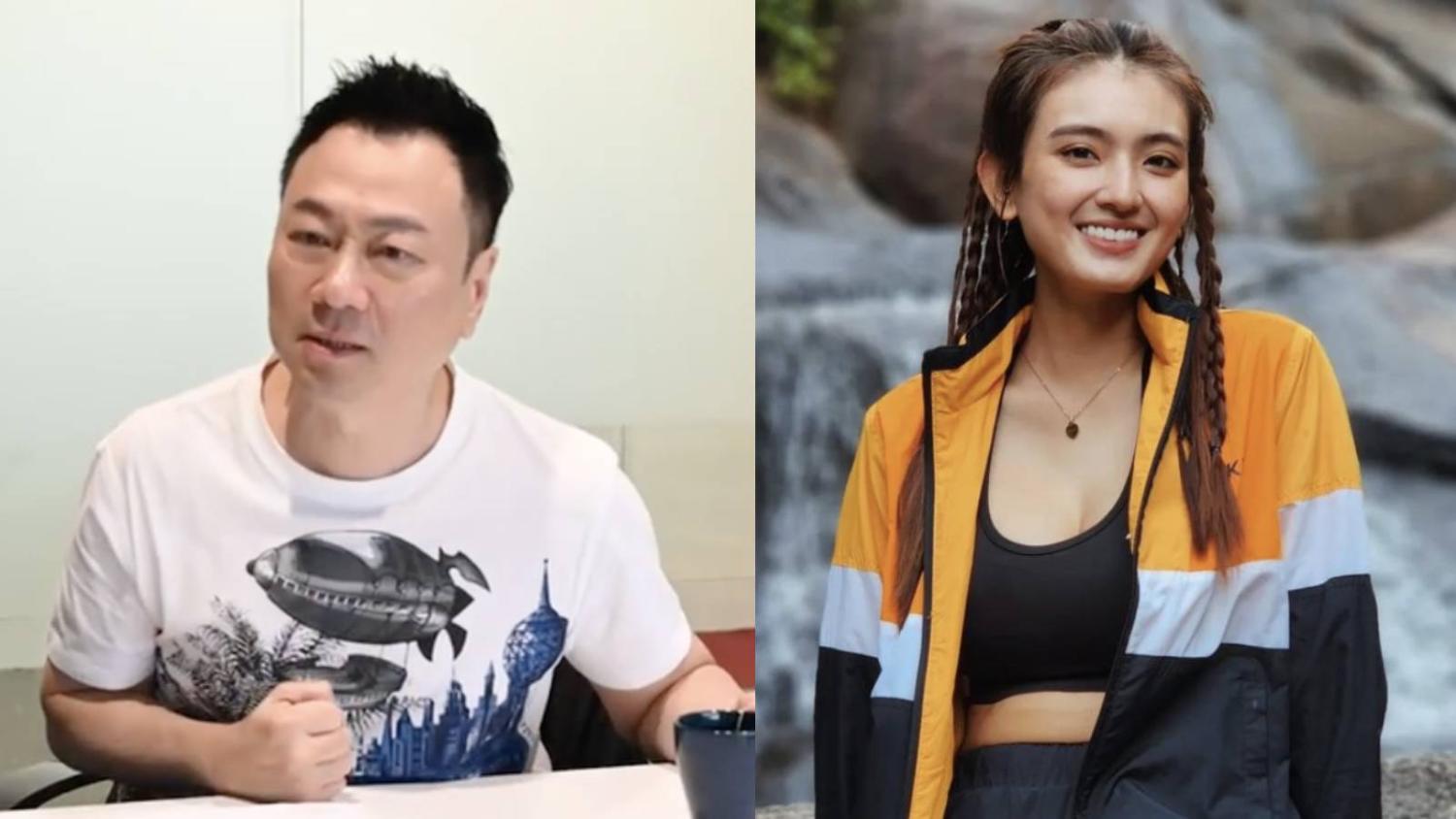 He remembers Hong Ling.
Were you familiar with any of our local artistes before this?
I wasn't familiar with any local artistes, but the producer did tell me to look for clips of a couple of actors on YouTube, so I watched some of them.
Do you remember whose clips you watched?
I think Hong Ling, I saw some of her clips. As for the guys... (trails off)
For the guys, I can't really remember, I couldn't really tell them apart at the start since I wasn't familiar with them (laughs).
What were your thoughts after seeing Hong Ling's performance?
I thought it was pretty good, I think they [the local artistes], they have experience. They've acted in a couple of dramas, and have been in the industry for a couple of years, so they're not super new.
I think every actor is different, and since some of them have prior experience already, drawing from their experience and adding to it is the way to go.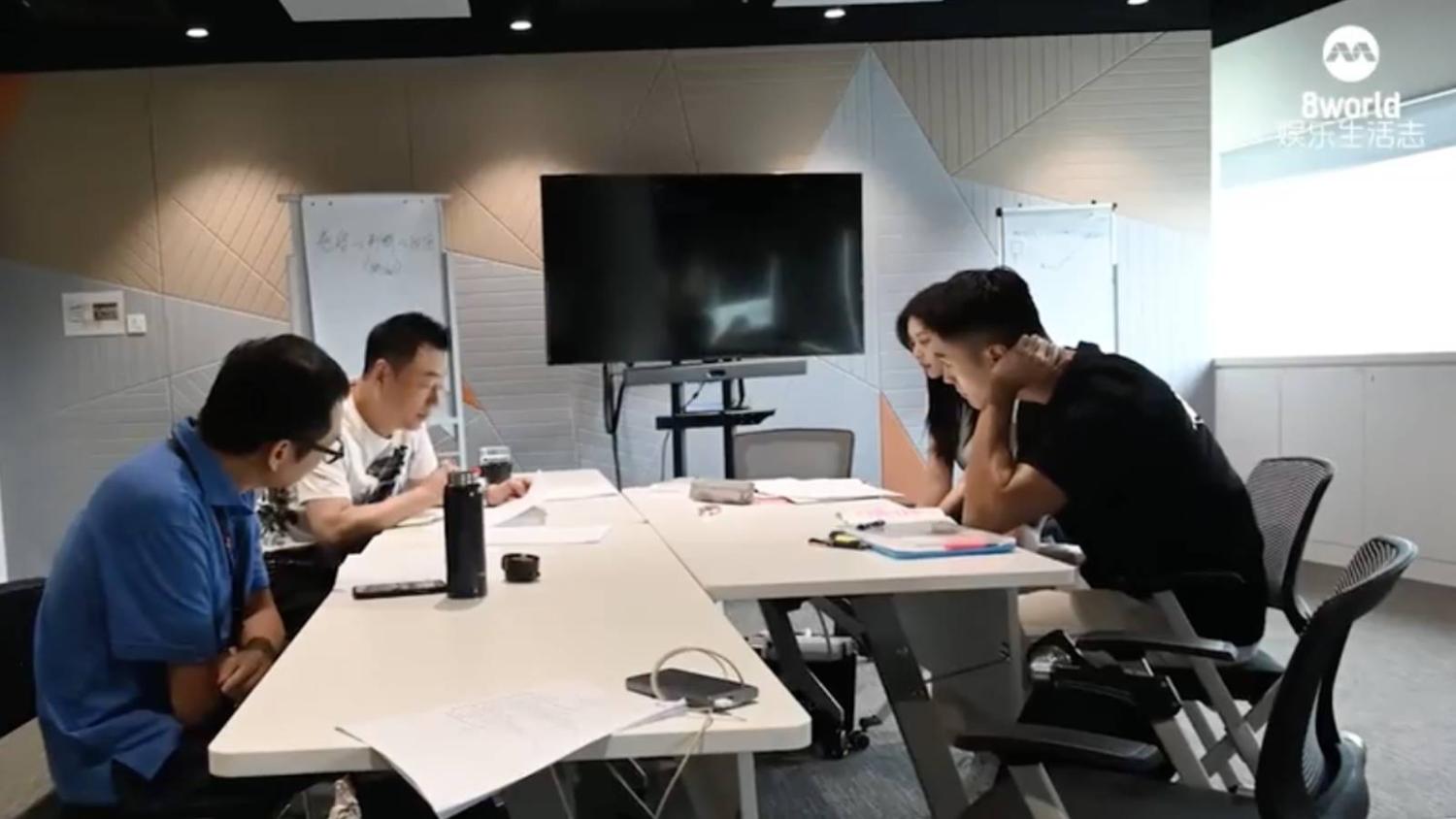 Wayne's seriously good.
Did anyone in particular stand out to you after conducting a few days worth of acting classes?
I think all of them are pretty good 'cos I think they're very hard working. The [production team] wanted me to come over to analyse the roles with the actors 'cos they all want to have a breakthrough and to better themselves. I think this is especially good. As an actor, if you set out with a mindset of seeking improvement, you will definitely improve. I think all of them are pretty good, not bad. 
We heard you mention earlier that Tyler was handsome, right?
Yeah, they're all handsome. all attractive.
And some of them are really tall too…
Yeah, why is [Tyler] so tall, and I'm so short. That's unfair (chuckles)
Finally, what do you think an actor needs to be able to succeed? Is it talent, hard work, or something else altogether?
I think both hard work and talent are needed. If you don't have enough talent, then you can't [succeed]. As actors, we need to be more savvy and perceptive 'cos we have to understand the stories of others.
So if you don't have this ability, if you don't have enough talent, it's really hard. Sometimes, it's not that you won't be able to make it if you're not particularly talented, it's just that you'll have to spend more time [working on yourself]. And well, time doesn't wait for anyone. If you can't grasp how to act as an 18-year-old when you're 18, and only do so when you're 30, then that wouldn't do.
Of course, you still managed to understand it at the end, but as actors, we have one problem — age is a very big issue. If you don't understand how to act when you first enter the industry, and only come to understand it when you're old, it's no use.
It's not that you need to be a genius or whatever. With more experience and training, you still can make it. I think talent and hard work are both important. Thee most fundamental aspect of becoming an actor is that you have to be interested in other people.
If you simply don't care about others, or aren't interested in getting to know or understand others, then it's really hard to become an actor.
Photos: 8world Entertainment Lifestyle, Toh Ziyi, Tyler Ten/Instagram, Hong Ling/Instagram