We Meet Korean Stars Lee Min Ho, Jeon So Min And Kim Ha Neul In Seoul To Find Out How They Always Look So Good
The three stars were recently unveiled as the brand ambassadors for Merz Aesthetics' Ultherapy treatment. 8days.sg got up close and personal (or as up close and personal as we could) with them in Seoul.
It's not every day you get to be in the same room as not one, but three A-list Korean stars.
8days.sg had the pleasure of flying to Seoul to witness the unveiling of Lee Min Ho, Jeon So Min, and Kim Ha Neul as the ambassadors for Merz Aesthetics' Ultherapy treatment in Seoul.
For those who aren't familiar with Ultherapy, it is a non-surgical cosmetic procedure which uses ultrasound technology to promote the formation of collagen beneath one's skin. TLDR, it helps to keep your skin smooth and firm.

And surprise, surprise, the three stars are believers of the treatment, and use it to maintain their ever-youthful and glowing appearances.
There, we learned their secrets (apart from Ultherapy, of course) to looking good in an industry that requires them to be flawless all the time. More importantly, we also got see just how gorgeous they are in person.
The event building on Seoul's floating island,
Sebitseom
The event was held in a convention hall built on Seoul's Sebitseom,which are man-made floating islands that sit on the Han River.

The location was idyllic and picture-perfect, most befitting for a beauty event.
At the reception area, servers bustled around, offering guests a selection of drinks. It most definitely provided a nice reprieve from the crowded room, filled with zealous journos who flew in from different parts of Asia, eager to catch the stars in action.

So yes, we needed the drinks, thankyouverymuch.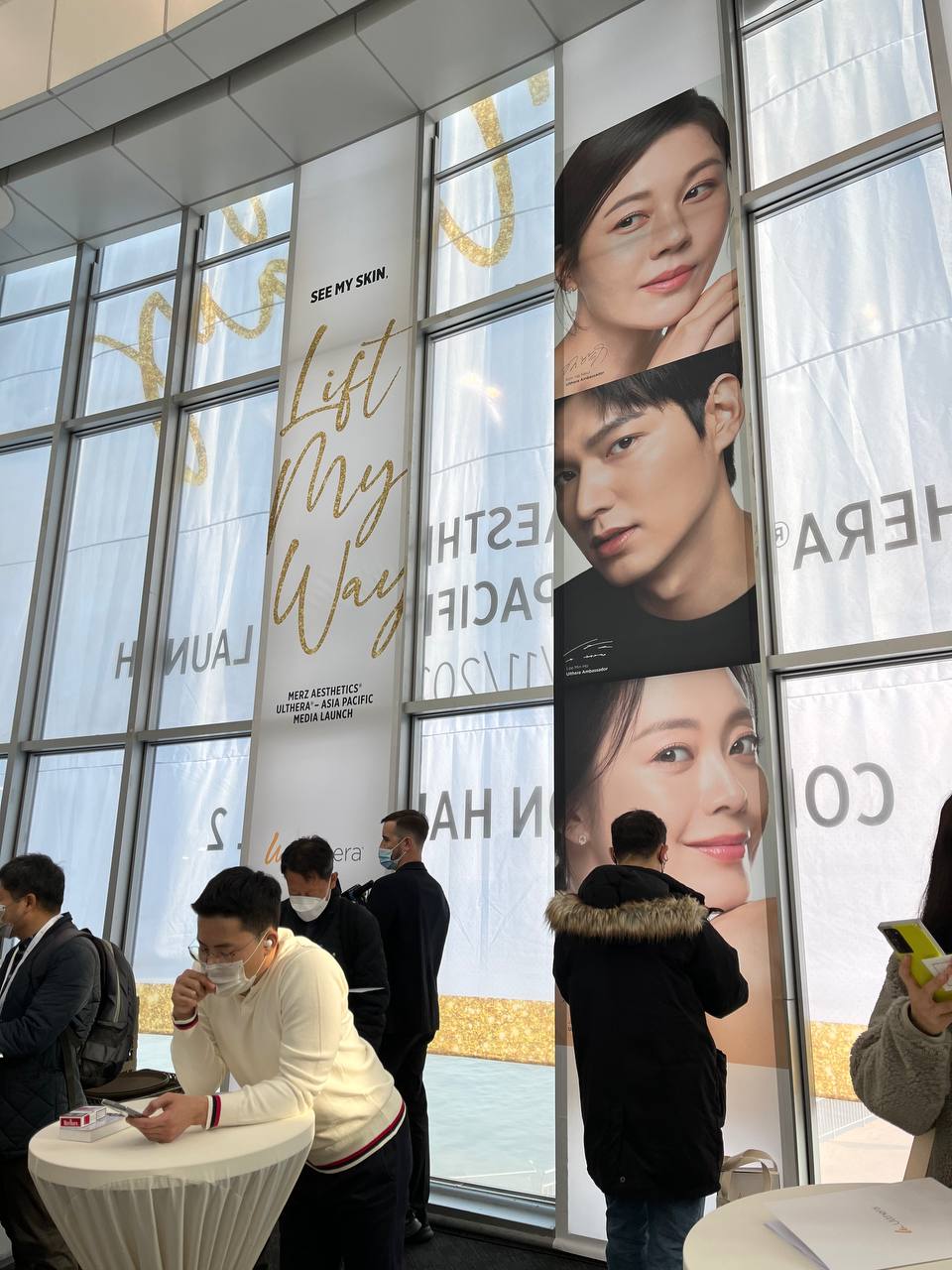 At the reception room, banners of the celebrity ambassadors were draped on the floor-to-ceiling windows.
It was around 2.30pm when the doors to the convention hall were opened, and the crowd entered with poorly disguised urgency to get the best seats in the house.
A large cinema-sized screen provided a backdrop for the stage that was dressed in the campaign's signature white. Shiny gold streamers adorned the fixtures that were set up on both sides of the platform.
Translation devices were laid on the plush white cushioned seats and a slide displayed the channels broadcasting the press conference in five different languages — English, Korean, Mandarin, Thai and Cantonese.
Oh, did we also mention that 8days.sg was the only Singapore media there?
While guests from countries such as Hong Kong and Philippines banded together to find the best adjoining seats, we promptly plopped ourselves down in an available one, which happened to be in the third row from the stage.

We then found ourselves sitting right behind Merz Aesthetics' president, Lawrence Siow. VIP seats. Nice.
Kim Ha Neul did not look a day over 40
The press conference kicked off when the host, Aussie-Korean TV presenter Seo Misorang, took to the stage to introduce Merz Aesthetics' See My Skin, Lift My Way campaign, which urges people to embrace the uniqueness of their own skin, and to gain confidence through recognising their own beauty.
Then came the part we flew over 4000km for.
Actress Kim Ha Neul, 44, known for her movies like My Tutor Friend and My Girlfriend Is An Agent was the first in the hot seat, where she was asked about her beauty routine.
One would think that Ha Neul, who's been in showbiz for 24 years, would have no issue meeting the press right? After all, this can't be her first rodeo.
Surprisingly, she admitted she was "a little nervous".  

While the elegant actress, who was dressed in a white pantsuit, maintained her sweet smile and composure the whole time, it wasn't hard to tell that she was feeling rather shy. For starters, she spoke in a soft, subdued voice, with both hands in her lap.
So... what are her secrets to looking young? Ha Neul empahsised the importance of "inner beauty" and expressed her love for "exercising and eating clean".
Her other tips? "Drink lots of water, use facial masks and make regular visits to the dermatologist," she said.
Ha Neul also mentioned how "happy and grateful" she is that K-beauty has made its mark in all of Asia, and hopes that it will "continue to be loved by everyone around the world".
Jeon So Min gave an interesting take on the definition of beauty
The next star to take the stage was actress Jeon So Min, 36, of popular variety show, Running Man fame.
If you've seen So Min in any one of her appearances in the over 240 episodes of Running Man, you would know her as one of the youngest members of the cast. You would also remember her as the cheeky star who isn't afraid to ditch her girl-next-door image for some laughs.
But no such luck today.

The So Min we saw on stage was graceful and well-spoken. She also had some really deep insights to beauty.
Take her definition of beauty, for example. After she was posed the question, she first admitted that her answer was "a bit abstract".
"I believe beauty is love. Loving family, loving friends, loving nature, loving life and loving things that don't change and are long lasting. I think when you are full of love, you also glow, and you are radiant from within," she said.
So Min also swears by Ultherapy, raving about how it has helped her retain "skin elasticity and firmness". She revealed that she has been going for the treatment for the past five years, and loves it for its "immediate, but long lasting effects".
She went on to reveal that she is often very busy and will lose confidence in her appearance in the process. On a slightly more serious note, So Min said she gets less confident when her "body is tired and [she has] plenty of thoughts in her mind".

And her solution is to "move [her] body", which we assume means working out. But since she doesn't have "a good sense for sports", she does resistance exercises and goes for personal training sessions instead.

"I don't particularly enjoy the process but I know it's something I'm supposed to do," she said, breaking into a little grin.
"So Min gave the best answers of the day" we overheard another journo saying. Might we also mention that she was the only celeb ambassador to thank everyone for showing up?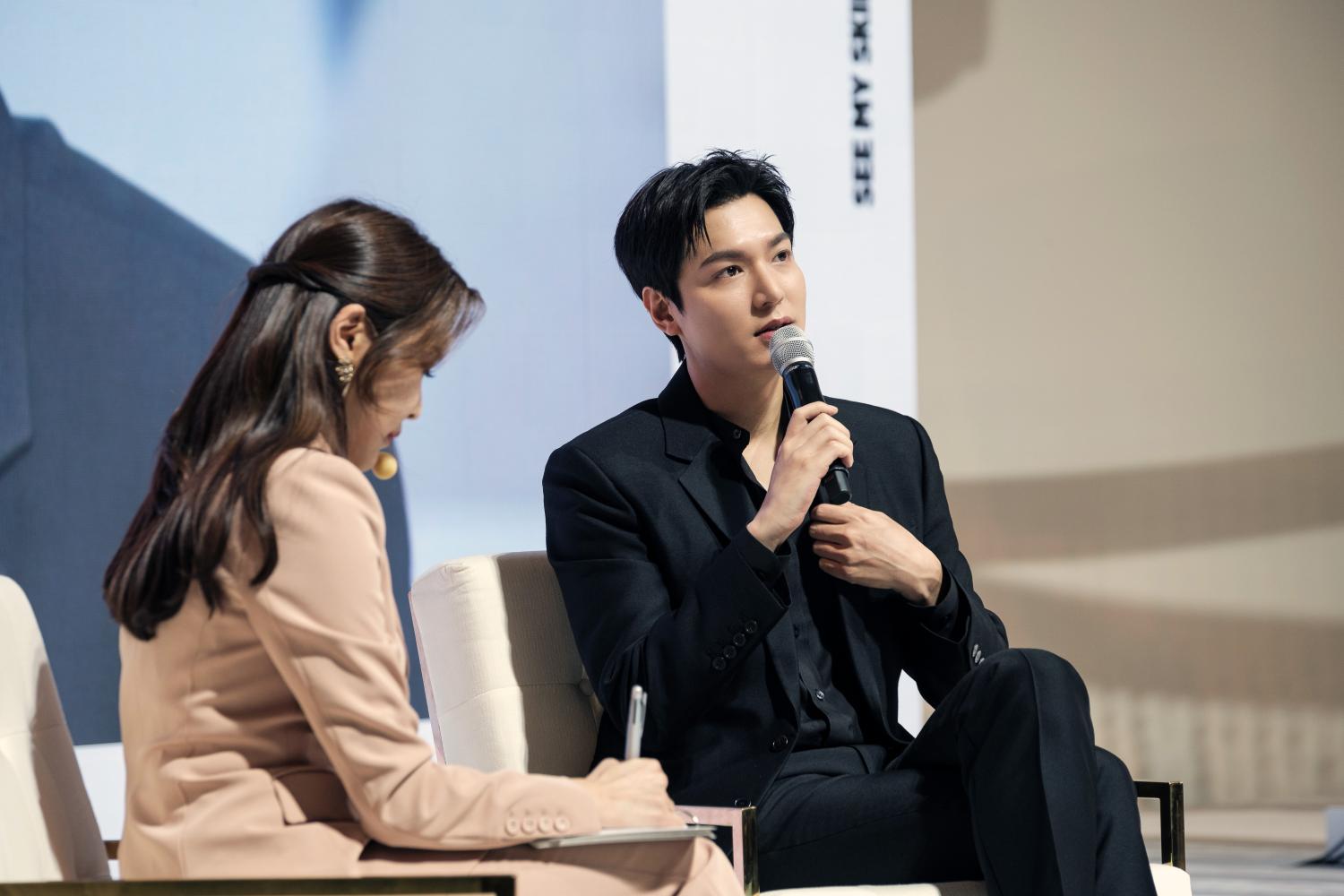 Lee Min Ho looked every bit the prince charming on stage
The last to appear was, of course, K-drama prince, Lee Min Ho, 35. He was the star everyone was here to gawk at, the 'main character' of the afternoon, so to speak.
When his name was announced, everyone rushed to the front of the stage, cameras in hand, fingers on shutters hoping to capture the moment the spotlight hits his handsome face.
And boy, does the spotlight love his face.

Min Ho strode onto stage, cool, calm and confident, the 'click click click' of the camera shutters filling the room for a good minute.

Also heard were sounds of soft gasps from his fans in the audience.
The 1.87m star then got seated, his long legs crossed, poised and ready for his questions.
When asked when he feels the most confident, the star gave this very crowd-pleasing response: "When I work hard and I realise that I am loved by other people. I feel the most confident when working on projects and [receiving] cheers."
Naturally, the crowd erupted into applause.
As for how he maintains his good physique and skin, the star chuckled, while revealing that his secret was to "eat well, sleep well, and exercise".
Min Ho also sent some encouragement to those who are less confident about their appearance.

"It is important not to be bound by the rigid standards of beauty in society. It is more important to love yourself, and find unique attractiveness that only you have," he preached.
As Min Ho stressed the importance of loving oneself and being confident in how one looks, we could only imagine how easy that would be for someone who looks like him.
At the end of the interview, we were certain we heard someone swoon "Oh my gosh, he's really so good looking" as he walked away and disappeared from our line of sight.
You can find out more about Merz Aesthetics' Ultherapy treatment by visiting https://ultherapy-asia.com/.
Photos: Merz Aesthetics, 8days.sg, Lee Min Ho/ Instagram