This Week's Best-Dressed Stars: Fann Wong & Lawrence Wong At The Tiffany & Co Party, Glenn Yong At Milan Fashion Week, & More
The most stylish celeb OOTDs of the week.
The stars came out to shine at Tiffany & Co's Tiffany Lock pop-up launch party at Ion Orchard, with Fann and Lawrence looking white-hot in their respective threads — in this case, two Wongs really can make a right.
Keep scrolling for more ensembles that caught our eye this week.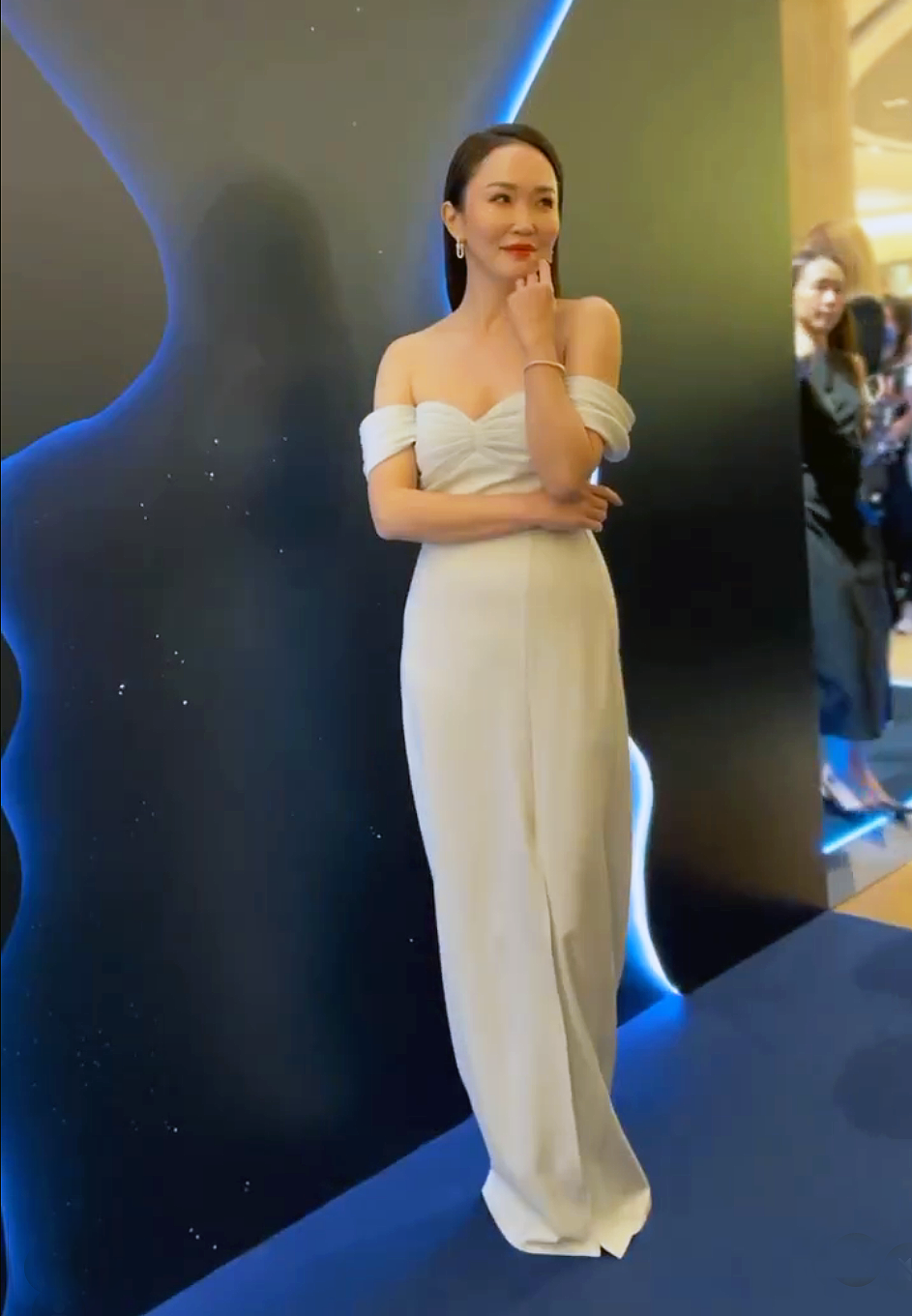 Fann Wong
As cliche as it sounds, less really is more, and Fann proved that in an elegant ivory off-white gown with understated but stunning minimalist jewellery — plus a bold red lip — at the Tiffany Lock pop-up launch. You don't need too many accessories when you're already glowing like Ah Jie here.
Lawrence Wong
Also killing it in his ensemble at the Tiffany Lock event was Lawrence, whose white suit bears what looks like abstract watercolour scribbles. Underneath his jacket is a crinkled vest for some texture, and he finishes off his look with a pair of — what else? — Tiffany & Co bracelets.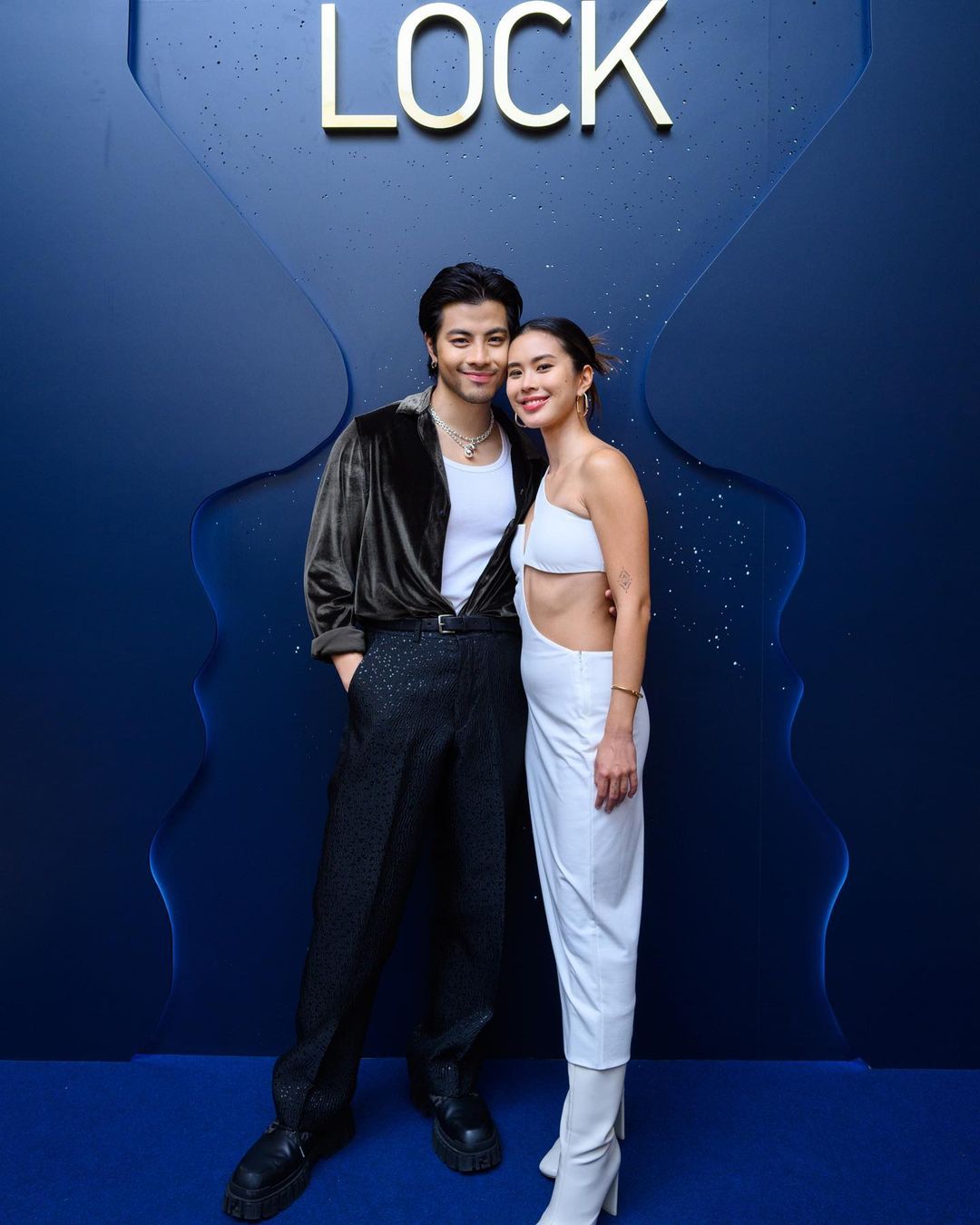 Benjamin Kheng and Naomi Yeo
Not many men can rock a sheeny velvet overshirt with glitter-dusted trousers and a thick double-layered necklace, but Ben managed to pull it off at the Tiffany Lock party.
His wife Naomi, on the other hand, went the simpler but sexier route in a cut-out white dress that only a yogi with a body like hers would dare to wear.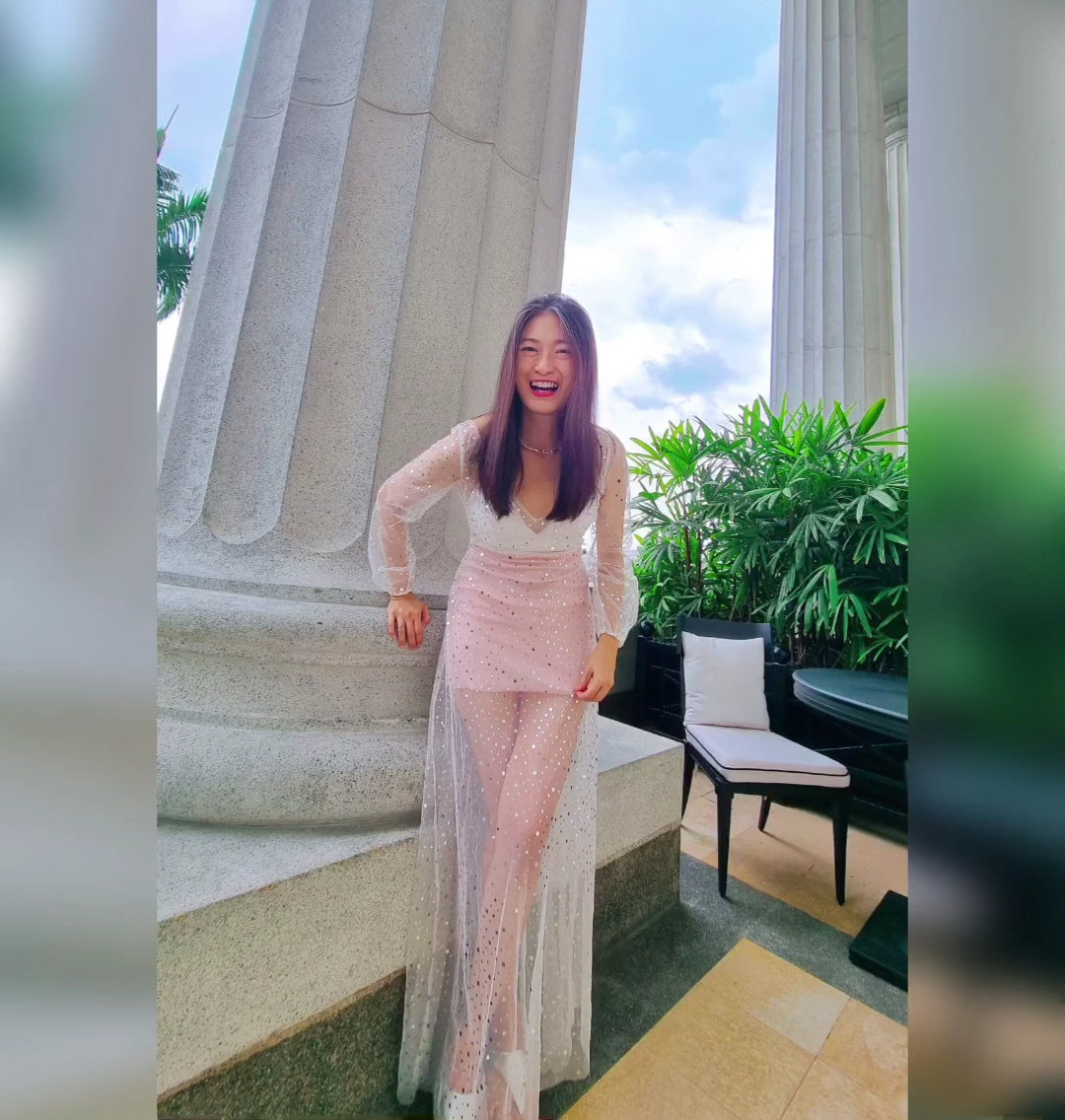 Carole Lin
Carole, who turned 50 on Feb 23, went out for a birthday celebration with a friend and looked like the end of a concert when glittery confetti comes raining down on the audience, captivating everyone. Birthday girl's gotta shine, right?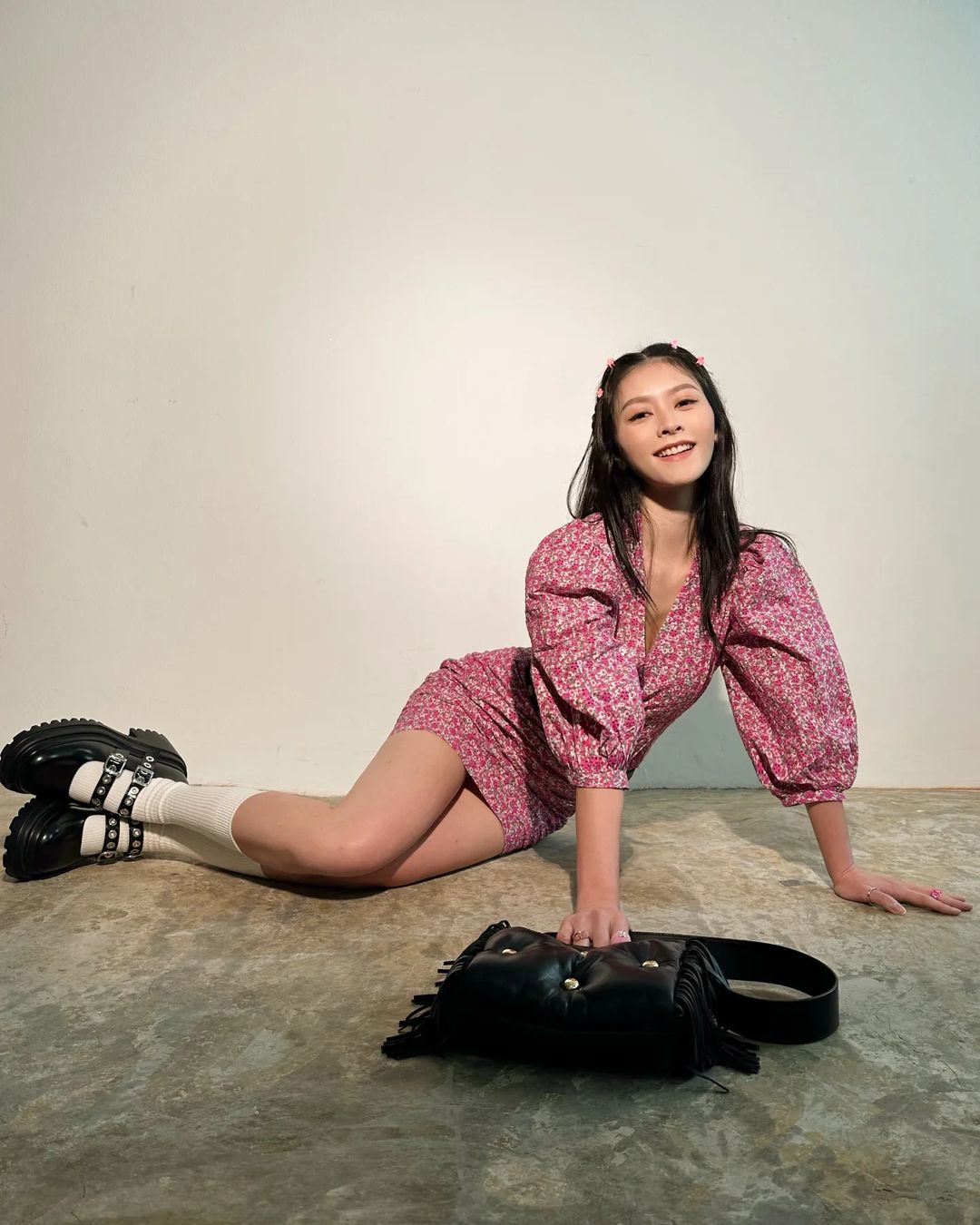 He Yingying
Part spring queen, part goth babydoll, 100 per cent Best-Dressed worthy. Extra points for those adorable tiny flowers in her hair.
Naomi Neo
As the proud owner of a
Lamborghini Huracán
, it's no secret that the influencer loves flashy cars. We can't decide which is hotter: Naomi in that abs-baring ensemble — is she seriously a mother of two? — or that McLaren baddie.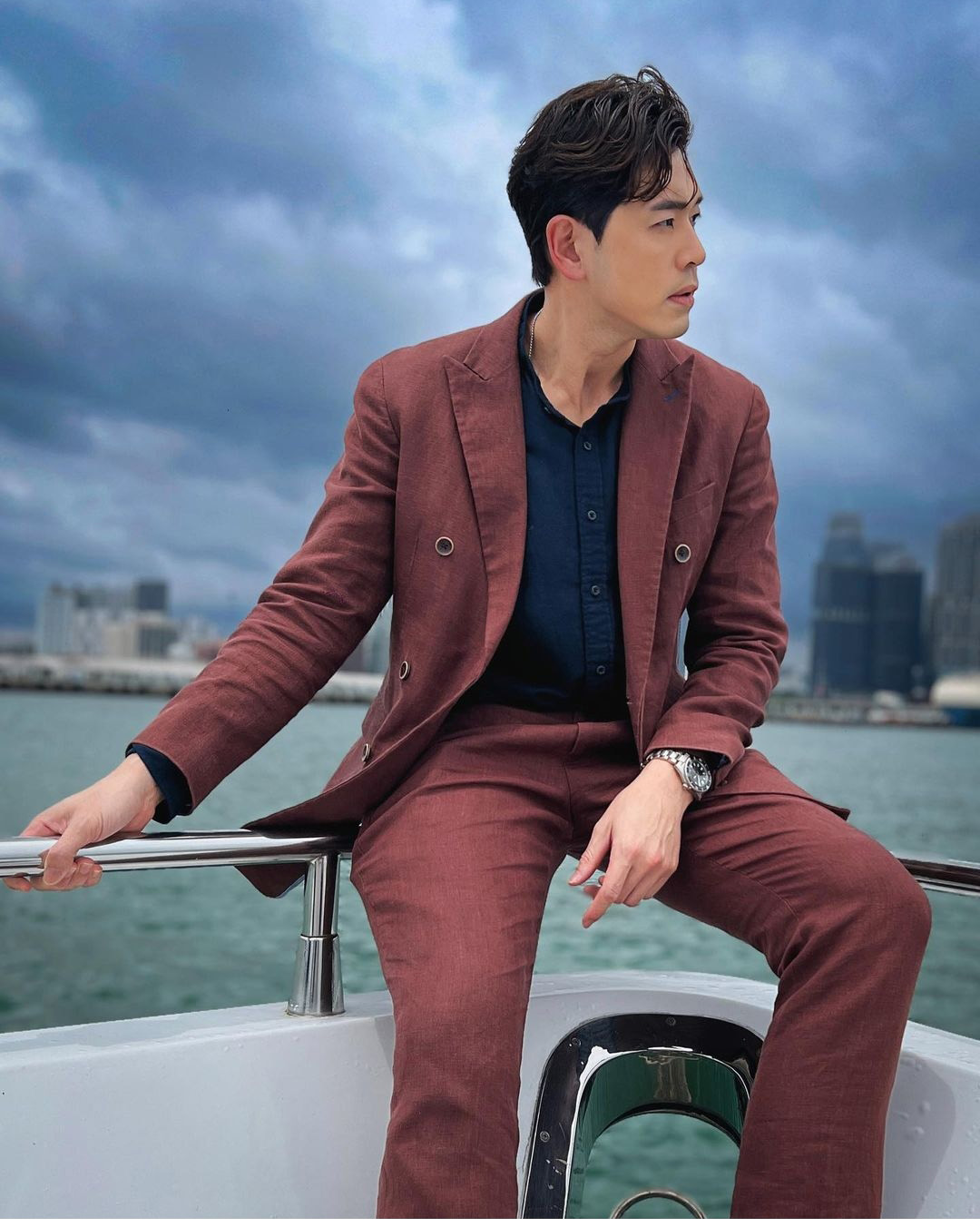 Romeo Tan
Mahogany suits are relatively rare, especially when compared to the usual blacks, blues, and beiges, but Romeo here is making us wish more guys would don the colour, which oozes both class and a casual feel at the same time.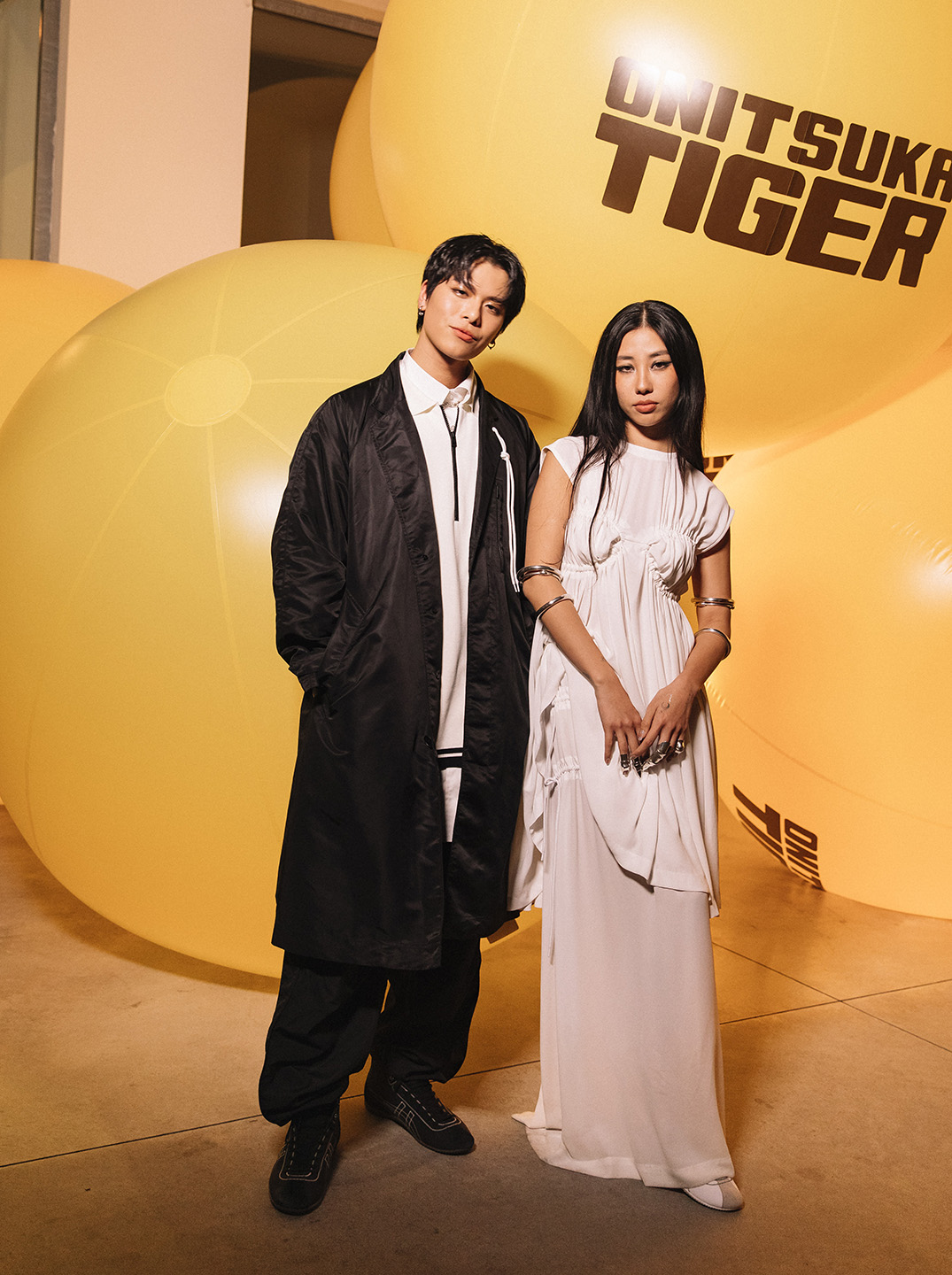 Glenn Yong
Spotted at the Onitsuka Tiger show at Milan Fashion Week was Glenn who dripped attitude in chic monochromatic look consisting of a mix of sporty and streetwear silhouettes. 
Photo: Onitsuka Tiger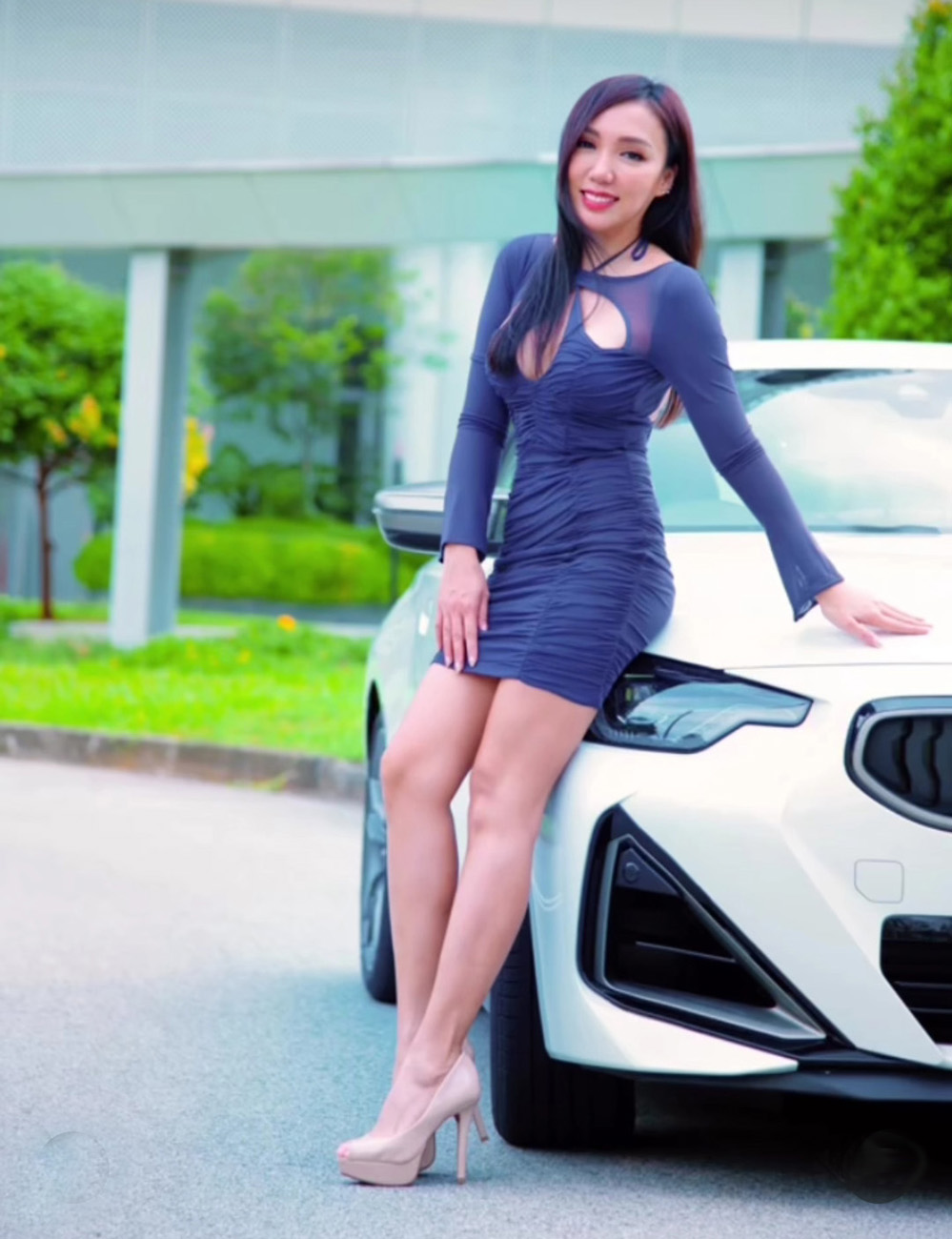 Jean Danker
Apparently, Jean loves fast cars as much as she loves fabulous figure-hugging dresses, both of which are featured prominently here. That plunging neckline's sure to stop traffic so we hope everyone on the road around her drove with caution.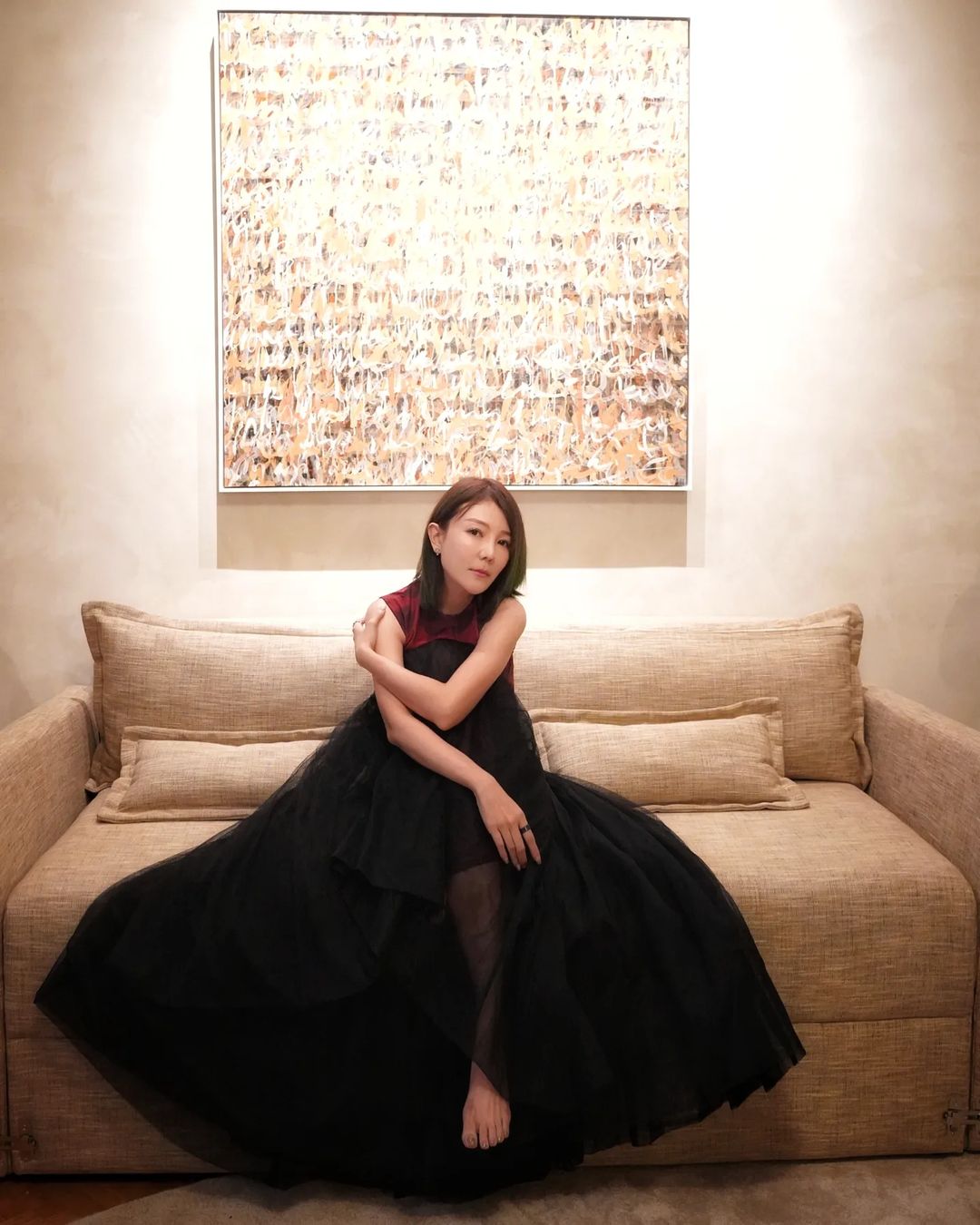 Tong Bingyu
Is there such a thing as 'tulle' much tulle? Not if it makes you look like a glamorous gothic princess like Bingyu here, who doesn't even need shoes to complete her outfit. And guess what — it's from H&M.
Yang Guang Ke Le
Yang Guang Ke Le shows that she knows how to perfectly execute denim-on-denim by pairing different tones and incorporating a variety of textures like the big bow on her chest, the studs at the back of her jacket, a bead necklace, and those cute glittery sneakers.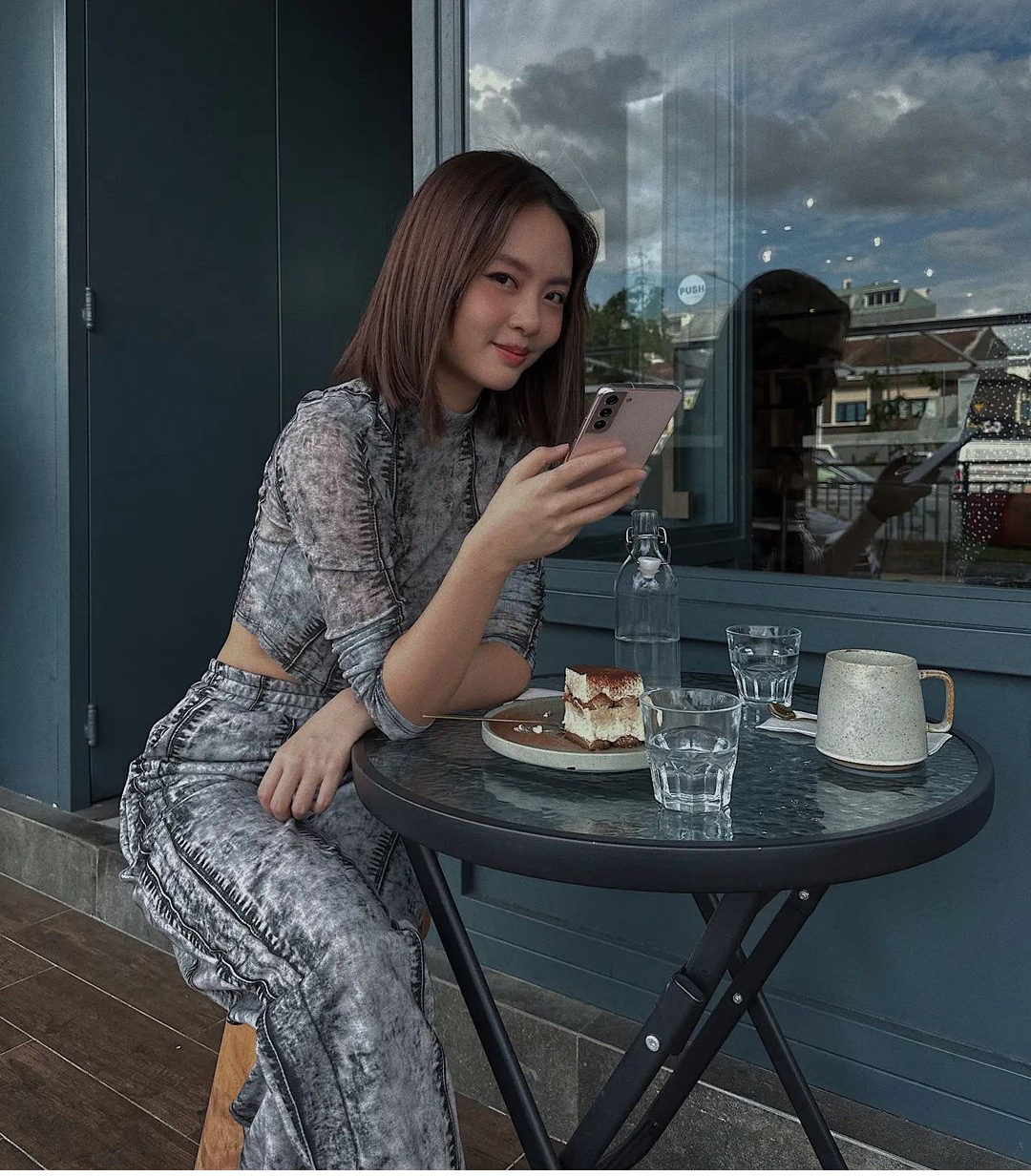 Chantalle Ng
We get more denim inspo from Chantalle, whose acid wash jeans and matching top paint an edgier vibe compared to her past few #OOTDs, which were in brighter bubblegum tones. And the thing is, she always looks amazing either way.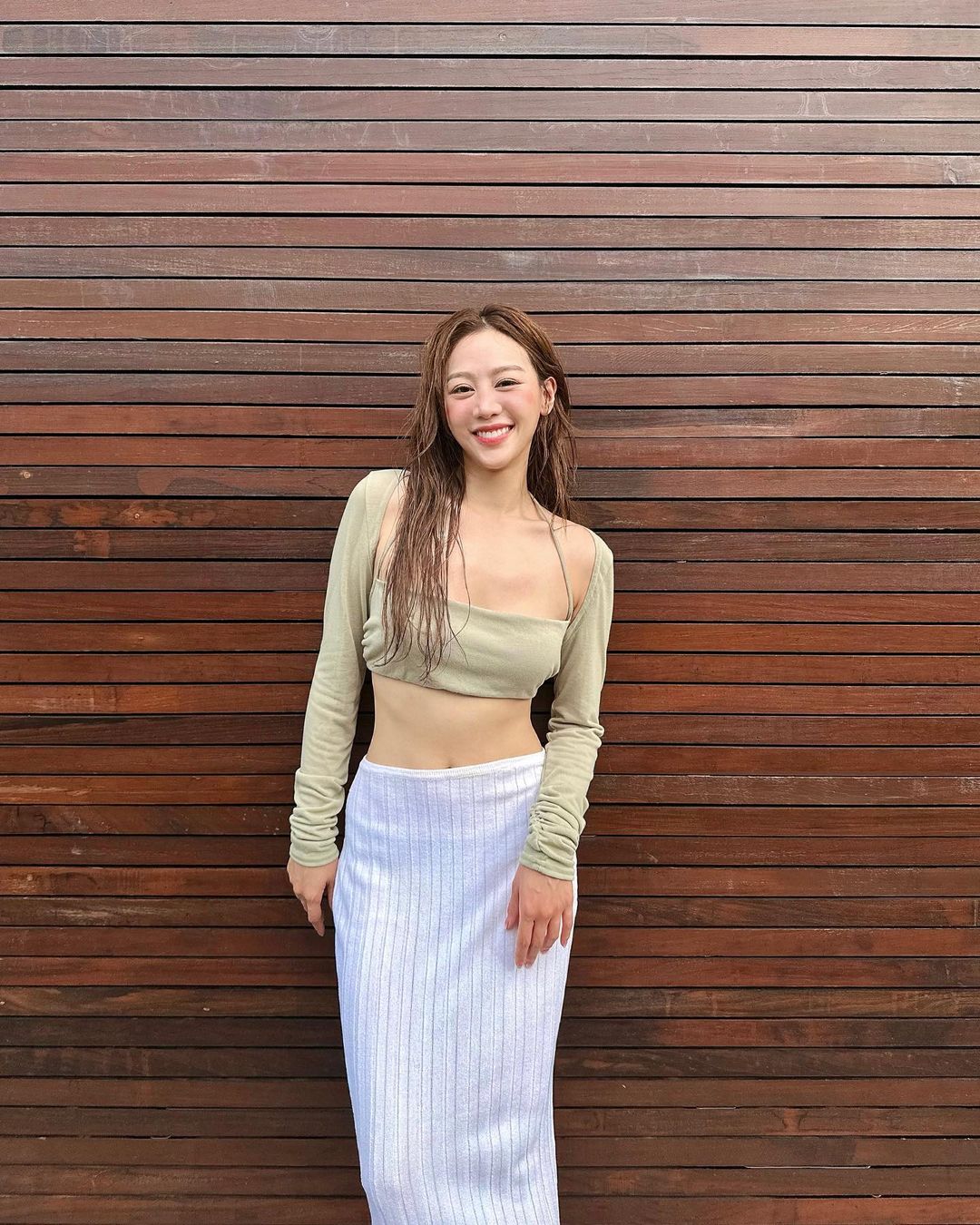 Tasha Low
Tasha is giving us major mermaid vibes thanks to her long, damp hair (which somehow still looks good), long white skirt, and bandeau tank that's perfect for flaunting trim waists like hers.
Yvonne Lim
The bright orange babydoll dress and bangs make the already youthful-looking Yvonne look even younger than she is. Definitely worth a thumbs-up.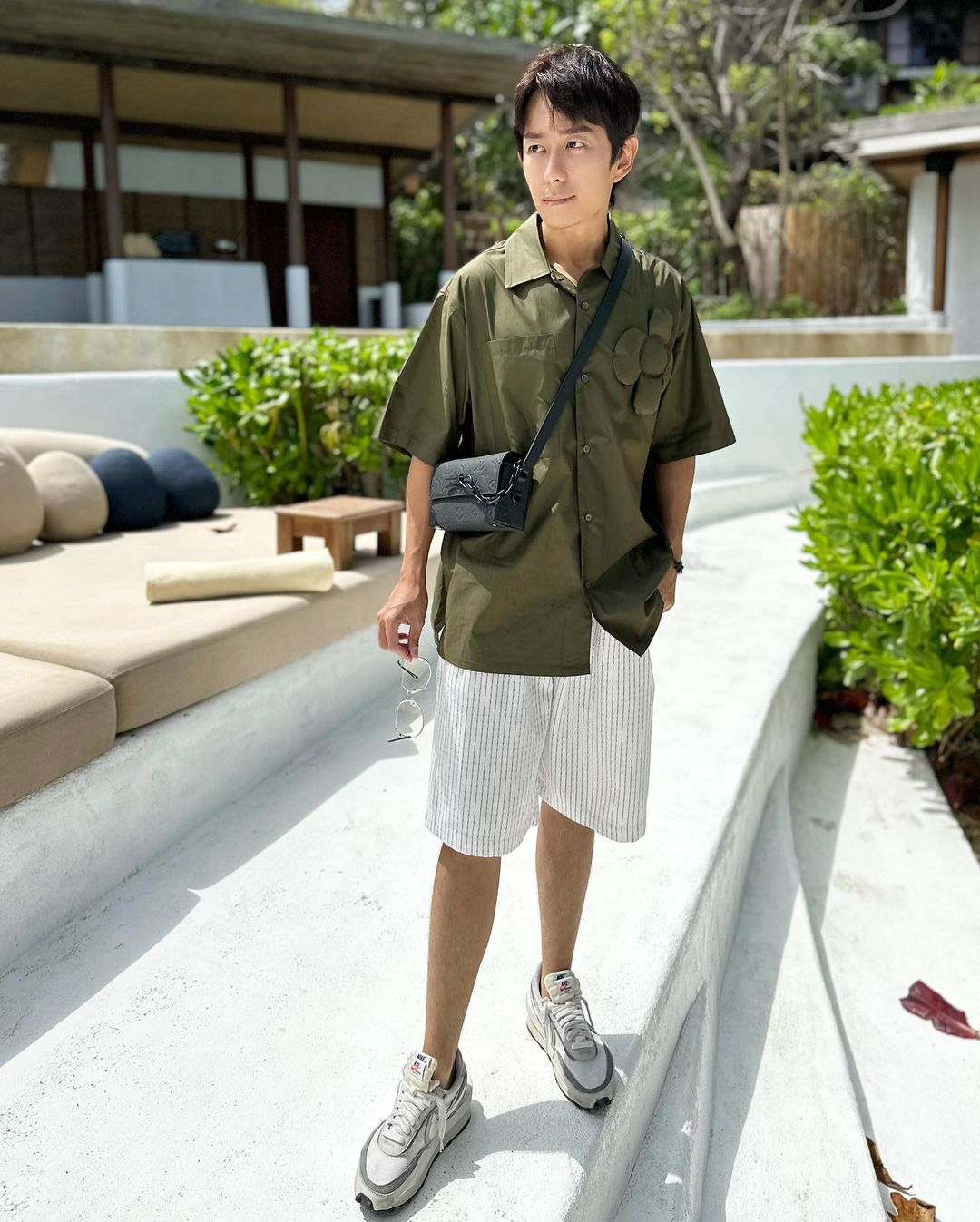 Jeremy Chan
The stereotypical tourist ensemble got a stylish upgrade by Jeremy during his trip to Koh Samui. Instead of a fanny pack, he carried a Louis Vuitton crossbody, and instead of a floral print Hawaiian shirt, his was plain with a giant puffy bloom on his chest.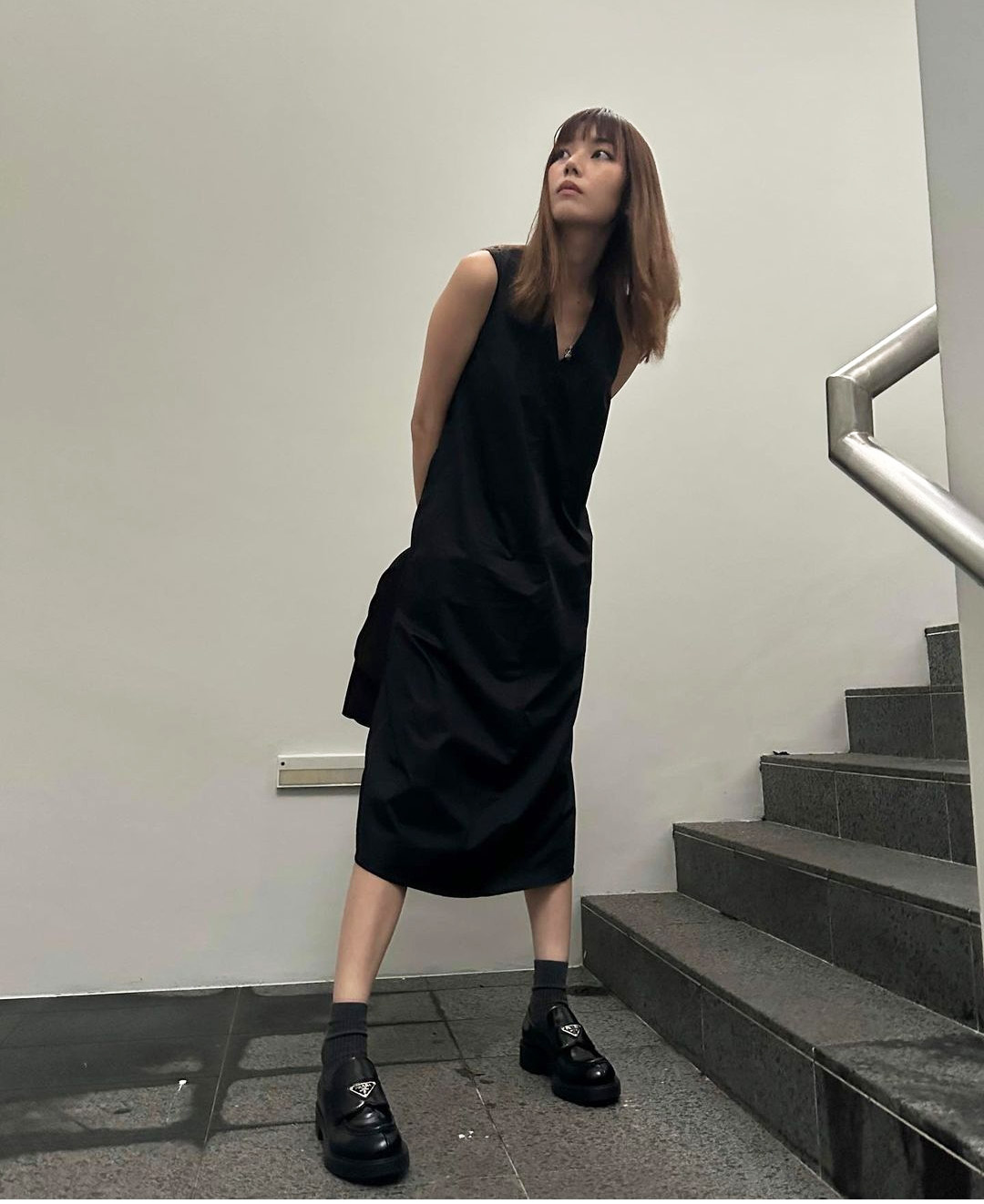 Sheryl Ang
How do you make a plain black frock go from "blah" to "wah"? Slip into some chunky Prada brogues and matching socks, and strike a calm, cool pose with a random stairwell as your backdrop. Hey, it certainly worked for the Star Search finalist.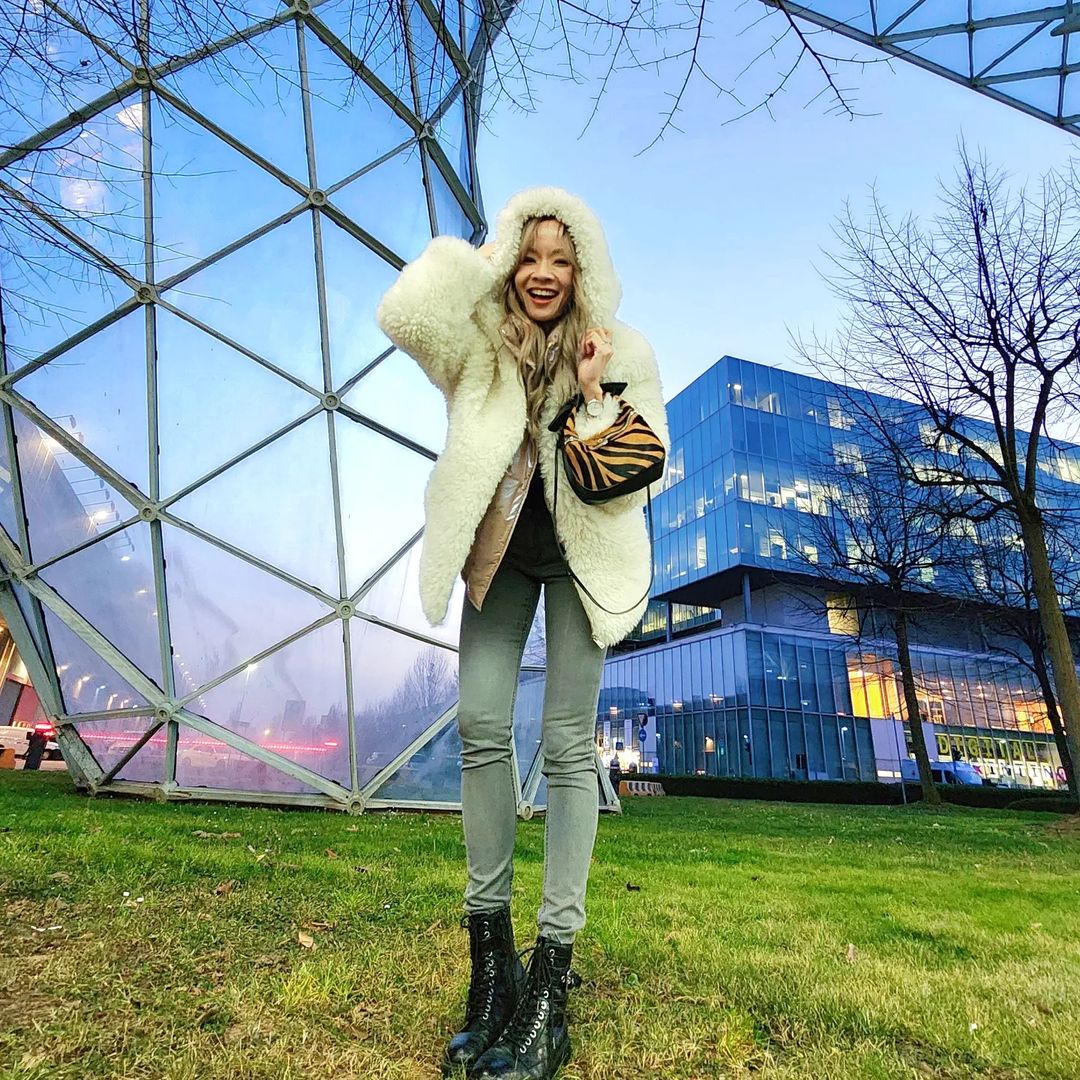 Jade Seah
Looking both toasty warm and très chic — or whatever the equivalent term in Italian is — in Milan is Jade, who paired her woolly white jacket with a tiger-print shoulder bag. So is she a big cat in sheep's clothing or the other way around? Either way, super cute.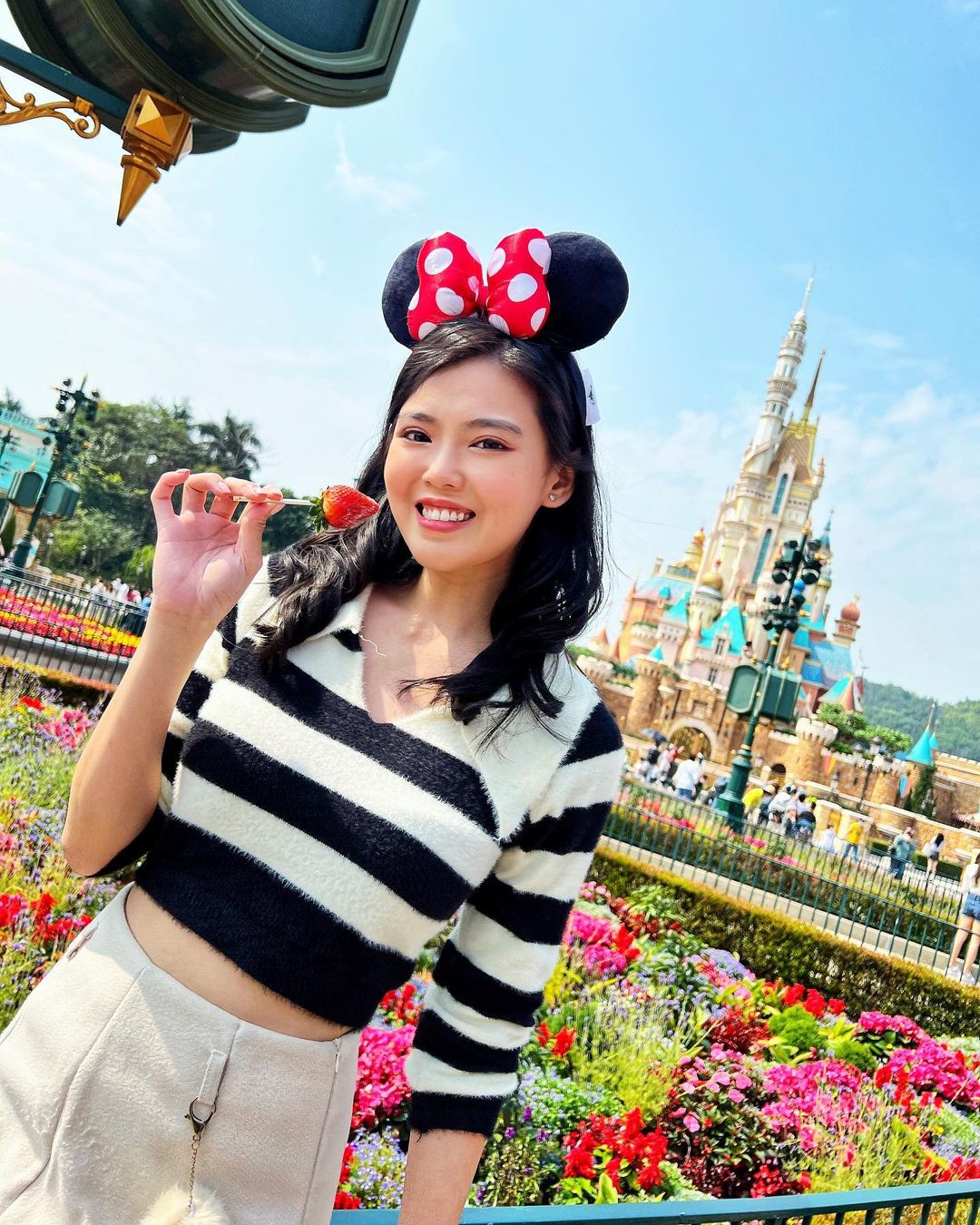 Kimberly Chia
Did you really go to Disneyland if you didn't take a photo of yourself wearing Mickey or Minnie Mouse ears? The new mama definitely got the memo during her recent trip to Hong Kong, and Minnie's iconic polka-dot bow goes oddly well with Kimberly's bold striped top.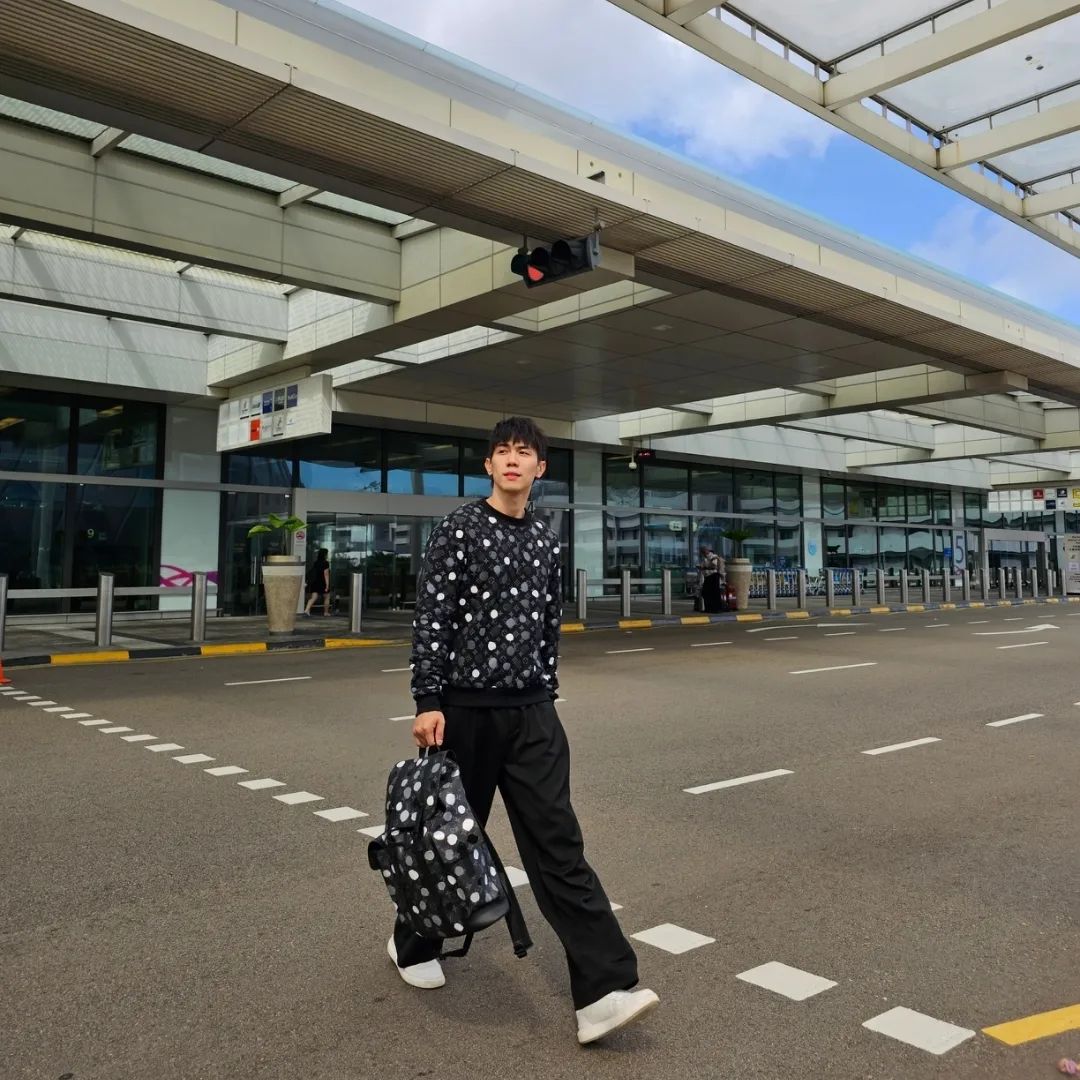 Nick Teo
Speaking of polka-dots, Nick was proudly covered in them as he embarked on his flight to Canberra for the filming of his new Mediacorp drama Shero. Those are atas polka-dots by the way — his fit and bag are from Louis Vuitton.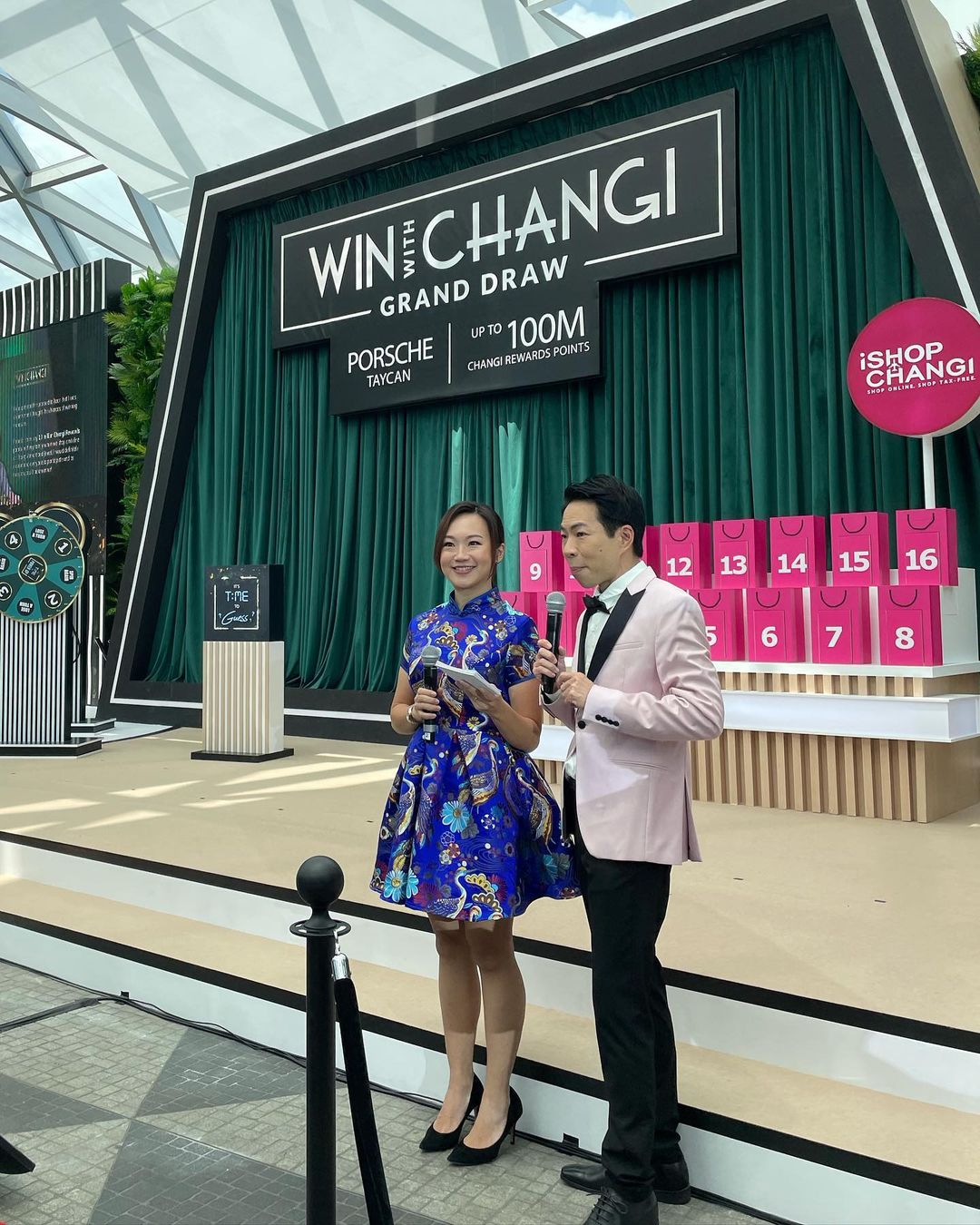 Lin Peifen
Who says cheongsams are just for Chinese New Year? Turns out they're great for hosting big lucky draws too. Peifen's bright blue version gets a whimsical girly update in the form of its short flared skirt and colourful illustrations of cranes and flowers.
Kimberly Wang
Speaking of Chinese New Year, the festive season may be over but the colour red will always be in. It's also great when you need to stand out during a shoot amidst lush greenery, just like what Kim manages to accomplish here.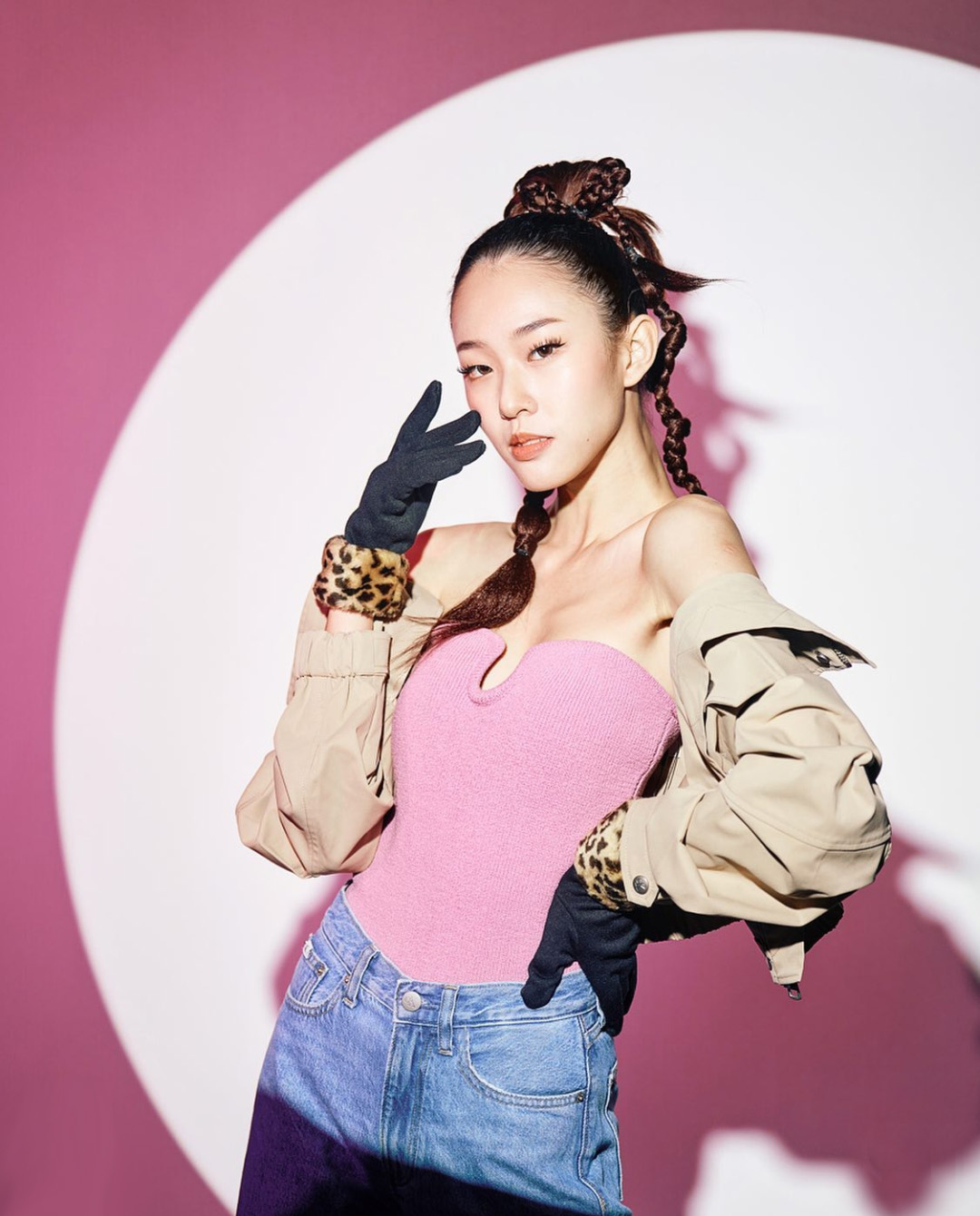 Kiki Lim
Kiki looks like what might happen when you click "randomise outfit" while dressing up your avatar for a video game, but surprisingly, we think the eclectic mix actually works — right down to the gloves with leopard print cuffs.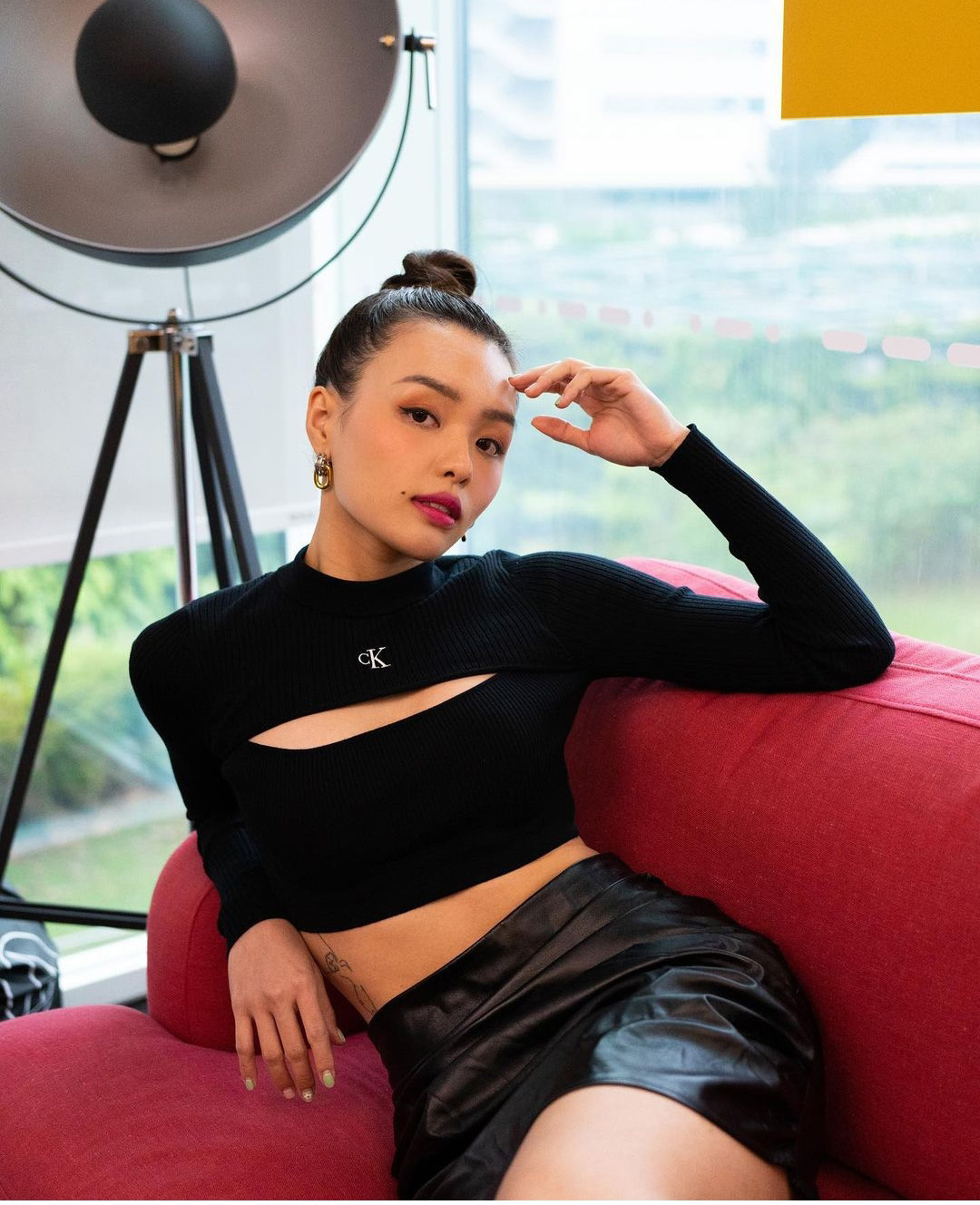 Hazelle Teo
Wearing a sexy outfit is one thing, but as Hazelle effortlessly demonstrates here, confidence is what can really pull a look together. Werk it, gurl!