'We're not working for a bungalow': Hawker couple on why they still sell 30-cent drinks in 2023
It is an incredible feat these days when one can buy three drinks with a $1 coin and still get 10 cents change back. And even more incredible, the hawkers are nice and smiley.
These days, you can hardly buy an iced drink at a kopitiam for under $2. But a hawker couple in Kovan is selling beverages like soybean milk, grass jelly and bird's nest at just $0.30 a cup.
Husband-and-wife Goh Kai Suah, 59, and Chua Choon Huay, 57, have been running their stall Sun Kee Drinks at Kovan 209 Market & Food Centre since 1984. The couple is so loving, they even sport matching hot pink highlights in their hair. Aww.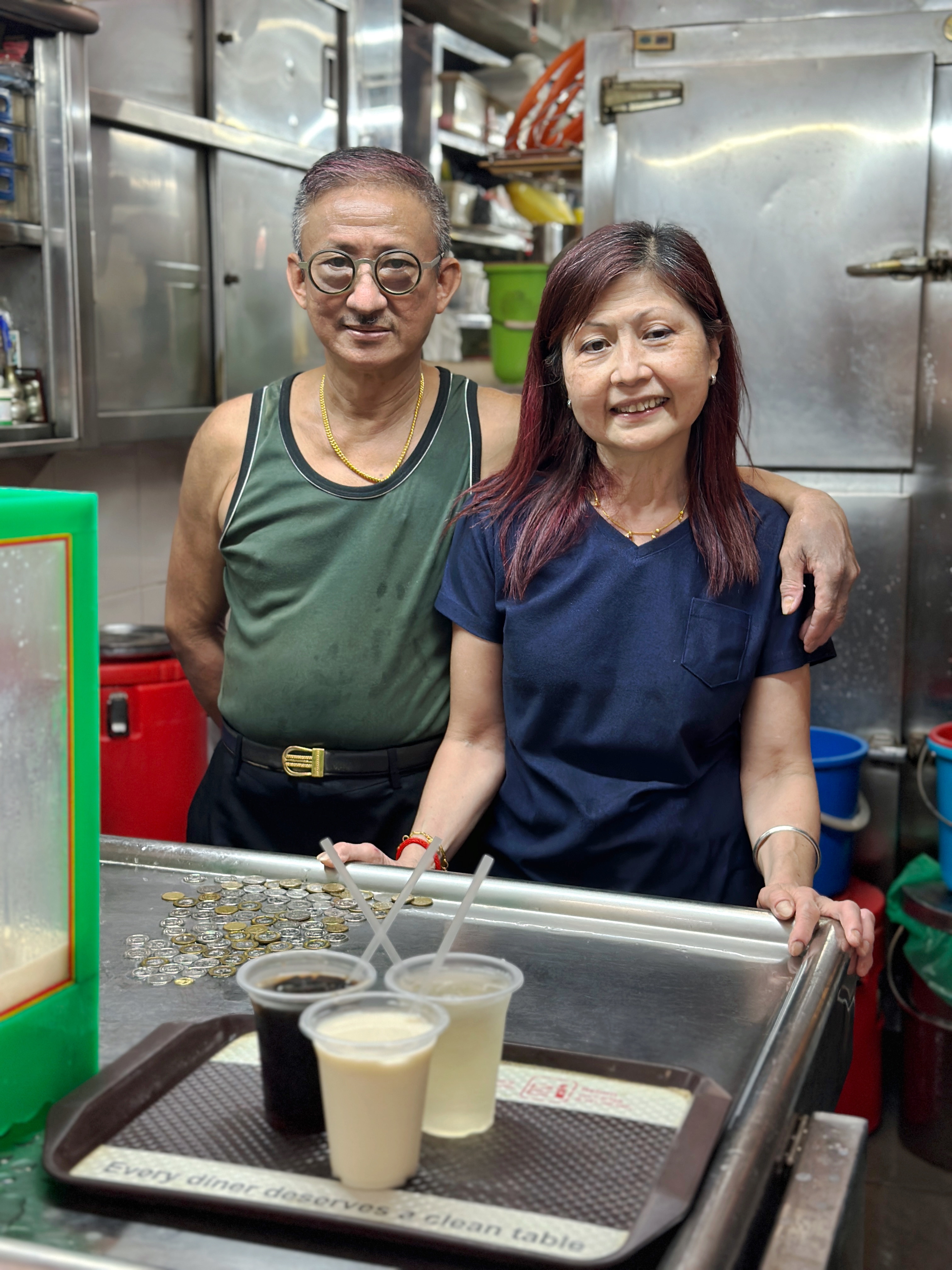 The business was started by Kai Suah's father in the 1950s as a pushcart along nearby Upper Serangoon Road. "It was much harder being a hawker back then. It wasn't a respected trade and it was very difficult to make a living. We already have it good now," laughs Choon Huay.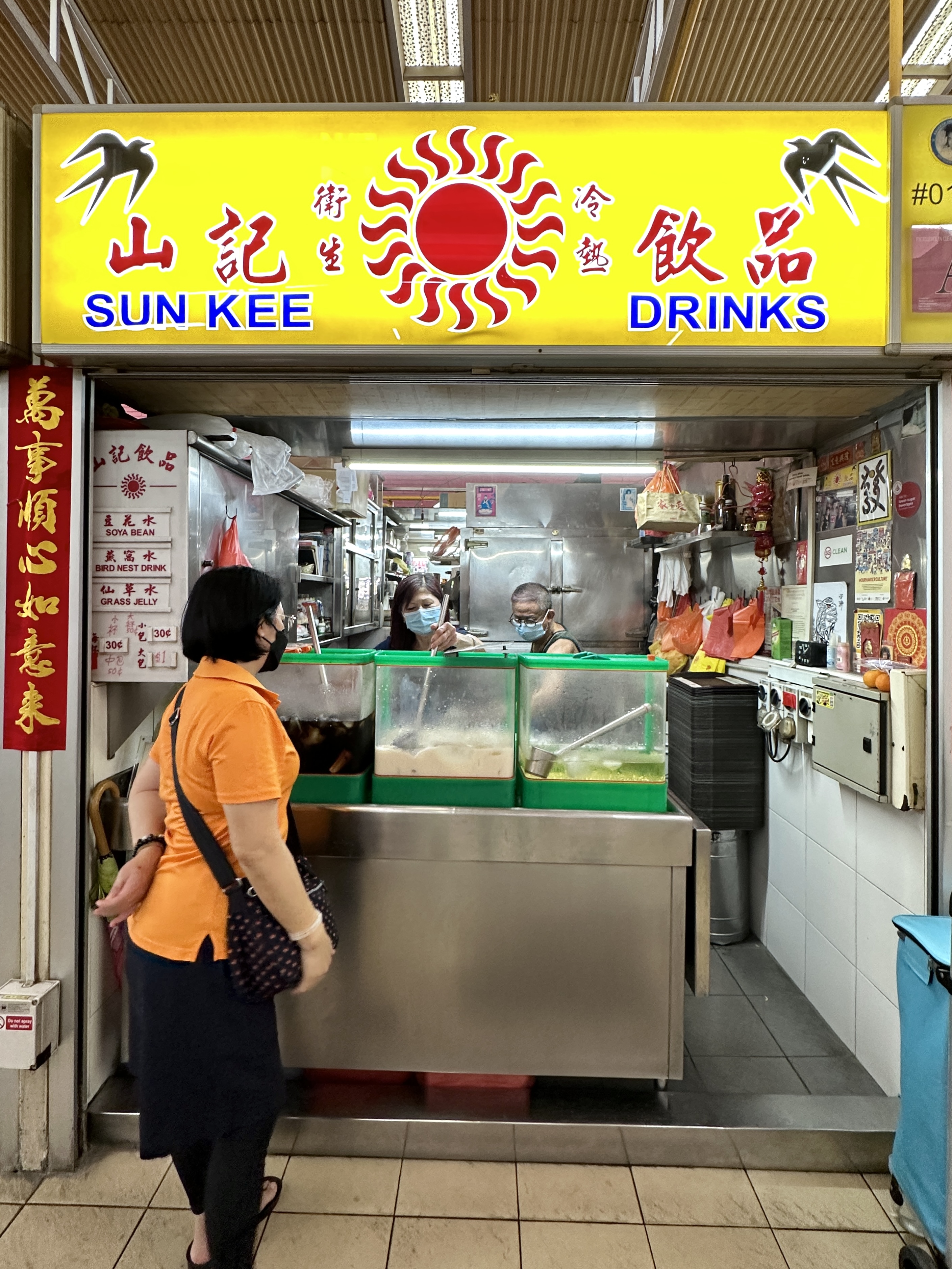 Happy hawkers 
It is perhaps this uncommon sense of gratitude and their cheerful attitude that makes the couple extra popular at the hawker centre. Most of their customers who stop by to buy a drink appear to know them well.
Although Kai Suah and Choon Huay operate their stall from 6am to around 1pm, they are usually almost sold out by noon. We foolishly went for lunch before heading to Sun Kee, only to find out that the
Beancurd ($0.60)
and warm drinks were all gone in under an hour.
"Aiyah, you should have reserved earlier, I will keep for you. That was what he did," Choon Huay chirps in Mandarin, gesturing to an uncle sitting beside the stall. In front of him are bulging plastic bags with 16 containers of tau huay.
As he ambles off, he sees us eyeing his loot and inexplicably bellows: "Oi don't judge me ah! This is very cheap. Good for people with no money."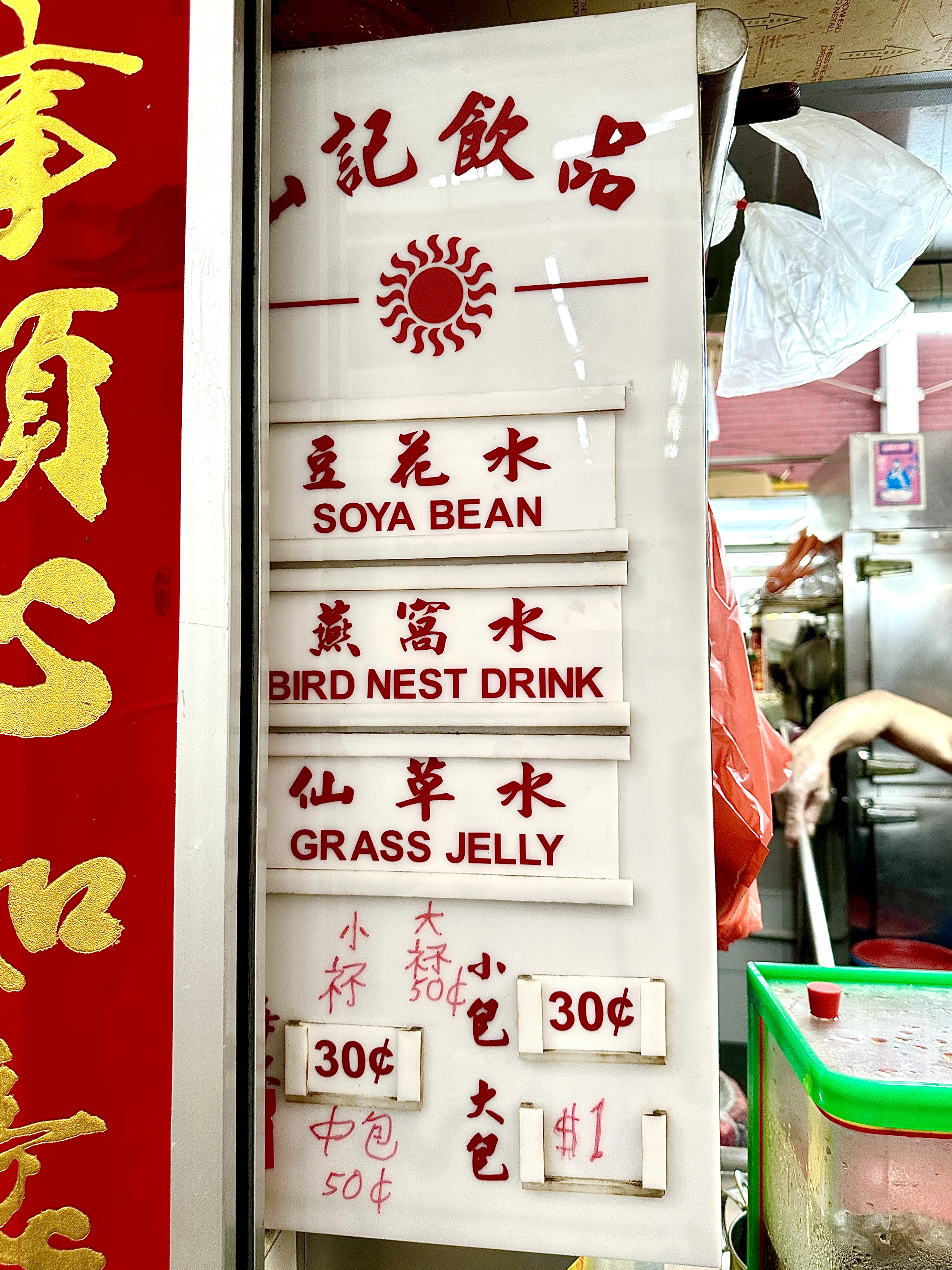 The menu
Kai Suah and Choon Huay charge $0.30 for a small-sized cup of Soya Bean Milk, Grass Jelly or Bird Nest Drink. The medium size is priced at $0.50, and large size at $1.
"We make the bird's nest drink ourselves," says Kai Suah, who explains that it is a process that involves boiling pandan leaves. Despite its name, there is very little bird's nest in this beverage, which hit peak popularity a few decades back as a wallet-friendly thirst-quencher sold from streetside carts.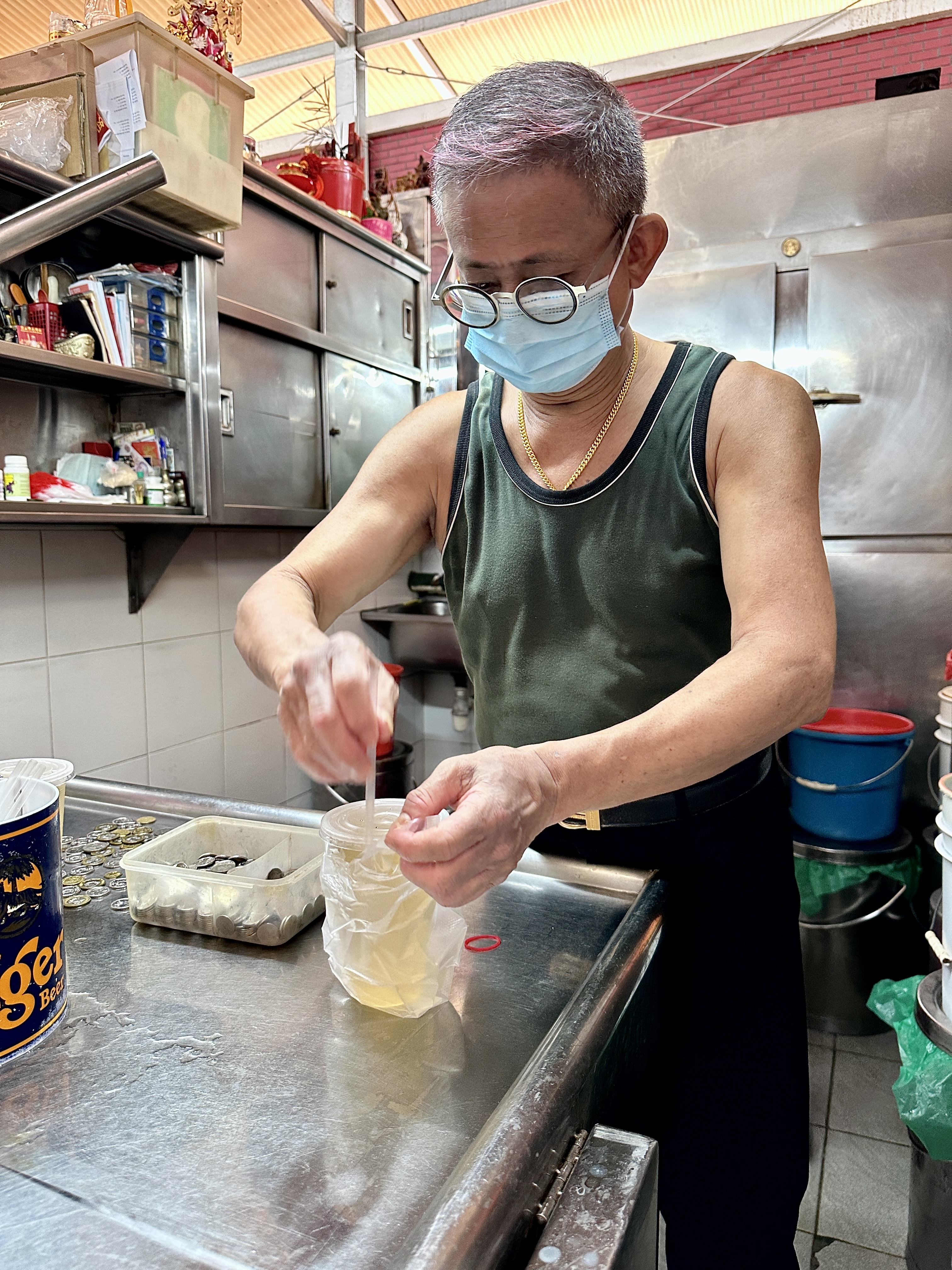 Decent quality drinks for the price
Although we paid only 30 cents each for our drinks, we found the quality very decent for the price. The soybean milk is satisfyingly thick and shiok, and the grass jelly refreshing.
The sweet bird's nest drink is nicely pandan-scented but diluted, which could be because our cup was filled from the bottom of a giant ice-filled container which was almost empty (the couple still uses retro green plastic bins from which they scoop their beverages).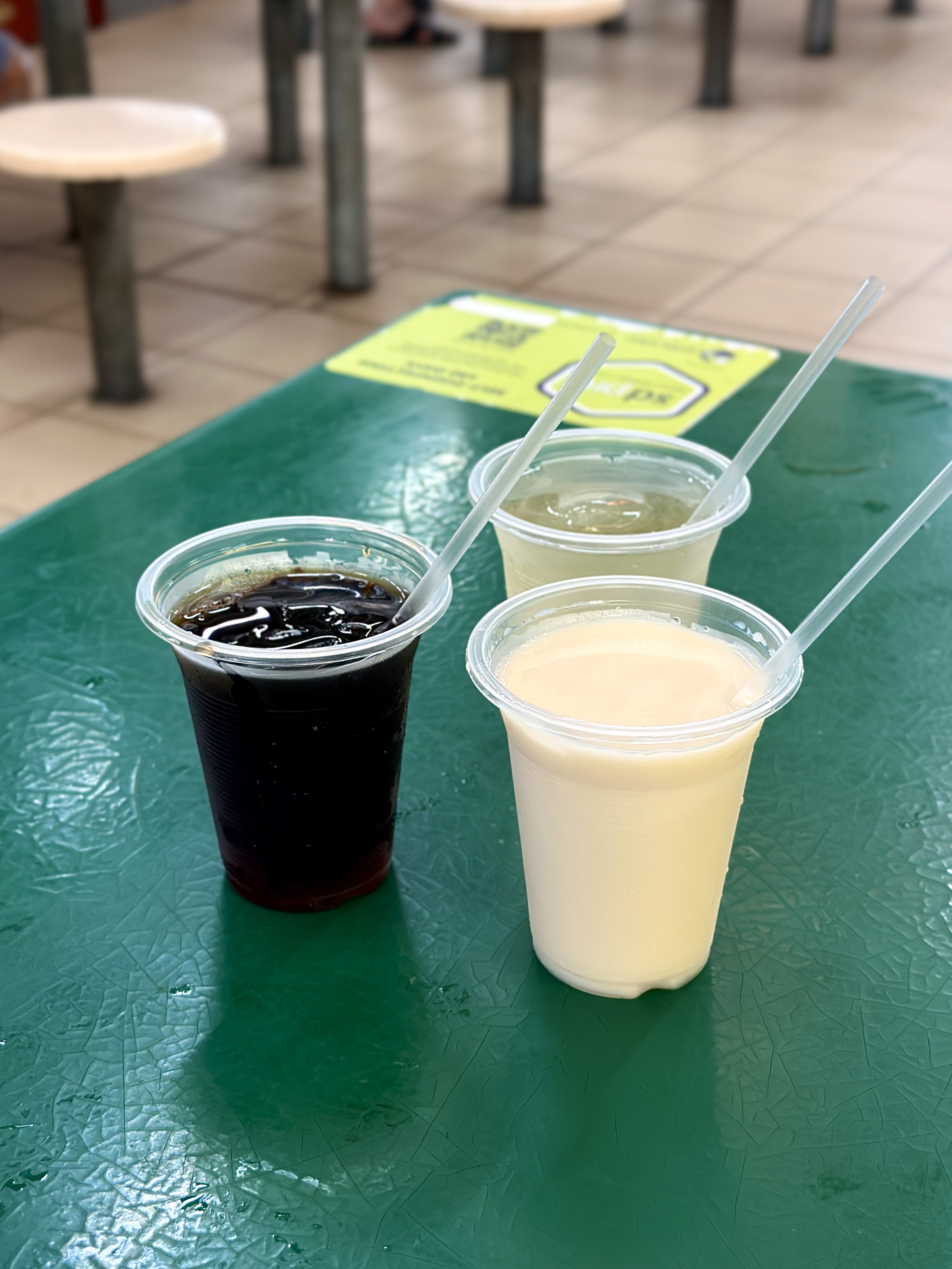 How to survive selling 30-cent drinks 
Other than the bird's nest drink, the hawker couple get the rest of their beverages from a supplier. Despite eye-watering inflation, they have kept their prices constant for almost 40 years.
"During my father's time it was only 5 cents or 10 cents for a drink," says Kai Suah modestly when we marvel at his prices.
Compared to hawkers who price their wares higher, Kai Suah and Choon Huay operate at a lower profit margin. "We are not working for a bungalow," giggles Choon Huay, though she candidly shares: "We can survive if there are customers. No customers, we are finished."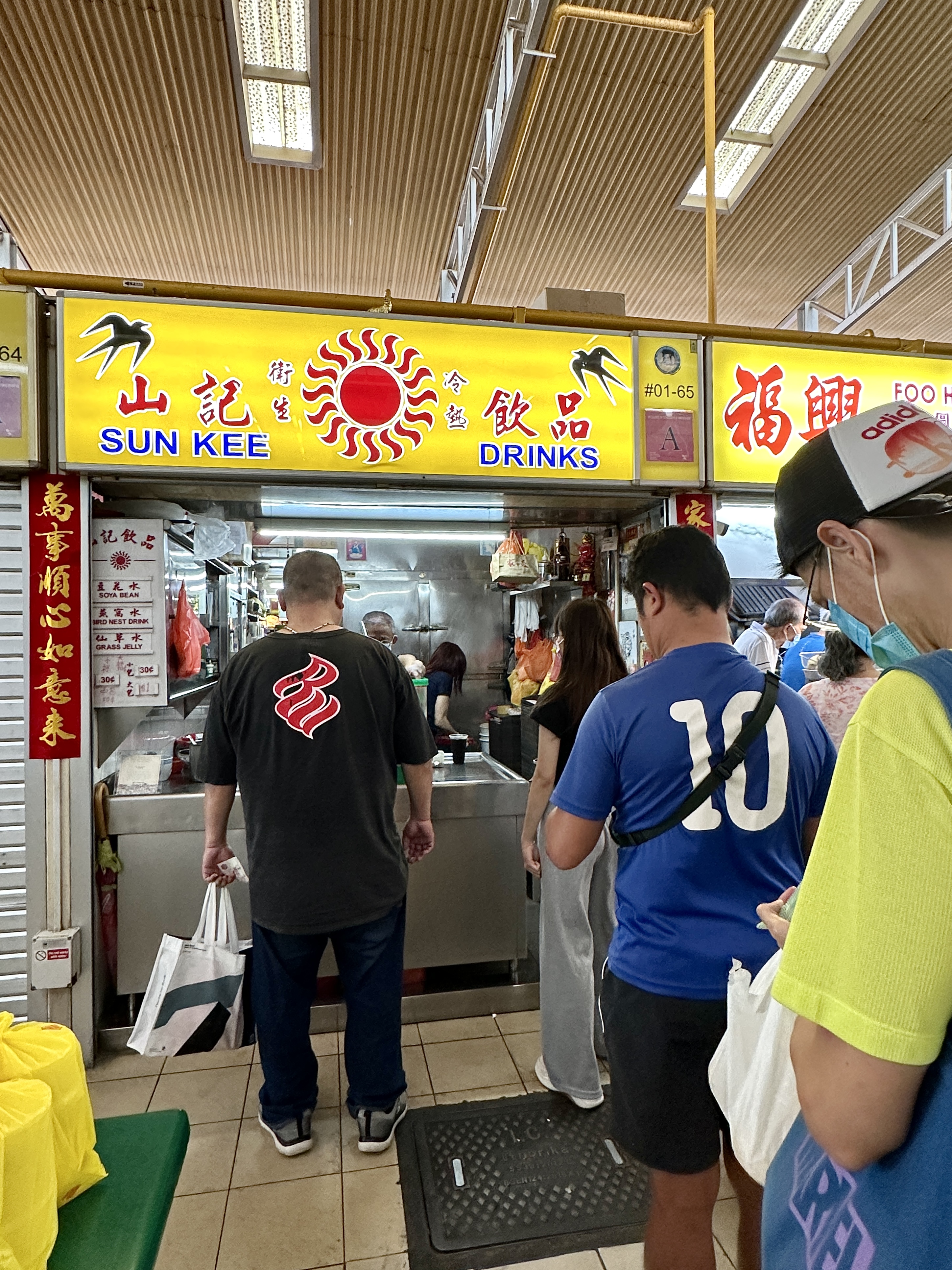 The couple's business model is centred on a basic economics tenet: Selling a high quantity at low prices. And Sun Kee certainly gets enough business. There is a psychological effect when you see something so cheap; you feel moved to buy more drinks to treat your whole kampong.
Like us, who only wanted a small cup of soybean milk but left with three drinks. We even got 10 cents back from paying with a $1 coin, which was the uncanny high that singer Sia was talking about when she sang "I love cheap thrills!"
"Some people buy 15 cups at one go. On weekends the queue is practically never-ending," shares Choon Huay. And 'cos the medium-sized drink is equally affordable, Kai Suah says: "Most customers go for at least a medium size. Hardly anyone buys the 30-cent cups."
Sun Kee Drinks is at #01-65 Kovan 209 Market & Food Centre, 209 Hougang St 21, S530209. Open daily except Mon, 6am-1pm (or till sold out, usually around 12pm).
Photos:
Yip Jieying