Western Food Stall Toi Lowers Prices Despite 30% Rent Increase After Relocating From Woodlands To Ang Mo Kio
Toi's mod Western grub will cost up to $2 less per dish in AMK Central. Its chef-turned-hawker boss tells 8days.sg why he had to relocate his stall after three months.
While industrial estate coffeeshops are home to some hidden hawker gems, their far-flung locales mean stallholders often don't get the crowd they need to turn a profit.
One such stall is Toi, formerly housed in a no-frills Woodlands canteen serving "traditional kopitiam-style Western" food with some restaurant-style flourishes. It was headed by Darren Seet (below, left), 26, a former part-time chef de partie at Grand Hyatt Singapore; as well as his girlfriend Shanesca Low, 23, and her brother Charlsce (right), 22.
Although we found Toi's nosh like deep-fried chicken chop dressed in a tangy chicken rice-esque chilli emulsion and Ikea-style wings yummy during our last visit, business at the secluded industrial estate was simply "too slow" for the trio to sustain their stall – which is why they ended up closing shop after just three months, at the end of October. Toi will relocate to a heartland coffeeshop in Ang Mo Kio Central on November 21. There, their food will be offered at slightly lower prices (main courses will soon start at $6.90, about $0.50 to $1 less on average). 
No part of this story or photos can be reproduced without permission from 8days.sg.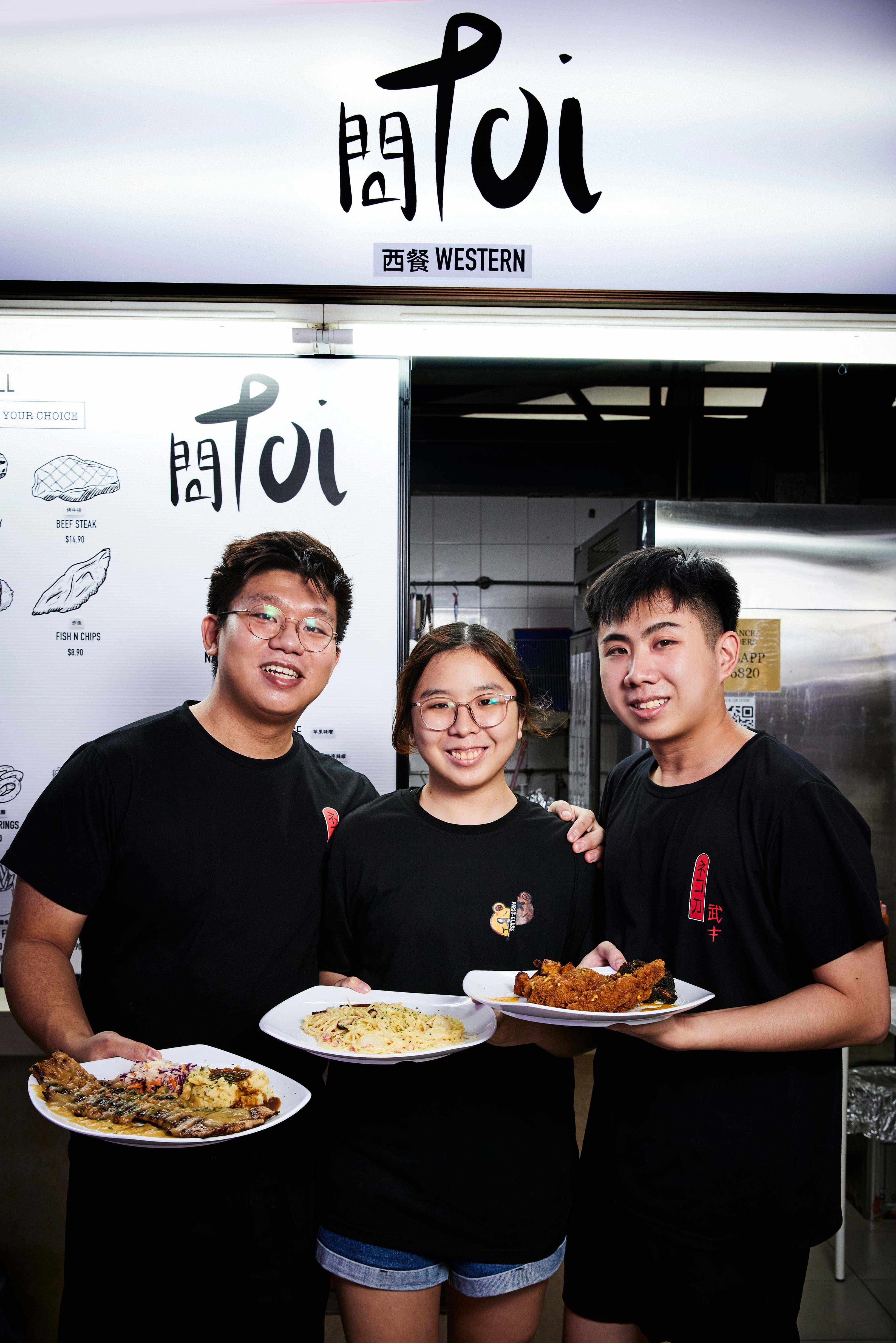 Good crowd for two weeks after 8days.sg's coverage
"After [8days.sg's previous] article [in September], the crowd really came," says Darren. "That period was good for us – we sold around 110 portions a day."
"But after two weeks, when the hype died down, we were back to square one," he shares, estimating that they only managed to move around 30 plates daily – which wasn't enough after factoring in "rent and operating expenses". In fact, the hawkers only saw some profit for one month – September, when 8days.sg visited – out of the three months they were operating in Woodlands.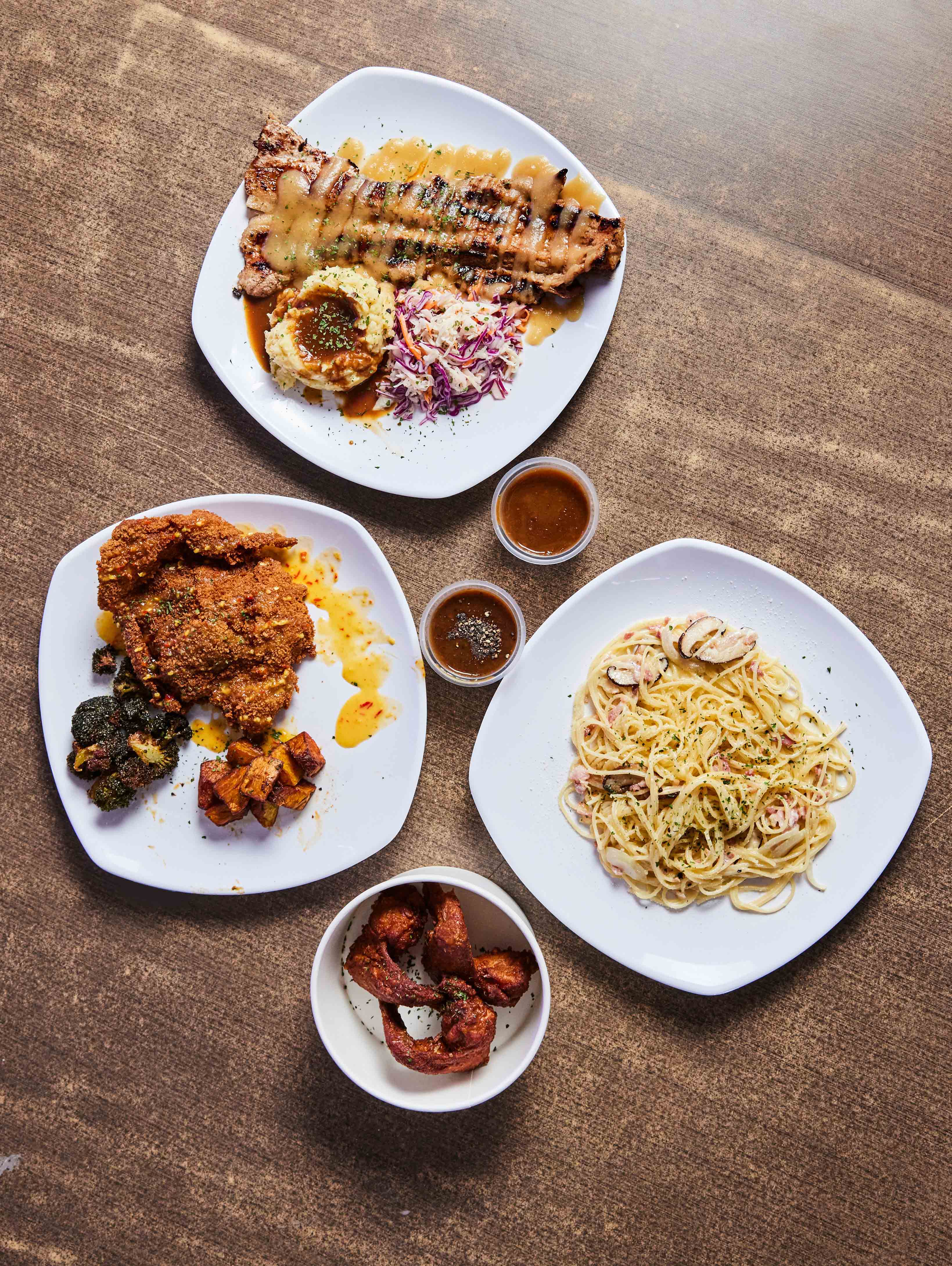 Different factors contributed to lacklustre business
Darren attributes his stall's lacklustre business to a number of factors. Firstly, their "ulu location", which meant they didn't get many customers apart from a mix of blue-collared and office workers in the surrounding industrial buildings.
"But in the last two months, Covid cases started to rise again, and many of the office workers started working from home. This left only the blue-collared workers, who don't really eat our food as often," explains the millennial hawker.
This points to their stall's second issue given their locale – their grub's higher-than-average prices, averaging $7 and up when other stalls mostly sold food costing "around $4 to $5". "We dropped the price by about $0.50 to $1 per item, but the quantity [of customers] still wasn't there," he says.
"We decided to take the loss and try again"
Assuming that it was unlikely that their business at Woodlands would improve with the upcoming holiday season, Darren decided to cut their losses and shut down their stall in October. Their total losses since starting their biz, which included having to forfeit their deposit of one month's rent for relocating Toi early and the cost of moving to Ang Mo Kio, add up to "over $10K".
The first-time business owner admits that the closure was a stressful experience. "Definitely, there were a lot of sleepless nights. But this is business – you won't always do well or succeed. There will be plusses and minuses. We decided to take the loss and try again," he says.
But not before he went through moments of self-doubt. "My girlfriend was very insistent on trying again," he says. "But I was planning to take a break [from hawkering to get a stable job in the F&B industry and build up more capital], and come back later in a few months. She told me that if I were to do that, all of our customer base that we had built up would be gone by then – they would forget us. So it was because of her encouragement that we decided to give this a second shot. That's why sometimes, I think she makes a better boss than me (laughs)."
Why is food cheaper at Ang Mo Kio despite steeper rent?
They chose to reopen Toi at an Ang Mo Kio coffeeshop for its "good residential crowd throughout the day". Darren is optimistic about their new stall, despite paying "30 percent higher" monthly rent for a space "a third smaller" than what he had previously in Woodlands. Says the hawker: "[The higher rent] would definitely make it harder to earn a profit, but in the long run, we feel that this is an investment that could pay off."
After all, he believes that the increased footfall will be substantial enough for them to earn enough despite cutting the prices for their main courses: "At my old place, the crowd only came during lunch, so I could only capitalise on that short period of time – therefore I had to sell my food at a slightly higher price to cover my costs. Now, as we are in a residential area, there will be a crowd during both lunch and dinner. So I don't have to sell it at that price point any more. I can go lower, as I [offset the costs by selling] more [plates]."
Prices of main courses adjusted
Toi's six main courses have been adjusted to be more pocket-friendly. For example, the entry-level Chicken Chop now costs $6.90, down from $7.90. The Miso Pork Belly is also a dollar cheaper at $7.90. The biggest price reduction is for the Rib-eye Steak – it is now $12.90, compared to $14.90 previously.
As for the pastas, Toi now sells a budget 'kosong' Aglio Olio for $3.90. It costs $7.90 to get it paired with chicken or pork chop. Other new menu items include Bangers N' Mash ($7.90) and an All Day Breakfast ($8.90), which comes with a sausage, fried egg, mushrooms and baked beans.
Side dishes like the hawker's tasty Ikea-style chicken wings are, oddly, slightly pricier – they used to cost $4.90 for three pieces, or $8.90 for six (about $1.50 to $1.60 apiece). Two wings now sell for $3.40, or $1.70 each.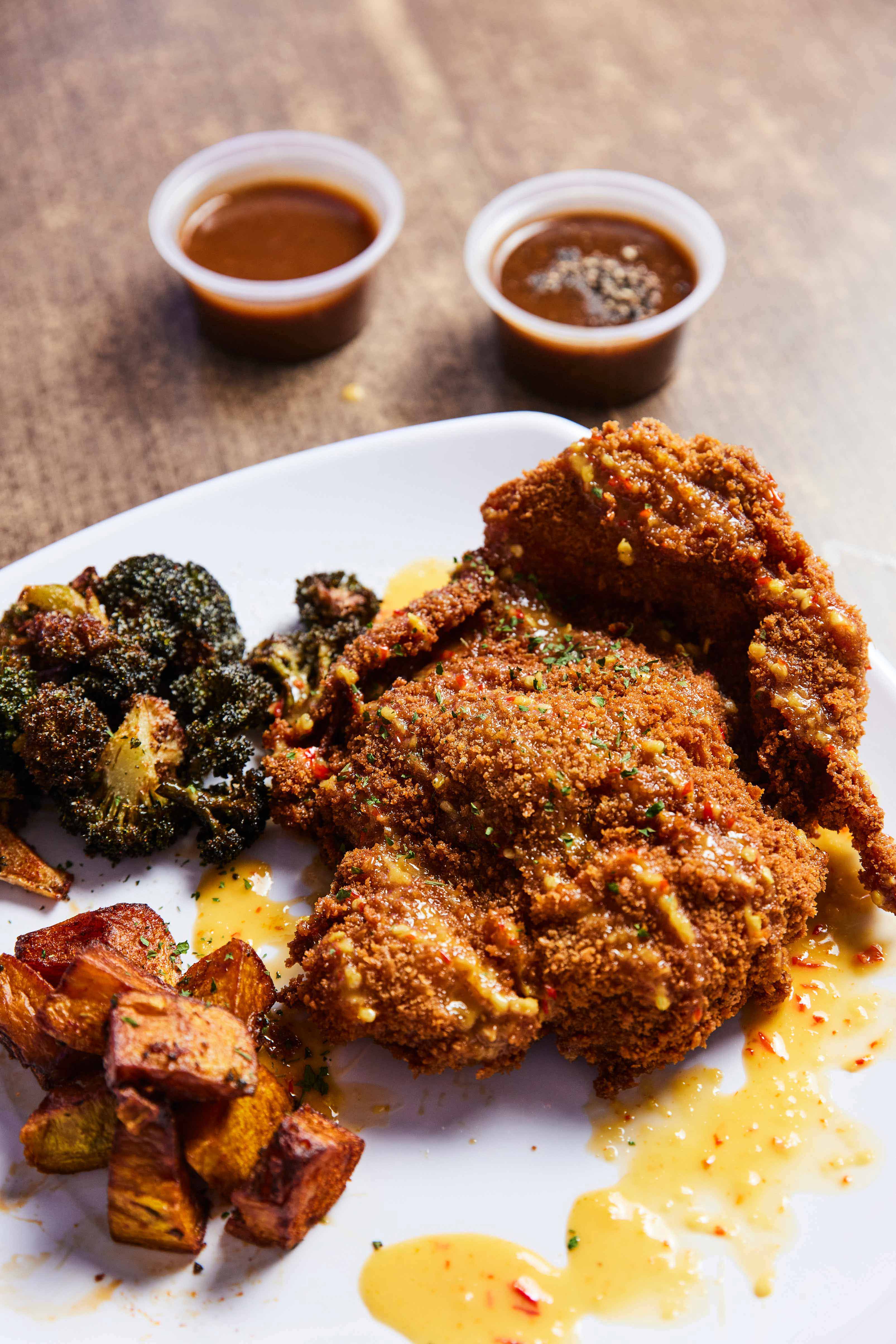 Streamlined menu to cut costs
While Darren shares that he has switched to using cheaper Australian rib-eye steaks now, he assures us that there will be no change to the quality of his chicken and pork belly, which he will continue to get from the same supplier. He also promises that portion sizes for all the meats "will be exactly the same as before". 
However, there is a small trade-off. You will no longer be able to pick from an array of different sides including more atas stuff such as broccoli – every main course now comes accompanied with standard coleslaw, fries and baked beans.
Certain items, like the roasted pumpkin and fiery Hainanese chilli sauce, have been removed from the menu altogether. "The cost of these items is higher, and some of them don't keep very well. We've taken them off the daily menu for now, but some popular ones, like the Hainanese chilli sauce, might return on a seasonal basis," explains Darren.
He hopes that these changes will allow them to succeed at their new location. "We'll probably take a year to break even on our initial investment and previous losses," says Darren. "Running a business is about learning from your mistakes and doing better. So yeah, I'm hoping to make Toi bigger and better this time."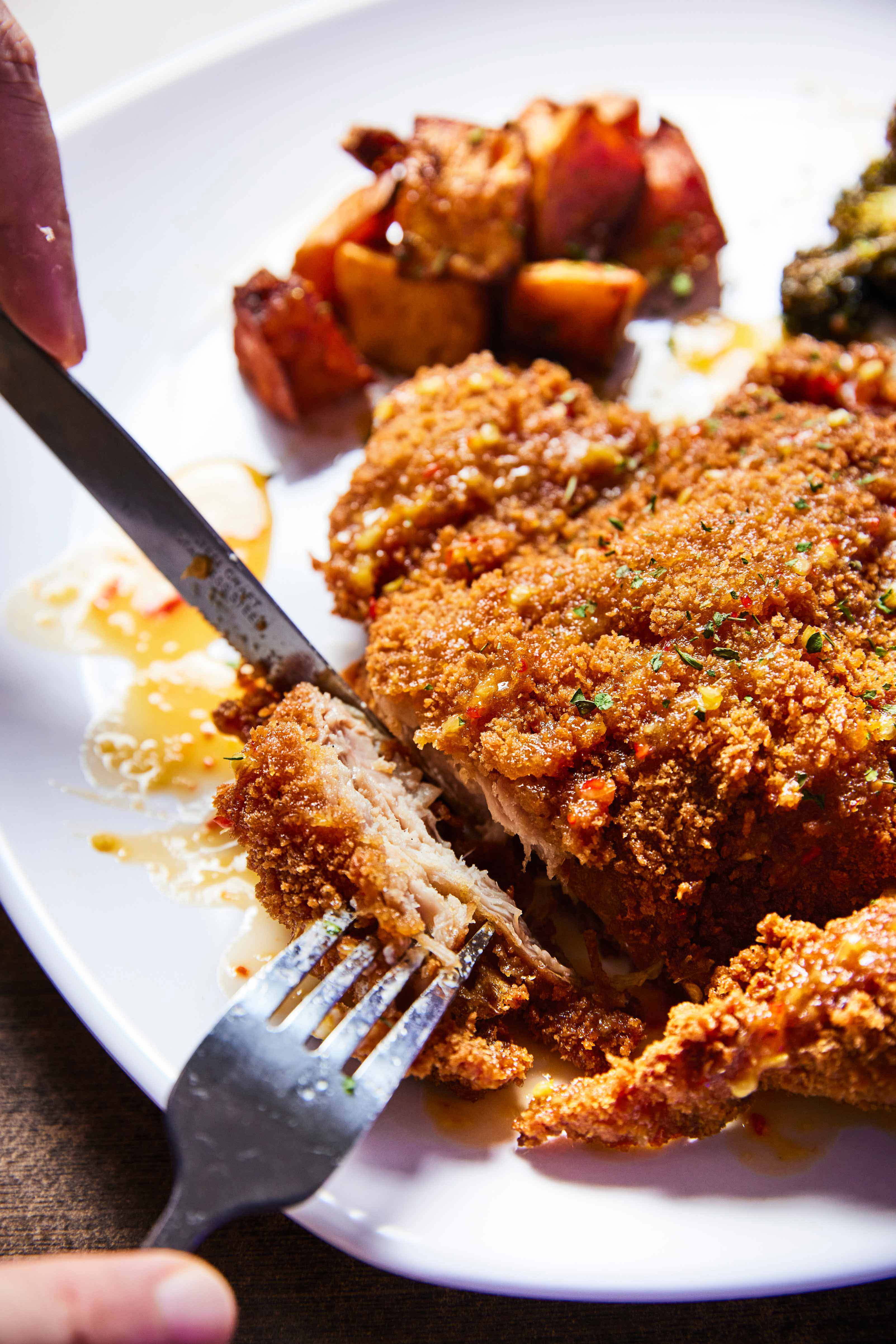 The details
Toi reopens on Nov 21 at Nam Wah Coffeeshop, Blk 728 Ang Mo Kio Ave 6, S560728. Tel: 8666-2938. Open daily except Wed 11.30am – 2.30pm; 5pm – 10pm. More info via Facebook and Instagram.
Photos: Aik Chen
No part of this story or photos can be reproduced without permission from 8days.sg.