What Is A Good Shark Documentary? We Ask A Marine Scientist (Who Is Also A Pro Wrestler)
Marine scientist and (sometimes wrestler) Naomi Clark-Shen lets us in on which documentaries to catch during Nat Geo Wild's Sharkfest 2022. 
If it weren't for National Geographic, Naomi Clark-Shen won't be doing what she's doing now: studying sharks.
"I think I was like, 14 years old when I was watching a National Geographic programme about hammerhead sharks in Cocos Island," Clark-Shen, now 31, tells 8days.sg via Zoom. "I remember it so clearly, and before that, I was kind of scared of going in the water. But when I watched this documentary, I was just like, sharks are so cool, I want to study them! And then my parents got me my first shark identification book, and it just took off from there."
Clark-Shen was born and raised in Singapore and returned to the UK where she completed her BSc in Animal Behaviour and MSc in Applied Marine Science, before moving back home to Singapore. She's currently pursuing a PhD on the biology and ecology of small-bodied sharks (blackspot sharks) and stingrays (blue-spotted maskrays) caught by fisheries in Southeast Asia at the Singapore campus of James Cook University. She also consults for World Wide Fund for Nature (WWF) on shark, ray, and seafood projects.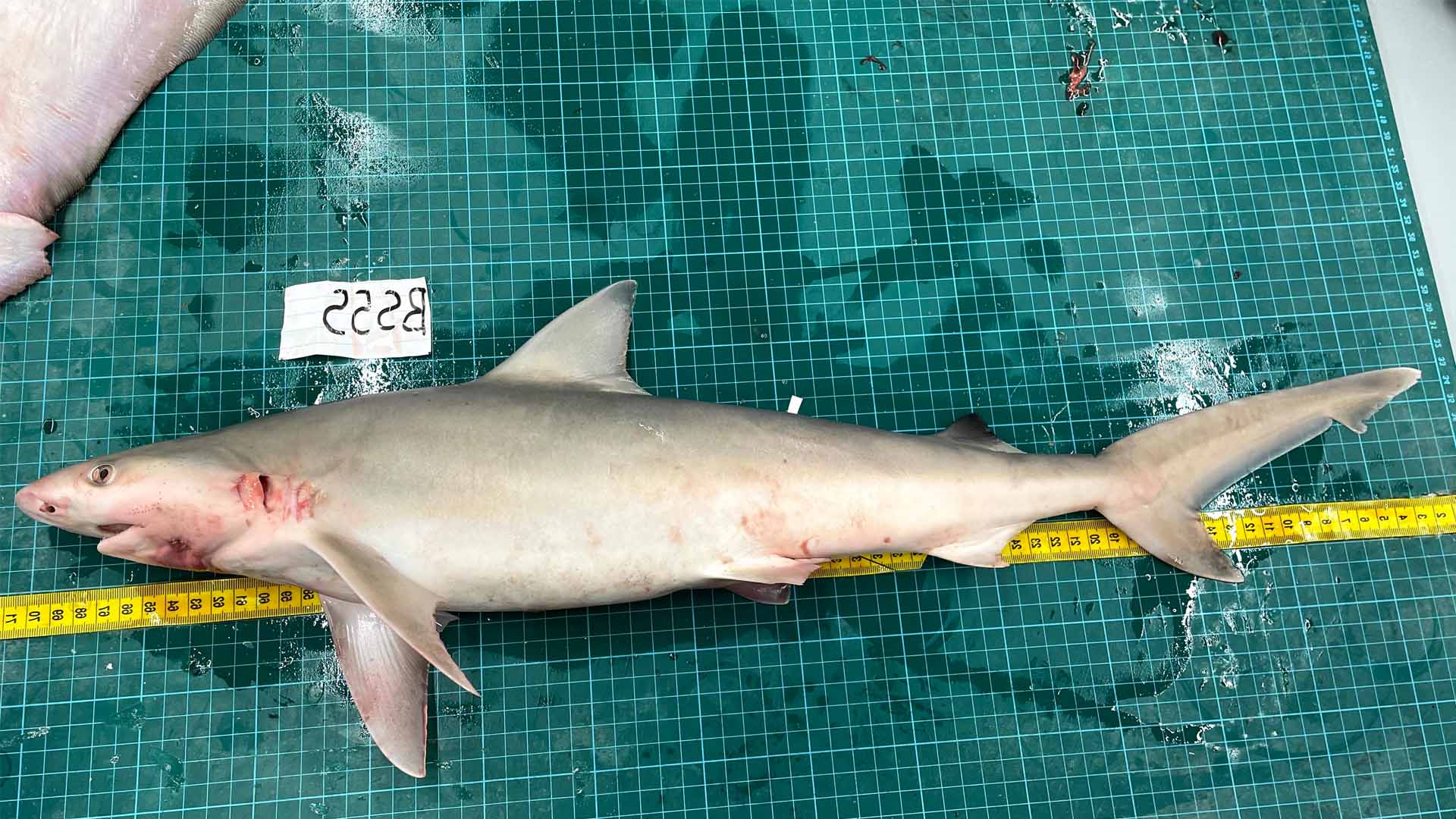 A shark's tale: Naomi Clark-Shen examines an adult blackspot shark (carcharhinus sealei). The little-known shark is a small shark species that rarely grows beyond 90cm long and it got its name from the small black spot on its second dorsal fin. She gets her specimens from a private supplier at the fishery port. "He delivers dead sharks and stingrays every month for me to dissect in the lab," she says.
So if you need an expert recommendation on what to watch during Sharkfest, Nat Geo Wild's annual event about the most majestic, mysterious and oftentimes misunderstood apex predator of the sea, she's the go-to person. But first things first, what makes a good shark documentary?
"For me, it's two things," she says. "The first is that you cover something that hasn't been done before, because my issue with documentaries nowadays is they just cover the same stuff over and over again, and it's getting really boring. So something different that hasn't been done." One special in the line-up fitting that bill is Camo Sharks, which centres around sharks that change colours to enhance their predatory abilities. "I think that's amazing!" Clark-Shen trumpets. "I don't that's ever been done before."
The second criterion? "I'm a sucker for mystery," she says. "I know people don't like it when we portray sharks in this scary, mysterious way, but for me, it's such a hook." One such documentary that reeled her in, so to speak, is Maui Shark Mystery, which looks at why tiger sharks love to gather around the Hawaiian island.
And there's, of course, the exploitative kind which she isn't a big fan of.
"I remember back in the day many of the shark documentaries I watched were all about shark attacks — with all the footage down sharks' throats and showing their teeth," she says. "I think it has been very bad press for sharks. But when you're framing sharks as being impressive creatures with an air of mystery, I think it will add a level of intrigue and curiosity which is great!"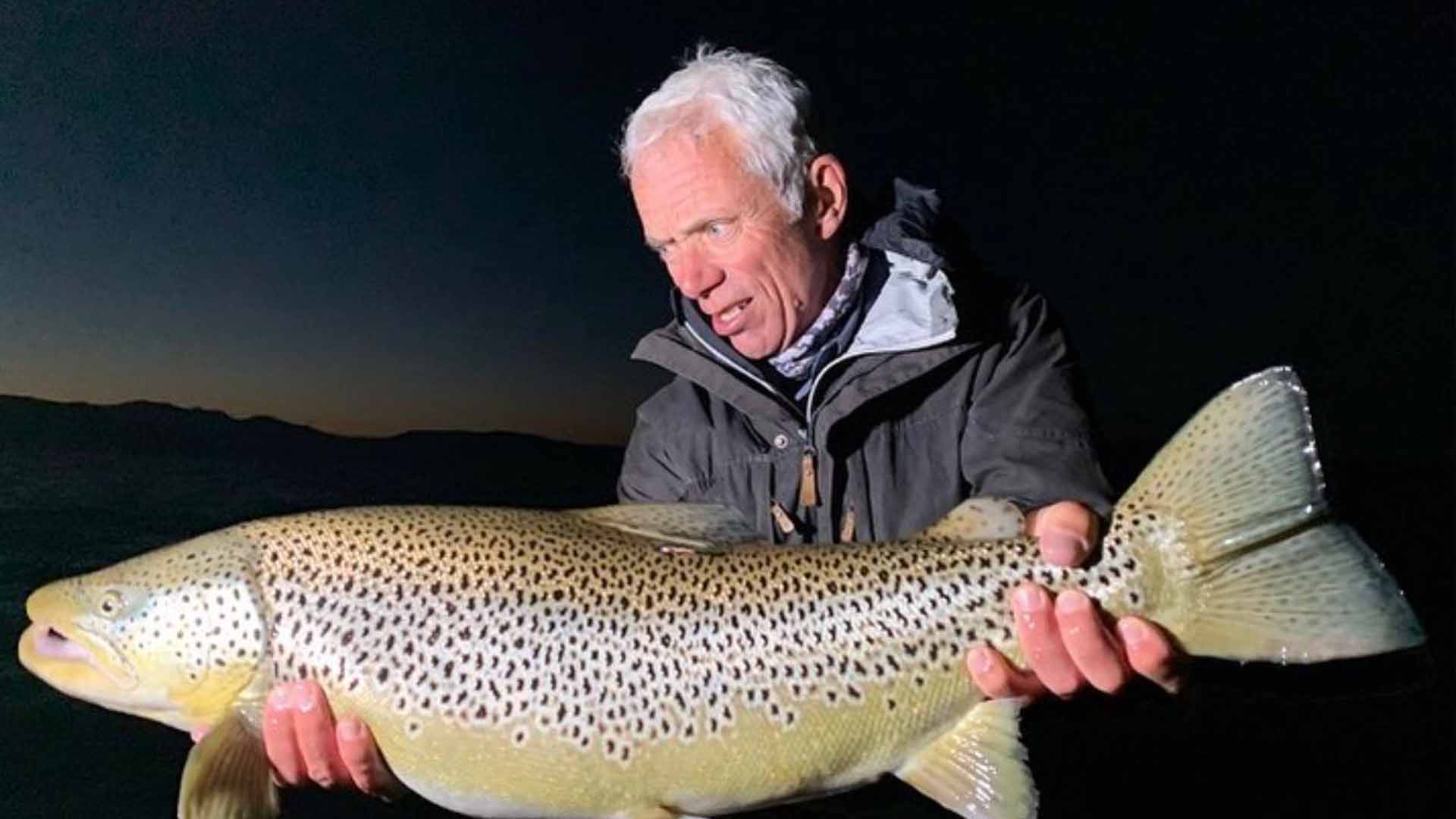 Must-sea: A recent shark docu that caught Clark-Shen's attention was 2021's 'Killer Shark vs Shark Whale' "I remember when it came out, they found out killer whales were eating great white shark — I thought that was amazing." She also watches anything with angler and biologist Jeremy Wade. "He's one of my favourite people and I was so happy when National Geographic secured him and did a three-part series ['Unknown Waters'] with him. I watched it all in one day because I love him so much."
Thankfully, in recent years, she's happy to see documentaries that have gone out of their way to debunk the myths about sharks being man-eating, blood-thirsty creatures. "I think they're great to make people fall in love with the ocean, because, ultimately, that's why I'm a researcher [today] — because I watched one of these programmes."
Clark-Shen, however, believes the documentaries can do more than just depict the sharks swimming in the wild. "It will be good to pivot a little bit to talk more about the issues, like what's actually happening with fisheries, the truth about shark-finning and stuff like that," she says.
On top of that, the more you know about sharks, you can call bullshit on how they are portrayed in pop culture. "Sometimes I think I get irritated when there's scientific inaccuracies around how they're portrayed and stuff," she says. "With the Jaws movies, I think they always got the size off. Like it was meant to be a Great White but when they made the model of it [that came out of the water], its proportions were just not correct.
"It's the same for cartoons made about sharks. Sometimes I look at it, I'm like, that's not even a shark species! It doesn't even match any shark species that exists because you just drew a generic shark. They're all different and have different features, so that annoys me a little bit. Even the emoji in WhatsApp — the shark has three or four gills when it has more than that. They've got that wrong, too!"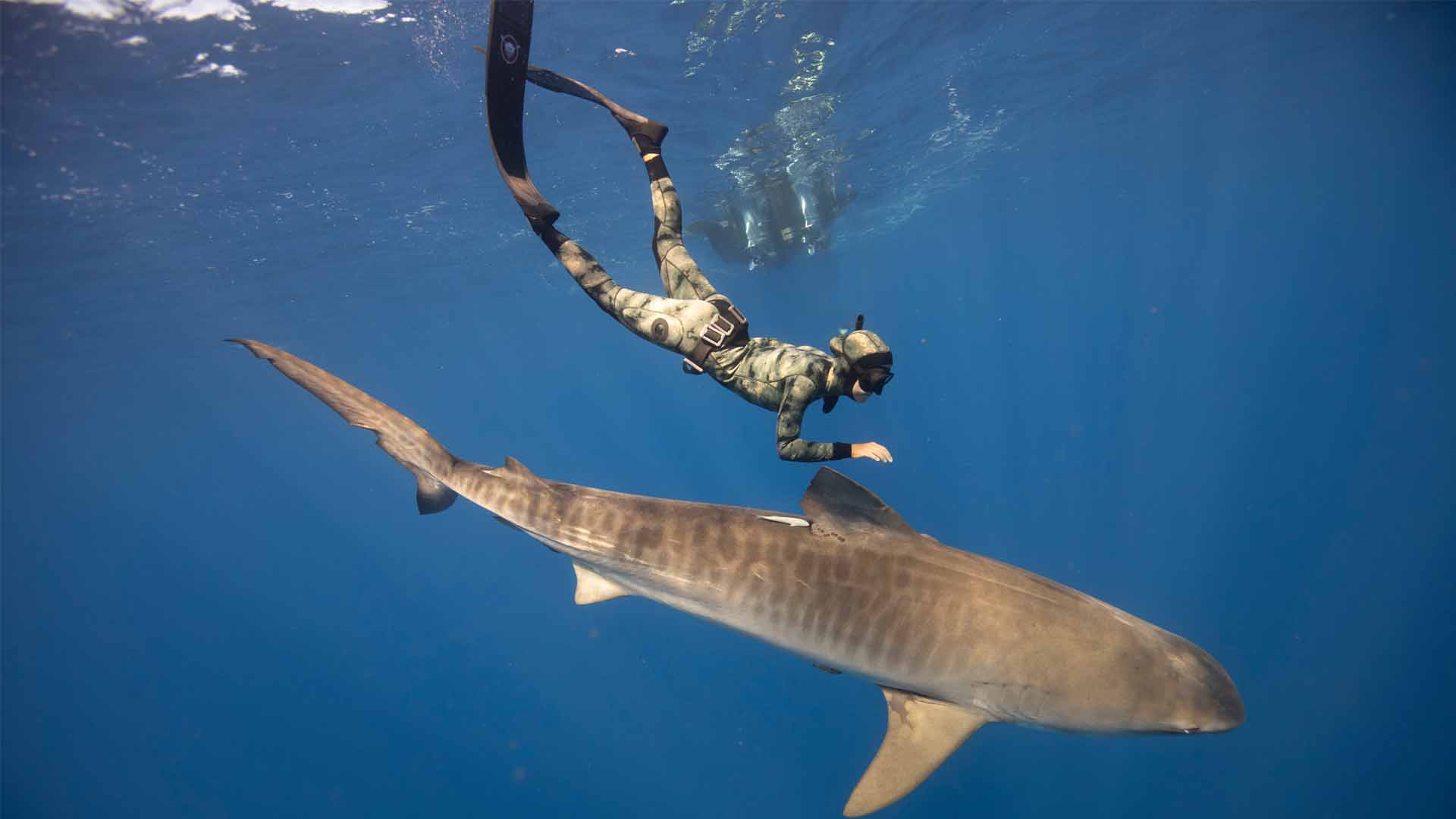 Deep blue sea: A scene from 'Maui Shark Mystery'. Clark-Shen, who got her scuba diving licence at 17, recently returned from the UK where she got up close and personal with blue sharks in the Atlantic Ocean. "That was insane!" she recalls. "The blue sharks were over seven feet long and it was miles from shore, so you couldn't see the coastline. The waves were massive and when we jumped in, there were 12 blue sharks surrounding us." For someone who has done over 100 dives, that was the first time she actually swam with sharks. "Which is really bizarre," she says.
She has another pet peeve: how scientists in general are portrayed in the media. "Even in Jurassic Park, they portrayed them as these super-nerdy people with thick-rimmed glasses, Converse shoes and geeky clothes. Well, they're not like that all. I'm like, no, I wear my trekking shoes and sports gear to the lab, you know?"
And Clark-Shen is proof that she doesn't fit that geeky stereotype: she's a wrestler with Singapore Pro Wrestling who goes by the "very politically incorrect" moniker The Coloniser.
"I've been obsessed with WWE since I was nine years old," says Clark-Shen. "I was always very good at drama at school – drama was actually my strongest subject throughout school —  and I was also very into sports. I was a footballer and I also enjoy going to the gym in my adult life. Wrestling is a combination of those things, because it's physical but it's also drama."
Kane was a favourite of hers growing up, she adds. "I had eight posters of him on my wall. He was my guy. But now he's become a mayor and I don't like some of his positions on politics, which is really sad." These days, she follows "mid-card guys" Elias Samson and Madcap Moss. As for the Coloniser, Clark-Shen hasn't wrestled since the pandemic started, but now that restrictions have relaxed, she might return to the ring.
But just because Clark-Shen nitpicks shark movies doesn't mean she's not into them. "I'm a sucker for crap shark movies, I just love them," she exclaims, with a laugh. "Oh, I love The Shallows. It's such a great movie."  
Catch Sharkfest 2022 on Nat Geo Wild (Singtel TV Ch 207, Starhub Ch 413) from Monday to Friday until Aug 12. They are also streaming on Disney+.
Photos/Videos: National Geographic, Naomi Clark-Shen, Jeremy Wade/Instagram