Where To Go In Bali To Buy Homewares & Ceramics — Add Dreamy Resort Vibes To Your Home Instantly
Cheap and cheerful home accessories, ceramics and other lovely home knick knacks to buy in Bali.
So you're on a vacay in Bali, living it up in a beautiful villa and going beach club- and café-hopping. Everywhere you go seems to be Insta-perfect, teeming with laidback resort vibes. If only your own home could look like a Bali resort, you think.
The good news: You can re-create the look in your own home, and it starts in Bali. After all, the Island of Gods is a treasure trove of home décor boutiques that have everything that will give your home all the dreamy island resort vibes you could want.
The better news: These shops offer homewares at a fraction of prices in Singapore.
And you don't have to traverse to the ends of the island for it as well — there are plenty of shops peppered around the chic enclave of Canggu and perennial tourist fave Seminyak. Don't say we didn't warn you: Better leave some luggage space to haul back these wallet-friendly home décor buys.
Bungalow Living Bali
Located in Canggu, this home décor haven will inspire you to give your abode a Bali makeover from the moment you arrive at the store's breezy, boho-chic porch.
You'll realise why it's called Bungalow Living Bali as you meander through a bedroom, dining room and a living hall set-up (kinda like Ikea, but way cooler) — it feels like you're in someone's tropical-chic home filled with the rattan and teak furniture of your dreams.
If you're worried about shipping bulky pieces of furniture back to Singapore, there's still a plethora of home accessories and soft furnishings that would easily fit in your luggage. From bedding and cushion covers to linen tea towels and brass kitchenware, there's everything you need to zhuzh your home into a Bali resort.
There's a second store a stone's throw away, which hawks largely the same items. You know, just in case you leave the first store regretting not getting everything you wanted — just pop into the second store for a do-over.
Plan your buys before you go by taking a peek at their online store, though prices seem to be cheaper in-store than online.
More info here.
Jl. Pantai Berawa No.35A, Canggu, Kec. Kuta Utara, Kabupaten Badung, Bali 80361, Indonesia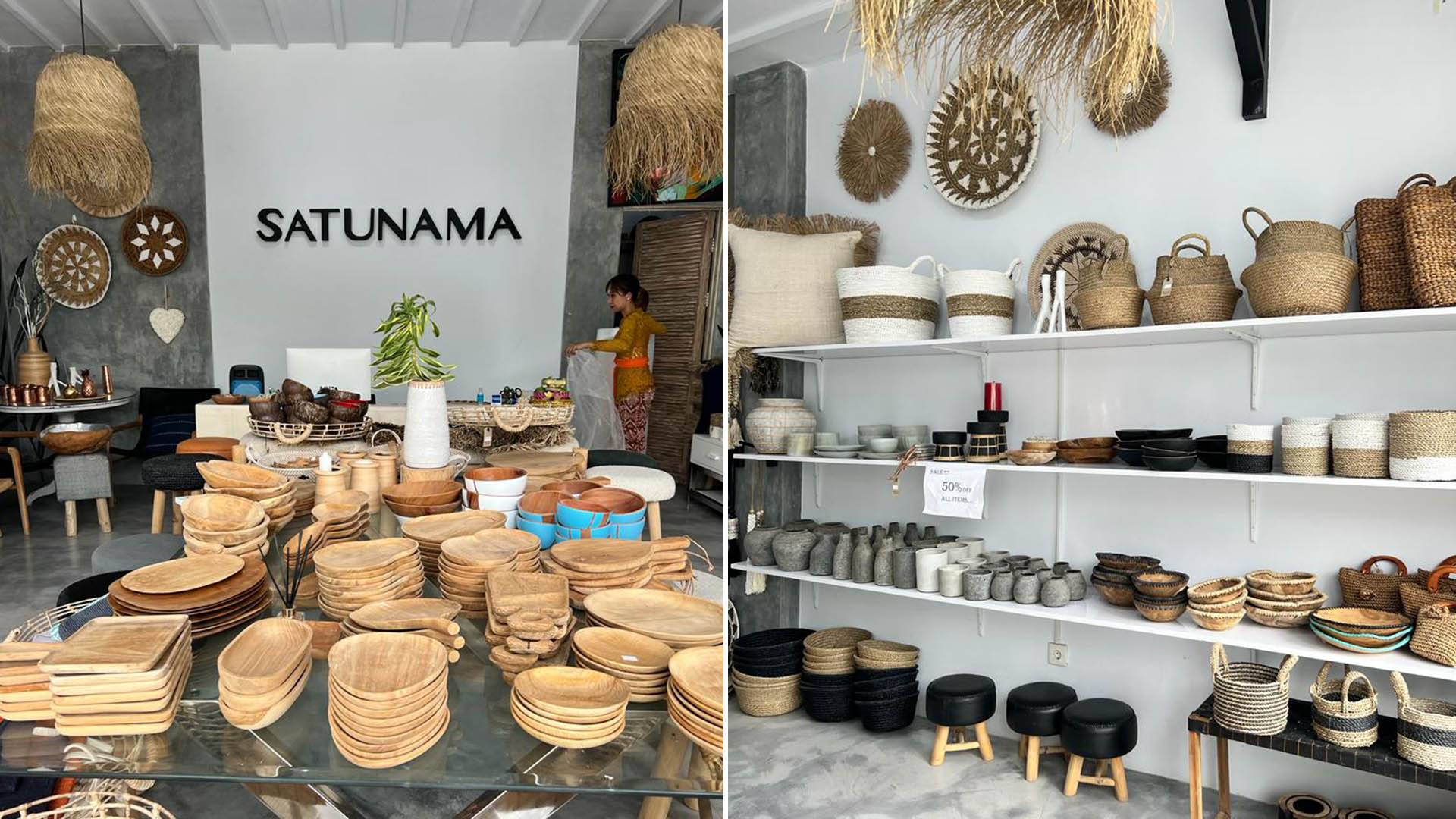 Satunama
Nestled in Canggu's bustling centre where cool cafes and boutiques pack the streets, Satunama stands out not only for its bright breezy window display, but the array of home goods at wallet-friendly prices. And it gets better — particularly if you're lucky enough to catch their stock-clearing end-of-season sale, where all items are half price.
Over here, you can score teak serving trays in all shapes and sizes, locally made intricately woven baskets, unique rattan candle holders, concrete planters and ceramics. One thing's for sure: they're all affordable and perfect for homes of various interior styles. Plus, the nice shopkeeper will heap on extra bubble-wrap on your purchases if you let her know you're packing your loot in your luggage.
More info here.
Jl. Pantai Batu Mejan No.33, Canggu, Kec. Kuta Utara, Kabupaten Badung, Bali 80351, Indonesia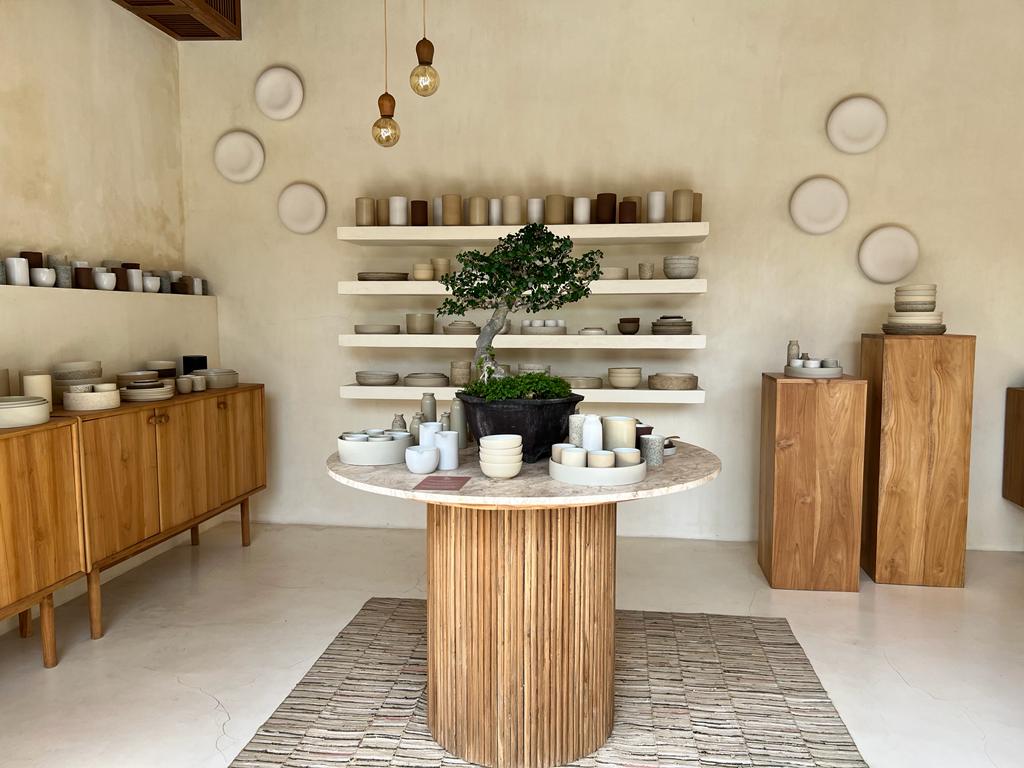 The Other Project
We can't stress this enough: This gentle, light-filled space is a must-visit for fans of ceramics and pottery. Come for the Instagrammable, tranquil wabi-sabi interiors; stay for…well, a long time as you carefully select from an array of beautifully designed plates, bowls, cups, vases and much more.
Every piece here is handmade by locals in a studio just across the store, so expect to shell out a little more for each one-of-a-kind, well-made piece. If there's an item with a glaze that you like, it's best you snap it up straightaway as some glazes are on their way to being discontinued, so they may not be around for very long. Closed on Mondays.
More info here.
Jl. Pantai Berawa No.51, Berawa, Kec. Kuta Utara, Kabupaten Badung, Bali 80361, Indonesia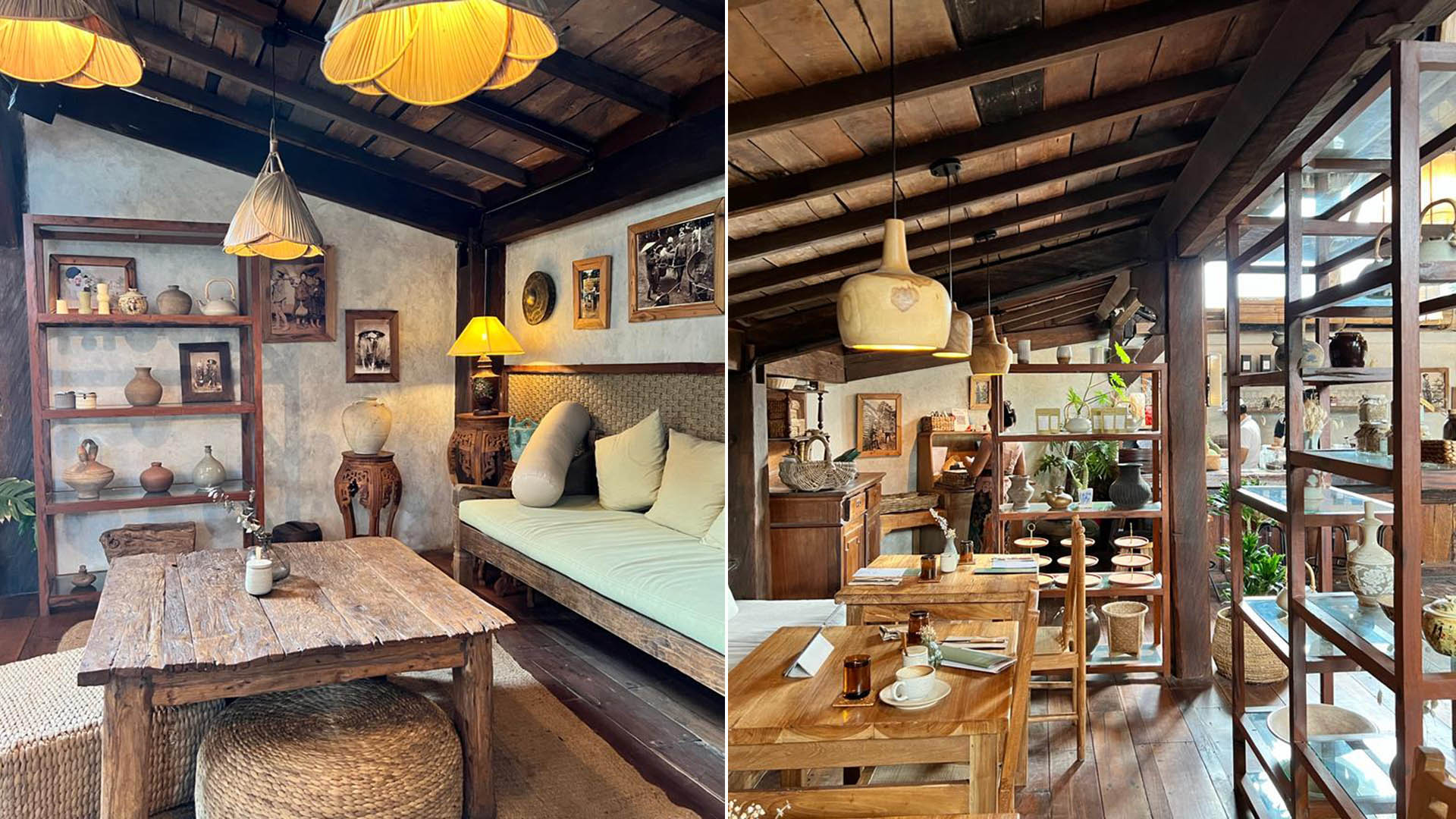 Bokashi
This is not exactly a dedicated homewares store, but the Japanese-inspired café and grocer exudes Zen vibes and is a great source of #homeinspo. 
Located just down the road from Bungalow Living Bali, the calming café's second storey is where time seems to stand still as you sip on matcha or a jamu drink and watch the world go by.
Downstairs, though, is where you'll find a small corner peddling home scents and wares from local brands, guaranteed to add a different dreamy dimension to your home. 'Cos it's not enough for your home to just look like a holiday villa — having a space that smells just like your holiday helps to teleport you instantly back to your beach vacay too.
More info here.
Jl. Subak Sari No.2, Canggu, Kec. Kuta Utara, Kabupaten Badung, Bali 80361, Indonesia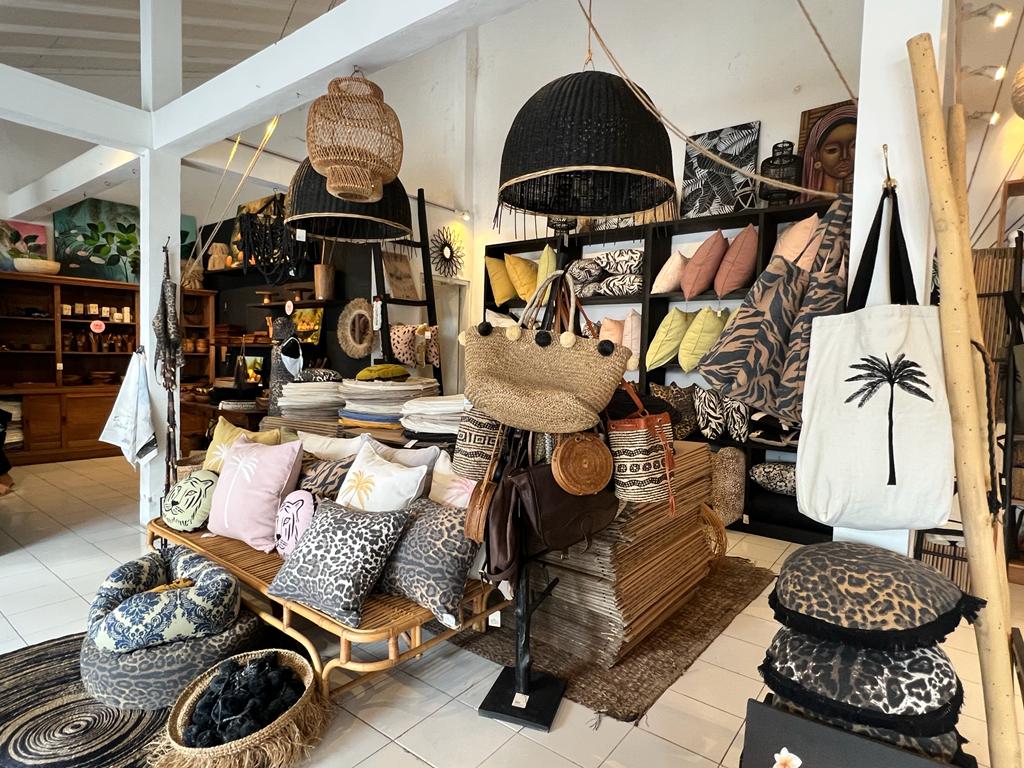 The Jungle Trader
Tropical jungle vibes for your home and for your fits? Kill two birds with one stone and shop home accessories and fashion finds at The Jungle Trader. Here, animal prints, tropical touches and earthy tones are the name of the game, whether it's a beach dress or an Insta-worthy linen lampshade that you'll be tempted to lug home to Singapore. 
More info here.
Jl. Pantai Berawa No.46X, Tibubeneng, Kec. Kuta Utara, Kabupaten Badung, Bali 80361, Indonesia
Carga
What looks like a typical Balinese villa on the outside is actually an eclectic cool home goods store, teeming with everything you need to add elevated resort touches to your home. You'd be hard-pressed to find a design here that isn't bold and vibrant, from trays and dinnerware to cushion covers and even coasters. It's perfect for homeowners who love a contemporary or coastal interior theme, or those who are scouring for a statement piece, or three.
More info here.
Jl. Petitenget No.886, Kerobokan Kelod, Kec. Kuta Utara, Kabupaten Badung, Bali 80361, Indonesia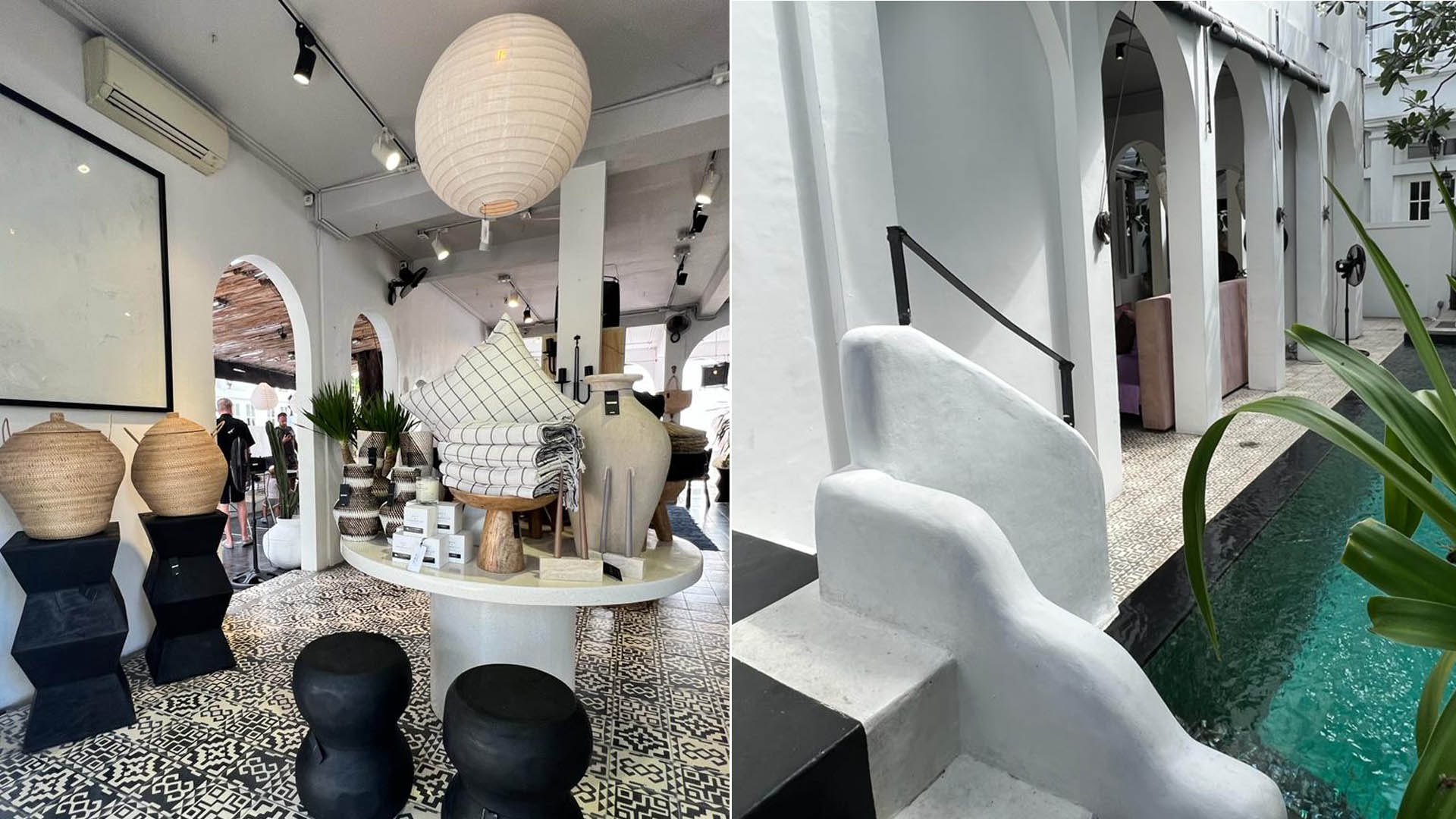 Kim Soo
This Seminyak stalwart doesn't just sell you home goods, it allows you picture the lifestyle you could have if you tote some of their pieces home.
Sip your latte at Kim Soo's Insta-famous café, have a mosey around the store, and take a gander to the back where there's a picture-perfect water feature and take some OOTDs for the 'gram.
It's like being in a fancy person's house — except you can buy everything and add that Kim Soo touch to your own home, whether it's with a sculptural vase or a teak serving platter, or with a styling vignette of accessories and cushion covers. Prices are slightly steeper than the other stores in Bali, but you get quality unique stuff that will make great conversation-starters among your guests.
More info here.
Jl. Kayu Aya No.21, Kerobokan Kelod, Kec. Kuta Utara, Kabupaten Badung, Bali 80361, Indonesia
Photos: Jasmine Teo