Where to go, eat and stay in Gold Coast that don't involve theme parks — including beachfront dining, tiny home cabins and cuddling koalas
And you thought Gold Coast was all about Surfers Paradise and theme parks.
Who knew Gold Coast had this many surprises up its sleeves? There are 24 Hatted restaurants here (that's the Aussie equivalent of Michelin stars); the best coffee in Australia is in Gold Coast (nope, not Melbourne); and the best coffee liqueur in the world here as well. Suffice to say, this is not the Gold Coast that you visited once upon a time in your growing years. It's now brimming with unexpected hidden gems just waiting to be discovered — here are a few of 8Days' favourites from our recent visit.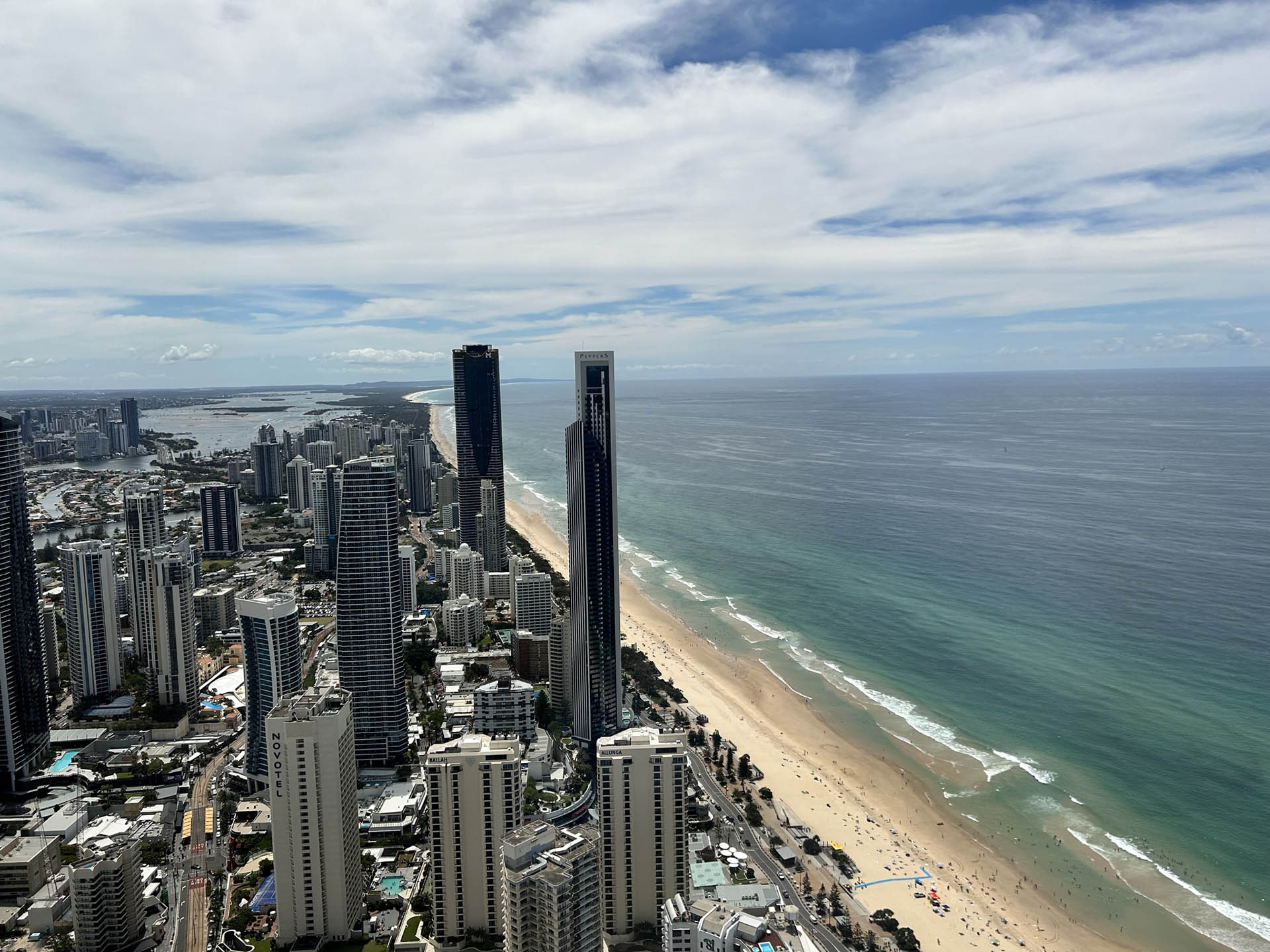 Photo: Jasmine Teo
Getting to Gold Coast
Scoot flies three times weekly between Singapore and Gold Coast until Jul 17, 2023. Following Scoot's suspension of flights to Gold Coast, travellers from Singapore can still fly direct to Queensland with Singapore Airlines.
Where to go in Gold Coast
Gold Coast is synonymous with beautiful beaches but did you know that nature and wildlife attractions co-exist with arts and culture venues, all within close proximity of Surfers Paradise?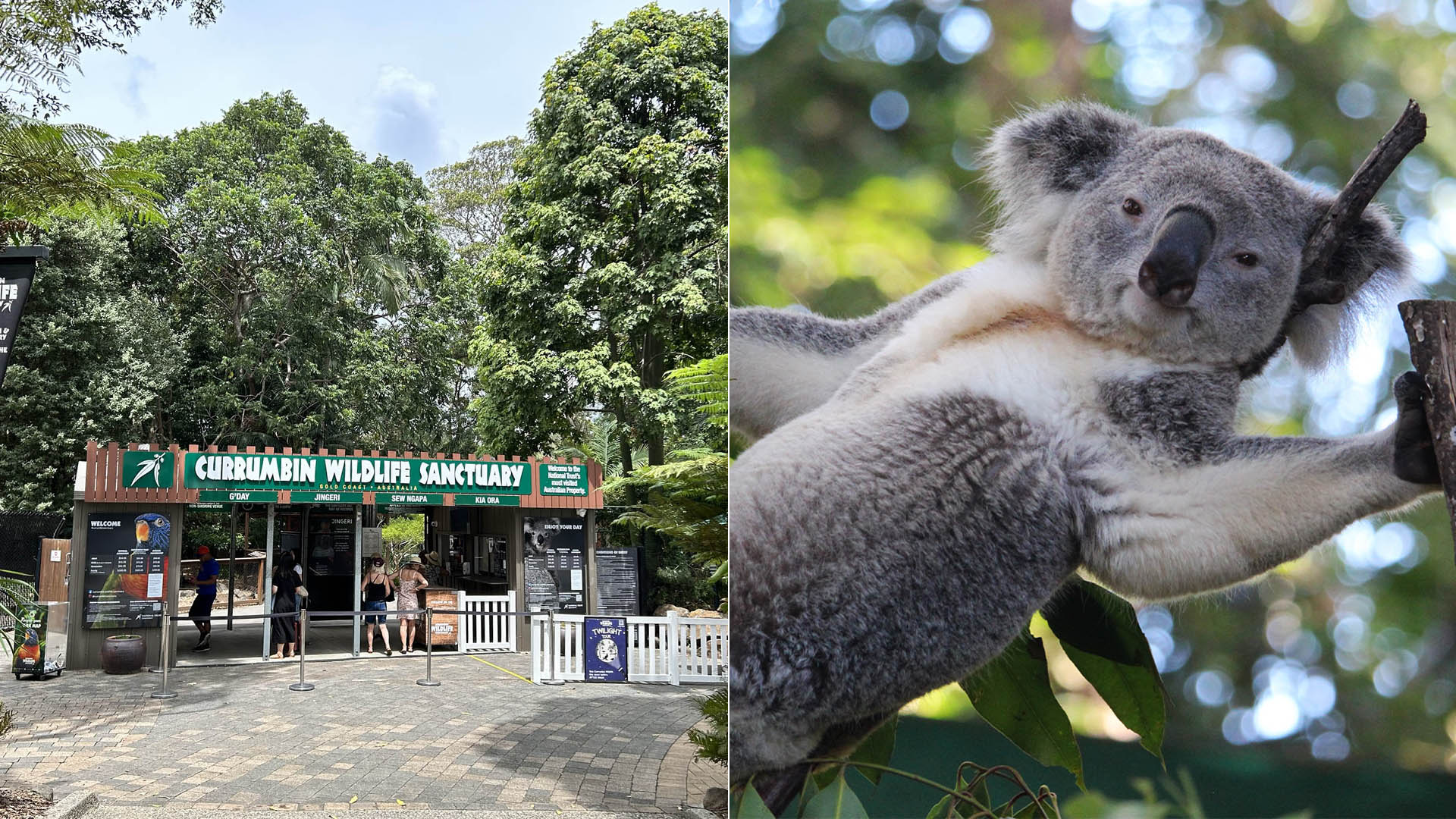 Photos: Jasmine Teo, Facebook/Currumbin Wildlife Sanctuary
CURRUMBIN WILDLIFE SANCTUARY
Cuddle koala bears, feed lorikeets, chill out with kangaroos and see more than 1,500 animals at Currumbin Wildlife Sanctuary, a National Trust eco-tourism attraction that champions the conservation of Australia's native wildlife (we're told Sir David Attenborough is among its famous visitors). Take your time to get up close with Australian wildlife and rescued animals, from Tasmanian devils and kangaroos to capybaras and red pandas, in open animal enclosures at the 74-acre wildlife haven set in the rainforests of Gold Coast. There are spectacular shows happening daily (don't miss the free-flight bird show) and Aboriginal culture performances as well.
Photos: Jasmine Teo, Facebook/Currumbin Wildlife Sanctuary
There's a plethora of animal encounters available, including a photo and a cuddle with the iconic koalas and pelican feeding sessions, for a more personal experience. Visitors can even get a behind-the-scenes look at the not-for-profit wildlife animal hospital housed within the sanctuary to see the vets hard at work. Thrill-seekers will delight at the Treetop Challenge, replete with exciting ziplines through the rainforest, that affords a bird's eye view of the wildlife sanctuary. More info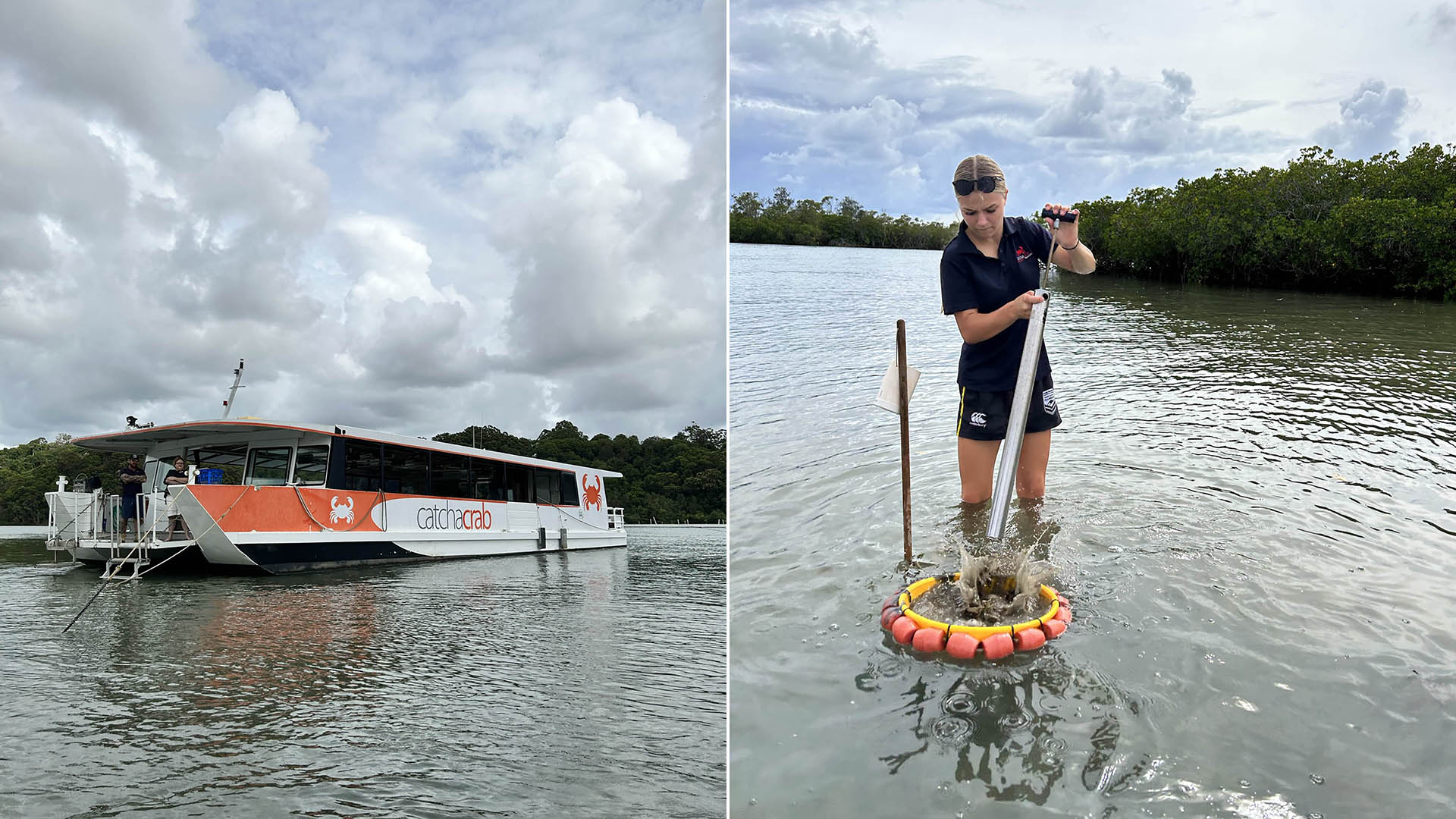 Photos: Jasmine Teo
CATCH A CRAB TOUR
Unlike what its name suggests, you catch more than just crabs at Catch A Crab Tours. The two-and-a-half-hour cruise sails through Tweed River, south of Surfers Paradise, and takes you through a whole host of family-friendly fun activities. You not only get to experience live mud crab trapping (and snap pics with your haul), but you can also try your hand at yabbie-pumping. Pro-tip: wear shorts as you'll have to wade out in shallow waters to catch the mini crustaceans with a metal pump. You may or may not have a huge haul to show for your time out in the waters, but fret not. The fun continues onboard where you get to feed pelicans, do some fishing, and visit an oyster farm. After all that activity, you can choose to cap off the experience with a fresh seafood feast at Catch A Crab's own restaurant back on land. More info
O'REILLY'S RAINFOREST RETREAT
Want to fully immerse yourself in nature? Schlep over to O'Reilly's Rainforest Retreat, nestled in Lamington National Park that's just over an hour's drive from Surfers Paradise. Opt for a day trip and explore nature trails, or better yet, check in for a stay at one of the expansive one- or two-bedroom villas for a getaway in the Gold Coast hinterland to remember. (Read our full review: We Stayed In The Rainforest In Gold Coast & It Was Unreal).
Where to eat and drink
Photo: Facebook/Rick Shores
Who would've thought that the best coffee in Australia and the best coffee liqueur in the world were in Gold Coast? Sorry, Melbourne, but here are a few reasons why bona fide coffee connoisseurs should make a beeline to Gold Coast for their next java jaunt.
Photos: Facebook/Rick Shores
RICK SHORES
The hottest tables in Gold Coast are at Rick Shores, a single-Hatted restaurant that's drawing in locals and tourists alike for its scrummy nosh and some of the most incredible views. Perched beachside in the Burleigh Heads 'hood, Rick Shores is notoriously often fully booked out. But if you're lucky enough to score a reservation by the floor-to-ceiling windows, you'll be rewarded with front row seats to sweeping views of the famous coastline, overlooking the surfers riding the waves just steps away (then again, every seat in the house gets stellar views anyway).
Not to be outdone by the views is Rick Shores' menu, offering an array of pan Asian fare. In fact, just as iconic as its beachfront views is Rick Shores' fried bug roll (as in, a mini lobster, not a creepy crawly). If you've planned your holiday around your rezzo here (as you should), go the whole nine yards and get the set menu to try Rick Shores' star dishes. Beach views, delicious food and drinks in unfussy, relaxed environs? If this isn't one of the best ways luxuriate over a long lunch or dinner, we don't know what is. More info
Photos: Facebook/Tamborine Mountain Coffee Plantation, Jasmine Teo
TAMBORINE MOUNTAIN COFFEE PLANTATION
At this café, roastery and coffee plantation, not only can you find the best coffee in Australia, it's also one of the five plantations in the world where you can see the trees, view the roasting process and have a coffee at the same time.
Learn about the entire crop-to-cup process by way of plantation tours at this boutique coffee plantation, which produces coffee that has bagged the Golden Bean award for Australian-grown coffee four times. Small group tours are held on Thursdays and Saturdays at a fee of A$10 per person (thrice weekly in October during harvest season), and participants get a firsthand look at how coffee is grown and processed at the facility here,while sipping on an award-winning cuppa, or two. Buy the lauded coffee blends back home (they make for great gifts too) or stay for brunch at the quaint café in the quiet neighbourhood of Tamborine, which is a great pitstop if you're on the way back from Lamington National Park or O'Reilly's Rainforest Retreat. If you're heading here from Surfers Paradise, it's a 40-min drive. More info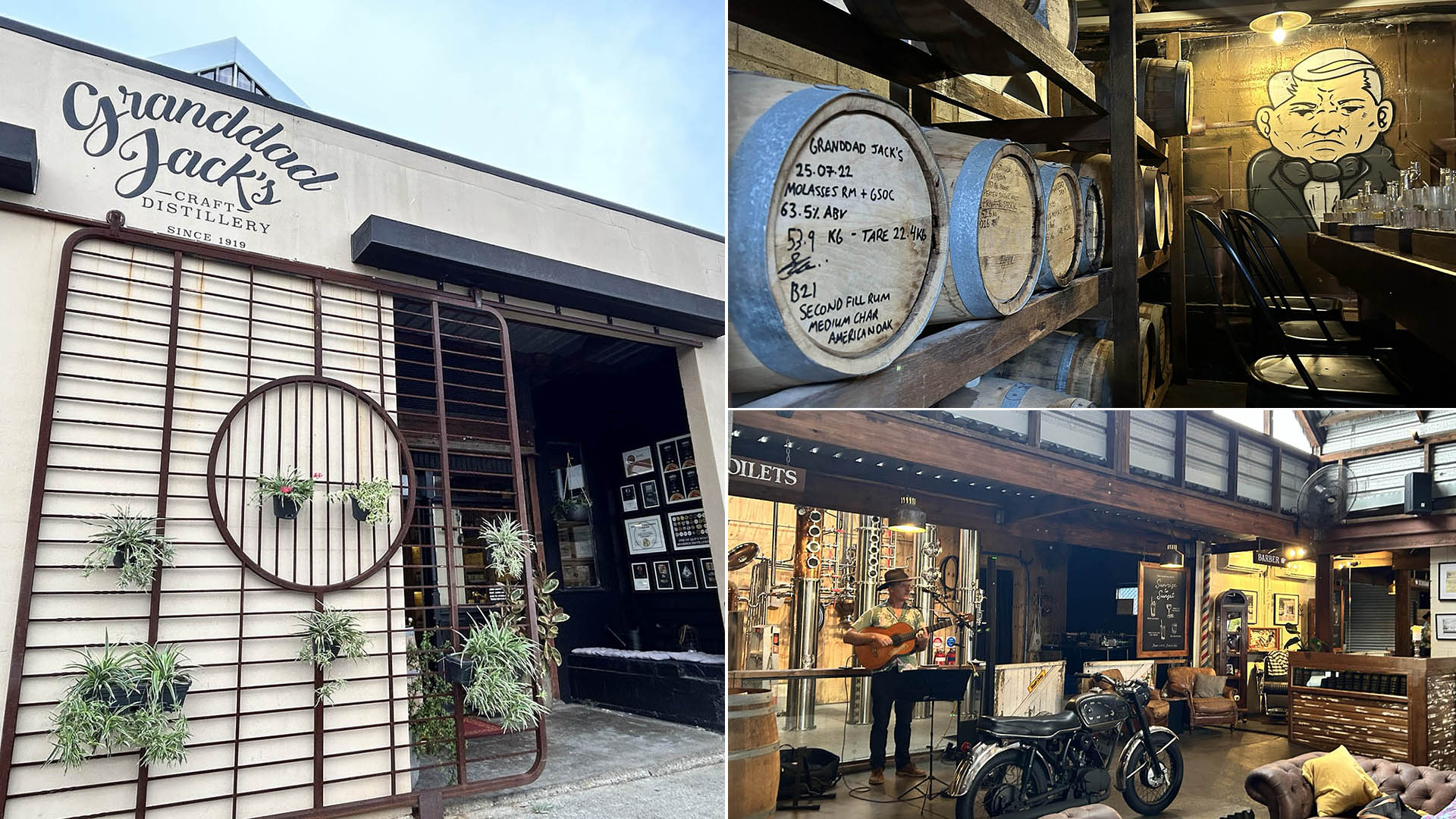 Photos: Jasmine Teo
GRANDDAD JACK'S CRAFT DISTILLERY
Tucked away in an unassuming suburb in Gold Coast is this family owned and operated craft distillery that boasts an array of handcrafted gin, whiskey, and even the best coffee liqueur in the world, an accolade they earned at the 2020 San Francisco World Spirits Competition. While the awards may draw visitors in, it's the easy, laidback-cool vibes it's serving that'll make you stay. Sip on cocktails, take snaps and explore their uber-cool barrel room, or just soak in the vibes and enjoy live music. On weekends, the artisan distillery holds insightful, intimate tours (A$35 per pax) and tastings (A$30) where you can discover all that goes into making the small-batch award-winning spirits. Be prepared to be regaled with stories of the history of Gold Coast's first distillery, and, of course, heartwarming tales of Granddad Jack, the man who's the inspiration behind it all. More info
Where to stay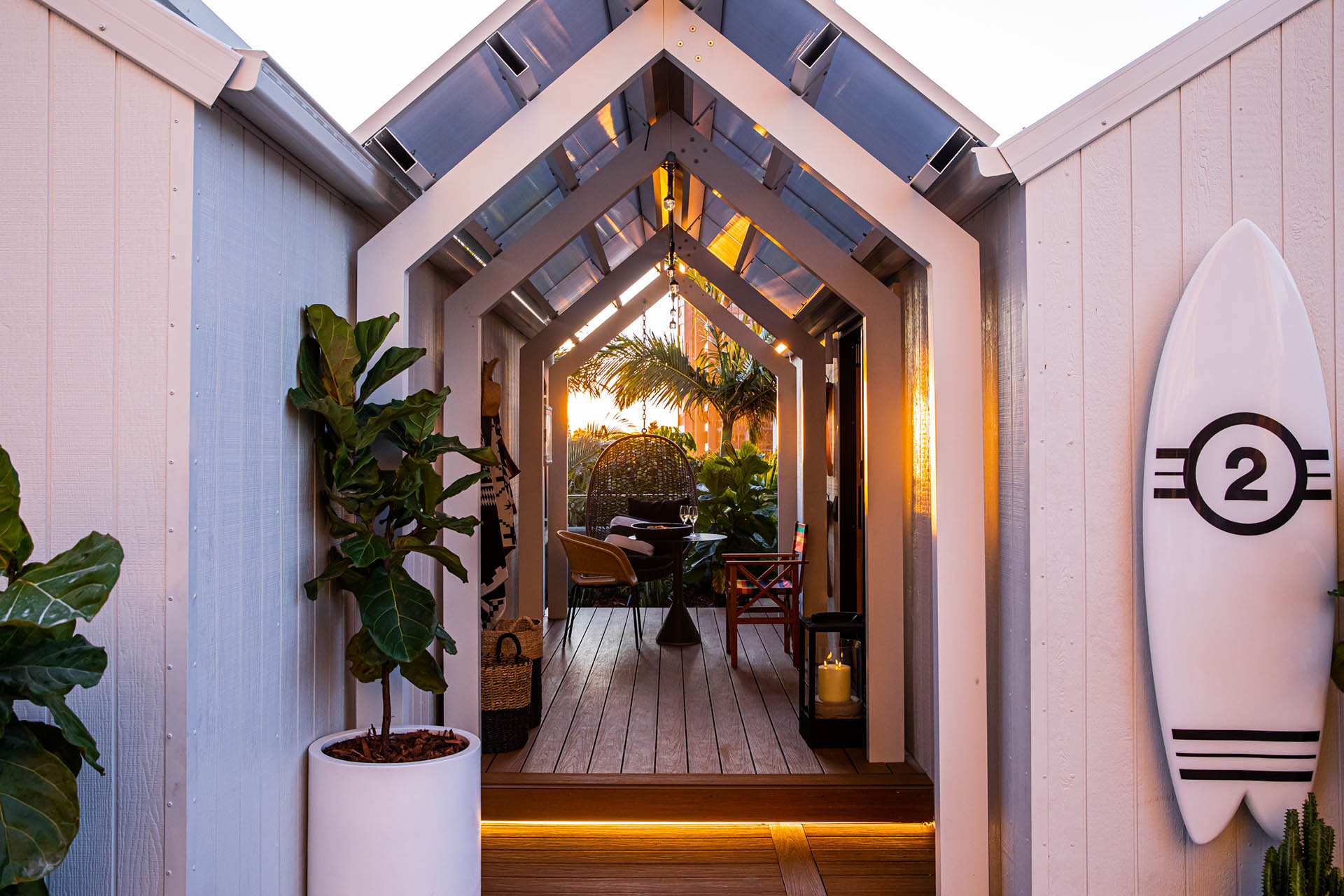 Photo: QT Gold Coast
QT GOLD COAST 
The QT chain of hotels in Australia have earned themselves the reputation as bona fide trendsetters, but they've taken it up a notch at their Gold Coast outpost. Splashes of pop art and bold design make the rooms here memorable, but QT Gold Coast has recently pulled something out of its bag of surprises: qtQT cabins.
Launched half a year ago, the qtQT luxury cabins (from A$359 per night) are perfect for travellers who are all about the tiny home lifestyle, love aesthetically pleasing trendy interiors or anyone allergic to mundane accommodation, really.
Photos: Jasmine Teo
A word of caution: You may not want to leave your cosy cabin. Each one is modelled after a tiny home cabin, but still comes kitted out with all the luxurious creature comforts you'd expect in a five-star stay (we loved having the Dyson hairdryer and straightener at our disposal). The mid-century modern meets coastal cabin-style interiors are also incredibly IG-worthy, and the room has everything you need for #selfcare, from jars of veggie chips, chocolates and cookies, to scented candles sourced locally. Each cabin also has a private patio that's perfect for unwinding with a glass of vino (sunset views are glorious from here).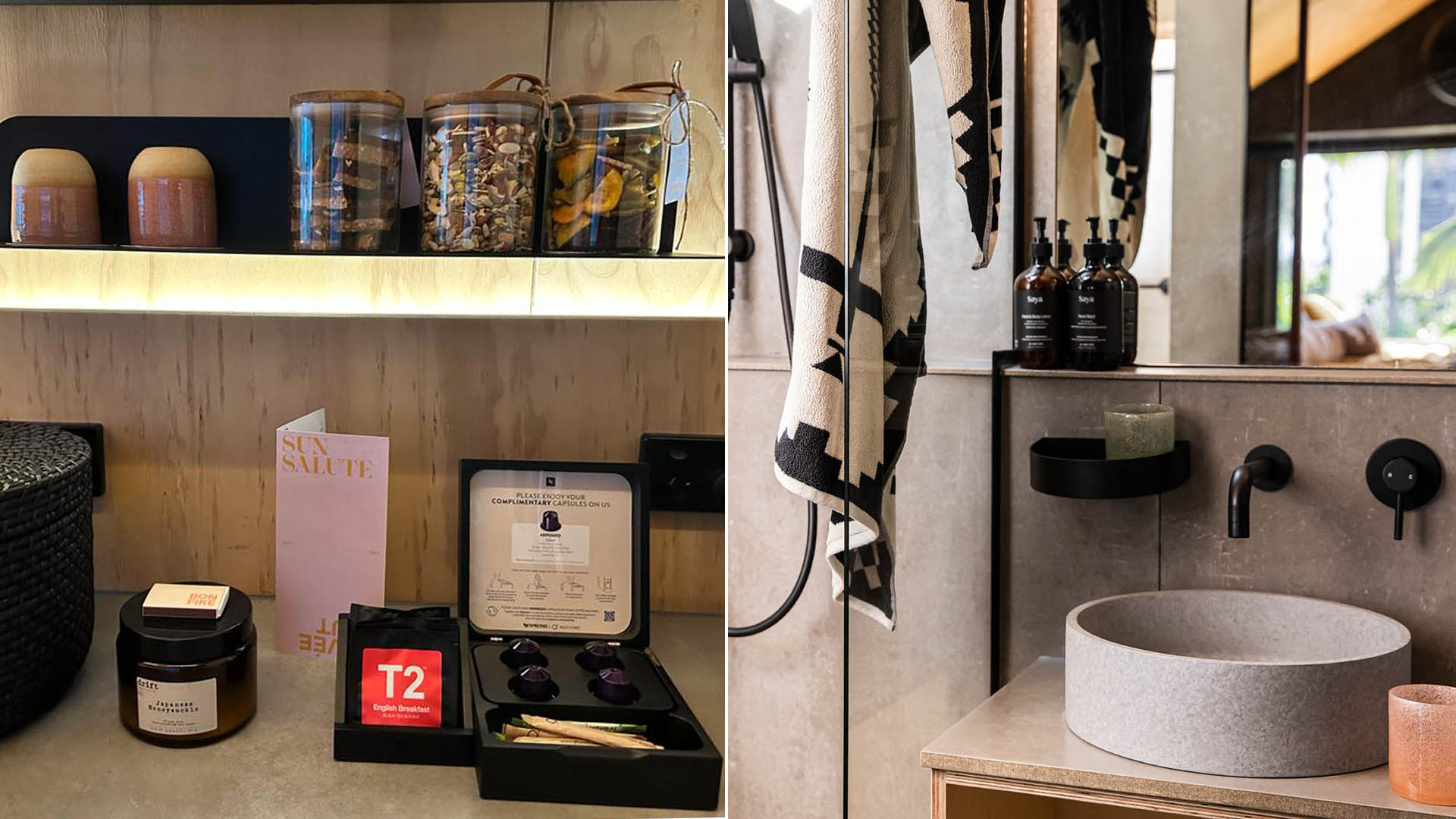 When you do finally leave the room, though, the impressive breakfast buffet spread at Bazaar and a swim at the hotel's eye-catching pool are not to be missed.
There are only six cabins available, so it's no understatement to say that this is hot property, so it pays to plan that Gold Coast getaway early. More info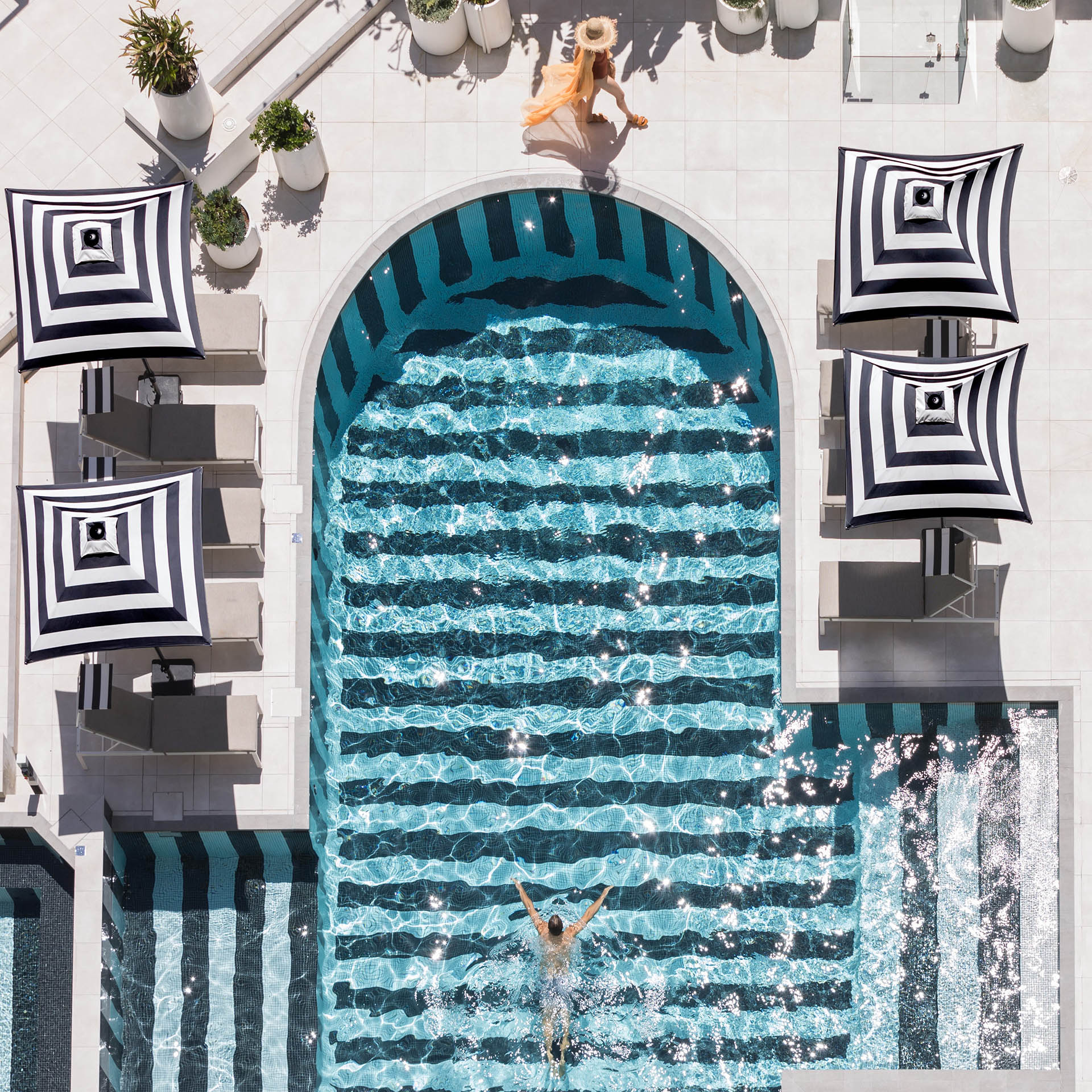 Photo: QT Gold Coast
This trip was made possible by Scoot and Tourism and Events Queensland.