Which Local Star Said Someone Was "Trying To Flirt" With Her While Getting On The Show Us Your Name In Urban Dictionary Trend?
All in good fun, of course.
If you've been on Instagram lately, chances are, you'd have seen at least one screenshot of the Urban Dictionary website on your feed.

Over the past week, the 'Show Us Ur Name In Urban Dictionary' trend has taken over IG Stories, with anyone and everyone searching for their names on the site, which describes itself as a crowdsourced online dictionary for slang words and phrases, and then posting a screenshot of the results.

The definitions are usually naughty (it is Urban Dictionary, after all) and totally unexpected. Most of them are also filled with effusive praise, which explains why everyone flocks to share it.

According to reports, over two million users have taken part in the trend so far. And of course, our local celebs joined in the fun as well.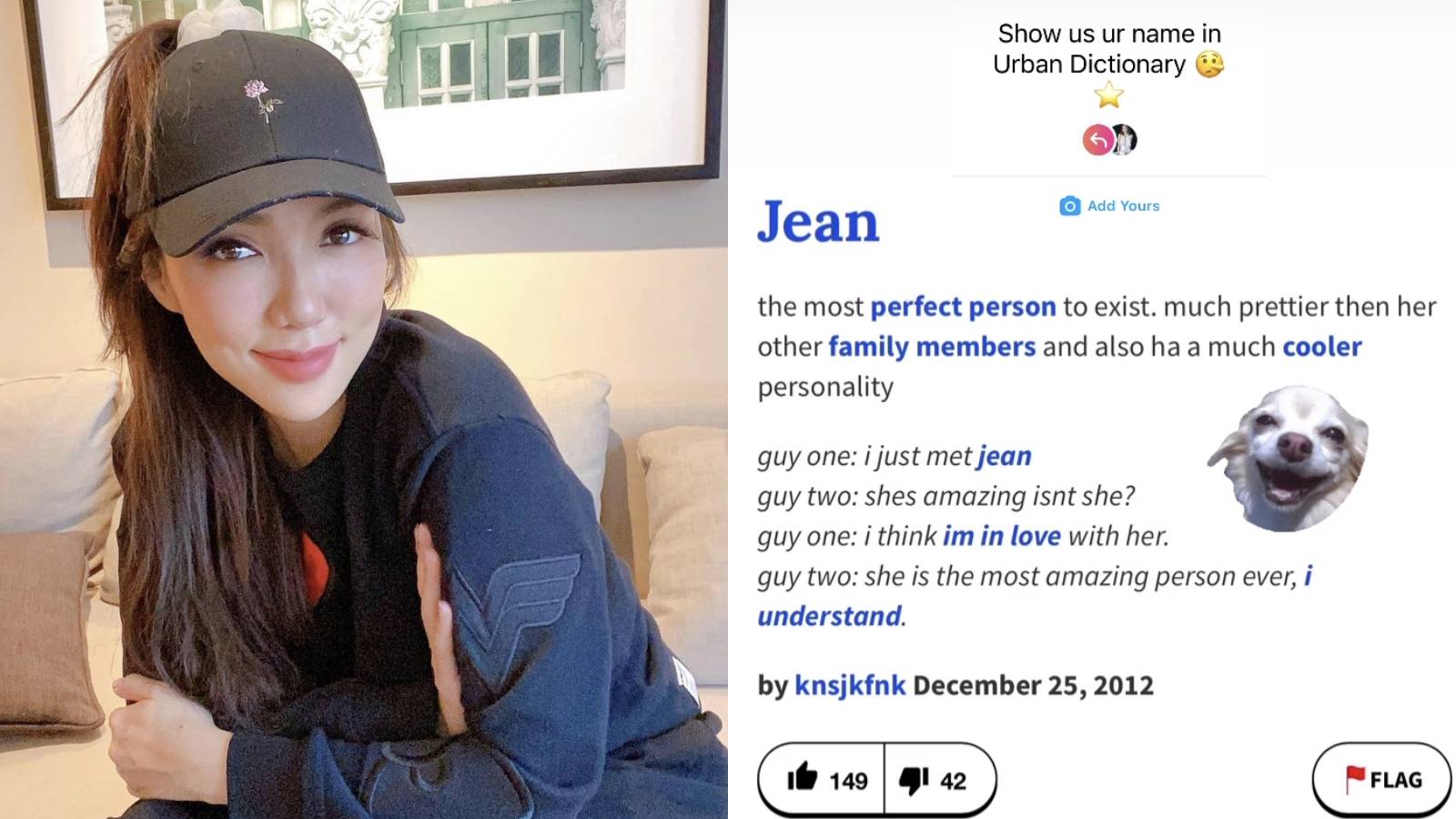 The Class 95 DJ was filled with mirth after coming across this very apt definition of her name. Apart from being described as "the most perfect person to exist", the definition also said Jeans have a "much cooler personality", and are "much prettier than her other family members". Dang.

Photos: Jean Danker/Instagram
You may know him as Kunhua, but the YES 933 DJ's English name is actually Kenneth.
The jock shared this definition of his English moniker on his IG Story, complete with helpful highlights and a tongue-in-cheek jibe at himself too.

Apart from underlining the parts praising all Kenneths as "one of the most amazing" people you'll meet, as well as someone who you can "always trust", Kunhua also drew attention to the line stating that people will "fall in love" once they look into a Kenneth's "gorgeousssss (sic) eyes". Or uh, in the case of the DJ, only if his eyes aren't "too small" for people to find.
Photos: Kunhua/Instagram
And we totally get it. After all, this definition fits the 25-year-old actress-model perfectly, no?

Photos: Fiona Fussi/Instagram
The actress jokingly called out the user who wrote this definition for her name.

"Are you trying to flirt with me. Don't try to flatter me this way," she wrote in mock outrage, attaching a screenshot of the user's submission, which was filled with all sorts of praise for Cynthias.
Photos: Cynthia Koh/Instagram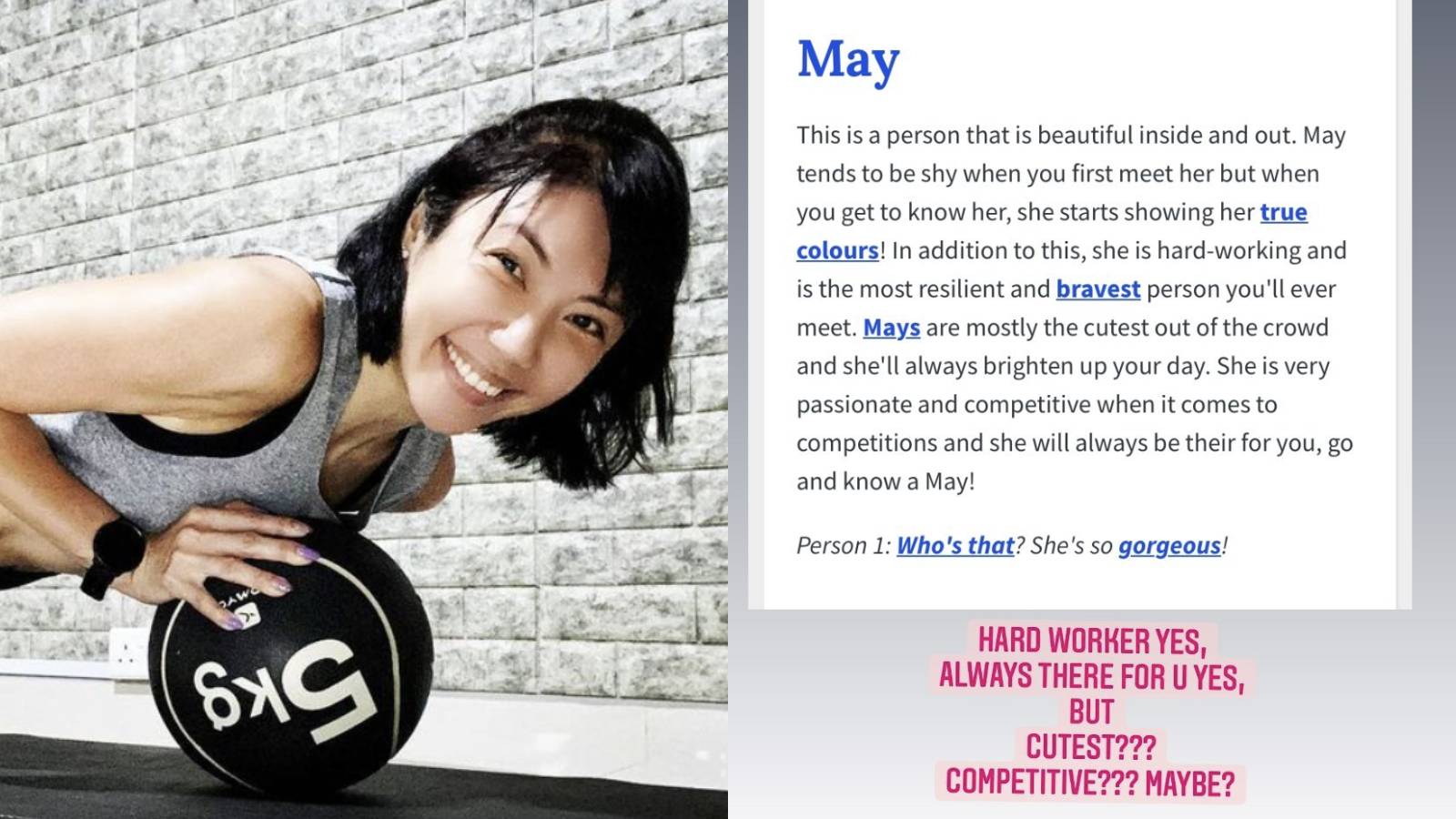 The former-actress-turned-personal-trainer mostly agreed with her definition, identifying that she's a hard worker, and always there for others. However, she was filled with just a little doubt after seeing the words "cutest out of the crowd" inside as well. What say you?

Photos: May Phua/Instagram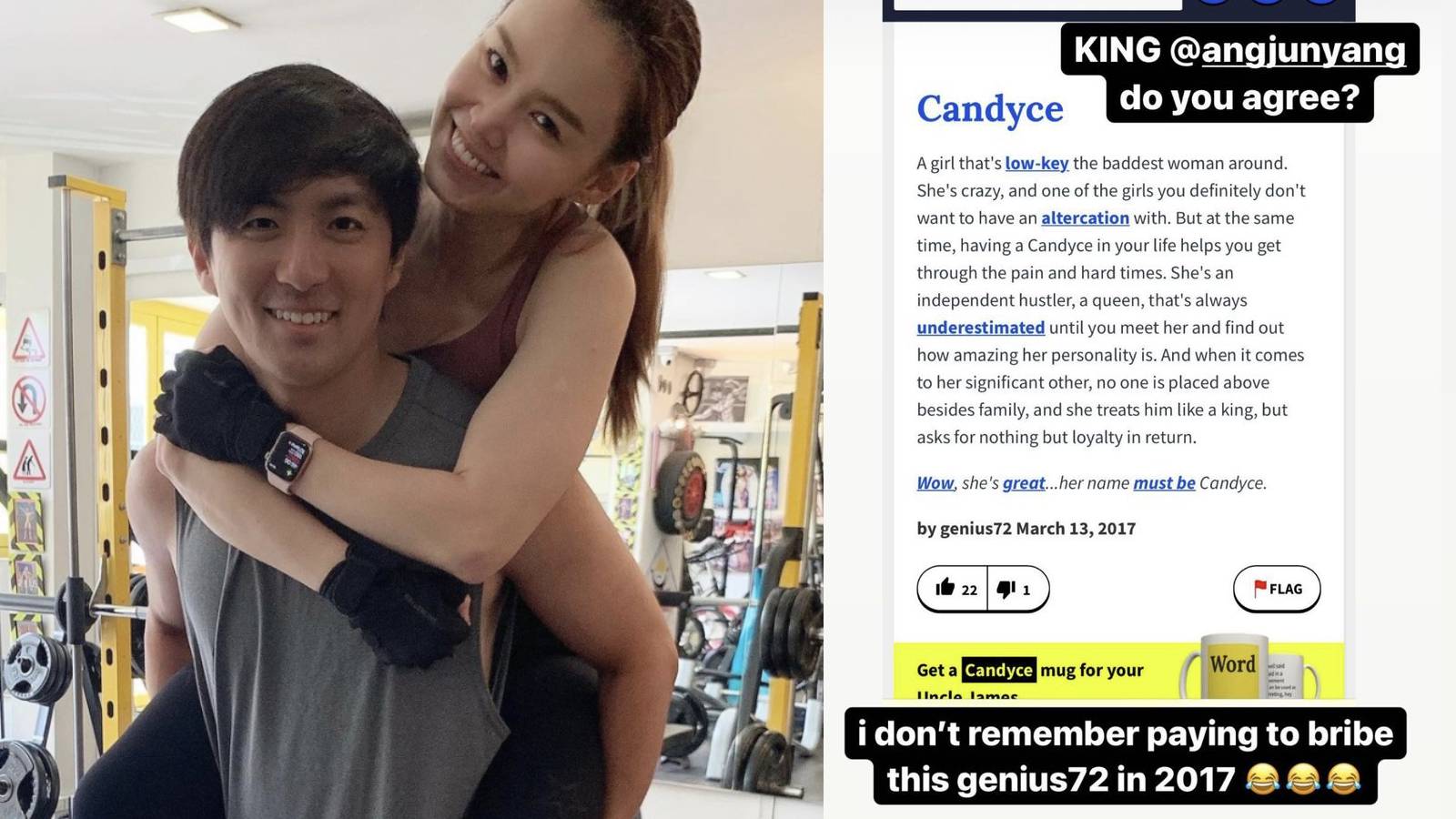 The couple couldn't help but poke fun at each other, after Candyce came across this submission asserting that all Candyces treat their other half "like a king".

"I don't remember paying to bribe this [user] in 2017," Junyang laughed after seeing it.

Photos: Candyce Toh/Instagram