Wife Of Taiwanese Singer Leo Wang Says She Was Pregnant When He Had An Affair With A 20-Year-Old
The 36-year-old also revealed other damning details about the affair like how the 28-year-old singer and his mistress did not use condoms and contraceptives when they had sex.
Taiwanese singer Leo Wang, 28, who shot to fame after winning the Best Mandarin Male Vocalist for his album Wu Bing Singing, Yo Chin Soothing at the 2019 Golden Melody Awards, is now facing accusations that he cheated on his 36-year-old American wife with a 20-year-old.
The news made headlines after netizens noticed that captions of several posts in the couple's fur kid's Instagram page @Diguabing had been edited and replaced with damning details about Leo's affair, like how he had cheated on his wife while she was pregnant.
Written from the perspective of the pooch, one caption read: "He was already cheating on mama when this photo was taken. Mama didn't know," while another said: "This photo was taken the day he told mama he had been cheating on her for months (and was currently still with his mistress). He told her this right after mama told him she was pregnant, something they had been planning for six years. He also told mama that he hadn't been using condoms while having sex with his mistress and that the mistress wasn't on birth control."
It was also said that he broke up with his mistress to save his marriage, only to go back on his word the same day. The posts were hashtagged #cheatinghusband and #20yroldmistress.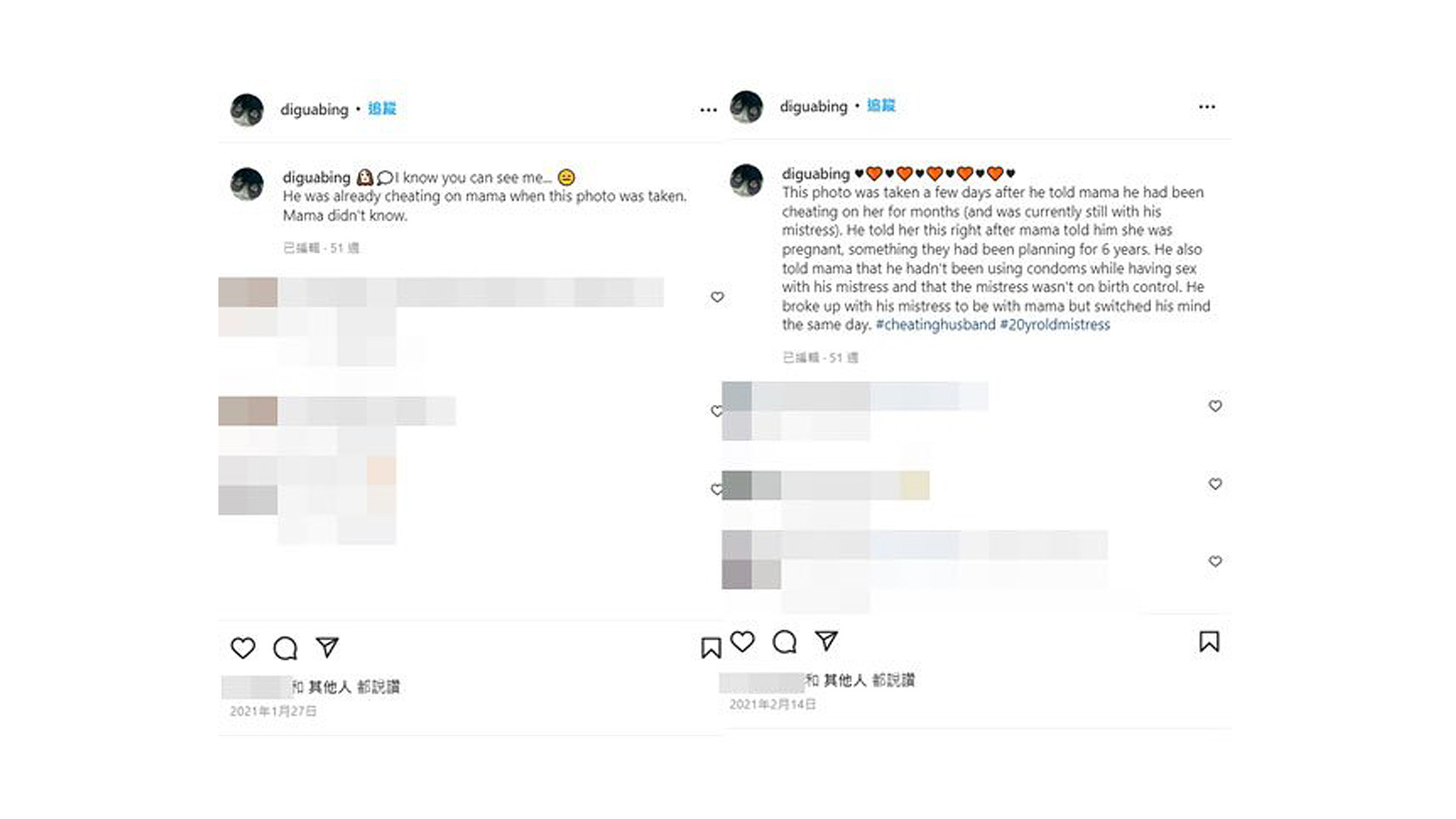 The posts were edited as early as 52 weeks ago
According to screen shots of the posts, they were edited as early as 52 weeks ago, which was around May last year, and have since been re-edited to show "[Edited for private reasons] #wearacondom #cheatinghusband #20yroldmistress".
The caption for the posts have been edited.
After news of Leo's alleged cheating ways went viral, speculation was rife that it was Leo's wife who posted the expose. Many netizens also took to social media to voice their sympathy for her. 
"[She] looks like she has returned to the United States, many of the photos do not look like they were taken in Taiwan. I feel sorry for her. She had to deal with this when she was pregnant and now has to look after the kid herself. All I can say is that she's had a rough time," said one netizen.
The couple has been through lots of ups and downs.
Leo and his wife tied the knot in 2017 after two years of dating. While it is not known when his wife gave birth or the gender of their child, judging from pics on Instagram, the kid looks to be less than a year old. 
In a 2019 interview with Next Magazine, Leo revealed that he and his wife had a tough time when they first started dating.
They lived on the top floor of an apartment and the roof would leak when it rained. This inspired him to write the song 'The Leaking Bedroom' as a way to  remember the difficult times they went through together.
He added that he was very thankful to his wife for unconditionally supporting his music dreams. 
"After going through the happiness, unhappiness, quarrels, and support, I felt that we could be a family," he said.

Photos: Diguabing/Instagram, Sinchew