Yakiniku Hawker Stall In Ubi Has IG-Friendly Corner With Shinto Shrine Gateway Replica
Have a grilled meat set from $8.80 at Mr Yakiniku, then snap a photo at its mini 'torii gateway'.
Yakiniku on a budget is quite possible in Singapore these days, thanks to casual restaurant chains like Tokyo import Yakiniku Like, as well as no-frills hawker joints such as Nen Nen Contemporary BBQ.
Month-old Mr Yakiniku, a Japanese grilled meat hawker stall tucked in a quiet kopitiam within an industrial estate in Ubi, offers something extra: an Instagrammable brown and black torii gateway replica, complete with traditional Japanese chochin­-esque paper lanterns (though these are PVC) and fairy lights, to go with your grilled meat sets starting from $8.80. 
Torii gateways in Japan are symbolic entrances into sacred spaces like Shinto shrines, and typically come in a variety of colours. But the smallish version at Mr Yakiniku has no religious link, especially since it leads to a wall. One of the stall's four founders, Tiffany Chia, 30, clarifies: "It's just decoration," so it's really only there for the 'gram.  
All photos cannot be reproduced without permission from 8days.sg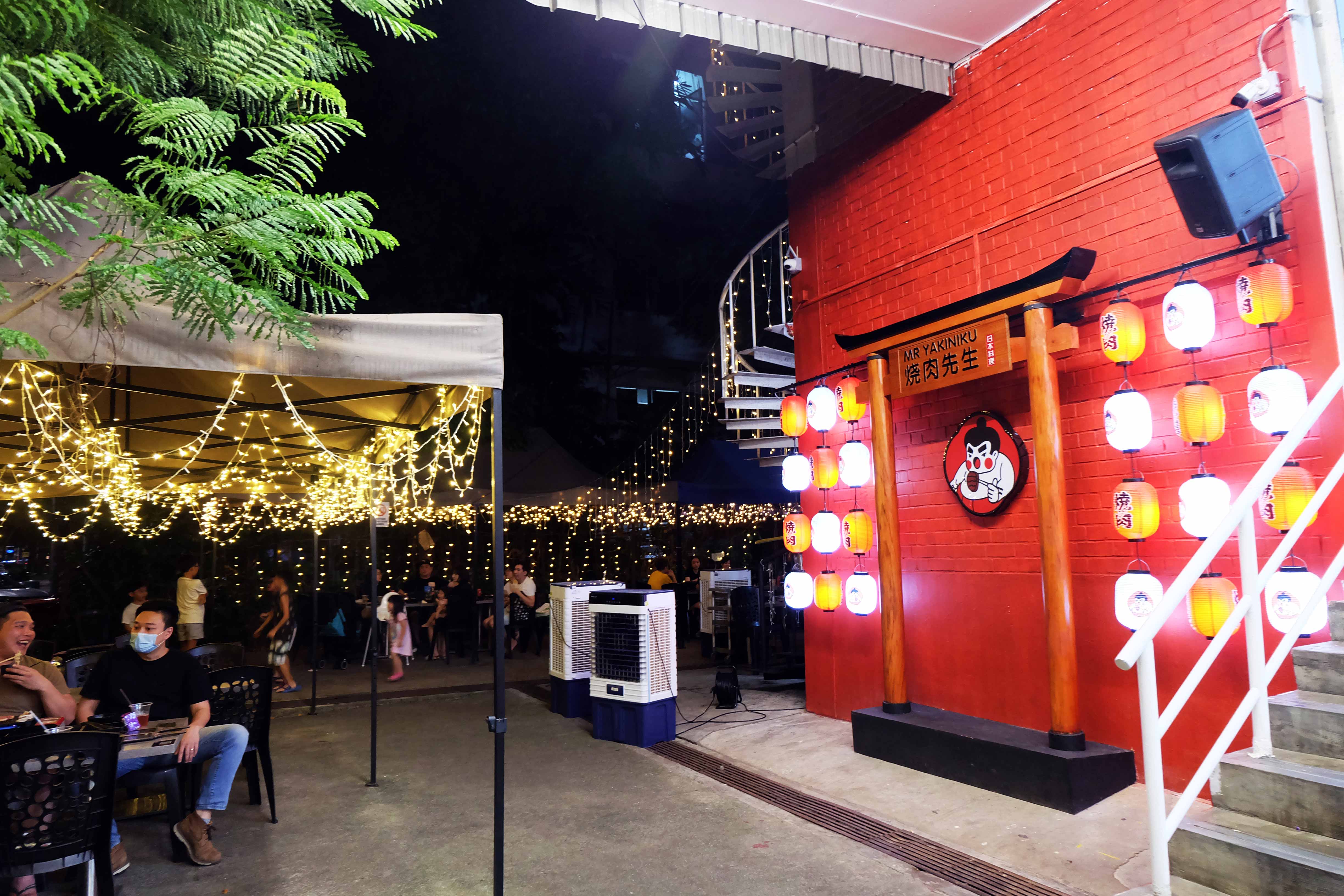 Affordable yakiniku with "the right vibe"
Tiffany adds: "My husband (another co-founder of the stall) and I really love yakiniku, but it's hard to find it at the right price point, with the right vibe. A lot of restaurants [like Yakiniku Like] usually have a [short time limit] for dining. We wanted a place where customers can really sit down to chill and have a beer with their friends."
Spent "less than $10K" on décor
They chose to set up shop in a relatively ulu coffeeshop that typically only opens in the day to serve lunchtime crowds from nearby industrial buildings, so they'd have the entire space to themselves at night.
They also convinced the coffee shop's main tenant to let them string up fairy lights in the al fresco dining area and erect a torii gateway with lanterns. "It was a win-win for both of us, as [the main tenant] could operate the drinks stall and sell beer at night," explains Tiffany. "So we managed to convince them to give us the go-ahead."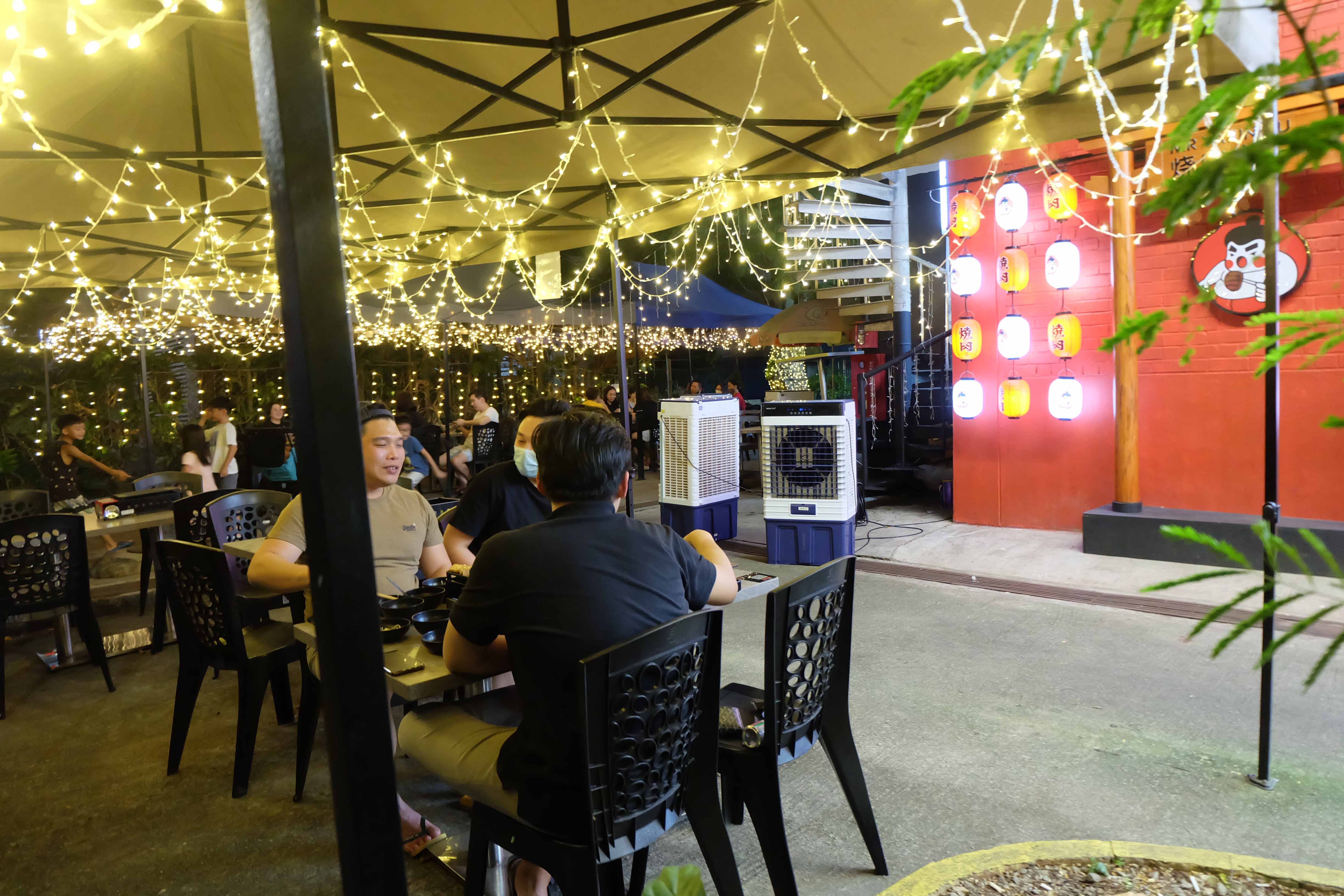 Their faux torii gateway decorations cost them "less than $10K" of the four founders' overall $60K budget as Tiffany used her connections as the owner of an events company to buy materials at a lower cost. 
She tells us that the photogenic setup is a hit on social media platforms like TikTok, drawing in new customers for the stall. "Diners tell us that our place doesn't look like a coffeeshop. The younger crowd will definitely take photos with the torii gate, but for the older generation, they'll usually take a photo of it, not with it (laughs)."  The cook and co-owner here, Xavier Yeo was formerly the head chef at Bali-themed cafe in Sentosa, Bali on the Cove.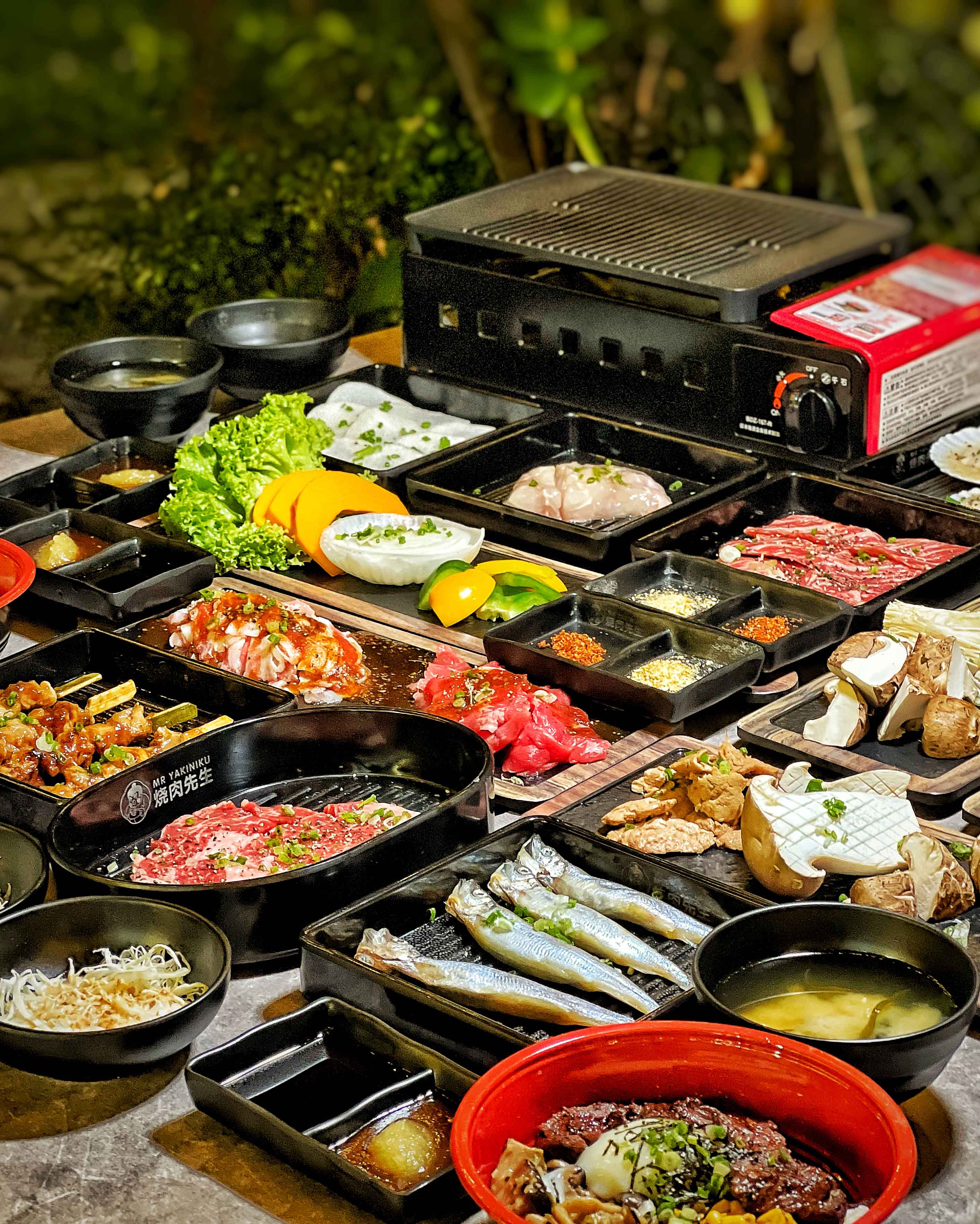 Individual sets from $8.80
Like other DIY yakiniku joints, the staff preps the meat while you do the cooking at the table with a portable gas grill. Sets include a bowl of rice, salad and soup and range from $8.80 to $25.80 depending on the size and type of meat. These are paired with four types of housemade dips, including a classic yakiniku sauce (comprising mirin, sugar and soy sauce) gussied up with not-so-classic pineapple puree.
We haven't popped by for a visit yet, but here are a few examples of the grub on offer.
Chicken, from $8.80 for 100g
This set features chicken thigh and chicken breast (frozen for now, since fresh chooks from Malaysia aren't crossing the border).
Beef, from $10.80 for 100g
Karubi (beef short plate) and harami (skirt steak) are the stars of the beef set.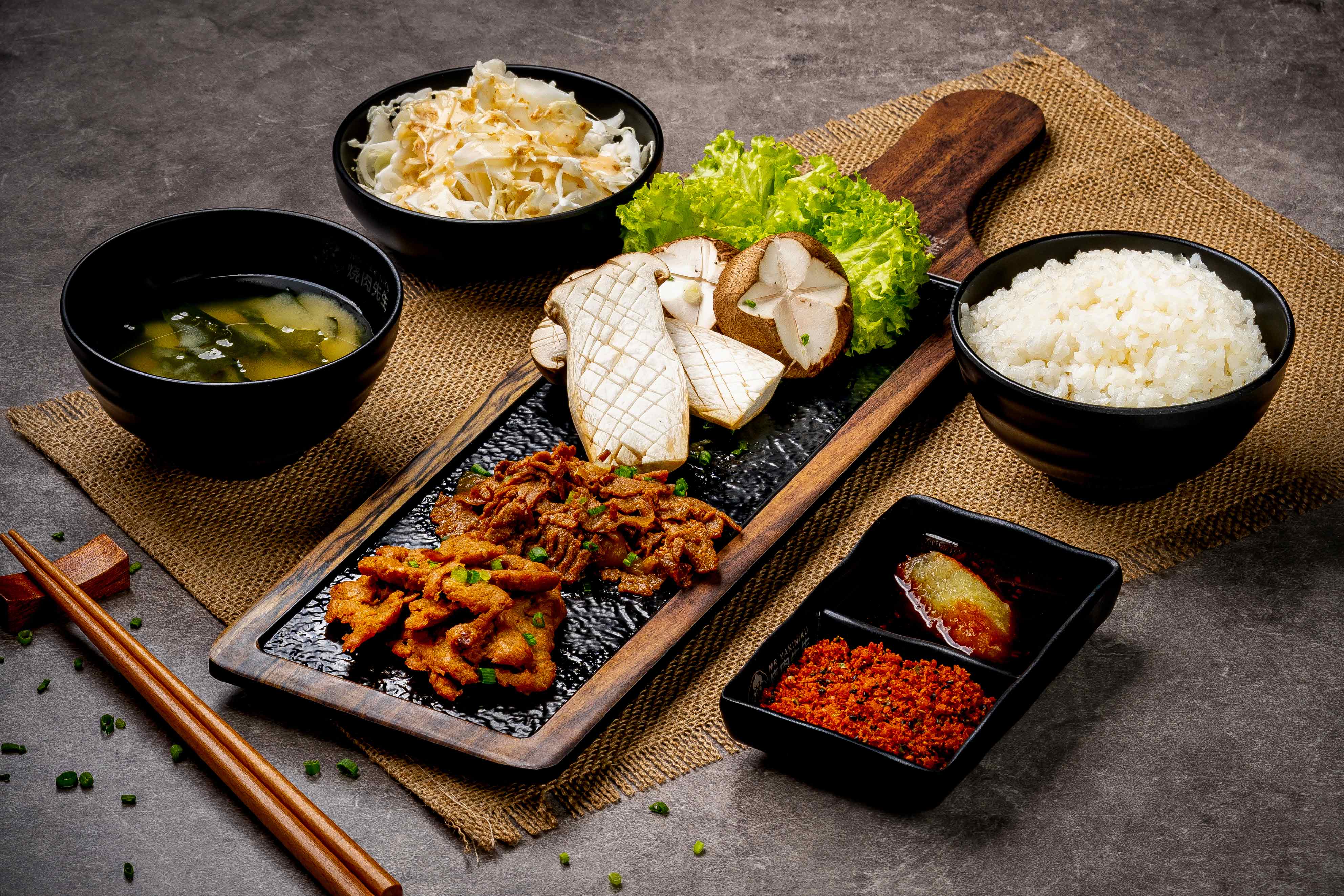 Plant-Based, from $16.80 for 150g
Something for vegetarians and vegans: slices of 'harami' and 'karubi' by Japanese plant-based meat purveyors Next Meats (who've also partnered with Japanese grill restaurant, Aburi-En), along with mushrooms and lettuce.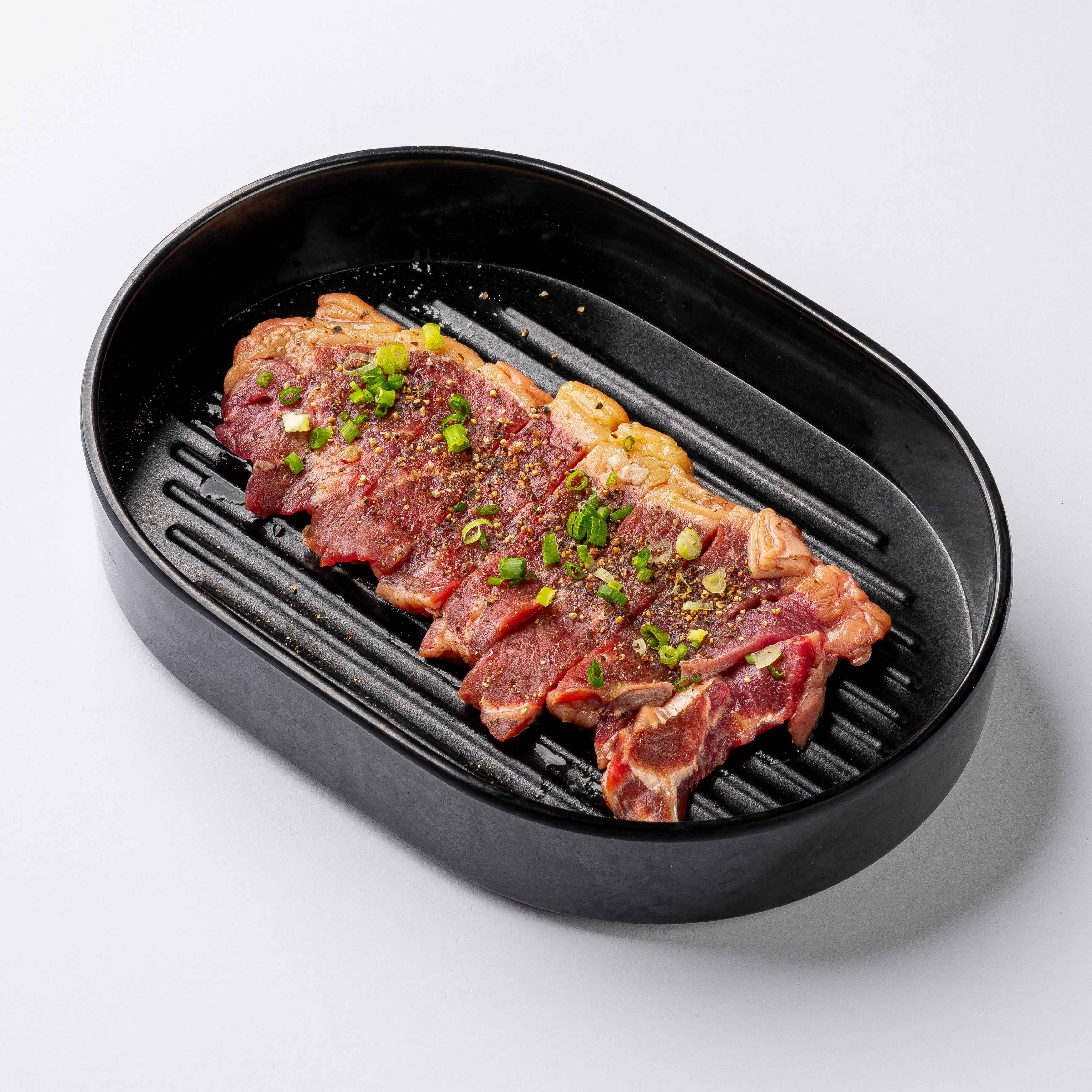 A la carte meats on offer
If 200g of meat ain't enough, you can top up with a la carte meat platters. Think Karubi Prime (boneless short ribs; $8 per 50g), Gyu Tongue (starting $7 per 50g) and Striploin Steak ($13 per 100g). Other options include Pork Belly ($3 per 50g), Shishamo ($6 for 4 pcs) and Ebi ($6 for 5pcs). Take note that only donburi sets (from $6.90) are served for lunch.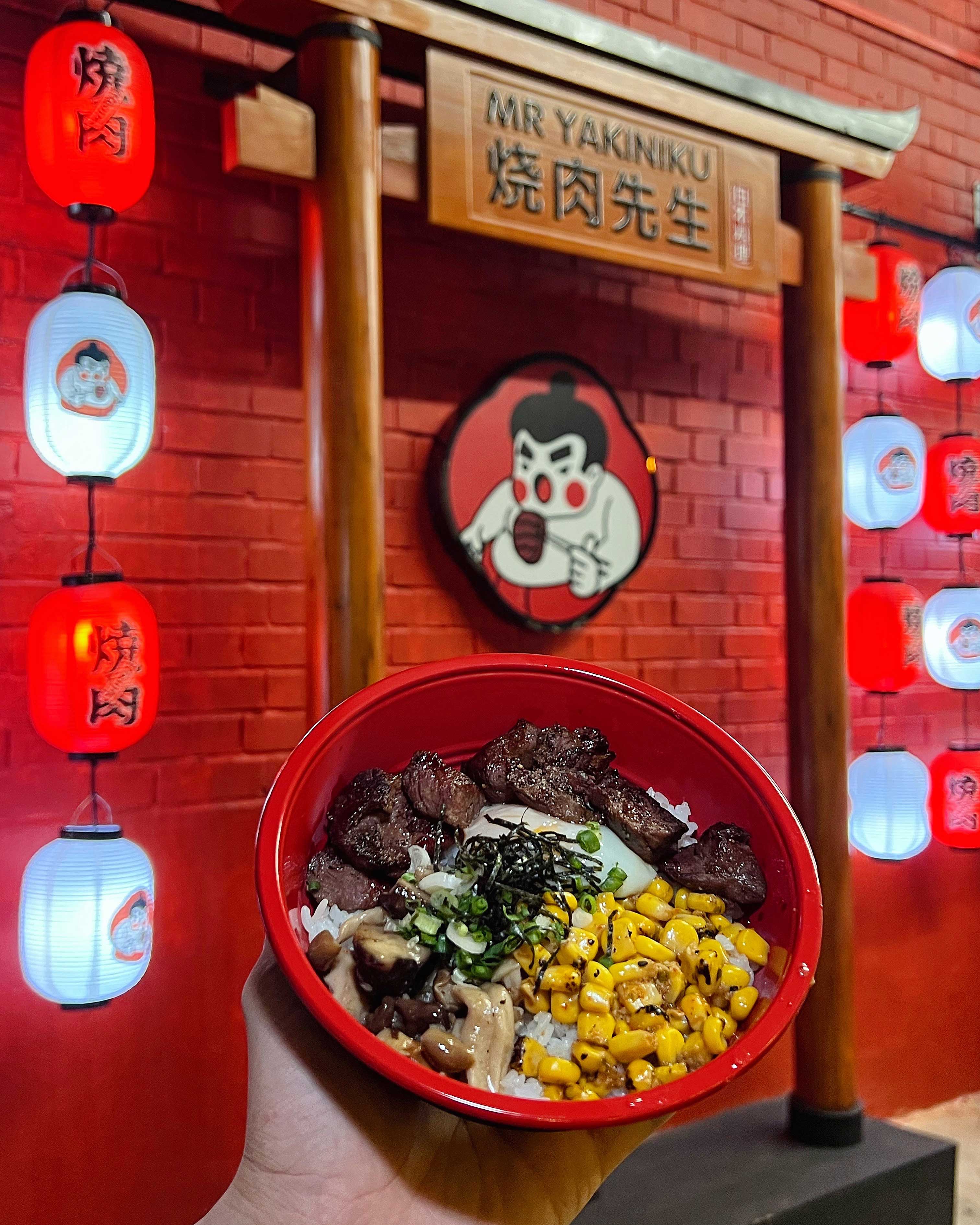 The details
 Mr Yakiniku is at 179 Ubi Ave 4, S408793. Tel: 8044-4007. Open daily except Sun, 11am – 2.30pm (only donburi sets for lunch); 5pm – 11pm. More info via Facebook and Instagram. Delivery coming soon.
Photos: Mr Yakiniku, @rontreechan/Instagram, @jonnyboyeats/Instagram, @whatisdieting/Instagram
All photos cannot be reproduced without permission from 8days.sg