Young Malaysian Hawkers Serve Hearty Ipoh Curry Mee & Chee Cheong Fun At Jurong West Stall
Wang Cai styles its signature dish after the famous curry mee from Yee Fatt eatery in Ipoh. 
Update: Wang Cai is now at Telok Blangah
Mention Ipoh food and the eponymous hor fun or white coffee probably come to mind. While these are more commonly found in Singapore, or at least local versions of them, less ubiquitous is Ipoh-style curry mee. This is part of the reason why Ipoh-born Tay Yee Sheng (middle), 26, decided to open a hawker stall peddling his favourite dish from his hometown.
Called Wang Cai (prosperity in Chinese), the three-month-old stall, located in a rather ulu coffeeshop in Jurong West, serves up both soup and dry versions of the noodles, as well as other curry-centric dishes like curry chicken and chee cheong fun. You can't miss the stall thanks to its brightly lit storefront, complete with larger-than-life signages featuring its menu and cute dog mascot eating, you guessed it, curry mee, near the front of the kopitiam (which also houses 
popular
Fei Zhu Lok Lok stall opened by viral "chio bu" hawker Phyllis Seah
).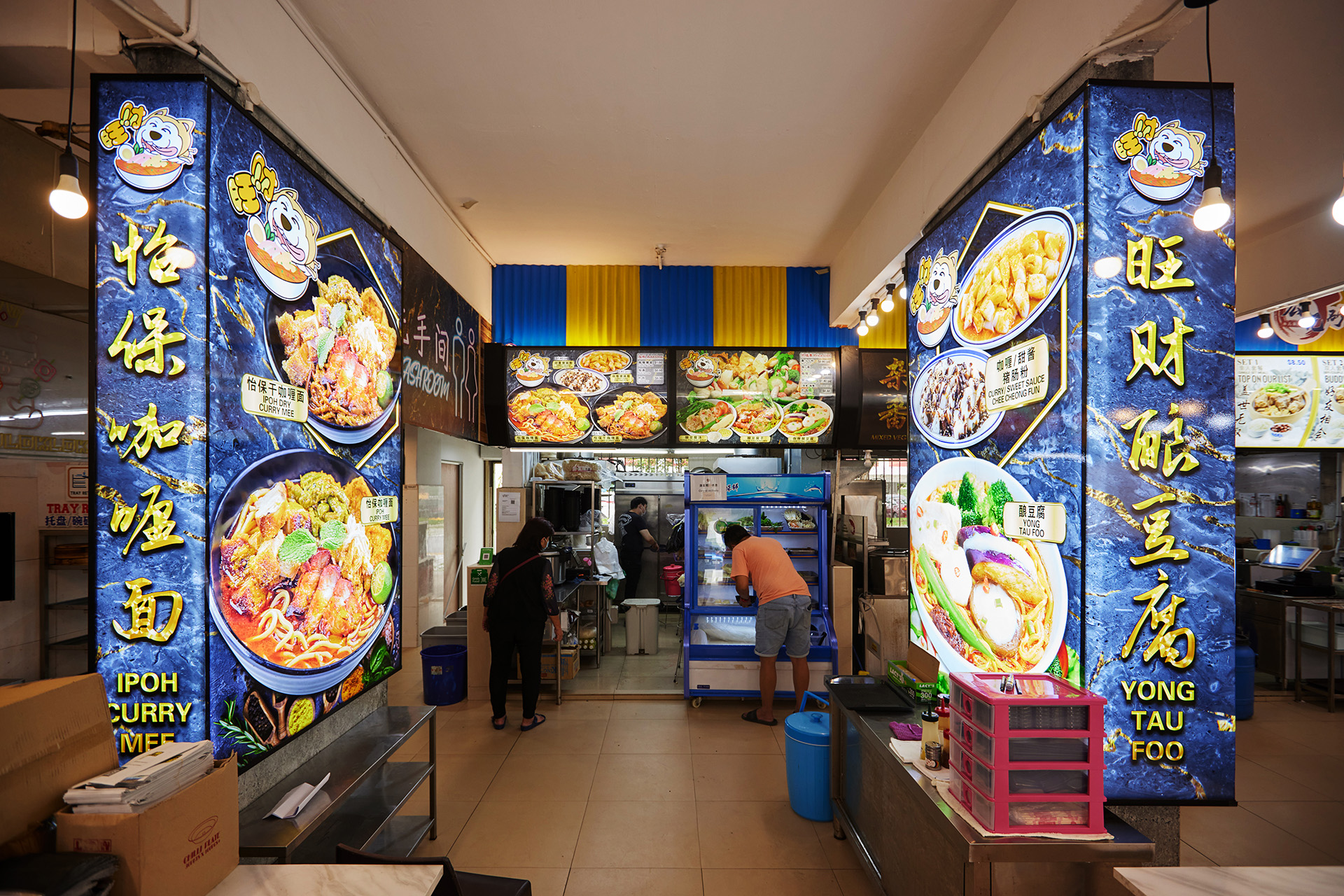 The grub is prepared by Yee Sheng, his wife Ruby Thong, 24, and their business partner Yap Kang Ling, 31. The trio, all from Malaysia, quit their supervisor roles at Genki Sushi earlier this year to start Wang Cai.
All photos cannot be reproduced without permission from 8days.sg.
Yee Sheng (right) with his wife Ruby Thong and business partner Yap Kang Ling.
Worked in commercial kitchens for 10 years
Yee Sheng, who came to Singapore to study in 2013, may only be 26, but he's had 10 years of experience in F&B, working in a variety of roles from server to store manager in restaurants like Coca Steamboat, Cedele and Genki Sushi. Though he doesn't have any official experience as a chef, he learned the ropes of the kitchen during his stints at various restaurants. 
"Managers have to learn how to cook too, 'cos we need to know how everything works in order to run the restaurant well. We also help the chef when there's a shortage in manpower," the Singaporean PR tells 8days.sg in Mandarin.
"I did everything from slicing sashimi to making sushi and hand rolls at Genki Sushi. All the supervisors are qualified to be chefs 'cos we must undergo a strict assessment before we are employed. Though I was a floor manager, I preferred working in the kitchen and spent most of my time there."
A love for curry and the desire to become a business owner were what inspired Yee Sheng to take the leap of faith and venture into the hawker trade.
"I also felt there are no good Ipoh-style curry mee in Singapore," he says.
Compared to the Singapore-style curry mee that is more lemak, the Ipoh version, which uses less (or sometimes) no coconut milk, is more savoury, piquant, and aromatic with spices. It is commonly served with roast pork, char siew, tau pok, and long beans.
The millennial hawkers invested $30,000 to start Wang Cai, which opened at the end of June. Their second outlet, situated in a coffeeshop in an industrial estate in Sembawang, which is "like a franchise outlet", opened a month ago. 
"The boss of this kopitiam likes my curry mee so he suggested we open another outlet at his new coffee shop in Gambas. It is sort of like a franchise. I prepare the rempah for them and they have a cook that takes care of the cooking. I go there to QC the food daily," says Yee Sheng.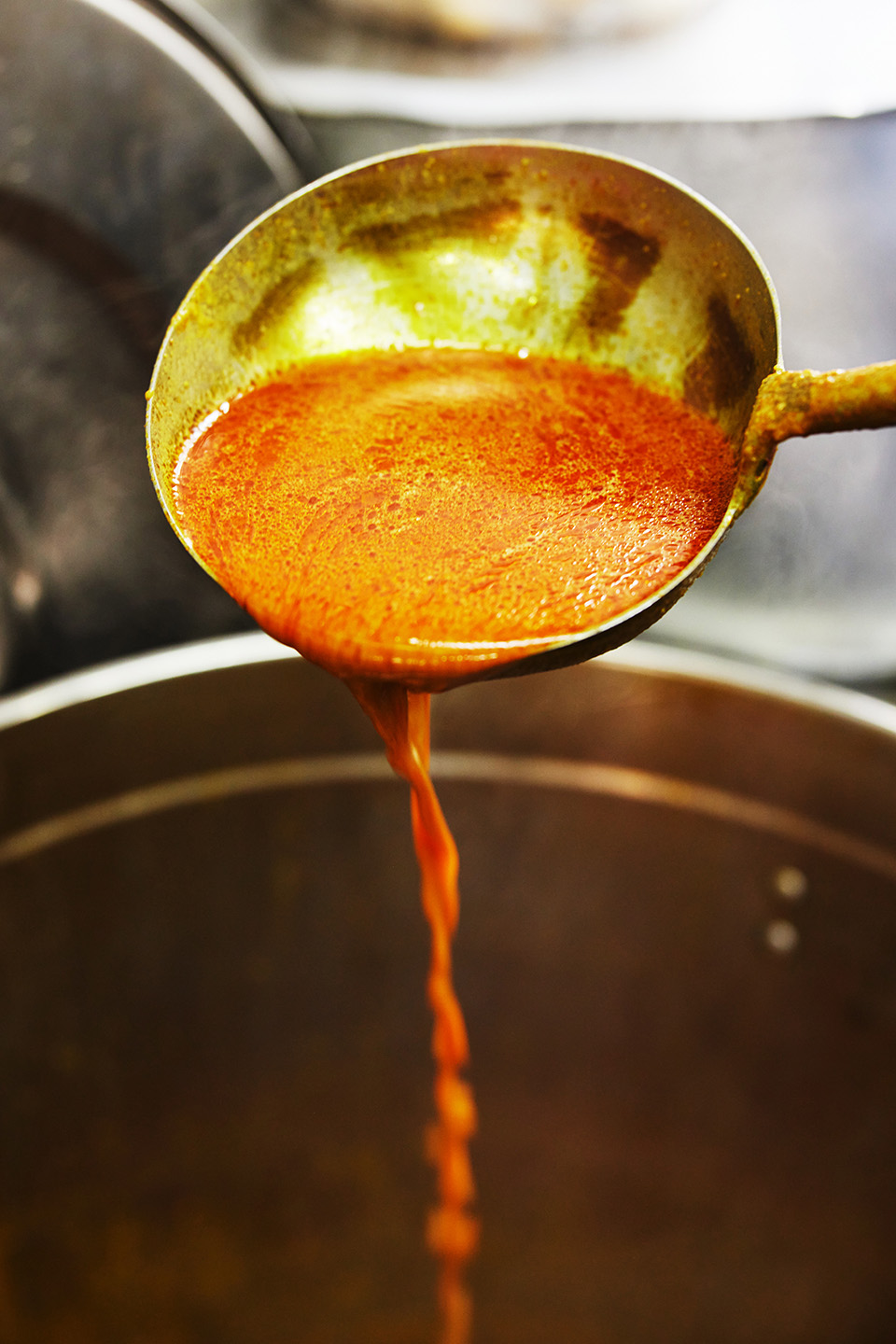 Started from cai png curry recipe
Though Yee Sheng and Kang Ling, who is from Klang, love curry, they had "zero knowledge" of how to cook it. They started with a "very basic" Chinese-style curry recipe Kang Ling got from a cai png stall where he used to work, and began tweaking from there. The duo spent four months perfecting their rempah, travelling to Ipoh regularly to try different curry mees to fine-tune their recipe.

"We would chat with the bosses and ask them for tips and their secret recipes. Our dry curry mee is modelled after the one from Yee Fatt, which is very saucy. It is the most famous curry mee in Ipoh and also my favourite. I used to eat it all the time," shares Yee Sheng. We have not tried Yee Fatt's curry mee, but Yee Sheng claims that taste-wise, his version is "80 per cent similar" to the Ipoh eatery's.
Though he personally prefers the dry curry mee, Wang Cai's soupy curry version is their bestseller, selling around 100 bowls a day.

"A lot of locals cannot accept our dry curry mee, which is heavier on the palate. They also asked us why we used so little coconut milk in our curry. They thought we were trying to stinge on it, so I had to explain to them that this is Ipoh-style curry, where more emphasis is placed on the use of aromatics and spices, and is less sweet. Now they are more accepting of our curry," says Yee Sheng.
Despite this, he was adamant about not tweaking their curry to suit the local taste. "This is our unique selling point. We are serving Ipoh-style curry mee so we want the taste to be authentic. We cannot please everyone," he notes.
Recalling how they used to make just "$200 to $300 in sales a day" in the first few weeks of opening, Yee Sheng says business has improved a lot thanks to customers who have been spreading the word about their stall online.
"Chef and restaurant owner
Simon Ng
(yes, the towkay of
Peace Thai Cuisine where doctorate holder-turned-hawker Dr Vic works
) was the first person who shared about our stall on social media. From there, more people got to know about us and now we have a lot of regular customers.
A lot of them are Malaysians who are working in the industrial areas nearby,
" he says.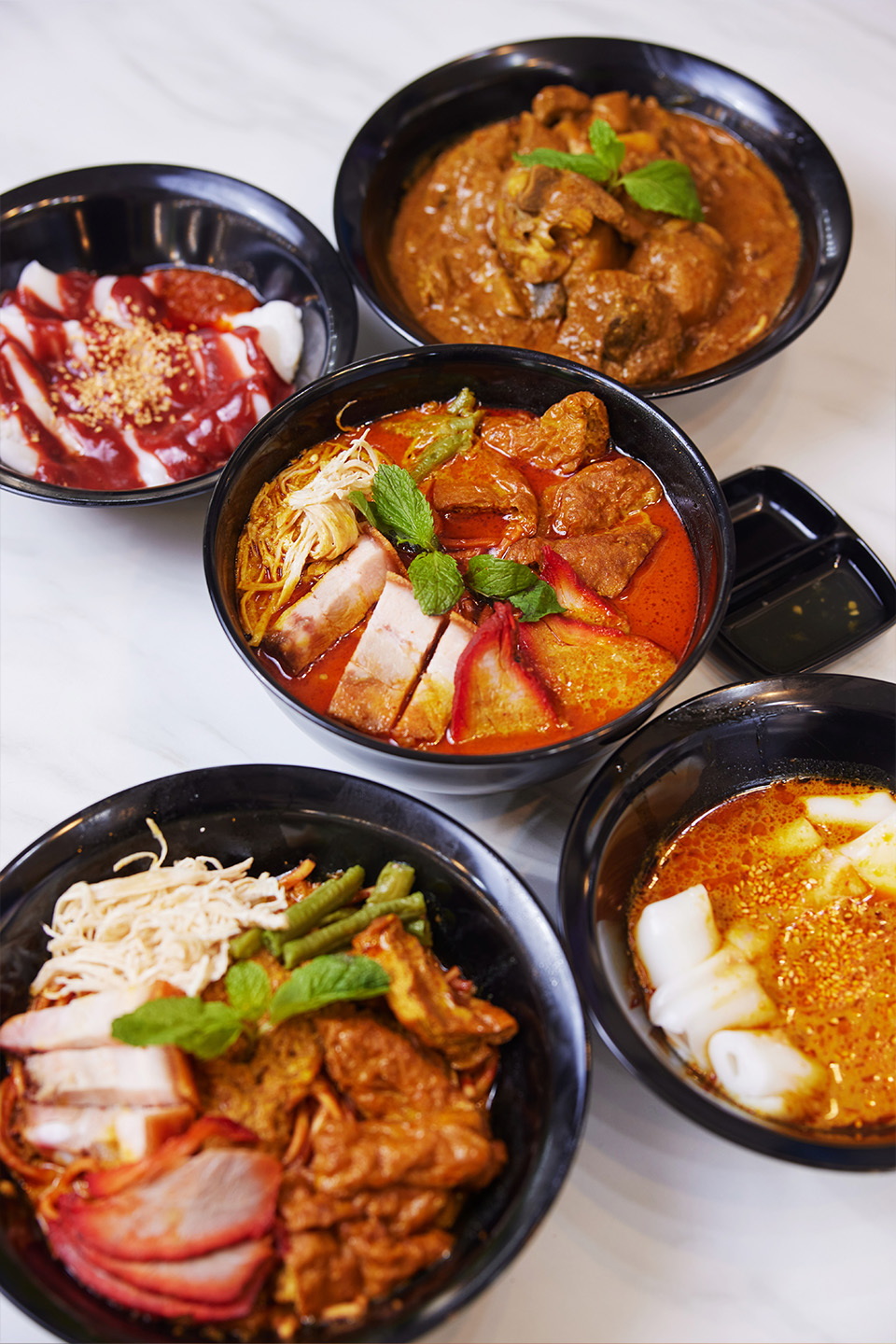 The menu
Besides curry mee, Wang Cai also sells chee cheong fun with curry or sweet sauce, curry chicken, as well as Hakka yong tau foo, which is served deep-fried. The trio hand-make some of the yong tau foo offerings themselves, and you can have the yong tau foo dry, with their ikan-bilis based soup or curry gravy. 
Prices here range from an affordable $1.40 to $5.50. Add-ons like pig skin are also available from $1.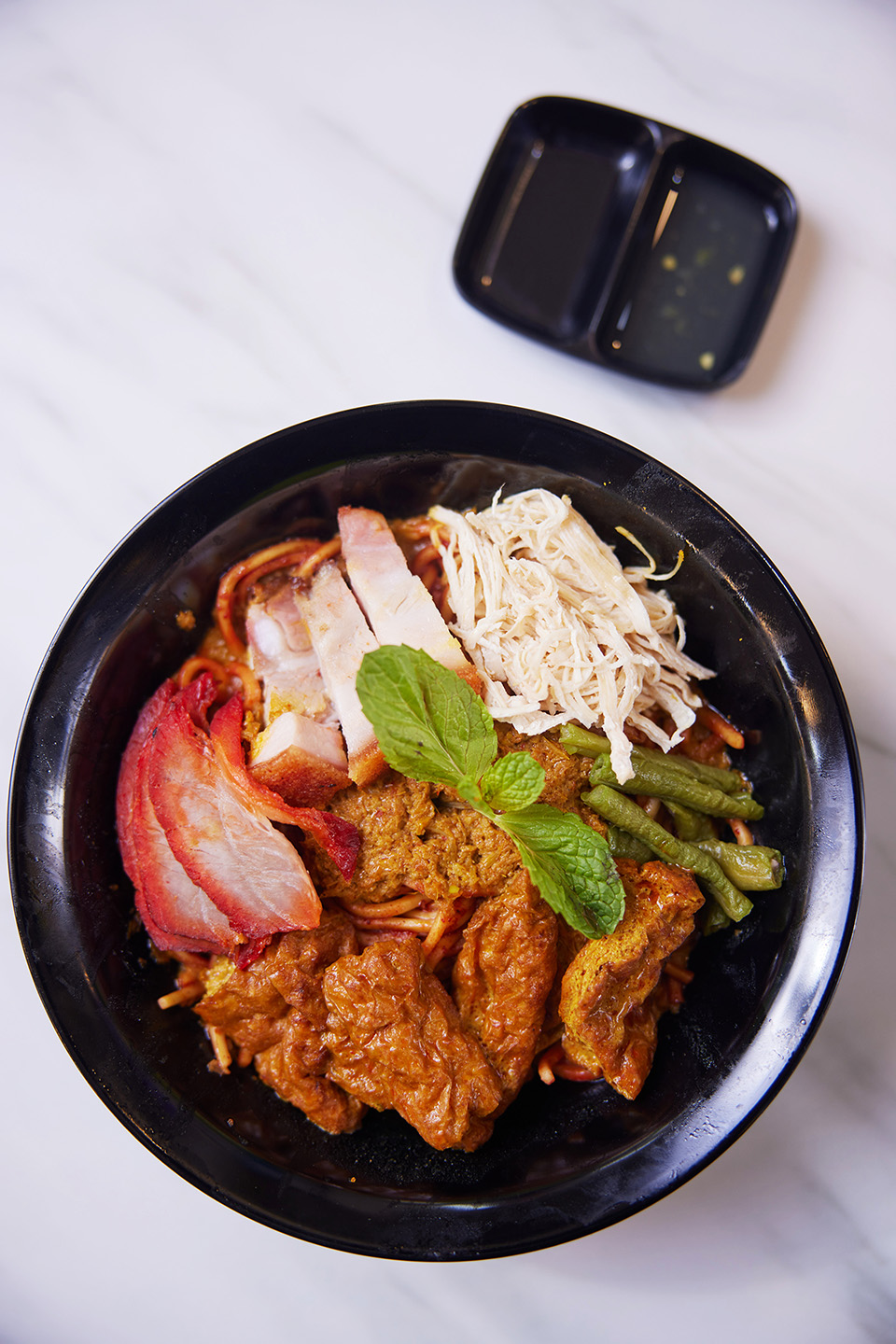 Ipoh Dry Curry Mee, $5.50

 (8 DAYS Pick!)
The hearty offering comes with what Yee Sheng calls the "full plate" consisting of thick cuts of red char siew, roast pork (both from a supplier), shredded chicken, tau pok, and long beans. Noodle options include yellow mee, bee hoon and hor fun. 
The Wang Cai team make their rempah, which is the base for all their curries, from scratch, painstakingly grinding about a dozen aromatics and spices including ginger, lemongrass, and onions, before frying the paste till it's fragrant. Just the rempah alone takes around four hours to prepare. 
After the curry is prepared, it is strained and the 'liquid' portion used to make the curry soup, while the leftover chunky paste (left in pic below) is enhanced with a splash of coconut milk
and served with the dry curry mee. Yee Sheng says this is the essence of their dry curry mee and what sets it apart from others. A little curry gravy and soy sauce blend make up the tossing sauce.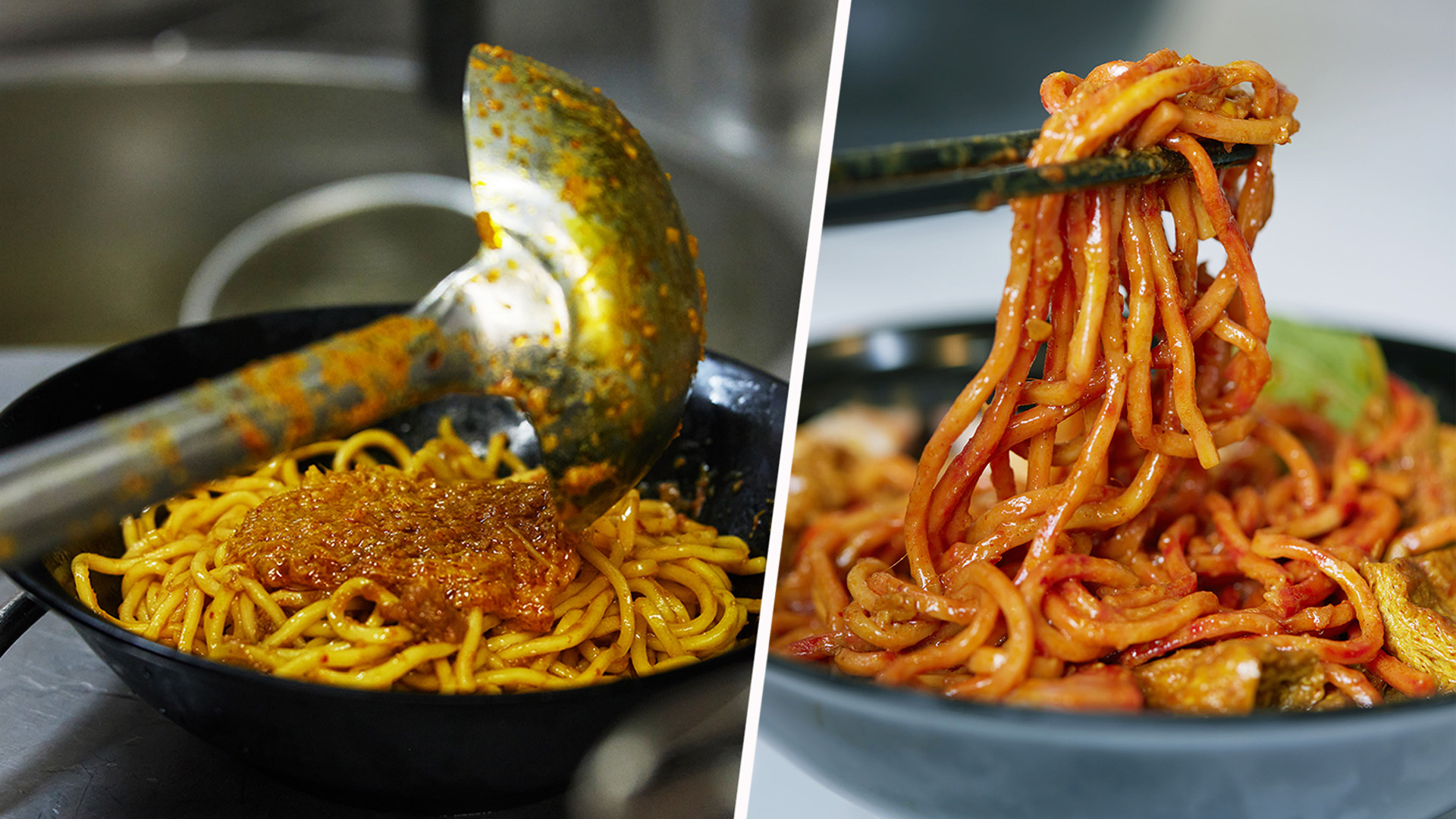 Despite its name, the dry curry mee is luscious and saucy, kinda like satay beehoon. The flavours are rich and bold, with a good hit of spices. It isn't overly lemak or jelak, and has quite a kick. We particularly enjoy the meaty roast pork, which comes with a good layer of fat and crisp crackling, and the mint leaves and lime juice (available in a bottle on the condiment tray) give it a nice zestiness and helps cut through the richness. Our only gripe is biting into the occasional lemongrass fibre left in the paste, which can be annoying.
Ipoh

Curry Mee, $5.50 
We were a little underwhelmed by the soup variant, which comes soaked in a lighter, more watery curry gravy. It is also less spicy, so if you can take the heat, we recommend adding a little of their savoury hae bee hiam-spiked sambal to zhng it. Compared to our local curry mee, this is thinner and contains less coconut milk.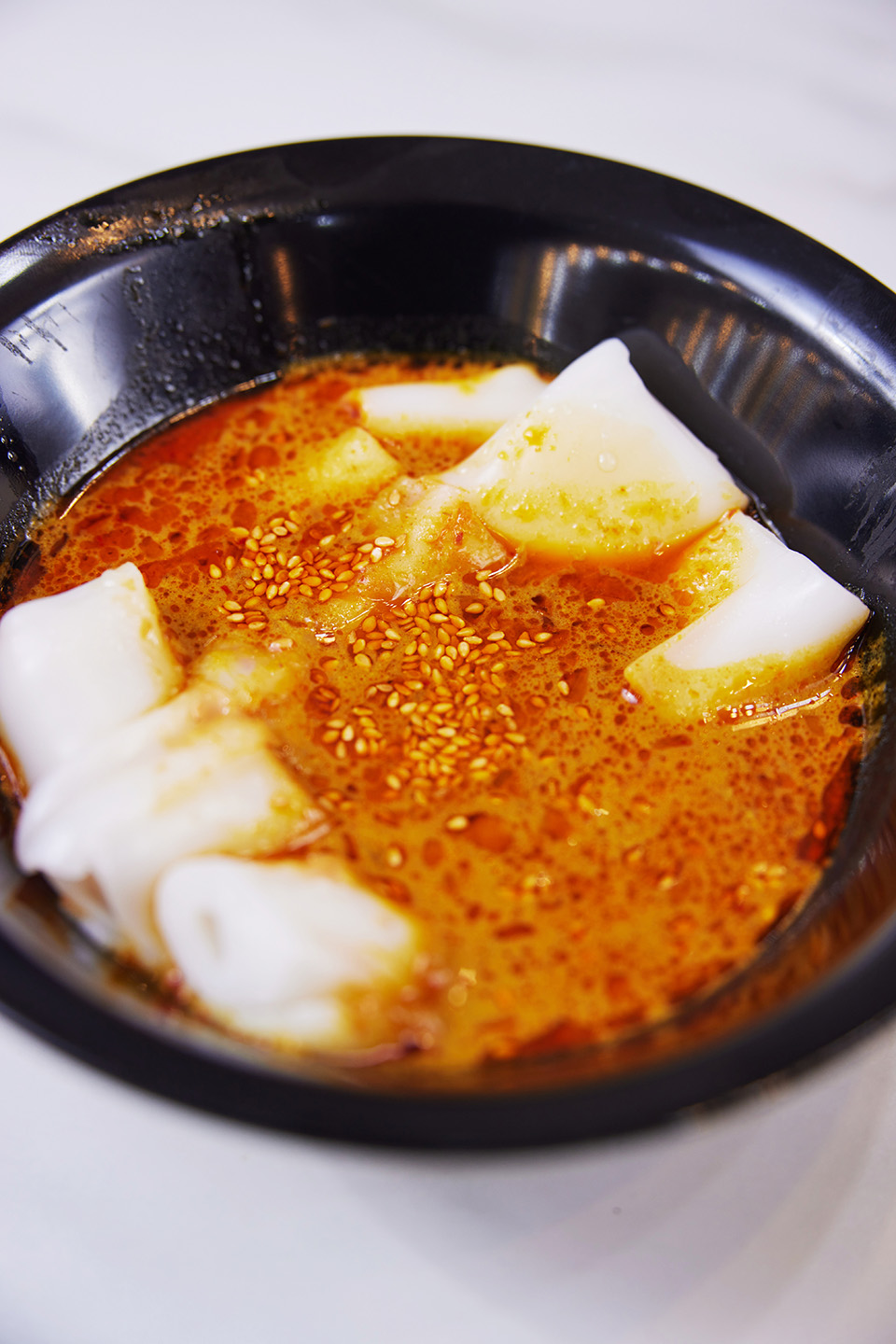 Curry Chee Cheong Fun, $1.40 
For $1.40, you get one and a half rolls of plain chee cheong fun swimming in a bowl of curry soup (same as the one used for soup curry mee) mixed with a touch of soy sauce, sesame oil, and topped with sesame seeds. Wang Cai uses rice rolls from a supplier, and while they are silky and soft, the chee cheong fun is so tightly rolled that the gravy is unable to seep between the layers. We had to unravel the rolls ourselves to get the flavours in.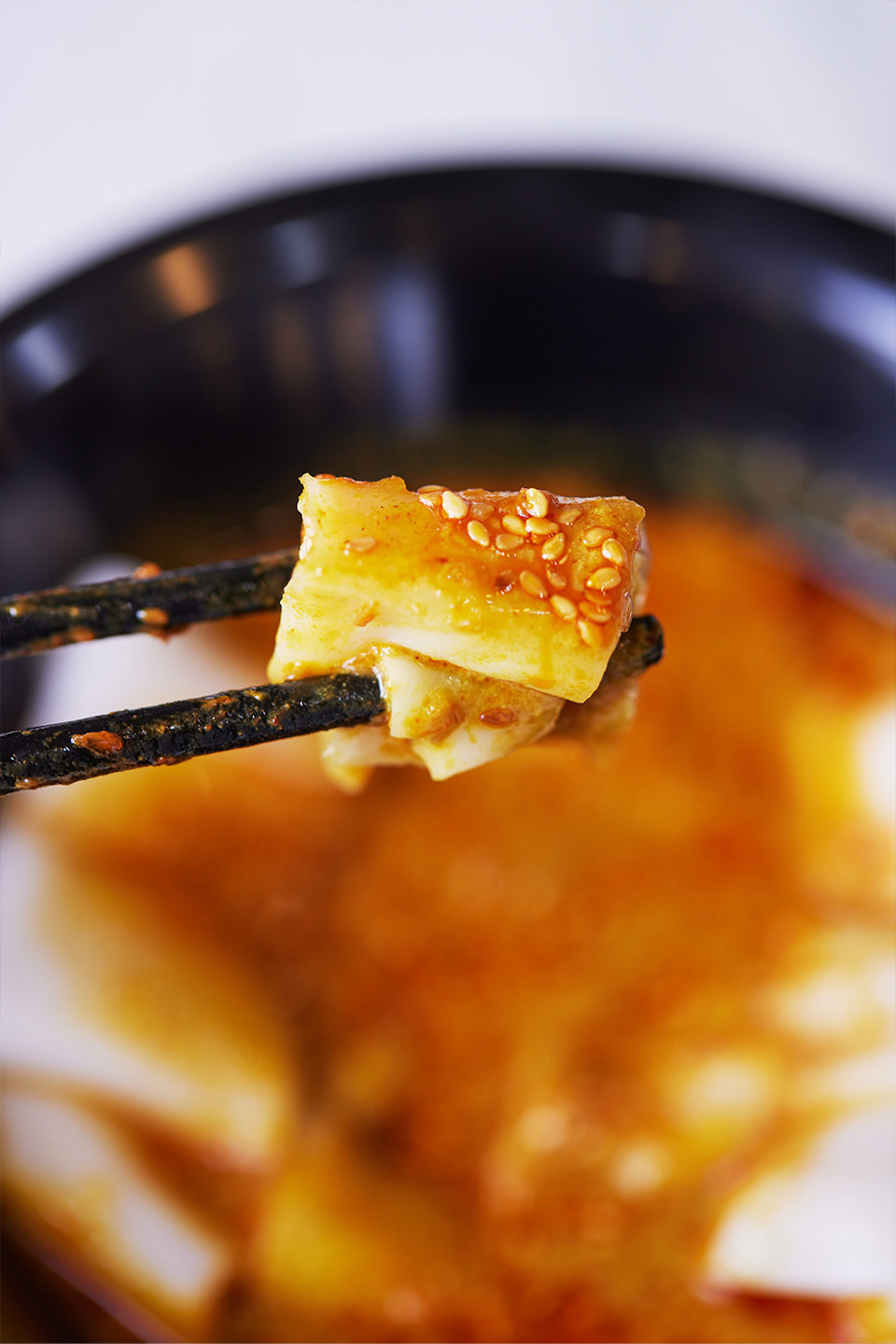 Yee Sheng tells us that ideally he would like to serve the chee cheong fun in hor fun-like strips like how they do in Ipoh, but he hasn't had time to R&D that. "If we do that, we will have to make the chee cheong fun ourselves, which we don't have time to do now. We added chee cheong fun to the menu as an afterthought, so people can have it for breakfast. It is selling surprisingly well. We are usually sold out by around 10am," he says.
Sweet Sauce Chee Cheong Fun, $1.40 
This local-style chee cheong fun, which comes slathered with a thick sweet red sauce and soy-and-sesame dressing, is still preferred by most customers, says Yee Sheng. On its own, we find the housemade sweet sauce too cloying, but nicely balanced when mixed with the sambal. 
Curry Chicken Mee, $5.50

(8 DAYS Pick!)
To offer more variety, Wang Cai recently launched a thicker version of Singapore-style curry chicken mee too. Confused? So were we, initially. Full-bodied and aromatic, this rich gravy smells strongly of spices and reminds us of local Indian curries. Quite shiok. The chicken drumstick, chopped in chunks and marinated in rempah for at least 24 hours, is succulent and fall-off-the-bone tender. Also available with rice. Currently, only 10 sets of this curry chicken are available daily (the hawkers are testing out the response to it before deciding if they should put it permanently on the menu), so head down early if you want to try it.
Bottom line
Confused by the numerous curry offerings? Well, go for the Ipoh dry curry mee, which is robust with spices and flavour. Also worth ordering is the satisfying Singapore-style curry chicken – if you can snag one of the 10 bowls on offer daily, that is. The prices are a tad steep for the stall's ulu location, but the quality fare and generous portions make up for it.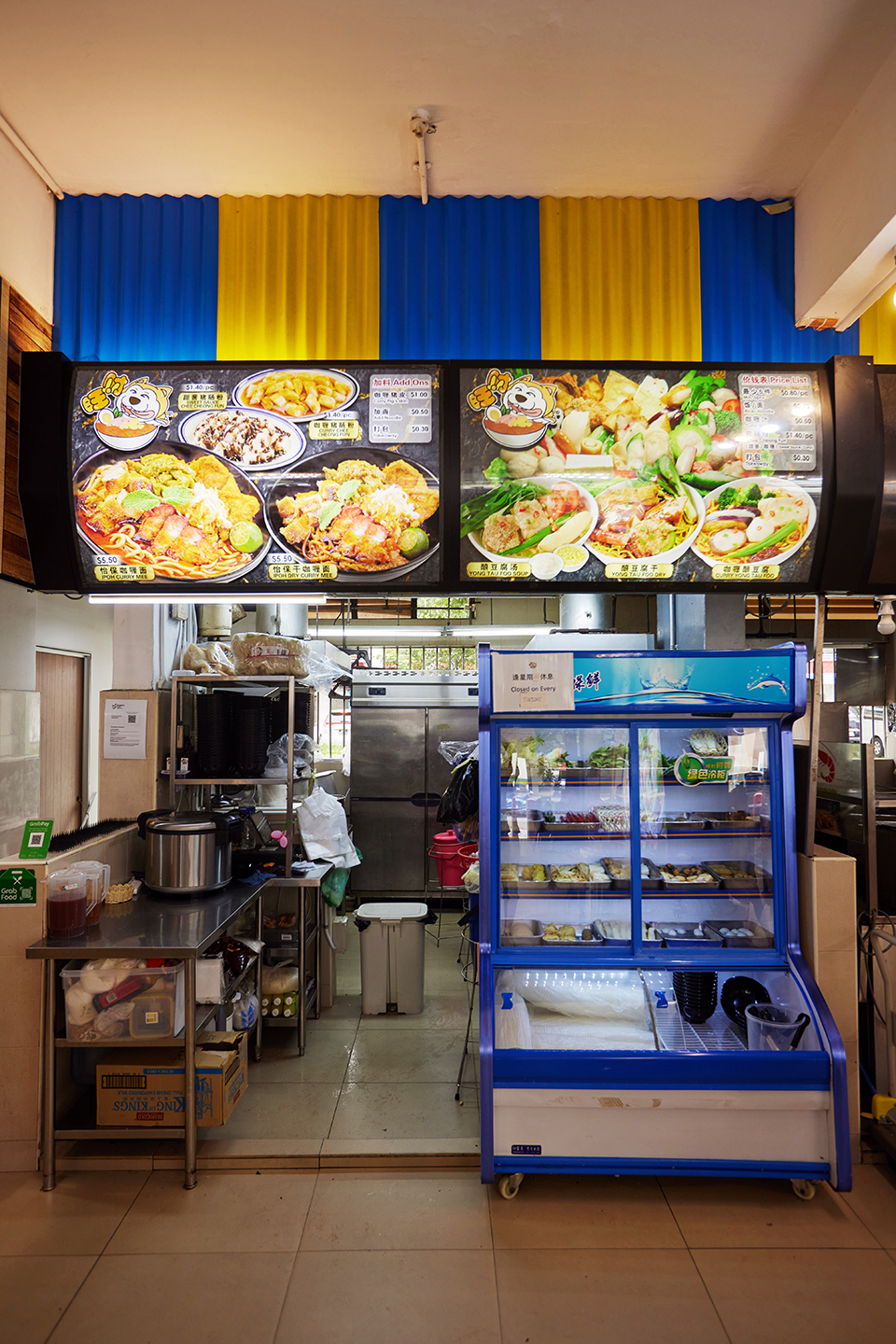 The details
Wang Cai Ipoh Curry Mee is at J&J Coffee House at Block 557 Jurong West St 42, S640557. Open daily except Tue 7am – 5pm. More info via Facebook and Instagram.
Photos: Kelvin Chia
All photos cannot be reproduced without permission from
8days.sg
.