Zoe Tay On Why She Changed Her Parenting Style And Is No Longer A Tiger Mum
"In the past, I wanted to see numbers," says the star of new Mediacorp drama Dark Angel, who adds that she now prioritises "the physical and mental well-being" of her three sons.
By now, you'd probably have heard a thing or two about Mediacorp's newest drama, Dark Angel.
After all, the revenge drama is one of the grittier shows Mediacorp has done in recent years, and revolves around Zoe Tay's character, lawyer He Ziyuan, taking on a wide variety of cases as she seeks to unmask the killer behind her husband's violent murder years ago.
But outside of the drama, it's life as per normal for Ah Jie, who has her hands full juggling work and family, like any other working mum out there.

These few months have been a little more hectic for the 54-year-old, with her youngest son, Nathan, 11, about to sit for the Primary School Leaving Examinations (PSLE).
When 8days.sg sat down with Zoe for a chat after the press conference for Dark Angel, it was in early September, with a little less than a month to go before the first written paper for the PSLE.
Thankfully, this isn't Zoe's first rodeo. After all, she's seen her two older sons, Braydon, 17, and Ashton, 15, through the same examination years ago. So it makes sense that she was the picture of zen when we spoke to her.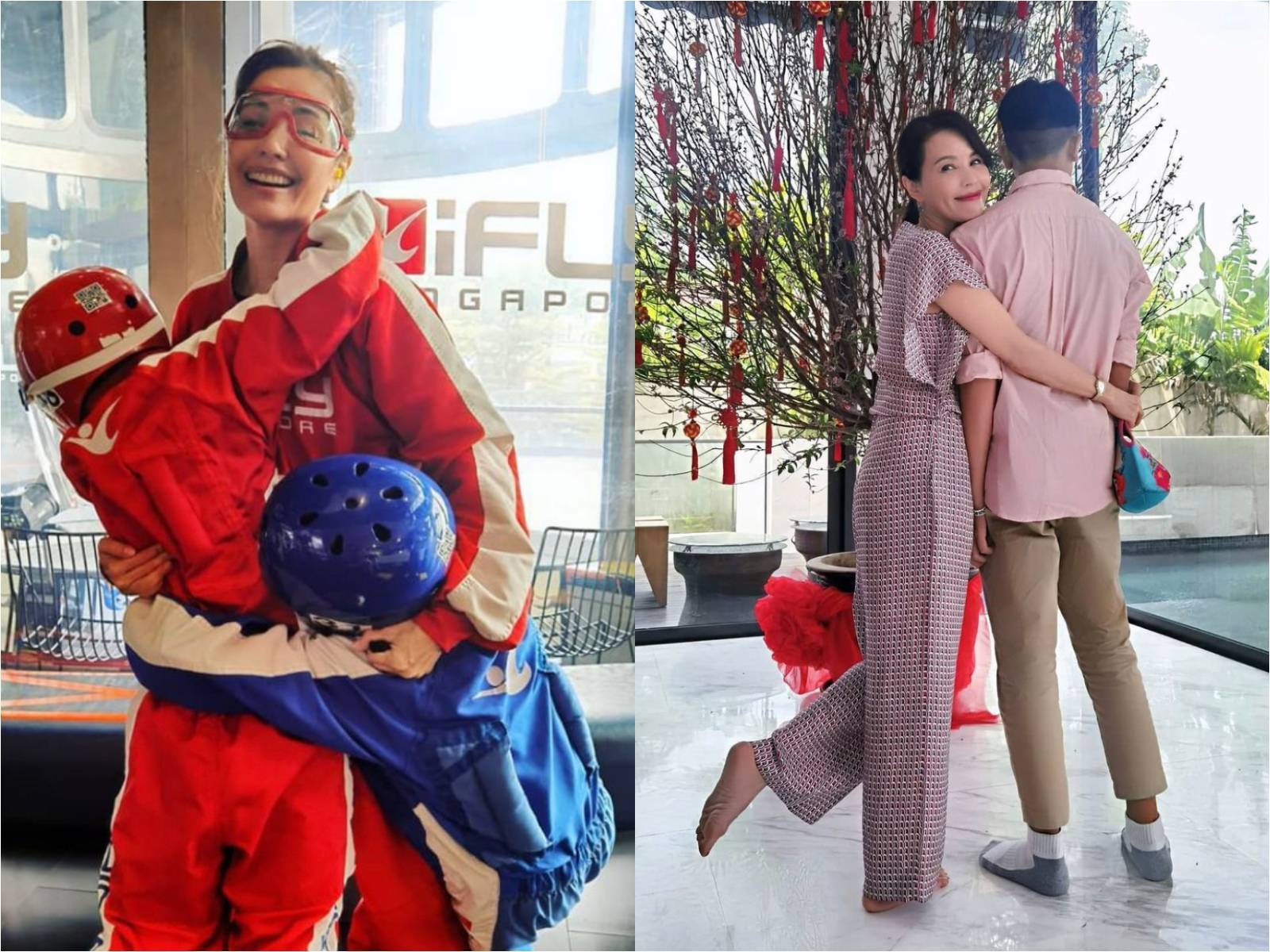 Parenting is a full-time job.
Pausing for a beat before going on to answer our question about her parenting style, Zoe readily admits that, like many other things in life, being a good parent is something that one picks up along the way.
"Every kid is different. As a parent, how you handle your kids has to be different as well. In the beginning, you don't know [anything]. You might think that this might work, so you do just that. But along the way, you'll come to know that certain kids need a lot more. You'll read more, you'll understand more, so sometimes, what you think they need might not be exactly what they want. So you just learn along the way," she said.
"I've learned to have an open mind and to be open to them, and to be there for them. That's what I think is important as a parent," Zoe added.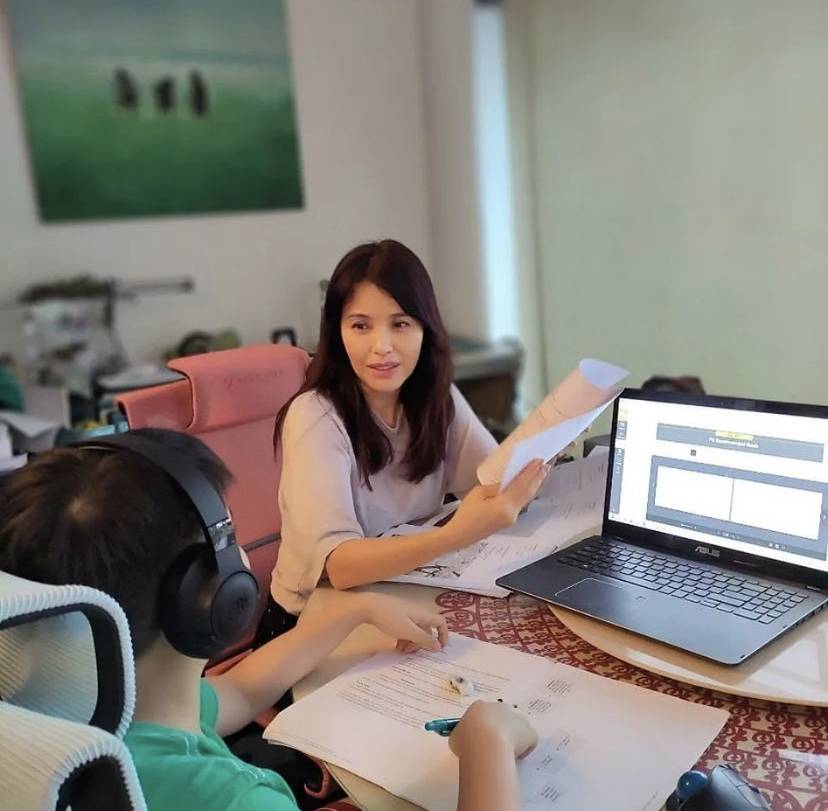 And the countdown to the PSLE begins...
8DAYS.SG: Your youngest is taking his PSLE this year. Do you feel nervous?
ZOE TAY: Not really, it's just like that. If he manages to pass, I'll be... (switches to English) thank you! (laughs)
Is he the more studious type, or…
No, he's the type who doesn't like to study. Yeah... he's more mischievous, and hasn't really matured yet. He's playful. Actually, I think after COVID-19 and the period of Home-Based Learning (HBL), [the kids], their understanding and reliance on computers [has increased]. I think that's not a good thing 'cos they're not mature enough to differentiate what's important and what's not.
Some parents will take a break from work before the PSLE to supervise their kids, do you plan to do that as well?
I've always done that (laughs). I'll remind him, and tell him to study. He's the type that's more active, so... as parents, we'll do whatever we have to do. I'm just a normal parent, doing what everyone else does during PSLE.
So… definitely not the Tiger Mum type?
I don't think I'm a Tiger Mum. [Maybe I was like that] for the first one, but after that, I wasn't anymore.
Were you stricter with your eldest son?
Yes, that's why my son keeps complaining: 'Mum, how come you're so lenient with my two brothers?'
Then he'll tell everyone that his mum is too lenient with his brothers. [But] every kid is different. Really, they have different needs.
That's very true. Moving back to HBL, would you prefer for your kids to attend school in person than having HBL?
Of course, of course. When they're at home, it's so noisy. Wow, I tell you, it's every single second, it's just [noise everywhere].
Do they talk to each other?
Yeah, they'll do that. Every second.
And their schedules are all different right, since they're in different schools? Was it hard to keep track of their schedules?
Oh I didn't care, I just let them be. I've seen some parents who are really chill, so I learnt to be a bit more chill as well. Now, I want to prioritise their physical and mental well-being. They have to be happy. That's quite important to me.
In the past, I thought that as long as I was happy, it's fine. I pushed my son [to excel in his studies]. But luckily, he [was the type that] could be pushed. But not every kid is the same, you know. Everyone is different.
Putting in the hours.
So for your youngest, you give him more 'freedom'?
I'll still monitor him 'cos at this age, there's a lot of things you wouldn't know. So I'll still tell him, and explain to him [that] there's still a lot of homework to be done (laughs). You'll know in the future.
That sounds scary.
It's not scary, but it's challenging (laughs).
Does your youngest son have any dream school in mind? Maybe he wants to go to the same school as his older brothers?
(laughs) He won't be able to go to the same school [as his older brothers].
No lah, actually... his dream school? I'll just listen to whatever he says. I'll tell him: "Don't come and tell me your dream school. If you want that dream school, then you have to work for it." That's the truth. It's not that I'm denying his dreams or that I think he's not capable of doing it, but I think that there's nothing that you can achieve without putting in the hard work beforehand. It's not that easy.
At the end of the day, he still has to put in the work, right?
Of course. That's the case for everything. Sometimes, I think examinations are a good thing 'cos you can teach the children about life as well.
In life, a lot of times, there are all these challenges. And after putting in all the effort [maybe you'll find that] it's actually not so bad. Or maybe you'll find out that you're not good enough, or that you didn't put in enough effort.
He has to realise that himself. I think that's more important to me, when it comes to teaching my kids. In the past, I wanted to see numbers. But now, the effort, and my [parenting] philosophy is different. The way I teach my kids has changed.
The NC16 version of Dark Angel is available on meWATCH here. The PG version will air on Channel 8 from Sep 12, 9pm. You can catch the first episode below.
Photos: Mediacorp, Zoe Tay/Instagram