Zoe Tay's Husband Couldn't Make It Back To Singapore In Time For The Birth Of Their First Son; With Her In The Delivery Room Were Hong Huifang & Pan Lingling
It all made for a funny story that Ah Jie shared on the last episode of With Love, Becks.
If you've been keeping up with With Love, Becks, you would've realised by now that bride-to-be Rebecca Lim, is really, really ready to become a mum.
The last guest to grace the show was none other than Ah Jie Zoe Tay. And it was no surprise when the two dedicated a good portion of their time chatting about childbirth and being a mother.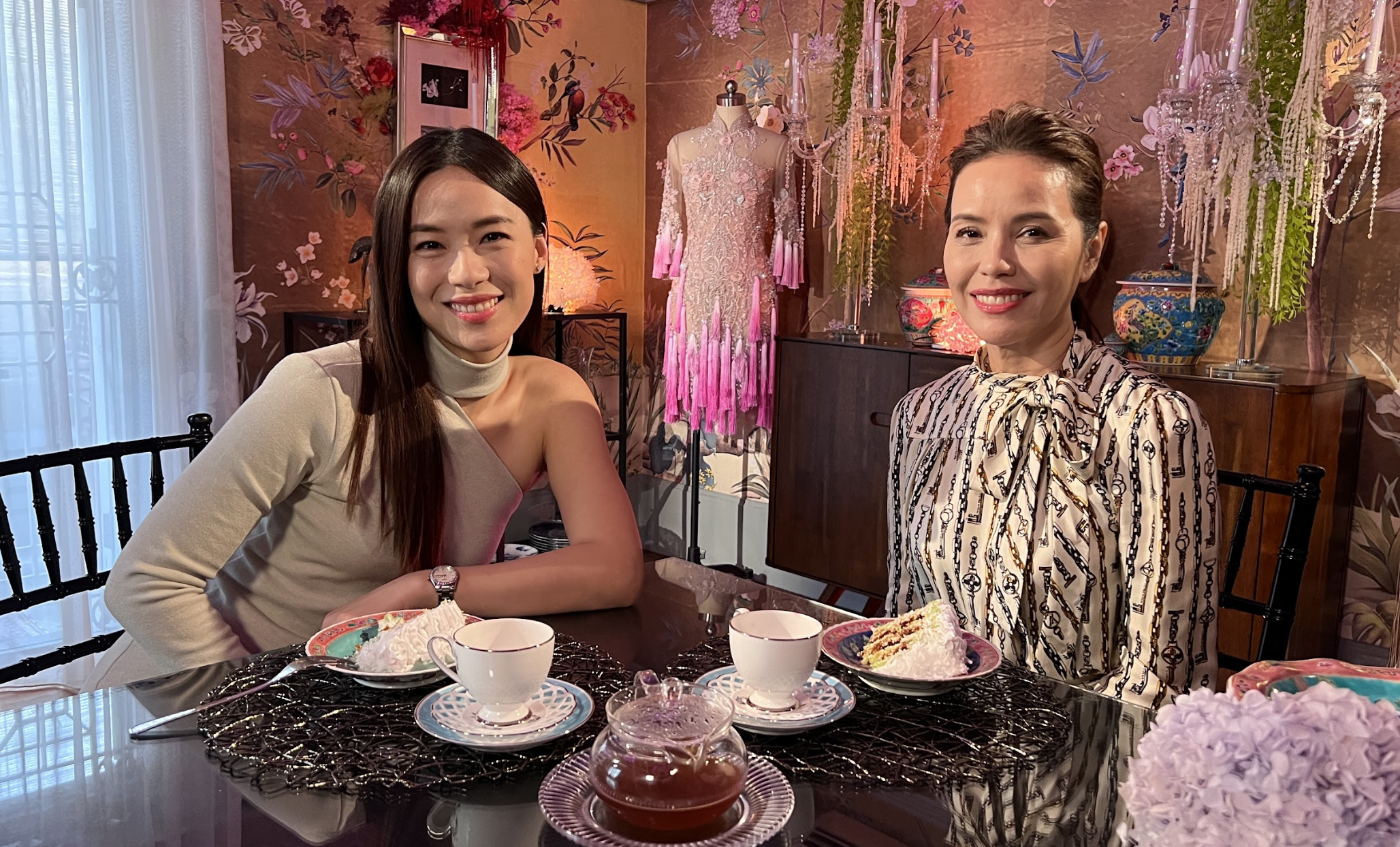 Zoe and Becks talked all things childbirth
"How long into your marriage did you have your first child?" wondered Becks.
According to Zoe, she registered her marriage with her now hubby, former RSAF pilot Philip Chionh, in 1995, which was six years before their actual wedding ceremony in 2001. 

Their reason? She "wanted to settle many things first", such as getting a house.
"After I got married, I thought, "It's time for a child". It was a little late, so I was getting anxious. Having a baby wasn't as easy as I thought it was. My husband was frequently away [so] we had to make time. There was a period of time when he was at home for three months, so I got pregnant then," said Zoe.
Zoe, who is now 54, gave birth to her eldest son, Brayden at 37.

Though she was elated about the pregnancy, she didn't tell anyone until after her first trimester as she was considered to be at an "advanced maternal age".
That revelation surprised Rebecca, 36, who never thought she would be considered an "older mum".
"When I heard Ah Jie say she was at an advanced maternal age during her first pregnancy, I was a little shocked because I'm 36 this year, and the earliest I can have my first child is when I'm 37. The label of being at an "advanced maternal age"... I couldn't accept it on the spot because I didn't think it [would be considered so]," said Becks in a b-roll interview.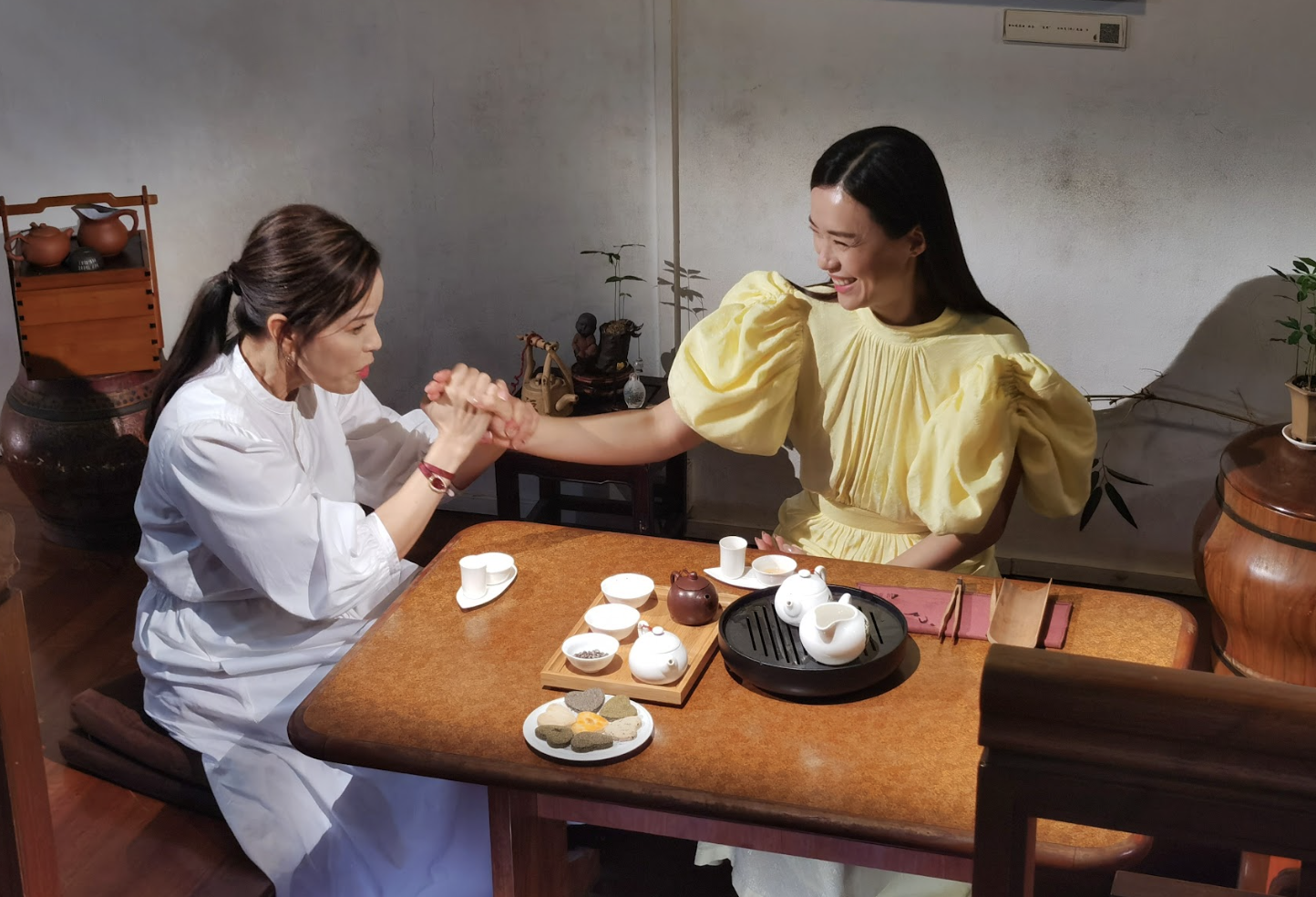 Zoe reenacting the scene of her labour
"My husband flew home on the night of the birth [but] I'd already given birth, so he wasn't there," said Zoe.
"Your husband wasn't there for the birth of your first child?" asked a surprised Becks.
Zoe then revealed that she was accompanied that night by her pals Hong Huifang and Pan Lingling.
"They were in the delivery room holding my hand. I had an IV drip in one hand, and Huifang-jie was holding on to my other hand, telling me to "Press on [and] push!"," said Zoe, giving Becks a taste of what happened by clutching her hand tightly.
"I was screaming in pain. After that I told Huifang-jie that [she was] pressing down on a nerve. Everything was hurting, I was going insane," she chuckled.
Ah Jie then described her third pregnancy with youngest son, Nathan, 11, as the "saddest".
"The doctor told us it was a boy. I started tearing up when I heard it. I asked if they were sure, and the very stern doctor said: 'Zoe, there's a 99.9 percent possibility [that it is a boy], and any error is mine.' I then accepted it," she said.
Zoe was thinking that it would be a "bonus" if she was expecting a daughter, but in hindsight realised all that mattered was that her baby was healthy.
Zoe and Philip with their three sons, Brayden, 17, Ashton, 15 and Nathan, 11  
Zoe then talked about how different she and Philip are when it comes to disciplining their kids, and recounted an amusing incident.
"[My husband] doesn't follow through with threats like I do. He forgets the rule he sets, and then he'll yell at them," said Zoe, setting the scene for her story.
"One funny thing about my youngest son is that he came up with a contract for his father to sign. 'You would be fined $50 if you yell at me, hit me or throw a tantrum for no reason' was what he wrote."
"And my husband was really silly... He actually signed it!" laughed Zoe, adding that the contract is now stuck on their fridge for all to see.
"Your son must have earned a lot," laughed Becks.
"I think he made a little recently," chuckled Zoe in reply.
Photos: Mediacorp, meWATCH, Zoe Tay/ Instagram
To see Becks and Zoe trying on cheongsams and learning about wedding pastries, watch the last episode of With Love, Becks on meWATCH, or catch it below.