Art started as a refuge to cope with deafness for award winner but led to stellar career
SINGAPORE — When Ms Chen Ziyue was in school, she sought comfort in the world of art whenever she was having a hard time.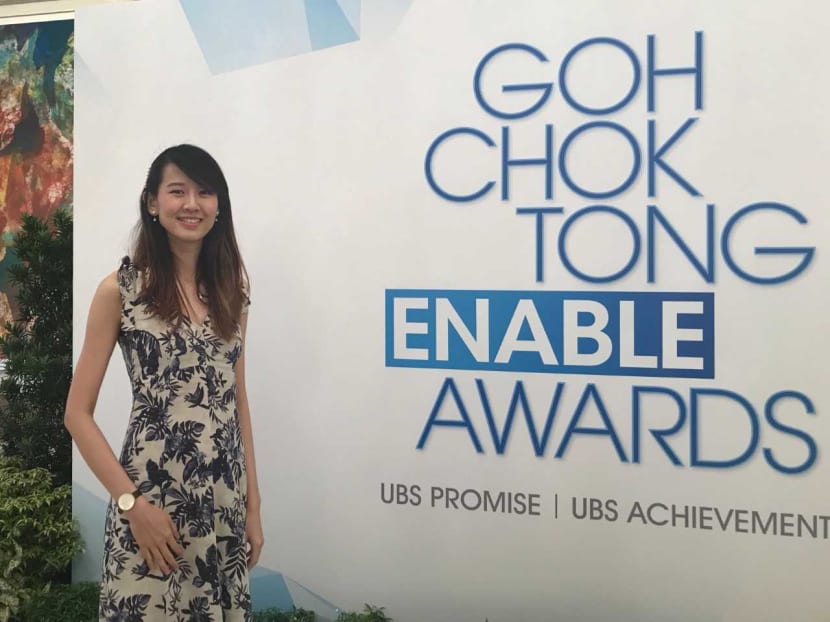 SINGAPORE — When Ms Chen Ziyue was in school, she sought comfort in the world of art whenever she was having a hard time.
Given her profound deafness, she struggled to communicate with her peers, because of her poor speech clarity and lack of exposure to sign language back then.
"I became drawn to art as it allowed me to express myself freely and to forget about my struggles and frustration with my deafness," she told TODAY.
On Wednesday (July 3), Ms Chen, 33, received a S$5,000 award at the Istana at the Goh Chok Tong Enable Awards, which are designed to foster a kinder, gentler and more inclusive Singapore.
Art may have provided solace in Ms Chen's early life, but it eventually led to a career path — and a distinguished one at that, as an illustrator of children's books in Singapore and abroad.
Some of her clients have included the Ministry of Education, Singapore publisher Epigram Books, consumer technology publication HWM Magazine and global publishers Random House as well as Simon and Schuster.
Ms Chen illustrated the cover of The Bad Kid written by Sarah Lariviere and published by Simon and Schuster. Illustration: ziyuenchen.com
Ms Chen completed her studies at the Ringling College of Art and Design in Florida in the United States in 2013, under a scholarship from the Media Development Authority (a precursor to the Infocomm Media Development Authority) before launching her stellar career.
"I later learnt that I could connect with people through art and knew that it was what I wanted to do, eventually creating illustrations for children's books. I've intended to illustrate my personal story to share my learning journey and have it published someday," she said.
Ms Chen was one of the 10 recipients of the UBS Promise Award at the Goh Chok Tong Enable Awards given out by Emeritus Senior Minister (ESM) Goh Chok Tong and President Halimah Yacob. The awards are an initiative under the Mediacorp Enable Fund, a charity for people with disabilities, that grew out of the TODAY Enable Fund.
The awards recognised a total of 13 people with disabilities for their achievements and potential in their respective fields.
Ms Ku Geok Boon, chief executive officer of SG Enable, the fund administrator for Mediacorp Enable Fund, said that the recipients of the awards sent "a strong message that persons with disabilities have ambitions and goals, and the determination and courage to achieve them''.
"These awards, we hope, will be a catalyst for Singaporeans to look at persons with disabilities in an even more positive light and come forward to support their endeavours," she said.
In a speech at the event, President Halimah highlighted the Government's push towards a more "caring and inclusive society" through the third Enabling Masterplan, a five-year roadmap that was unveiled in late 2016.
THOSE WITH DISABILITIES 'MAKE SIGNIFICANT CONTRIBUTIONS'
"The Government is actively engaging persons with disabilities and their caregivers to better understand their aspirations, needs and challenges.
"The Government is also working with social service agencies and tripartite partners to improve education, training and job placement for persons with disabilities, and identify suitable employment opportunities for them," she said.
President Halimah also emphasised the importance of recognising the capacities of persons with disabilities as they not only "excel in their own fields" but make "significant contributions to the society" as well.
"With better employment prospects, persons with disabilities will be better able to lead more fulfilling and enriching lives, and contribute to their families and society"; she added.
Ms Chen receiving the award from President Halimah Yacob and Emeritus Senior Minister Goh Chok Tong. On the far left is Mr Moses Lee, chairman of the Tote Board, and on the far right is Mr Edmund Koh, president of UBS Asia Pacific. Photo: Lauren Ong
In a speech, ESM Goh underscored the nation's desire to become a more "caring and compassionate" society.
"On the occasion of the Singapore Bicentennial, I have been asking different groups of Singaporeans what kind of society they want for Singapore in SG100. Without fail, 'caring and compassionate' emerges among the top three choices," he said.
The Promise Award category commends nominees for their high level of potential in talent and skills, with each awardee receiving S$5,000 in cash. The UBS Achievement Award recognises individuals who have lead extraordinary lives, in spite of their own disabilities, awarding them with S$10,000 in cash.
Ms Chen, who received a Promise Award, told TODAY: "It's a mixture of feelings. I feel really grateful and blessed to receive the award, but feeling sad that my mum isn't around to see it, because I know I wouldn't be where I am without her."
It was her late mother who introduced Ms Chen to art. When asked about what was the inspiration behind her artworks, she replied: "It was my mum's immense, unwavering love and personal life experiences."
And what will she do with the S$5,000? "I'll treat my husband and my family to a superb meal, and save the rest for a rainy day."