#trending: Pictures of monks working out spark outrage online
Photos of monks working out in a gym at a temple in Chiang Rai have angered social media users in Thailand, who claim that monks should be seen as calm and collected.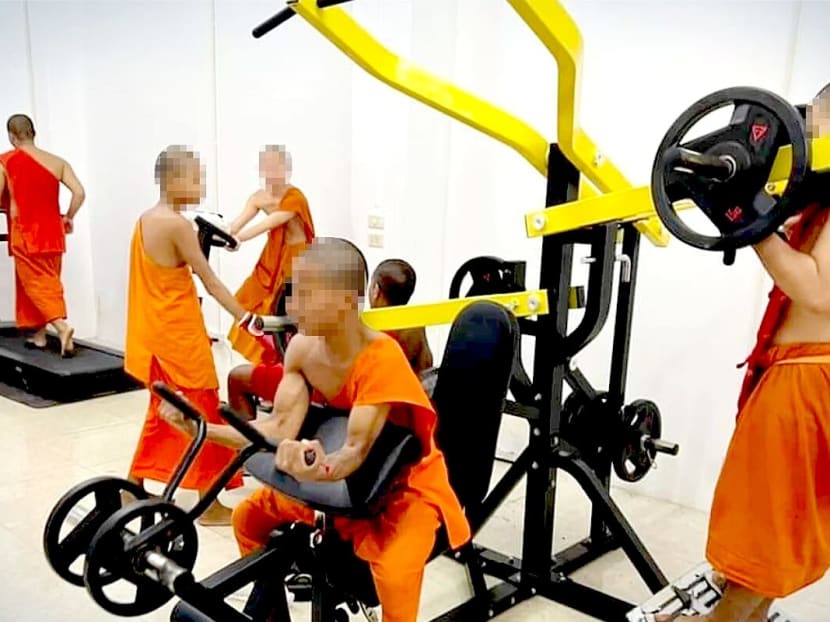 Pictures of Buddhist monks working out in Thailand sparked outrage online.
Netizens felt that image of monks working out went against the calm composure that they should portray. 
Obesity has been a growing problem amongst monks in Thailand due to their diet and sedentary lifestyle.
THAILAND — Pictures of Buddhist monks hitting the gym in Thailand have sparked outrage online and ignited a passionate debate: Should monks be allowed to work out?
The pictures of monks doing reps in robes were posted on a Buddhist news Facebook page on Sept 2 by Phra Paisalprachathon, who claimed to be an abbot.
It was accompanied by the caption: "I understand that monks are prone to becoming overweight and developing NCDs (non-communicable diseases), so I invited health professionals to help the monks at my temple get in shape and take better care of themselves."
The abbot later explained that the pictures were taken at a temple called Wat Huay Pla Kang in Chiang Rai province.
The gym equipment was given as donations by devotees of the temple and trainers were sent by Chiang Rai public health office to teach the monks how to use them properly.
Social media users, however, reacted negatively to the pictures of monks keeping fit. Many said that the images of religious men pumping iron seemed ill-fitting for the calm composure that monks are supposed to maintain.
Others said that exercise is not within the duties of a monk. 
Some supported the attempts by the monks to keep fit, with one pointing out that obesity has been an issue among monks due to their sedentary lifestyle.
There has been a growing obesity problem among monks in Thailand due to their diet, American news channel CNN reported.
Thailand's National Health Commission Office found in 2019 that out of the nearly 349,000 monks in Thailand, almost half were considered obese.
Every morning, monks in Thailand receive food offerings, known as alms, from devotees hoping to accumulate good karma in this life and the next.
However, these offerings out of goodwill meant that monks are unable to control their diet and are completely at the mercy of high-calorie offerings they receive each morning. 
They are also forbidden to eat after midday, so many of them rely on sugary beverages such as soda drinks to last through the day.
As a result, many Thai monks face high rates of obesity, diabetes, heart disease and high cholesterol, The Guardian news site from Britain reported.