The Big Read: HDB lease decay — Govt's solutions 'not perfect', but there's light at the end of the tunnel
SINGAPORE — When Mr Alan Ng, 50, moved from Ang Mo Kio to Marine Parade four years ago, he was hoping it would be a form of investment. But Mr Ng, whose estate will be among the first in Singapore to reach lease expiry in less than six decades, was among many Housing and Development Board (HDB) owners who got jittery when the Government made clear last year that not all old flats will be automatically eligible for the Selective En bloc Redevelopment Scheme (Sers), and their prices will come down as their leases dwindle.
SINGAPORE — When Mr Alan Ng, 50, moved from Ang Mo Kio to Marine Parade four years ago, he was hoping it would be a form of investment.
But Mr Ng, whose estate will be one of the first in Singapore to reach lease expiry in less than six decades, was among many Housing and Development Board (HDB) owners who got jittery when the Government made clear last year that not all old flats will be automatically eligible for the Selective En bloc Redevelopment Scheme (Sers), and their prices will come down as their leases dwindle.
The HDB resale market was also spooked by the authorities' comments as prices fell for six consecutive quarters, before inching up in the second quarter of this year. Following the National Day Rally (NDR) and the ensuing housing announcements, the mood of homeowners including Mr Ng has been somewhat lifted.
Mr Ng said he feels more assured now, as the initiatives will "cushion" the depreciation of ageing flats, and help to protect their value. "It's better than zero," he said, referring to the prospect of his flat becoming worthless when the 99-year lease is up.
Property agent Noor Ally, who is handling the sale of a flat at Chai Chee Avenue, agreed that the announcements have provided some comfort for several of his clients. "(They) know that there is still some value in their (ageing property). While they are still keen on selling, they also know that there are options - like possibly returning it to the Government (through Vers)," he added.
Lease expiry is a challenging issue faced by policymakers in all countries with public housing programmes including China and the United Kingdom for example. To deal with the politically sensitive issue, China, for instance, resorted to automatically renewing the lease of residential land in the eastern city of Wenzhou when it expired last year.
In Singapore, where more than 80 per cent of the resident population live in HDB flats, the lease expiry is an even bigger political hot potato, analysts had previously said.
After two years in the making — and much hand-wringing by anxious homeowners — Prime Minister Lee Hsien Loong presented at last Sunday's NDR the Singapore solution to the complex issue.
RAFT OF MEASURES
At the rally, which is widely seen as the most important political speech of the year, Mr Lee devoted a significant portion of his address on the HDB lease expiry issue.
Among other things, he explained that the lease duration cannot be extended "easily", and it is better that the Government take back housing blocks when leases expire, demolish them and rebuild new flats for future generations.
Public housing flats are sold with 99-year leases because the government has to be fair to future generations and guard against Singapore from becoming a society split into the haves and the have-nots, said Mr Lee.
He announced a new Voluntary Early Redevelopment Scheme (Vers) which will be rolled out in about 20 years. HDB estates built in the 1970s such as Marine Parade, Bedok and Ang Mo Kio could be among the first in line to undergo Vers.
Unlike the existing Selective En bloc Redevelopment Scheme (Sers), which is decided by the HDB and residents don't get to vote, Vers will be open to voting. HDB flat owners get to decide if they want the authorities to take back their apartments for redevelopment at around the 70-year mark of their lease.
If they vote to go ahead, the Government will buy back their blocks of flats to redevelop the precinct and the owners may use the sale proceeds to pay for another flat. Otherwise, they continue to live in their homes until the lease runs out.
Every HDB flat can also expect to undergo major upgrading twice during its 99-year lease period, with the new Home Improvement Programme (HIP) II rolled out for ageing units at the 60- to 70-year mark.
At the same time, the HIP scheme — which currently covers flats built up to 1986 — will be extended to blocks constructed up to 1997.
On Monday, National Development Minister Lawrence Wong announced a review of the CPF financing rules on buying of older flats, and the extension of the Lease Buyback Scheme to five-room and larger flats.
Currently, CPF members cannot use their savings to buy a flat if its remaining lease is less than 30 years. There are also restrictions if they want to use their funds to purchase flats with less than 60 years on its lease, effectively limiting the pool of eligible buyers.
Mr Wong had also said earlier this week that even though many details for Vers will not be ready for some time, the Government felt that it "owed" Singaporeans an early explanation on its thinking for the next phase of public housing.
Experts interviewed told TODAY that by airing its thoughts on the complex issue early, the Government achieved another objective: To restore some calm in the HDB resale market, and provide reassurance to homeowners. 
"(It is saying) 'calm down first, please don't panic, I've got schemes,'" said Suntec Real Estate Consultants director of research and consultancy Colin Tan.
Associate Professor Sing Tien Foo added: "The assurance is in the form of the Government's obligation to acquire back those blocks where residents have voted for and supported Vers."
Assoc Prof Sing, the director of the Institute of Real Estate Studies at the National University of Singapore (NUS), reiterated that this gives homeowners "a right to sell their depreciating assets with decaying leases back to the government, where they may find it difficult to sell the older flats (with limited residual leases) in the resale market".
A MULTI-PRONG APPROACH FOR A MULTI-FACETED ISSUE
While experts have said that the devil is in the details as far as Vers is concerned, they noted that the long-term housing initiatives serve to tackle different aspects of the lease expiry issue. And in a property market where sentiments drive behaviour, some of the impact can be seen in the near to medium term, even though implementation is some time away.
Taken as a whole, the measures will help to preserve — if not boost — the value of ageing HDB flats, among other outcomes. This helps to reduce the panic among homeowners while increasing demand from prospective buyers, said analysts interviewed by TODAY.
For Singapore University of Social Sciences (SUSS) economist Walter Theseira, the measures address a "common problem" — the danger that the resale market for very old flats will become "effectively non-existent in the future".
"That is a huge policy problem if it happens, because it means home owners are locked in – they won't be able to move because they can't sell their flats," said Dr Theseira.
"Why is this a danger? Well, the problem is that people won't buy older flats if they can't get financing — which the CPF (review) will address — and if they believe the older flat will be forgotten by policymakers and hence will deteriorate rapidly — this is what HIP II and Vers address."
Vers, in particular, "may prove to be very useful, because it means that if demand for very old flats is very low, the Government can support the market to give owners options for mobility", Dr Theseira said.
"We have to remember how important housing mobility is and why being able to sell your flat is key to that… if people can't move closer to work, for their kid's schools, near their parents or relatives, etc, it means people are stuck," added Dr Theseira, who noted that the vast majority of Singaporeans need to sell their flat to move, either because of HDB rules or they cannot afford to hold two properties simultaneously.
Agreeing, Fengshan Member of Parliament (MP) Cheryl Chan, who had earlier spoken about the lease expiry issue in the House, pointed out that Vers and HIP II provide options for flat owners "who have difficulty disposing their flats in resale market or who wish to live near their families or at other precincts in Singapore".
Mr Tan explained that given the finite use of a HDB flat, owners would be guessing "when is the most opportune time to sell their flat and re-invest in a new flat to store their savings".
The initiatives help to alleviate concerns by stretching or delaying the "optimum sell date" as the Government continually adds value to a flat, he said.
On Vers specifically, Professor Sumit Agarwal from NUS Business School felt that it prevents residents worried about the falling value of their ageing flats from engaging in a competition with their neighbours on who manage to sell their units first — and hence, get the best price.
"There won't be a tug-of-war of dropping prices. It gives a people a reason to wait (till the flat reaches the 70-year mark)," he added.
Assoc Prof Sing reiterated that while Vers would slow down the rate of depreciation of older flats, HIP II would keep up the quality and living conditions of these units. 
How Vers and HIP II will complement each other remains to be seen, as the authorities iron out the details.
Some observers have pointed out that it could be a waste of resources for estates to be upgraded via HIP II, only to be sold back to the Government.
But Assoc Prof Sing felt that the two schemes are likely to serve different groups: Residents who are not willing to sell their flats back to the Government under Vers may then see their units undergo HIP II, which allows them to continue living in their spruced-up flats.
On the demand side, Cushman and Wakefield Singapore head of research Christine Li wrote in a commentary published by TODAY that the plans "will help prospective buyers look at resale HDB flats differently".
Coupled with the possible relaxation of CPF usage, Vers could lead to flat-buyers "becoming less sensitive" to declining HDB leases, she said.  "This could spur demand for older flats in mature estates... (and) sellers of these ageing flats are now in a stronger position to hold on their asking prices," she added.
The other experts, including Mr Tan, stressed the need for the loosening of CPF financing rules to breathe new life into the demand for ageing flats.
COMPENSATION: A VITAL PIECE OF THE JIGSAW
With all the main pieces laid out, experts said a key piece of the jigsaw puzzle is the compensation for homeowners under Vers.
This was also borne out from interview with residents living in older estates who said the amount of money which they would be getting from the Government in return for their units is the top concern on their minds.
"How do they determine the offer price? Nobody knows (at this point)," said Mr Andrew Soh, 59, who has been living in Marine Parade for the past four years.
At the NDR, Mr Lee said the terms for Vers "will be less generous than Sers, because there will be less financial upside". 
Mr Wong has cautioned against speculation over the Vers compensation package and which estates would be selected for the scheme. "It would be rash to rush into details now when some of these things can only happen decades from now," he said. "We have 20 years to prepare, so let's not get too excited."
Under Sers, the Government earmarks a HDB precinct for redevelopment. According to HDB's website, compensation for homeowners will be based on the market value of the flat at the point of the Sers announcement, and "reasonable expenses" to help them move to new replacement flats nearby.
Amid the debate on the lease expiry issue, some observers — including Ms Chan — have suggested getting private developers into the picture.
Among other things, this could result in higher compensation for homeowners.
During the debate on the President's Address in May, Ms Chan suggested allowing private developers to "top up the land lease of HDB flats for future development".
Following the latest announcements, Ms Chan said HDB can consider having precincts designated for Vers to be potentially redeveloped by private developers. This could make Vers an attractive option for homeowners, subjected to certain conditions, she said.
"Over time, the Government can also consider taking back leasehold private land plots and re-designating them for public housing. This will ensure better social mix of private and public housing on the long run," she added.
While some experts welcomed the idea, others cautioned against it. 
Referring to the Design, Build and Sell Scheme (DBSS) which has been suspended indefinitely by the Government, Dr Theseira said: "History has shown that when private developers are involved with public housing — like the DBSS — at the end of the day, the public still expects the Government to take responsibility for any shortcomings."
Under the DBSS, developers have to bid for the open land tender and take charge of the entire process of flat design, construction and sale. It was first rolled out in 2005, but suspended six years later following a public outcry over the high selling prices.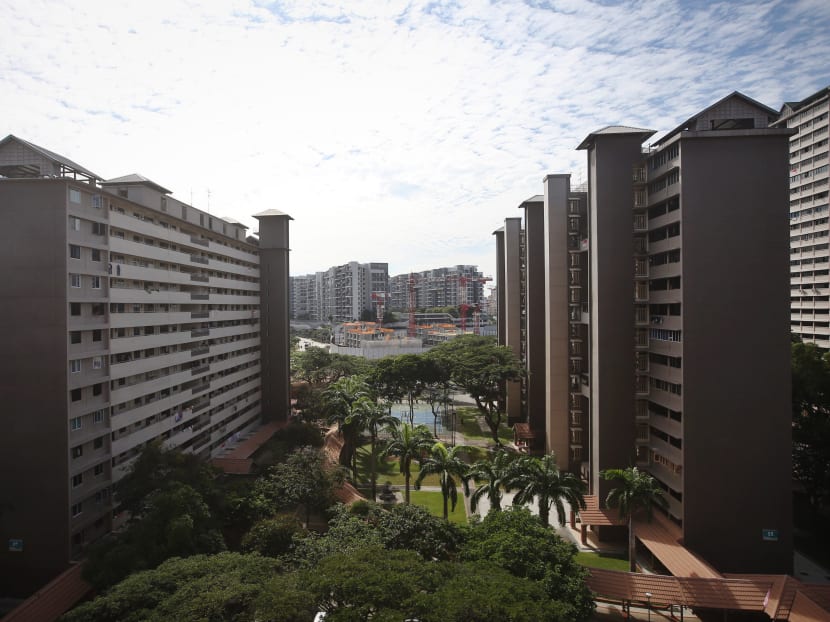 Dr Theseira warned that private developers "will only redevelop an area if they believe they can sell the new units for a profit", after paying the Government and the residents. This may lead to a vicious circle of rising HDB prices, he said.
Assoc Prof Sing said that while private developers can bring in new ideas and ease the Government's financial outlay on Vers, there will be trade-offs. "Developers are commercial driven. It's one part of the reason why DBSS didn't take off," he said.
Echoing Dr Theseira's concern, he noted that private developers will demand "a sufficient return" for any involvement in Vers.
In any case, the margins for a public housing project would be too low for a private developer, Prof Sumit pointed out.
Still, CBRE head of research Desmond Sim said it would be a good idea to get the private sector onboard Vers, if the Government can build in the safeguards. This means not letting private developers dictate the land costs, and rebuilding costs, he suggested.
NO PERFECT SOLUTION
Given the complexity of the lease expiry issue and the significant impact it has on Singaporeans, the need for safeguards extends beyond any potential involvement of the private sector.
With policymakers hammering out the details in the coming years, Mr Sim stressed the need for the various schemes to be "equitable in nature".
"At the end of the day, (the authorities) need to make sure that there are rules...that will cut off speculation (by investors looking for a windfall)," he said. 
To further protect the interest of the public, Mr Sim said the guidelines in general for Vers need to be stricter than en bloc sales for private property, because "we are dealing with a larger public here".
Nevertheless, Ms Chan felt that the requisite minimum approval for Vers should be lower than the 80 per cent threshold for collective sales in the private property market.
"There being fewer rules to protect (private property) owners… it makes sense to have en bloc decision determined by the vast majority of owners," she added. 
Indeed, Marsiling-Yew Tee Group Representation Constituency MP Alex Yam was among those who had expressed concerns that the acrimony among residents in some private en bloc attempts may spill over to public housing estates going through Vers.
Mr Yam, who chairs the Government Parliamentary Committee for National Development, had questioned: "What sort of percentile are you looking at? Are you looking at the same as the private sector? How do you address the concerns of those who, after going through the VERS, find that they have become in one way or another disenfranchised with this flat?"
For all the assurance that Vers provides as a lifeline for owners of ageing flats, the need for voting, however, takes the decision out of their hands, some residents noted.
Mr Ng felt he would "no longer be able to act independently" as a homeowner while his neighbour, Mdm Lim Choo Hin, 56, said it means she does not "have control over (her) own property".
While most residents and analysts welcomed the Government's ambitious public housing plans, they acknowledged that lease expiry remains a complex issue with no perfect solution. Many details need to be worked out, they said.
In her commentary, Ms Li noted that a big step has been taken in the right direction, "although the newly announced schemes are still in their infancies".
"Now the Government has cleared the air about the fate of the HDB flats and sent an important signal – finding the right solution has been a top priority for the Government over the last couple of months and will still be in decades to come," she added.
For residents like Mr Soh, at least now they see light at the end of the tunnel. 
"If (we have to) wait until the 99-year lease expires some 40 to 50 years later, nobody can see (what is going to happen)," he said.
Sign up for TODAY's WhatsApp service. Click here:
 
Sign Up