The Big Read: As health consciousness rises, can a nation of foodies live with less sugar, salt and all things nice?
SINGAPORE — Post-graduate student Imran Khan decided to pay more attention to his diet after coming across advertisements on the nation's war against diabetes three years ago.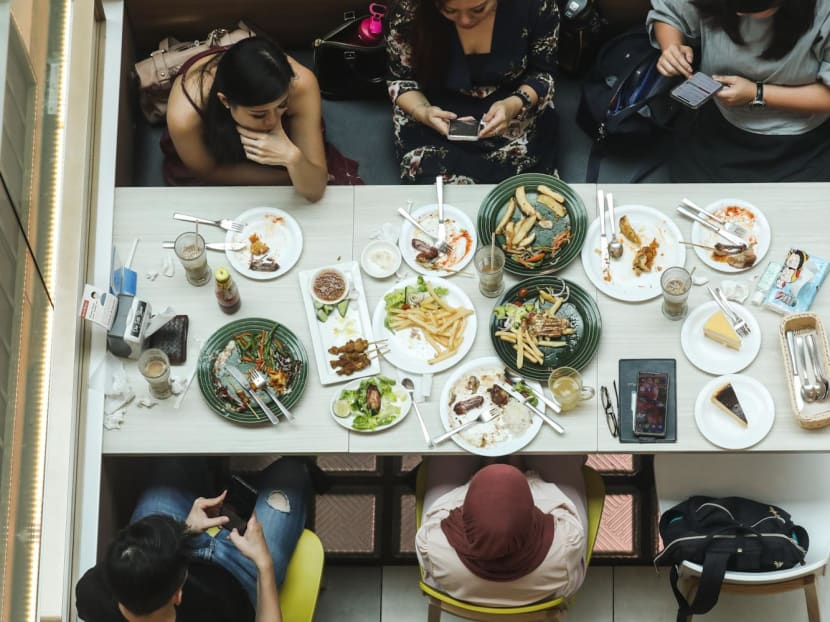 The Healthier SG programme will be rolled out from next year to promote preventive healthcare among Singaporeans 
In line with this national effort, the Health Promotion Board also announced new measures to encourage Singaporeans to adopt a healthier diet, comprising less sugar and salt  
While there seems to be growing health consciousness among Singaporeans, many regularly eat food from hawker centres and coffee shops 
Although food from these places are inexpensive and tasty, they are not the healthiest, nutrition experts said  
While healthier food options still tend to cost higher, the experts added that eating well and right does not require one to break the bank or devote a lot of effort to it
SINGAPORE — Post-graduate student Imran Khan decided to pay more attention to his diet after coming across advertisements on the nation's war against diabetes three years ago.
Increased news coverage of Singaporeans suffering from diabetes also spurred the 26-year-old to improve his eating habits — out of fear that he, too, may end up with the disease which has affected about 14.2 per cent of the adult population here, according to the latest figures by the International Diabetes Federation. 
"I'm becoming more health conscious with age… and the extensive news coverage on the government's efforts in its war against sugar and salt makes me more aware about my choices," he said. 
Apart from including more fruits and vegetables in his diet, Mr Imran also started eating salads from his university canteen at least twice a week this year, which according to him has helped him to become more alert and feel better. 
Unlike Mr Imran, 32-year-old Muhammad Nur Hidayat does not have the luxury of picking healthier food options. 
Working long shifts which range from nine hours on weekdays to 14 hours on weekends, as well as juggling parental duties and fetching his wife to and from work, has left the delivery rider with little time to prepare his own meals. 
"When I feel that time is not in my favour, I tend to be less picky and eat what I find is convenient and easy," said Mr Hidayat. 
He often ends up eating fast food or cooked Malay dishes from hawker centres and food courts daily. 
The likes of Mr Hidayat are among those whom the Government is targeting in its efforts to improve population health, as part of the new Healthier SG programme that focuses on promoting preventive care.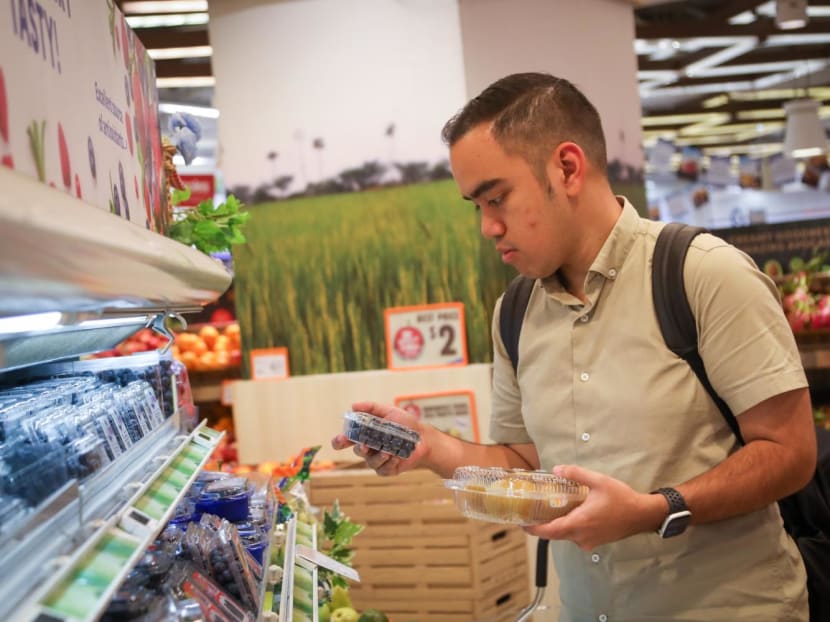 First announced by Health Minister Ong Ye Kung during his ministry's Budget debate in March, the programme will be rolled out from next year.
Earlier this week, during a debate on Healthier SG's White Paper, Mr Ong said that the Government intends to increase its budget on preventive care. 
"In making these investments, our main and primary motivation is to reduce disease burden and reduce the suffering of people and their loved ones," he said. 
These investments would go into a slew of new measures under the programme, such as allowing Singaporeans to choose and enrol with a family doctor and higher subsidies for drugs targeting common chronic diseases at General Practitioner clinics. 
In line with the nation's shift towards preventive care, the Health Promotion Board (HPB) also announced on Sept 28 its target to bring down sodium consumption among Singaporeans by 15 per cent over five years, to help tackle the prevalence of hypertension. 
More than a third of Singaporeans suffer from high blood pressure, according to the National Population Health Survey in 2020. 
The HPB's plan includes making healthier salt and seasoning products more readily available to consumers and encouraging food and beverage (F&B) operators to adopt these healthier options. 
This follows its latest nutrition survey in 2018, which found that despite an improvement in Singaporeans' diet quality, high amounts of salt and sugar intake still remain a problem. 
According to the survey, many Singaporeans were consuming more fruits and vegetables, as well as substituting saturated fats with unsaturated ones. 
They were also consuming fewer calories, dropping 5 per cent from 2,600kcal in 2010 to 2,470kcal in 2018. 
However, Singaporeans were still consuming a high amount of sugar and salt, with their total sugar intake increasing to 60g in 2018, from 59g in 2010. 
For salt intake, 90 per cent of Singaporeans exceeded the recommended amount of 5g per day, with the average daily salt intake in 2018 at 9g. 
This was contributed mostly by seasonings, salt and sauces added during food preparation such as stir-frying or marinating, which make up 75 per cent of salt in the diet.
The new measures will complement HPB's current programmes to encourage Singaporeans to develop healthier eating habits. 
The Healthier Dining Programme (HDP), for example, was started in 2014 to encourage F&B businesses to provide healthier food and drink options by providing them with grants and support. 
The scheme was then expanded in 2017 to include stalls at hawker centres and coffee shops. The aim was to have four in 10 of these stalls selling at least one healthier dish by 2019.
As of March this year, the proportion was 6 in 10 (or about 7,000 out of the total number of hawker centre and coffee shop stalls), said HPB in response to TODAY's queries. It added that in all, about 3,000 F&B operators, hawker centres and coffee shops, with over 12,000 touchpoints and stalls island-wide, have joined the programme.
Healthier dishes could include those with lower calories, lower sugar or higher amounts of wholegrains. 
Separately, there is also the Healthier Choice Symbol (HCS) programme, where healthier packaged food and drinks are labelled with a HCS logo.
As of March, more than 4,500 HCS products were available across various food categories, such as packaged beverages, rice, noodles, bread and sauces, said HPB. 
A SNAPSHOT OF S'POREANS' EATING HABITS 
After Ms Tjut Rostina Said Arby, 42, realised that she had put on 8kg during the pandemic — a result of increased snacking and a lack of activity when she and her family were spending more time at home — she knew that it was time to change her diet. 
"I've been overweight for the most part of my life and the pandemic made it worse," said the mother of two. She weighed around 80kg before the pandemic. 
She then shed 16kg in around 10 months after removing processed food and introducing healthier ingredients such as brown rice and brown bread into her diet, as well as controlling her food portions. 
The greatest joy which she has derived from the switch in diet is having the stamina and strength to do the activities she loves now, "without passing out halfway", said Ms Tjut Rostina, who enjoys taking long walks and visiting indoor playgrounds with her kids.  
Although the communications manager has her lunches outside when she is working, she would typically go for healthier options such as poke bowls or a plate of brown rice with vegetables and protein. 
University student Auston Lim also dines out almost every day, and has most of his meals on the school campus. 
But unlike Ms Tjut Rostina, the 21-year-old said that he eats whatever he wants as he is not very health conscious. 
"Personally as a student, it can be quite stressful in terms of my studies, so indulging in food that I want to eat kind of relieves some stress," said Mr Lim, who is a big fan of hawker food as the price and taste is "incomparable". 
On the other hand, digital content creator Namita Sinha cooks at home every day, save for the weekends.  
Ms Namita would use healthier ingredients such as adding grated carrot, beetroot and cauliflower in the roti prata which she prepares for her children. 
The 35-year-old mother said that it gets challenging and difficult at times to cook every day, but she manages by preparing what needs to be cooked for the week in advance. 
Adhering to a healthy diet has also become second nature for 27-year-old Daniel Tan.
The personal trainer told TODAY that he has been conscious of adopting a healthy diet since he was in junior college, as he wanted to improve his fitness and look better. 
His meals would usually consist of a significant amount of protein, vegetables, and whole grains. 
Mr Tan, who sometimes works irregular hours, would usually bulk purchase 2kg of frozen chicken breasts online and thaw them whenever he wants to have a quick lunch at home. 
He added that he would still dine at hawker centres at least a few times a week, but would often order chicken rice and request for chicken breast and extra cucumbers. 
Indeed, when it comes to food, hawker centres and coffee shops are a big part of the typical Singaporean lifestyle, with many regularly consuming their daily meals from these places. 
On their part, hawkers interviewed by TODAY said that they are seeing more health-conscious customers who would request for their dishes to be "healthier", such as including less salt or soya sauce. 
Mr Jonathan Tan, who has been running his Kin Men Seng Heng stall at Amoy Street Food Centre for the past seven months, said that he had to reduce the sodium in his original recipe by 10 per cent within the first month of opening his store due to feedback from customers. 
The third-generation hawker uses a family recipe passed down from his grandfather who ran a hawker stall at Redhill in the 1970s. 
The recipe he received from his uncle already had a 20 per cent reduction in sodium from his grandfather's version. 
"If I were to pass (the recipe) down to my kid and future grandkids, chances are sodium is just gonna be reduced even more. It's only a matter of time until people are more educated and more aware of what they put in their mouth, then they will definitely choose healthier choices," said the 27-year-old. 
However, he said that making a dish healthier is more difficult, citing factors such as costs and keeping the original recipe as authentic as possible.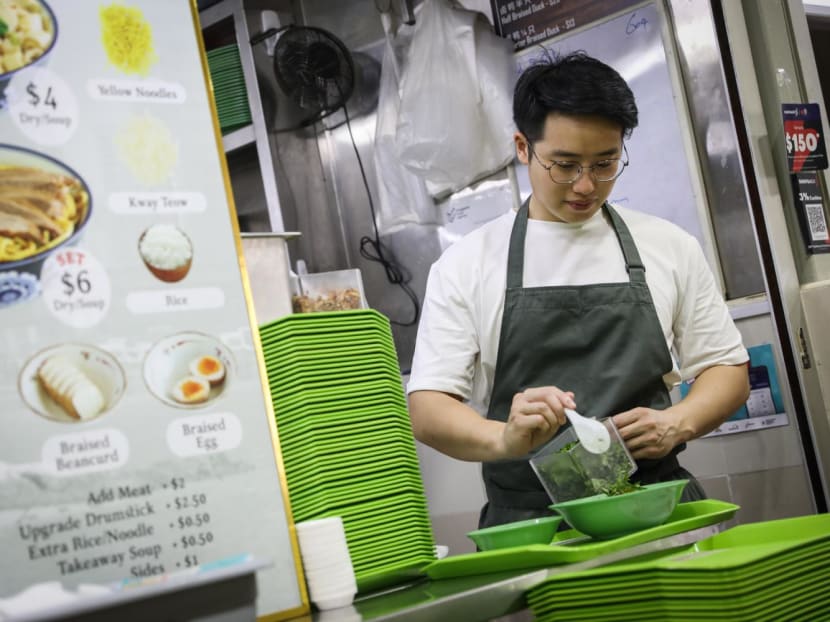 Similarly, 46-year-old hawker Alan Goh, who runs the Ang Mo Kio 453 Wanton Mee stall at Mayflower Food Centre, said that he has reduced the amount of oil and salt in his dishes as "that is the only way to bring back customers" since many are more health conscious now. 
He also reduces the amount of soya sauce and salt in his dishes upon customers' requests, though there are a handful who return to tell him that there is "no taste". 
"Then we will have to explain to them that if you want your food to be tasty, it will definitely be more oily and salty," said Mr Goh. 
Mr Haziq Halim, 35, who runs the Ché Ani Chicken Rice stall at Bukit Batok, said that such requests for less salt and soya sauce are more than welcome.
"They help me to save money... nothing to complain (about) "he told TODAY with a laugh. 
But for Mr Daren Lionel Oliveiro, making his dishes healthy does require extra time and cost. 
Still, the 41-year-old founder of Butternut and AngMohZiChar at Taman Jurong Food Centre sees it as a necessary sacrifice. 
"I myself am in the age range where there is (greater) risk of chronic illnesses…since I'm doing food, I can impact the way I, my family and customers eat," he said. 
For instance, Mr Oliveiro uses carrots and onions to bring out the natural sweetness instead of using sugar or canned sauce for his pasta. 
This helps him reduce 1kg of sugar for each batch of sauce, which serves around 50 plates. 
However, these extra ingredients and manpower to prepare the sauce from scratch would incur an additional cost of around 42 per cent as compared to simply using canned ready-made pasta sauces.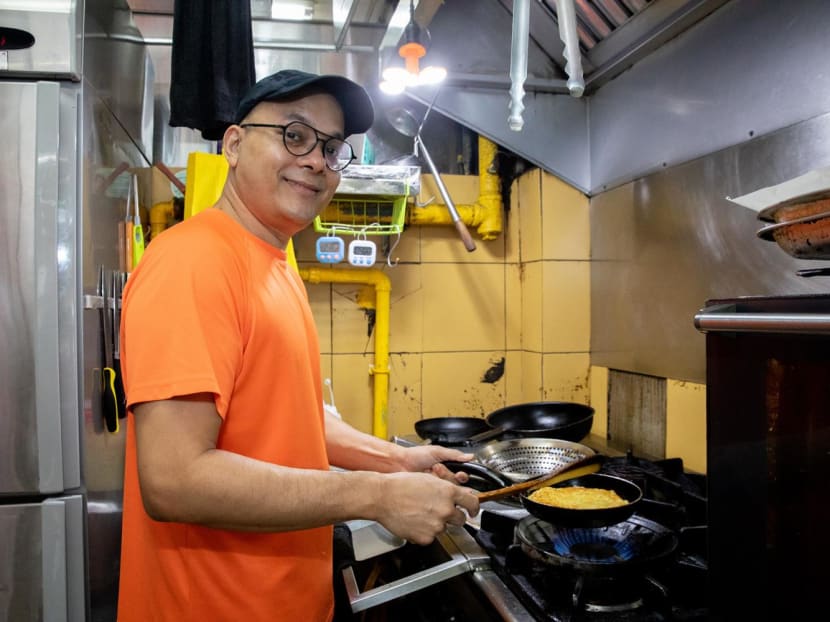 HOW HEALTHY IS THE TYPICAL S'POREAN DIET? 
A typical Singaporean diet revolves around hawker culture, with people consuming a variety of food from all three major ethnic groups, said Dr Kalpana Bhaskaran, who heads the Glycemic Index Research Unit at Temasek Polytechnic. 
Dr Kalpana is also the president of the Singapore Nutrition and Dietetics Association. 
"In a day, a typical Singaporean may have kaya toast for breakfast, followed by lunch at an economic rice stall and a home-cooked dinner. Most of the meals are accompanied by hot or cold beverages," she said. 
A sizable proportion of Singaporeans eat out on a regular basis, noted Dr Kalpana, citing a poll on Singaporeans' eating habits done by Nielsen this year which found that one in four Singaporeans eat out daily. 
"While hawker centres provide us with inexpensive and excellent cuisine, and also healthier choice hawker items, some items are still typically rich in salt and oil, and are quite unhealthy when consumed frequently," said Dr Kalpana, adding that this becomes a bigger issue when consumers do not choose the healthier options. 
Agreeing, food science and nutrition lecturer Claudine Loong from Nanyang Polytechnic (NYP) said: "Even as Singaporeans are more conscious about the volumes and types of food, I think salt and sugar are more insidious."
These condiments are present in convenient food, such as processed meats and fish, which can be easy to miss while having a meal. 
"Many busy people also choose not to cook and rely on flavourful restaurant takeaways or deliveries. Usually you don't get to control the sugar or salt used in these preparations," Ms Loong added.   
Dr Mary Chong, from the Saw Swee Hock School of Public Health at the National University of Singapore (NUS), said that she has noticed a greater awareness among Singaporeans on the importance of having a healthy diet.
However, whether they turn this awareness into action depends on factors such as social support and convenience. 
Those who eat healthier tend to have more opportunities to cook for themselves at home, said Dr Chong, whose research interests include diet and lifestyle behaviours. 
For instance, people working at home during the pandemic may have taken on a more proactive approach in changing their diet. 
They may have more social support as well, such as grandparents and helpers who help to prepare home-cooked food when they are unable to do so themselves. 
However, Ms Loong noted that as people return to working in the office as the pandemic situation improved, such proactiveness to prepare home-cooked food seems to have waned. 
"As we return to our lifestyles and with a busy day, the motivation to prepare and cook is not quite as strong. So, we opt for the takeaways or the deliveries, or the quick meal at the hawker centre or food court," she said. 
"Covid-19 also meant that there was a bloom of restaurants joining food delivery services, and that has meant more choices at our fingertips, and the habit of ordering is perhaps now more ingrained." 
However, food delivery companies told TODAY that despite an increased number of customers on their platforms, there seems to be a growing consciousness towards healthier choices. 
A spokesperson from Deliveroo said: "In the last two years, Deliveroo has seen a significant increase in orders for our 'Healthy' and 'Healthy Options' categories. Popular healthy dishes include salads, poke bowls and wraps." 
Similarly, a foodpanda spokesperson said that there has been an increase in people choosing healthier options since the pandemic. This extends beyond food deliveries to include grocery and other orders.
DOES SOCIO-ECONOMIC STATUS HAVE ANY BEARING? 
Cleaning up one's diet does come with a price tag, said those who have started eating more healthily. 
"Right now, I'm working so I think I can afford to spend slightly more in terms of eating healthy food," said Mr Imran, the post-graduate student. "But I have to agree that sometimes the pre-packaged salads are relatively expensive."
Food operators, too, had previously told TODAY that higher ingredient prices are among their top concerns when offering a healthier menu, even as they grapple with other soaring costs such as rental and manpower.
Hence, it was not surprising that during the debate over the Healthier SG White Paper, Members of Parliament (MPs) from both sides of the aisle stressed the importance of paying attention to the lower-income segment in the community.
Mr Xie Yao Quan, a People's Action Party MP from Jurong Group Representation Constituency, said that Healthier SG needs to be inclusive socioeconomically. He added that he had wished to see "specific mention of how we plan to support our lower-income segments through additional differentiated measures" in the White Paper, given that these groups tend to exhibit poorer health outcomes.
The 2020 National Population Health Survey report, published in November last year, indicated a consistently higher crude prevalence of chronic diseases such as diabetes, hypertension and high blood cholesterol among residents whose highest education qualification was primary school, compared to those with secondary or post-secondary qualifications.
"Analysis based on (the) highest education attained served as a proxy to socio-economic factors," said the report, although it did not indicate any causation in the trend. 
Non-Constituency MP Hazel Poa, from the Progress Singapore Party, and Workers' Party MP Sylvia Lim in their respective speeches zoomed in on the importance of making healthier food choices and ingredients more affordable.
Addressing such concerns, Senior Parliamentary Secretary of Health Rahayu Mahzam said: "HPB also works actively with supermarket chains to introduce more Healthier Choice Symbol products to increase the variety of HCS house brand products which are typically more affordable than branded alternatives."
In its response to TODAY, HPB said that as of March, there were over 4,500 HCS products available across 100 food categories, such as packaged beverages, rice, noodles, bread and sauces.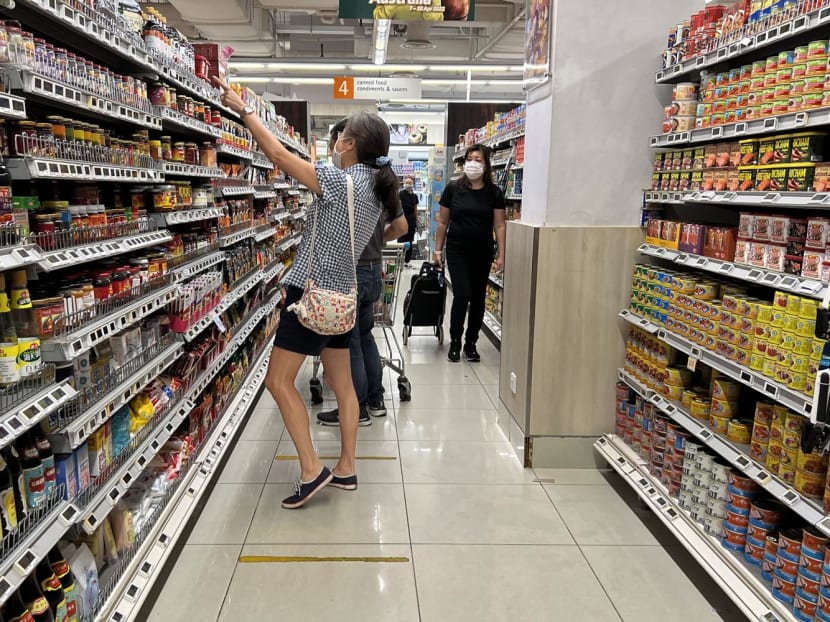 HPB also highlighted its Healthier Ingredient Development Scheme, which offers grants to encourage food manufacturers to develop healthier ingredient products. 
"By March 2022, 95 suppliers across nine ingredient categories were on board the scheme, offering over 300 healthier ingredient products," it said.
Nevertheless, TODAY's checks at major retail stores found that there is still a jarring price disparity between healthier ingredients and regular ones.
For example, the cheapest five-litre bottle of vegetable cooking oil was sold at a supermarket for S$12.95. The cheapest bottle with a HCS label was priced 30 per cent higher at S$17.
A 5kg bag of house brand white rice cost S$6.20, while the cheapest bag of mixed brown and white rice half its weight was priced at S$7.20 — or 2.3 times as much when compared per gram.
Regular salt costs around S$0.40 for a 500g pack, or S$1.40 for a 3kg bag. The cheapest sodium salt costs slightly under S$4 for 215g.
Despite the higher prices, a spokesperson from Fairprice told TODAY that there has been an increase in sales for healthier choice products by more than 10 per cent from 2019 to 2022. 
She added that the company has increased the number of healthier choice products in stores by about 10 per cent over the past year. 
The experts interviewed acknowledged that socioeconomic status does influence diet choices, and disparities in diet are especially compounded by soaring food prices.
"While the total spending for food has increased across all households, the proportion of food cost to household income is grossly disproportionate for affluent versus underprivileged households," said Dr Kalpana, adding that such a trend is common across the globe.
Dr Chong from NUS said that lower-income families sometimes do their marketing periodically to buy in bulk and cut down costs, and may forgo healthy food items such as fruits and vegetables if supplies run out in between.
Both she and NYP's Ms Loong also said that due to the higher prices, the less-affluent families may be able to access fewer healthier food options, compared with high-income earners.
Ms Loong said that lower-income groups tend to gravitate towards cheaper, processed and less healthy foods.
She said: "Fresh food insufficiency is also more prevalent among this group, due to the cost. Budget for food is often the least prioritised, compared to other (necessities)".
Nevertheless, the experts noted that there are government-led and ground-up initiatives in place to make healthier food more accessible to the low income. These include HPB's programmes and community pantries that offer free basic food items to the needy.
At the individual level, Dr Kalpana said one can also make low-cost tweaks such as cutting down unhealthy food and replacing sugary beverages with plain water in order to improve their diet.
"My view is more than socioeconomic status, what needs to be addressed is determining the best methods in changing nutritional behavior, including helping people make informed diet choices," she said.
HEALTHY DIET IMPORTANT, BUT ISN'T EVERYTHING IN PREVENTIVE HEALTHCARE 
Singapore's ageing population is one of the factors driving the Government's "long-term and profound reform effort" of adopting preventive care, Health Minister Ong told Parliament on Tuesday. 
Preventive healthcare consists of measures — including adoption of a healthy diet — taken to prevent illnesses and the onset of diseases. 
"Our society is ageing rapidly, to reduce the disease burden and preserve the quality of life of our people in the coming years, we have to become healthier," he said.
About one in four Singaporeans will be aged over 65 by 2030, up from one in six today. 
Mr Ong added that the rise in healthcare spending cannot be reversed due to an ageing population. 
"But what we can hope for is to slow down the rate of increase of healthcare spending," he said. 
Of the many components in preventive healthcare, Dr Kalpana said that having a healthy diet is of "paramount importance", as minor changes can help to prevent chronic diseases. 
"For example, eating fewer calories will lead to weight loss and lowering certain fats and cholesterol and adding whole grains to a diet can help prevent atherosclerosis (plaque build-up in the arteries), which can lead to heart disease or stroke. Reducing sodium levels in your diet will also reduce the risk of hypertension," she said. 
HPB, too, said that healthy eating is one of the key focuses in preventive health efforts to address key lifestyle risk factors, which can lead to poor health and chronic diseases such as diabetes, hypertension and heart disease. 
According to Dr Kalpana, other components of preventive healthcare include:
Regular screening for chronic diseases
Taking the right steps to quit smoking or stop alcohol abuse
Leading a healthy lifestyle
Weight management
Regular vaccination
Communication with one's healthcare provider to discuss about medicines/supplements that one should take 
TIPS ON HEALTHY EATING — ORGANIC FOOD NOT NECESSARILY HEALTHIER 
While healthier food options still tend to cost higher, the experts said that eating well and right does not require one to break the bank or devote a lot of effort to it.
Dr Kalpana said: "People have this misconception that in order to eat healthily, they would need to buy organic foods and specialty products that are expensive." 
And despite the widespread perception that organic food is healthier, this is not necessarily the case. 
"While organic foods have fewer synthetic pesticides and fertilisers and are free of hormones and antibiotics, they do not have a nutritional advantage compared to non-organic types," said Dr Kalpana. 
Instead, a cost-effective way of eating healthier could include small changes, such as cutting out foods that are high in sodium or avoiding sugary beverages and drinking water instead.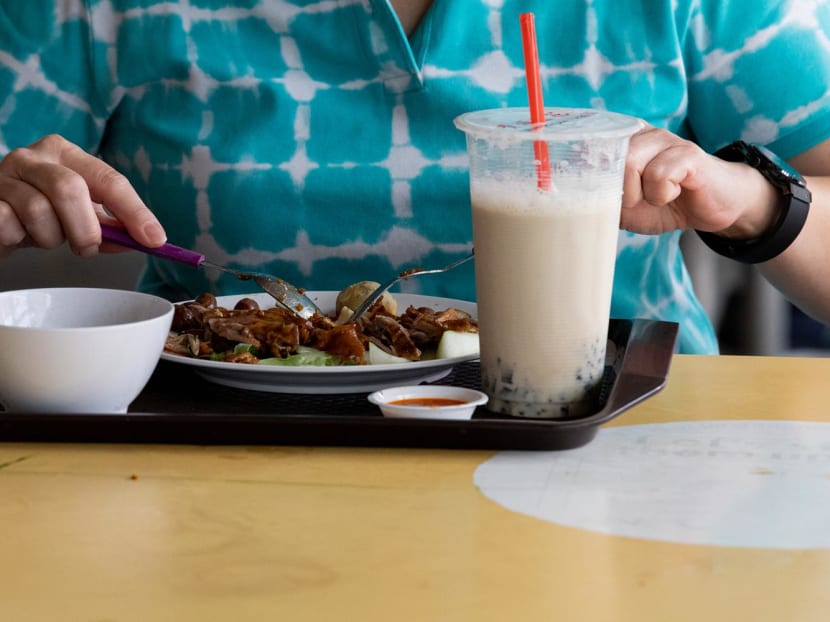 NUS' Dr Chong also suggested buying groceries in bulk, which could lower their overall cost. 
"I know of communities and flats where they will get orders from different neighbours and do group buys. This is quite a nice social-driven group effort," she said.  
She added that buying frozen vegetables or meat, in addition to fresh ones, could be another way of eating healthy yet saving on costs, as they would be able to last longer. 
She said that she herself has the practice of bringing food from home to work. For example. buying fruits on an ad-hoc basis would cost her more than if she were to buy them in bulk from the supermarket. 
"All that takes a bit more effort. But it goes a long way in saving. If every day you save 20 to 30 cents then in a whole week you can save quite a bit," she said. 
Another way to reduce food costs is to buy house brands, which tend to be cheaper, the experts said.
For those who often dine out due to long working hours and may not have the time to cook, both Ms Loong and Dr Kalpana suggested opting for healthier options when ordering food. 
"Some examples include requesting for lower salt or oil, opting for whole grains, increasing vegetable consumption, reducing the amount of deep-fried food, or requesting for less gravy," said Ms Loong. 
Dr Chong also suggested cooking several dishes in bulk over the weekend, portioning them and then freezing them, so that they can be eaten any day of the week. 
But if this is not possible, it is important to "choose very wisely" when eating out. 
"There are a lot of food options in Singapore and sometimes it can be a double-edged sword because you may be tempted to go for more delicious and higher calorie foods," she said. 
But there are ways to avoid these temptations such as picking a route to avoid walking past stores selling less healthy food, she added. 
Though changing one's eating habits may seem like a Herculean task to some, for others it is a necessary step in order to live a healthier life well into their sunset years. 
Ms Tjut Rostina said: "I'm 42 and I'm already thinking about ageing gracefully. I don't want to be susceptible to things like high-blood pressure and diabetes in the years to come."